2 Easier-to-Use Chameleon Alternatives to Improve Your Onboarding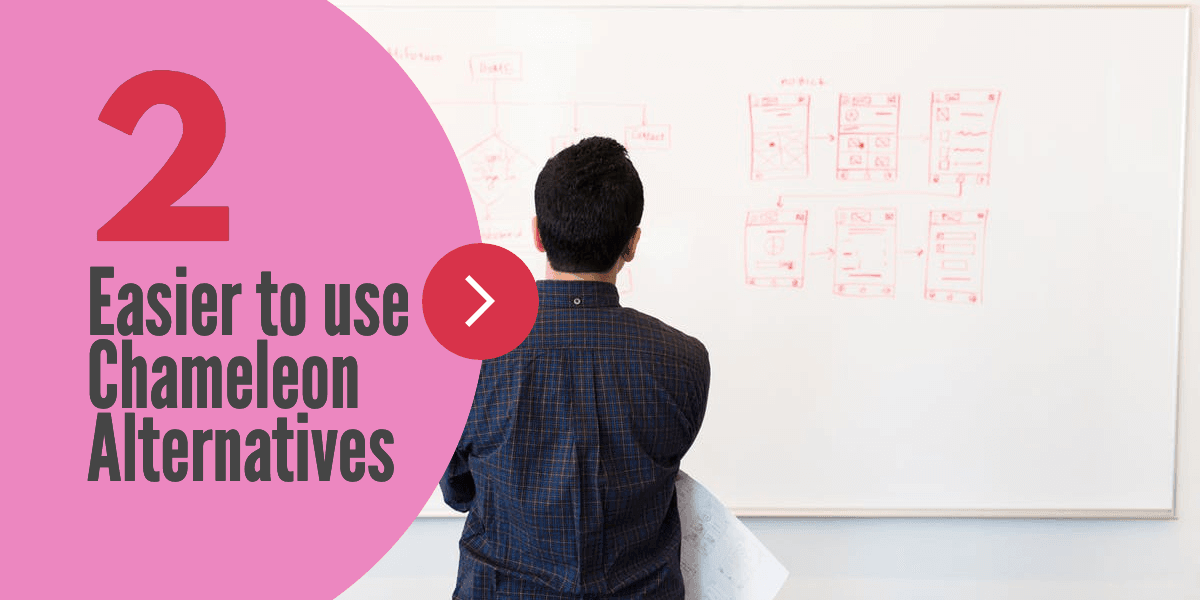 Onboarding your users shouldn't be a chore. In fact, it should be quite easy. But the Chameleon onboarding tool can be fairly hard to use. That's why we recommend looking at these alternatives instead: Userpilot and Appcues.
We've chosen these two tools in particular because both offer the same functionality as Chameleon, but are far easier to get up and running.
We're going to take an in-depth look at each tool, seeing how it works, what it does, and how much it'll cost you.
Hopefully, by the end of this article, you'll be ready to try out some Chameleon alternatives and start improving your onboarding!
Let's start with Chameleon itself…
Chameleon: Detailed customization, but difficult to use
What is Chameleon?

Chameleon is an onboarding tool that prides itself on offering extremely detailed customization. Any onboarding flow or product walkthrough you can imagine, you'll be able to build with Chameleon.
You can use a range of UI elements, including modals and checklists. It offers basic triggers and limited segmentation.
Why you should choose Chameleon?
Chameleon's main USP is the ability to completely customize the look of the elements you use for your onboarding flow.
If you're obsessed with achieving the exact look and feel, then Chameleon is the tool for you.
They'll even code your elements for you (for a price of course) meaning it won't take up your Dev team's time.
Chameleon also has a unique onboarding element called the "launcher". This enables you to add self-serve product announcements and onboarding menus to your product walkthroughs.
Why you should NOT choose Chameleon
That custom coding we just talked about? Yeah, that's also a bit of an issue.
You see, it means that you have to wait for Chameleon's team to code your elements for you. If you want to get up and running quickly, that presents a problem. For fast-moving SaaS companies, it's important to make changes as efficiently as possible.
Sure it's still faster than employee training on how to code but you're going to have to pay a premium for that custom coding. Other Chameleon alternatives like Userpilot offer just as much customization with NO coding involved. So is Chameleon really worth the extra cost?
Then you have the fact that Chameleon's UI leaves a lot to be desired. When you first sign up, you're going to have to take a lot of time figuring out how exactly the product works. That's the time you could be spending on improving your onboarding or boosting digital adoption.
The lack of detailed user segmentation also presents an issue. Segmentation is key to contextual onboarding. This means tailoring onboarding flows to each and every user. Without segmentation, your onboarding simply won't be as effective.
How much does Chameleon cost?
The lowest price you'll pay for Chameleon is $249 per month. That gives you up to 2000 monthly active users (MAU). It also limits the number of launchers you can use to 3.
The more MAU or launchers you add, the more the price shoots up.
If you want to A/B test your onboarding — which you really should be doing — then you'll have to upgrade to the "growth" plan. The price of this is custom-based.
Not only that, but you have to consider the cost of coding. Whether you hire Chameleon to do it for you, or have your own devs do it, it's going to cost you money.
Should you look for alternatives to Chameleon?
The short answer is yes.
Chameleon's custom-coding approach is great if you have the time and resources to throw at it. However, most SaaS companies won't have the money and will want to move fast.
For that reason, we think you should look for some Chameleon alternatives to try out.
The first of these we're going to look at is Userpilot.
Chameleon Alternative #1 – Userpilot: For perfect onboarding flows, no code required
What is Userpilot?
Userpilot is an onboarding tool that helps you create the perfect onboarding flows to guide your users.
You have access to all the main onboarding elements, including slide-outs and tooltips.
You can then customize those elements without a single line of code.
Why you should choose Userpilot
Clearly, we're a little biased, but here's the main reason Userpilot is one of the best alternatives to Chameleon… contextual onboarding.
In a nutshell, contextual onboarding means sending the right message to the right user at the right time.
In other words, personalizing your product's onboarding to each and every user. This works by setting triggers within your product, such as scrolling to a certain point or reaching a certain page. These triggers then activate as part of your onboarding.
Contextual onboarding has been proven to be far more effective than traditional product walkthroughs and tours when it comes to digital adoption as well as reducing churn. Userpilot offers the best way to implement contextual onboarding into your product.
EDITOR'S NOTE: We recently wrote an article about how effective contextual onboarding is, and how you can get started. Check it out here.
The other big plus point of Userpilot is that it doesn't require a single line of code to customize your elements. You can tweak your UI elements to achieve exactly the look and feel you want, all with our easy-to-use interface.
Also, we are proud to say that we have the best support among all onboarding tools out there.
More, Userpilot provides on-demand help and native tooltips that can boost your reactive onboarding.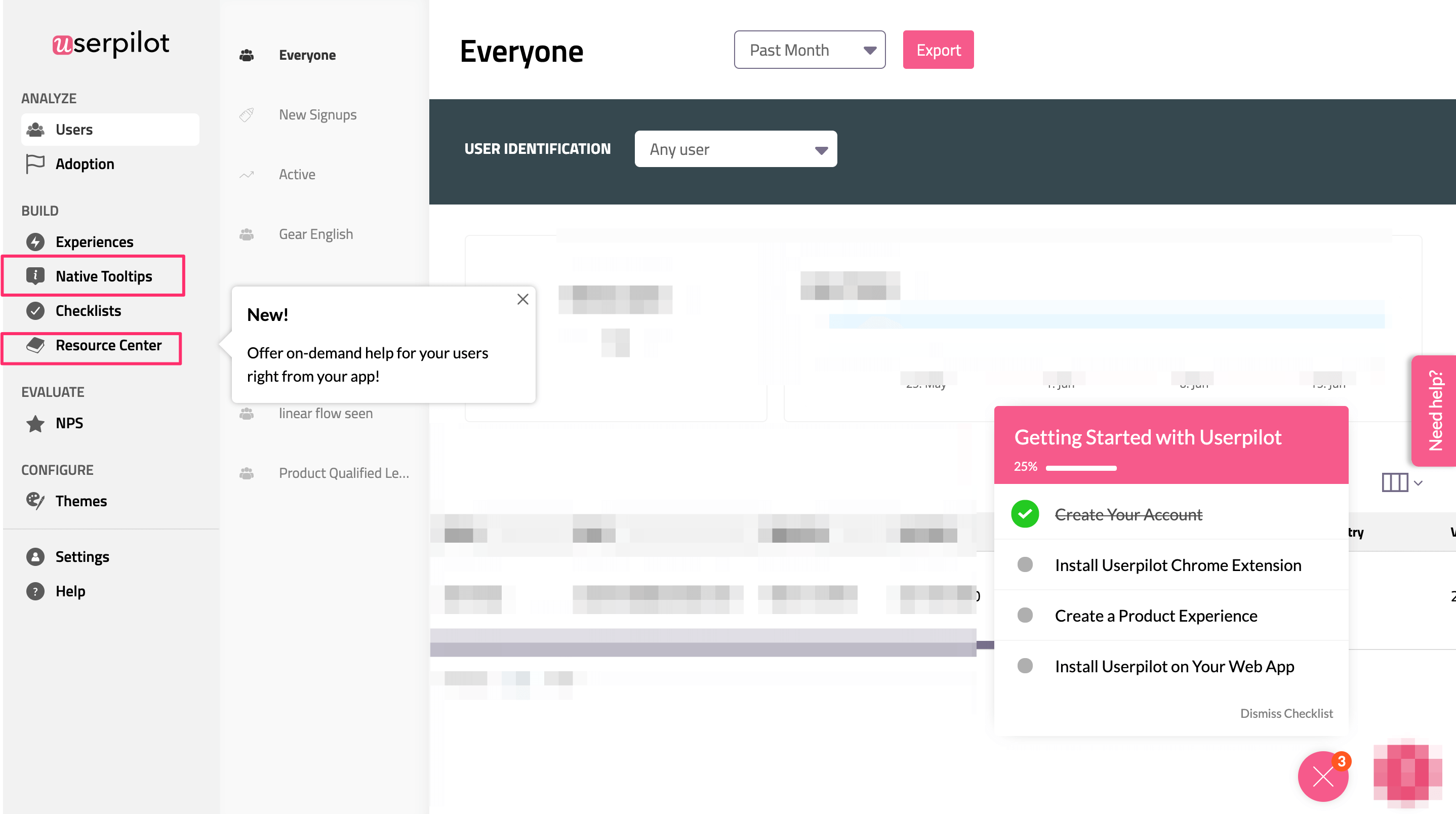 This simplicity is what makes Userpilot worth checking out.
Why you should NOT choose Userpilot
The biggest drawback to Userpilot is that it doesn't currently offer onboarding functionality for mobile apps.
Though this is something we're working towards, it does mean that for now, you'll have to look at other alternatives if you want to improve your mobile app's onboarding.
How much does Userpilot cost?
The lowest price plan for Userpilot is $249 per month (billed annually). This includes up to 2,500 MAU and every single bit of functionality is included.
As you add more MAU, the price increases.
Is Userpilot a good substitute for Chameleon?
The short answer is yes.
If you want a user onboarding tool that is easy to use, so you can get up and running right away, then Userpilot should be your number one choice.
The lack of coding required, along with the contextual onboarding functionality, means you can start improving your user onboarding in a matter of days.
Get a Free Consultation
Want to build product experiences
 in minutes, code-free?
Chameleon Alternative #2 – Appcues: A platform for larger enterprise companies
What is Appcues?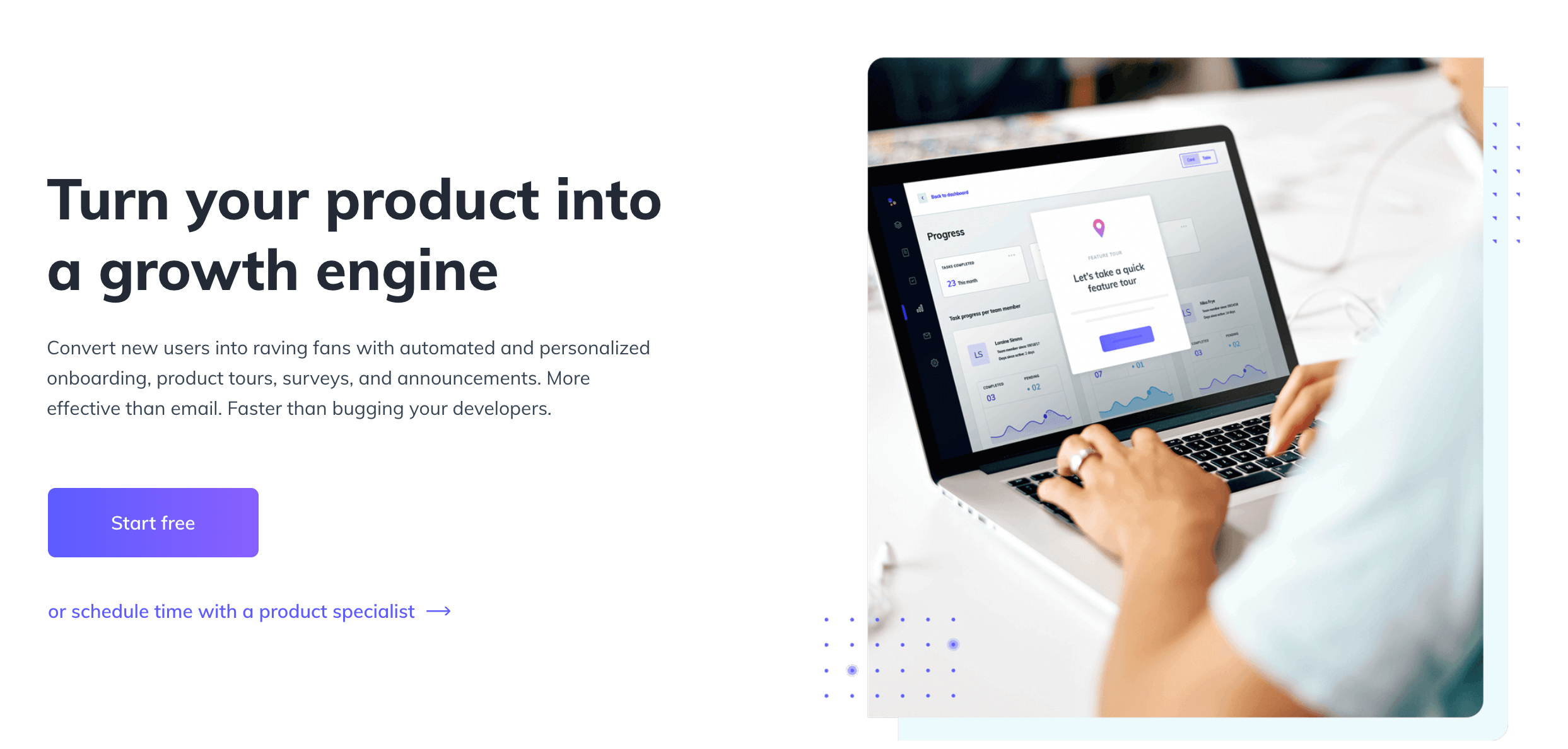 As one of the first user onboarding platforms, Appcues has grown steadily into a robust, feature-heavy tool.
You can use a range of elements, including modals, slide-outs, and checklists. It offers limited customization and multi-level segmentation.
Appcues also enable you to A/B test your onboarding tools, so you can further refine your flows.
Why you should choose Appcues
Appcues has been around for a while.
Over time, their product has become packed full of useful features. It's now become an extremely robust platform that offers virtually everything you need to start improving your onboarding flow.
Their vast range of UI elements means you can craft exactly the kind of onboarding flow you need to promote customer success. The A/B testing means you can then refine your flows and further improve their effectiveness.
Also, while not product-related, Appcues provides a great source of knowledge on the blog and the Really Good UX site.
The trouble with a product that's been around for a while is that it slowly becomes a little bloated.
While it certainly has a lot of great features, it seems that little thought has gone into making the features work together.
As a result, Appcues can feel a little disjointed when you use it, and will take a fair bit of learning before you start improving your onboarding. It's easier to use than Chameleon, but perhaps not as simple as other alternatives.
But perhaps the biggest issue with Appcues is that it doesn't support running multiple flows at the same time. This means that users have to sit through onboarding flow A in order to reach onboarding flow B. This is the opposite of Userpilot's contextual onboarding, and will greatly reduce the effectiveness of your onboarding.
How much does Appcues cost?
Appcues has a starting price of $299 per month when billed annually. This gives you 1000 MAU and 3 team seats. It also limits the integrations you have access to.
To unlock everything Appcues has to offer, you'll need to be on the "growth" plan, starting at $879 per month. The growth plan doesn't have a monthly billing option so you'll need to pay over $10,000 upfront.
That being the case, be sure to start with the free trial to see if it's worth the investment for your project. You can also read up on user reviews to get a better feel of the tool's strengths and weaknesses. After all, user reviews tend to be more objective than landing page copy.
Is Appcues a good alternative?
The short answer is yes-and-no.
Appcues offers a lot of functionality and a simple interface but falls short when it comes to contextual onboarding. It also requires coding to fully customize your onboarding elements.
You'll also have to pay a lot more to use Appcues to the full extent of its abilities so it's not exactly the cheapest option amongst Chameleon alternatives.
The best Chameleon alternative?
Both Appcues and Userpilot are far easier to use than Chameleon. As a result, both will help you improve your onboarding more efficiently.
Out of the two alternatives, we would argue Userpilot is the best choice. You can see the full Userpilot vs Appcues comparison here. Alternatively, signing up for a free demo on each platform can also help you get a better feel for the differences between the two tools.
We are a bit biased, but because of the contextual onboarding functionality, the no-code-required customization, and the lower costs involved with Userpilot, it'll be way more value for you!
Click the banner below to get started on your free demo so you can find the right tool for your business needs!