11 Best Customer Onboarding Software For SaaS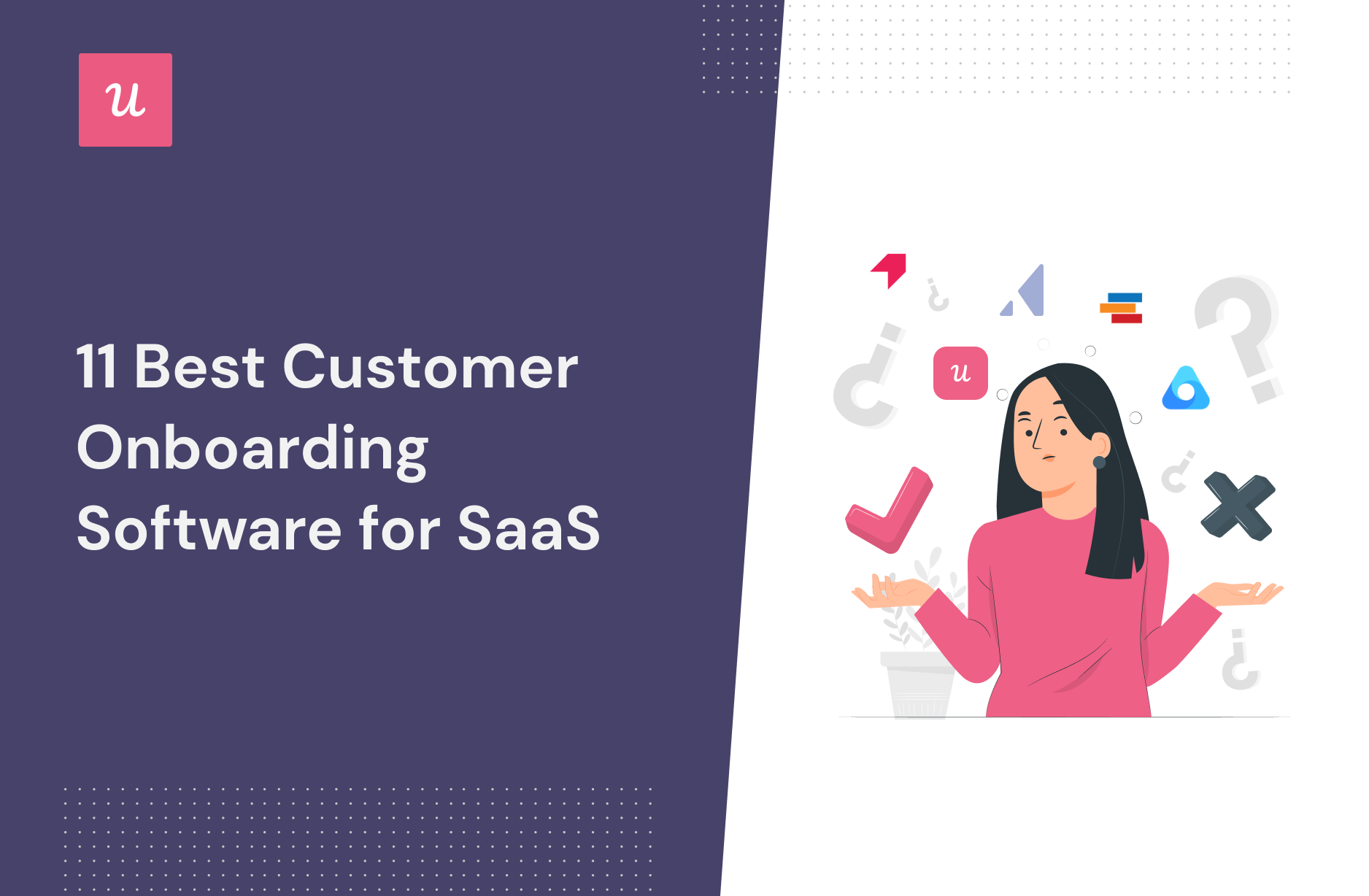 Successfully onboarding your customers is tricky, right? If your new users take too long to see value from your product, they might just drop off and start looking elsewhere. Luckily, there are many customer onboarding software options that will help! We've done all the hard work for you and put together this list of the best customer onboarding software and apps in 2023. There's something for everyone. From teams that want to increase user adoption and activation rates, from MVPs and early-stage startups to scaling SaaS businesses.
Overview
When choosing SaaS onboarding software, it's important to consider whether it's aimed at early-stage or scaling SaaS companies
You also need to determine whether you need in-app onboarding, email onboarding, help docs, or a mixture of all three
The benefits of onboarding tools include improved activation, retention and feature adoption , as well as lower support and development costs.
For early-stage SaaS companies, the best customer onboarding software is Userlist and Encharge for email; Help Scout, Document360, and Helpjuice for help docs; and HelpHero and Tooltip.io for in-app.
When choosing SaaS onboarding software (especially if you're scaling), look for a code-free tool that lets you segment users analyze their in-app behavior, communicate with them in-app and build interactive walkthroughs.
For scaling SaaS companies, the best SaaS onboarding software tool is Userpilot.
What is customer onboarding software?
Customer onboarding software for scale-stage SaaS
While early-stage companies (more about that below) simply need to help guide users through the product, scale-stage SaaS companies need a lot more. For starters, scale stage companies will be running far more onboarding experiments. This means it's crucial that the customer onboarding software offers A/B testing and other forms of experimentation. This creates an opportunity for customer success. Obviously, you can't run experiments without detailed analytics, so it's also important that your customer onboarding software provides you with the data you need to make product decisions. Finally, it's useful to have support for multiple product teams, as it's likely that different teams will be working on different parts of your product.
Customer Onboarding Software #1 – Userpilot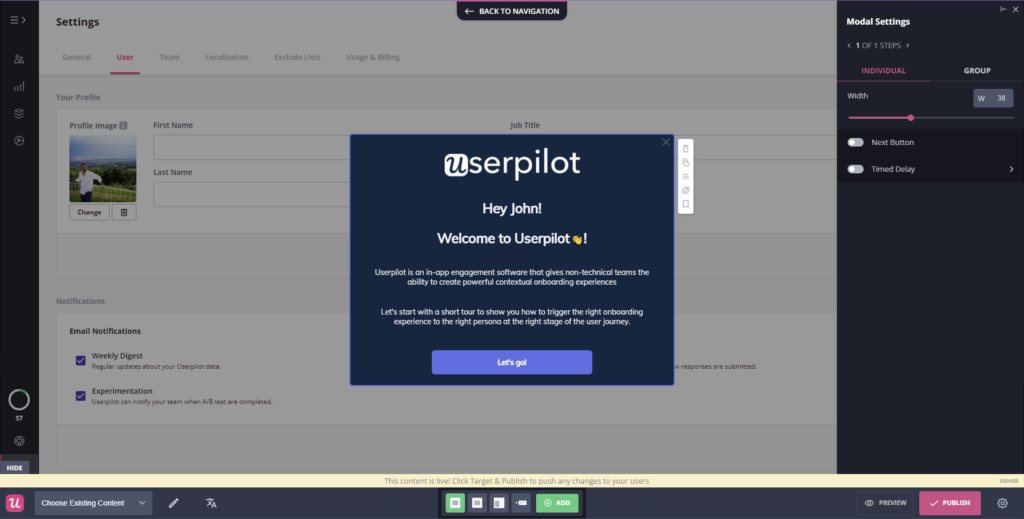 Yes, we're going to kick off our list with our own software. Userpilot distinguishes itself from the competition by the sheer range of onboarding patterns that you can create without needing to code. From modals to tooltips, and driven actions to hotspots, everything you could possibly need is available and you can choose to build a few simple tooltips or a thorough interactive walkthrough (see why walkthroughs are better than product tours here). You can choose from checklists, slideouts, modals, and more. It's all code-free and fully customizable to your company's branding.
The factors by which you can segment include:
Location
Device
Language
Account level
Account age
Company email address
If you need to communicate with your customers in-app, Userpilot will let you do this as well. Userpilot offers NPS surveys, as well as qualitative microsurveys.
Unlike some of the other onboarding tools on the market, all of these features are included at all plan levels, and the only code you'll need is one small JS snippet during installation. Everything after that is code-free, which means that your developers will be able to focus on complex engineering problems instead of changing the color on a tooltip. Userpilot has everything you need, and pricing starts at $249 for 2500 MAUs. Get a free demo today!
Customer Onboarding Software #2 – Pendo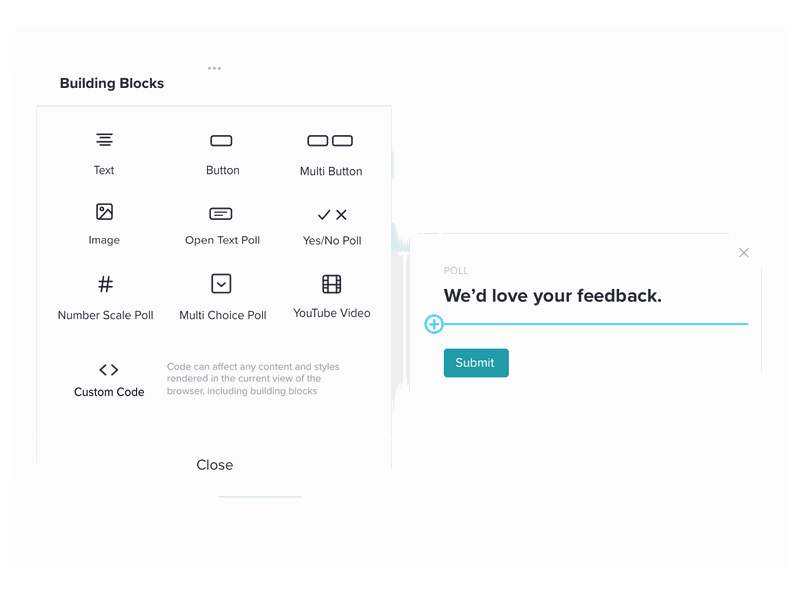 The Paths feature, which allows SaaS companies to visualize all the possible routes in and out of a particular

custom event

.

Funnels, which allow you to track the progress of users towards a pre-specified sequence of steps.
Customer Onboarding Software #3 – Appcues
Customer onboarding software for early-stage SaaS
Startups have a lot to consider when thinking about customer onboarding software. You need a good mixture of proactive and reactive onboarding (this will become clearer as we go on). You also need to consider different media: email, help docs, and in-app messages… Also: choosing the right onboarding software is a bit like choosing the right person to marry. If you make the wrong decision – it can make or break your product adoption rates. The point is: onboarding tools are very sticky. Once you have built an elaborate onboarding process with several emails, experiences and tooltips, it's virtually impossible to move it to another tool without all that blood, sweat and tears of building it from scratch. Hence – make sure you give it good thought so you don't waste time and resources on tools that don't help you achieve the user adoption growth you're chasing.
SaaS customer onboarding software for email
When a customer first starts using your product, they'll be a little unsure. They'll spend a bit of time playing around and then they'll disappear to go and do something else. Email onboarding software will help engage these customers and improve product adoption rates. There are two different aspects of onboarding you need to consider when using emails. They're proactive and reactive. Proactive onboarding is where you know the path that the user is going to take. You can then use emails to proactively guide them through it. Reactive onboarding is where a user has thoroughly explored the product and has activated. They may have more detailed questions. In this sense, the email onboarding process is a little redundant, unless you were willing to set up email workflows for every possible outcome – which would be far too time-consuming. So email onboarding is a form of proactive onboarding, and these customer onboarding tools can help the onboarding process, and help achieve customer success.
SaaS Customer Onboarding Software #4 – Userlist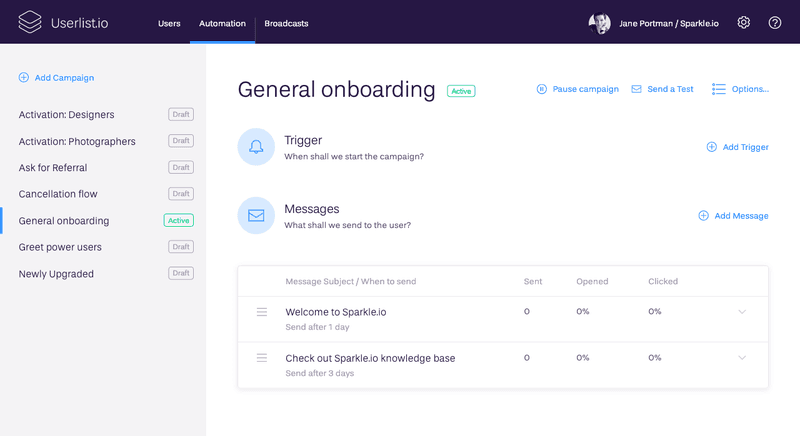 The first client onboarding tool we'll discuss here is Userlist. Userlist is designed to make it as easy as possible to send automated onboarding flows via email or in-app. For the purpose of this article, we'll talk about Userlist's email functionality. You're able to set up advanced triggers based on a user's in-app behavior. You might, for example, want an onboarding process to trigger when a user first reaches a specific page of your product. Userlist features a clean, simple UI that makes creating your emails incredibly easy and optimizes the onboarding experience. It also offers segmentation, so you can send different onboarding flows to specific groups of new customers. This is a great way of tailoring your onboarding experience to different use cases or customers at different stages of the user onboarding journey in order to achieve customer success. As far as pricing is concerned, Userlist offers a great Starter plan for when you're in the early stages of development. It costs just $9 a month for unlimited messages and up to 100 new users. The price does jump up quite a bit as you upgrade, but overall the pricing is fair for the functionality you get. Overall, Userlist is a better customer onboarding tool if you want to put your email onboarding on autopilot.
Customer Onboarding Software #5 – Encharge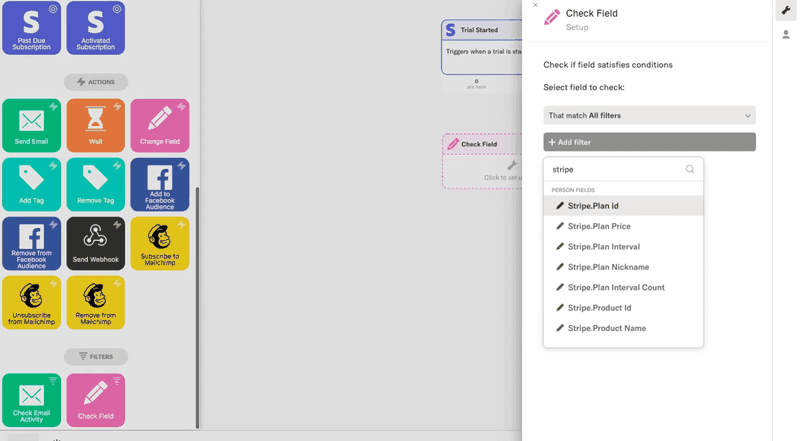 Encharge is actually a lot more than just an email onboarding tool. It also enables you to send Facebook ads and work as part of your marketing stack. Again, for the purposes of this article, I'll focus on email functionality. Encharge boasts a drag-and-drop interface that makes it easy to start building your email workflows. If you don't have the time to build them, you can choose from loads of tried-and-tested templates taken from the likes of Dropbox and Airtable. You also have access to advanced user segmentation, so that campaigns are only sent to the most relevant new users. Encharge connects to all your favorite tools, including Segment, Intercom, and Hubspot. As for pricing, Encharge starts at $49 per month. This gives you up to 2000 subscribers. I think that's a fair price if you're going to use the marketing features that Encharge provides. If you're simply looking for something to aid your email onboarding process, then I'd lead more towards Userlist.
Customer onboarding software for help docs
While email onboarding is an example of proactive onboarding, help docs are the opposite – they're reactive. Remember, reactive onboarding takes place when a user already has an idea of how to use your product. Sometimes they just need a question answering. Help docs are a great way of providing new users with a self-serve onboarding approach. They can access them as and when they need to, making their onboarding experience self-directed. This next group of tools are designed to help early-stage SaaS companies start building out their help docs.
SaaS Customer Onboarding Software #6 – Help Scout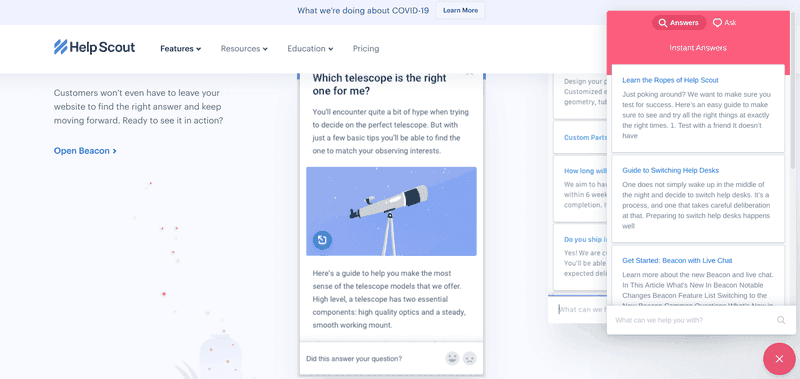 Help Scout offers a lot of great functionality when it comes to creating and maintaining your help docs. With a simple article editor, it's easy to add new help docs to your collection. Help Scout also helps you link relevant articles together and organize them into logical categories. If you prefer, you can even embed your help doc articles somewhere else, such as a page on your site or even within your product itself. This means you can make your help docs even more accessible. They also offer a help center widget called Beacon which enables you to provide relevant articles to your users as they engage with your product. Help Scout starts at $20 per user per month (when billed annually), which is roughly in line with other help doc tools.
SaaS Customer Onboarding Software #7 – Document360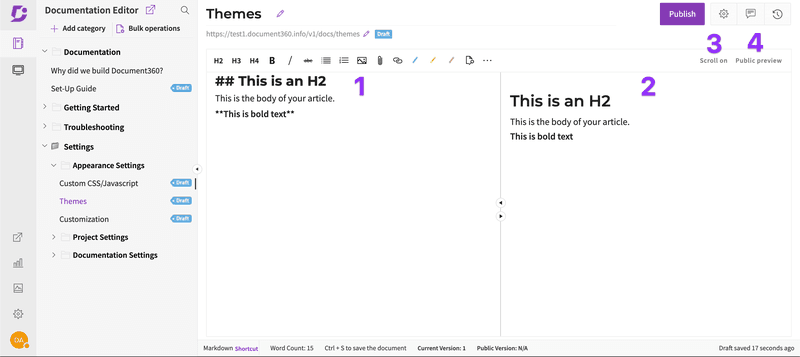 Next on our list of customer onboarding software is Document360. If you're simply looking for a tool to help you create help docs, then this is a great choice. It might not have all the other functionality that the likes of Help Scout has but what it offers is a simple way of creating and managing your help docs. There's a simple editor that puts the focus on writing. You can then organize articles into different categories and sections. Also important is the ability to customize the branding to match your own style and create consistency. Another interesting, potentially useful feature is the ability to create private help docs that are password protected. This is a good way of creating internal documents for your employees. Document360 starts at $49 per project per month (billed annually). This is a little on the expensive side considering the functionality is a little more limited than other customer onboarding software. Having said that, if you want the simple approach to help docs, then this could work for you.
Customer Onboarding Software #8 – Helpjuice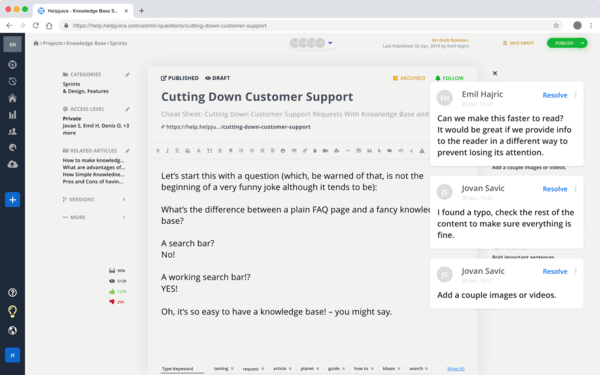 Helpjuice is the last help docs tool on our list. Like the others, it offers a comprehensive way of creating and maintaining your help doc articles. There's a built-in editor so you can create your help docs and then organize them into a structure that makes sense for your new customers. More interestingly, Helpjuice enables your team to collaborate on help docs, much like you can with Google Docs. This could be useful when you first start building out your help docs. Another feature that Helpjuice offers is detailed analytics. This lets you see what users search for, as well as the impact that your help docs are having. Helpjuice will cost you $120 per month for the starter plan, which gives you access to all the features for up to 4 users. That's fairly expensive, especially for early-stage SaaS companies, so perhaps this is one to consider for the future.
In-app customer onboarding
The final type of onboarding I want to look at is in-app onboarding. This refers to any onboarding that takes place within your product. It includes product tours, interactive walkthroughs, and other elements like tooltips and checklists. We mentioned the best in-app onboarding software for scaling SaaS businesses above, so these are the perfect options for early-stage SaaS companies that want to optimize their onboarding experience and improve activation:
#9 – HelpHero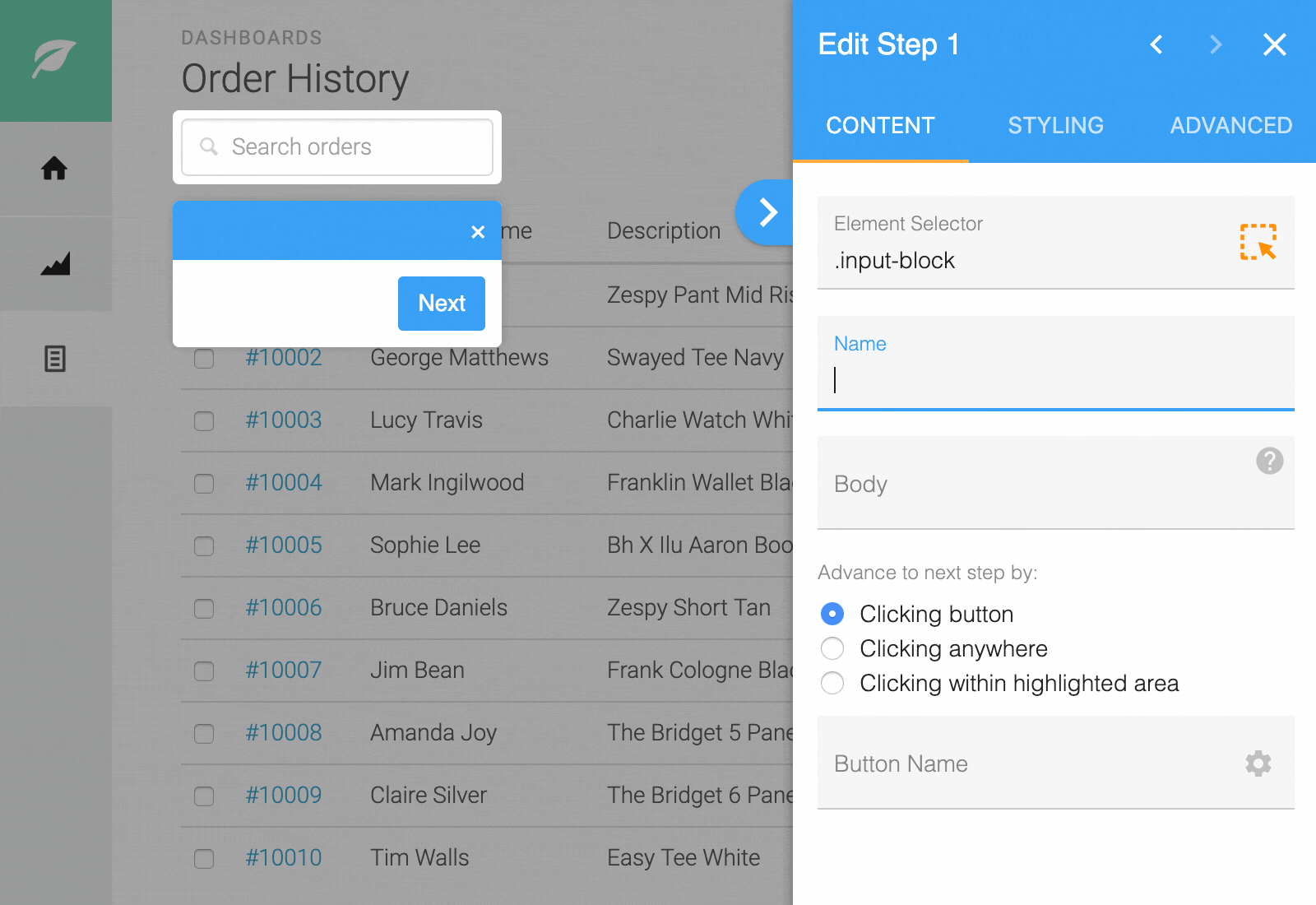 HelpHero focuses on making it as easy as possible to add product tours to your SaaS product. It offers a visual tour editor, enabling you to see how your product tour will look as you edit it. No code is required to build the tours, meaning you don't have to use up valuable dev time. You can customize the look of your tour so that it fits with your product's UI and branding. As well as product tours, you can add checklists to your product, enabling users to see their progress and adding an element of gamification. You also have the ability to segment and add triggers so that only certain groups of users are shown a specific product tour. This helps you implement contextual onboarding – where users are shown the right message at the right time – to your product. HelpHero starts at $25 per month, which provides you with all the features for up to 1000 monthly active users. This seems a fair price for the functionality you get.
#10 – Tooltip.io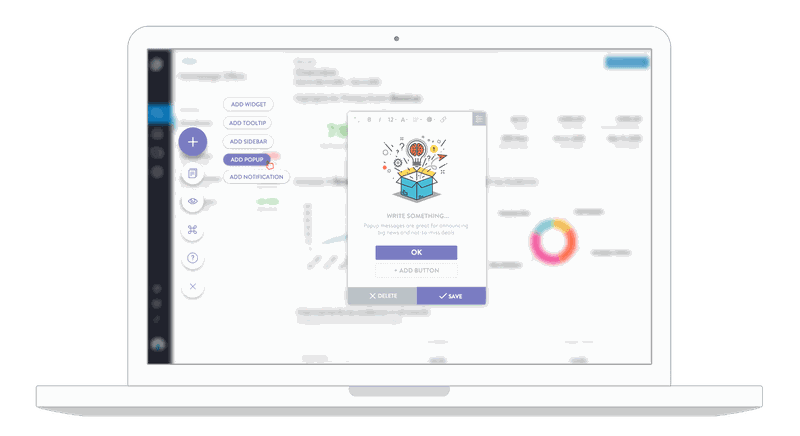 Tooltip.io is a customer onboarding app that centers around in-app messaging. There's a wide range of message types on offer, including tooltips, popups, slideouts, banners, and more. You can easily create these messages with the Chrome Extension, no code required. Tooltip.io also offers custom triggering and segmentation so you can reach the right person at the right time. You can also fully customize the branding of the messages you send, ensuring they match your product. Ultimately, you can build both simple and complex in-app onboarding flows with Tooltip.io. It might take a bit of work if you want an in-depth product tour, but you do get full control over how the flow works. Pricing starts at $249 per month. For very early-stage companies this might be too high a price point. You do get a lot for your money though, with up to 100,000 monthly active users and all the functionality that the product has to offer.
High-touch customer onboarding
High-touch customer onboarding is best suited for high-dollar deals. Onboarding new customers to a product/service usually takes a few weeks to several months. It needs frequent communication and collaboration to maintain stakeholders' involvement and to keep projects on track. A high-touch customer onboarding software helps you manage multiple customer-facing onboarding and implementation projects, improves visibility for leaders, and elevates the customer experience.
#11 – Rocketlane
Rocketlane is a customer onboarding software purpose-built for high-touch customer onboarding. Think of it as project management, communication, and collaboration tools bundled to streamline customer onboarding and software implementation projects.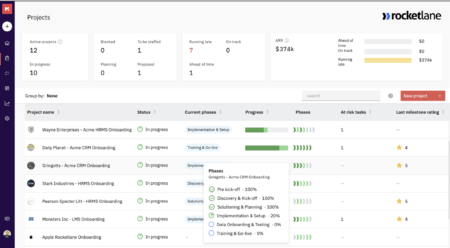 Rocketlane has a sleek dashboard that provides visibility and insights into projects across the organization. It offers templates that you can use to codify your best practices and create projects in just a few clicks. Also, it has built-in time tracking capabilities that let your team log hours and provide visibility into their workload. Rocketlane's USP is its customer-centricity. The software lets you impress your customers, make life easy for them, and keep them accountable throughout the journey. Rocketlane provides a customer portal that you can customize to reflect your brand. The portal facilitates the right level of sharing with the customer across tasks, documents, and communication. Customers are now always in the know of the project or task status and can easily access information via magic links. No sign-ups or passwords needed. Also with a one-of-its-kind unified workspace, you can collaborate live with customers on documents and project items. You can also mark work as private or shared to define what's visible to whom. Rocketlane works best for SaaS companies serving midmarket and enterprise, IT services, system integrators, and marketing agencies. It starts at $19 per user per month and comes with a free 21-day trial. Accelerating time-to-value, bringing consistency to your methodology, and delivering a 5-star customer onboarding experience can't get easier.
Conclusion