What Is A Product Qualified Lead And How To Improve The PQL Conversion Rate In SaaS?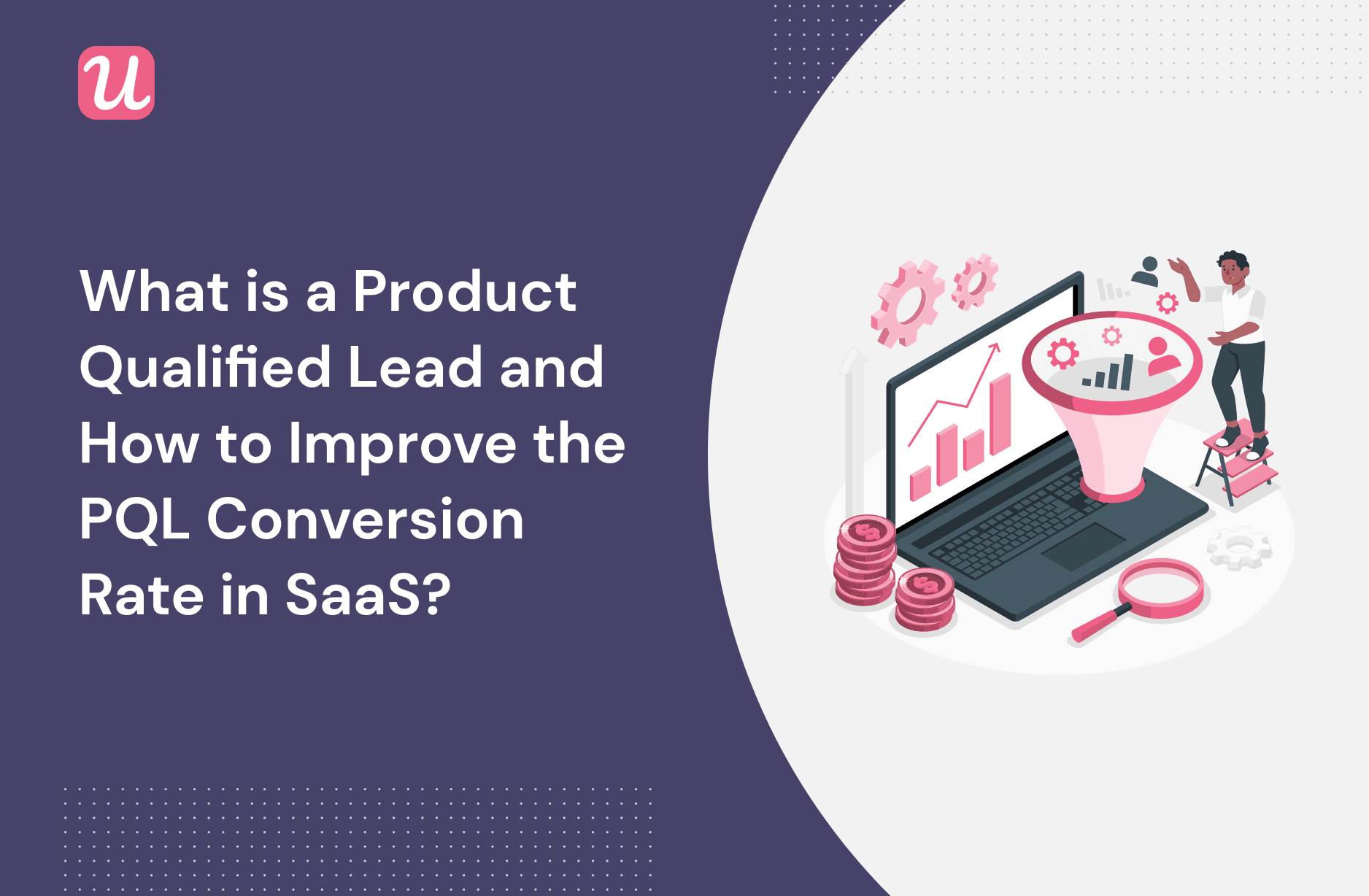 If your company has adopted a product-led growth business model, then PQL marketing should be a major part of your focus.
What goes into qualifying leads as PQLs? How do you improve the customer's journey and your sales process so they get more value in their free trial and become paying customers? Is this particular SaaS model even important?
In this article, you'll get the answers on how your business can implement this strategy the right way. Let's get started!
TL;DR
PQL definition varies from one company's product to the other.
A Product qualified lead refers to existing customers on your product's free trial or freemium version who have gotten meaningful value from it and may likely become paying customers.
Unlike the marketing qualified leads system which focuses on arbitrary factors like downloading free content and subscribing to a newsletter, the PQL model focuses on customers with real buying intent.
The PQL model is important because it helps you identify and easily convert your invested money to paying customers.
To improve the PQL conversion rate for your SaaS company, there are a few things you can implement.
Use personalized onboarding to segment a new sign-up and show them relevant content for their use case.
Use interactive walkthroughs to introduce users to key features and help increase their adoption rates.
Keep customers fully engaged with in-app messages.
In-app self-support helps customers fix issues quickly and continue on their journey.
By collecting user feedback, you'll get useful insights on optimizing your business and product for more conversions.
What is a product qualified lead (PQL)?
A Product Qualified Lead is a lead who has already tested your product and experienced its value. This could be through a free trial or freemium model. To qualify as a PQL, the lead must also show signs of becoming a paying customer.
Every product should have activation benchmarks that potential customers must meet before they can be classified as PQLs. The PQL definition varies from company to company. To identify your product's PQL benchmark, take a look at the activities of users who upgraded. Here are a few examples from other companies;
For Slack, their product-qualified leads are the current users of their freemium version who have sent up to 2000 messages. It is assumed that at this point the free user has used the tool enough to have experienced value from it and have a greater chance of upgrading to the paid version.
For Dropbox, PQLs are the free users who upload a file within 1 hour of them signing up.
For Facebook, leads have a higher chance of sticking in the product when they have made up to 7 friends.
And for Hubspot, a lead had a higher chance of becoming a paying user if they used up to 5 features in 60 days.
What is a marketing qualified lead (MQL)?
Marketing qualified leads are leads or potential customers who have only interacted with the efforts of your marketing team. They may have downloaded marketing lead generation content, joined your newsletter, etc. And have only shown some sort of interest in your marketing content, not necessarily your product yet.
For example, an MQL is a potential customer who does a google search on how to create a content planner and is directed to your free guide and template which they get in exchange for their email address.
They are leads who know you now and have entered your marketing funnel but haven't signified interest in your product or what your business offers, yet. They are also not sales-ready and any effort to convert them into paying users at this stage may drive them completely away from the business.
What is a sales qualified lead (SQL)?
An SQL is a lead who's interested in your product as a potential solution and is ready to be sold to. They are at the stage of their journey where they have progressed from mere interest in your content to an interest in your product.
Sales qualified leads are handled by sales reps or members of your sales team who ensure that the conversion journey from lead to a customer is timely and smooth. Typical SQLs perform actions like:
Inquiring about pricing or visiting your pricing page
Make repeated website visits in a given period
Request a product demo
Why are product qualified leads important?
Unlike the MQL and SQL models which place focus on converting every single lead or target persona, the product qualified leads system helps you recognize that not every lead is the right fit for your business. With this model, customer conversion tactics are more targeted at the right users and ensure they have a good experience of your product, thus increasing your conversion and retention rates.
For product-led SaaS companies that put their product at the center of all customer acquisition and sales processes, product qualified leads are important because
They help you identify the best customers your sales and marketing teams need to focus their conversion efforts on.
They help you optimize your product journey so more users see the value.
As your product-qualified leads are the potential customers who have tested your product and reached the aha moment, they have a significantly higher chance of becoming paying users. By identifying your PQLs, it's easier to know who to focus your sales efforts on and what to do to convert them.
Instead of spending resources trying to convert/upgrade every lead or member of your sales funnel, the PQL marketing model helps you segment your users into those who need extra nurturing to see your product value, and those who the sales team needs to close.
Product qualified leads are also important in showing you how to optimize the customer's journey so they quickly get value from your product and you can increase your conversion rates.
If you have 100 users sign up for your free plan in a month and on average only 20 reach the PQL benchmark, by using product analytics or product adoption tools you can get insights into the product usage data that demonstrates buying intent based on patterns/behaviors of the users who upgraded. This helps you fix your product journey so more customers upgrade.
How to improve PQL conversions in SaaS?
Attracting users to your product's free trial or freemium package isn't enough. You want your target market to find your product a useful solution to their problems and then easily upgrade to a premium offer.
Making sales by getting them to convert to paying users is the goal because after all, you need money to remain in business. Here are some tactics to employ in your product to increase the free trial to paying user pipeline.
Personalize user onboarding to showcase only relevant features
As prospects utilize their free trial, they are more likely to convert to a paid plan if their entire product experience is personalized. Begin with their onboarding experience. Immediately after leads sign up, use a welcome screen to
welcome them
set the right expectations on what they can achieve with your product
learn relevant information about their role and job to be done
Use the information to personalize their onboarding flow and make it as relevant as possible for their use case. Remember, your goal is to get them to the activation point in the journey as fast as possible.
Use interactive walkthroughs to drive feature adoption
Interactive walkthroughs are tooltips that help users find their way around your product. They are a better option than traditional product tours because these walkthroughs do more than show users relevant features, they teach them how to use them. Thus increasing their chances of adoption.
The faster users can see your product as a solution to their problems, the higher their chances of converting their free trial to a paid one. This is why interactive walkthroughs that help users quickly discover the features most important to their use case, and also show them how to use such features are an important part of your product journey/experience.
Use in-app messaging to boost customer engagement
In-app messages are the various ways you interact with users while they're using your product. This form of communication is important to keep users not just engaged, but also up to date on how your product works and drive them towards achieving their goals. They're so important to the user's product experience because they can help with feature discovery and retention.
Some examples of in-app messages include
Notifications on new/improved features that'll benefit them.
Prompts to update the app.
Onboarding checklists that help them reach the activation point faster.
As well as timely and contextual cross-sell and upsell messages to users on a free or a cheaper plan.
These in-app messages keep users engaged while using your tool, and when done right by the product team, could improve your leads conversions.
Offer in-app self-service support to shorten the learning curve
According to Harvard Business Review, 81% of users will try to find a solution to their problem. Before reaching out to the customer success/support team. By providing this in-app self-service support to customers, they can easily find solutions to hiccups encountered on their journey and continue exploring your product.
If a user is unable to quickly fix a problem they face while using your product, chances are they'll get frustrated and churn out. These in-app guides like resource centers or chatbots help users easily solve their issues, and increase their retention and conversion rates.
Use NPS surveys to collect customer feedback
Customer feedback is so important if you really want to improve your product. The NPS survey is one of the most popular customer survey feedback types. It shows how likely a user is to recommend your software to another person/business, on a scale of 0-10.
The logic behind this is if a person is more likely to recommend your product or service, it's because they obtain high value from it and vice versa. To get more insights and improve product qualified leads conversions, use a follow-up question after your initial quantitative question. This way, you can gather data on why the user gave a specific score and act on it.
Conclusion
While the lead qualification benchmark varies from company to company, 3 things are important to define the product qualified lead. For this, you'll need to make sure that:
The users fit your customer profile
They have experienced your product's key value
And they show signs of upgrading to a paid plan
Want to get started building PQL marketing experiences that increase your product's free trial to paid conversion rates? Book a demo call with our team and get started!