Appcues Onboarding Checklist – Are They Worth It? [3 Alternatives]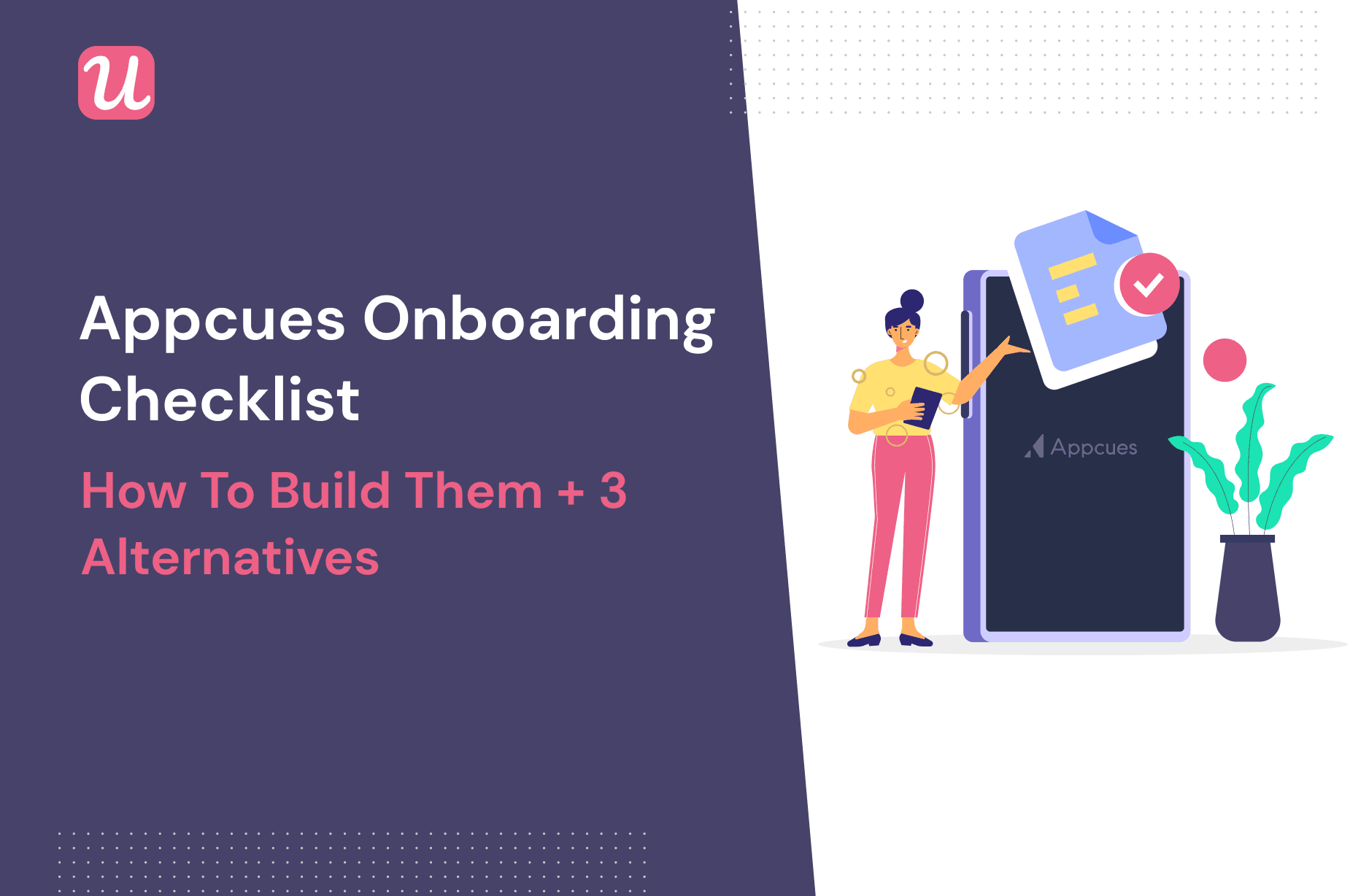 To get access to Appcues onboarding checklists you will need to pay $10548 upfront (that's $849/month paid annually).
Appcues is a great onboarding and in-app engagement tool for SaaS but it can get pricey.
Is Appcues worth the price?
In this article we talk about Appcues and its checklist limitations and also cover some of the best alternatives that offer better value for money.
Let's get started!
TL;DR
Appcues is one of the many options available for building onboarding checklists. It's easy to use and doesn't require coding skills.
It's however not the most affordable option at $879/mo paid annually (its cheaper plan doesn't include checklists).
Userpilot on the other hand is an easier, friendlier, and more affordable ($249/mo) alternative to the Appcues onboarding checklist.
Userpilot lets you create unlimited checklists even in the cheaper plan with more customizable settings (trigger a JS function, create dummy tasks, add CTAs to individual tasks, etc) so it's a good alternative to Appcues.
Userguiding is the cheapest of all options on this list at $99/mo for the Basic plan and is a good choice for small companies on a limited budget, even if it can get a bit complicated to set up a checklist if you are not a technical person.
You can also create only two active checklists in Userguiding's Basic plan without having to upgrade to the $399/month plan.
Chameleon is a good alternative that's also cheaper than Appcues at $349/month for 2,500 MAUs. Although more affordable than Appcues, it doesn't necessarily offer more or better features as it can be confusing to use and lets you build only one checklist in this plan.
Who is Appcues?
Appcues is a product adoption tool that helps SaaS companies onboard new users and keeps them engaged all through the customer lifecycle. It's mostly no-code which means that you or your team don't necessarily need coding skills to build in-app experiences or product tours with it.
What are Appcues onboarding checklists?
Appcues onboarding checklists (a feature every adoption platform should offer) are UI patterns that help your users quickly discover key features of your product. This lets them experience value, reach their aha moment, and achieve feature adoption faster.
User onboarding checklists can:
Help you guide users through your product and improve the onboarding experience.
Help you reward customers with a feeling of early success thereby increasing their retention rates.
Speed up the process of users discovering the most important features and reaching their first aha moment.
How to build a user onboarding checklist with Appcues?
With Appcues you can create various onboarding elements like flows, NPS surveys, and checklists. After creating an account, you'll be led to an intuitive dashboard and can get started by clicking on the 'Checklists' box.
Checklist settings
While Appcues has great UI, they kind of missed the mark on building checklists because what comes next can look overwhelming. It might be easy to miss a few settings when you are doing this the first time.
Building checklists in Appcues requires endless scrolling.
Title and style
Before adding tasks to your checklists, you first need to personalize the appearance.
Appcues lets you personalize the colors and font.
Set checklist tasks
You can add as many tasks as you want, and add restrictions for the user to be able to do them in chronological order or not.
A task can either launch an in-app flow or redirect the user to a specific page. To mark the task complete, Appcues allows for different settings based on user properties.
Set your targeting
The final step is to set the target audience for the checklist. You can do this by specifying either predefined user segments or adding specific user properties. This will determine what segment of your users will be shown the checklist.
Publish your checklist
When doing this for the first time, publishing your checklist might be confusing as the publish button is at the top right corner of the screen, so publishing a checklist requires scrolling back, all the way to the top.
Remember the endless scrolling mentioned earlier?
Pros & Cons of Appcues onboarding checklist
While Appcues is a good onboarding tool, it has its shortcomings. Here are some pros and cons to consider before deciding to use them or choose one of their competitors:
Pros:
+ It's easy for anyone (including your customer success team) to build these checklists as it requires no coding skills.
+ You can customize the look of your product using brand colors, tone of voice, and fonts.
+ It's easy to keep track of changes being made as you build/edit.
Cons:
– The really long page you're directed to when you start building can be very overwhelming.
– There are UI improvements they could apply for a better user experience but you can get used to this in time
– The checklist item settings are limited: you can only direct users to URL or launch a flow you've created already
– Compared to other tools Appcues doesn't offer the same value for money: you can only get checklists on their Growth plan (which is not the starting one) and it starts at $879/mo with an annual commitment (there's no option to pay monthly). Read more about Appcues pricing here.
Appcues onboarding checklist pricing
If you're looking to build onboarding checklists you will need an Appcues Growth plan that costs $879 per month which you can only pay annually.
Considering its limited settings and customization, you may want to consider more affordable alternatives with more robust features.
Onboarding users with a checklist shouldn't cost this much.
Appcues onboarding checklist alternatives
If you're looking to get more value for your money, there are a bunch of great onboarding tools better than Appcues and at a better price.
Let's check them out.
Userpilot: advanced user onboarding checklist customizations at a fair price
The best value for money when it comes to Appcues onboarding checklists alternatives is Userpilot.
Userpilot is a complete product growth and onboarding platform as you can do more than create user onboarding checklists with it. It provides you with elements needed to create an interactive onboarding flow and also drive user engagement for your different user segments
How to build user onboarding checklists in Userpilot?
Building checklists and user onboarding flows for your new users in Userpilot is easier and better, compared to the process in Appcues. This is because Userpilot offers more customization, requires no coding skills, and has a friendlier easy-to-navigate checklist setting screen that doesn't overwhelm you. You can also create multiple checklists for all your customer segments with Userpilot.
Start by clicking the 'Create New Checklist' button on your dashboard and giving your checklist a name.
Toggle through the top menu back and forth if needed for easy setup.
After you've named your checklist, you can now set up its title and start adding tasks to it.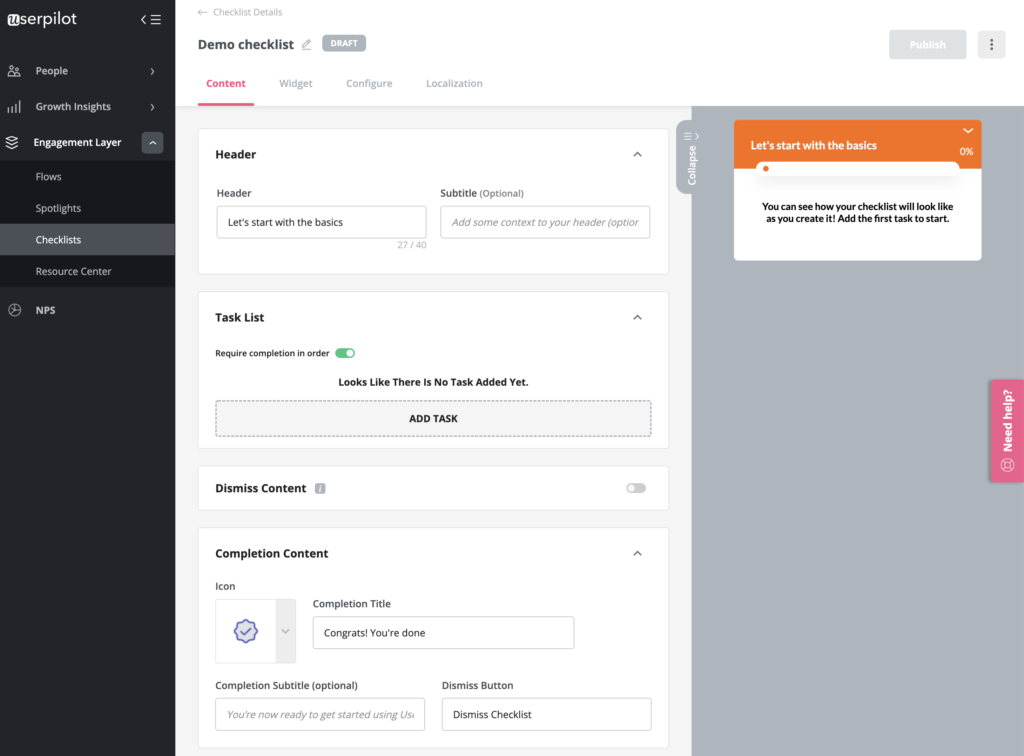 Adding tasks is easy. Click the 'Add task' option and start adding. In Appcues, this section is called 'Items'.
You'll notice you have more options for customization than in Appcues. You can trigger a custom JS function with your checklist task, set up a dummy task (completed task), add a CTA and a description to each task.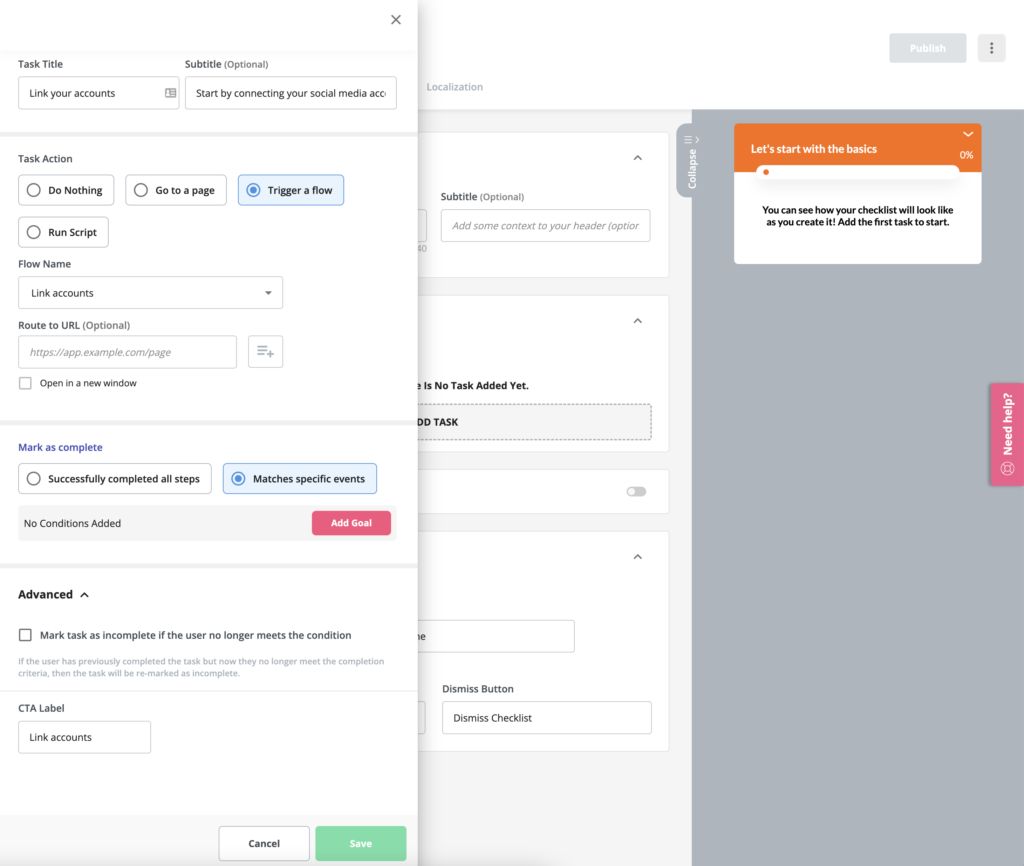 Once you're happy with all the tasks on the checklist, you can customize the widget to match your brand.
You can include your own icon, such as an avatar to create a more personalized experience for your users.
You'll find that Userpilot offers more customization features than Appcues, like the progress bar and text colors.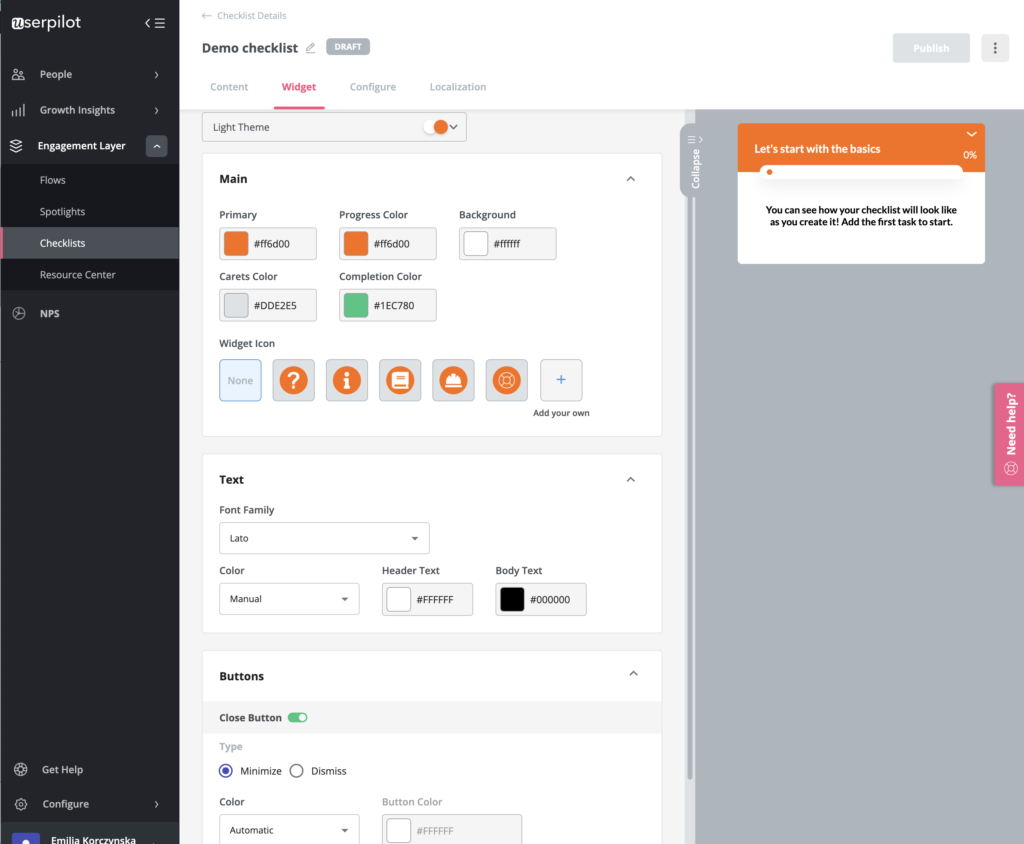 Once you're done with customization, you need to configure where and when your checklist will show. Userpilot offers way more flexibility than Appcues, so you can rest assured your checklists will pop up when you want without disturbing the user's activity.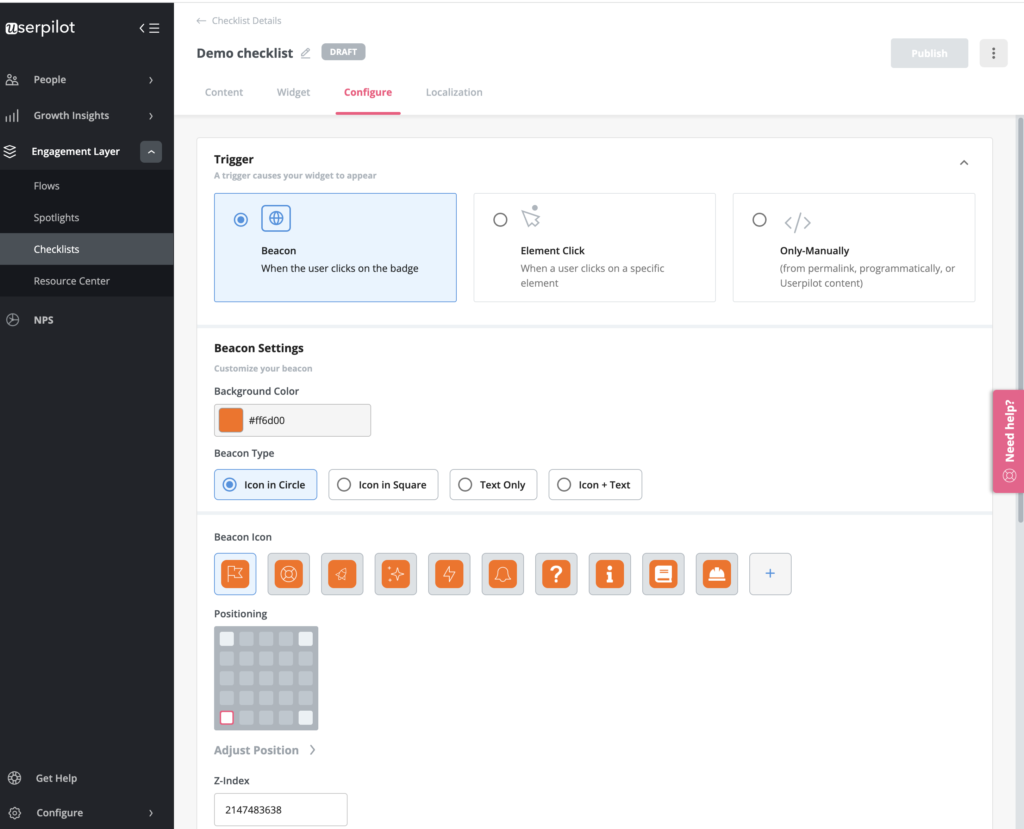 You also get one-click content localization without having to upgrade to Enterprise plans.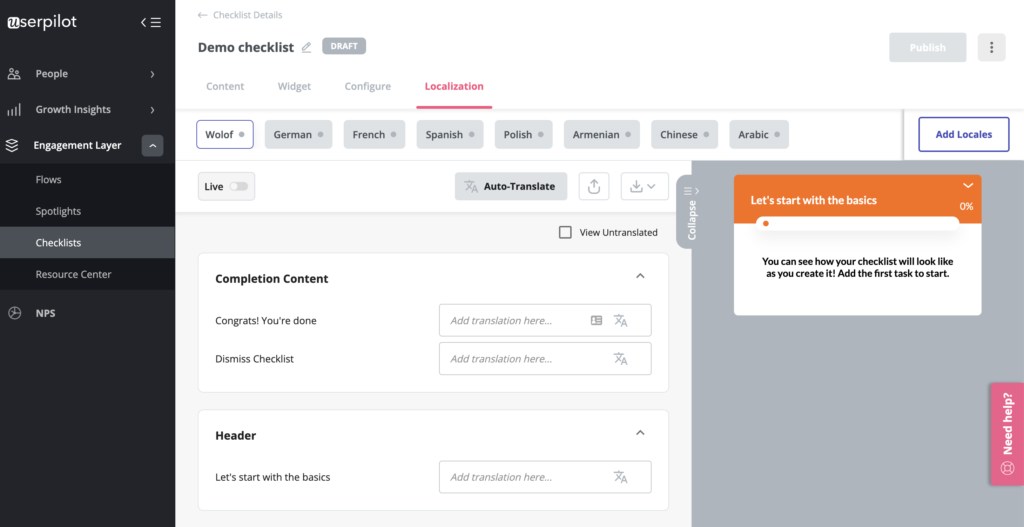 Pros & cons of Userpilot's onboarding checklists
Considering Userpilot's affordable pricing, flexible payment plans, and more features and customizations, there are only pros to Userpilot's onboarding checklists.
+ Better UI and navigation.
+You have access to more personalization options like task colors, icon style, and fonts.
+There are more task actions in Userpilot: you can set up an already completed task, launch URL, trigger flows, and trigger custom JS functions.
+You can create more personalized tasks in your app using short descriptions and CTAs.
+ For unlimited checklists, you can use the Growth plan at $249/mo paid annually or $299/mon paid monthly.
Userpilot pricing
Userpilot has two pricing plans; the Growth plan and the Enterprise plan. But unlike in Appcues where its features are limited by plans and you need to pay more to access basic features, Userpilot doesn't do that.
Userpilot's Growth plan costs $249/mo when paid annually and $299 at a monthly rate. Regardless of the size of your company, this is an affordable solution to onboard and engage users.
The difference between the Growth and Enterprise plan is that the Enterprise plan comes with a custom Service Level Agreement. If this is not important to your company then the Growth plan is a good choice. You get the same Enterprise features without any limitations. You only pay-as-you-grow – for more MAUs.
Book a quick demo call with us to learn more!
Userguiding: the cheapest option with limited customization
Userguiding is another software businesses use for product adoption and onboarding users. Of all the tools in this article, it is the cheapest and most affordable for small and early-stage companies with small budgets. It however also comes with limited onboarding elements.
How to build onboarding checklists in Userguiding
Before you can start building onboarding checklists in Userguiding, you must first download their Chrome extension and then create guides which are the tasks you want users to complete in your checklist.
Unlike in Appcues where you can set options to redirect users to another page, and Userpilot which lets you create dummy tasks as well as trigger several in-app experiences, the guides you create in Userguiding are the only things you can include in your checklist.
After setting up your guides you'll need to assign attributes that'll qualify them as completed. The Identifier attribute for example is where you pick what segment of your users will see the checklist.
Compared to Appcues and Userpilot's checklists that let you easily give attributes to your tasks, this is a more complex process especially if you're a non-technical person.
Pros and cons of Userguiding's onboarding checklists
Pros
+ Userguiding is the cheapest on this list ($99/mo for the Basic plan), especially for small companies on a budget.
Cons
– Because Userguiding uses terms that aren't common in the industry, it may be difficult for a first-time user to easily understand what some steps are.
– You can't trigger or make custom experiences outside of your guides.
– Some parts of the checklist building process may require the help of your dev team to add attribute codes into your app.
Userguiding pricing
Userguiding's price starts at $99 a month for up to 2,500 MAUs – which is the cheapest Appuces alternative for building checklists.
An affordable choice for early-stage and small businesses who can make do with only two checklists, and who have few customer segments.
Chameleon: complex to set up but cheaper than Appcues
Chameleon is a well-known and used user onboarding platform. You can build, manage and improve product tours with it and also access a variety of elements such as tooltips, modals, and checklists to create a more personalized onboarding experience for your customers.
Chameleon checklists are cheaper than Appcues onboarding checklists, but not as easy to build.
How to build user onboarding checklists in Chameleon
The process of building onboarding checklists in Chameleon can be quite confusing because their launcher (which is their unique onboarding element) can be used for creating checklists, widgets, in-app menus, and more.
This means it could take a while to find your way around the tool and understand how to create a checklist with it.
Once you've started the process, something you'll notice is how disorganized the screen gets with your live preview box frequently changing positions on its own. This is unlike in the other tools where you can easily view your edits on one side of the screen, as you make them.
The experience in Chameleon is quite unfriendly for this reason.
Pros & Cons of Chameleon onboarding checklists
The major pros of Chameleon are:
+ it's cheaper than Appcues at $349/a month for 2,500 MAUs
The cons on the other hand outnumber the pros:
– it's quite complex to set up, with a steep learning curve
– limited to only 1 checklist on the starter plan (which even if it's cheaper than Appcues is also more expensive than other tools like Userpilot or Userguiding).
– because their launcher serves multiple purposes; for building checklists, help widgets, FAQ center, etc it can become confusing and overwhelming to use.
Chameleon pricing
At $349/month for 2,500 MAUs, Chameleon is affordable for medium enterprises who can't afford Appcues annual rate. However, if you want the freedom to create more than one checklist, you'll need to upgrade to their Growth plan for $999/month.
When compared to Userguiding and Userpilot which are cheaper and offer more features, this pricing doesn't seem worth it.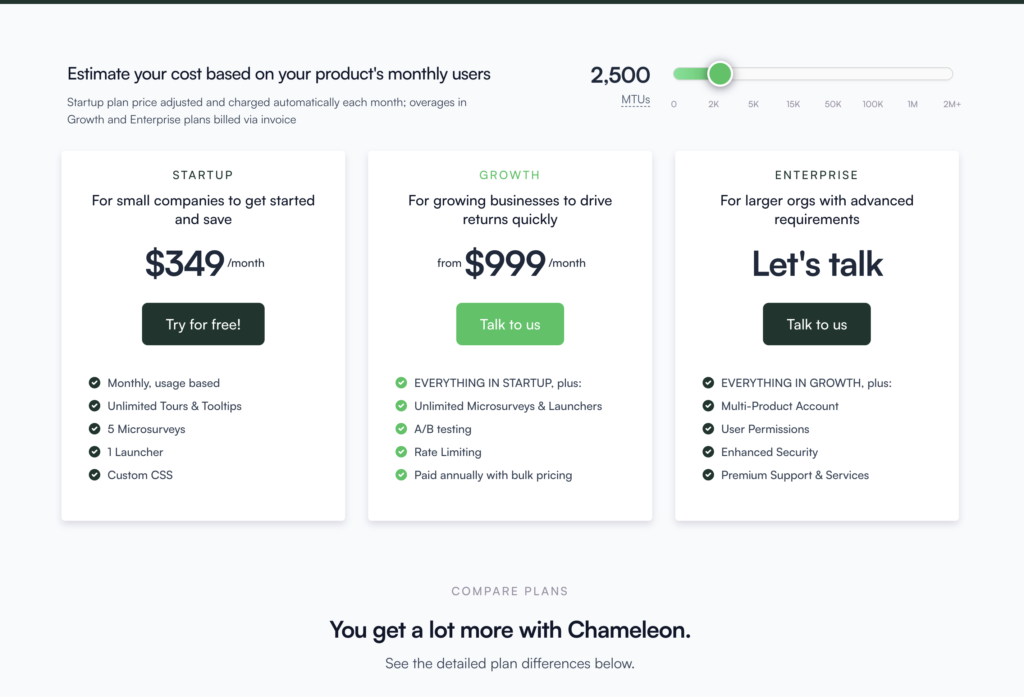 Conclusion
Your users deserve a smooth, personalized, and interactive onboarding experience.
While Appcues onboarding checklists have advantages, the high inflexible pricing, limitations, and overwhelming UI don't make it the best choice when it comes to building no-code onboarding checklists.
With Userpilot you can build an unlimited number of checklists, create product tours and experiences easily, and not break the bank to achieve these.
Want to build onboarding checklists code-free? Book a demo call with our team and get started!
[/vc_column_text][/vc_column][/vc_row][/vc_section]