What is Marketing Resource Management and How it Can Streamline Your Marketing Efforts?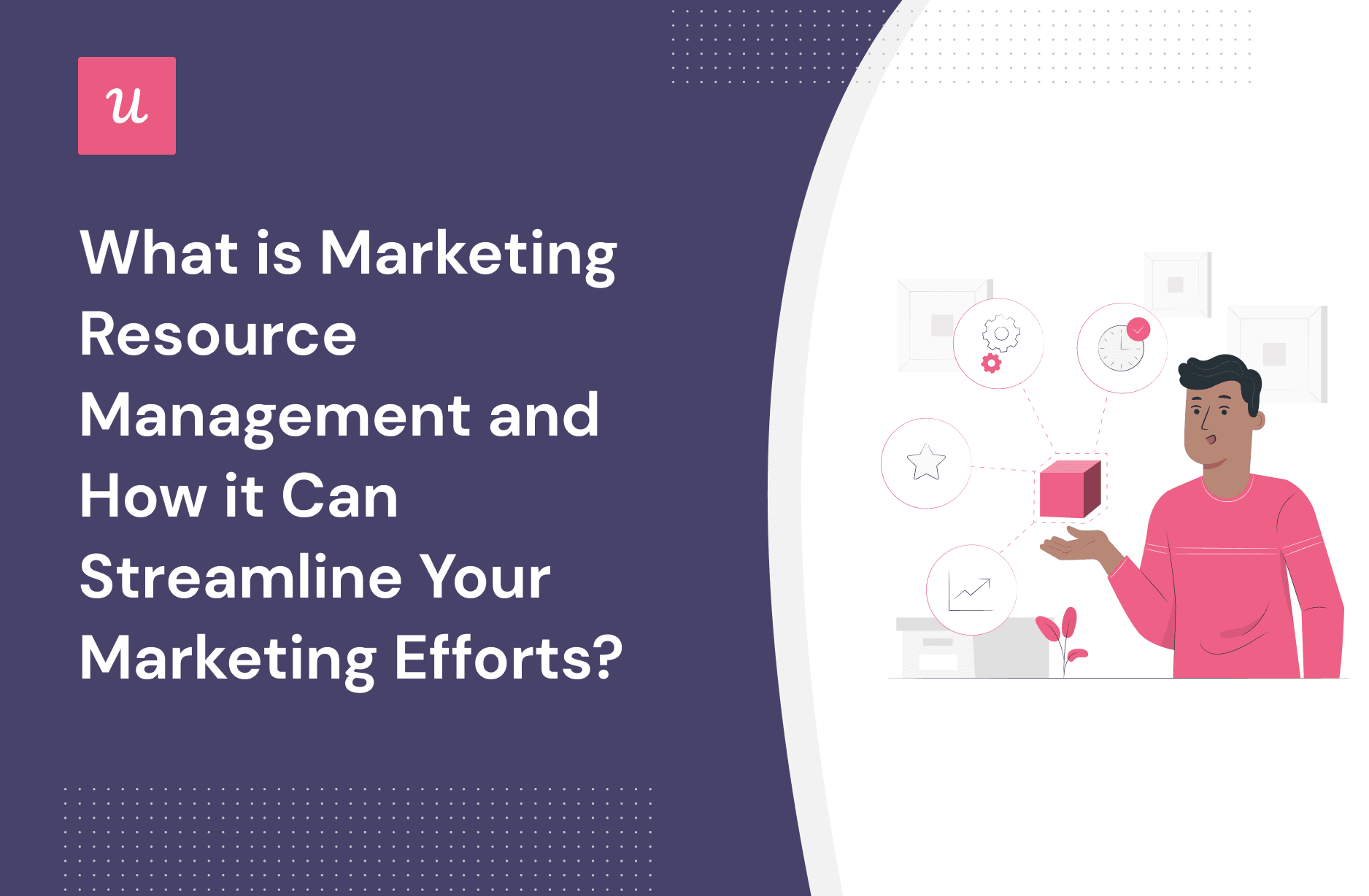 Can marketing resource management help streamline your product marketing processes and workflows?
The marketing department is one of the most crucial in any company. It is also one of the busiest, most complex departments, often handling many tools, managing multiple campaigns and events, and coordinating with internal and external stakeholders.
Sometimes, keeping track of all of these resources becomes a nightmare. This article highlights how marketing resource management helps streamline processes, organize resources, and enhance workflows for better results.
TL;DR
Marketing Resource Management (MRM) refers to a set of marketing technologies and processes focused on streamlining and centralizing marketing assets, operations, workflows, and information into a single system.
Marketing resource management covers everything, from project planning to budget tracking, scheduling, workflow management, collaboration, etc.
The centralization promoted by these tools ensures brand assets and marketing materials are easier to find. It also minimizes oversights while maintaining brand consistency across marketing outputs.
Although customer relationship management shares the same principle of centralization, it focuses on nurturing leads and efficient customer management rather than resource management.
Some critical MRM software for your arsenal includes:
Userpilot – A powerful engagement tool for tracking all your product growth goals, analyzing users' in-app behavior, and curating immersive customer experiences via contextual in-app communication.
Asana – a project management tool that helps you cut tasks into smaller sizes, assign them to relevant teams and individuals, and track progress.
Notion – a digital asset management tool to help centralize brand assets and provide clear SOPs to guide your marketing teams and professionals.
What is marketing resource management (MRM)?
Marketing resource management (MRM) is a system for managing marketing resources, including digital assets, finances, staff members, and external vendors. MRM tools centralize marketing resources in order to boost efficiency, optimize output, and reduce costs.
What are resource management examples?
Every MRM tool helps a marketing department(s) better manage its daily tasks and marketing activities. Such resource management activities may include:
Budgeting: Which parts of the marketing operations deserve more or fewer resources? As part of your MRM system, a budgeting tool centralizes expense plans and ensures every department and team has enough.
Project planning: What tasks are required to achieve the project goals? Strategic planning of projects focuses on task allocation to teams and individuals on a centralized system.
Scheduling: Often paired with project planning, scheduling involves determining task timing concerning available resources, budget, and deadlines.
Collaboration: This aspect of marketing resource management focuses on effective collaboration between team members through file sharing, digital asset management, etc.
Why your marketing department needs marketing resource management?
Besides speeding up processes and increasing efficiency, MRM lowers costs and improves your ROI. Some ways it does this include:
Centralize marketing materials and digital assets
Store all digital assets (brand statements, strategy documents, content resources, etc.) in a centralized file storage system like Zapier or Drive. This will ensure that everything is easy to find and that members of the marketing team always have access to updated materials.
Effective project management
MRM software makes it easy for marketing managers to set and track goals, task completion, and team workflow. Organize project requests, reviews, approvals, communications, and proofing in one system for better efficiency and clarity.
Streamline workflows to improve processes within your marketing teams
Align people, set milestones and deadlines, and track work management and progress using an MRM tool.
MRM tools help you control, create, and streamline workflows while minimizing oversights and optimizing the movement from planning to execution.
Keep brand consistency across all communications with users
Ultimately, with the right MRM tool, you can centralize all marketing activities in one place, making it easier to enforce brand standards. This results in consistency in content output, including blogs, in-app communication, messaging, positioning, and brand voice.
Customer relationship management vs. marketing resource management
Customer Relationship Management (CRM) and Marketing Resource Management (MRM) both refer to management tools and strategies for optimizing efficiency.
CRM refers to the strategies, technologies, and processes used to develop and maintain customer relationships. Moreover, CRM software helps companies manage customer communication and nurture leads at different stages of the customer lifecycle.
MRM, on the other hand, refers to the organization and management of marketing resources. Companies use MRM software to create and organize these resources and to ensure a smooth progression from ideation to distribution.
Key features of marketing resource management (MRM) software
Because MRM is more of a conceptual approach to marketing management than a tool, marketing resource management solutions are constantly evolving. Emerging MRM solutions mostly aim to address just one function of MRM.
Although this specialization allows the tools to be robust in their chosen area, you'd need more than one software for your MRM system.
Your chosen tools should have a blend of the following MRM features/categories:
Strategic planning and scheduling
The planning and scheduling phase is the first and perhaps the most critical stage of any marketing project. For this stage, MRM tools enable you to set and track custom product marketing OKRs.
Simply showing standard numbers which you can neither adjust nor control isn't enough. Your chosen MRM software should be flexible, allowing you to make adjustments as needed.
Marketing campaigns and digital asset management
Marketing campaigns direct the theme of marketing activities. A marketing campaign is usually based on a stage of the user journey and may have smaller nested campaigns and events within it. So MRM software in this category would help you organize and track every campaign.
For instance, a marketing campaign may focus on customer acquisition. You'd need MRM software that tracks both the primary acquisition campaign and the smaller affiliated campaigns and activities, from email campaigns to paid media asset management, in-app engagement, etc.
For a marketing campaign focused on driving conversions and customer retention, marketing activities may focus on creating onboarding flows that drive customer engagement. In this case, your in-app onboarding flows become a critical part of your digital asset management.
When campaign planning and management are centralized, all stakeholders and decision-makers work in unity to achieve the same goals.
Workflow management
MRM tools with a focus on workflow management aim to organize project planning and management.
A project management board helps you coordinate tasks between teams and individuals. You could have multiple project boards, each for a marketing department (content, acquisition, etc.) or one for each marketing team.
You can create a marketing roadmap for coordinating activities between teams and channels, thus, keeping everyone informed of their roles and timelines, and tracking progress across teams.
Performance management and reporting
Tracking and analytics are key parts of marketing. It's impossible to measure and build on success or diagnose problems unless you collect and analyze project data.
Analytics tools, therefore, are an important addition to your marketing technology toolkit. They help you track performances for set goals and OKRs by generating easy-to-understand dashboards and reports.
In addition to creating simple dashboards to track team progress, you can also create an all-encompassing dashboard to track performance across all marketing teams.
Company-wide performance management of this nature makes it easier to identify the "real" source of any underperformance.
Marketing resource management software
Although there is no one size fits all marketing resource management software, you can combine different MRM software to elevate your marketing management process.
Userpilot – Best for in-app engagement and automating customer experience
Userpilot is a product growth software that helps you manage the assets needed to drive user engagement and product adoption.
A truly powerful tool, it helps you build personalized, flexible, and contextually relevant in-app experiences for different user segments.
Its features go from user analytics to in-app communication management, both of which help you better analyze user behavior and improve customer experience.
Track in-app engagement goals
Userpilot lets you set and monitor goals. Engagement goals could be anything from filling out empty state components to using/reusing particular features, or completing an action/set of actions.
You can track user interactions with UI elements using feature tagging or track custom in-app events and user behavior. This makes it easier to monitor users' advancements toward set goals and to take necessary actions to re-engage them if needed.
For example, if a user(s) has stopped progressing towards a set goal, it might be because of friction on their way. Immediately re-engage the affected user, showing them the right experience flow to help them complete their goals.
Knowing and tracking the right product engagement metrics helps boost retention and feature adoption rates while lowering churn.
Collect and analyze feedback
Userpilot lets you create and launch in-app surveys to collect user feedback and identify friction points. You can customize these surveys to match the look and feel of your brand.
NPS surveys help you take the pulse of your users using both close-ended and open-ended questions. You can trigger these surveys at every stage of the customer journey to identify potential friction points for each stage.
Tag and analyze user responses to find common patterns in their responses. Monitor the evolution of responses over time to see how your NPS score changes.
From contextual microsurveys to onboarding surveys, Userpilot gives you the ability to choose where and when a survey appears in your application. It also lets you embed Typeform surveys, a powerful integration to boost your insight-gathering ability.
In-app communication asset management
In-app communication is an important driver of engagement. Userpilot helps you automate in-app communication, turning user onboarding into an ongoing process.
In-app messaging assets may also include tooltips, modals, and slideouts. These can be used to drive product adoption by educating users on relevant app features and functionality.
You can also organize all of your communication assets into a powerful self-service support system to help provide on-demand support to users.
Asana – Best for project management
Asana is an excellent project management tool for your lineup of MRM software. The software helps teams and individuals break down tasks into manageable sizes and assign them accordingly.
An all-inclusive work management platform, it helps you keep track of the progress made on projects and tasks and is also a great tool for exchanging files, notes, and comments, and tracking deadlines.
Note, though, that Asana isn't a file storage system (although it can technically be used as such). Instead, it's a tool for communicating with your team and ensuring everyone is on track with their tasks and deadlines.
Notion – Best for team alignment and SOPs
Tools like Notion are great for managing digital assets. This MRM software helps you create and organize SOPs (Standard Operating Procedures) to guide your team and its activities.
SOPs set clear standards and guidelines for team members, centralize relevant information, and ensure updates are easily accessible for team members. This makes it an invaluable resource for collaboration.
Conclusion
From organizing brand assets to managing the marketing professionals within your team, MRM tools are a must-have for product marketing managers. MRM aims to make your life easier by streamlining and centralizing your management systems.
One of the most important MRM solutions for your toolkit is Userpilot. This MRM solution helps you track your product growth/adoption goals, collect contextual user feedback, and better manage your user experience.
Book a Userpilot demo today to learn how!