PMF Survey Template: What Is It and How to Create One?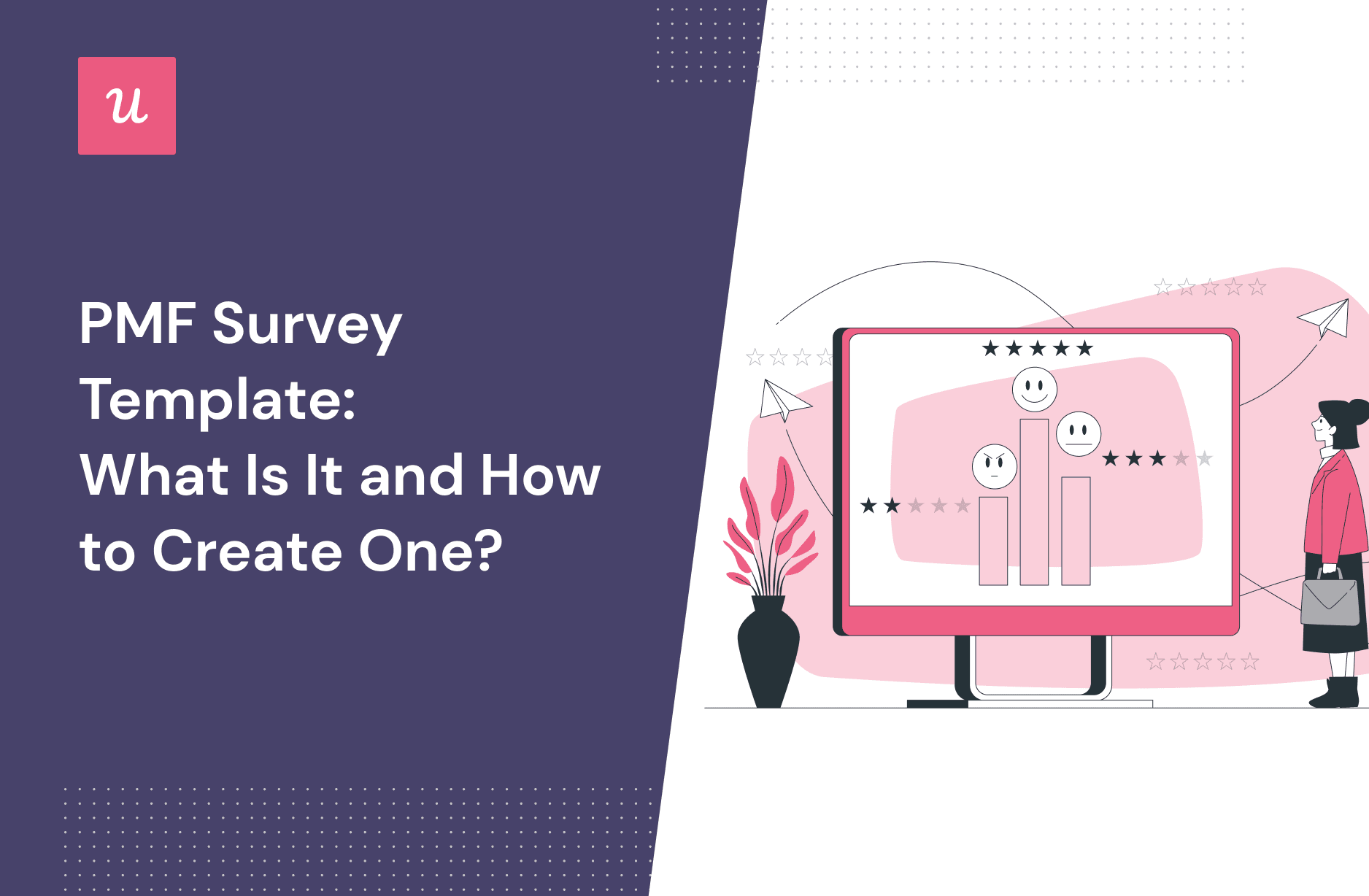 What is a product-market fit survey? How do you use a PMF survey template to build one? What's a good PMF score?
If you're after the answers to these questions, you're in the right place because that's exactly what we explore in this article.
Let's get right to it!
TL;DR
The product-market fit (PMF) survey helps a business measure if its product meets market demand and if it's good enough that users are ready to pay for it.
The PMF survey asks users one key question: 'How disappointed would you be if you could no longer use the product/feature/service?'
If the PMF score is above 40, you've achieved the product-market fit.
Instead of running ad hoc surveys, schedule them every 3-4 times a year to track changes. Consider sending PMF surveys after major product updates.
Userpilot has a PMF survey template so that you don't have to create it from scratch.
After choosing the template, you have to tweak the question, translate it if necessary and adjust its look with the WYSIWYG editor.
Next, choose the user segment to target, review the survey, and then, publish it.
Userpilot's survey analytics will give you the insights necessary to improve the response rates. You can do it by manipulating sampling, behavior, and frequency settings.
Book the demo to see how it works in practice.
What is a product-market fit survey?
Product-market fit (PMF) survey, aka Sean Ellis test, is used by product teams to determine how well the product satisfies the needs of the users.
For a product to achieve a market fit, it needs to satisfy genuine customer needs and there must be enough customers in the target market willing to pay for the product or service.
To find out if you've reached that stage, the survey asks users how disappointed they would be if they could no longer use the product or feature. If enough of them respond 'very disappointed', you've got it.
How to create a product-market fit survey step by step with Userpilot?
Userpilot is a product growth platform that allows you to collect user feedback in-app and at scale. This makes it a perfect tool for running product-market fit surveys!
Here's how to create them in Userpilot in 5 easy steps.
Step 1: Choose a PMF survey template or create one from scratch
When logged into Userpilot, start by clicking on User Feedback. This will reveal the NPS and Surveys option in the drop-down menu.
Choose Surveys.
This will take you to the Surveys dashboard. Click the Create Survey button in the top right corner.
Here you've got the option to create the survey from scratch (bottom left corner). You can also use a ready-made template to create a survey quickly and easily. Type PMF in the search box to find the relevant template to use.
Step 2: Customize the survey the way you prefer
Let's customize your survey so that it ticks all the boxes. This is super easy thanks to the WYSIWYG editor.
Start by tweaking the question and the choices your users will see when you trigger the survey.
If you're targeting users who don't speak English as a native language, you can easily translate the survey into their mother tongue. In this way, you will make it more inclusive, increase the response rates, and most importantly, avoid the nonresponse bias.
Finally, adjust its appearance to give it a native UI look and increase its accessibility.
Step 3: Trigger the PMF survey to a specific segment
Once the survey is ready, it's time to trigger it to a specific user segment.
For example, you could choose users who have been using the product for at least 4 weeks and have reached the activation stage. Or you may want to target only a particular demographic group, for example, Spanish speakers.
Userpilot allows you to segment your users based on:
User attributes, like web sessions or signup date
Company data
Tagged features they have engaged with
Custom events they've completed, both those set in Userpilot and API ones
In-app experiences they've engaged with, like flows or checklists
User feedback – both quantitative and qualitative responses
Step 4: Preview and publish your PMF survey
Thanks to the preview mode, you can easily monitor the final look of your survey.
Once you proofread the question and you're happy with the way it looks, simply hit the Publish button.
Step 5: Test and iterate on your product-market fit surveys
Once the survey is live, monitor user engagement and completion rates through the Survey analytics.
If you see that your response rates are low, iterate. Adjust the sampling, user behavior, and frequency of the surveys. Tweak these variables to ensure you get enough data and prevent skewed results.
What is a good product-market fit score?
40% is the goal.
If more than 40% of your respondents say they would be very disappointed if they could no longer use the product, you've achieved a product-market fit and your product will gain traction.
Examples of questions to include in product market fit surveys
Apart from the main PMF question (How disappointed…?), which gives you quantitative insights, it's a good idea to include qualitative questions in the survey as well.
For example, you could ask:
Why did you choose this answer? This is an open-ended question asking for additional insights.
What is the main benefit you receive from using our product? This question helps identify the key value proposition and allows you to focus on developing the most valuable aspects of the product.
What features do you find most valuable in our product? Just like above.
What features do you think are missing or need improvement? This simple question allows you to gather ideas to inform your product roadmap.
What's the right time to run PMF surveys?
For PMF surveys to give valid results, you need to have enough users who are familiar with the product and its core features. That's why they're used once the MVP is out.
However, their use isn't limited to the stage immediately after the launch, when you're still trying to define and refine your value proposition. The fact that you've achieved your PMF, doesn't mean it'll stay like this forever.
That's why it's good practice to run them at regular intervals, say 3-4 times a year, especially after a significant change, like a new feature release, or when you start experiencing slow growth.
Conclusion
SaaS companies use PMF surveys to decide how well their product satisfies market demand. They allow them to crystallize their value proposition and inform future product development.
If you want to see how to use the PMF survey template in Userpilot to quickly design and launch your surveys, book the demo!