Free Trial Landing Page: Top Examples and Best Practices for SaaS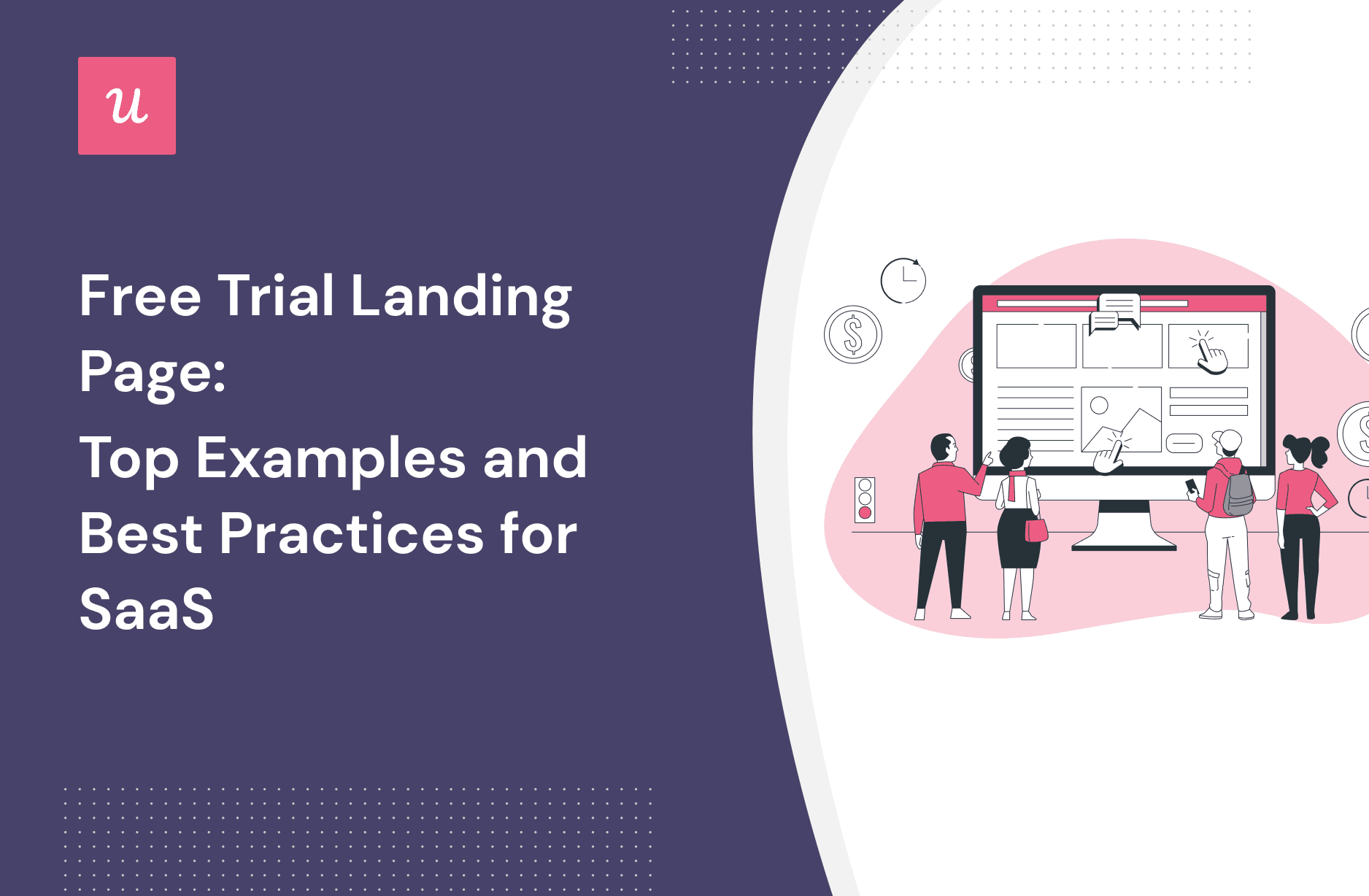 Creating a compelling free trial landing page is crucial to driving product growth and turning traffic into revenue. That said, crafting free trial landing pages can be deceptively complex.
In this guide, we're going to cover what you should include on a free trial landing page, five best practices to follow, and look at 10 landing page examples to get you started on your journey with some inspiration!
TL;DR
A free trial landing page can help you convert traffic into signups, provide the information they need to make a final decision, keep leads engaged during the signup journey, and target the right demographics to bring in more SQLs.
Most free trial landing pages should include a signup form, value proposition, benefits list, CTA button, multimedia elements, social proofing, and self-service resources.
Split-testing your page layouts and microcopy will optimize conversion rates.
Include multimedia elements on your free trial pages to break up the text.
Collect feedback from users to find out which areas of your trial pages need improvement.
Why create a free trial landing page?
The core purpose of free trial landing pages is to turn website traffic into product signups. To do this, your free trial landing page will need to:
Give visitors all the necessary information on a single page
Remain focused on the single goal of getting users to sign up
What to include on a free trial landing page?
While the elements you include on a free trial landing page will vary depending on your product and target audience, there are a few core ingredients that most landing pages will include:
Signup form. You'll notice that most signup page examples keep their forms as succinct as possible, only asking for necessary information.
Value proposition. Having headings or bullet points that help site visitors clearly understand the value that your product provides will increase conversions drastically.
Key benefits. Highlighting the benefits that your product's key features offer is another effective way to increase conversion rates on your free trial landing pages.
CTA. If you don't have a "start free trial" button to drive website visitors to action at the right moments, they're far less likely to convert into a signup.
Multimedia. Including product screenshots or tutorial microvideos on your free trial landing page will give users a clearer idea of the software they're signing up for.
Social proof. Sharing testimonials, user reviews, and case studies will give your product more credibility — proving that it's worth getting a free trial in the first place.
Self-service options. Having an AI chatbot, knowledge base, an FAQs page, and other self-service resources will make it easier for potential users to navigate issues on their own.
Best practices for a successful free trial landing page
While there are many different ways to create landing pages, there are a few universal best practices that will almost always bring in more sales for your SaaS business. Here are a few to keep in mind while testing ideas for your free trial landing page.
1. Have a clear happy path
A happy path, in UX terms, is defined as a low-friction path for visitors toward value realization. Unlike golden paths, happy paths focus on a specific area of the product and help users reach a desired outcome.
If you want your landing page to lead users somewhere, you need to work backward by first figuring out what the page's primary goal is. You can then design a flow that will effectively get users to the desired outcome. Here's a flowchart example of what a happy path could look like:
2. Test layouts and elements
You can't create a landing page and then "set and forget" it on your website. Users can drop off anytime, so you need to be consistently improving your website pages as much as you do your actual product.
A/B testing (also called split testing) in UX mostly consists of tweaking elements on your page and creating different variants to test against each other. This will help you identify the optimal version of a page and figure out which elements yield the best results.
A few key elements that you could start with include main headlines, opening paragraphs/descriptions, page layout, signup form fields, and CTA copy, placement, or color.
Even minor tweaks to these elements could have a major impact on conversions. It's not uncommon for landing page conversion rates to see a big jump with a new CTA button.
3. Fine-tune the copy
While most landing pages favor microcopy over long-form copy, the role it plays in free trial signups is massive. Your copy should be simple, to the point, and as informative as possible without getting into rambling territory.
Your copy also needs to state the value proposition from the get-go. Website visitors aren't likely to scroll all the way through a landing page unless they immediately see that the value will be worth their time.
Split-testing your copy is a great way to see which UX writing patterns connect best with your target audience. Be sure to err on the side of conciseness, as you can always include additional information later or introduce additional features during secondary onboarding.
4. Incorporate multimedia
Seeing as copy should be kept to a minimum when creating sales pages, multimedia elements can be a great way to give users more information without taking up too much space. These could include product screenshots/GIFs, demo videos, team photos, and testimonial montages.
You'll notice that Userpilot's signup form includes both reviews and pictures to humanize the page while boosting its credibility. Integrating photos into your reviews/testimonials also makes them look more legit and ensures you get the best ROI from adding social proof.
5. Get feedback
If you want to improve the conversion rate on your free trial landing page, then don't hesitate to ask for direct feedback from your users. User feedback can help you improve shortcomings and double down on positives.
Tip: Ask users what made them convert or, conversely, what stopped them from converting.
This feedback can also be used to optimize your free-to-paid conversion strategy later on.
Gathering feedback can be done through in-app surveys, email surveys, social media polls, or one-on-one user interviews. You should also consider offering incentives to reward users for taking the time to share their feedback and encourage other users to do the same.
Here's what a feedback survey built with Userpilot looks like:
10 free trial landing page examples
Now that you know what to include on your free trial landing page and which best practices to follow, it's time to take a look at a few examples. These free trial landing page examples could give you some ideas on how to improve your own SaaS landing pages!
1. Trello
Trello gets its landing page off to a good start with a short but compelling headline that mentions the free trial length. The page is made up of simple copy organized into visually-appealing bullet points.
The page also features a vertical design with the video at the top and a link to a webinar for more information at the bottom. Overall, the page provides a clear overview of the main benefits and proactively offers help to site visitors.
What the page does well:
Concise, compelling headline
Brings more attention to benefits with bullet lists
Utilizes multimedia
2. ExpressVPN
Instead of distracting visitors from the CTA button with a large "credit card required" banner, ExpressVPN uses minimal copy and focuses on the core details of their free trial. The sales page mentions that you'll be able to freely test out all features and request a refund in 30 days.
It also features a comparison highlighting the benefits of getting ExpressVPN instead of a free VPN. You'll notice that ExpressVPN includes quite a few self-service resources, including a step-by-step guide to getting started and an FAQs section.
To complement the attention-grabbing CTA, the page displays testimonials for credibility.
What the page does well:
Highly visible CTA button
Focused microcopy
Self-service resources
3. Hootsuite
Hootsuite takes a simplistic design approach to their free trial page, including only the most essential information. The page starts off by asking the user to select a plan that best suits their needs (with clear guidance on what's included in each tier) to personalize the experience.
The page also offers an option to either start the trial or skip it altogether and get a discount. This gives website visitors a direct path to becoming customers if they're already convinced instead of forcing them into a free trial period.
Finally, it briefly goes over the key benefits of using Hootsuite.
What the page does well:
Personalized signup flow
"Skip trial" option w/ discount incentives
Touches on key benefits
4. Adobe
Adobe has many products in its catalog, so it gives website visitors to option between starting a trial for the entire lineup or selecting a single tool to sign up for. The page briefly describes each tool, what it does, and how it benefits users to help visitors make an informed decision.
It also has an FAQ section that meets essential questions with straightforward answers and relevant links for further readings. Last but not least, Adobe has an AI chatbot as a form of conversational UX.
What the page does well:
Option between full catalog or tool-specific free trial
Description of each tool and its respective benefits
Self-service resources
5. Salesforce
Salesforce uses a light, short page to get the message across. The page notes that no credit card is required, lists product benefits in a bullet format (for better scannability), and displays a number that site visitors can call if they need help.
The page also has a signup form with questions that help Salesforce personalize the free trial flow for new users. The form itself is separated into three steps, so visitors don't feel overwhelmed with too many questions at once — an example of progressive disclosure.
What the page does well:
Scannable page design
Support hotline
Progressive disclosure with progress bar
6. AdEspresso by Hootsuite
AdEspresso's free trial landing page has action-focused headlines and copy. It leverages its community size and pool of client companies as social proof of the value that the product provides.
The landing page also specifies what is and isn't included in the trial. Lastly, the signup form is separated into two steps and only asks for credit card information on the second step to spread friction out as evenly as possible.
What the page does well:
Leverages brand recognition from client companies
Transparency on trial inclusions
Two-step signup form to spread out friction evenly
7. Jasper AI
Compared to the other examples on this list, Jasper AI has a fairly long landing page. That said, it uses this extra length to get into greater depth on what the product does, common questions, and what the benefits of using it are.
The landing page also goes heavy on social proof. You'll find an assortment of client ratings, user reviews, testimonials, and logos from the companies that use Jasper AI. These client brand logos are essentially free marketing assets for Jasper AI.
Couple all that with the explainer videos, visually attractive design style, and a smart final heading for those who patiently scrolled all the way through:
What the page does well:
In-depth product description and benefit overview
Client ratings, reviews, testimonials, and logos
Attractive visual + multimedia experience
8. LinkedIn Sales Navigator
LinkedIn Sales Navigator uses a short but powerful description to get the point across straight away. It also features videos and product screenshots in a space-saving carousel format to integrate multimedia while keeping the experience tight.
The compact and to-the-point nature of the page is very reflective of LinkedIn's target audience, i.e., busy people who are usually in a rush. The page also includes a few big customers and core benefits to drive downline feature adoption.
What the page does well:
Compelling microcopy
Compact multimedia
Core benefits
9. Autodesk
Autodesk's trial page serves as a good example for brands with multiple tools in their product lineup. It has a search box to help visitors find the specific software they're trying to download.
Product details are hidden behind the "See what's included" section to save space while still providing additional context if needed. There are plenty of self-service resources, including a native product comparison tool, FAQs section, and AI chatbot with live agent integration.
What the page does well:
Search box for easy navigation
Product details dropdown
Self-service resources
10. BigCommerce
BigCommerce starts off strong with both social proof and value proposition in the opening paragraph. It also includes a list of the top three benefits that users stand to gain by using BigCommerce.
Following up, the high-contrast CTA button with concise microcopy makes it clear what the visitor should do next and where they need to click. The landing page also uses actual numbers that emphasize the impact a product can have rather than just vague benefits.
What the page does well:
Compelling opening paragraph
High-contrast CTA button
Data-backed value proposition
Summing up
As you can see, creating a good free trial page comes down to incremental improvements. Adding an FAQ section, AI chatbot, tutorial video, or case study can drastically increase your signup conversions in the long run.
If you're ready to create more engaging flows for new users and existing customers, then it's time to get your free Userpilot demo today!