20 Best SaaS Landing Pages and Why They Convert So Well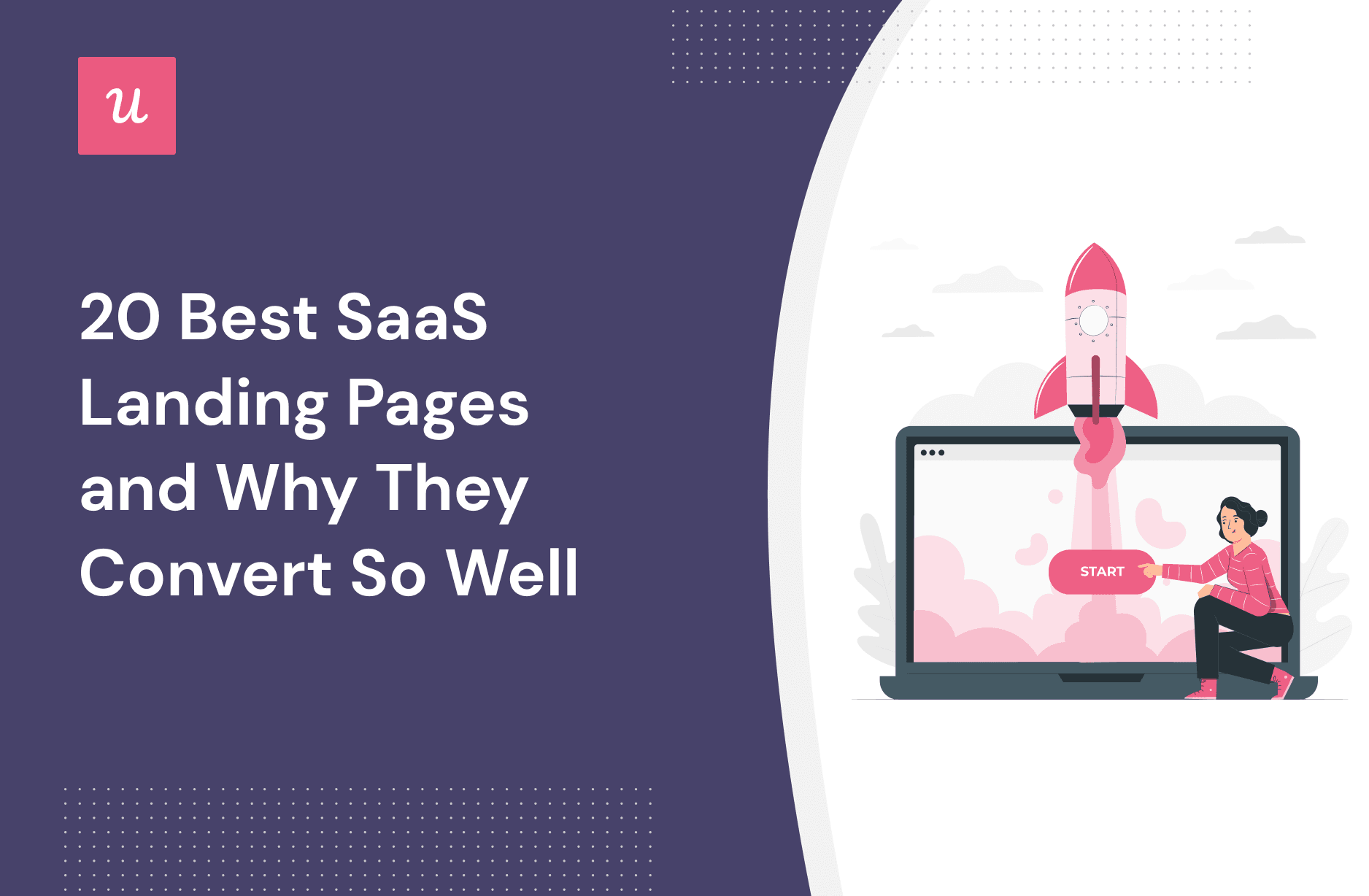 SaaS landing pages are an essential step in the process of trying to get people to sign up for your solution. Product growth can often hinge on how effectively you can create a killer SaaS landing page and drive targeted traffic toward it.
In this article, we're going to go over the key elements that make up a good SaaS landing page and 20 SaaS landing page examples that you can use for inspiration when designing your own web page!
TL;DR
Optimizing the six core elements (outlined below) can improve the performance of your landing pages.
Landing pages need to account for their intended audience, whether that's enterprise customers who need more information or gamers that want high-speed software.
Use colored buttons, animated videos, and product screenshots to create visually appealing landing pages.
Link to relevant subpages to help prospects learn about your service and discover more features.
Link to case studies, customer successes, or user testimonials to prove that your product is worth signing up for.
What is a SaaS landing page?
SaaS landing pages are web pages that aim to highlight features, list pricing, and ultimately get people to convert by signing up for a free trial or subscription. Unlike a home page, a landing page is laser-focused on a single goal, use case, or target persona.
These pages can also be used to announce new features, promote events, generate leads, or capture emails for a mailing list. Elements such as demo videos, interface screenshots, and chatbots are commonly found on landing pages as well.
Key elements on SaaS landing pages
Since every SaaS business is different, it should come as no surprise that every SaaS landing page is different too. That being said, there are a few key components that are shared by the majority of SaaS landing page examples you'll see online.
Without further ado, here are the elements that make up most landing pages:
Hero section. The hero section is the portion of the SaaS landing page that will be visible as soon as users reach your website. If you don't include the information they need and get straight to the point, leads might not even bother to scroll down past the hero section.
Features/benefits. While not every SaaS landing page includes pricing — some opt for quote-based pricing — the features/benefits section is non-negotiable. A detailed comparison table showing the features for each subscription tier tends to work best.
Social proof. Having social proof on your SaaS landing page will make it easier to convince users to sign up for free trials. Social proof could come in the form of customer testimonials, notable customers, star ratings, or case studies.
Contact form. Having a contact form is essential since some users may start scrolling past the "start free trial" button if they have unanswered questions. Having these contact form fields lower on the page will help capture leads that are still on the fence.
Demo video. Product demo videos are a great way to address the pain points that most users have and show off core product capabilities. Product demo videos are especially important for complex products that users may have a difficult time fully grasping.
Call-to-action (CTA). Having multiple CTA buttons is generally not advised since it will create too many distractions for the reader. However, you could use FOMO elements like a countdown timer to get people to click CTA buttons, increase your conversion rate, and boost other SaaS growth metrics.
20 SaaS landing page examples and what makes them great
Being familiar with the six key elements of a SaaS landing page isn't enough to optimize your next landing page design. Instead, having a look at SaaS landing page examples from veterans like HubSpot, Asana, Shopify, Zoom, and many others can help inspire you.
Here are 20 SaaS landing page examples that you can draw inspiration from.
1. Userpilot
Not to toot our own horns, but having a look at our landing page could give you some ideas. For instance, we combine a concise value proposition with a short contact form to keep the SaaS landing page as low-friction as possible for website visitors.
You'll also notice that we ask for the company size so we can personalize the demo based on the lead's needs before the call even starts. You'll notice that our landing page design also incorporates elements of social proof and team member pictures to humanize the page.
Highlights:
Short and effective copy
Contact form as the central element
Social proof
Humanizing images
Personalizes user experience
2. Airtable
Airtable never shies away from creating a dedicated SaaS landing page for each of its products. The landing page above focuses on Airtable's interface designer and gets straight to the point on what users need to know.
You'll notice that the minimal design of its hero section concisely conveys the essential info and immediately moves the reader's attention to a CTA button. Below the CTA, you'll see short sections outlining the main benefits and product screenshots to draw prospects in.
Last but not least, the landing page also has an FAQ section as a self-service resource for prospects who are still on the fence and want to learn more but aren't ready to reach out yet.
Highlights:
Clean hero section
Highlighted benefits
Product screenshots
Self-service resources
3. Asana
To make its hero section stand out without being too distracted, project management software Asana's landing page design utilizes empty space and a simple color palette. This makes the white CTA button all the more obvious to site visitors.
The page also features product demos that showcase what the product will actually look like from a user's point of view. You'll notice that every main feature is succinctly introduced throughout the full landing page with internal links.
Highlights:
Clear CTA
Actionable headlines
Highlighted features
Further reading
4. WeTransfer
The Netherlands-based file transfer solution WeTransfer uses straightforward microcopy and an easily readable font to immediately hook site visitors in. Clicking on the black CTA button takes you straight to the pricing page so prospects can find the right plan for them.
The landing page also makes use of vibrant visuals and contrasting colors. These creative liberties make the full landing page feel friendlier, inspiring, and more likely to evoke positive emotions in site visitors.
Highlights:
Simple copy
Consistent CTAs
Lots of visuals
Email form
5. Bitly
Unlike the copy-light landing page of WeTransfer, Bitly's full landing page definitely has more text in it. That said, it manages to offset the text using white space and illustrations to ensure that the full landing page doesn't overwhelm site visitors.
The primary CTA uses a bright color that stands in contrast to the other elements on the landing page. It's also more prominently designed than secondary CTAs to ensure that the majority of attention is drawn toward the primary CTA.
You'll notice that the company name and CTA use colors that aren't prominent on the page. Scrolling down the full landing page will lead you to client brand logos, which is a great way to incorporate social proof into your landing page.
Highlights:
White space
High-contrast CTA
Highlighted benefits
Social proof
6. HubSpot
While HubSpot's design style is certainly a bit denser than some of the other examples on this list, it keeps its CTAs consistent throughout the full landing page. The primary CTA is, of course, highlighted in orange to stand out to prospects.
There are also plenty of support resources on the landing page, like FAQ sections and a chatbot to help interested visitors learn more about the product. In terms of social proof, the full landing page shows HubSpot's awards and testimonial videos.
Highlights:
Proactive support
Demo video
Product awards
Testimonial videos
7. Miro
The first thing you'll notice when you land on Miro's landing page is the interplay between the black and white text with the yellow thumbnail to the side. This makes the catchy headline stand out while drawing attention to the animated product demo.
Lower down the landing page, you'll see client testimonials and clever use of color to clearly separate page sections. Of course, you've probably noticed that the CTA button uses blue (a cool color) to contrast against the warm yellow color in the video thumbnail.
All in all, Miro manages to create a simple UX happy path across the full landing page.
Highlights:
Simple and effective design
Clearly separated sections
Table comparing Miro with competitors
8. Loom
To reflect Loom's brand identity as a screen recording software, its landing page heavily focuses on multimedia elements — particularly videos. The landing page focuses solely on the main features of the product to keep the value proposition as simple as possible.
The landing page also shows screenshots for both web and mobile screens since their solution lets you embed Loom videos on more than one device type. Overall, the full landing page does a good job of communicating versatility without going too deep into detail.
Highlights:
Focuses on multimedia
Product videos
Use cases
Displays community size
9. Wistia
Wistia gets most of the best practices right by using a single CTA, using bright backgrounds to bring contrast to buttons, and interlinking to relevant product integrations. The landing page also features a chatbot that can instantly answer common questions.
Highlights:
One focus CTA
Bright background to drive attention to the right sections
Careful use of internal links
Chatbot
10. Figma
Figma's enterprise software landing page is a great example of personalization done right. All the CTAs, sections, and overall tone of voice on the landing page reflect the target audience, which in this case, is enterprise customers.
To keep the full landing page consistent with Figma's brand palette and visual style, you'll see a lot of sharp and vibrant elements in front of a white background. You'll also find resources that are more in-depth than typical B2C SaaS landing page design would call for.
Enterprise SaaS marketing is all about overcoming the longer sales cycle since these types of users don't make purchase decisions on a whim. As such, Figma includes various resources, including an economic report and customer success stories.
Highlights:
Personalized for user needs
Customer success stories
Educational resources and report
Clearly demonstrated benefits
11. Canva
SaaS landing page design needs to adapt depending on which product, tool, or feature is being highlighted. Canva's logo maker landing page uses simple text and a CTA button with a darker shade of violet to prompt users to start creating.
By showing screenshots of the interface and telling users that they can get their logos in minutes, the landing page also makes the task feel less daunting for new users. It might not be the best SaaS landing page if you're trying to advertise a full-suite platform, but when covering a single tool, Canva hits the nail right on the head.
Highlights:
Straightforward CTA
Interface screenshots
Logo examples for inspiration
Simple step-by-step guide
12. Zoom
As a video conferencing software that prides itself on intuitive functionality, Zoom uses the same tenet of simplicity when creating landing pages.
Zoom has distinct locations on its website for each industry that they're targeting. Taking this segmented approach ensures that the web copy always feels relevant to the person reading it.
The landing page also has personalized videos for every segment, statistics, and benefits that are targeted to each user's pain points. There are also customer success stories for every industry that Zoom targets to boost conversions.
Highlights:
Focused on one industry
Stats and benefits
Educational resources
Customer success stories
13. Shopify
The best SaaS landing page designs are often short and simple, with the single goal of getting users to start their free trial. Shopify takes this narrow focus to heart by using minimal text, a social proof section with client testimonials, and a three-step process.
The page may be short and light on copy, but the three-step process completes the key job of teaching users what they need to know to start selling on the platform. The hero section also uses a fluid pattern to bring attention to the green color palette that Shopify uses.
Highlights:
Hyper-focused on a single goal
Singular CTA
Step-by-step guide
Thematic pattern and palette
14. Monday
Monday starts things off on the right foot by letting users choose which tools they're interested in. This makes it possible to personalize the customer experience from the get-go and highlight the most relevant features for every user.
The landing page also uses statistics as an example of how efficient the software is, which is a key consideration when choosing between project management solutions. To bolster the credibility of the business, Monday also mentions its awards, testimonials, and community.
Highlights:
Easy to navigate
One focus CTA
Personalization
Stats and testimonials
15. InVision
InVision targets multiple departments of every business they work with — which is why they have individual pages for each department. The light interface with large text makes the message clear as day to any business who's interested in their solutions.
Lastly, InVision offers a free trial, product demos, and complimentary eBooks to ensure that leads have all the information they need to make a purchase design and sign up for a subscription with the company.
Highlights:
White space
Personalized benefits
Free e-books
16. Hotjar
Instead of using a scatterbrain approach and trying to push all its features at once, Hotjar focuses on a single function of the product along with the pain point it relieves. Whenever the landing page does cover features, Hotjar backs up all claims with user testimonials.
Hotjar also has a comparison table to agitate the issues that prospects will deal with if they don't use the software moving forward. Last but not least, it has a pull-away form that it uses to gather feedback directly from the landing page.
Highlights:
Addresses one pain point
Combines features with user testimonials
Feedback survey
17. Moz
Moz uses a snappy, catchy headline to hook prospects in and get them to scroll below the fold. The copy itself focuses on individual benefits, but it does link to relevant tools to make navigation easier for users.
Product screenshots, social proof, and a fine balance of text-to-visuals make the Moz landing page an excellent benchmark when building your own. Moz may use testimonials as social proof here, but case studies could perform even better.
Highlights:
Snappy, efficient copy
Balanced text and visuals
Product screenshots
Social proof
18. Ahrefs
Many marketers would agree that Ahrefs has one of the best SaaS landing pages in the world of SEO software. All their pages focus on the benefit a feature brings rather than the feature itself — often utilizing bullet points to make the landing page more scannable.
Ahrefs also links to relevant tools, so users don't have to scroll back up to the header just to navigate to a tool they learned about. The Ahrefs landing page also uses its signature bright orange for CTA buttons and adds large images to highlight the product interface.
Highlights:
Easy to navigate
Large product screenshots
Vibrant CTA buttons
19. Dropbox
Dropbox's landing page is a prime example of how a simple design flow can minimize friction for prospects. There's barely any text on the page, a large CTA, and an eye-catching animation to hook people in.
For those who want to dig into the finer details, Dropbox has an FAQ dropdown menu and internal links to individual product pages. Overall, Dropbox should be the go-to example when you want a landing page that does more with less.
Highlights:
Minimal text
Large CTA
Low-friction design
FAQ dropdown
20. ExpressVPN
We've gone through lots of examples in this article, but ExpressVPN is a masterclass in knowing your audience. Both the header image and copy have been fine-tuned to appeal to gamers.
You'll also see an example of what's called a "smart CTA" since it prompts users to take an action while simultaneously displaying social proof. Not only does ExpressVPN list out popular games, but it even creates subpages for each game mentioned.
This is a textbook example of micro-segmentation — which is a highly effective way of targeting specific audiences. Scroll below the fold, and you'll see its visual bullet points that highlight protection, connectivity, and bypassing throttling.
Highlights:
Highly personalized copy and imagery
Micro-segmentation
Smart CTA
Visual bullet points personalized to the target audience
Final words
As long as you have social proof on your landing page, crystal clear CTA buttons, and a SaaS product that's actually worth using, then you should have no trouble getting prospective customers to hit the desired button!
Just remember that the conversion process is exactly that: a process. Even the best SaaS landing page can't get all potential customers to sign up on their first visit. All you can do is continually optimize the copy and overall design of your SaaS website until potential customers become paying customers.
If you're ready to give your product users the best experience possible, then it's time to get your free Userpilot demo today!