WalkMe reviews – All You Need To Know About WalkMe, Straight From Its Users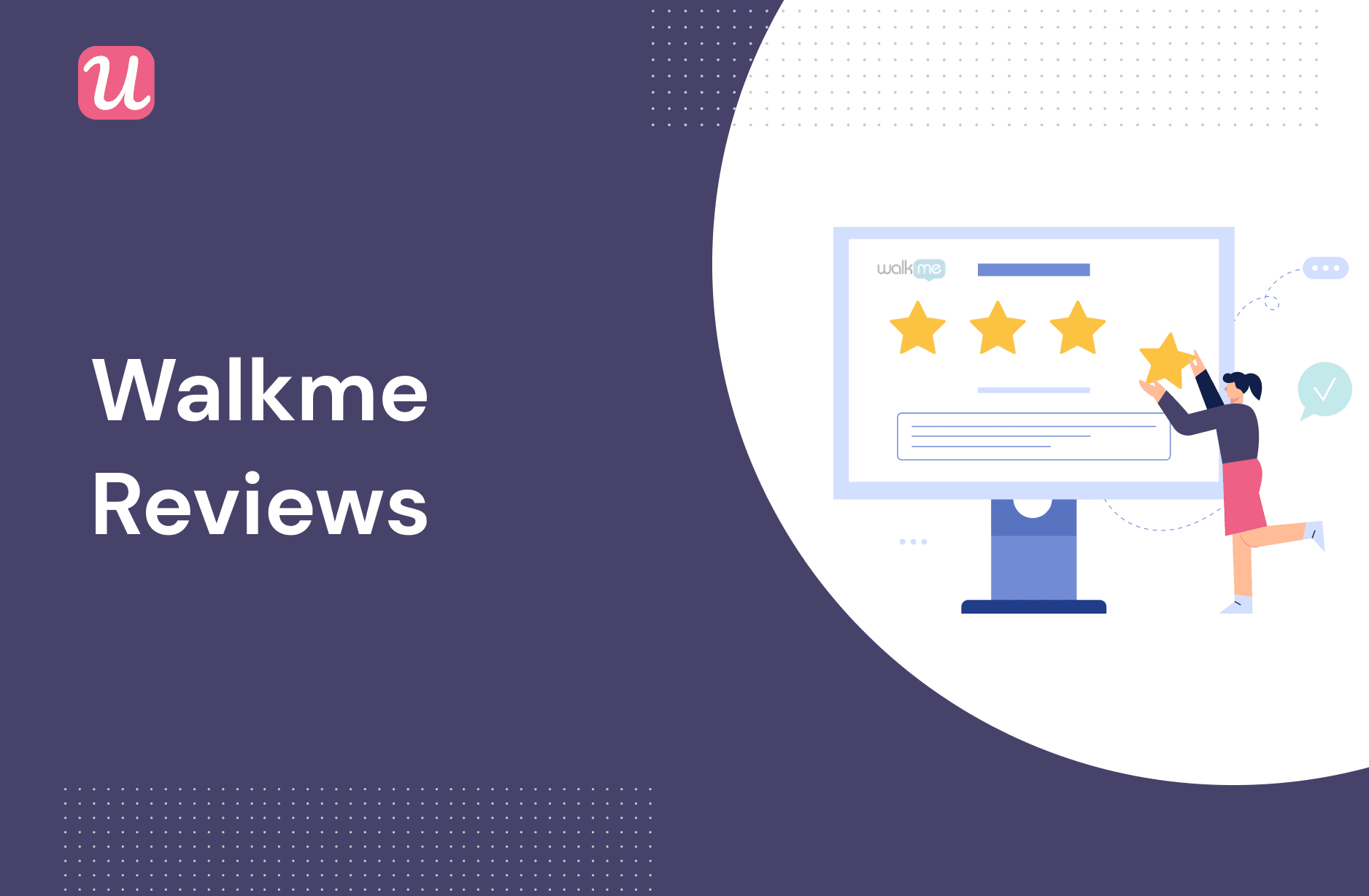 When searching for a good user onboarding solution, the name WalkMe is likely to come up a lot.
But is WalkMe the right digital adoption platform (DAP) for your company and product?
User onboarding is just such a critical component of product adoption and, ultimately, the success of your product. So it's more than worthwhile to get all the information you can before deciding on an onboarding toolset.
To help with this we've tried out and evaluated WalkMe competitors and alternatives in other posts, but in this article, we'll go right to the source and see what WalkMe customers have to say about it.
Let's get right to it then, and look at what can WalkMe user reviews can show about whether it's the right tool for your customer on boarding efforts!
TL;DR
WalkMe is a large, well-established, and highly-rated digital adoption platform marketed primarily for employee onboarding.
WalkMe customers tend to get the most value from its sophisticated, customizable user walkthroughs, in-app notifications, and product usage analytics.
Opinion on ease-of-use is split, with smaller companies often finding that WalkMe implementation and maintenance take more time and technical ability than they have to give, or require paying for help from the WalkMe support team.
While WalkMe can be used for customer onboarding, users generally find it most effective for employee onboarding and training for their website or software program.
WalkMe isn't cheap. Starting at $9,000 per year, it's priced mainly for large enterprises. While it provides extensive documentation at no cost, it does not provide free professional services.
For mid-market SaaS businesses looking for an affordable and more user-friendly alternative, Userpilot is an excellent option.
What is WalkMe?
WalkMe is one of the first and biggest of the major digital adoption platforms for user onboarding, serving primarily as enterprise software.
This doesn't necessarily mean it's the best, but it's certainly a popular option especially for large companies with employee onboarding needs.
To better understand whether WalkMe is right for your company, we first need to answer another important question:
What does WalkMe actually do?
WalkMe features overview + reviews
With WalkMe you can create sophisticated user guides and walkthroughs. It's a very robust platform and comes with tools for employee training and product usage analytics to measure how effective the onboarding process is.
In the following reviews, you'll notice several mentions of user and employee training. It's important to note that WalkMe is a digital adoption platform aimed primarily at enterprise-level employee onboarding rather than SaaS user onboarding.
Nevertheless, as reviewers point out, WalkMe does a good job of supporting super detailed user education and helping users make more effective utilization of whatever product or system it is integrated with. Some of the standout features that come up again and again in reviews include:
On-screen guidance
Product use analytics and reports
User journey segmentation
Customizable UI elements, tools, and onboarding flows for dynamic user education
In-app/product communication with users
With that context in mind, let's dive right into the reviews and see what people are saying about WalkMe's features:
Gives users on-screen guidance
"The most valuable thing WalkMe provides is time. WalkMe provides the user with on-screen guidance to get them to where they need to be without weighing down support teams on training for every function. The automated steps can remove multiple clicks and quickly sends the user to what they need to see. The ability to view user activity and search terms allows mapping new build requirements properly."
Customizable user experience
"WalkMe is very user-friendly and easy to learn! There are so many different features of WalkMe to provide a customizable and creative experience for all of our users. I love creating smart walk thrus and building flow charts, which is the most fun part of my day-to-day tasks!"
Segmenting and tracking user onboarding
"It is really easy to create launchers, tips, validation, and walk-thru to provide assistance to the users and assign tasks to newly hired employees to train them about the system and track their training record via reporting. We can also segregate different materials for different clients and we can also create segments for faster rule application on any item."
Communication with users
"We originally purchased WalkMe to use when onboarding new users. We soon discovered we could use it for dozens of other things. For example, we've used it to let users know "Hey, we're aware of this bug," to avoid a zillion support requests. We've used it to run surveys, highlight new features, everything."
Powerful, integrated features
"WalkMe has both high quality and high quantity of powerful features that are highly user-focused. Paired with WalkMe's incredible analytic functionalities, it's hard to imagine how any other DAP tool can compete. I can't pick one favorite thing about WalkMe; it's how all the features work together to create a valuable and powerful asset to users and the company."
WalkMe reviews of user experience/ease of use
Now, you may have noticed that previous reviews mentioned WalkMe being "user-friendly" and "easy to use." Based on our examination of reviews across a number of websites, WalkMe's ease-of-use is a controversial subject.
Some users find it quite easy and intuitive to implement. Others report a steep learning curve, significant time investment, and a need for coding knowledge or costly help from WalkMe support teams.
A common theme among reviews is that it's useful and oftentimes necessary to have a person or team dedicated full-time to WalkMe implementation.
Again, since most of WalkMe's customers are large, enterprise-level businesses, it's not unreasonable for them to expect there to be a strong IT department capable of handling complex implementation and maintenance processes.
However, this is something that likely won't be the case at startups and SMEs, making WalkMe's implementation a big challenge for them.
To illustrate, here's a collection of reviews representing common thoughts on WalkMe's ease of use:
Significant time investment
"We did a basic implementation but the amount of time to implement and then maintain two separate sets of product documentation was just too much."
Coding knowledge needed
"WalkMe requires a significant onboarding/learning process. Knowledge of coding is necessary to take full advantage of the software, otherwise you need to lean on their technical team. The team is great, but you have to pay for the support hours and they can go quickly if you have a complicated build."
Versatile but overwhelming
"I love how versatile the program is! WalkMe can help you do almost anything to help users understand your platform." BUT "WalkMe has a lot to it and can be overwhelming. It can be challenging to learn and is still lacking in some areas."
Learning curve for new users
"WalkMe is very intuitive to use. From a new user perspective, I was able to jump right in and start building with little to no training. However, there were some 'lessons learned' doing it this way. I should have paid more attention to my WalkMe activation team and followed the best practices and guidance they suggested."
Needs full-time attention
"You essentially need a full-time person and a dedicated project to implement, and also to maintain multiple versions if you change your user interface. It just wasn't worth the trouble and certainly not the expense."
WalkMe reviews for user onboarding use case
As we saw in the features overview, WalkMe's onboarding most often centers on employee training on new software.
However, that isn't always the case. Many reviewers reported success using WalkMe to train and onboard both new and existing customers (as opposed to employees) with their product.
In almost every case, though, the focus was on reducing IT support tickets rather than bringing software end-users to higher activation or product adoption rates.
These two goals are not mutually exclusive, but reducing support tickets (aka. "friction") is just one part of customer success efforts that increase product adoption. Your onboarding should also drive users toward the "AHA moment" where they begin to perceive the value of your product.
Simply reducing friction isn't usually enough to accomplish that.
All this doesn't mean that onboarding with WalkMe can't drive product adoption. But according to the reviews, its use case generally ends at resolving points of friction.
Take a look:
Saves support team significant time
"Prior to implementing WalkMe my customers would ask questions then my support staff would answer them on a case by case basis. Now however, if a customer needs assistance with a particular task we create a live walk-through for them so that our library of walk-throughs is being built around customer service."
Useful for employee and customer training
"WalkMe is a very versatile product. We use it for internal training on our product for our employees but primarily externally for our Customers."
Solution for diverse use cases
"The system has an extremely deep rules engine that allows you to create a solution for pretty much all use cases. We have not come across anything that the system does not have several options to choose from to solve our problems."
Keeps up with changing onboarding needs
"WalkMe has allowed my small team to quickly build, test and launch smart walkthroughs to help users understand and learn our product. Our platform is consistently updating and growing so the ability to trigger shout-outs of new features and functions is fantastic."
WalkMe pricing – user reviews
Price was the one point where WalkMe user reviews were nearly unanimous.
Every time the price was mentioned it was described as too high.
Now, we did find some reviews that said the high price was worth it. But there were a lot more that disagreed.
WalkMe's pricing is largely based on your use case and the number of users, but the cheapest option starts at $9,000 per year.
As such, another common thread among reviews is that WalkMe's pricing may work for big, well-established companies, but that it's out of reach for startups and SMEs.
See for yourself what reviewers had to say:
Too costly for small businesses
"This product is very costly, putting it out of reach for most small businesses."
Expensive but worthwhile
"The higher than average cost is tough to justify initially but in the hours it saved, it's well worth it."
High price point for SMEs
"The quote to roll this out in our Salesforce org was going to cost $20,000 annually. For a company with 130 employees, that was too much for our executives!"
More expensive than competitors
"All in one solution, but doesn't come cheaply!" and "Very expensive compared to competitors."
WalkMe alternatives
So what have we learned from the WalkMe reviews? Here's a rundown of some of the key takeaways:
WalkMe provides a sophisticated, customizable, extremely robust platform for user onboarding, primarily aimed at employee training.
WalkMe's onboarding tools and user analytics are powerful, but aren't easy or fast to implement and maintain.
Using WalkMe can significantly cut down on the number of IT support tickets your company gets from users.
WalkMe's power and versatility comes at a high cost, and it's usually only large enterprises who can afford it.
Now where does that leave you? Perhaps you have a startup or SME and would love to get your hands on a digital adoption platform like WalkMe. But you don't have the technical or financial resources it needs…
Fortunately there are alternatives! And one of the best (we certainly think it's the best!) happens to be Userpilot.
Userpilot is a product growth platform made with mid-market SaaS businesses in mind. It's got all the tools and features you need to create dynamic, interactive product walkthroughs, track product usage analytics, and make your product growth strategies come to life.
From user walkthroughs to onboarding checklists and NPS surveys, you'll be able to guide users to the "AHA moment" and track their progress and satisfaction throughout the user journey. Further, Userpilot's segmentation tools also let you create tailored onboarding experiences for different personas and use cases.
There's also no need to have a technical whiz on staff to handle the implementation and maintenance. Userpilot can be set up in minutes and the most coding you'll have to do is copy-paste a single line of JavaScript into your app.
Now, we do need to point out that if, like many of WalkMe's customers, you're looking for an employee onboarding and training tool, Userpilot isn't your best option. Its primary use case is user onboarding for SaaS business, so it will only work on your product and not on third party apps.
But if you're not onboarding employees, it's hard to argue with Userpilot's value for money. At $249 a month for unlimited user segments, feature use, and up to 2,500 monthly active users., Userpilot costs significantly less than alternatives in its class.
If you're looking for a powerful digital adoption platform and don't want to pay an arm and a leg or hire a dedicated technical expert, why not grab a Userpilot demo and check it out today?
The reviewer's verdict
This article isn't meant to be a criticism of WalkMe. Looking over the reviews, it's clear by the number of excellent star ratings that its customers are generally happy with their experience.
But what's also clear is that WalkMe isn't for everyone.
If you're a big company with abundant resources and a need for powerful employee onboarding, WalkMe might be just right for you.
Otherwise, it's probably worthwhile checking out alternatives. If you're a mid-market SaaS business, a product growth platform like Userpilot can likely provide the feature's you'd want from WalkMe at a fraction of the price.
Interested in building user onboarding walkthroughs without any messy coding? Book a demo call with our team and get started!