How to Build an Effective Micromarketing Strategy for Your SaaS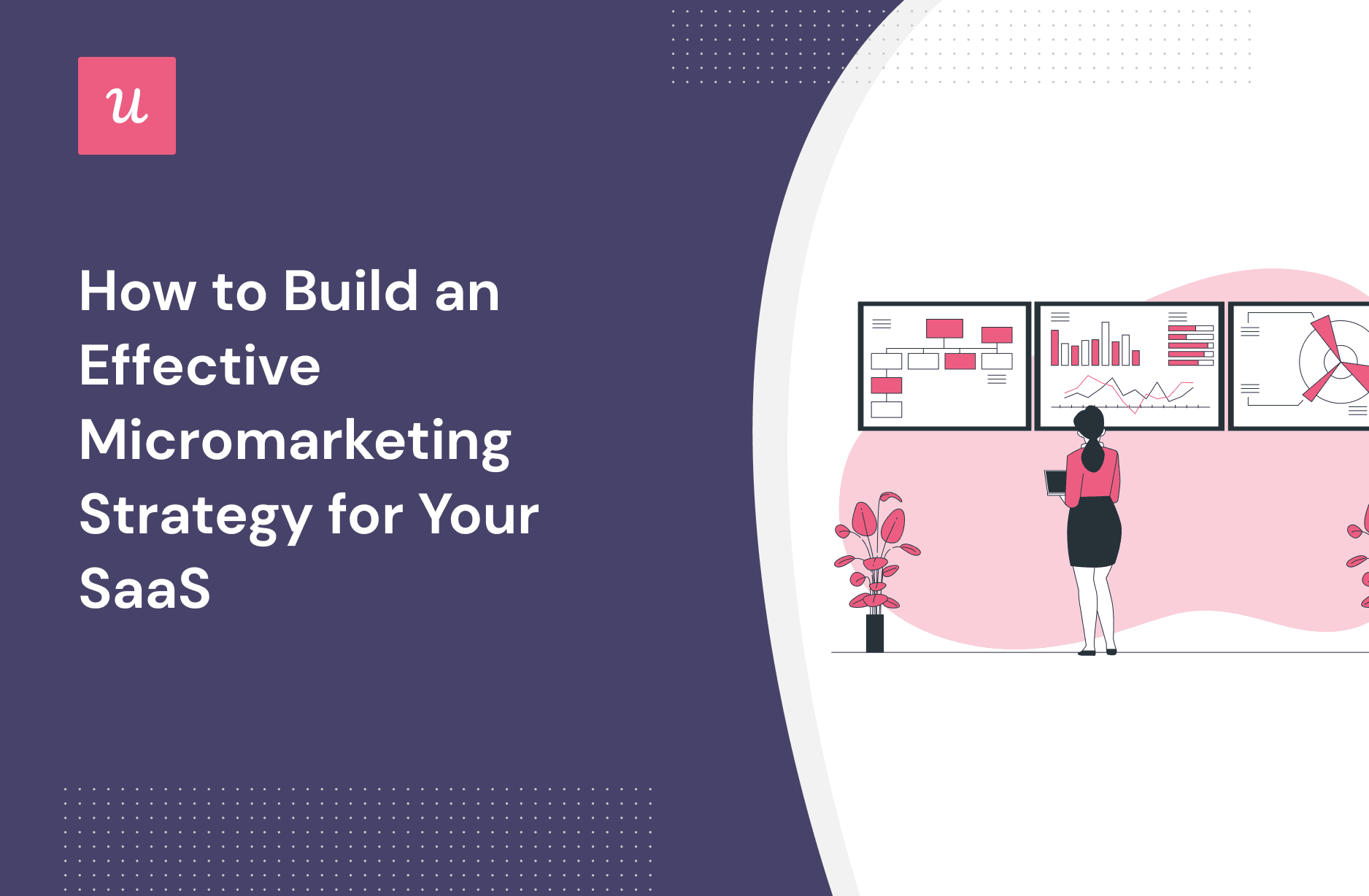 As the digital landscape gets increasingly crowded, with more brands fighting for the same customers and target audience, a micromarketing strategy may be just what you need.
When done correctly, it drives brand awareness, boosts sales, and customer retention, and, ultimately, stimulates profit growth.
So, what is micromarketing? How can you implement your first micromarketing campaign strategy in your SaaS? And what examples can get your micromarketing campaign started? This article addresses these and more.
TL;DR
Micromarketing is a form of marketing that targets specific individuals or really small groups. Micromarketing strategies are tailor-made to fit the needs and desires of this niche group.
Traditional marketing strategies are more macro, targeting as many potential customers as possible with each campaign.
Because it targets small groups, micromarketing helps lower costs. It builds trust with the user by addressing their specific concerns and turns customers into brand advocates.
To create a micromarketing campaign, you must first conduct extensive market research. Define every unique user persona and their needs and determine the best channels for reaching them.
Next, you need to determine the best approach for your audience. What will your positioning and messaging strategy be?
Finally, you'll need to figure out your marketing goals, the best tactic for achieving those goals, and how best to track goal completion.
You can find excellent SaaS micromarketing examples in companies like Slack – with its viral growth loops, Kontentino – with its targeted welcome survey, Airtable – with the contextual upsell, and Dropbox – with its referral benefits.
Book a Userpilot demo today to learn how it can help you create similar micromarketing strategies in your SaaS.
What is Micromarketing?
Micromarketing is a marketing approach focusing on a small, specific group of customers. This approach to marketing goes beyond the niche market to target extremely small (micro) groups and offer more personalized, effective messaging.
What is a Micromarketing Strategy?
A micromarketing strategy is a marketing strategy tailor-made to fit the needs of a niche group. It's a compelling mix of product, pricing, promotion, and placement aimed at reaching small groups from your customer base.
Micromarketing strategy vs. traditional marketing strategy
Traditional marketing strategies (also known as mass marketing or macro-marketing) aim to reach as many members of the target audience as possible, catching the attention of a mass audience at once.
Micromarketing strategies are the opposite. This approach evolved more recently to reach a targeted group with a personalized message. It focuses on people more likely to respond positively, thus building trust and increasing cost-effectiveness.
Micromarketing advantages
The primary advantage of micromarketing is that it is cost-effective. It reduces customer acquisition costs by scaling down the target audience and going after fewer people with higher engagement.
Because of its highly targeted nature, micromarketing helps you understand and address specific user needs and build a deeper connection with customers. As you satisfy their needs, you establish trust and encourage brand loyalty.
Finally, a happy customer base is a highly-engaged customer base. Satisfied customers are more willing to talk about your brand, generating content that drives user-generated growth.
How to create an effective micromarketing strategy?
So, how do you create a successful micromarketing strategy for your SaaS company? Consider a few helpful steps:
Choose the user personas for your niche market
Who are you targeting with your micromarketing campaign? Of course, you already have your buyer personas in place, but it's time to drill in deeper.
Create buyer personas for every segment of your target market. Each persona should represent an average ideal customer for the segment, highlighting their job title, company details, pain points, and potential gains from your product or service.
The more you know about each targeted group, the more tailored your marketing campaign can be to their needs and behavior.
Decide on the positioning and messaging of your micromarketing campaign
How will you present your product to the market? Good product positioning defines your product niche, differentiates the product from competitors, and identifies the best communication strategy for each target market.
You also need to define your brand messaging. This is where you align your customer's needs with your unique selling proposition to craft a message that moves your target audience to act.
Put together, good product positioning plus carefully curated brand messaging send a clear message to your audience, help you find the perfect customer, and give you the edge over your competition.
Decide on your main goals
What do you hope to achieve with your marketing?
For the most part, a marketing campaign focuses on acquiring more customers. But, it may target improving user conversion or, perhaps, retention. Clarifying your goals ensures you properly target your marketing efforts.
Ensure your micromarketing goals are SMART. This means they should be Specific, Measurable, Achievable, Relevant, and Time-bound. SMART goals are highly-structured, enabling productive use of your time and resources.
Choose relevant marketing channels
As part of your market research for ideal buyer personas, you should also find out where your ideal customers are. A deep understanding of each persona (age, gender, geography, job title, etc.) is needed for success here.
Thankfully, there's no shortage of marketing channels for your use, online or offline. Do you prefer online marketing via SEO, social media, blog, online ads, in-product, etc.? Or, will you better reach your target customers offline via print media or TV?
Decide on your needed tactics
Ultimately, your micromarketing tactic depends on your chosen goals. Fully understanding your audience and what actions you want them to take will help you select the right marketing tactic.
For example, if your goal is to boost free trial to paid conversion, you'll benefit from an in-app micromarketing strategy. However, the same will be ill-advised when customer acquisition is your goal.
Track the success of your micromarketing strategy
Finally, regardless of your chosen strategy, its impact should be objectively measurable. Product marketing OKRs (Objectives and Key Results) are a goal-setting framework that measures whether you achieve your overall business goals and objectives.
In addition to overall objectives and business goals, OKRs capture whether the key results of your marketing activities are also achieved. Goal tracking helps you know when to continue with your strategy, switch it up a little, or abandon it completely.
How segmentation helps your micromarketing strategy
Segmentation is the difference between mass marketing and a micromarketing campaign. Such segmentation involves collecting data and personalizing your micromarketing strategy based on that data.
Every successful micromarketing strategy requires very granular segmentation based on specific user behavior. For your SaaS, this means focusing on shared individual characteristics like product behavior, purchasing preferences, etc., rather than macro business characteristics.
Your segmentation strategy will also depend on your business goals. For instance, if you aim to improve retention, product usage data (such as sign-ups, number/length of sessions, feature adoption, etc.) becomes a more useful basis for segmentation.
As you begin microsegmenting your users and target customers, you'll more easily speak to the needs of each specific group. You'll also better understand their behavioral patterns and identify your highest value segments, ensuring better use of company resources.
Micromarketing examples in SaaS
There are numerous examples of SaaS companies implementing a successful micromarketing strategy. Consider some of these examples and the approach they took.
Use a welcome survey to collect customer data
The welcome page is a great place to start learning about your SaaS users. In addition to creating a great first impression, you can embed a user persona survey that helps you learn more about your users.
What kind of company do they work in? How about their roles in the company? What are their goals with your product or service? You can include any questions that help you learn more about your consumer base.
Kontentino uses welcome surveys to great effect, urging users to "customize their experience." The questions are few but targeted, helping them determine user segments from the beginning.
Implement growth loops
Growth loops combine product development and marketing activities, turning user outputs into product marketing inputs. They take advantage of user-generated content, referral programs, etc., to build trust in the product or service.
Slack is a successful example of a personal viral growth loop deployment in SaaS. Using the Slack Connect feature, Slack users without personal channels can join teams, learn about Slack, and, ultimately, create channels for their teams.
Give referral benefits to a targeted group of customers
Segmentation also works perfectly if you don't want to hand over referral benefits to every customer. Use segmentation to identify your power users – users who use your product actively and are happy to share it with others.
There are multiple ways to reward users like this for their loyalty. The most impactful would be to reach out to them in-app and ask for referrals. Offer incentives to get them even more eager to share.
Contextual upsell prompt
Contextual upselling involves upselling to users who meet specific criteria. For instance, you may target customers based on whether they are active users, freemium users, or even users of specific features, and upsell them with in-app messages.
Airtable takes advantage of contextual communication to good effect. For instance, in the image below, they target free trial users and guide them to pro features they may have missed. By ensuring they get the most out of their trial, you also drive account expansion.
Create in-app micromarketing strategies with Userpilot
Micromarketing focuses heavily on targeting individual members of your audience. From small businesses to larger ones, Userpilot provides the tools for highly targeted niche marketing. Amongst other things, it helps you:
Create onboarding flows for a specific group
Segmentation helps you take your first steps away from macro marketing. Userpilot lets you segment your users from the start and curate their user experience according to their user segment.
Build welcome surveys to learn who your users are and why they are there. Then, curate personalized onboarding flows for each segment, to ensure they get the most out of your product or service.
In addition to these customized flows, Userpilot lets you use different UI elements (modals, tooltips, etc.) as part of your onboarding flow. What's more? You don't need to write a single line of code to achieve any of these.
Set and track goals
An important part of any micro-marketing or advertising strategy is goal management. Goal tracking helps you know when a strategy is working and when it isn't.
Userpilot lets you create OKRs for your marketing and match them with trackable goals. Together, these let you know when your product marketing strategy is working to plan and when it's not.
Userpilot also makes it easy to tell where things go wrong and correct them accordingly. You can identify behavioral trends and work to improve your product or service based on them.
Identify loyal fans with NPS
Identifying loyal customers can feel a tad confusing. Beyond actively using your product, loyal customers should be happy to share your product with others.
Userpilot helps you create Net Promoter Score (NPS) surveys to identify loyal customers. These simple surveys reveal customers who are most likely to promote your product. You can tag user responses to easily identify your promoters and zero in on them.
To get more actionable results, you can trigger surveys contextually and/or target a specific segment with the survey. You may also repeat NPS surveys frequently and observe the trends.
Conclusion
Whether you're looking to reach potential new customers or hoping to drive existing customer conversion or retention, market segmentation and micromarketing strategy make your job easier.
Userpilot provides you with all the tools micromarketing requires for easy segmentation and targeting.
Book a demo today to learn how Userpilot helps you curate the perfect micromarketing campaign.