Finding Product-Market Fit – Expert Advice From Prowly's CEO Joanna Drabent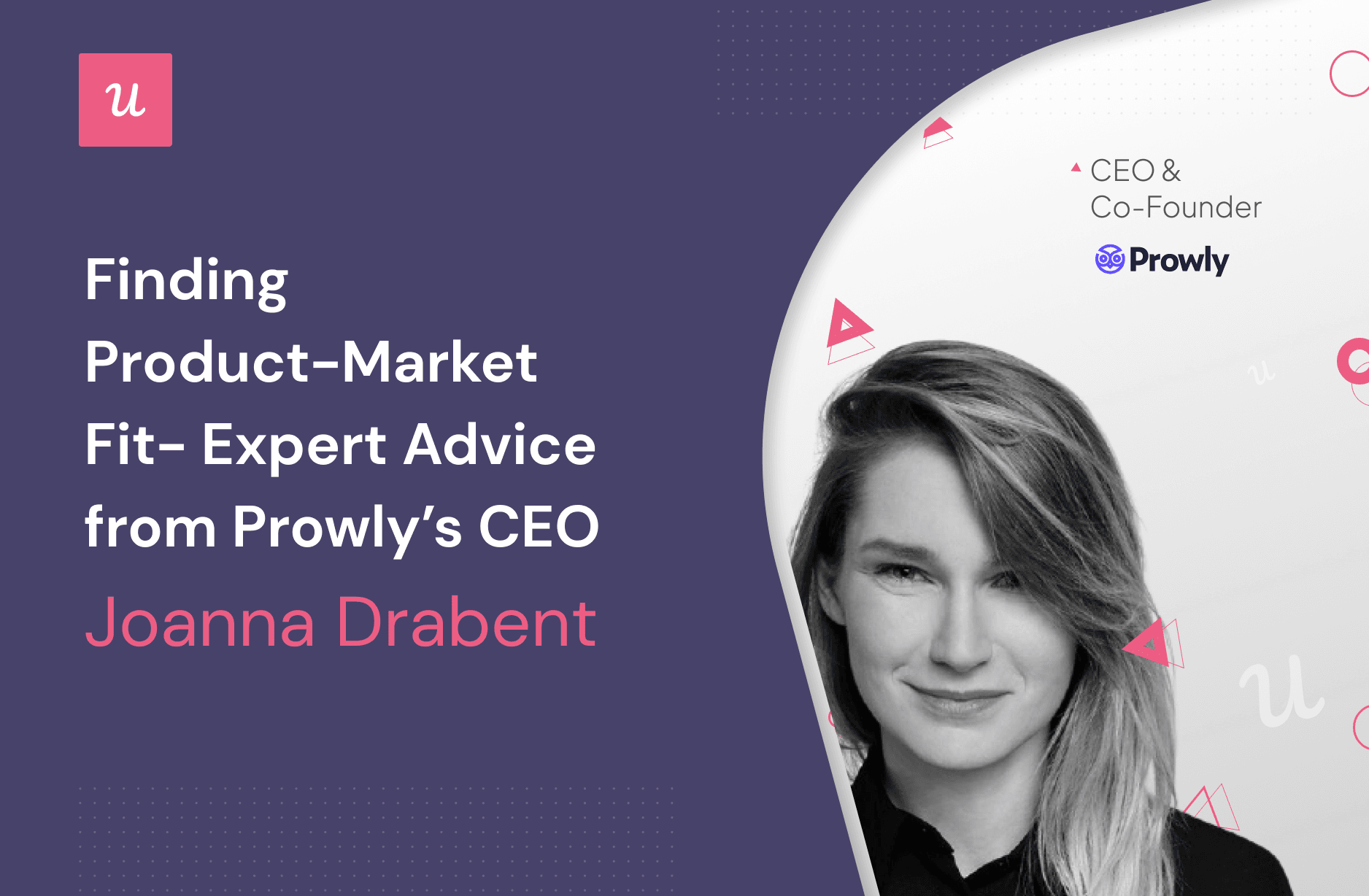 Product market fit, often just called product/market or "P/M" is one of the most important Lean Startup concepts.
There is a lot of information out there about why it's important for having a successful product and grow your business, but finding out how to achieve product-market fit can still feel elusive.
Hint: it starts with user feedback.
We spoke with Joanna Drabent, co-founder of Prowly and now Head of the Prowly Unit at Semrush. Joanna has been listed as one of the top start-up female founders in Europe by Forbes and The Hundert and she is also a member of the EY Winning Women™ European group.
You can watch the full interview on Finding Product-Market fit here, or read this article for a summary of the key points.
TL;DR
Joanna is the Head of the Prowly Unit at Semrush. Prior to Semrush, Joanna was CEO and co-founder of Prowly, which she founded in 2013.
Joanna founded and ran the Kolko PR agency from 2010 to 2016 where she noticed there was a need to automate the PR processes and there was no tool on the market to make that possible. This sparked the idea of Prowly.
They worked with many tech companies and were funded $50k from the first round of investors to build the MVP and find Product-Market fit.
Product market fit happens when you have identified your target customer ("market") and you have built the right product for them.
Prowly collected feedback and found that the feature that helped them grow was a media database.
Through content marketing and paid ads, they were able to scale.
Going global was difficult for Prowly, but after a year and a half, they found that their differentiating factor was catering to SMBs rather than enterprises.
In 2020, Prowly was approached by Semrush and was soon acquired by them.
What is Product-Market fit?
Product market fit occurs when you have identified your target customer ("market") and you have built the right product ("product") for their needs.
Marc Andreessen famously defines product-market fit as :
"The moment when a startup finally finds a widespread set of customers that resonate with its product."
It's important because you can build the best, most innovative product known to mankind but if there's no demand or market to purchase the product, it will still fail. Finding the product-market fit is an early indicator of success that's to come.
Joanna Drabent, former CEO and co-founder of Prowly, knows this very well.
How Prowly Got Started in P/M
Before co-founding Prowly, Joanna founded and ran Kolko PR agency from 2010 to 2016. During that time, she noticed there was a huge need to automate the PR processes and there was no tool on the market to make that possible.
This sparked the idea of Prowly, a PR software tool that gives professionals access to thousands of top-tier media contacts plus help with press releases, pitching, media monitoring, and much more.
From the get-go, Joanna was responsible for managing and growing the company via strategy, sales and funding as well as cultivating the company culture.
Prowly's other co-founder, Sebastian Przyborowski, became Chief Product Officer from the beginning, tasked with turning the idea of Prowly into something tangible as well as product management.
As with many bootstrapped SaaS startups, they needed to create a Minimum Viable Product (MVP). They worked with many tech companies and were funded $50k from the first round of investors to build the MVP.
Editor's note: you might be interested in finding out the difference between an MVP and an MLP (Minimum Lovable Product)?
Starting with a Minimum Viable Product (or going directly for a Minimum Lovable Product) ensures a product introduced in the market with just enough features to attract early adopters.
It may sound obvious, but you need to get your first few sales in order to prove the product is something customers want to buy.
As a team from Poland, they tested their local market. After initial success, they were ready to go global. But how did they achieve initial success?
Let's take a look at their journey!
The road to Product-Market fit – getting feedback and acting on it
During the early days, it was all about iterations based on feedback.
While collecting quantitative data like NPS scores is helpful, the most important thing to do in the beginning is to talk to your customers and get feedback from them.
What kind of features do they want to use? What problems does the product help them solve? What improvement would they need to see?
The right responses from your customers could be the key between an MVP and a successful business.
"The feature that helped us grow was a media database," Joanna explains. "That's not something popular in Poland because the professionals rely on their own contacts rather than buying contacts from a third party. Once we added that feature, our number of conversions really started to grow."
One useful customer feedback survey you can use to determine if you've achieved product-market fit, is the PMF survey. This is pretty much NPS in reverse.
After Product-Market fit comes growth
Once Prowly had a good grasp on a product-market fit, it could focus its attention on growth and scaling.
"Then we added inbound marketing which added the number of leads which, in turn, meant more conversions. In the following year and a half, we managed to grow our Conversion Rate (CR) of users to customers from 2% to 14%. That was our secret sauce."
Joanna then explained that the terms "media database" and related searches had high Google search rates, so they were able to create a content strategy around those keywords.
This brought them steady growth.
"We also went to paid ads which were our second-biggest source of leads," she adds.
"First the features, then the inbound marketing. We haven't done any outbound marketing such as cold leads," she says, letting us know that you don't have to utilize every marketing variation.
Rather, choose the type of marketing that feels right for your business and double down on it.
Prowly Goes Global
Just because you had success in one market, it doesn't mean you'll find success in another market or all markets on a global scale. That's because you still need to make sure it's a good fit and start the process all over again!
"It's actually good we started locally. We were able to test ideas and make mistakes on a smaller scale before going global," says Joanna.
In fact, it took the Prowly team a year and a half to find a product-market fit outside of Poland. Here's a review of how they did that.
Finding PMF outside of Poland with SaaS localization
There are many steps to making sure the product itself is ready for a new market. Those things are:
Product localization: This makes the product accessible to users in foreign markets with different languages.
Software localization: This means adapting the product so that it feels natural to the user who lives in a different cultural circle.
Linguistic product localization: This involves translating your product copy into the target language, and taking note of more thorough changes to the UI to achieve the right effect.
"We were worried about language barriers and cultural barriers but at the end of the day if you have a good product and you talk with people who are looking for such a tool, language doesn't matter," says Joanna.
While Prowly had initial success in understanding the Polish market and the needs of PR companies in Poland, taking the product global meant understanding new customer needs and appreciating that there's more competition out there.
"The global market was owned by two key players with all-in-one solutions. Considering the fact that we were unknown, we hadn't built trust, and the users didn't want to switch to a tool that only covered a part of what they were used to, it was a hard sell."
The solution, according to Joanna? "We needed to get enough feedback to find out the features that we needed to grow."
Differentiating from the competition
When you're fighting for a piece of the pie, differentiating yourself from the competition is crucial.
To do this, you can define your value proposition— or the reason why/how you meet your customer's needs better than anyone. This could be:
Price
Quality
Design/Packaging
Service
More
In Prowly's case, its differentiating factor was the price.
"The competitors were more expensive back then. They didn't have a free trial option which is still true today. We were positioning ourselves as the most affordable and accessible solution on the market."
Joanna also notes that they began to show the customers what they got before they entered as a user—whereas the competition was gatekeeping this information.
So while the other competitions were sales-led, the Prowly team changed the positioning to target Small-to-Medium sized businesses (SMBs) rather than enterprises and pioneered product-led growth in this market.
Getting acquired by SEMrush
After their global success, their opportunities grew.
"We met SEMrush a few years earlier because we had the pleasure to organize a marketing campaign together. The truth is, we weren't looking for an exit in 2019. We were growing over 100% year over year. We were instead looking for more financing opportunities. And then SEMrush appeared and asked us if they were interested in a partnership. We later found out they were specifically looking for a PR tool."
So the team brewed over the idea of working with Semrush, the all-in-one SEO, content marketing, competitor research, PPC, and social media marketing platform.
"During these talks, we learned that partnering with a SaaS solution that was complementary to our offering with a company that was bigger than we were with experience scaling a company, would be more effective than raising another round of investment," says Joanna.
"With Semrush we realized we could use data technology to build this product inside Prowly. So product synergy was the most important thing for us."
And so they united.
The future for Prowly
"The vision for the product hasn't changed," Joanna tells us. "We knew we wanted to add more features related to media monitoring," she says, and they've done just that.
Conclusion
There are many roads that lead to finding the right product-market fit and growing your business.
In the case of Prowly, they were all about locking in the right features that the public wanted to use!
At first, it was one key feature that no one else could offer at the time. On a global scale, it was finding how they could differentiate themselves from the competition. But we see that they were always giving the users what they wanted, and in turn optimizing their growth.