How to Select the Right Product Toolkit for Your Team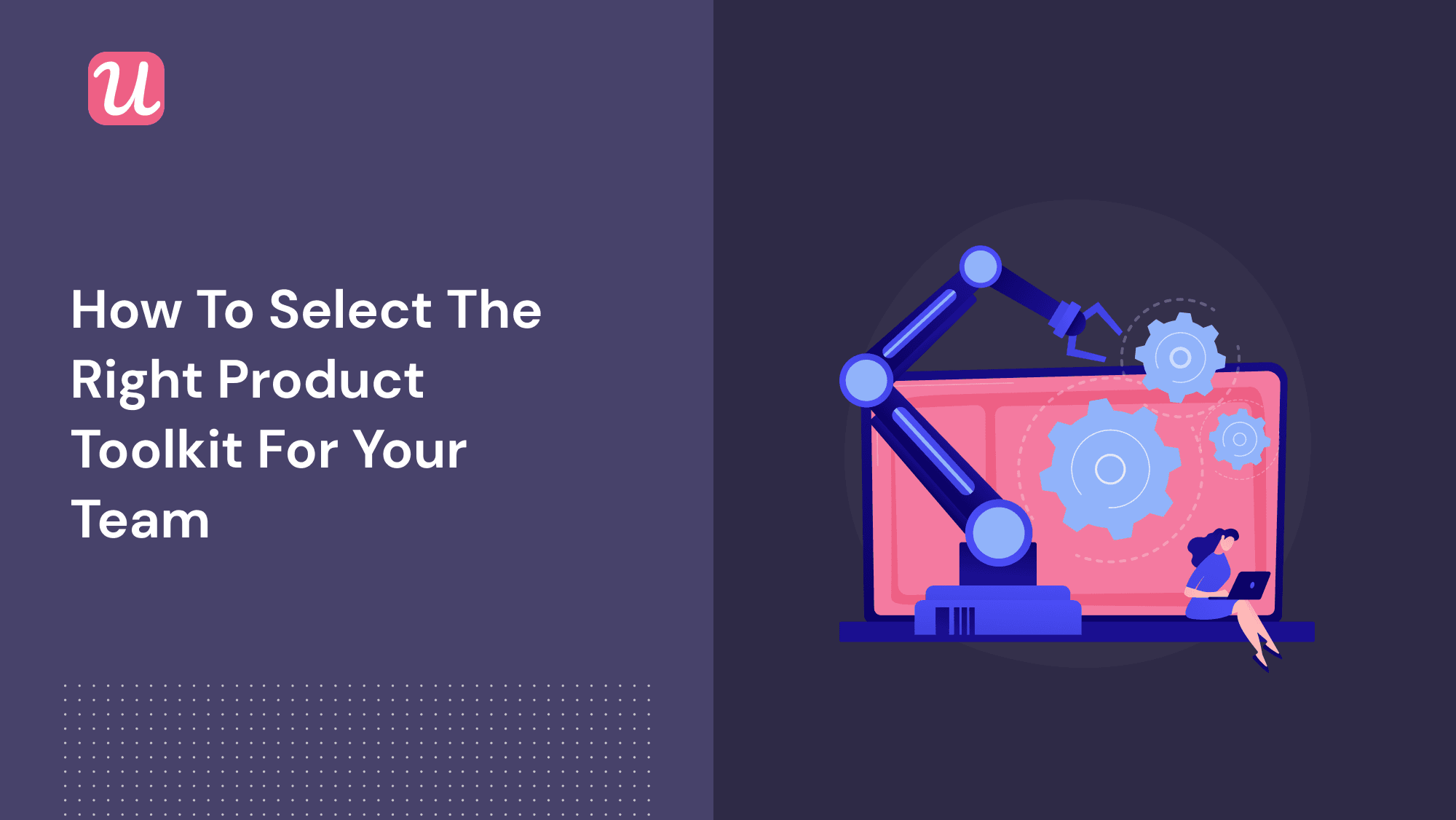 With product managers having such a varied array of responsibilities, a good product toolkit should have the right integrations, support communication, and enable you to make data-informed decisions.
I'm sure at some point you've found yourself asking the question, "am I using the right product toolkit?"
Let's find out!
TL;DR
Process first, tool later. If your process is broken, a tool won't fix it.
Understand and coordinate needs across teams before running towards a shiny new tool.
Roadmaps and backlogs – make sure you don't have separate tools!
Design tools: not just for design wizards. A good tool should allow anyone to create a quick mockup with ease.
Product analytics tools: remember to balance the quantitative with qualitative.
Organization and communication: A tidy organization is a transparent organization.
Customer comms: Remember to find new and continuous ways to keep in touch with your customers.
Userpilot is the leading product adoption and growth tool that can help with tracking product usage, communicating with your users in-app, and collecting feedback.
Process over product toolkit
I've seen a lot of product teams think that they need a new tool because something in their process is broken. It's easy to think a new tool will fix this for you.
In reality, the problem might not be the tool, but rather the process.
If your process is full of friction points, begin by outlining what a better one would look like. Then outline what your outcome would be using any given tool.
Once you have a process you'd like to implement and a given outcome you'd like to achieve, try it out with your current tool.
If you find you can't apply it, then maybe it really is time to consider a change.
Product toolkit new tool outline
When selecting a new tool, I like to use what I call a 'tool outline.' This means outlining a few key factors that can help with the selection.
With product management sitting in the middle of various teams, it's important to consider that no team is actually working in a silo, so you have to consult with them on this. It would be selfish not to.
The outline looks a bit like this:
1. Must-haves of a new product tool

Must-haves are features, solutions, or specific outcomes the tool must help you achieve in order to pass the initial selection process.
If this particular benefit is missing (let's say, you're looking for a communication tool that doesn't offer chat, and it's a must-have for your team) then you know which ones make it to the next round.

2. Nice-to-haves/delighters of a new product tour

A nice-to-have is a feature or solution you could possibly live without but would bring a level of happiness to the team if included.
Consider this a compromising point. The tool doesn't have to have it, but it sure would be nice if it did.
3. Indifferent features

These will include things that the team is willing to live without, and are indifferent as to whether or not they are included.
The benefit of using an outline like this is to make sure everyone is aligned about what is actually needed to make the team successful when a tool is chosen.
This is important to avoid 'shiny object syndrome' and end up with tools that have features no one will use. Next thing you know, it's six months later and you're looking for a new tool again.
Product Toolkit: The Roundup
Before we get down to the actual tools, let me just say there are a LOT of really great product tools out there. Remember, 'the best' tool really depends on what it is you want to accomplish.
Avoid tool-hopping, wasting time and money on resources, and make sure your entire team is aligned on the major outcome.
With that said, here's a little roundup of some of our favorite tools!
Customer communication and feedback tools
Let's start with customer communication tools.
Product teams need to actively communicate with their customers, be it to run usability tests, gather feedback, or announce new features.
Userpilot
Userpilot is the leading tool that allows you to segment and target your customers and engage with them in-app.
You can easily announce new features, promos, run surveys, and gather all kinds of feedback to help improve your product. Most importantly, you can choose the context in which these experiences show up so that it's actually relevant to the user.
On top of offering multiple ways to communicate with your users in-app, Userpilot also offers analytics so you can track how your users engage with your app.
Want to see more?
Intercom
Intercom's secret sauce really comes down to enabling conversations.
The quicker someone can reach you, the more likely you are to be able to help them. This allows you to close deals, prevent churn, and offer support on-demand.
If you're looking to jump on a quick chat with customers, this is the right tool for you. Just be sure you have enough support staff though!
Intercom is also used for its product tours but this isn't the tool's main strength.
HelpScout
HelpScout is a lesser-known, but very powerful little support tool.
You can start a chat with customers anywhere, anytime, and provide contextual support based on how they're navigating your product. It really just works.
Roadmaps and backlog product tools
The core of what product managers do will revolve around their roadmapping and backlog management tool.
Whichever tool you choose has to easily connect to your development space, allow you to understand and track feedback, and easily build roadmaps for your audiences.
airfocus
airfocus is the first and only modular product management tool out there.
Its flexibility is unparalleled.
Product teams have the chance to set up their own spaces, workflows, and design exactly what their product toolkit will look like, all without being distracted by features they may not need.
If you are looking for flexibility, airfocus is the tool for you.
ProdPad
ProdPad is probably the one tool that understands products the best.
After all, they did invent the Now, Next, Later roadmap!
The tool focuses a lot on product education, but does lack flexibility in certain areas, so don't expect it to bend to your will. If you are looking for a tool that will help you understand product with a holistic approach, this is your go-to.
Glidr
Glidr is a total delight to use.
It's really easy, and their UI is truly beautiful. The tool focuses a lot on discovery and experimentation – so if that's your area of interest, this is the tool you are looking for.
Product design tools
You don't need to be a design wiz to use a design tool.
Anyone and everyone in your team should be able to hop on to your selected design app and draw up some mockups, wireframes, or put together a quick outline for a potential idea.
Like anything in product management, it's about fostering collaboration, and design tools should allow you to support that.
Figma
Along with Figjam, Figma has quickly become one of my favorite products.
It's really easy to use and this tool really does it all. From designs, to teamwork, to even slide presentations. The organization of folders and files also helps keep things tidy, particularly when sharing assets across multiple teams.
Miro
Miro might not be a "design" tool, but it does help throw together ideas and create quick assets when needed.
It's my go-to every time I need to put something together without spending too much time on details.
Marvel
If you're looking for a Figma alternative, Marvel is quite good. Their live prototypes enable teams to do design testing quickly and easily.
Organization and team collaboration
Keeping your team aligned and up to date is important.
"Communication is the key to good teamwork" sounds like a really overused line, but it's true! Choosing the right internal comms tools can make a huge difference.
My favorite internal org communication tools are:
Slack
Slack is more than just a "chat" app.
It's about alignment and productivity. It syncs with the majority (if not all) of the tools you're likely using, enabling you to get more done during your work hours.
From notifications to advanced workflow systems, Slack really is the best comms tool to keep your team up to date, particularly if you're working in a remote setting.
Notion
I love Notion. It's so easy to use and can help keep your team hyper-organized. It's also what we use here at Userpilot for internal documentation.
From internal wikis to documentation and even process management, Notion is like 'Google Drive' on steroids.  (Although Notion, if you are reading this, please power up that search function of yours!)
Miro
Props to Miro for making it TWICE on this product toolkit list.
It really is a super valuable app! I also included Miro in the "comms" section, as it can absolutely help people navigate and align complicated information in a visual way, whether you're building org charts or communication via an interactive whiteboard.
Product analytics tools
Last but not least, we have product analytics tools.
Balancing qualitative with quantitative data is important when using product analytics tools.
This is why I chose a few great tools: from understanding user behaviour, to screen recordings, to revenue data.
The right data can help you learn about drop-offs, engagement, and user behavior in order to align your bets with your internal metrics.
Here are a few of my favorite user analytics tools:
Userpilot – for tracking product usage and goal completion and user sentiment (NPS)
Mixpanel – a great option for large companies with in-house data and analytics teams (for advanced users)
Amplitude– for cross-platform tracking, real-time analytics, and powerful behavioral analytics (beginners friendly)
FullStory – for user session recording and heat maps
Conclusion
That's it!
Hope you enjoyed this, and best of luck finding the right toolkit for your team ✌️
If you're looking for a tool to drive product adoption, book a demo with Userpilot.