UserGuiding Pricing Guide: Is It Worth the Money? (+ Better Alternatives)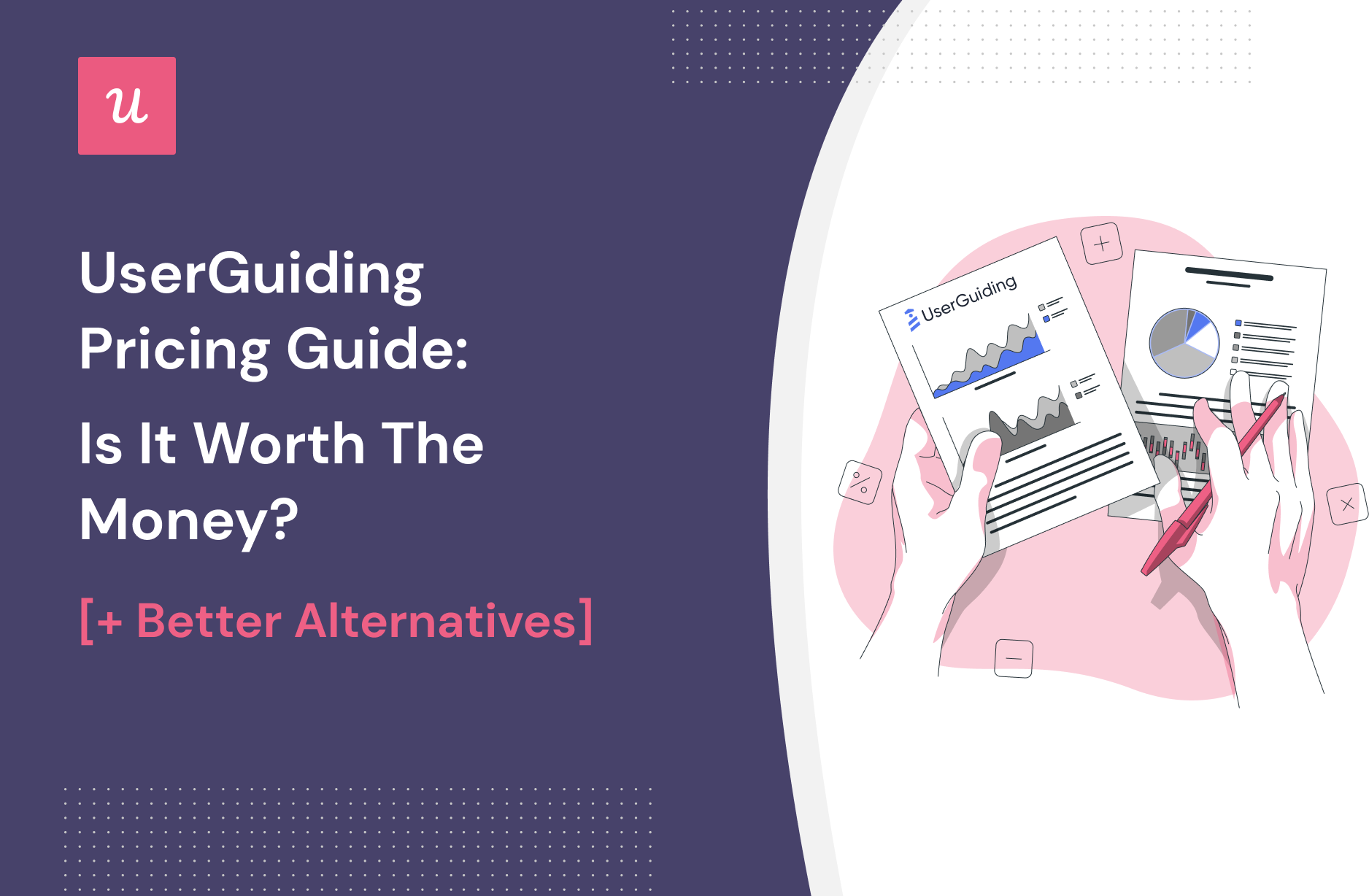 Looking for an in-depth review of UserGuiding pricing so you can understand whether it's the right choice for you?
Finding a product that not only suits your business needs but also delivers value at the right price can be daunting. Although review sites and word-of-mouth can help you narrow down your choices, they can fail to help you make the right decision.
This article serves as a UserGuiding pricing guide and discusses better alternatives that might be worth investing in.
TL;DR
UserGuiding is a cloud-based digital platform that provides onboarding solutions.
It has a 14-day free trial and three subscription packages: Basic, Professional, and Corporate.
With UserGuiding, you can integrate with multiple applications, build easy onboarding flows, create user segments and microsurveys, and analyze feedback. However, the Basic package has strict limitations like only 1 user seat and no custom branding.
Both Appcues and Chameleon charge more than UserGuiding which can be justified to a certain extent by their additional offerings.
Userpilot offers the right value for money and has just the features you need to improve onboarding, analyze user feedback, and drive product growth.
What is UserGuiding?
UserGuiding is a cloud-based digital platform that provides onboarding solutions for teams. It offers a range of features, such as letting customers create custom onboarding flows, analyze product adoption metrics, and create interactive product tours.
The platform allows you to build product tours and walkthroughs without any coding. It offers segmentation options and UI patterns like tooltips, modals, slideouts, and hotspots. You can fully customize all creations to reflect your company's branding.
Even though UserGuiding lets businesses create a resource center and perform product analytics, the main attraction of the platform is its user onboarding flow builder. It might be a great choice for your business if you want a relatively easy way to create simple onboarding flows.
However, if you want to access more advanced analytics or complex integrations, it will perhaps be better to look into other alternatives.
How much does UserGuiding cost?
UserGuiding's pricing model consists of three plans:
Basic – costs $69 per month, billed annually
Professional – costs $299 per month, billed annually
Corporate – starts at $499+ per month, billed annually
Does UserGuiding offer a free trial?
UserGuiding has a 14-day free trial. The free plan comes with an extra 30-day money-back guarantee.
UserGuiding pricing plans
UserGuiding has three pricing packages:
Basic plan
Professional plan
Corporate plan
The prices shown below are all billed monthly.
UserGuiding Basic plan
The Basic plan is an ideal package for SMBs and startups. Allowing up to 2,500 monthly active users, the Basic plan helps you onboard new users or increase engagement across customer lifecycles.
With this package, you can create Net Promoter Score (NPS) surveys, perform analytics and get weekly reports, and access several integrations and customization options.
However, the plan has some restrictions that may not be suitable for your end goals. For instance, it doesn't let you use the employee onboarding module, remove UserGuiding branding, and have a customer success manager.
Moreover, the plan allows only one team member, two domains, and one customization theme.
UserGuiding Professional plan
The Professional plan is UserGuiding's most recommended package. It's a great option for rapidly growing businesses that want to maximize their activation rates, retention rates, and customer revenue.
This package allows up to 20,000 MAUs. It offers all the features of the Basic plan along with unlimited guides, checklists, and hotspots. You can get full access to UserGuiding support, have a dedicated customer success manager, use the employee onboarding module, and remove the UserGuiding branding.
Although an upgrade from the previous package, the Profession plan is built for only 5 team members and can incorporate up to 5 domains. It also offers 5 customizable themes.
UserGuiding Corporate plan
A yearly subscription to the Corporate plans has a starting price of $499 per month. The package is ideal for larger enterprises that have multiple products.
Alongside the features of the Professional plan, this package provides unlimited access to product engagement tools like hotspots and customizable themes. It serves an unlimited number of teams across any number of domains.
It also offers a custom quote for MAUs, for which you'll need to book a demo call to know the pricing and learn more about the features provided under this plan.
What are the pros and cons of using UserGuiding?
Let's check out the pros and cons of subscribing to UserGuiding so that it's easier for you to make an informed decision.
Pros of Userguiding
UserGuiding offers relatively lower prices, which makes it feasible for independent businesses and small startups.
The platform serves as a tremendous no-code onboarding tool. It comes with a wide range of UI patterns that you can use to develop an onboarding process and provide in-app guidance to your customers.
Although it's a budget tool, UserGuiding supports multiple integrations with applications like Slack, Hubspot, Mixpanel, and Woopra, among others.
Unlike some other platforms that are more expensive, UserGuiding allows customers to add a resource center to provide self-service support.
Cons of UserGuiding
The user interface is fairly tricky to navigate. There have also been several performance issues and bugs while using the platform.
The design and customization options for UI elements are not that great.
UserGuiding's functionalities are limited, especially on the basic plan. The Basic plan only has a few varieties of features, and you don't get the option to remove the UserGuiding watermark or branding.
You need technical knowledge to get the maximum value from the platform.
What do users say about UserGuiding pricing?
Upon surfing review sites such as G2, it was seen that customers mostly love UserGuiding's affordable pricing. The images below show two customers who feel that the product offers a good price-performance ratio. Some users are also satisfied with their customer support and intuitive setup facility.
However, the product has strict feature limitations on the Basic plan. Customers need to subscribe to higher tiers for some really basic things that are not included in this plan.
UserGuiding doesn't have a standard localization (translation) feature. So users need to create 4 different guides to support 4 languages.
Why should you look for alternatives?
While UserGuiding is a great solution for small SaaS companies, it might not be the right choice for your business if you want to:
Create customer segments without any coding. This is because segmentation features aren't that intuitive. You may need to get additional help from a developer.
Build fully interactive product tours.
Get insights from in-depth analytics. UserGuiding's analytics function isn't complex and doesn't provide much data.
3 Better alternatives for UserGuiding
Let's get into the 3 better alternatives for UserGuiding and talk about their features.
Userpilot
Userpilot is an all-in-one user onboarding and product adoption platform. It's a no-code solution specifically designed for SaaS product teams that want to improve the customer experience and boost activation rates.
With Userpilot, you can build in-app guides using the largest collection of UI patterns, such as modals, tooltips, slideouts, banners, and hotspots. Userpilot also lets you create a wide variety of onboarding experiences using checklists and interactive walkthroughs or product tours.
Moreover, Userpilot is great for collecting customer feedback using multiple kinds of microsurveys such as the NPS surveys and Customer Effort Score (CES) surveys.
Its customer feedback analytics allows you to draw meaningful insights and make data-driven decisions. For instance, you can use the NPS response tagging feature to analyze qualitative feedback and find exactly what improvements your product needs.
Furthermore, advanced product and flow analytics let you build granular customer segments and offer contextual, personalized user experiences.
You can create and monitor different combinations of in-app events, such as hovers and clicks, to analyze user interactions. You can even tag features to track feature engagement.
Last but not least, Userpilot enables you to create an in-app resource center, incorporated with a lot of educational tools like a live chat option, video guides, documentation, FAQs, troubleshooting tips, quick bug fixes, a link to the knowledge base, and more.
Userpilot pricing vs UserGuiding pricing
Userpilot offers a 14-day free trial along with three subscription packages: Traction, Growth, and Enterprise.
Userpilot's Traction plan is for businesses with up to 2,500 MAUs. It comes with a wider pool of services than UserGuiding's Basic package, including unlimited user segmentation, goal creation, and event tracking capabilities. You can also make up to 20 feature tags.
Moreover, you can have up to 10 team members, whereas UserGuiding allows only one member under its Basic package. Userpilot even lets you use custom branding and CSS styling instead of making you use their own branding.
The Growth plan includes all the features of the Traction one and is designed for up to 10,000 MAUs. In addition, it allows unlimited feature tagging, experimentation, event triggering, custom domain hosting, and phone support. It offers four times the number of seats (20 team members) than UserGuiding's Professional package.
However, you need to subscribe to the Enterprise package to get a dedicated customer success manager, technical implementation specialist, and security audit.
Unlike UserGuiding, Userpilot offers up to 5 languages under the Traction package. The next tier takes the localization higher to 10 languages, while the Enterprise plan lets you choose any language you want.
Appcues
Appcues is another cloud-based onboarding, product adoption & customer feedback analysis tool.
It has an easy-to-use UI that anyone can use to build in-app onboarding flows without having to code. You can also create custom user segments based on user interactions, user properties, events, or flows.
The platform's Events explorer track UI engagement and tag elements without coding. Moreover, it offers multiple UI patterns like tooltips and modals, and you can match them to your brand's style. You can also create checklists, but only on the higher-tiered plans.
The Appcues product tour templates let you construct welcome screens and send targeted microsurveys to specific segments. However, unlike Userpilot, you cannot tag and analyze the NPS responses in-app.
Appcues pricing vs UserGuiding pricing
There are three subscription plans: Essentials, Growth, and Enterprise. The starting prices paid annually and the number of MAUs is given below.
Although Appcues charges much more than UserGuiding on the Essentials plan, it allows 3 team members and up to 5 user segments. It also offers dynamic personalization, 10 event tracking and goal creation options, and A/B testing.
Checklists and custom CSS can only be used from the Growth plan onwards. Appcues' high price may be justified by its unlimited event tracking, 20 custom goals, a 90-day onboarding program, 10 user licenses, and unlimited audience segments.
However, you can trigger events and get a customer success manager only under the Enterprise package, which can make the previous plan seem too expensive.
Chameleon
Chameleon is yet another no-code onboarding tool. Compared to its competitors, Chameleon has launchers – in-app widgets that can open checklists, notification centers, or help widgets.
Its product tours help you build onboarding flows. There is a wide range of UI patterns, and you can trigger several microsurveys, like NPS and CSAT surveys, with a high level of customization.
The tool allows you to make segments based on various user attributes, experiences, custom events, or Chameleon tags, which are manually added to customers.
Unlike UserGuiding, Chameleon doesn't have a dedicated analytics dashboard. You also need to use integrations to track events, or you can set up custom events through the API (you need to hire developers for setup).
Chameleon pricing vs UserGuiding pricing
This platform also has three pricing plans: Startup, Growth, and Enterprise.
Compared to UserGuiding, Chameleon's cheapest plan has 6 user seats and custom CSS options. It also offers a dashboard to see the performance of all experiences, tooltips, and the ability to build 5 microsurveys, including NPS. You can group 2 (sub)domains into 'Environments' for better targeting.
The Growth plan is quite expensive, although it comes with unlimited launchers and microsurveys, A/B testing, unlimited goal tracking, 15 seats, 4 'Environments', success packages, and a go-live plan.
The Enterprise package provides multi-product accounts, enhanced security, localization, unlimited 'Environments', and enterprise CRMs.
Conclusion
Now that you have the full UserGuiding pricing guide and compared it with that of its alternatives, you can hopefully select the best platform for your business.
As observed, Userpilot's vast array of features, coupled with competitive pricing, make it an excellent solution for mid-market SaaS companies, especially for onboarding and feedback analytics.
Want to get started with Userpilot? Book a demo call and achieve product growth.