Best Examples of AI in Marketing: Tools & Best Practices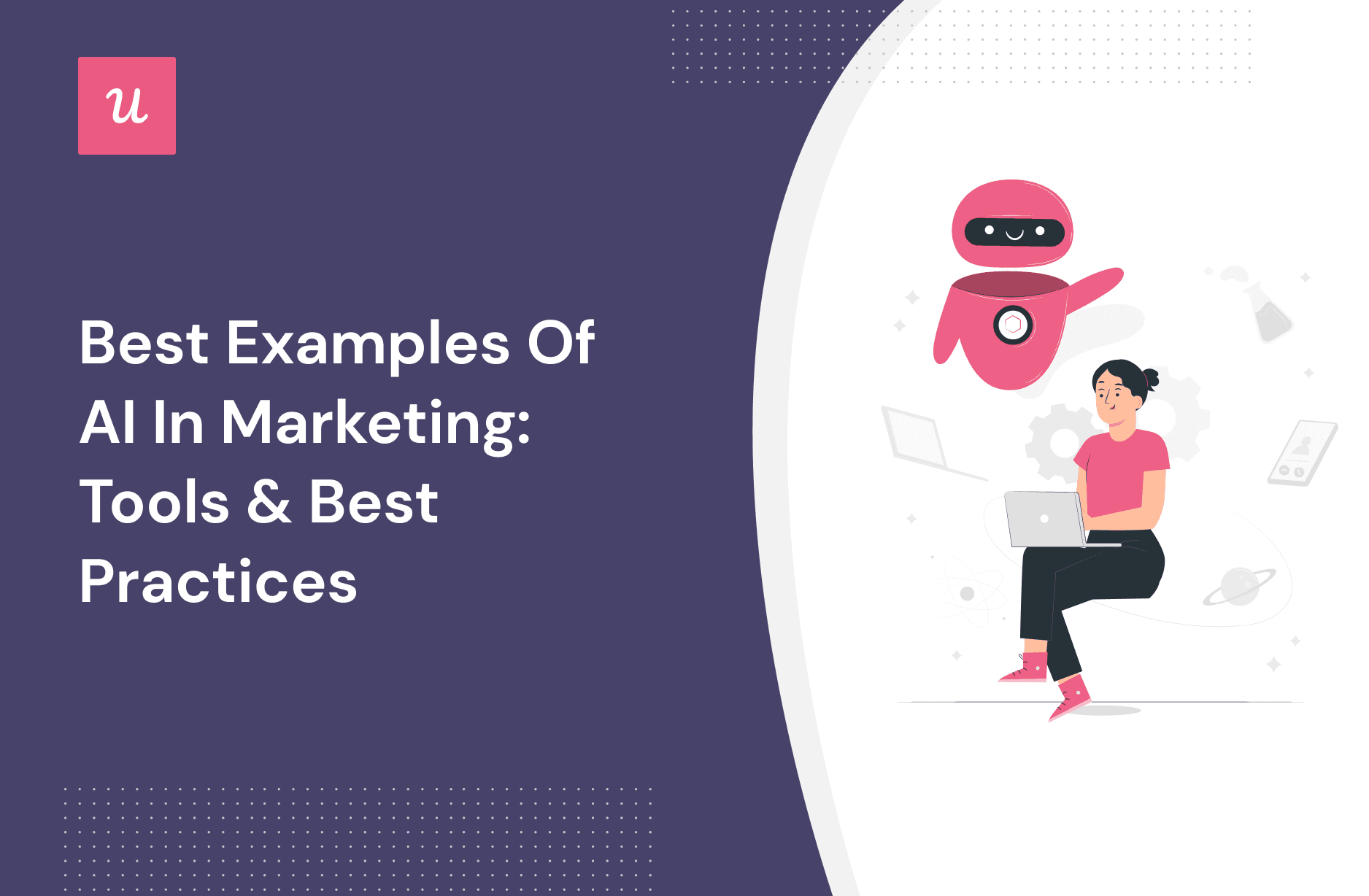 Artificial intelligence is revolutionizing our everyday lives, and marketing is no different, with several examples of AI in marketing today.
From communication to automation, the latest updates in AI are genuinely bridging the gap between science fiction and reality. Marketers are now making AI an integral part of their marketing strategies.
This article examines what artificial intelligence in marketing looks like today. It shines a spotlight on:
Famous marketing brands that have integrated AI technology.
Marketing AI best practices.
AI-powered marketing tools.
TL;DR
AI marketing involves leveraging AI technologies like machine learning, deep learning, etc., to analyze customer data and predict customer actions.
There are four groups of marketing AI apps today: standalone machine learning, standalone task automation, integrated machine learning, and integrated task automation apps.
Examples of AI in marketing abound all around us today. They include:
Userpilot's new AI writing assistant helps its users generate, edit, or improve content for their onboarding and in-app messages.
SurferSEO uses NLP to offer suggestions for content optimization, providing insight into ideal keywords, content length, headers, etc.
Amazon grants its AWS customers access to its recommendation engine to help them personalize their user experience.
Synthesia helps you create professional videos without cameras, sophisticated microphones, models, etc.
Google's speech recognition technology has changed the way marketers address SEO to optimize for voice search.
EliseAI responds to questions and requests across chat, text, and email with a human touch.
Levity helps you automate everyday tasks, from email labeling to lead generation.
Well-crafted AI marketing strategies will help you get the most out of these technologies. Whatever your use case, there's an AI for you out there.
To learn more about how Userpilot's AI integrations save you time and effort, book a demo today.
What is AI in marketing?
Artificial intelligence marketing (AI marketing) is leveraging Machine Learning technology to analyze customer data, predict your customer's next move, and improve the customer journey.
Types of AI Marketing
There are four groups of AI apps in marketing today, including:
Standalone task automation apps: These isolated apps, such as email automation systems and Facebook Messenger bots, automate tedious everyday tasks.
Integrated task automation apps: For these apps, automation is an additional feature to the feature list. For instance, CRM systems may conversation labeling and prioritization.
Standalone Machine Learning Apps: These are isolated apps like the Vee24 chatbot. They leverage machine learning algorithms to proffer "intelligent" solutions that improve the marketing process.
Integrated Machine Learning Apps: These are already existing marketing technologies that integrate ML for specific tasks, such as product recommendations or predictive scoring of sales leads.
AI marketing examples from famous brands to improve customer experience
Want to drive customer retention or conversion by meeting your customers at their place of need?
Then these examples of integrated AI in marketing show how some famous brands have successfully used AI to make customer experience management a lot easier:
Userpilot transforms content creation with AI assistance
The number of AI copywriting tools out there is growing by the hour and many companies integrate this functionality into their features.
For example, Userpilot offers an AI writing feature that helps product teams refine their content.
Userpilot's latest feature speeds up your content creation process by integrating cutting-edge AI technology into its WYSIWYG editor.
Now, you don't have to spend hours pulling your hair while brainstorming the text to include in your UI patterns (tooltips, modals, etc.) or onboarding messages.
At the click of a button, you can have AI generate a tailored copy, extend or improve your existing copy, fix your spelling/grammar, or even summarize a copy.
SurferSEO natural language processing to optimize content
Designed to supercharge your content creation process, Surfer SEO uses Natural Language Processing (NLP) to identify opportunities for content optimization and issue a content score.
Using NLP, it analyzes competitor articles to identify the keywords to include in your article and the ideal density of each keyword/keyphrase.
But it's more than just a keyword tool.
Surfer SEO also provides information on everything from content structure to images. It also highlights the ideal number and length of subheadings, word count, paragraphs, etc.
Amazon uses machine learning technology for personalized recommendations
In 2019, Amazon rolled out the Amazon Personalize feature, which brings Amazon's ML-powered real-time product recommendation engine to its AWS customers.
Using this tool, Amazon AWS users can now offer up to 50% better recommendations to their website visitors, email marketing lists, and more, thus improving the customer experience and their conversion/click-through rates.
More importantly, you can customize the engine as much as you desire. It's also available across different product categories, including movies, books, music, news, etc.
Google uses voice search engines to optimize search results
Thanks to its AI-powered speech recognition technology, Google Assistant can recognize your voice, identify your query, and display relevant results.
With 55% of teens and 44% of adults using Google's voice search daily, this powerful feature has opened up a new way for businesses to reach their customers by optimizing for voice search.
Moreover, marketers can take advantage of Google's speech recognition technology by targeting more natural keyword phrases, ensuring better rankings for voice searches on search engines.
Okay, Google!
Marketing AI best practices to implement in marketing strategies
Despite the many examples of AI in marketing today, the global Artificial Intelligence marketing industry is just getting started. It's expected to grow from an estimated USD 15.84 billion in 2021 to over USD 107.5 billion in 2028.
How can you get the most out of it?
Use AI chatbots to provide customer service
Ever had Alexa, Siri, or Google Assistant answer a question or locate an establishment? Did you feel mind-blown after your first query? If you did, you weren't alone.
AI chatbots have proven to be genuinely effective at responding to user queries. Designed to replace live human support agents, these bots boast an impressive 90% success rate on 80% of the routine queries they handle.
Artificial intelligence-powered chatbots do more than provide predefined answers to routine questions, however.
They take advantage of deep learning technology to engage customers, understand queries, and even provide the necessary guidance users need.
And when the customer's inquiry is beyond their capacity, chatbots can pass off the queries to a human agent, at which point you can take advantage of NLP to help prioritize your tickets.
Use predictive analytics to improve the customer journey
Machine learning algorithms can predict certain behaviors using data and statistical algorithms to find patterns in past behavior and predict future actions.
For instance, predictive customer analytics can help you identify customer dissatisfaction and customers that are likely to churn by examining their in-app behavior, feature usage patterns, etc.
Finally, with a tool like Userpilot, you can create automated workflows that reach out to at-risk customers with personalized messages and help you win them back over before they churn.
Create personalized experiences with artificial intelligence
Thanks to artificial intelligence, you can now increase conversion rates by delivering personalized experiences that satisfy the user's needs.
For example, you can personalize the customer journey and experience for website visitors by using data from their browsing history, search queries, etc., to offer them what they need.
You can also work with the engagement information from your ad campaign, you can automatically populate specific items on a user's homepage of your website.
Build a targeted ad campaign
One way to ensure you aren't shooting blanks with your ad campaigns is to employ AI-powered ad targeting.
For example, you can employ AI to programmatically buy and sell digital ad spaces based on available data and audience targeting. The AI identifies high-converting opportunities and makes purchases accordingly.
Likewise, an ad-targeting AI can score/rank the performance of multiple ads, identifying and serving your best-converting ads, while also helping you to better target ads in the future.
AI tools to improve marketing
Today, a series of specialized AI tools have sprung up to handle specific marketing tasks and processes. Some of these include:
EliseAI
Powered by machine learning technology, EliseAI provides accurate and conversational responses to customer questions and queries. As with any chatbot, its responses are quick and automatic. But that's not all!
Designed to manage all essential business communications, EliseAI uses NLP and deep learning to understand the context behind customers' queries and messages. It also takes advantage of this technology to provide human-friendly responses.
And, it integrates nicely with email, chat, and texts, ensuring you never miss a message sent through any channel.
But EliseAI doesn't just reply to queries. It executes specific tasks based on customers' comments. For instance, you could integrate it with your existing CRM system and have it auto-populate certain data fields with data gleaned from customer messages.
Levity
Our everyday business lives are filled with mundane tasks that are time-consuming but crucial to the fulfillment of our duties. Whether it's inventory management or message tracking, our time can always be put to better use.
Or, at least, that's what Levity believes. Levity employs AI to automate boring tasks, save time, and make your life a tad easier, all without having you write a line of code.
Powered by advanced neural networks and deep learning technology, the tasks it handles span from email organization and management to customer support management, sales and lead generation from emails, etc.
Synthesia
Furthermore, one of the more brilliant examples of AI in marketing is Synthesia, which enables users to create professional videos using artificial intelligence, making it a lot less expensive to give your marketing a human touch.
At the lowest customization level, you'll upload a video script, select an AI avatar from the available options, and have it read the script in professional or machine voice.
You can take it further to add custom slides to the video, upload your audio, translate the script into other languages, or even create a personal avatar for your videos.
As of today, it has also been integrated into Userpilot, enabling you to create marketing and onboarding videos, right from your Userpilot dashboard.
Conclusion
The use of AI in marketing is increasingly important. Paired creatively with the needs and desires of your customers, it promises incredible upsides in an increasingly competitive digital world.
Userpilot is keeping pace with the AI revolution, from third-party integrations to in-house developments. Book a demo today to learn more about how Userpilot's AI integrations can help your marketing efforts.