Product Videos for Marketing SaaS [Examples Included]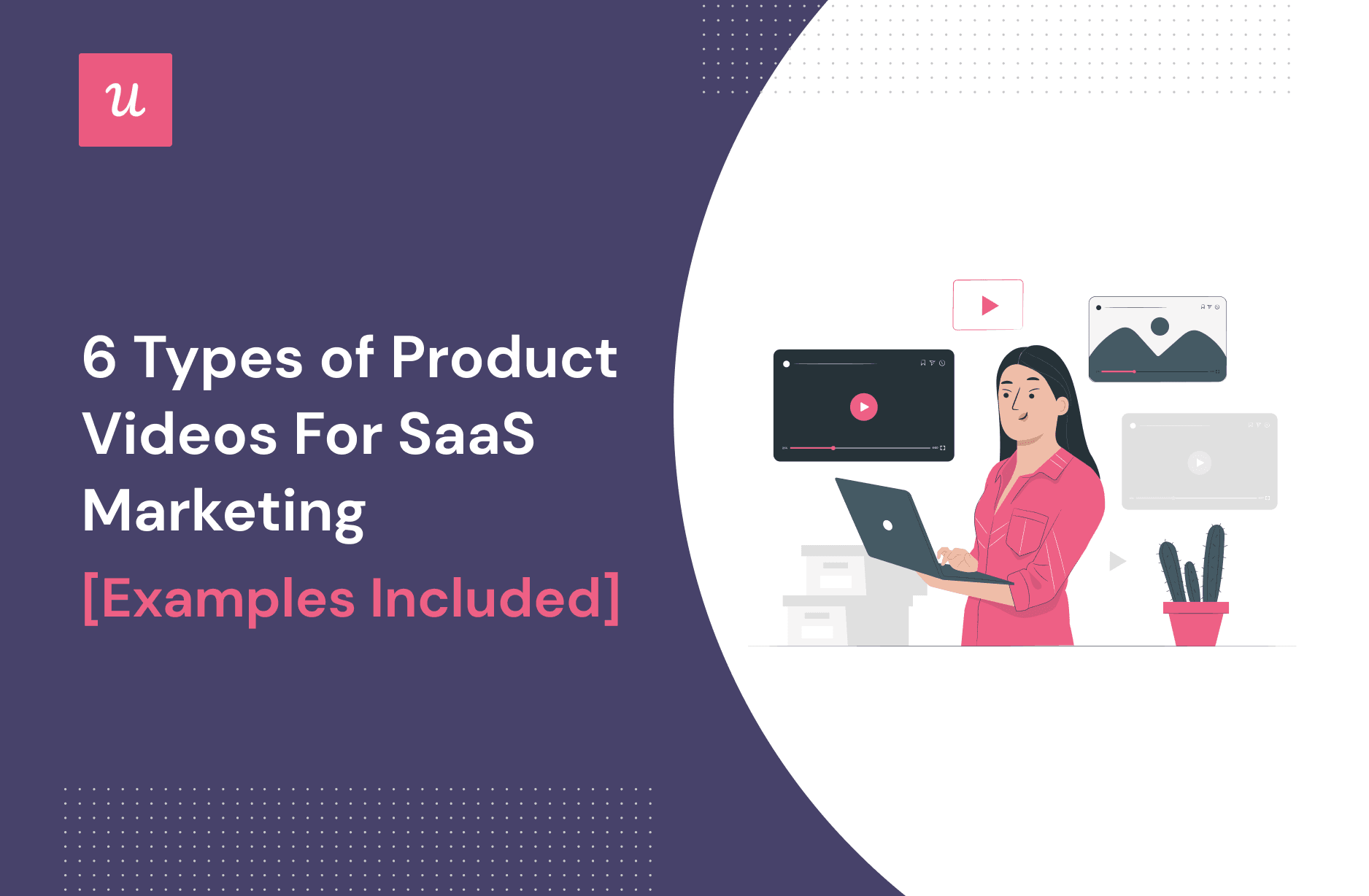 What is a product video for marketing SaaS used for? And can these tools help increase communication and in-product engagement?
Video marketing is a straightforward way of providing guidance in using your product, therefore driving engagement and reducing churn.
In this article, you'll learn more about the value of using video content as part of your overall marketing strategy. As well as the different types and tips to get you started.
Let's begin!
TL;DR
A product marketing video used in SaaS is a short gif or explainer video made with the intent of helping users engage with your product's features and shorten the learning curve.
A lot goes into good product video production to ensure it performs well. The best product videos are engaging and have a goal (brand awareness, product onboarding, product adoption, education, etc.).
Product videos can be shared through several distribution channels. This could be on your website product pages, YouTube channel, social media platforms, or embedding them directly inside your product (you can easily do this with Userpilot).
There are several advantages to adopting video marketing: increase brand awareness and drive engagement, save time and resources with self-service in-app tutorials, and increase adoption with short video guides.
Types of product videos:
Product launch video for building excitement and encouraging users to sign up for your beta or product trial.
Product welcome videos for introducing users to your product as soon as they sign up.
The new feature announcement video for better product updates and engagement.
Short how-to tutorials and in-app video guides for showing users how to use your product and get their job done.
Product demos and webinars for brand awareness and educational content.
Industry leaders and expert interviews for building brand reputation and customer education
Customer testimonials to attract and convert potential customers.
Best tools for building product videos: Synthesia- an AI video generator, Loom- screen recorder and easy video creation, Wystia- video creation and podcast software.
Want to see how you can add product videos inside your app in just a few clicks? Get a Userpilot demo and start embedding videos that help users get value from your product.
What is a product marketing video?
A product marketing video used in SaaS is a short gif or explainer video made with the intent of helping users engage with your product's features and shorten the learning curve.
Product marketing videos serve one major purpose – to drive product adoption and retention.
How product marketing videos can benefit your SaaS business
Why should you consider using multiple videos as part of your adoption strategy?
We summed up the main benefits of using videos below:
Increases brand awareness: Statistics show that viewers tend to retain 95% of the information from a video compared to the 10% they remember from reading. The chances of potential customers remembering and using your product becomes higher when you use promotional product videos to reach them and showcase how your product can help.
Build engagement: Tutorials and expert interviews help you flaunt knowledge and expertise, as well as provide your users with guidance when using your product.
Save time and resources: Investing in product videos as part of your product marketing strategy helps you save costs and effort. Using help guides and onboarding videos allows customers easily find all the answers they may require, without having to contact support.
Boost adoption by shortening time to value: The easier and faster it is for users to understand how your product can help them, the better their chances of adopting your product. Video gives extra support helping users see your tool in action, making it easier for them to achieve perceived value.
Product videos vs product marketing videos
A product video showcases the product through a visual demonstration. In comparison, a product marketing video focuses on connecting consumers' problems to the solution provided by the product.
Product video marketing can include micro-videos on how to use specific features and tutorials on best practices and getting the most out of a product.
Product videos aim is to build brand awareness and drive traffic and trial signups while product video marketing's aim is to drive in-app engagement and product adoption.
What are the different types of product marketing videos?
There are different types of product videos you can create for different cases while using them across multiple marketing channels.
Here is a list of the most important ones you should be using:
Product launch video content
Product launch videos are a very effective way to raise brand awareness and build a following of potential customers.
Launching a product video is a great way to build excitement about the launch and encourage users to sign up for beta access or directly to a trial, depending on the stage of the product at launch. You should consider building multiple videos, each targeted at a specific user persona.
How Poptin uses product launch video content
Check out this product launch video from Poptin's latest Product Hunt launch. They embed a Youtube video showcasing how their new feature update works while listing the features and updates together.
Product welcome videos
Product welcome videos are short explainer videos meant to introduce the user to your product and showcase the main steps they need to take. This product video shows the connection between the customer's pain point and your product and is usually the first thing the users see after signing up.
How Backlinkmanager users product welcome videos
Backlinkmanager, a link-building tracking tool, does just that. Their welcome video explains the core functionality of the product and tells users how to get started.
Adding a short micro survey to understand the user's main need from the product is a good way to collect relevant data and use it to personalize the onboarding process for your users.
New feature announcements
The new feature announcement video introduces customers to product updates and also shows them how to use the new features so they get more value. These are short explainer videos focused on a specific feature or product enhancement.
How Mixpanel uses in-app videos to announce new features
Mixpanel uses an in-app modal to deliver its new feature announcement video, giving users a quick walkthrough on how to use it.
Doing this in-app works because users are more likely to interact with the video and learn about the update compared to if they only received a notification or plain email. They also use a bullet point list at the bottom to highlight these new features. In case the user may not wish to watch the video at that time, they can still have an idea of the updates.
Short how-to tutorials and in-app video guides
A how-to tutorial shows users how to use your product and its features to complete their job at hand. These are meant to shorten time to value and offer self-service support when needed.
The best practice is to include these video guides in your in-app resource center for easy access.
In-app video guides example
It's easy to add links to your Youtube channel, but when your videos play directly in-app, it just makes it easier for users to replicate steps without having to switch between multiple browser tabs.
Here's how we do it here at Userpilot. Every video tutorial can be self-triggered by users when needed and will play inside the dashboard.
Alternatively, you can embed your videos on an in-app modal and trigger them when the users engage with your product. For example, when they use a specific feature for the first time.
Simply add a new block to your modal and select Embeds.
You will then be able to choose to directly embed a video created using Loom or Synthesia, the AI video generator. Pretty cool, right?
Product demos and webinars
These are pretty self-explanatory. Mostly used to generate brand awareness they can also serve as educational content. Use product demos to drive trial conversion and signups and webinars to educate users.
Userpilot webinar video example
This video from Userpilot is a great example of one of the multiple webinars we produce meant to educate users and teach them how to use your product to achieve success.
It covers a topic relevant to our target users
The product video not only covers what minimum viable onboarding means, it also gives practical advice on how to do it (of course, by using Userpilot)
Interviews with industry leaders
This product video style makes you stand out in front of your target audience as a reputable source of expert knowledge, builds brand awareness, and attracts a community of potential customers.
Interview with industry leaders example: Product Heroes
Product Heroes is a series of interviews with industry experts meant to inspire and give advice.
It gives viewers a deep dive into areas they may have been struggling with and helps them find ideas to try new strategies.
Testimonials
Social proof is important to help you attract and convert customers. When the customer testimonials are shared in video form, you eliminate any suspicions that they could be fake.
Video testimonials add legitimacy to your social proof which could increase a prospect's chances of conversion.
Video testimonials example
Speechly's testimonial video is a good example of using user-generated content to show the value of the tool from a customer's point of view.
Harri and his company were faced with the challenge of improving the grocery shopping experience for customers on their app. They were able to do this using Speechly, which he highly recommends. The video shows how they could do this and the main reason for choosing this tool.
Best tools for creating a product marketing video
To create your product marketing videos, you can use tools that will help simplify the creation process.
We recommend you try:
Synthesia- the AI video generator
Loom
Vidyard
Synthesia
This is an AI-powered video creation platform. With this tool, you don't necessarily need to record yourself or a screen, you can simply input your script, select from the 45+ avatars (or create a custom one), choose a language and voice, and have them do the presentation.
Synthesia saves you time and resources that would have otherwise been spent on product video production.
Loom
You've probably heard of this one. You might actually be using it too.
Loom is a screen recording tool that lets you create guides and tutorials, or simply send a video message to a colleague to explain something that would probably take too long in writing.
Once created you can share these videos with a link or embed them.
Same as with Syntesia videos, any Loom videos can be embedded in your product with one click, using Userpilot.
Wistia
Wistia is both a video creation tool as well as a podcast software. With this tool, you can easily create your product videos even with your computer's camera.
It also has some cool features that could improve your marketing and sales metrics.
For example, after creating your videos you can easily embed them into your marketing emails or on your website. You can also track the performance analytics of your videos so you see how effective they are or not.
One of the standout analytical features in Wistia is the heat map function which enables you to see how individual viewers watch your video. For example, which parts are they most interested in and which do they skip?
This knowledge helps you understand what your audience finds most engaging, so you can concentrate on creating that.
Conclusion
Using product videos as part of your marketing and sales strategy offers you a better way to tell your story, educate buyers, and build a more personal and trusted connection with them.
Are you not using videos inside your product? Book a demo call with our team and get started!