Customer Service Automation Guide for SaaS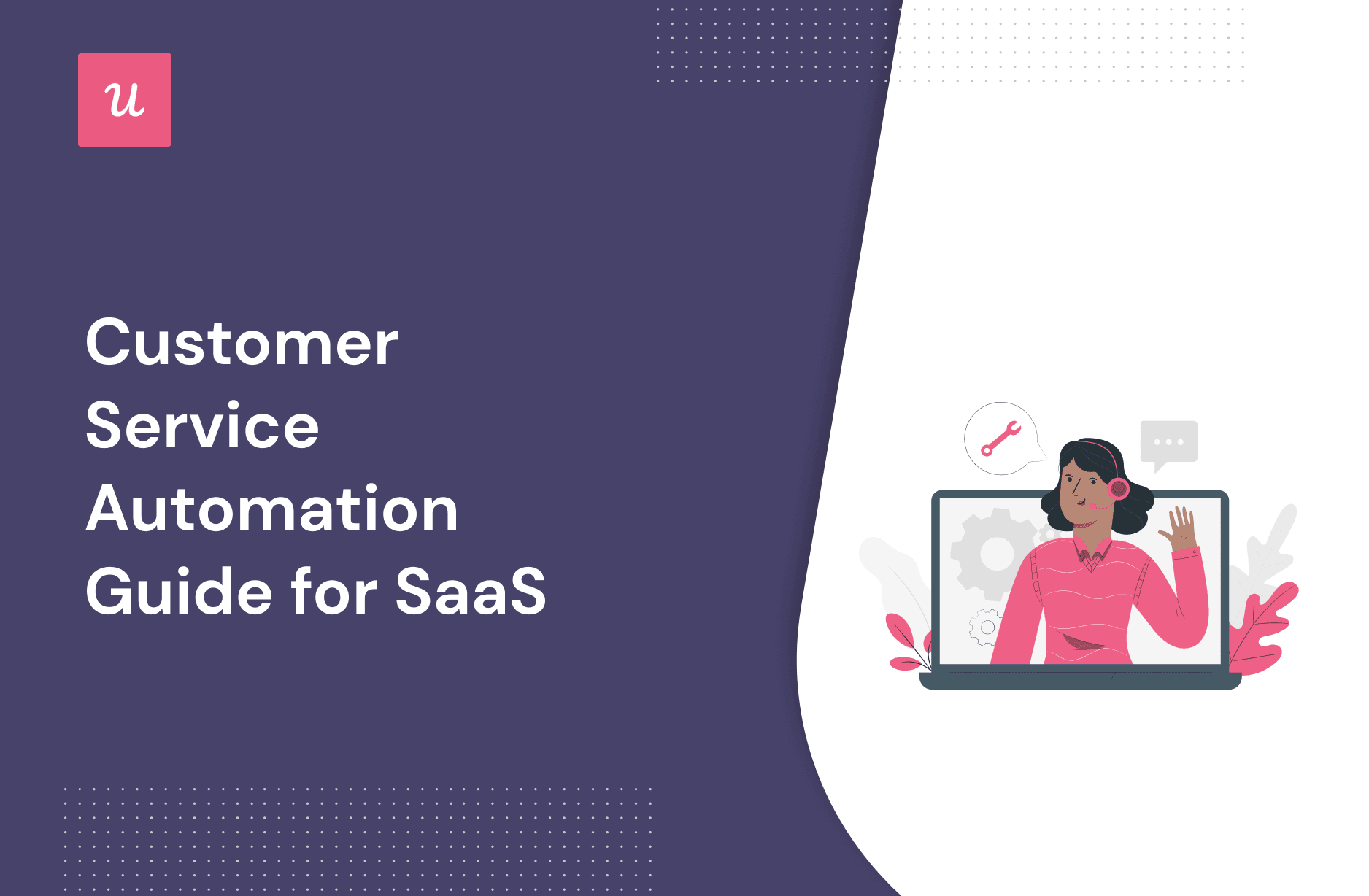 Customer service automation – is it just a buzzword?
No, it's not.
Self-service automation has grown from being something that was nice to have to a necessity.
Customers expect quick service, using the channel of their choice, 24/7. To keep up with customer demands, you must look at scaling support and success functions.
Automation does not replace human agents, it just makes your support team's life easier.
How? Let's find out!
TL;DR
Customer service automation helps organizations provide support with minimum human intervention.
Advantages of customer service automation include reduced support costs, elimination of human error, 24/7 customer support without interruption, and as a result, increased customer retention.
The downsides of automated customer service are that it can drive frustration due to a lack of understanding, it also lacks the human touch, and is unable to solve complex issues.
Some of the processes you can automate include setting up a searchable knowledge base, adding canned responses, and building AI-powered chatbots.
Automation isn't an optimal solution when critical customer issues or high-touch customers are involved.
One of the best ways to automate customer service is by creating an in-app resource center. Users can search for what they are looking for, and get quicker resolutions, resulting in a higher level of customer satisfaction and loyalty.
Although chatbots are the most common technique of automated customer service, you shouldn't limit yourself to chatbots only. Use multiple types of resources such as automated interactive walkthroughs, tooltips, and video tutorials.
Personalize your automated customer service and show different content for each user segment.
Gather user feedback after every interaction to measure the success of your automated customer service.
Here is an overview of the best customer service automation tools on the market:
– Userpilot is the best tool for self-service automation that helps you create an in-app resource center without writing a single line of code.
– Zendesk is a chatbot integration and automation platform that answers users' queries and has a ticket routing system if the customer wants to reach out to support.
– Hubspot Service Hub provides omnichannel customer service where you can create automation workflows and set up customer interactions.
What is customer service automation?
Customer service automation is all about replacing or enhancing human agent support with the help of tools that can easily provide help to users via different channels, around the clock.
For example, adding an in-app help center where users can find resources, share tutorials and guides, create chatbots, etc.
The ultimate goal of automated customer support is to reduce human efforts, especially where the tasks are repetitive and common.
This helps both the customers and the service reps.
An automated system can provide instant replies to customers' queries, anytime, anywhere. With repetitive tasks handled by automation, the customer support team can focus on complex and important tasks.
What are the pros of customer service automation?
Automation can help businesses reduce the burden on customer service agents and provide amazing results.
Let's discuss some of the benefits of customer service automation.
Reduces customer service costs
According to McKinsey, businesses can save up to 40% on support costs with automated customer service.
How does that work?
A business grows as the number of customers grows. With each new customer added, you need to handle queries coming in.
Typically, companies hire more agents to handle the growing inflow of queries. With automation, most of the repetitive tasks and queries can be handled, helping you scale your support team.
This reduces the cost and minimizes the time spent by your support team on insignificant tasks.
Eliminate human error
It's difficult for support agents to understand every reported issue in-depth and respond if there are 100 things to look at.
Mistakes are bound to happen, especially when they have to do repetitive and mundane tasks.
Automation can take care of repetitive tasks and also answer frequently asked questions. This can reduce the number of tickets assigned to real people and avoid mistakes.
Automation can also help with ticket routing so that issues get assigned to the right agent and improve resolution time.
One of the most frustrating things for a customer is waiting while they keep hopping from one agent to another.
Provide 24/7 customer support without interruption
Businesses, especially SaaS products, have customers around the world. Recruiting a support team to work 24/7 might not be ideal as the business might not have the required resources.
By automating customer service, you can engage your customers and respond to their queries, even when the support team is offline.
For example, a chatbot can be an always-on widget on your website or in-app, handling basic issues and redirecting users to guides and tutorials based on their queries.
Another option is to build an in-app resource center for self-service support that users can use to access help directly inside the app. Include your chatbot there, guides, videos, access to submit a support ticket, feedback, and group everything under modules so it's easy to find.
With a hub of automated help resources, you can guarantee users have what they need to succeed, while your team doesn't have to grow at the same pace as you acquire new users.
What are the cons of automating customer service?
Automation is not the answer to every customer service issue. It comes with its own set of problems.
Here are some of the drawbacks you need to be aware of while automating customer service.
Automating can drive frustration due to a lack of understanding
If a customer is looking for a solution, they expect you to understand the issue they are facing.
Chatbots are trained to provide a fixed answer to specific questions and variations of the question. While the customer might be looking for something else, the bot lacks the understanding and cannot go beyond the solution it's trained for.
This can turn out to be a poor experience for the customer. And you definitely can't train your chatbot to have answers for everything.
Chatbots fail to understand customer sentiment and cannot handle frustrated customers. This can get worse if the bot isn't trained appropriately and provides irrelevant solutions, leaving the customer confused.
Lack the human touch
Artificial intelligence is getting better every day, but it cannot completely replicate an experience provided by human interaction. AI does a great job at handling repetitive tasks such as providing short answers and directing users to the needed resources.
But not everything is black and white. Most users require personalized solutions on a case-by-case basis, and AI can't provide this type of experience yet.
Unable to solve complex issues
When we get to complex scenarios, things get more complicated.
While automation can resolve basic issues, it cannot provide solutions for complex issues.
Automated systems can respond to queries only when trained. Bots can redirect users to appropriate guides and support documentation, and also answer frequently asked questions.
You cannot solve every issue with a fixed set of steps, the reason why it needs human intervention. Also, some of the issues can be unknown and only a human agent can help out.
What customer service processes should you automate?
Start by deciding which customer service process needs automation. There are different automated customer service tools to help you based on your needs.
You can go from automating the first-time user experience to setting up an AI-powered chatbot for on-demand help, to even automating the offboarding process for your users.
It's important to look at the industry and the type of customers you're serving, before adopting any customer service automation tools.
After analyzing the needs and the demands, you can set up any of the below systems:
In-app self-service support resource center: One-stop solution for help inside the product – access to product documentation, video tutorials, step-by-step guides, and interactive walkthrough – you can include all kinds of resources here.
Here's how Postfity includes multiple interactive walkthroughs that the users can trigger on-demand and learn how to use a new product feature.
Canned responses – Automated email response sent to your users when they reach out to the support team. This is generally an acknowledgment, informing the user that the team is looking into the reported issue.
IVR (Interactive Voice Response) system- Think chatbots but during a voice call. Its voice-based menu prompts users to provide some information if needed and then either provide a solution or redirects the call to human agents.
AI-powered chatbot – A website chat widget that can answer customer questions, provide links to documentation and tutorials, and connect to an agent if required.
Best practices for customer service automation
Now that you have a fair idea of the pros and cons, let's talk about how and when should you implement customer service automation.
Provide help inside the app
91% of customers say they would use a knowledge base if it met their needs. But adding more documentation articles to your KB hosted on your website is not the answer.
Customers prefer to resolve issues on their own and look for resources in an attempt to find a solution.
Creating an in-app resource center is one of the best customer service strategies. Users can search for what they're looking for, get quicker resolutions, increasing customer satisfaction and loyalty.
You can use a digital adoption tool like Userpilot and build one without having to code a single module. Then, when the user needs help, they can simply click on the in-app help widget to access all types of resources including your KB documentation.
Use a hybrid approach to customer support
As already mentioned, you shouldn't completely replace your customer support team with automation. Automation is a complementary solution, not an alternative.
AI still can't solve complex problems, so high-priority issues which can have a big impact on the company should be handled by customer support teams.
Use multiple types of resources to provide support
A chatbot is an integral part of the customer service automation software. But it's not the only answer.
Some users find it easy to follow a step-by-step video tutorial, while others need step-by-step guidance. The kind that walks and hand holds the user while performing a task.
You shouldn't rely on a chatbot only, try to automate help in multiple ways and see which is best.
Kommunicate implemented an interactive walkthrough that walks users steps by step through setting up their chatbot for the first time.
Personalize your automated customer support
I'm not talking about calling customers by their first name. That's standard practice when you send automated emails or when you greet new users.
In addition, you can take things to the next level by adding specific content in your in-app resource center based on different user segments and pages where the user is on when they click the help widget.
Gather feedback after every interaction to measure success
Collecting customer feedback makes users feel important and heard, and also helps you understand how efficient your support was.
You can set up customer satisfaction surveys that can help you understand how to improve your customer experience.
Excellent customer service automation examples
Get inspired on how to implement automated customer service software in your product with examples from big brands.
H3 Userpilot's in-app help resource center
Not only does Userpilot help its customers build in-app help inside their products, but it also offers automated customer service to its end users.
Yes, you can build completely code-free with Userpilot. This solution lets you play video tutorials directly in-app so the user doesn't have to leave the product.
Hubspot's chatbot proactively assists customers
As mentioned earlier, one of the best practices in automated customer service is chatbots.
Hubspot has a chatbot in place so whenever a user encounters a problem with any feature, the chatbot can direct them either to a knowledge base article or put them in touch with human support.
The bot messages are quite interactive as well, making the complete flow conversational.
Airfocus's automated welcome emails
Whenever a customer sign-ups for the product, Airfocus sends an automated onboarding email and provides the necessary resources to train new users.
Also, the email is personalized, addressing the user with their first name instead of the standard 'Dear Customer', and sent at specific milestones in the user journey instead of time-based.
Loom's in-app knowledge base for self-support
Loom offers a simple and easy-to-use in-app help for self-service support where you can browse through documentation articles, learn about the most common troubleshooting techniques, or engage with a chatbot for basic questions.
Along with the chatbot, there is an option to direct customers to the support team, making it easy for customers to reach out.
Best customer service automation tools
If you're wondering about the tools to be used to automate customer service for your product, we've got you covered. Here are some of the best tools you can use for customer support automation.
Userpilot – best for self-service automation
Userpilot allows you to create an in-app help center without writing a single line of code. The resource center created with Userpilot is customizable. You can choose your knowledge base design and structure by adding different colors and icons, and grouping your content to fit your needs best.
You can include multiple formats of resources such as video tutorials, FAQ, knowledge base articles, and live chat.
You can also track resource center engagement to determine which types of resources users find more helpful and create more of these in the future (do your users prefer and engage more with video content, FAQs, checklists, or what?).
To make it more personalized, you can also automatically localize the content and make resources easier to understand for different user segments.
Zendesk – best chatbot integration and automation
Zendesk is an automated customer service platform where you can set up chatbots to answer customer questions.
The chatbot, powered by artificial intelligence, can respond to frequently asked questions. In case of issues that need human interactions, the bot can route the query to one of the agents available.
The platform also provides detailed analytics around tickets raised and resolved, the support channels, agent metrics, and more.
Hubspot Service Hub – best for omnichannel customer service
With Hubspot Service Hub, you can connect multiple communication channels like email inboxes, live chat, Facebook Messenger, and more into a single shared inbox for seamless communication.
You can create workflows and send out automated messages to users.
Conclusion
Automated customer service along with customer support agents can level up your customer experience.
Are you looking to automate customer service in your SaaS product? Book a Userpilot demo today and get started.