Dunning Emails: Complete Guide with Examples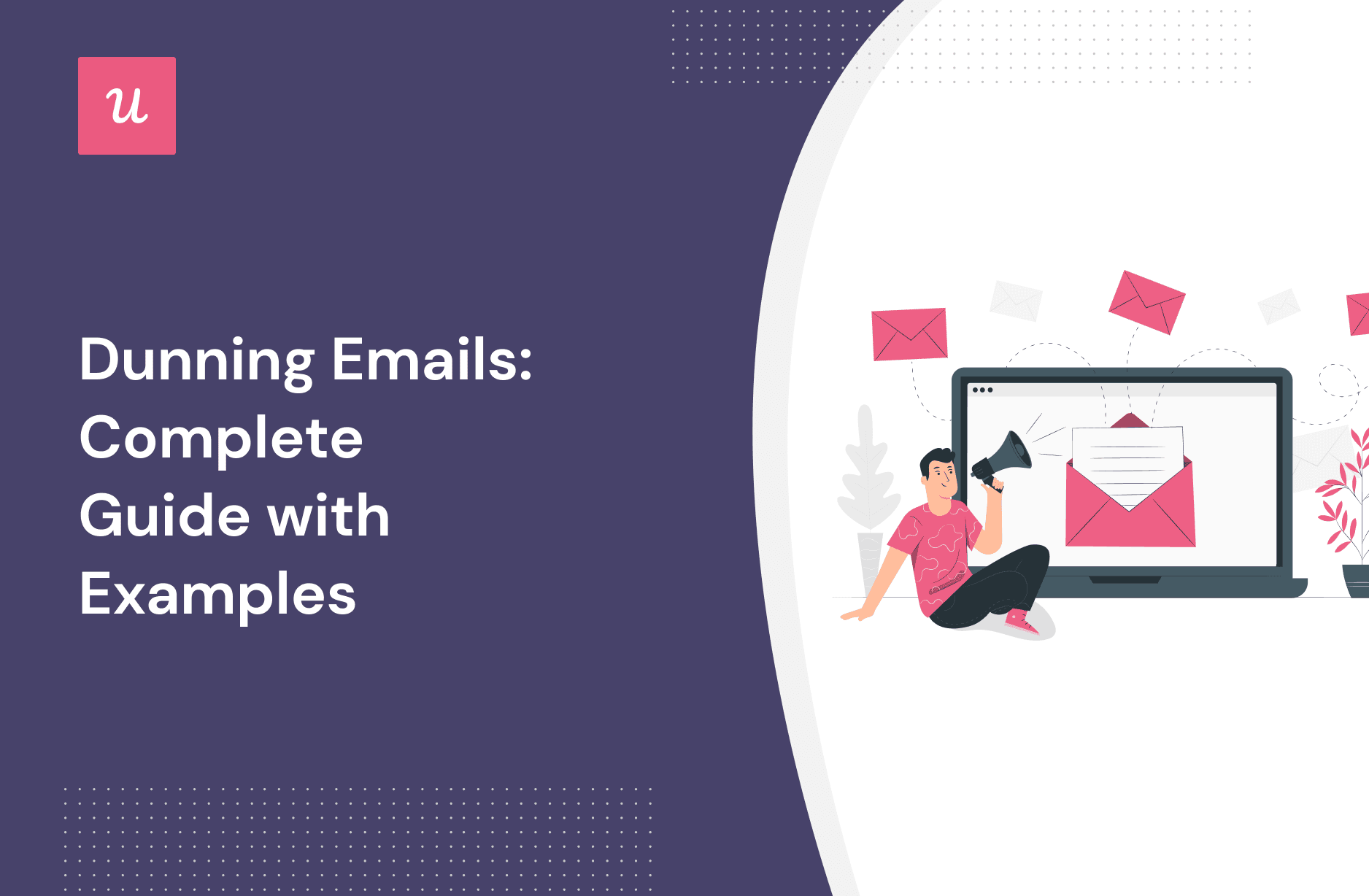 The ability to follow up on failed payments without putting customer retention at risk is a delicate task that must be handled carefully. Dunning emails tend to be the most effective way to remind customers about a failed payment and speed up the payment process by offering alternative options.
In this guide, we're going to go over what a dunning email is, why they're important, and when to send them!
TL;DR
Dunning emails are a form of transactional email used to remind customers about a payment status by attaching their billing info, invoice, and resolution options.
Dunning sequels are a combination of a pre-dunning email and a dunning email.
Dunning emails are important because they protect the customer experience, increase retention rates, and automate the payment collection process.
Dunning emails could be sent as regular confirmations, triggered whenever a failed payment occurs, or even used to encourage customers to upgrade their plan before a renewal occurs.
Dunning emails should include the company name, reason behind the email, payment details, schedule for retrying the charge, a link to settle the balance manually, and contact information for the support or billing team handling the transaction.
When writing dunning emails, you should be concise, include specific information to gain the recipient's trust, regularly update the copy, personalize the language used, and clearly state the next steps a customer needs to take.
You can automate dunning emails with tools like Recurly, Chargezoom, Pelcro, BluLogix, and Chargebee.
Integrating your CRM with a product adoption solution can help you combine your dunning emails with in-app billing reminders. For instance, you could use Userpilot's HubSpot integration to display a notification banner for all customers with the "inactive plan" user attribute on your CRM database.
What is a dunning email?
A dunning email is a transactional email with account information and an attached invoice used to remind customers about any due payment.
Dunning emails often include details on the potential consequences of non-payment and could offer multiple resolution options to avoid involuntary churn.
Dunning email vs. dunning sequel
Dunning emails are sent on the same day that a billing issue occurs and results in failed payments so that customers know that there was trouble processing their recent payment.
Dunning sequels, on the other hand, combine a pre-dunning email with a dunning email(s).
Why dunning emails are important
Dunning emails are a crucial part of dunning management — an automated payment recovery protocol that's triggered by a payment failure. The dunning strategy starts by notifying the customer of the billing issue and then begins the payment recovery process.
Here are a few other reasons why the dunning process is so important for subscription companies:
Customer experience. Whether overdue payments are due to insufficient funds or erroneous billing settings, the inability to access your product (and all the data stored on it) can hurt the customer relationship. The dunning process helps resolve the billing error so the subscription isn't terminated.
Customer retention. By helping customers understand their options for dealing with payment issues, dunning emails are able to resolve the majority of payment fails and reduce involuntary churn (which would lead to lost revenue) in the process.
Automated collections. Reminding customers about outstanding invoices and prompting them to update their billing information through automated emails will save your customer service team a lot of time.Note: You should still add a customer care link in case the customer needs to reach the support team.
When to send dunning emails
There are a few different scenarios where sending dunning emails would be the most appropriate way to get a prompt response from your customers.
Here are a few examples of when you might opt to send dunning emails to a customer:
Subscription renewal. Using dunning emails to contact customers before their subscription renews can reduce the frequency of declined payments since they'll be expecting the charge. You can also use the same message to upsell the same sender by highlighting the benefits of other product plans.
Failed payments. Dunning emails should be sent out when a payment fails to offer customers all the information they need to resolve the issue. Make sure to include the outstanding invoice and a direct link to pay the balance (along with a variety of suitable payment methods to do so).
Expired billing information. Whenever the billing information on a customer's account expires (e.g. old credit cards), you should send a dunning email so users remember to update their billing information and keep the account active.
Regular confirmation. Sending out pre-dunning emails regularly to confirm information (such as which credit card will be charged and the current billing permissions customers have set) will create a more positive customer experience than only emailing users when there are outstanding payments.
Time-based. Time-based dunning emails can be sent out based on the exact grace period that you offer customers. You can also build a sequence of multiple dunning emails that increase the sense of urgency with each passing day or week until the grace period has ended.
Final notice. Final notice subject lines should instill a sense of urgency. These emails should almost always include the alternative resolutions that subscription businesses offer in their cancellation flows, such as plan discounts, free months, or the ability to pause the subscription for a certain period.
What to include in your dunning emails
The exact content of your dunning emails will vary depending on the billing model your company uses, which type of customer you're in business with, and the method you'll use to receive payment.
In general, there are a few essentials that should be included in every dunning email:
Company name: Make sure to include your company name and product details so users don't disregard your dunning email or mistake it for a phishing attempt.
Email reasons: Be clear about why you're contacting and also explain the underlying cause (such as expired credit cards or insufficient funds) so customers know why the payment failed.
Payment details: Users are far more likely to respond to a dunning email's call-to-action when they know how much the subscription payment is, which credit card they have on file, and have easy access to the support team in case of any further questions.
Payment link: Including a billing link in your dunning emails will increase the response rate as users won't have to go through the high-friction process of signing into their account, finding the payment page, and then initiating the charge manually.
Payment schedule: Indicate the exact date (or date range) when users should pay to avoid service interruption. You can also add how many days they have left in the subject lines so customers remain aware even if they don't open the email.
Contact information: Include the contact information of your customer success, support, or sales teams so the recipients can reach out to the right department if they have any concerns.
How to write a successful dunning email?
Much like email marketing, writing a successful dunning email that customers actually read and act on is a nuanced process.
There's a ton of strategy that goes into the dunning email from subject line to CTA, but it'll all be worth it if you can reduce involuntary churn.
Let's take a closer look at how to optimize the subject line, body text, and conclusions of dunning emails:
Subject line
The subject line of your dunning emails will have a huge impact on their average open rate — so make it clear that the email is urgent.
Data from one million dunning emails sent through Baremetrics showed that open rates range between 25.71% and 41.29% depending on how long it's been since the payment failed.
Subject line examples
In addition to being urgent, subject lines should reflect your brand's voice and target audience:
"Oh no, your payment failed" -Spotify
"Auto-recharge has been cancelled" -Skype
"Please act now to keep your subscription" -The New York Times
"Action required – please update your payment details for [name]'s team" -Canva
"Payment failure: Google Workspace Business [plan] for [domain]" -Google Workspace
As you can see, Spotify uses the most casual approach to subject lines while NYT does the opposite as the two companies target opposite demographics.
Google Workspace and Canva include more details in their subject lines, such as which user/domain the bill is for or which plan they're subscribed to.
Body text
The body text of your dunning emails should include all the key information, such as why the payment failed, when the payment deadline is, and how to proceed. It should also include links that help recipients contact support or settle their outstanding balance.
When writing B2C dunning emails, you'll want to include individual details like which credit card is linked.
Conversely, B2B dunning emails should be more cautious with including sensitive payment information and instead use business-specific details such as who the account holder is or which plan they subscribed to.
Body text examples
Here's an example of the body text from one of Google Workspace's dunning emails:
Don't lose access to Google Workspace Business Starter

The last payment for your Google Workspace Business Starter subscription for example.com failed. This indicates that there's something wrong with your payment method.

To prevent the suspension of all services for all users on September 5, 2023:

Contact your bank or credit card company to resolve the issue with your payment method.

Sign in to your Google Admin console and click Billing to retry or update your payment method and pay your outstanding balance. If you can't resolve the issue, you'll need to add a new payment method instead.

See complete instructions for fixing payment and billing issues or contact our support team for additional help.
Sincerely,

The Google Workspace Team"
Or another example of dunning email body text from Canva:
Payment failed

We couldn't process the most recent payment for [customer name]'s team's Canva Pro account. This might be because your card has expired or your account doesn't have enough funds.

Take a few moments to check if the payment details we have saved is still the best method for you. If you continue to experience issues, try adding a different payment method or try checking with your bank.

If we're unable to process payment by 9/8/23, your subscription will be cancelled and you'll lose all the great features of Canva Pro.

Need any assistance?

Our support team is available 24/7 to answer any other questions you have about Canva Pro. Ask us a question.

You're receiving this email because you have a Canva account. This email is not a marketing or promotional email. That is why this email does not contain an unsubscribe link. You will receive this email even if you have unsubscribed from Canva's marketing emails.
Conclusion line
The conclusion line of your dunning email should contain billing links and the contact channels that customers can reach out to you through.
Lastly, be sure to use an amicable tone since you don't want to burn any bridges.
Conclusion line examples
Conclusion lines should be concise and make the next step clear for customers:
"To keep Spotify Premium you may need to update your payments details." -Spotify
"Don't worry, you can sign up for Auto-recharge again by visiting your account." -Skype
"Don't risk losing your access to the world's finest journalism with our full range of in-depth articles, innovative videos and multimedia." -The New York Times
"Our support team is available 24/7 to answer any other questions you have about Canva Pro. Ask us a question." -Canva
"See complete instructions for fixing payment and billing issues or contact our support team for additional help." -Google Workspace
Best practices for dunning emails to improve dunning email recovery rate
There are a few best practices you should adhere to when sending out a dunning email to a customer if you want to maximize the recovery rate.
These include combining dunning emails with in-app messaging, staying concise, building trust, updating email copy, personalizing messages, optimizing CTAs, and more.
Pair dunning emails with in-app messaging
Pairing your dunning emails with in-app messaging can help you hedge your bets in case the delinquent customer doesn't see the email.
After all, even a world-class dunning email won't do you much good if it ends up in the spam folder or finds itself buried in a cluttered customer's inbox.
For instance, you could integrate a CRM solution like HubSpot to pull user attributes like "plan inactive" and use that to trigger an in-app notification banner that reminds customers about their overdue payments.
Userpilot's HubSpot integration even lets you send data both ways between the tools if needed.
Keep it short and simple
Dunning emails should be short, to the point, and offer clear instructions for how a customer can proceed.
(Just like this section.)
Provide clear payment information to avoid distrust
With the amount of phishing emails and fake invoices circulating online, it's not hard to imagine why people are less trusting of vague emails nowadays.
To avoid distrust, be sure to include specific billing details like a billing address (though avoid sharing personal addresses on dunning emails to team accounts).
The dunning email should also have clear payment information regarding amounts, methods, and due dates.
Change your email copy periodically
If you've been using the same copy on your dunning emails and haven't seen any improvements in the recovery rate then it may be time to experiment with new messages. Trying out new emails can boost engagement metrics and help you figure out what resonates with your core audience.
Harvest customer data to write a personalized message
Personalizing your dunning emails will make customers far more likely to act on the CTA at the end.
Review product usage analytics, sort through survey responses, and leverage user personas to learn more about customer goals, then adjust your dunning email copy accordingly.
Provide customer service contact details
Another way to gain a user's trust is to include customer support contact details in the dunning email.
This is especially useful if the billing error caused a service interruption or other account restrictions that the customer may want to speak with a support representative about.
Optimize the call to action with clear instructions for further actions
Your call-to-action should explain the next steps to make the process as easy as possible for the customer. Vague CTAs without clear instructions can lead to involuntary churn if customers see your dunning email but aren't sure how to proceed.
Use a tool to send automated dunning emails
Having the right tool for the job can help you send out more dunning emails and achieve higher recovery rates.
There are plenty of options to choose from, but a few popular solutions that you should consider checking out include:
Recurly
Chargezoom
Pelcro
BluLogix
Chargebee
Dunning email examples
It's one thing to be familiar with the best practices of when to send dunning emails and what to include, but using them in a real-life scenario is a lot different.
Fortunately, there are plenty of successful software and streaming brands that have already put the legwork into optimizing their dunning emails.
Here are a few dunning email examples that you can draw inspiration from:
Kissmetrics
Kissmetrics starts its dunning email off strong by immediately telling the customer why their payment failed. The email then uses a large CTA button to guide the recipient towards the next step of the process (in this case, updating credit card info). Contact information for Kissmetrics' billing team is also included.
UXPressia
UXPressia uses large text to hook the recipient in and let them know that their payment didn't go through. The email then lists multiple reasons for why the charge might have failed. The email also includes a clear timeline for when the company will next try to process the payment so customers can plan accordingly.
You'll notice that the email also includes two options for how customers can proceed:
Updating their billing info by clicking on the link.
Reaching out to the support team via the provided contact email.
Hulu
Hulu uses graphics to visually represent the failed credit card transaction and lighten the mood during an otherwise annoying situation for both parties. To save time, Hulu also includes the last four digits of the credit card so the customer doesn't need to go into their account and check which card they linked.
Before moving in for the call-to-action, Hulu first reminds customers of the value that the service provides in the form of its large streaming catalog and ever-growing library of titles. Finally, the CTA button uses concise copy and brand colors to draw the recipient's attention toward the "Reactive Hulu" link.
Spotify
Conciseness and language/market fit are both tenets of writing effective dunning emails. Spotify implements both practices by using a casual tone to describe the situation and keeps the dunning email very short, with just three sentences.
Despite the short copy, Spotify is able to tell customers:
What happened.
When the payment will be retried.
What the next step is.
Much like Hulu, Spotify uses its brand colors to attract attention to its CTA button.
Conclusion
As you can see, dunning emails can prompt customers to update their payment information, add funds to their linked bank/card, or get in touch with a support representative to find a solution. If you follow the best practices in this guide, then you're bound to see a boost in recovery rates.
If you're interested in reaching out to delinquent customers through in-app messaging with two-way CRM integrations, then it's time to get your free Userpilot demo today!