Top 20 AI Marketing Tools for Your SaaS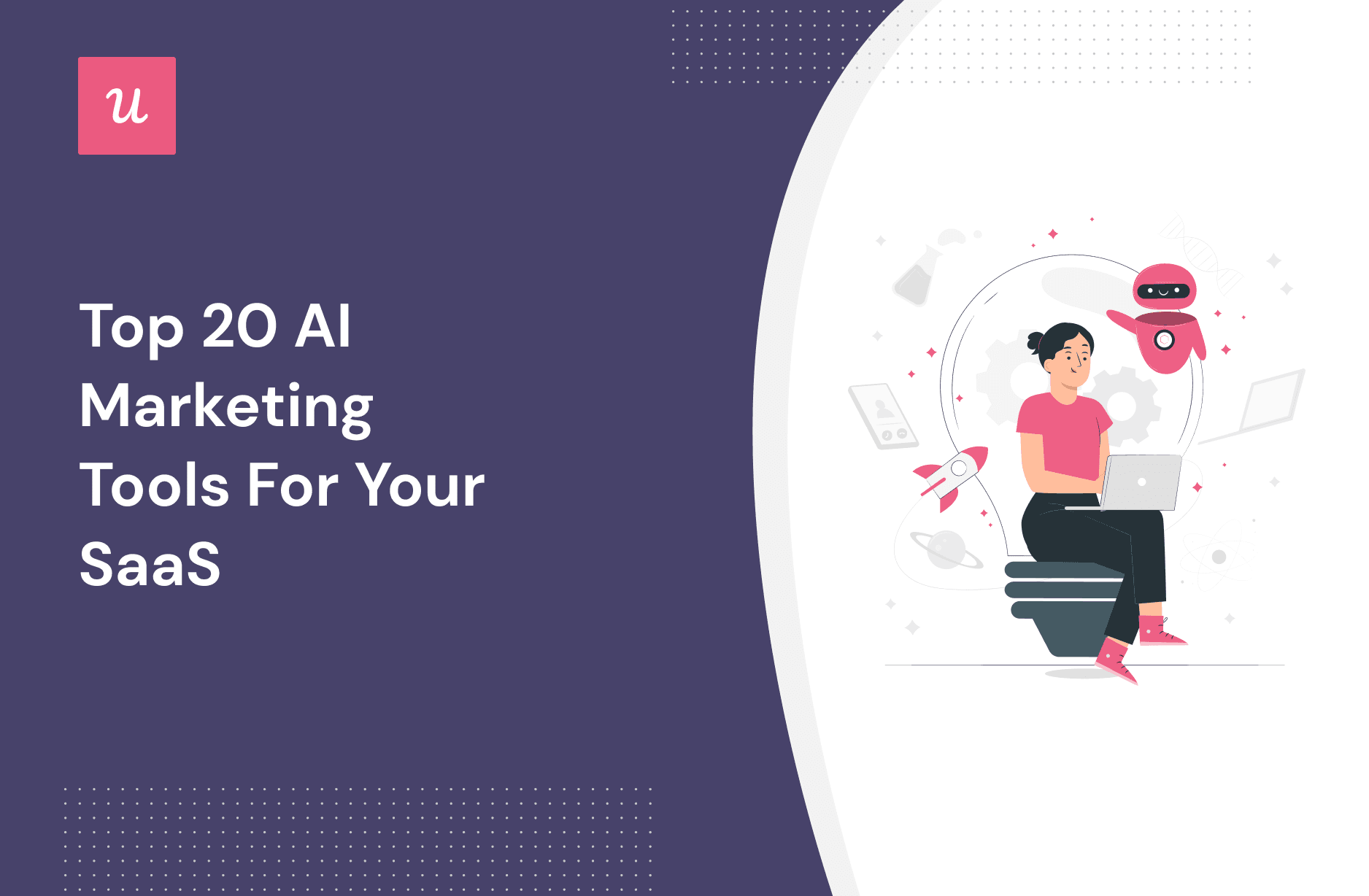 AI marketing tools are becoming increasingly popular. It's almost impossible to find a SaaS company — big or small — that doesn't use artificial intelligence in its marketing activities.
The right tool will level up your marketing game, save resources and win and engage more customers faster.
Read on to find the top AI products that can help!
TL;DR
AI tools use artificial intelligence and machine learning algorithms to collect and analyze data for automated decision-making.
To select the right AI marketing tool, you should assess your specific needs and prioritize tools with a high level of accuracy and user-friendliness interface.
Additionally, you should consider the total cost of the tool and compare pricing to ensure you are getting the best value for your investment.
The best AI tools in each category:
User onboarding: Userpilot, Synthesia.
Email automation: GetResponse, Seventh Sense, Magic Sales Bot.
Content marketing: Notion, ChatGPT, Jasper.ai, SurferSEO, MarketMuse, Grammarly.
Customer success: ChurnZero, Zapier.
Chatbots and messaging: ChatBot by LiveChat, Kustomer, and ManyChat.
Customer data analytics: Amplitude, Microsoft Power BI, MonkeyLearn, Brand24.
What is an AI marketing tool?
An AI marketing tool is software that uses artificial intelligence and machine learning algorithms to enhance and automate specific marketing-related processes.
For example, an AI-powered email marketing tool might help you generate personalized email campaigns for different audience segments, based on their interests and behavior.
How to select the right AI marketing tools?
With a variety of AI tools available, it can be challenging to identify the one that best suits your needs. The best way to choose is to streamline your choices; be sure about the functionalities you need before searching.
These practical criteria will help:
Evaluate features and functionality: Before choosing an AI tool, assess your specific needs and determine which tasks you need the tool to perform. For example, if you want a tool for sending email campaigns, you can see if it supports auto-generated email content, or adjusts email content based on user behavior or preferences.
Select tools with a high level of accuracy: When selecting an AI tool, you can verify the accuracy and performance of the tool by checking its track record and reading reviews from other users. You can prioritize choosing tools that have undergone rigorous testing and validation to ensure that they deliver reliable results.
Go for user-friendly AI tools: Look for AI tools that are easy to use and integrate with your existing workflows. This will ensure that you can quickly implement the tool and start seeing results without having to spend too much time learning how to use it.
Consider the total cost for the tool: If you want a cost-effective AI marketing tool, you should compare all the tools' pricing. Is there a price difference among the tools that do the same job for you? If yes, what's the extra benefit? Is it worth spending on it?
In the next part, we'll go over a list of AI-driven marketing tools to provide you with some recommendations.
Best AI-powered marketing tools for user onboarding
AI user onboarding tools can help you enhance in-app user guidance and education during the onboarding process by creating or fine-tuning your onboarding content. Here're the two recommended tools:
Userpilot – AI-powered in-app onboarding builder
Userpilot is a product adoption platform with features that enable you to onboard customers successfully. The tool is not entirely AI-based but it just launched an AI-powered onboarding builder to help deliver more effective onboarding copies.
Here's a brief description of what Userpilot's AI-powered WYSIWYG (What You See Is What You Get) editor can do for you:
Generate content suggestions based on your prompt with options to accept, modify, or discard the suggested text.
Refine content for in-app guidance to drive user engagement with prompts such as improving the text, fixing spelling and grammar, summarizing, etc.
Provide various content options for A/B testing purposes.
Whether you want to start from scratch or fine-tune your existing text, Userpilot's intuitive AI builder can assist you in delivering better copies for your onboarding flows.
Userpilot pricing starts at $249 a month for products with 2500 monthly active users. There are also custom growth and enterprise plans available for medium and large businesses.
Synthesia – AI onboarding video creation
Synthesia is an AI-powered onboarding tool that can help you create training videos 80% faster.
This is an ideal tool for products needing a great number of onboarding videos to educate users. It has several onboarding templates to choose from and 125 AI presenters so you can decide on the one that suits your brand.
This software makes video creation a breeze. All you really have to do is choose a template, select your presenter, and type in the video script. Your media will be ready in seconds. Synthesia also allows translation into 120+ languages, so you're covered if you plan on localizing your onboarding flows for different audiences.
Synthesia's pricing starts at $30 per month.
Best AI marketing tools for email automation
Email automation tools have been around for some time, and many of them are joining the AI revolution. Let's consider some big players and how they can help level up your email marketing.
GetResponse – AI-powered email generator
GetResponse's GPT-backed email generator can save you more than 80% of the time you spend creating content manually.
To write the perfect email (or email series), you only have to provide information to help the tool understand what the email is about, the category your business falls into, and the type of email you aim to create.
You can also set the tone—convincing, informative, friendly, etc—and layout for your emails. It automatically attaches a relevant stock photo if you choose a format that features an image.
Everything is customizable. You can change the headline, edit the body of your email, replace the stock photo, and much more.
GetResponse allows you to A/B test different email elements so you only stick to what works. This AI feature is available on all paid GetResponse plans, and the least plan costs $15 per month. However, users on the free version can test AI-assisted email marketing for a limited time.
Seventh Sense – AI email scheduling tool
Seventh Sense is best suited for companies with an existing email list and interested in increasing their email conversion rates. The AI uses machine learning to understand your audience and know when they will most likely open your emails.
You can use this tool to segment your email list based on who is more or less likely to engage. This helps you save resources as your emails will be more targeted, delivered at the right times, and tailored to your audience's needs.
Seventh Sense primarily integrates with Hubspot and Marketo accounts, but you can add it to any other email marketing system you use.
Pricing starts at $64 monthly for Hubspot and $360 for 50K leads on Marketo.
Magic Sales Bot – AI tool for cold email marketing campaigns
Magic Sales Bot is built on GPT-3, just like the GetResponse email generator. This tool is ideal for businesses having to send massive cold email campaigns.
With Magic Sales Bot, you can generate personalized cold emails with input information such as business information, value, and your prospect URL.
In less than 60 seconds, it'll extract every relevant and valuable information about your prospect — tweets, funding, news, email addresses, and Linkedin profiles of the key decision-makers in your target company.
It uses all that information to generate several emails. You can select the best email and use it directly, or go through everything and try to piece the most important information together.
Magic Sales Bot is priced at $19 per month.
Best AI marketing tools for content marketing
Content marketing is quite broad, so seeing an AI marketing tool that handles research, writing, and distribution is hard. Marketers often have to combine different software to achieve their goals.
Here are the best AI content marketing tools and their specialties.
Notion – AI tool for brainstorming content ideas
Notion AI is a connected AI assistant that helps marketing teams brainstorm better and improves your content creation efficiency.
You can use Notion AI to check your work for grammar and structure mistakes, extend/reduce text, and extract insights from the content on a page.
For example, you're ideating and have noted bullet points to expand on. You can save time by asking the AI to create a paragraph for each point or make it more professional.
Additionally, Notion AI can generate content based on prompts, translate your content into different languages, adapt a specific writing tone, etc.
Notion AI is sold as an add-on for $10 per member per month. The company allows you to test its AI for free before deciding if it's something you want to pay for.
ChatGPT – AI-powered writing assistant
ChatGPT is a conversational AI trained by OpenAI. With the right prompts, you can use the tool for finding content ideas or refining your writing.
You can also ask it to proofread your text and make it sound a particular way — professional, convincing, amusing, etc. ChatGPT is also an excellent research tool when used properly.
However, it's important to note some people are misusing the AI. Don't rely on it to 100% write your blog from scratch as it is not a reliable source of information. Its data source is only updated to 2021 and contains false information at the same time.
You can ask it for topic suggestions and ideas for areas to cover but think of it more as a writing assistant. In other words, you need a human writer or editor to review every content it generates and ensure everything is fact-based and updated.
ChatGPT has a free version, and the premium costs $20/month. The company also allows you to pay for the API and build custom models. For example, the Magic Sales Bot we considered earlier was built on GPT-3. Payment for the API is flexible — you're billed based on usage.
Jasper.ai – AI copywriter for digital marketing campaigns
Jasper's selling point is saving you time by writing copy for your different marketing channels. The platform has several templates you can use — YouTube ad scripts, Facebook ads, product copy, etc.
Using Jasper's Brand Voice, you can teach the AI about your company so every piece it creates aligns with your brand. To do this, there's a section for you to upload your company, customer, and product information. Since AI is garbage in, and garbage out, the results you get depend on how specific and detailed your input is.
Jasper integrates with Grammarly and SurferSEO to ensure your content is grammatically correct and every blog post you create has a good chance of ranking high on search engines.
This AI marketing tool offers a 7-day free trial. The paid plan starts at $39 per month.
SurferSEO – AI tool for optimizing content for search engines
Surfer is the SEO buddy you need to boost your search engine rankings.
The tool gets to work once you type your preferred keyword into the content editor. Within seconds, it analyzes existing articles on your topic and produces:
A list of the top-ranking articles
Keywords to target
Word count range and the number of images you need to rank well
Content outline to make writing easier
Surfer has a content score feature that calculates the quality of your articles. You can see the content scores for the top-ranking pieces and aim for higher where possible.
Additionally, the platform has an AI growth management feature that regularly analyzes your website and sends weekly suggestions on things to improve on.
Surfer's basic plan goes for $49 a month. It allows you to track two websites and optimize 120 articles per year. You'll have to upgrade to a higher plan if you want more.
MarketMuse – AI tool for building content marketing strategy
MarketMuse is probably what you need to build content strategies in a data-driven way. Using this AI marketing tool, you can research competitors, create traffic-pulling content clusters, and analyze your website for topic suggestions.
You can also use MarketMuse to create a rough first draft, alongside content briefs and KPIs that enable you to edit properly.
All MarketMuse features are AI-driven, and they can go beyond articles to help you create emails, landing page content, etc.
MarketMuse has a limited free plan. The Standard plan costs $149/month for one user with full-page level insights and 100 content queries. You can also go for the 3-user team plan at $399/month or ask for a custom plan with additional personalized metrics.
Grammarly – AI spelling and grammar checker
Grammarly is a writing enhancement tool to help you write grammar error-free. This would be helpful for content writers to flow with creative ideas without worrying about making grammar mistakes.
With Grammarly, you can paraphrase, boost grammar, check plagiarism, and create content based on your unique tone and style.
One of the good things about Grammarly is its Chrome extension. Once installed, you'll get real-time writing suggestions everywhere you write online — Google Docs, LinkedIn, Twitter, etcetera.
As in the media below, you can copy and paste your content into its web app for more in-depth analysis.
The company recently added GrammarlyGo, a generative AI that creates content based on prompts.
Grammarly's free users have access to 100 free prompts per month. The premium plan costs $12 per month and comes with 500 prompts. Accounts on the business plan get 500-1000 prompts per user per month, depending on how much the company is paying.
Best AI marketing tools for customer success
ChurnZero and Zapier are some of the best when it comes to AI customer success tools. Let's see how they help with customer success.
ChurnZero – AI-powered tool for customer retention
ChurnZero's generative AI can help CS teams create content on demand in minutes. You can use it to generate call scripts or strategy ideas to help you interact with customers, meet their needs, and drive long-term retention.
With ChurnZero, you can also create training docs, internal messages, meeting summaries, etc.
ChurnZero doesn't have a pricing page on its website, but a little search on the internet suggests the tool can cost up to $12,000 per year and is more suitable for mid to enterprise-level customers.
Zapier – AI automation tool for customer support workflow
AI by Zapier allows you to integrate with thousands of tools. Therefore, you can create simple to complex customer support workflows by connecting all the tools you need to automate the entire process.
There's a free plan that gives you access to core features and a few apps, but premium users enjoy integration with over 5000 platforms. Zapier's paid plan ranges from $19.99 to $799 monthly, depending on your business needs for features and integrations.
Best AI marketing tools for chatbots and messaging
AI Chatbots are great for providing basic support to customers and prospects. Below are some of the best chatbot builders to consider:
ChatBot by LiveChat – AI chatbot builder for websites
This platform lets you build conversational AI that uses Natural Language Processing and Machine Learning to deliver the right responses. You can use the tool to build chat scripts and determine the kind of support users need in each scenario.
Best of all, it learns and improves with use.
New users can access the platform with a 14-day free trial. After that, the Starter plan costs $52/month, the Team plan goes for $142/month, and the Business plan is $424 monthly.
Kustomer – AI chatbot creator for multi-platforms
Kustomer functions just like ChatBot by LiveChat but also allows for omnichannel communication with customers. You can simultaneously use email, SMS, and social media to keep customers engaged and boost their experience with your brand.
The platform offers a 14-day free trial, and its paid plan starts at $29 per month.
ManyChat – AI chatbot for social channels
ManyChat makes omnichannel social media communication easy. The platform connects with Messenger, Instagram, and Whatsapp to speed up customer interactions. It's also useful for SMS messaging and integrates with popular tools like Shopify, Google Sheets, Hubspot, MailChimp, etc.
ManyChat is a rule-based AI chatbot. The interactions involve presenting customers with a series of options, and users drive the conversation by clicking the options that suit their needs.
ManyChat has a free version, and the Pro costs $15 monthly.
Best AI marketing tools for customer data analytics
Proper data analytics will enable you to learn more about your customers and make informed business decisions.
Let's see some AI tools that will speed up the process:
Amplitude – AI-powered predictive analytics tool
Amplitude enables companies to understand user behavior through in-depth data analytics collected from multiple sources.
Once you connect your data sources to Amplitude, the tool's AI capabilities help you group users into relevant user segments:
Behavioral cohorts — based on past activities, helping you understand usage patterns.
Predictive cohorts — based on actions the AI predicts users will take in the future, helping you be proactive when engaging with users.
You can export cohorts from Amplitude to third-party platforms like Hubspot, Segment, or even Userpilot, so you can act on the data and build personalized in-app onboarding experiences that drive growth.
Amplitude has a free version. The paid plan isn't publicly stated, but you can request a demo and get a custom quote.
Microsoft Power BI – Machine learning tool for business intelligence
Power BI helps companies gain actionable insights into customer behavior. With this tool, you can build advanced analytical models that enable you to predict trends, identify patterns, and detect anomalies in your data.
You can also create interactive visualizations and reports that can be easily shared with other stakeholders.
Power BI's pricing starts from $10 per month.
MonkeyLearn – Machine learning analytics tool for customer feedback
MonkeyLearn uses advanced Natural Language Processing (NLP) algorithms to extract actionable insights from unstructured text data, such as customer reviews, social media posts, and support tickets.
Using MonkeyLearn, you can identify common themes, trends, and issues in customer feedback, and take action to improve customer satisfaction and loyalty.
MonkeyLearn's pricing starts at $299/mo.
Brand24 – AI tool for social listening
With Brand24, companies can monitor social media platforms such as Twitter, Facebook, Instagram, and LinkedIn, to analyze sentiment, track brand mentions, and identify emerging trends.
This AI marketing tool uses NLP algorithms to extract insights from social media data, allowing businesses to better understand their customers and competitors.
Conclusion
There's almost an AI assistant for every aspect of marketing. And that's good news because it means spending less time on manual stuff and having enough mental space to unleash your creativity.
However, try not to rely entirely on AI — for now. Where possible, always have a human go through and fine-tune the results before shipping.
Have you decided on the AI marketing tools you need in your tool stack? You definitely want to add Userpilot's Onboarding Maestro to create engaging onboarding experiences fast. Get a Demo to begin!