How to Select Enterprise Onboarding Software as a Large Company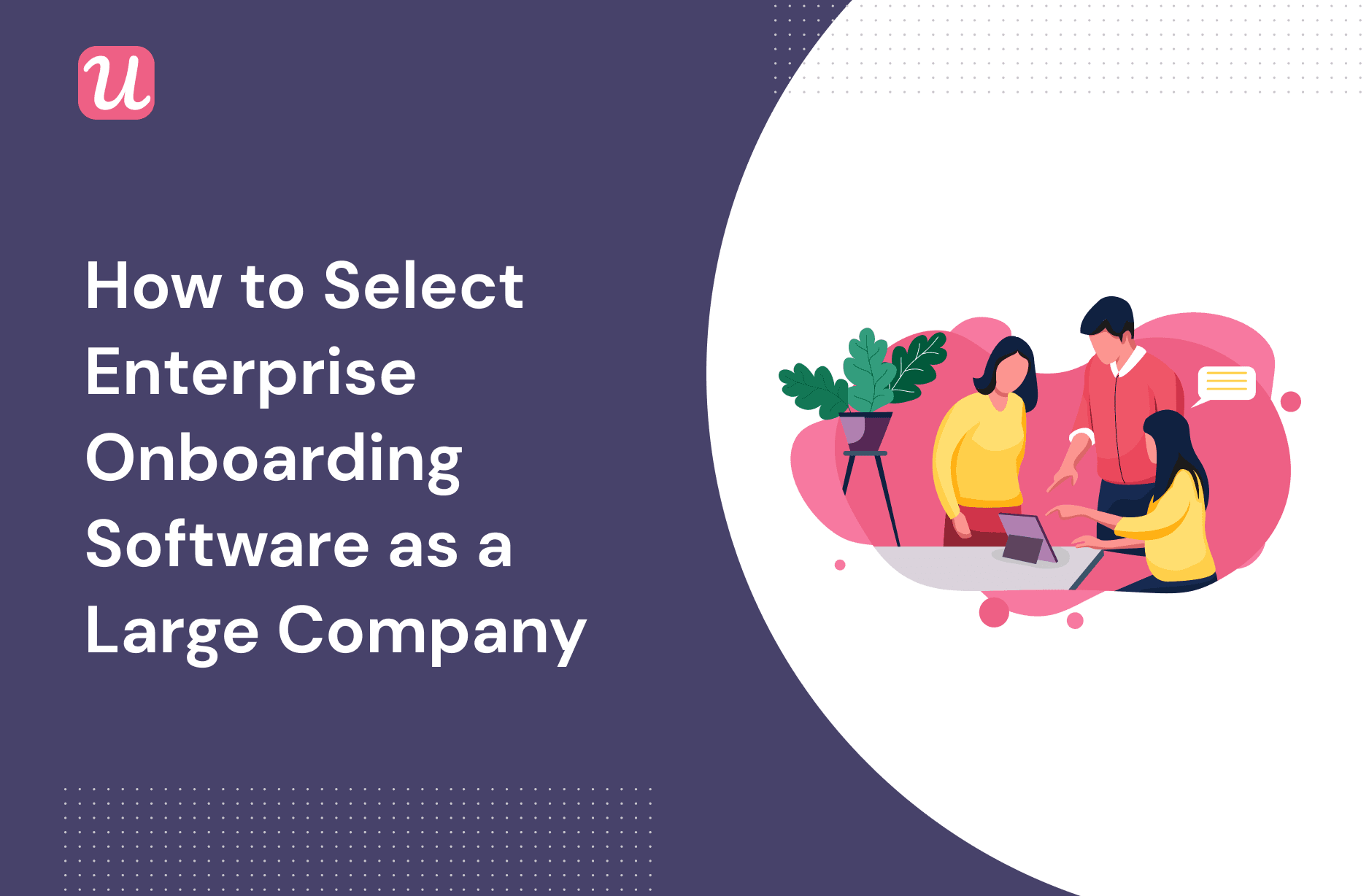 If your company has 250 employees or more, it's essential that you use enterprise onboarding software to process your new customers.
Sure, you could probably afford the financial cost of building your own bespoke onboarding software, but how many customers are you going to lose in the time it takes you to figure all that out?
It took Atlassian 2 years and nearly 3 million dollars* to build their own internal onboarding tool (*according to a Sr Product Manager who worked on this project).
If you don't have that much time and money to spend – you will need to partner with the right enterprise onboarding tool. In this article, we'll show you how to choose one.
TL;DR
By what criteria should you assess enterprise onboarding software?
The main criteria you should take into account when selecting enterprise onboarding software are:
Data security
The ability to process large volumes of data
Automation
Let's take a look at these.
Enterprise onboarding software feature #1: Data security
Data security is extremely important for brand reputation and legal compliance, and data breaches can result in massive financial losses or even bankruptcy for companies handling large volumes of sensitive data.
It's essential that the software you choose to onboard your users manages your data responsibly.
That means you need a partner that has high internal standards for data security while also complying with major international data security legislation.
Internal data security
When interviewing potential onboarding software partners, ask if they follow these security practices internally:
Data encryption: The best onboarding partners will not only encrypt your confidential data, but will test that encryption regularly. Hashed auth keys are especially important.
Login security: As an enterprise, you should demand that your onboarding software uses a single sign-on (SSO) for account access. For extra security, ask if they can provide you with multifactor authentication (MFA) in case one of your devices gets stolen.
Maximum uptime: Your data should be spread across multiple data centers, ideally in multiple countries. This reduces the chances of downtime and increases accessibility.
Employee security: Make sure that your data is only accessible by authorized employees, and that such access requires authentication. Employee contracts should include a confidentiality clause.
Regular backups: Your onboarding software should back up your data on a regular basis, and ideally sync it in real-time as well.
Privacy first: Ensure that the partner you choose has a comprehensive privacy policy that prevents them from selling their customer data.
GDPR
The General Data Protection Regulation (GDPR) is an important data security law which affects companies doing business with the EU.
You should ensure that your onboarding software complies with GDPR in the following ways:
Data erasure: It should be possible to delete your data, or your customers' data, at any time.
Data requests: You should be able to track the progress of deletion requests at any time.
Data rectification: If there is an error in your data, you should be able to correct that whenever you please.
Data portability: if you need to export your data to another platform, you should be able to do that easily and unbureaucratically.
SOC 2 Type II
SOC 2 is a certification awarded by an independent auditing body that guarantees high data security standards.
The certification is based on the following 5 trust service principles:
Security
Availability
Processing Integrity
Confidentiality
Privacy
SOC 2 Type II provides a higher standard of data security than Type I because it assesses the operational efficiency of your provider's systems.
You should therefore look for enterprise onboarding software with a Type II certification, not a Type I.
If your provider has a Type II certification, you can be confident that they have the following:
State-of-the-art encryption
Multifactor authentication
Firewalls for their app and their network more broadly
Quality assurance processes
Disaster recovery tools
Intrusion-detection mechanisms
Enterprise onboarding software feature #2: Segmentation
As an enterprise, the odds are high that you have a large number of customers with multiple different use cases.
There's also a good chance that a product feature that's important to one of your use cases is of no interest to others.
Sound familiar?
So if you were to offer an identical onboarding experience to every customer, you would turn off the majority of your new customers in a matter of minutes.
Onboarding like that just isn't relevant enough to most users.
This means that you should avoid working with tools that specialize in linear product tours, which explain all your product's features in the same order regardless of your customers' needs.
To find out more about why your users hate linear product tours, check out this article.
Deliver interactive walkthroughs to each segment
But if your business has 50+ different use cases, how do you provide onboarding without boring your customers on a product tour?
Simple: you segment new customers into groups, and then serve them with an interactive walkthrough that only illustrates the product features their user cohort needs to activate.
The key step here is segmentation. Without this step, your customers won't perceive your onboarding as relevant to them.
It's therefore essential that you look for enterprise onboarding software that allows you to segment users.
Segmentation during onboarding normally happens by means of a microsurvey directly after the sign-up flow.
Here's an example of a segmentation microsurvey from social media scheduling app Kontentino:
Kontentino has two main user segments:
Brands with one set of social media accounts who only post for themselves
Agencies who manage multiple sets of social media accounts for multiple brands, and post on their behalf.
Since it would be futile to teach a brand about how to post for multiple companies, Kontentino wants to segment its customers as quickly as possible.
The best enterprise onboarding software will recognize that your use cases are diverse and complex, and offer you a range of ways to segment your users.
In particular, look out for the following segmentation methods:
By demographics (eg age, gender, income)
By in-app behavior (eg activation, custom events, feature engagement)
By user attribute (eg plan level, language, device)
By account (eg new users, power users, enterprise users)
By NPS score (eg detractors, passives, promoters)
For a complete guide on how to segment your customers, I recommend reading this post.
If you like what you've seen so far – Userpilot offers all of the above features.
Enterprise onboarding software feature #3: Sorting large amounts of data
Another effect of having so many customers as an enterprise business is the sheer volume of customer data you have to process.
We're talking thousands of individual data points for thousands of customers… and that data is evolving and changing all the time.
Good segmentation will help you sort through this data to a certain extent, but it's still very easy to drown in data without the right tool to help you.
Look for a tool with good product analytics and the ability to sort customer feedback. Userpilot combines both – so why don't you check it out in a free demo?
Let's investigate each of those in turn so you see what I mean.
Product analytics
Product analytics is the process by which you collect and analyze data about users' interactions with your product.
In particular, you can analyze:
Which tasks users or groups of users are struggling with
Where users are experiencing friction
Which features are underused
Which features are used by activated customers
Which customer needs are ripe for releasing secondary product features
With the right tool, you can turn insights from your product analytics into improved onboarding processes.
For example, if your analytics show that feature XYZ is used by all users in a certain cohort who are retained past 30 days, you can assume that this feature is necessary for activation.
Include an interactive tour of feature XYZ in your product walkthrough for that user cohort… and watch your retention rate skyrocket!
Sort customer feedback
Another consequence of having so many customers is the high volume of customer feedback to sort through.
Without software to help you organize your customer feedback, you're going to have lots of angry customers in no time!
Look for onboarding software which allows you to:
Receive feedback in-app: This is normally via a microsurvey or NPS survey. In-app feedback is more effective than feedback by email because you avoid competing for the user's attention with all their other emails.
Sort feedback by company email address: This can be exceptionally useful for grouping feedback from your largest enterprise customers.
Prioritize feedback: If it's a choice between a legal concern from your largest customer and a secondary feature request from a new user, you'd best know which of those you should respond to first!
Take action on feedback: Customer feedback is useless unless you translate it into action. The best onboarding software will make it easy to share customer data around your team so that the right group of people can act on any insights.
For more information on tools that are specifically designed to help process customer feedback, check out this post.
Enterprise Onboarding Software Feature #4: Automation
With so many customers and so much data to manage at once, you need to look for ways to automate tasks whenever possible.
Otherwise, you'll be running around like a headless chicken trying to accommodate all your customers' requests manually.
There are two main ways that onboarding automation can help you as an enterprise:
Automating your walkthrough
Automating your help center
Automated walkthrough
The fantastic thing about enterprise onboarding software is that once you set it up, it will automatically walk your customers through a personalized product tour.
A typical automated walkthrough moves customers through a sequence something like this:
Microsurvey for segmentation purposes
Give users a checklist of the tasks they need to activate
Experience flow for the first activation task
Experience flow for the second activation task
User has activated
It just requires the right tool and a bit of experimentation in setting it up to get the most out of it.
Automated help center
Responding to the same new user questions over and over is a huge overhead for enterprise customer support.
The solution lies in automating the responses to the most frequent onboarding questions that you receive.
There are numerous ways of doing this:
Create a dedicated knowledge base on your website that customers can search on their own accord.
Build a help center in-app which links to your knowledge base.
Set up a help center widget so that self-service help is available all the time in-app without obscuring the customer experience.
In each of these cases, you'll encourage the customer to be more self-sufficient in seeking the answers to their own questions before coming to you.
And you'll save yourself from having to pay for a massive customer support team too!
How many customers can you onboard simultaneously?
We get this question a lot.
As long as your onboarding is automated, the sky is the limit. You can onboard as many users as you please.
Just make sure that your internal servers are set up to host all those users concurrently without crashing!
Enterprise onboarding software options
Now that you know what good enterprise onboarding software looks like, let's have a look at some of the top options on the market.
As you read through this list, keep the four factors we've just covered in mind. Here they are again to remind you:
Data security
Segmentation
The ability to sort through masses of data
Automation
Userpilot
Userpilot has some of the best data security of any SaaS tool on the market.
It's been awarded a SOC 2 Type II certification and is fully compliant with GDPR rules as well.
Customer data is backed up regularly, and employees have to go through extensive training and authentication before they can access your data.
For full information about Userpilot's security practices, click here.
Userpilot offers numerous ways to segment your users, including by:
Custom event
User attribute
NPS score
Location
Language
And company email
There is so much variety that you can be confident that the onboarding flows you create with Userpilot will be matched to the individual needs of your customers.
Because Userpilot's segmentation is so sophisticated, it's easy to attribute user feedback to a specific customer segment, which also raises the chances of your team acting on that feedback.
Userpilot is first and foremost a product adoption tool, so the range of UX options that you can build into your automated walkthrough is really extraordinary.
You can create:
Modals
Help centers
Checklists
Slideouts
Hotspots
Userpilot also offers a best-in-class analytics suite. The ability to receive NPS feedback in-app and then analyze that feedback in-app is especially swanky.
Best of all, all this is available without any knowledge of coding after the Chrome extension has been installed!
Userpilot's pricing starts at $249 per month for 2,500 MAUs.
Appcues
Appcues is one of the oldest and most established players in the world of enterprise onboarding software.
Like Userpilot, it's easy to use with a customer-friendly UI and comes with a Chrome extension which makes it simple to test.
It also has a solid analytics suite, and allows you to collect in-app feedback from your customers using NPS surveys.
The biggest downside to using Appcues as an enterprise is that it doesn't support non-linear product walkthroughs. This is a huge problem.
Remember how we said earlier that enterprises have so many user cohorts that it's essential to segment your customers and give them personalized walkthroughs?
Well, if all Appcues product tours are linear, that dramatically reduces the amount that you can tailor your onboarding experience to each individual customer segment.
From the customer's perspective, this results in a more generic and less helpful product experience. Not ideal.
Unlike Userpilot, Appcues also doesn't offer a resource center, meaning that your support team won't quite have as much automation backing it up.
I want to stress again that Appcues is still a great tool. Its data visualizations in particular are really quite beautiful.
But if you need software that maximizes personalization and automation, there are better choices out there.
Like Userpilot, Appcues' pricing starts at $249 per month for 2,500 MAUs.
Note however that this basic plan limits your usage of onboarding features that you would get unlimited from Userpilot for the same price. The biggest downside is that Appcues "essentials" plan includes only up to 5 user segments – which practically means no segmentation at all in the lowest plan.
Userpilot gives you unlimited segments for $249 per month. You'd need to pay $879 per month for the same value in Appcues.
For more detailed information about Appcues, please refer to this article.
Pendo
Pendo is a comprehensive solution to both user onboarding and employee onboarding problems, all on one platform.
Its analytics and segmentation features are outstandingly good. From an enterprise point of view, this makes it easy for you to compare churn rates across user segments and act on any user feedback.
This has led Pendo to become popular with some big names in the SaaS world, such as Marketo and Insightly. That shows us they must be doing something right.
Pendo doesn't offer as many UX patterns as Userpilot or Appcues, but its product tours and checklists are decent and will save you time via automation.
Where Pendo falls a bit short is on value for money.
Pendo's pricing is not publicly available, but we've spoken to people who've mentioned being locked into $15,000 per year contracts for 3 years.
Given that you can get the same (and in some cases better) functionality from both Appcues and Userpilot for $249 per month, one wonders how good a deal this is.
That being said, if you want to combine user onboarding and employee onboarding on one platform, and you really don't care about the price tag, this might be the option for you.
Conclusion
Having finished this article, you should now be able to:
Understand what makes a good enterprise onboarding tool
Choose the right tool for your business from the best options on the market
We hope that you'll choose Userpilot! It offers enterprise customers analytics, automation, and segmentation for a very reasonable price.
Enterprises have unparalleled security needs compared to smaller companies, and Userpilot excels in this area too.
Userpilot offers a free trial, so you can give it a spin today by clicking on the banner below. What have you got to lose?