Product Manager CV Template – How to Create The Perfect PM resume? [+ tips from experts]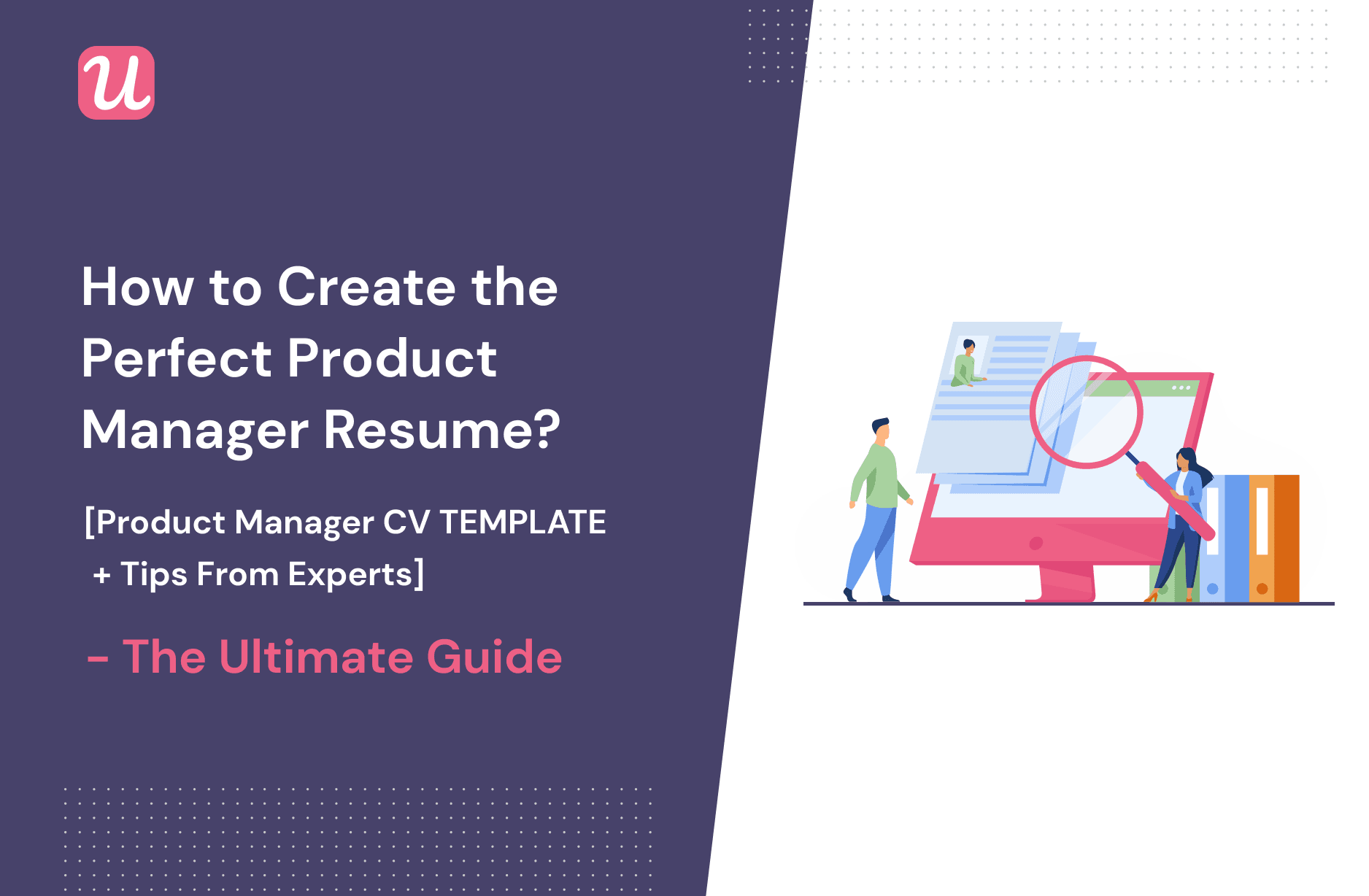 Looking for a product manager CV template?
What does a solid product manager's CV look like? What skills and experience should you highlight? How should it be formatted? What mistakes should you avoid when writing your resume?
If you're looking for the answers to these questions, keep reading!
This article will help you develop and finetune your product manager resume, present your skills in the most favorable light, win the attention of the hiring managers, get interviews, and ultimately land your dream job.
TL;DR
Product managers should treat their resumes as products and use their professional skills to develop them.
This includes market research (potential employers), understanding product strengths (your value to the customer), iterative development (subsequent drafts), or refining the UI (formatting).
A cover letter is an opportunity to present your storytelling talent, so always take a chance to attach one to your application.
Previous experience in a product manager role is the biggest asset and should be displayed adequately. Always focus on tangible outcomes and the benefits you delivered for your employers.
There are a few possible career paths for aspiring product managers with no experience. Careers in programming are a good springboard as are those in sales, customer service, or marketing. Getting a PM job in a start-up may be easier than in big companies.
Product managers with technical skills such as SQL or technical stack are in high demand, so highlight them in your resume.
Using product management jargon will help your resume pass through ATS.
Competence in using product analytics tools is a must for product managers, and the recruiters will be looking for them in your resume.
Your resume should be short, simple, written in the first person, and use active voice. Use bullet points, bold font, and color to highlight the relevant information.
You should customize the content of your resume to match the requirements of each position you apply for.
Product management certificates are not likely to give you an advantage and may highlight a lack of experience.
The most common mistakes in product manager resumes include not focusing on achievements, not using the PM jargon, not presenting the PM skills, and prioritizing qualifications over experience.
Product manager templates should be used with caution. Copying one will not help you produce a unique product.
What is a product manager resume?
A product manager resume is a formal document that contains the details of your experience and skills.
As a product manager, you are responsible for identifying and understanding what customer problems to solve, and defining product success criteria so that the product offers an outstanding user experience and is realistic to create.
A successful resume demonstrates that you have what it takes to perform your responsibilities and bring value to your employer.
Clement Kao, Founder of Product Manager HQ, compares a resume to a demo video:
"Your resume is like a demo video, in that it gives quick hits and stats on why you are the best solution. Your cover letter is like a customer testimonial white paper – it should be an in-depth discussion about one or two concrete and impactful experiences that bring you to life as a human being."
All your professional focus is on product development, so you should treat your resume as a product too.
This will involve reflecting on and understanding your value to potential employers, conducting market research to identify the companies of interest, and customizing your resume to each individual one of them.
You may need to produce quite a few drafts before you get it right but that's understandable. One sprint is never enough to develop a great product. It's important that you are able to take the feedback on board and refine your product in the next iteration.
Deploying your product manager skills to develop your resume will be a demonstration of how good you are at what you are doing.
Why is a product manager resume important to get a PM role?
A robust resume allows you to showcase your experience and present your achievements without which you have limited chances of landing a product manager job. Also, this is where you present your skills that are relevant to the position you're applying for.
A resume is the first thing that the hiring manager sees about you – and maybe the last one.
Ritesh Thombre, the Senor Product Manager at ZS, believes you may have as little as 60 seconds to make the right impression on the recruiters:
"In my opinion, you have only 60 secs to convince the HR and your hiring manager that you are a right fit for a job. So to stand out from the herd you would need to put exactly what your future bosses want to see."
That is why a solid resume can make the difference between getting to the next stage of the recruitment process or not.
Do you need a product manager cover letter?
Yes, you do!
When researched and written well, a cover letter may help you convince your potential employers that you are the right fit for their company.
Product management and storytelling are inseparable. For example, a product manager needs to tell the story of the product and how it solves their problems to convince them to make the purchase.
Your cover letter is your chance to show off your storytelling skills.
A convincing and captivating narrative about yourself as an effective product manager will be evidence that you have what it takes to do the job well. It will also help you persuade the recruiters that you are the solution to their problem.
So while many companies may not require covering letters, you should definitely take the opportunity to submit one if you have a chance. It will be a testimony to your genuine interest in the company, evidence that you don't settle for the minimum and are ready to go the extra mile.
Add a Personal Intro to your product manager resume
Alternatively, if you don't want to write a cover letter or don't have a chance to attach one, make sure you add a short personal introduction section to your resume.
This will act as a mini cover letter, and an opportunity to present yourself as a unique candidate.
According to Bart Jaworski, Senior Product Manager at Microsoft, such a section should be 4-6 sentences long.
Here is how he introduces himself at his LinkedIn profile:
"I am a resourceful and experienced Product Manager that, as Mark Twain suggested, never works, as this position became my hobby. I like to bring people together to create something great and help them become even better. I have been very lucky, being able to execute my career as I planned so many years ago and I am really proud to call myself a doctor. While still being an active Product Manager, I try to give back to the world of product management. My online courses have helped hundreds to develop their skills and careers and I'm here to help develop yours as much as I can."
Showcase your PM experience in your PM resume
As in any job, hiring managers will be looking for practical experience because it gives them a pretty good idea of how much value you can bring to the company.
Moshe Mikanovsky, Host of the Product for Product Podcast believes that:
"I think for PMs I would look for real life experience, understanding product concepts (such as discovery/experimentation, building in iteration, GTM etc), but also trying to sense their empathy to the users and business (some buzz words here can help, as Value to users and Viability to org)"
That's why the way you present to your prospective employer will be critical for the success of your application.
Concentrate on the outcomes of your work
One of the things that recruiters look for is the ability to drive the results and turn the outputs into outcomes, so this is the angle from which you should present your experience.
Instead of writing about your responsibilities, focus on the value your work brings to companies.
Presenting the effects of your work at previous organizations in a quantitative way, with solid numbers supporting each claim, will help the hiring managers understand what the tangible results of hiring you can be.
Ritesh Thombre, Sr Product Manager (Data & Analytics) at ZS, believes that:
"All the achievements have to be either qualitative or quantitative.
Ex –
a. Impact of your work in terms of dollars saved or made for the organisation or BU.
b. Improvement in NPS
c. Time saving for clients or organisation or users with the features you rolled out"
Moshe Mikanovsky, Host of the Product for Product Podcast, has the same view:
"The main things I've always been told is to put numbers of the value I created for the companies I worked for – quantify how much money I made them and how much improvements I created for them etc etc… but this was also when I was on the engineering end of things before I became a Product Manager."
At the same time, avoid generic descriptions of job responsibilities because they are just that – generic. They don't tell the hiring manager how good you are, and there is a very big chance that they have seen it all dozens if not hundreds of times before.
What if you're applying for your first PM role and don't have any experience?
For those who have never held a product manager role, there are a few ways they could get the necessary skills and gain relevant experience to enable career progression.
To start with, experience in programming is going to be invaluable.
Product managers who know how to code are better at understanding how the development teams work. Thanks to that they are better at breaking customer requirements down into stories, epics, and tasks for the developers.
If you don't have coding skills, a good bet is finding a job in a product company and working your way up the ladder towards your dream position.
Jobs in sales, marketing, or customer service are particularly good starting points because they give you the opportunity to learn about the product, and more importantly, develop an understanding of the customers and their attitude towards the product.
Another way of developing the right skills and gathering valuable experience is by working for start-ups.
They usually don't have the resources to hire an experienced product manager, so your enthusiasm, willingness to learn and good problem-solving skills may be enough to secure an entry-level product manager job.
Finally, look out for projects such as Path2Product, created by John Fontenot, which gives aspiring product managers a chance to gain the necessary knowledge, develop skills and gain practical experience in all aspects of product management.
Show off your Product Manager (technical) skills
Let's concentrate on the relevant product management skills.
Here's what Ritesh Thombre, Sr Product Manager(Data & Analytics) at ZS advises:
"First of it would be your skillsets. Think of what all skillsets a top-notch PM would have and see if you have some of them. List the ones that you possess. Do not forget to rate yourself (on your preferred scale). Make it clearly visible by creating a subsection. Ex of PM skills – Creating Product Vision, Roadmaps, GTM plan, collaboration, Data Analytics, Wireframing, etc."
Technical skills in particular could be an asset for a product manager. These include:
SQL. Knowledge of databases and the ability to obtain the required information is crucial for the analysis of customer behavior, so working knowledge of SQL is going to stand out in your product manager resume.
HMTL and CSS. These are useful for ensuring consistency across all subpages on your site, making quick adjustments to the site, or setting up product analytics.
JSON. This is another skill that could give you the edge. It will allow you to work with non-relational databases as well as work APIs (Application Programming Interface).
Technical stack and product architecture. As a product manager, you are not directly involved in building product architecture. However, understanding the process will help you lead your team more effectively.
Specialty technologies. These could be things like AI (Artificial Intelligence) or ML (Machine Learning). You're not likely to need them all of them, but if the product your team is developing relies on one of them, such knowledge will be precious.
Naturally, not every product manager needs all of these skills.
This very much depends on the company and their products. If you have some of those skills, however, they will definitely enhance your product manager resume.
Use Product Manager jargon to help your resume pass through ATS
Before your resume lands on the desk of the hiring manager, it often needs to make its way through the ultra-fine sieves of the Applicant Tracking Systems (ATS).
Applicant Tracking Systems are used by the HR departments in most larger companies for the initial selection. They search the submitted applications for key terms and pick those that match the predefined criteria.
To beat the algorithms and stand a chance of being selected for the next stage of recruitment, you need to use the right terms and phrases in your resume. "Product roadmap", "product vision", "wireframing", "user stories", "user discover interview" or "GTM strategy" are just a few examples.
Make sure you research the company, analyze the job description and tailor your CV to include the most relevant keywords.
Showcase your ability to use Product Analytics Tools
To be able to develop a successful product, a product manager requires insights into user behavior.
Understanding user behavior is necessary to increase engagement, retention, lifetime value, conversion rates, which in the long run are going to translate into revenue growth.
There are numerous analytics tools that are available on the market which could be embedded in the product to measure user behavior from different angles. Some examples include Userpilot, Heap, Fullstory, or Hotjar.
While some of them may require a fairly high level of technical expertise, others, are code-free and very easy to deploy.
For example, Userpilot only requires injecting a short JS code to your product website. This is enough to start collecting data on feature usage across the user journey and provides actionable product analytics and insights.
Being able to use such tools is fairly essential for every product manager, so make sure to include them in your product manager resume.
Format of your ideal product manager resume
There are a number of things that you should consider when formatting your product manager resume.
Keep your resume short and simple
Your resume shouldn't be longer than two pages. Keeping it that short forces you to select only the most relevant and important aspects of your career.
Ritesh Thombre, Sr Product Manager(Data & Analytics) at ZS, recommends the KISS principle when writing your resume:
"KISS – Keep it short and simple. Don't write pages and pages about your experience. Nobody reads that thing for more than 60 secs anyway. Avoid jargons. Put only the most relevant and most important things on your resume. Make sure, the most relevant and important things go at the top (anyway, only your first page is read)"
Use the first person in your resume
If you use narration in your resume, for example in the Personal Intro, don't be tempted to use the third person as it is sometimes recommended. The first person sounds much more natural and personal.
When you use bullet points, drop the pronoun 'I'. So instead of 'I improved customer retention' simply write 'improved customer retention.'
Use active voice
To start with, active voice is clearer to understand for the hiring manager who often has to skim through hundreds of resumes.
Applicant Tracking Systems (ATS) are often also programmed to pick up active verbs.
What's even more important perhaps is that the active voice implies that you are in control and conveys confidence in your accomplishments.
Use bullet points or bold font
Hiring managers have limited time to inspect your resume, so you need to make sure they can easily identify the information that makes you the right candidate.
Bullet points with the key achievements and skills are more likely to attract the recruiter's attention than paragraphs.
Alternatively, if you choose to write paragraphs instead, make sure you use bold font for the keywords to attract the readers' attraction.
You can also combine the two. For example, write a paragraph in the Personal Intro and use bullet points in the experience or skills sections.
Use color to make your resume stand out
Adding a little bit of color to your product manager resume can make it stand out. It also shows your creativity, and perhaps even a willingness to take risks.
However, make sure that the use of color isn't distracting or doesn't make it hard to read. In fact, low contrast color combinations can make it difficult for ATS to analyze the text.
Finally, even if you submit your resume in a digital form, there's a big chance it will still be printed in black and white, so run it through a monochromatic printer to check how easy it is to read after printing.
Customize your product manager CV for each company you apply to
Sending hundreds of copies of the same resume and covering letter to as many potential employers as you possible won't be successful. In fact, such a carpet-bombing approach is likely to shut many doors for you.
Instead, research each individual company you are interested in and tailor your resume accordingly.
If there is a job description or person specification available, use it to identify the most relevant product manager skills and experience, and highlight them in your resume by moving them to the top. This will increase your chances to make the shortlist considerably.
For example, if you are applying for a position as a technical product manager, ensure that you highlight your understanding of technical terminology and how you incorporate cutting-edge technologies in your product to help users.
Do you need to show off PM certificates in your product manager CV?
The short answer is no.
Product management certificates are not likely to give you the edge over other competitors. That's because such courses rarely give you the opportunity to gain relevant hands-on experience.
This is exactly what Bart Jaworski, a Senior Product Manager at Microsoft and the author of the best-selling Become a Great Product Manager course on Udemy, told us:
"This is SO redundant! On top of having the downsides of a fresher's certificate, this simply doesn't meet its very purpose. As a product leader, you already have experience! You have your successes and results, beloved products, and faithful teams. You don't need a certificate to prove that! As a Product Manager, you have numbers and facts to show you are a great Product Leader! And if you don't, the passing of an online test doesn't change anything.
In Europe, as far as my job hunt experience is concerned, they present no value to the employer. In India, it is said that having different certificates gives you an edge over other candidates due to an overwhelming number of candidates for any position. However, Microsoft HR in India told me they would only consider MBA in Product Management as education, which could help stand out. Private Product educational facilities were of no consequence.
Now, knowing how hard it is to break into Product Management, I understand a need [to] proof somehow to a potential employer one has the skills and the knowledge. Truth be told aspiring PMs — Experience is really needed for this job."
So if you have the right experience and skills, the actual certificate is insignificant. If you don't, there are very few situations where a product management qualification could be an advantage.
Most common product manager resume mistakes
Here are a few mistakes you should avoid to maximize your chances of getting your CV noticed and progressing to the next stages of the recruitment process.
Mistake #1 – Focusing on responsibilities rather than outcomes
Writing about what you did in your previous positions is not very meaningful. It doesn't give the hiring manager any idea of how valuable you can be to the company.
To avoid this mistake, concentrate on the outcomes of your work. For instance, write how much money you made for your previous employers or how much work satisfaction of your team improved under your leadership.
Mistake #2 – Not using the product management jargon
There are two risks connected with not using the product management jargon.
Firstly, your resume may get rejected by the ATS or the recruiters making the initial selection as they will not see the relevant terminology. Secondly, not using the lingo may mean you will have problems with communication on product management-related issues.
Here's an example of an edit by Bart Jaworski, Senior product manager at Microsoft:
Bart recommends using bold font for the key terms and capitalizing them whenever writing in bold is not possible (for example on LinkedIn).
Mistake #3 – Not showcasing your PM skills (esp. technical skills)
If you don't highlight your relevant skills, how should the hiring managers know that you have what it takes to do the job well?
Presenting your skills is particularly important if you are an aspiring product manager with limited experience. If you can bring the right skillset to the table, you can often compensate for the lack of experience.
Concentrate on the technical skills as they are likely to set you apart from other candidates.
Mistake #4 – Focusing on qualifications rather than experience
Recruiters seem to agree that qualifications can give you an edge over other applicants in very few situations. What you need to do this job well cannot be learned on a course.
That's why always put your experience first.
Product manager CV template
Copying a product manager resume template is not the way to go. Remember that your resume is a product, and as such, it needs to have its own go-to-market strategy.
Still, it may be worth having a look at a few product manager resume examples to see what sort of sections you may want to consider.
Here are a few things you should consider including:
YOUR NAME
Obviously.
CONTACT DETAILS
Apart from your email and phone number, consider adding your LinkedIn URL.
PERSONAL INTRO
That's the space for your personal profile. Write 4-6 sentences highlighting your greatest achievements and/or present your personal story as a product manager. Use 1st person and active verbs.
EXPERIENCE
Present your achievements in this role. Use bullet points or write a short paragraph about main achievements. Use PM jargon, active verbs, and back up your claims with quantitative data.
CERTIFICATIONS
List only those that are relevant to the position you're applying for.
EDUCATION
Write the name of the college, its location, and what degree you hold. Add the dates of your studies.
METHODS
​Note relevant product management methods you have practical skills in such as Scrum or Kanban.
TOOLS
List the tools you have a good working knowledge of, for example, Jira, Asana, or Userpilot.
SKILLS
Outline other relevant skills you have, for example, SQL, AI, or technical stack.
LANGUAGES
List the foreign language you speak and your fluency level.
INTERESTS
This is optional but will give your resume a more personal feel.
Conclusion – What are the key ingredients of a good product manager resume?
To create a solid product manager resume, use your PM skills and treat it like your product.
When presenting your professional experience, focus on the value you can generate for your employers. While product management certificates can be easily omitted in your resume, don't forget to showcase your skills, especially the technical ones and use product management jargon.
When it comes to your resume format, keep it short and simple. Make sure you use the first person and active verbs in the narrative sections. Using bullet points and bold font will help you attract the recruiters' attention to your key strengths, while the use of color will help your resume stand out and be evidence of your creativity.
To finish, here are a few points that John Fontenot, the Growth Product Manager at Lendio and Founder at Path2Product finds particularly important when creating your product manager resume:
"1. Focus on the outcomes of what you've done, not simply your responsibilities
2. Make sure to use product management jargon, since many ATS systems look for keywords
3. If you're applying for your first PM role, still use PM jargon to make your other roles sound as much like Product as possible, and/or show the skillset overlap.
4. Have side projects to exercise your PM muscles. It creates exponential growth to your Product practice, gives you the control and ownership you don't fully get as a PM, and it shows your hungry and invested in this discipline of product management."
Get a Userpilot demo a find out how we can support you on your product manager journey.