Top Intercom Alternatives For Product Tours, Engagement and Support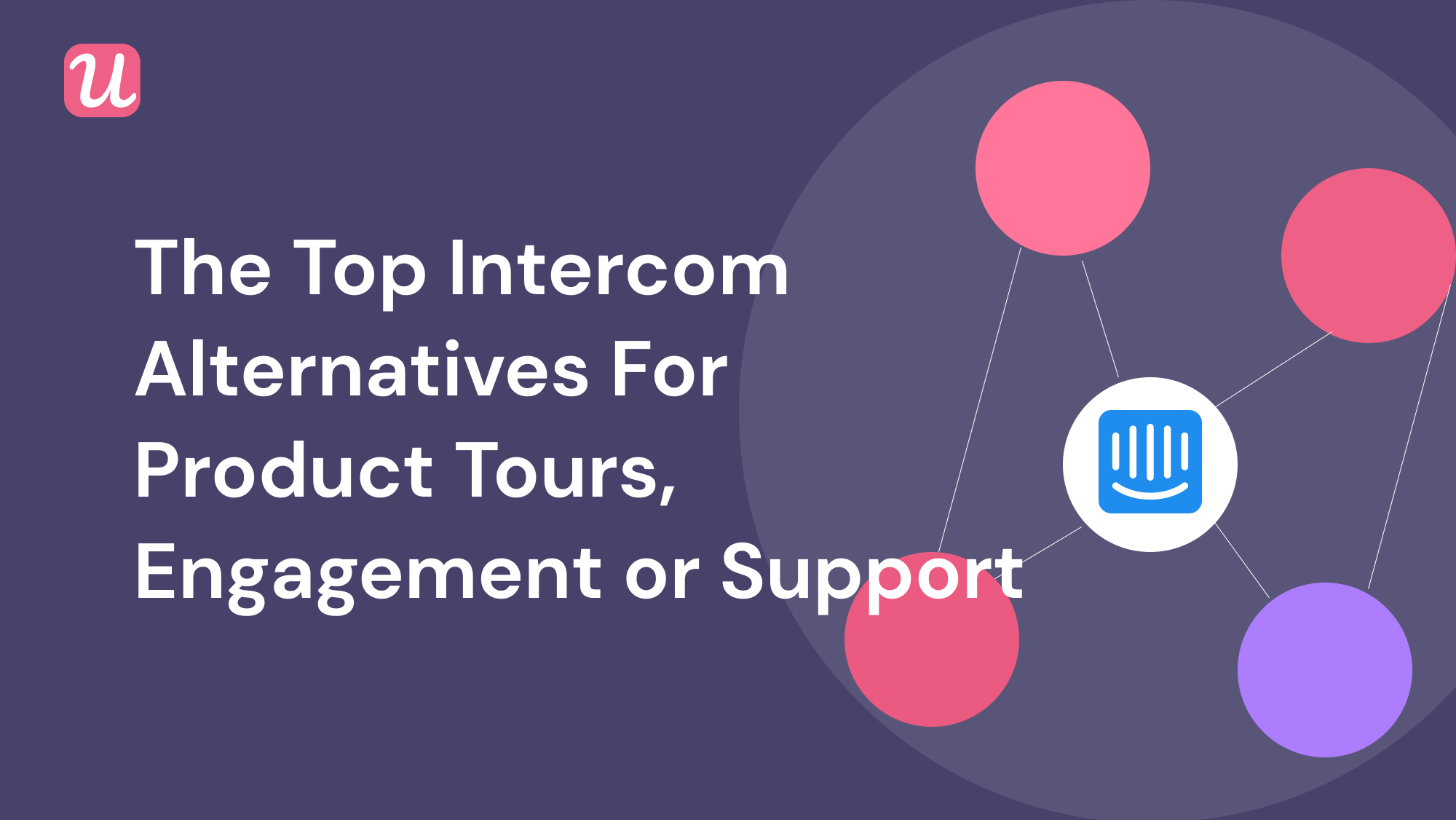 I actually love it when people ask 'what is the best alternative to Intercom?'
cause the truth is…it depends.
Intercom is a multi-faceted tool with a lot of features and use cases ranging from user onboarding (product tours), chatbots (engagement), and customer support.
So the question is, what job are YOU looking to get done?
If it's among the three use cases listed above, you will find a very detailed and informative roundup of the best intercom alternatives for these problems + the pricing of each tool.
Let's get this ball rolling!
TL;DR
Intercom is a swiss-army-penknife type of tool that can be used to solve many different problems.
In this post, we look at the three most common use cases: onboarding (product tours), chatbots (engagement), and customer support.
While it does a lot of things, not all of those things are their main focus, nor are they fully developed and are still currently in the MVP stage.
Why are you looking for an Intercom alternative? Understand what problem you are trying to solve by introducing a new tool to your stack.
Are you looking for a support tool? Engagement tool? Product tours? This all factors in finding the best Intercom alternative.
Look at your budget and what you get for your money. Sometimes trade-offs need to be made.
How to Begin Looking for Intercom Alternatives
Let me tell you why this isn't an easy answer.
Intercom is a big tool. It does a lot of things, but not all of those things are their main focus, nor are they fully developed and are still currently in the MVP stage.
When addressing the question of "what is the best Intercom alternative" you need to know what the tool you are looking for is.
I usually break this down into three categories:
Product tours
Engagement
Support
Look for what your main problem is right now and see how any other given tool might help you solve that problem.
Are you looking for a dedicated tool?
What are your main outcomes?
What is your main source of pain (ie, are you looking to tackle a side symptom or a rooted problem?)
What other benefits might you get from the tool?
What is your current budget?
With that in mind, I took a dive into the multiple categories for you below.
Intercom Alternatives For SaaS Product Tours
Intercom's latest focus has been offering in-app product tours. Combined with engagement, sales, and support, their approach is to provide everything a team might need for customer communications.
When looking at intercom alternatives for product tours, the following criteria was defined:
Does it support branched in-app experiences? (Multiple paths and options)
Does it support microsurveys?
Does it support gifs/video?
Does it support checklists?
Does it have analytics so I know how to make improvements?
Criteria Checklist – Intercom Product Tours
❌ Does not support branched experiences.
❌ Does not support native microsurveys, but you can outsource to another tool like Typeform.
✅ Does offer support for gifs and videos to be added to tours.
❌ Does not offer checklists.
❓ Analytics are currently very limited.
Intercom vs Userpilot
At Userpilot, product experiences are our secret sauce. We don't want to brag but it's what we do best!
From product announcements to feedback and research, we are here to provide you and your team with the insights you need to get to know your customers better.
Criteria Checklist – Userpilot Interactive Product Tours
✅ Supports multiple branched experiences so you can guide your users through their best-case scenario. The experiences can be triggered with custom events, which makes sure you only show STEP 2 to users who have completed STEP 1.
✅ Supports microsurveys, allowing you to get to know your customer's outcomes better.
✅ Does offer support for embedded gifs and videos.
✅ Supports use of checklists to add focus to the onboarding experience.
✅ Offers analytics and goal tracking, so you can understand if users are hitting the outcomes the experience/tour is meant to provide.
How Intercom Compares to Userpilot
Intercom offers very a basic product tour feature. They're linear and at best offer visibility over new features you launch, but I wouldn't consider it a full-on product experience tool at all.
Analytics at this time are slim to none. How can I actually make improvements if I don't know how something is performing?
Missed opportunity on this front for the Intercom team, and certainly hope they look at making improvements to really make this top-notch.
While Intercom does support custom events, there is a limit as to how many you can actually push in, of course resulting in a higher price if you need more events than the allotted amount.
It is worth noting product tours is not Intercom's main value prop, so I am not surprised it is currently still in its MVP stage.
Pricing
Userpilot pricing starts at $249 per month – for unlimited users (seats), unlimited experiences and 2500 MAU's (monthly active users.)
With Intercom, base pricing starts at $59 plus an additional $119 per month for product tours, adding up to $258 per month for a single user. This means only ONE person in your team would have access to both talk to your customers AND set up tours to gather insights, which is a somewhat unrealistic setup.
Final Verdict – Intercom Alternatives For Product Tours
Intercom has yet to gain product maturity on this front. It offers a very simplistic and linear approach, which might be ok for a very small startup trying to figure out how they might onboard or show off new features.
For more mature and scaling products, Userpilot is the way to go.
Intercom Alternatives For Engagement Tools
Intercom's secret sauce has always been its engagement platform. Nothing cuts down friction and increases conversion rates more than allowing a customer to jump on a quick chat with your team.
When looking at alternative engagement tools, the following criteria were considered:
How easy is it to start a chat? Am I forced to enter my email first?
Am I routed to deal with a chatbot first, and if so, how helpful is the chatbot?
Can I create different experiences for users in different platforms (i.e. marketing website vs in-app)
Criteria Checklist – Intercom Alternatives for Engagement
✅ Easy to start a chat. It did not require me to enter my email to contact the team.
✅ Chatbot was helpful and asked about my interest and possible outcomes.
✅ Multiple experiences can be created, including advanced tracking and support via email, chat, and video.
❓I am constantly breaking the chat widget and it often does not return.
😍 Bonus (with a caveat): Offers a variety of integrations, but little tracking from within Intercom.
😍 Bonus: Custom chatbots!
Drift vs Intercom
Drift describes itself as a revenue acceleration platform, with a focus on conversational marketing and sales.
Some super cool benefits they offer:
Personalized intelligence, allowing you to personalize messaging based on a customer's journey through your site. It knew as I was clicking through their site, pretty neat!
AI and custom chatbots, allowing you to qualify customer interest and tailoring the experience further.
Supports chat as well as video and emails, so you have the full communication and engagement toolset right at your hands.
Criteria checklist – Drift as an Intercom Alternative
✅ Easy to start a chat. It did not require me to enter my email to contact the team.
✅ Chatbot was helpful and asked about my interest and possible outcomes.
✅ Multiple experiences can be created, including advanced tracking and support via email, chat, and video.
❓I broke the bot on their site after a refresh. Feature or bug? Is it not interested in me anymore?
😍 Bonus: A variety of awesome integrations including Zoom, Google Calendar and Outlook to book meetings instantly.
😍 Bonus: Advanced analytics.
How Intercom Compares to Drift
Intercom and Drift both offer seamless chat experiences. I love that for both tools, neither one require me to enter my email to start a chat (I'm looking at you, Zendesk.)
Both tools also offer a variety of integrations and custom chatbots that can be set up in multiple platforms I might have, clearly allowing me to be part of the customer journey throughout.
What really makes me want to give extra points to Drift for their features and benefits is based on two specific aspects:
Intercom analytics leave a lot of room for improvement. At times the data is there but there's nothing actionable I can do with it, rendering the data somewhat useless if I can't actually use it.

Meanwhile, Drift offers actionable insights I can actually use, such as number of demos booked (which Intercom does not show as it lives in the booking service itself, but it's difficult to know how many came as a result of a particular chatbot or agent showing the booking link) and emails captured as a result of a chatbot or playbook.

This level of information would allow me to create further experiences based on the whatever the customer has already seen.

Drift has placed a lot of emphasis on creating experiences through different types of content, including email, chat and video. People learn and engage in different ways, so having that wide variety of options is incredible from an engagement and even an education point of view.
Pricing
I have to say Intercom wins on this one, simply because it didn't take me forever to figure out how much Drift even costs. Their chatbot requires too much of my time to sit and answer questions solely to find out at a high level what potential pricing might look like, and while I understand from a sales point of view they're trying to qualify me, what if I am not ready for that level of commitment right now?
Just give me a number, Drift!
I had to argue with the chatbot quite a bit just to get a number, and even when offered Drift for Startups, I'm still not clear at whether or not my budget allows for it.
For only $59/user per month, Intercom is an easy choice to make.
Intercom vs Livechat
Livechat describes itself a complete customer service platform that helps boost your sales.
It difficult to understand Livechat's benefits, as most of their website is focused around features instead.
I am unclear why selecting them is the best option, but after digging around a bit, some of the things that jumped out at me were:
Interactive and targeted messaging, providing further context in conversations.
Advanced customization of chat widgets, helping you grab a user's attention (beyond just the typical canned message everyone ignores.)
Supports multiple channels, including Slack, Whatsapp, and Facebook Messenger, so you no longer have to pay for multiple services (or look at multiple tools!)
Criteria Checklist – Livechat
❌ Not easy to start a chat. I am forced to enter my email, name, and website address just to start a chat.
✅ The chatbot was helpful and asked if I wanted to speak to support or sales, but seemed less interested in what I actually wanted to achieve.
✅ I can clearly create and keep track of multiple experiences in multiple platforms.
😍 Bonus: It really is an all-in-one chat tool, offering omnichannel support.
How Intercom Compares To Livechat
Intercom offers a far better engagement experience and focuses more on benefits and outcomes than solely features. I was a little disappointed to see such a sales-driven website and chatbot in Livechat's website, focusing more on what they do rather than how those features help me.
Intercom clearly has a more educational, conversational and outcome-driven approach which already makes them a more attractive option.
I care less about "eye-catchers" and chat buttons and more about how those actually help me increase conversions. You can do so much better on your messaging Livechat, I believe in you!
Pricing
Livechat is a much more affordable option, starting out at $16 per agent per month on an annual plan, but it comes with limited features.
Compared to Intercom's base plan at $59, I might be persuaded to pay more, considering I'd be able to create quick, frictionless engagement and I am not limited to only 60-day chat history reviews.
Final Verdict – Intercom Alternatives For Engagement Tools
Sorry Livechat, you didn't make the cut for me.
Meanwhile, I am undecided as to whether Intercom or Drift is the winner. They both offer great benefits and I love that I am able to start a chat anytime, anywhere.
Drift has clearly considered the customer's experience and created a fine balance for how teams can leverage that data.
However, the fact that it was so difficult to figure out Drift's pricing created some friction for me.
If I ever find out how much Drift actually costs, I'm happy to award them more points.
Intercom Alternatives For Support Tools
Intercom has put a lot of emphasis on their support offering recently, with a little side note of controversial announcements on the matter (which we're all trying to pretend didn't happen.)
Let's find out how Intercom's support tools stack up with some of the more dedicated tools in the industry.
When looking at support tool comparisons for intercom alternatives, the following criteria was defined:
Ease of reporting – can I submit a ticket and/or start a chat?
How easy is it to keep track of tickets?
Can I keep track of SLAs?
Can I create custom reports to keep track of performance?
Can I create workflows and automations?
What's the customization like for support documents?
Criteria Checklist – Intercom
✅ Easy to report tickets via widget, but unless I know the company's email I wouldn't know where to look.
❌ Keeping track of conversations is quite difficult, particularly since there are only two options: snoozed and open. There is no 'on hold' or 'pending' option.
❌ No SLA tracking.
❌ No custom reports, only pre-set reporting and analytics.
✅ You can set workflows and automations with chatbots to reroute conversations through the appropriate channels and teams.
❓Limited customization for knowledge base, but if you're not worried about this, then I suppose it's not a deal breaker.
Zendesk vs Intercom
I'm sure this is the comparison you came here for, admit it.
Zendesk is one of the most well-known support tools in the industry, and with Intercom's recent release it's natural for teams researching support tools to want to compare and contrast.
Criteria Checklist – Zendesk
✅ I can very quickly contact the Zendesk team via email and in-app chat, with very clear guidance of what I need help with and even provided with self-serve documentation.
✅ Zendesk's ITIL base means I can link tickets to each other. They also offer custom views based on a variety of inputs, from ticket status to custom fields and workflows.
✅ Zendesk offers SLA tracking, which is customizable to multiple tiers.
✅ Zendesk does offer advanced custom reporting, but as with anything, it's how it is delivered that makes a difference. While they get a checkmark for the offering, their reports are complicated and difficult to use.
✅ Zendesk's advanced automations and triggers are every support agent's dream and then some.
✅ If you're looking for the perfect Help Center, this might just be it. Zendesk offers customizable CSS and templates you can use, as well as nested documentation and advanced search!
😍 Bonus: Their API is off the charts and you can do so much with it. If you don't believe me, check out Miro's in-app help documentation, powered by the Zendesk API!
How Intercom Compares to Zendesk
I am sorry to say that on this front, Intercom still has a long way to go. Just because you can attach ticket numbers to conversations doesn't mean you're suddenly a support tool. (Sorry not sorry.)
Zendesk has a very solid ITIL base which inherently makes it one of the best-in-class support tools, allowing you to link incidents and problems together for advanced visibility and tracking.
While Zendesk does offer super powerful SLA tracking, automations and workflows that are beyond what Intercom offers at this time, it loses major points on the reporting side.
Their reports are overly complicated, so much so, there are expert services available to help you keep create them. A report should not be that difficult to create.
This is where Intercom really shines – while their support reporting might be simpler, they're simple enough to understand and provide you with enough information, including your busiest hours and wait times, so you can make adjustments to your team growth as needed.
As far as knowledge and education goes, while Intercom does tap into the existing documentation available for their chatbots, the power behind how that documentation is structured is a bit lacking right now. Intercom offers a very simple structure and minimal templating, while Zendesk offers all kinds of advanced documentation and smart search options, and of course, a really powerful Help Center API.
Pricing
Both Intercom and Zendesk offer product-as-a-service options, that is, where you can buy modules to stack up on your toolset.
As such, it is a little bit difficult to compare pricing. It's almost like comparing apples and oranges. It all depends on the modules you need and the problems you are trying to solve.
Based solely on a support offering, Zendesk is the better option.
Bonus Commentary
If you are wondering why I didn't compare Zendesk and Intercom on the engagement side of things, it's because Zendesk's chat offering is still very nascent, so comparing them made little to no sense.
Much like Livechat, it is a source of friction asking a customer to enter email details prior to beginning a conversation.
Zendesk's strong point has always been their support toolset, and thus my main focus was to shine a line on what they do best.
HelpScout vs Intercom
HelpScout is one of my all-time favorite tools. They've taken the Basecamp approach of little team, solid ambition. They do one thing and they do it well – offer a support toolset for proactive support teams. This hyperfocus on their vision has allowed them to create an incredible piece of software.
Criteria Checklist – HelpScout as Intercom Alternative
✅ HelpScout offers both email and in-app ticket submissions via their widget.
✅ They offer ticket merging and multiple views so you can keep track of conversations easily.
✅ While they don't have an official SLA feature, you can create something SLA-like using a combination of workflows and report views. It's a bit of a hackity hack, but it works.
✅ HelpScout reporting is off the charts. You have quick access to everything from views to docs, searches being carried out, agent performance and even chat performance.
✅ Workflows are there to support auto-assignments and help your team be more productive.
✅ Their Help Center is highly customizable and allows you to work with your own CSS code. (Caveat: You will have to find a way to host assets yourself.)
😍 Bonus: They offer contextual per-page documentation on their widget, making your docs that much more helpful!
😍 Bonus: The best Hubspot integration I have seen thus far. You can see everything down to what campaigns your users are signed up to, giving agents further context during conversations.
How Intercom Compares to HelpScout
HelpScout is very much a dedicated support tool, and as such, blows Intercom out of the water.
They've recently added some heavy investment into their chat widget, which not only allows for users to start conversations quickly (without having to enter details!), but they have some early-days chatbot features to help you gather more info when a chat starts off.
I would personally like to see them add more insights into their docs reporting. As an education specialist myself, as well as a product person, I like to understand how and why people search for documentation, what the context is, and whether or not the documentation was helpful.
While at this time HelpScout does offer 'emoji voting' for documents, some context is still lacking, making it difficult to understand what the customer was looking for and what changes to make to optimize the docs. Meanwhile, Intercom does provide that insight, giving you the chance to follow up with customers.
That said, HelpScout's overall support offering is so much more advanced, I'd be willing to make certain trade-offs in the short term for that, as I'd be giving a unified experience between support + documentation + success for my customers.
Pricing
HelpScout starts at only $20 per user per month, giving you access to docs, chat, reports, and workflows all in one go. For a small team, this is pretty well priced. Compared to Intercom's $59 starting price, HelpScout is definitely better value for money.
Final Verdict – Intercom Alternatives For Support Tools
Looking at all 3 tools, HelpScout gives me the most for the money.
Not only is it decently priced, but it's a well-thought-out support tool. It focuses highly on providing the best customer experience for your customers, ensuring they can find all the relevant documentation they need and ask for help where needed with the right context.
I particularly like that HelpScout sets the expectation of when a team is available by shutting down the chat and providing an email option from within the chat widget itself.
This means I don't have to go elsewhere to try and contact a team, and I can keep track of all submissions from within the chat widget itself.
(Have you ever felt that little inch of frustration when Intercom finally tells you that you won't get an answer for hours? Same.)
Zendesk is still a really solid support tool, but I've often found myself having to search for help between their thousands of community pages, email and chat widgets, making me waste more time trying to figure out how to get help rather than getting it.
Both Zendesk and HelpScout offer a really advanced knowledge base, which is both highly customizable to your own brand and syncs with the inner admin side of things. Intercom currently lacks the customization and advanced search, as well as the insights to understand how documentation can actually be improved.