Top 6 Churn Management Software To Improve Customer Retention in SaaS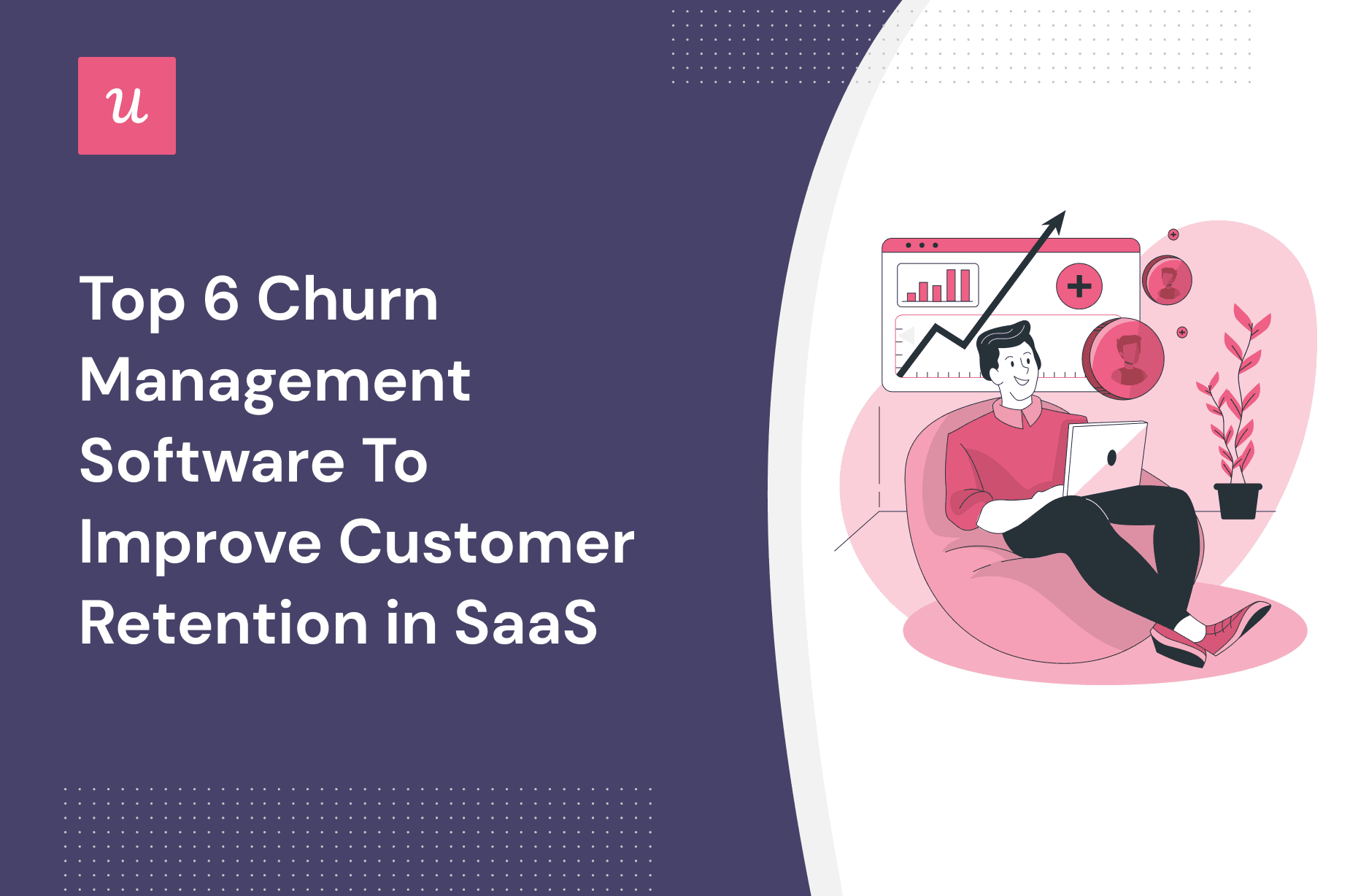 Are you searching the market to find the best churn management software for your SaaS company?
This article shows you six of the best. Read on to learn how each tool can help you retain customers, the pros and cons for each, as well as pricing information.
TL;DR
Churn management software is a tool or suite of tools that help you collect customer data, analyze customer attrition, and predict churn.
Features to look for in customer retention software:
Best tools to reduce customer churn in SaaS companies:
Userpilot for collecting data and analyzing customer behavior.
Mixpanel for product and funnel analytics.
Hotjar for understanding user behavior in-app.
Custify for tracking customer behavior.
Baremetrics for churn analysis.
Churnzero to track revenue churn and data points.
What is churn management software?
Churn management software is a tool or suite of tools that help you collect customer data, analyze customer attrition, and predict churn. Access to the right churn software can boost your retention game because you'll find and address churn risk quickly.
Features to look for in churn management software
There are many customer retention products in the market, and it can get confusing when you try to choose the right tool for you. We'll review some outstanding products later, but before that, below are the top features to look out for:
Analytics and tracking
Look for a tool that gives you analytics and tracking possibility to learn how many customers are churning over a specific period, and track their performance. It's almost impossible to perform proper churn management without rich analytics and tracking.
Segmentation
Segmentation allows you to reach out to specific users who are at risk of churning and reengage them. For instance, you can reach out to detractors by segmenting users with a low NPS score. This feature is usually paired with analytics for better results.
User engagement
User engagement tools allow you to engage new and existing customers. Thus, boosting customer experience and minimizing churn risk. They're also useful for reengaging inactive users.
Integrations
It's good to choose robust tools, but customer retention is so big that no single software product can cover every aspect of it and do it well. So the ability to integrate with other products is something you should look out for. This will improve your efficiency and increase your chances of success.
Best tools to reduce customer churn in SaaS companies
Now we get to the meat of this article. This section covers six churn management tools, and for each software, you'll have:
A general overview of how they can help you
Pros and cons
Customer reviews
Pricing details
Userpilot for collecting data and analyzing user behavior
Userpilot is a code-free product growth platform with extensive features for tracking and analyzing user behavior. How our software helps you get track user data and reduce churn:
Feature tagging: This functionality allows you to track engagement for any feature and element on your platform.
Goal tracking: Optimize your funnel by setting goals for each important milestone in the customer journey. You can identify and address friction to increase your conversion rates from the goal-tracking results.
NPS: Userpilot allows you to create quick in-app surveys like NPS and contextually trigger them to get a higher response rate. Our platform automatically calculates the results—a glance at the dashboard will show you the percentage of promoters, passives, and detractors. You can also tag the qualitative responses for easy analysis.
Pros of Userpilot
Userpilot has several advantages, particularly for mid-stage SaaS companies looking for a no-code solution to customer retention.
What makes our platform stand out:
No-code chrome extension builder that's intuitive and easy to use.
Multiple UI patterns to build engaging in-app experiences.
Resource center builder for providing proactive in-app support. You can customize the resource center to suit your brand and also add as many elements as you want—videos, help docs, chat, etc.
Segmentation and experimentation: Easily combine Userpilot's advanced segmentation feature with the built-in A/B testing flows to test your hypothesis quickly.
NPS and other in-app survey options with analytics to help you make sense of survey responses.
User behavior analytics through feature tags and heatmaps.
Integration with popular tools like Amplitude, Segment, Heap, Mixpanel, Kissmetrics, etc.
Cons of Userpilot
Some reasons Userpilot might not be a good option for you:
Userpilot doesn't support mobile devices/applications.
The platform is built for customer onboarding and doesn't have the functionality needed for proper employee onboarding.
Missing integrations. You might not find integration options for some of your favorite tools. However, Userpilot has webhooks. Zapier and Hubspot integrations will be rolled out soon.
Userpilot's pricing starts at $249 per month. Mid-sized SaaS companies won't have any problem paying, but it might not be suitable for startups on a tight budget.
Userpilot reviews
Let's see what Userpilot users have to say about their experience:
"The price-to-feature ratio is the best for Userpilot. Other cheaper tools in the market would definitely not fulfill your needs, and others like Pendo would be out of budget. Userpilot sits in that sweet spot." – Saurav S.
Userpilot pricing
Userpilot offers great value for money compared to other similar churn management software on the market. Even its entry-level plan (Traction) provides all the necessary features without any usage limit.
The pricing differentiation happens mostly on the service level (e.g. custom domain hosting, dedicated Customer Success Managers, SLA) and is based on the number of Monthly Active Users (MAUs) your company has.
Here's the detailed Userpilot pricing:
Traction: For up to 2500 users, this plan is $249/ mo.
Growth: For up to 10,000 users, this plan is $499/ mo.
Enterprise: This plan begins with $1000/mo for large-scale businesses.
Mixpanel for product and funnel analytics
Mixpanel is one of the best product analytics tools on the market. Its features are particularly suitable for SaaS companies that need to analyze large volumes of user data.
The platform essentially helps you in three ways:
Conversion analysis: Mixpanel helps to break down funnel conversion data and show you the paths to conversion, reasons for drop-offs, the most valuable actions for each stage of the customer journey, etc.
Engagement analysis: This feature lets you define what an active user of your product is and tracks engagement based on the terms you specified. Mixpanel also integrates with other tools to help you re-engage inactive users.
Retention analysis: Get solid customer behavior data that shows you the path to customer loyalty and helps you predict churn before it happens.
Pros of Mixpanel
Works on web and mobile apps.
Codeless tracking is an option if you don't have an engineering team or don't want to get them involved.
Team collaboration dashboard to help your team work together.
Cons of Mixpanel
Expert knowledge is required to set up and use the platform correctly so it's not really code-free.
Learning the ropes can be time-wasting for new users.
The free plan works well for startups still finding their footing but things get expensive quickly when you add more users.
Mixpanel reviews
If you check the product review sites, most people like using Mixpanel.
Here are some reviews from real users:
"The design is really clear. I was a bit lost at the beginning but they have a certificate that helps you understand and learn the platform. I haven't used many other competitors, but I think Mixpanel is really user-friendly." – Sara M.
Mixpanel pricing
When it comes to pricing, Mixpanel is priced based on your monthly tracked users (MTU). The free plan allows you to track 100K MTUs, but with limited features. And its Growth plan begins at $25/month, depending on how many users you want to track and whether you're buying add-ons (Data Pipelines and Group Analytics).
Hotjar for understanding user behavior in-app
Hotjar is a product experience tool that helps you collect data to understand why customers churn. It does this through heatmaps, session recordings, and also feedback surveys.
Pros of Hotjar
It's easy to install and get started.
Works for your website and product, meaning you can track analytics for both site visitors and customers.
Allows you to collect customer feedback and analyze it easily.
Allows integrations with popular platforms such as Slack, Google Analytics, Segment, Omniconvert, etc.
Cons of Hotjar
Unlike other churn management software, Hotjar doesn't allow you to segment customers and study the behavior of each group.
There's a limit to how many integrations you can have.
Recordings can't be downloaded and shared. The only option is to have your team members join you on the platform.
Hotjar reviews
Here's an example summarizing some key points about Hotjar's features and the value it offers. You can find more reviews on G2 or Capterra.
"The free tools available are sparse and have limited tracking abilities, especially for an agency covering multiple websites. In order to entice subscriptions (which are pricey and scale quickly), free options should be slightly expanded." – Zach M on G2
Hotjar pricing
Hotjar offers flexible pricing—you pay based on the features you're interested in using. All Hotjar tools have a free version, and the least you can expect to start paying per month is a little less than $40.
Custify for tracking customer behavior
Custify is a customer success software with features to help you engage customers at every point in their journey and ensure they're deriving value from your tool. You can track the customer health score, keep tabs on product usage, and also identify upsell opportunities, create automation flows, etc.
Pros of Custify
Great visualization that makes it easy to understand what's going on in your product.
The automation saves you time and energy.
The UI is user-friendly and super easy to use.
Cons of Custify
It can be buggy sometimes.
Since it has many features, it can be a bit of a learning curve trying to master every functionality.
Custify reviews
"It consolidates data into a central location. In addition to being fantastic to work with, Custify's team has a great deal of product knowledge and is always able to advise on our needs."– Mark C. on G2
Custify pricing
The pricing detail isn't publicly stated on their website, but SaaSworthy says it starts at $999. It's best to contact the vendor and get a quote based on your needs.
Baremetrics for churn analysis
Baremetrics has features to help you segment customers to examine user behavior and combat churn.
You can also import data from external sources to better understand what's happening in your business.
Baremetrics is one of the few churn management software that sends regular email updates on how your product and customers are performing. Moreover, these emails keep you informed about customer satisfaction levels, and all the information can be accessed from your mobile.
Pros of Baremetrics
The platform shows you why customers churn and allows you to trigger automatic win-back emails.
Easy data visualization.
It has a clear and intuitive user interface.
Cons of Baremetrics
Some Baremetrics users have questions regarding data validity.
Data refresh sometimes take more time than necessary.
Customers complain about subpar customer service and difficulty canceling subscriptions.
Baremetrics reviews
"Sometimes, based on how we handle unique cases for subscriptions, the numbers will be off. The customer support also has taken a few days to get back to me on simple questions/requests." — Jon S.
Baremetrics pricing
The pricing varies based on where your company is and the features you want to use. Here's what it looks like:
Churnzero to track revenue churn and data points
Churnzero is a customer success platform that helps with user onboarding, product adoption, and critical insights for improving retention.
Pros of Churnzero
It helps you to monitor the customer health score, collect customer feedback through NPS, and stay abreast of other important retention metrics.
The platform sends Alerts to your customer success team or whoever runs the account when critical situations arise. This helps you stay proactive about churn management.
Integrates with Slack and Microsoft Teams for quick sharing among your teams.
Cons of Churnzero
Setup can be tricky for first-time users.
The UI isn't the most user-friendly, so it takes time to master.
Churnzero reviews
"I love how customizable tasks are. They allow me to jot down a thought to remind me quickly of something I need to do, which is extremely helpful as I juggle hundreds of priorities for my customers." — Krista B.
Churnzero pricing
According to TrustRadius, the company doesn't offer a free trial and doesn't support a freemium model. The pricing is available through a quote, however, a lot of customer reviews were stating about the high price.
Conclusion
The best way to drive customer retention and loyalty is to invest in fantastic product experiences. This will help customers accomplish their JTBDs and make you stand out among competitors.
Userpilot is one of the top churn management software that helps SaaS companies create engaging experiences. Book a demo now to see how you can do this code-free!