What is eCommerce NPS, and How Can You Drive Sales By Improving It?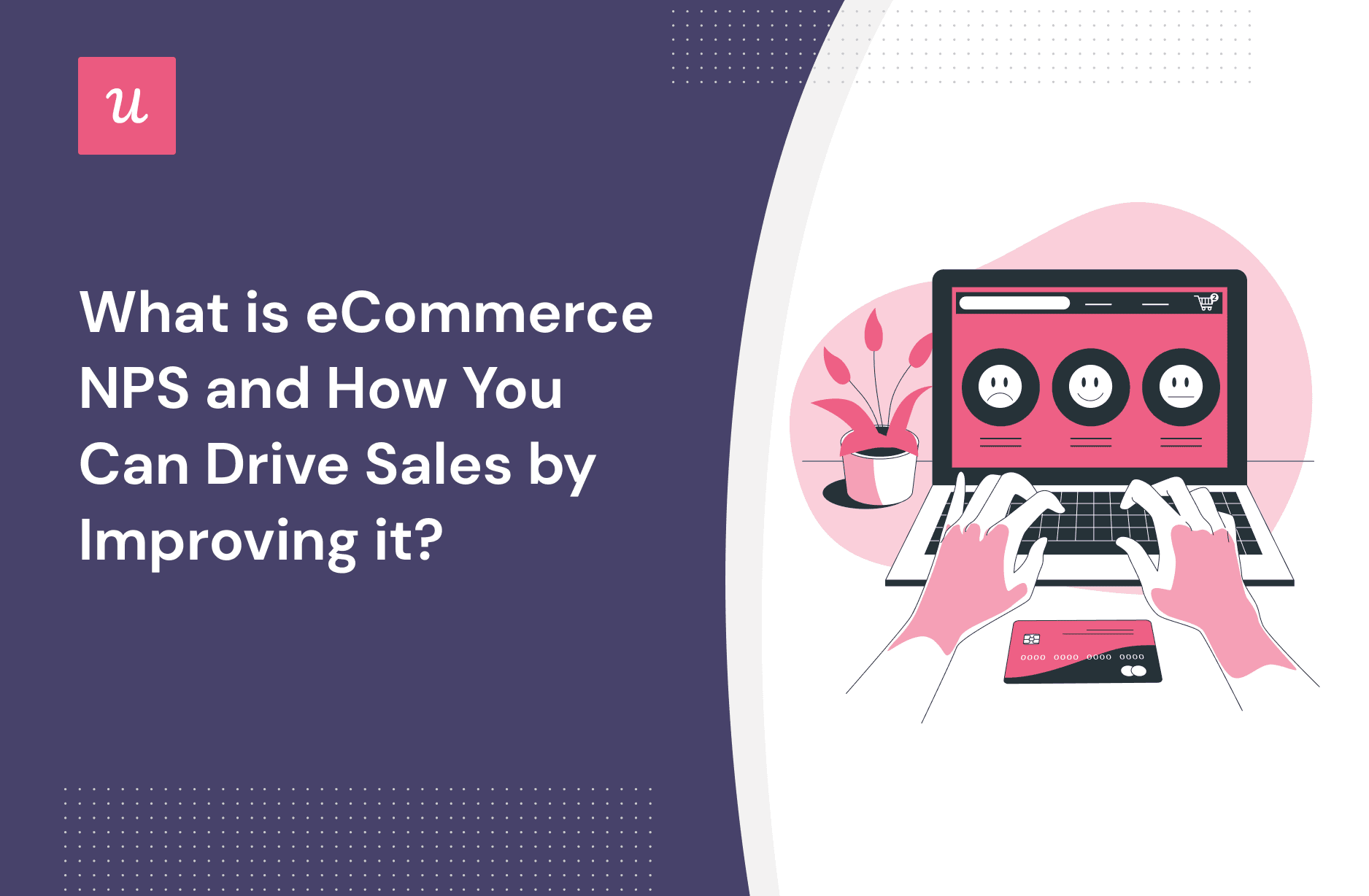 How can you use NPS eCommerce to gain qualitative feedback as part of your online store strategy?
If you're looking for answers, you're in the right place. This article covers:
What NPS is about
Why you should collect it to power your eCommerce growth
How to use and analyze the data to get more customers
Factors affecting your NPS and what to do about it
TL;DR
NPS eCommerce measures customer loyalty and directly indicates their willingness to buy from your online store again. It also helps boost your referral and word-of-mouth marketing.
Unlike customer satisfaction surveys, NPS indicates customer loyalty and brand sentiment in the long run.
Calculate the Net Promoter Score by subtracting the percentage of detractors from the percentage of promoters.
The best time to run a survey is after meaningful transactions with your shop.
How to use NPS to boost sales
Send customers who answered the NPS survey a follow-up question so you can make sense of the score they provided.
Acknowledge unhappy customers and address their concerns swiftly to turn them into happy ones.
Keep your best customers loyal to your store by rewarding them with discount coupons or referral bonuses.
Incentivize promoters to invite new customers through your referral program.
If you don't have enough responses from your NPS survey, focus on closing the feedback loop.
Factors that improve the Net Promoter Score
What is Net Promoter Score (NPS)?
The Net Promoter Score measures your brand's customer experience. It shows how likely customers are to recommend your products/store to their peers on a scale from 0 (very unlikely) to 10 (very likely).
NPS vs Customer satisfaction surveys
When measuring customer experience for an eCommerce business, three metrics come to mind: NPS, CSAT, and CES. These metrics appear similar because they all tell you how the customer is experiencing your product or service, but there are key differences between them.
Customer Satisfaction Score (CSAT) and Customer Effort Score (CES) measure short-term customer satisfaction. In other words, these metrics are more transactional than relational.
Meanwhile, NPS focuses on customer sentiment and loyalty over time. This makes it the metric to track for building brand advocates.
Why is NPS score important for eCommerce businesses?
Conducting NPS surveys for your online store is beneficial because you get to:
Measure customer loyalty
NPS measures customer loyalty, or customers' likelihood to continue buying from your brand. The higher the Net Promoter Score, the higher the chance they'll buy again.
Increase customer satisfaction
Net Promoter Score lets you see what causes customer dissatisfaction. By acting on the gathered feedback, you can take action to increase satisfaction.
For example, customers may not be happy with the absence of a shopping cart option on your online store, making buying multiple items impossible. After NPS helps you realize this problem, you can easily fix it to improve customer experience and increase their satisfaction with your store.
Boost referral marketing
You can leverage NPS to drive more organic word-of-mouth sales to your business.
How?
Simply ask customers who gave you a high Net Promoter Score to review your eCommerce site on platforms like G2 or share your store with their Instagram followers. We all know customers are more likely to tell their network about your business when they are happy with you, so this request will be easy. You can even go a step further to provide referral incentives.
Reduce customer churn
NPS can provide you with insights on how to improve customer retention in your store. You can follow up on your respondents with a low NPS score to find out what is bothering them. Afterward, by implementing customer churn reduction strategies in your eCommerce business, you can turn detractors into promoters and reduce customer churn.
Get direction for change and improvement
Since NPS provides valuable insights into the customer's experience with your brand, you can analyze both the positive and negative feedback to determine areas of improvement. This is sure better than spending weeks and months blindly implementing what customers won't appreciate.
How to calculate NPS score in eCommerce?
To collect NPS data, you must ask this simple question:
"On a scale from 0 to 10, how likely would you be to recommend x store to a friend or colleague?"
Or a question with similar phrasing. The most important thing is that you use the standard 0-10 scale.
Upon gathering feedback, you must calculate the product's NPS score by subtracting the percentage of detractors from the percentage of promoters. An easier way to do this is by using Userpilot's free NPS calculator.
Divide your product's NPS metric into three groups to give clear insights on how to improve customer loyalty and brand sentiment:
Detractors (score 0-6) – These customers are unhappy with your store for some reason. Identify and address their concerns to reduce your store's churn rate.
Passives (score 7-8) – Passives are frequently categorized as neutral. They are not very happy about your store but are not particularly dissatisfied. Learn what they like and don't like about your online store. Then take action on the negatives they mentioned to turn them into promoters.
Promoters (score 9-10) – These people are typically loyal and enthusiastic customers. Determine what they like about your product and build upon those strengths. You can also dig further to understand the promoter group — is it a specific audience? Did they interact with your store in a different way? Etc. By gathering what makes promoters different, you can create better strategies to convert detractors and passives.
What is a good NPS score for eCommerce businesses?
A good NPS score can differ based on the industry. For the eCommerce industry, the average NPS is 45. That means you should aim for a 45 or higher score to succeed.
When should you run NPS surveys in eCommerce?
The best time to send an NPS survey is after a meaningful interaction with your brand. In particular, this is the time when customers purchase on your website or reach out to support for a specific request.
Two types of feedback are collected on different occasions: transactional and relational.
A survey collecting transactional NPS (tNPS) appears moments after customers interact with a company.
For instance, it shows up after customers make a successful transaction. It then asks how likely they are to recommend your store based on their recent interaction with your store.
On the other hand, a survey collecting relational feedback appears multiple times throughout the customer journey and aims to understand customers' sentiments towards your business.
How to use an NPS survey to boost sales?
Aside from getting customers to recommend your store to friends, you can perform an NPS analysis on the gathered data to improve sales. Below are ways to do this:
Follow up on users' NPS scores to collect more data
NPS surveys give you an idea of what you must fix to excite customers about your business.
But as a metric, the Net Promoter Score doesn't tell the entire story.
So, a follow-up question to your NPS survey lets you gather more qualitative data to uncover why customers gave you that score.
A best practice is to keep your follow-up questions open-ended to give customers enough room for expression. Also, it's best to trigger your follow-ups immediately after customers respond to the first part.
Listen to what is bothering unhappy customers and act on it
Vocal detractors are excellent sources of customer feedback. Granted, not all of their complaints are valid. But when they are, they can help improve your online store and provide a better customer experience.
Once unhappy customers give you their feedback, you should respond quickly and empathetically. A quick, effective service recovery process can turn dissatisfied customers into promoters.
Also, you don't have to implement their suggestions immediately. You can reply to their message by simply acknowledging their unhappiness.
Doing so lets you show disgruntled customers that you are taking their concerns seriously. At the same time, this simple act makes customers feel valued and validated.
Reward loyal customers
Just as important as addressing the concerns of your dissatisfied customers is, encouraging your loyal ones is also essential for your business.
You should repay the genuine appreciation they have for your online store. One way of doing so is by offering them a discount or early access to a special collection.
To create either, sign up for a Userpilot account and build a modal containing the message you want customers to see.
These initiatives help you enhance customer loyalty efforts by giving them more reasons to stay on board as your loyal customers.
Prompt customer referrals
Another opportunity you can offer promoters is a referral bonus.
Once you've segmented customers based on their NPS scores, reach out to promoters asking them for referrals.
You can create a code-free modal with Userpilot.
Understand what's making satisfied customers happy
By identifying which features or experiences satisfy your promoters, you can focus on maintaining them, if not making them better. Doing so helps improve customer experience even further.
You can create flows to reveal those features and trigger specific experiences for your other customer segments. Userpilot makes this a breeze.
For example, with our platform, you can create tooltips guaranteed to grab customer attention. Just point where they will appear on the screen and edit them based on your preferences.
Close the feedback loop
Focus on closing the feedback loop and resolving the problems that customers have raised within their NPS answers.
Acknowledging your customers that you are working on their raised issues will make them feel validated and boost your chances of increasing their lifetime value.
What impacts NPS in eCommerce?
Three factors affect the Net Promoter Score customers give your store:
Online store easy navigation
Making your store's navigation easy and intuitive helps customers find what they're looking for and paves the way for a smoother transaction.
Some variables that can negatively affect the user experience of your eCommerce site, resulting in a lower Net Promoter Score include:
The "Add to cart" feature is difficult to find or doesn't exist – Your site doesn't allow your customers to purchase multiple items at once, making the entire process inconvenient for them.
Generic product descriptions – They don't tell visitors what the product is about, its specs, and other information vital to helping them make a purchase decision.
Lack of payment method options – Not allowing customers to pay with their preferred payment gateways discourages them from buying from your store.
The site has no mobile version – Your online store looks clunky and almost impossible to view on mobile devices.
Unreliable search feature – The store doesn't show your product even if customers typed them in the search bar correctly. Also, there are limited options for filtering the results to customers' preferences. Ensure your store is optimized and easy to navigate to improve your eCommerce NPS score.
Customer support
The goal of customer support is to address customers' concerns with your store and product.
When your customer support representatives take longer to get back to customers' concerns, this can badly influence your NPS score.
Reliability is one of customer support's golden rules, so having proactive customer support will take you a long way. Even if you can't provide 24/7 support, you can set up chatbots and knowledge bases instead.
Seamless buyer journey
It's crucial for your eCommerce store to have a hassle-free purchase and delivery process.
You can create onboarding flows with Userpilot to show your next users around.
Conclusion
It's hard enough running an online store. It's even tougher if you have to do it while dealing with low customer retention.
Boost your store's performance by embracing NPS eCommerce to gather user feedback, analyze and act on them.
As buttressed in this article, you can gather valuable insights from your NPS to help generate more sales and turn ordinary visitors into loyal customers and brand advocates.
Want to get started with NPS eCommerce? Get a Userpilot Demo and see how you can create modals, tooltips, and in-app surveys to collect customers' concerns and measure customer satisfaction.