Best Online Engagement Tools For Interacting With Your Customers Across Their Journey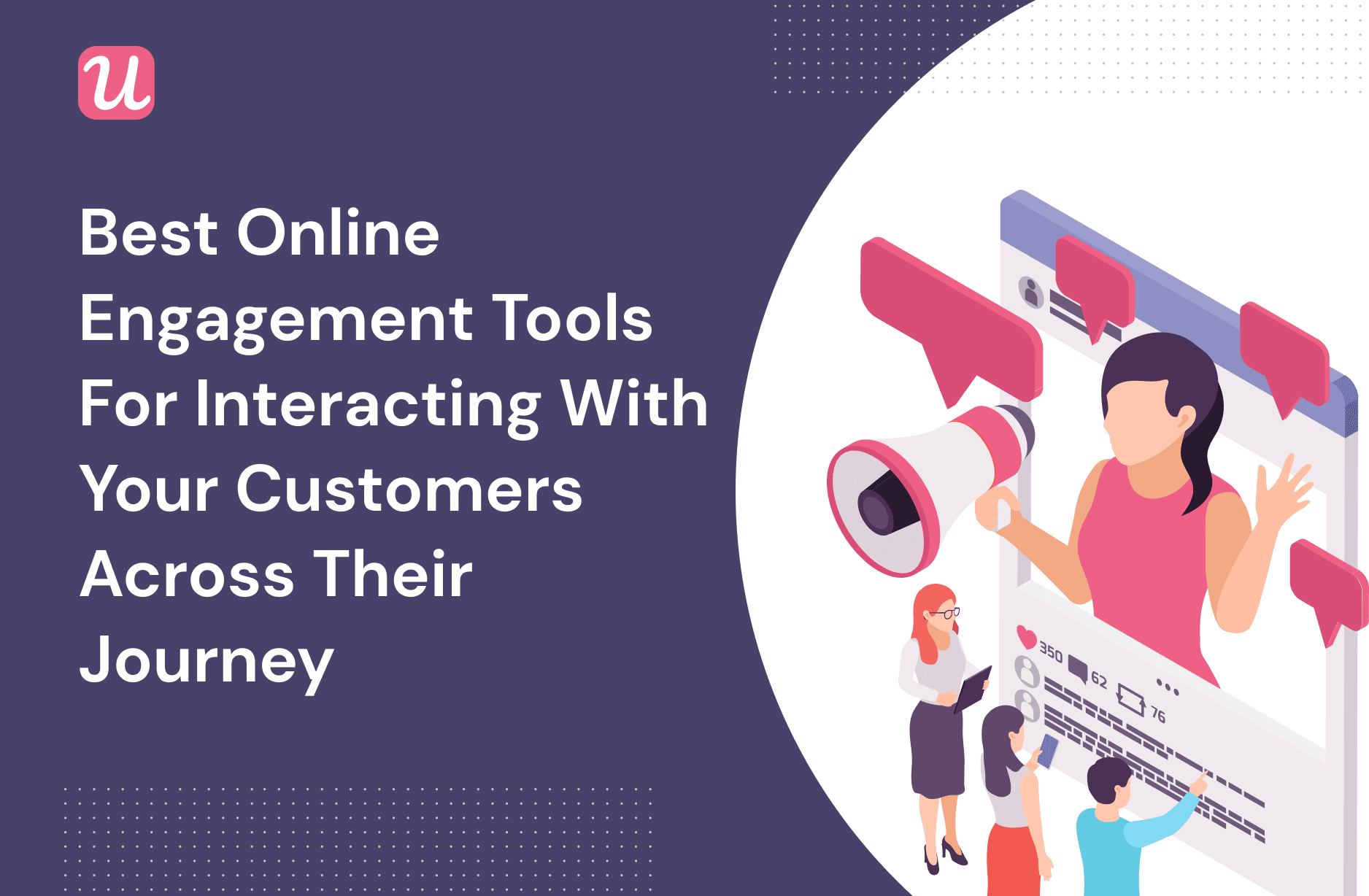 Why do you need online engagement tools for your SaaS app? Such tools help you understand how customers are interacting with your brand across all departments and stages of the user journey.
In this article, we'll be discussing what engagement tools are and why you need them for your SaaS. In addition to that, we will analyze some of the best engagement platforms available.
TL;DR
Engagement tools are software applications that help to facilitate and encourage two-way interactions between your SaaS and its customers.
The right in-app engagement software will help you to increase in-app user engagement. Engaged users are receiving repeated value in your SaaS leading to increased product adoption, retention, and more revenue.
Front-facing online engagement tools help bolster your brand identity and positioning.
Popups and other in-app elements should be displayed contextually to ensure maximum relevancy
Personalized onboarding can reduce churn by keeping users highly engaged.
Product analytics can tell you which features are "sticky" so you can direct users to the parts of your tool that are most likely to keep them subscribed
Never ask for feedback during a critical flow as interrupting key stages of the user journey can be highly detrimental
Analytics can guide your content strategy decisions both in-app and on other channels like social media
Userpilot is a product growth and analytics tool that can help you get valuable insights into user engagement. Book a demo to see how.
What are engagement tools?
Engagement tools are online platforms that help you to encourage two-way interactions with your SaaS customers by enabling personalized, dynamic and contextually relevant exchanges.
Why do you need engagement tools?
Online engagement platforms help you to increase customer engagement through automation of some experiences and deployment of conversations that are relevant to the stage of the user in their lifecycle.
The right tool helps to:
Shorten the sales cycle – by providing information more proactively. This helps your potential users determine quickly if your product is the right fit for their needs.
Increase revenue – actively engaged customers are the best candidates for boosting revenues through account expansion.
Drive customer loyalty – they help you to provide positive experiences to your customers. This leads to more loyal promoters who can recommend your brand's services.
Improve retention and reduce churn – users who are not actively engaged in your SaaS product are not getting value and are at risk of churning. When you communicate and interact with them, you can help them get value from your services or app consequently reducing the risk of churn while increasing retention.
Reinforce your brand identity and positioning – engage your community consistently to establish your brand identity and reinforce brand positioning.
Essential tools for engaging with your audience online
Here are website engagement tools that you can implement in your SaaS. Let's get started!
On website engagement tools
Your website should be an important lead generation magnet to help you accelerate company growth.
To acquire leads from your site, implement strategies like live chat, opt-in lead forms, and pop-ups to encourage your visitors to reach out or subscribe to your free services. Once you have the leads, you can nurture them over time and turn them into customers for your SaaS.
The tools below can help with this:
#1. Poptin popups
Poptin is a platform that helps you create engaging pop-ups and forms to capture more leads and increase sales, get more email subscribers, conduct surveys, and get more online feedback.
Poptin's best solutions include:
Smart pop-ups – create pop-ups to display the right message at the right time for the online visitor. This is enabled by the ability to set triggers for the pop-ups like exit-intent, scrolling, time delay, traffic source, country, and specific page visits.
Embedded forms – embed forms across the site to capture leads and emails. Get incredible data like the number of visitors who saw the forms and how many submissions were received. You can show forms based on pages, country, traffic source, devices, frequency, etc.
Autoresponder – send "welcome" or "thank you" messages to your new leads immediately and get open, click and bounce rates after.
Poptin has a very intuitive drag-and-drop editor for quickly building your pop-ups, forms, and emails while customizing styling as needed.
In addition, you can conduct A/B testing for each of the solutions above to find out which one receives more activity hence converting more leads.
There is a free plan that allows up to 1,000 visits per month on one domain with the ability to build unlimited Poptins. The lowest-paid plan starts at $19 per month for 10,000 website visitors.
Some users have complained that the pop-up and form designs feel a bit too generic with minimal options for full styling.
#2. Intercom chatbot
Intercom chatbots are great for providing on-demand support to online visitors. They help to qualify leads and move them up the support ladder. Sales questions scale to become conversations, leading to higher rates of conversions.
Intercom chatbots provide the following solutions:
Faster customer resolutions – use a chatbot to ask the right questions, helping you to route a new conversation to the right support or sales team. This shortens the time between a visitor's inquiry and the solution.
Customize without writing any code – customize the chatbot's styling and automation without writing any code.
Intercom's platform is great because it provides conversational chat support and marketing features in one place. It can be integrated with your tech stack easily. This helps to manage your userbase without juggling too many apps.
It also has segmentation features to help you divide your users into smaller groups so that you can target messaging effectively.
However, there have been way too many complaints about Intercom's customer support being too slow to respond to users. In addition, the pricing is quite expensive in the long run and can pile up to thousands of dollars per month. Early-stage startups get to pay $65 per month after the free trial for the first year.
In-app engagement tools
Reaching out to your SaaS users contextually leads to increased in-app activity because they receive the right message at the right time in the app. The most effective way to achieve this is to use in-app engagement software to design positive experiences.
If you want product experiences to feel less like a barrier to your customers and more like a welcomed interaction, consider the tools below:
#1. Userpilot
Userpilot helps you to set up onboarding flows, analyze user behavior and adopt in-app messaging to drive user engagement. You can deploy various in-app experiences including onboarding flows, interactive walkthroughs, and checklists.
The tool lets you build your experiences without writing any code. There are several UI patterns and actions to choose from like tooltips, modals, slideouts, driven actions and time delays, and embedded micro surveys.
Track in-app engagement using specific goals and build experiences to drive goal completion as illustrated in the image below:
Set up custom goals and track completion with Userpilot.
Userpilot allows you to fully own the product marketing efforts without relying on your engineering team. Customizing and styling every pattern and experience is quite easy and fast.
Here are four solutions that make Userpilot a great tool:
User onboarding – reduce time to value for your customers by guiding them through your app using personalized onboarding flows when they sign up.
Product adoption – highlight the right features at the right time to increase feature adoption. As users adopt more features, your product adoption increases.
Customer retention – By deploying personalized onboarding, interactive walkthroughs, and checklists, you increase user engagement. Highly engaged users are less likely to churn leading to high customer retention.
In-app marketing – communicate with users by sending them the right message at the right time to increase engagement and drive product adoption.
Userpilot is a product-focused tool that enables you to enhance product adoption, increase retention and reduce churn. It can also be easily integrated to work with other third-party applications in your tech stack.
Pricing begins at $249 per month for growth companies with up to 2,500 monthly active users (MAUs) and unlimited features.
However, the analytics page on the platform is still a work in progress that is actively being improved.
#2. Pendo
Pendo is a product experience and digital adoption tool that helps SaaS companies deliver digital experiences to increase online engagement.
Here are two solutions that make Pendo's service worthwhile:
Onboarding – guide customers to value faster and improve their product experience through onboarding flows.
Product usage analysis – understand which features customers like and get data to maximize feature discovery and feature usage in order to boost product adoption. The Pendo dashboard is simple, fun, and color-coded for ease of use.
Pendo's robust product analytics capabilities are great for tracking engagement metrics and providing data to improve customer experience. However, it's geared towards enterprise-level customers than mid-market SaaS teams which is reflected by the topics covered in their support resources.
Consequently, pricing is expensive and on a contractual basis, locking you into a 1-3 year contract as compared to the more flexible and affordable month-over-month Userpilot pricing.
#3. Appcues
Appcues is the tool that introduced checklists, tooltips, and slideouts (among other elements) to onboarding. It allows you to increase engagement by creating and deploying different product experiences – like onboarding processes and checklists – to engage users.
Let's look at the solutions below from Appcues:
User onboarding – create onboarding flows that set a new user on a path to activation by reducing time to value.
Feature adoption – deploy in-app announcements for new features and guide users towards feature discovery leading to better product adoption.
Appcues UI is not as intuitive as Userpilot. Full customization of styling requires knowledge of CSS. This makes the platform less flexible, especially when trying to target a specific user group or demographic through the app.
Moreover, the essentials plan starts at $249 per month for 2,500 MAUs with limited features while Userpilot offers you the same pricing for the same MAUs but with access to all the available features. If you'll be communicating with more than 2,500 MAUs then upgrading on Appcues will cost you over $10,000 upfront for the first year.
Push notification engagement tools
Nothing annoys users more than unsolicited push notifications. You need to use them effectively to drive user activity in the product instead of pushing users away with annoying forms of communication.
Here are two things to consider before adding push notifications as a strategy:
Timing – Time the push notifications to correlate with particular events or actions taken by the user. This keeps the notifications relevant, event-triggered, and useful to the customer at their stage in the journey. For example, when you order an Uber, a push notification appears to inform you that the Uber has arrived. This software keeps every ping contextual so users know it's worth checking.
Methodical messaging – Use push notifications to share useful free reports with your users without being too distractive. In this case, notifications have to be infrequent and measured.
That said, the apps below provide great push notification functionalities:
#1. User.com
User.com provides the right tools to engage your website visitors with the right push message at the right time.
It has the following functionalities:
Personalization – personalize push notifications using customer attributes like their last name or company to increase click-through rates to ensure every chat is contextual.
Targeting – segment users and target each persona that meets your specific criteria with the right push messages at the right time.
Omnichannel – use web push notifications, push messages on mobile, email, and SMS in one app.
User.com provides a great online platform with not just a push notifications tool but also live chat, email marketing, CRM, Chatbots, etc.
With a simple drag-and-drop builder, push notifications are easy to set up. You can set triggers, tags, and conditions to ensure your users get a good product experience.
However, pricing is not initially clear if you need to use this tool. You have to schedule a demo and have a conversation before pricing is determined. That said, this chat with the User.com team could be a good chance to learn more about the features and the free demo provides further insight on whether it's the right pick for you.
#2. Customer.io
Customer.io is a messaging platform that automates emails, push notifications, and SMS messages to ensure that communication goes on for data-driven companies.
The tool has the following functionalities:
Segmentation – group your users based on specific criteria (like personal attributes, pages viewed, etc.) and send the right push messages to the right groups with specific goals in mind.
Personalization – target the right users by including specific information like customer or company name in your push messages.
Customer.io makes it easy to build messaging flows using its drag-and-drop builder. You can quickly set up and deploy push campaigns without coding.
Furthermore, you can download analysis reports, easily export user data, and conduct A/B testing to find and optimize the best messaging tools.
The pricing starts with a free trial. Thereafter, an upgrade to the basic plan will cost you $150 per month for up to 12,000 profiles.
The user interface for Customer.io feels very clunky. For new users, it might feel like you are weight-lifting a lot before getting accustomed to the app.
User feedback and survey tools
Listening to users is an important part of running a SaaS company because you get great insight to improve customer experience. User feedback and survey tools help you collect both quantitative and qualitative customer feedback. Quantitative responses help in learning what your users are doing while qualitative data explains why.
Of course, it's important that your surveys go to the right user at the right moment. Consider the following factors:
Channels – use existing infrastructure to collect feedback. For example, in-app NPS surveys built in Userpilot are great for deploying in your product as part of the product experience. If you already send out weekly newsletters, add a survey within the newsletter. This way, you are not setting up new engagement communication avenues just for feedback collection.
Stage in the user journey – Consider where the user or segmented group is in their journey before deploying a survey. Do not interrupt a critical flow to ask users for feedback. It's best to ask them after they are done.
The apps and tools below can help you collect and act on feedback effectively:
#1. Userpilot
Userpilot's micro surveys feature lets you integrate short surveys into your product experiences to collect valuable feedback on each user group and tailor experiences accordingly.
NPS scoring is built into Userpilot free of any additional charges. You can collect quantitative feedback using NPS and qualitative feedback using short follow-up questions.
This tool helps to organize the feedback received by tagging responses in real-time and then responding to customers appropriately. All this without writing any line of code.
Why Userpilot is great at this:
Segmentation – group your users based on their NPS scores. This allows you to create product experiences to engage users with low scores to improve their experiences and reach out to users with high scores to ask for reviews or suggest product upsells/upgrades to drive account expansion.
In-app messaging – Reach out to users based on their tagged responses to address their concerns before they ever need to launch a chat with your technical support.
The Userpilot experience allows you to focus on understanding your responses and how to act on them to make your customers' experience better.
#2. Typeform
Typeform is a service that lets you add surveys and collect feedback from your online following by email. It utilizes skip logic – a feature that asks a respondent the next question based on how they answer the current one – to include branching in its surveys. This skip logic helps create different paths for customers based on their answers which is a feature many survey tools don't offer.
What makes Typeform worth checking out?
Templates – availability of numerous templates for various use cases that helps with learning critical data about your users and how they interact with your platform/tool.
A survey in the video – Create surveys in videos and collect responses using Typeform's skip logic to guide users to their relevant paths.
Typeform integrates with email marketing tools like Mailchimp and Hubspot. This makes it easy to send out online surveys once they are ready to be deployed. You can also set up multiple-choice questions with Typeform which can give your users specific ideas of what to respond with.
The free plan allows only 10 responses per month and 10 questions per Typeform. The lowest plan accepts 100 responses for $29 per month which makes it more viable for getting feedback from a closed beta tester group versus full-scale deployment.
If your project is still small then 10-100 responses may be enough but a larger project will no doubt need to ditch the free plan for the plus or business plans which are more applicable to a live web app.
Email engagement tools
Email engagement may take the form of free newsletters, more descriptive onboarding resources in emails, and feature updates for your app. The emails need to feel like an extension of your product communication. They need to support and supplement the online product experience.
Watch out for:
Personalization – Send personalized emails to users. Basic email marketing tools will allow you to add name tags. More advanced tools will provide further segmentation criteria for advanced personalization but this customization usually won't be free.
Deliverability – Ensure that your email deliverability score is high so that your emails get delivered. Some communication tools will help you to warm up your domain for a while before you can send emails in full throttle.
Here are the right tools to use:
#1. ActiveCampaign
This tool lets you segment users, adopt omnichannel messaging, and integrate with several third-party applications in your stack.
It's a great choice compared to other tools for three main reasons:
Deals – This feature enhances account-based marketing (ABM) and engagement by allowing you to add notes to contacts, set up appointments, send direct messages to contacts, etc.
Integrations – it supports multiple third-party tools that enhance communication like JotForm, BurstSMS, and Zendesk Support which can all be integrated directly with ActiveCampaign.
Conversations – Similar to Customer.io, the conversation feature enables you to build platform workflows for communicating with your users through emails, SMS messages, notifications, and on-site live chat messages.
ActiveCampaign packs hundreds of email templates making it easy to build emails that communicate key data to your users.
The pricing is very fair as compared to other tools in the market. There is no free plan so if free tools are what you're after then ActiveCampaign won't be the right fit. The lowest plan starts at $9 per month billed yearly for 500 contacts.
However, lots of customers have complained about the company's slow customer support.
#2. Drip
Drip combines email marketing, lead forms, and SMS messages with a clean UX to enhance your email engagement experience. It's very focused on e-commerce platforms although it can be adapted for SaaS use cases.
This is why Drip is a great option tool:
Segmentation – group users based on specific criteria and customer actions then send out emails in real-time to boost engagement and drive revenue. This data is updated in real-time after setting up the filter criteria.
Analytics and reports – analytics tools provide the data you need to tweak and iterate email campaigns before sending them out. Conversions are also presented in real-time.
Drip does not have a large template library like ActiveCampaign. However, its intuitive editor makes it possible to easily design your own templates. The free resources on the Drip user manual also flatten the learning curve which helps you deploy the solution faster.
Drip is also more expensive than ActiveCampaign and competing tools. After the free 14-day trial, pricing starts at $19 per month for 500 contacts which means you may need to upgrade as your communication scales up.
Social media engagement tools
Engaging your followers with social media tools provides a lot of social proof for your SaaS. Social media engagement tools help you to publish, schedule, or plan your content marketing strategy.
Here are the best social media platforms to consider:
#1. Kontentino
Plan, schedule and publish your social media content ideas to Facebook, LinkedIn, Twitter, and Instagram using Kontentino's online scheduling and planning service. This will stir up the conversation for your tools across various platforms and also boost communication with potential users. Lastly, it comes with in-app data reporting to help you track your content performance.
Here are two features you'll like in Kontentino:
Calendar – Schedule your posts in the calendar software and get a monthly overview of your content schedule at the click of a button. You can drag and drop scheduled posts to different days right from the calendar. You can also manage multiple social profiles in one calendar.
Analytics -Kontentino tracks your posts in real-time for data presentation that helps to understand the impact of your social media posts. This lets you know if your content marketing strategy is working or not and how you can improve it to boost engagement with your software/tool.
Kontentino's software allows you to manage content workflows, reuse visual content stored in albums and centralize communication with your team on one platform.
You can leave comments on live previews and recommend changes to the scheduled post within the app as tasks that make communication a breeze.
This makes Kontentino really interactive for collaboration.
Pricing for Kontentino starts at $59 per month after the free trial with a maximum of 3 users, 10 social channels, and 100 scheduled posts in total per month.
#2. Buffer
Buffer has the same functionalities as Kontentino. It has content planning and scheduling capabilities, the ability to draft content ideas and request approval, and a social media calendar that shows all your scheduled content in one view.
Here are two reasons to use Buffer:
Analytics – Get data on how your posts are performing. Use the analytics data to make decisions about your content strategy to boost engagement.
Engagement – Buffer also helps you to engage with your followers on social media directly from the Buffer app. Reply to conversations in real-time and prioritize important messages without logging into different social media accounts.
Buffer is one of the most affordable tools for social media. It offers a free-forever service that allows you to connect up to 3 social channels and thereafter $5 per additional channel per month is billed yearly with unlimited post scheduling.
The good news is you'll get equal access to Buffer support regardless of which plan you're on — social media, email, and a knowledge base filled with free resources for self-service support.
Conclusion
We have compiled the list of tools above based on various verticals and criteria. We hope it helps you find the right tools for your SaaS needs.
Getting the right tool is crucial for boosting your product engagement and making sure that you drive product adoption. Increased product adoption leads to increased customer retention, revenue, and product advocacy.
If you would like to get started with in-app engagement and NPS surveys, book a demo call with Userpilot today.