Best Onboarding Software for SaaS – 6 Tools to Improve Your User Activation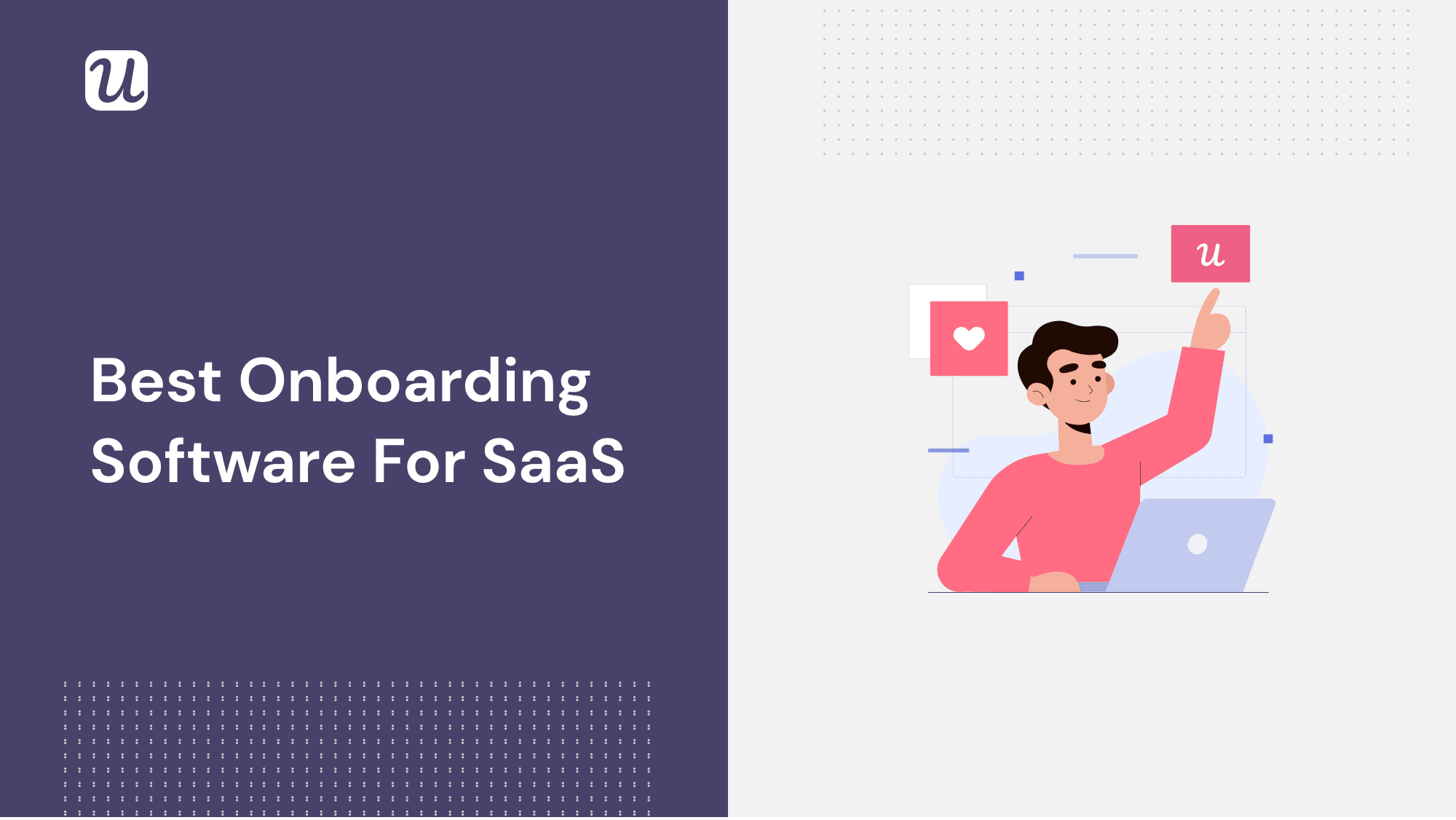 Frustrated that your new users drop off before activation? When new users drop off, product metrics suffer. Onboarding new users is one of the best ways to prevent this from happening. To provide the best onboarding experience, you naturally need the best onboarding software for SaaS.
In this post, we will very briefly discuss what to look for in the best onboarding software for SaaS for you, and then move on to analyzing the top 6 choices you may want to consider.
What to look for in the best onboarding software for SaaS?
The best onboarding software for SaaS companies will not require your product team to engage an engineering team to be effective. Hard-coding your onboarding from scratch is expensive and time-consuming. For instance, Atlassian spent $3 million in 2 years to create an in-house onboarding software.
To sum up, the best onboarding software:
is a low-code or no-code software, requiring minimal coding to set up and no code to build in-app experiences
allows you to build experiences as a customizable layer on top of your existing product
allows you to quickly tweak your walkthroughs and implement changes
allows you to target very specific audiences through segmentation
allows you to build fully interactive, branched walkthroughs
allows you to build surveys into your experiences and collect responses
Which is the best onboarding software for you? We delve into that and more as we discuss the top 6 onboarding tools for SaaS, based on functionality, price, and ease of use:
Best onboarding software for SaaS #1 – Userpilot
Userpilot is one of the best onboarding software for SaaS businesses because it is relatively easy to set up – all you need to start using it is:
download the Userpilot chrome extension
ask your developers to paste a javascript snippet into the source code of your app/website
depending on your use case, ask your developers to pass on a few custom events or user attributes that will allow you to track and segment your users more accurately so you can target them with personalized in-app experiences.
This is a no-code solution – meaning any experiences you want to build post-setup do not require any coding.
Additionally, its features go way beyond the user onboarding functionality – offering user analytics and sentiment measurement tools like NPS or in-app microsurveys.
To understand what you get if you choose Userpilot as your onboarding software, we have broken down its functionalities:
Functionality
1. Product adoption software – in-app experiences and user onboarding
Userpilot is intensely focused on product adoption, giving you every imaginable tool you need to build interactive walkthroughs for new users.
This allows you to boost user activation and increase product adoption rates.
Product adoption relies heavily on user guidance, and the onboarding experience should highlight the right features at the right time, just when your users need them.
Userpilot helps you design great contextual in-app experiences and interactive walkthroughs to guide your users to the right features.
You can also easily build welcome screens with embedded microsurveys to help you learn more about your users' use cases, roles, and goals, and can also segment them accordingly.
This will allow you to further personalize your onboarding flow and make them more effective.
2. Segmentation by user behavior and contextual triggers
Userpilot uses in-app customer behavior to unlock value at every stage of the user's journey.
This can be done by precise user segmentation – both by user attributes, custom events, and event attributes:
Therefore, Userpilot's product experiences are not simply bits of information thrown randomly at a user like in the case of linear product tours, but are more natural and do not overwhelm the user. Take a look at these built-in Intercom Product Tours:
Userpilot's product experiences are provided exactly at the right place, at the right time – as informed by customer behavior:
Userpilot also allows you to append subtle 'native tooltips' to your native UI that are triggered reactively when the user hovers over them:
This ensures that you give the user the right guidance just when they need it.
For example, let's imagine you're building onboarding for an email marketing tool.
The tool requires users to upload an email list first before they can create and send their first newsletter.
Userpilot is able to pick when your users have uploaded the email list. This happens through a custom event your devs have passed in the installation process. If you have any frontend events happening just on your UI – you can also use Feature Tags. These allow you to tag certain elements on your frontend and indicate if the user clicks on this element (also known as feature use) – with a UI selector, without doing any coding at all:
You can then check the adoption of each feature over time:
That way, Userpilot will "know" when to tell your users to create their first newsletter. Unlike with the product tour from Intercom that we have looked at earlier, the user will receive guidance to build their first newsletter at the right time in their user journey.
This contextual onboarding makes Userpilot a great onboarding software for SaaS apps that want to unlock the right value for their users at various stages of their journey.
3. User analytics – experience goals
What is the recipe for success in user onboarding?
Know why you're building every in-app experience.
In Userpilot, you can set a specific goal for each of your in-app experiences and track how many users reach it over time:
When you create a goal, you can also break the path to achieving it into a step-by-step process. These steps are small tasks that they can easily finish to improve the overall goal completion.
These steps can be easily put on an onboarding checklist you can build in minutes on Userpilot.
Here is an example of an onboarding checklist for Userpilot, built in Userpilot, of course:
Userpilot helps you create such step-by-step task lists in your interactive walkthroughs so that your users can achieve goals more quickly and easily.
Checklists trigger the psychological phenomenon called the "Zeigarnik effect" – which is basically the urge to "scratch that itch" and complete an unfinished task.
When a user completes step 1, it triggers step 2, which then triggers step 3, and so forth until the goal is reached.
4. A/B Testing and Experimentation
Interactive product walkthroughs don't all work the same way. Some might lead to higher product adoption than others.
How can you tell?
Well, you wouldn't know that without testing various walkthroughs to find out which one works best.
Userpilot's product adoption software allows you to create in-app experiments and A/B tests so you can uncover the winning formula for your onboarding process.
You can then tweak and optimize your in-app experiences based on real user data to get the best product experience for your users.
For instance, one of our users, the social media marketing tool Postfity, wanted to test which of their onboarding checklists had the highest completion rates.
They set up an experiment on Userpilot to find out:
In the experiment, they had 3 checklists. New users were shown only one checklist at random.
The checklist where users found two items already pre-ticked and completed outperformed the other 2 checklists even though items were all the same.
The completion rate was higher with this checklist at 40% – a result of the Zeigarnik effect at work.
In the case of Postfity, they would not have been able to optimize their users' experience if they had not carried out this experiment on Userpilot.
With Userpilot's product adoption software, you can carry out experiments like these and more. You can experiment with different product experience flows, copy, and visuals.
When you find that great experience based on the results of A/B tests, you set your users up for more success with your product.
5. Customer retention software
New user onboarding is crucial for getting new users up to speed with your SaaS application. However, once they are up to speed, you have to keep building great product experiences for them to stay.
Userpilot lets you build secondary, tertiary, and further onboarding experiences to unlock value for your users at every step of their user journey.
6. Providing on-demand support
One of the reasons users churn is poor customer support when they need it.
Userpilot's customer retention software is created to help you provide on-demand assistance to your SaaS users directly inside your app.
You can highlight specific features and even build a resource center that has all your help documents. That way, when users are stuck on their customer journey, they can check the help center for information.
Moreover, through guiding the users by building checklists, onboarding flows, and native tooltips, they get help before they even ask for it.
7. Identifying indicators of churn
Userpilot empowers you to find out why users might churn and gives you a headstart to fix it before they do.
You can build flows to help them discover more value and the right features at the right time so that they don't churn.
8. Collect feedback and NPS score
Userpilot's customer retention software helps you collect user feedback at every stage of the user journey. You can use these to analyze how users feel about new features and product experiences.
Using microsurveys, you can collect quantitative and qualitative responses, and use this information to improve the user experience.
Userpilot's suite of NPS micro survey capabilities is another weapon in your feedback collection arsenal. You can tag your answers and segment users by tags. With the right in-app experiences, you are able to respond to complaints accordingly and even ask promoters for a review within your app.
Pricing
Userpilot's plans are based on Monthly Active Users (MAUs). You can choose between growth and enterprise plans. All the features are available in all plans without any limitations – regardless of how much you're paying.
The growth plan starts at $249 per month (paid annually) for 2,500 MAUs while the enterprise plan starts at $749 per month for 2,500 MAUs.
Ease of use
Userpilot is a no-code solution that has a simple interface for your product team to use without help from an engineering team.
Below is an example of how easy it is to customize a tooltip in Userpilot, code-free:
You can build great product experiences and deploy them without coding – a great asset for product teams that want to deploy and experiment faster.
In terms of ease of use, Userpilot stands out as the best onboarding software for SaaS companies who need a low-code solution that can get them up and running in minutes.
You can even deploy more complex flows with the help of Userpilot's customer support team within a few hours!
Best onboarding software for SaaS #2 – Appcues
Appcues has been around for several years now. In many ways, their software has gotten better yet has also become somewhat confusing.
Nevertheless, we shall look at the functionality, pricing, and ease of use below:
Functionality
1. User onboarding software
Appcues bases a lot of its onboarding experiences on personalization, as opposed to Userpilot, which relies on both personalization and user behavior.
It allows its users to deploy product experiences using no-code solutions. Through segmentation, product teams can target users by persona, lifecycle stage, plan tier, and more.
With Appcues, you can measure how many users reach your "aha moment" and how many of them convert from free to paid plans.
2. Feature adoption software
Appcues allows you to make in-app announcements and guides that increase engagement and feature adoption.
Like Userpilot, Appcues makes use of tooltips, modals, and other UI elements to build flows that educate users on the value of new features.
You can track feature adoption, and segment users who haven't used a particular feature in order to target and nudge them to adopt those features.
3. Product insights
Appcues' product insights tool allows you to measure product adoption and usage through event tracking paired with data visualization.
It allows you to measure adoption, identify opportunities for growth, and track key user actions and goals.
4. NPS Surveys
Appcues also has NPS survey functionalities that enable you to collect feedback about how customers are using your SaaS.
Pricing
Appcues has 3 plans including essentials, growth, and enterprise. The lowest plan, essentials, starts from $249 per month for 2,500 MAUs.
However, the essentials plan limits a lot of features to basic engagement patterns and NPS. You will find limited access to advanced targeting, segmentation, theme customization, and integrations with other tools.
These features are locked to the higher plans, with the growth plan costing $879 per month and the enterprise plan comes at a custom price.
It is important to note that if you wanted access to other features you would need to upgrade even if your MAU is below 2,500.
In Userpilot, at just $749 per month, you would have access to all the features and of course, be under the equivalent enterprise plan. At $249 per month, you would be in the growth plan and still have access to a wide range of features other than just basic engagement patterns and NPS.
Ease of use
Appcues is mostly easy to set up and get started with, as the UI is quite advanced and user-friendly.
Their extension is free to download and test, helping you build flows and experience the UI capabilities yourself.
It is easy to build and deploy simple workflows, but once you start building complex workflows, you need to flip between the extension and a separate browser page to sort out targeting and trigger factors.
This is a branching tour using multiple CTAs on individual UI elements:
Due to the fact that you need to flip between the extension and the browser while building branching tours like the one above, we see the general experience to be quite confusing.
Furthermore, if you want to achieve the full range of styling options, you need to have CSS expertise. Therefore, this is not a fully code-free solution.
Best onboarding software for SaaS #3 – Chameleon
Chameleon is a product success and user onboarding software for SaaS companies. It makes use of product tours, tooltips, launchers, and micro surveys to help you guide users along their user journey.
Functionality
1. Product Tours
Chameleon's product tours help you build flows for guidance and launches.
You can use modals, banners, and hotspots to announce changes or guide users through their journey.
The tours are built on a WYSIWYG editor where you can see what you are building in real-time.
You can also customize the styling (font, color, opacity, etc) of your product tours and even add in some CSS styling if you want advanced branding.
Chameleon allows you to customize your product tours based on user persona. You can segment and then target them with relevant messaging to ensure product tours are directed to the right users.
2. Tooltips
Chameleon helps you to deploy tooltips where you discover that users need more information or need to learn what a certain tool or button is used for.
You can customize elements of your tooltips without coding and optimize them faster using the WYSIWYG Editor.
3. Launchers
You can build widgets and checklists that deepen user engagement and feature discovery, while onboarding checklists help users reach activation faster by completing key activation tasks.
Additionally, onboarding checklists provide guidance for onboarding, helping reduce customer support requests.
4. Micro surveys
NPS surveys are also used in Chameleon to collect feedback and understand user loyalty by persona.
Pricing
Chameleon has startup, growth, and enterprise plans.
Their plans are mostly based on Monthly Tracked Users (MTUs) although some features are limited depending on the plan you are on.
The startup plan costs $349 per month for 2,500 MTUs while the growth plan costs $750 per month for 2,500 MTUs.
Below 2,000 MTUs, startup plans go for $279 per month and growth plans for $600 per month.
This pricing is quite expensive for most startups and growth phase companies compared to Userpilot.
Ease of use
Chameleon has a wide range of UI options, making it easy to build a variety of product experiences.
Unfortunately, the same cannot be said of its segmentation, flow design, and targeting functionalities. These are not quite advanced or built properly and make Chameleon difficult to use.
You can manage and edit themes within the app, making it easier to deploy styling changes faster.
The launcher allows you to set event triggers to activate pop-up windows offering contextually helpful information or walkthroughs.
Chameleon however limits subscribers to one launcher in the startup plan of $349 per month (2,500 MTUs).
Finally, Chameleon only allows clicking or hovering as the only options for user input.
It does not allow text field completion, which restricts the kinds of interactive walkthroughs and tours you can build on it.
Best onboarding software for SaaS #4 – Pendo.io
Pendo is a comprehensive solution for both employee and customer onboarding. For the purposes of this article, we shall focus on the customer-facing software for user onboarding in SaaS apps.
Pendo's main focus is the Product Cloud – a product offering that puts user feedback, product analytics, and user onboarding in one package.
Functionality
1. User onboarding
Pendo provides user onboarding software that allows you to get users to activate them faster.
It allows you to deploy product tours and onboarding checklists. You can continue to add knowledge and more complex tasks for the users along their journey as they gain confidence with your app.
That said, creating great user onboarding experiences requires the use of elements like tooltips, checklists, slideouts, and modals. These elements are very limited in Pendo, meaning you cannot always create the best user onboarding experience.
User segmentation is quite good on Pendo. It enables you to segment your users in a variety of ways. You can see how different segments fare on your product and provide relevant onboarding to each user segment.
2. Product engagement
Product engagement is another solution that Pendo provides.
This functionality helps you understand which features stick with customers and which ones do not. When you understand the features customers love, you can focus on adding more value to them and improving or retiring the features customers don't like.
It also helps you identify where more awareness is required to bring attention to a certain underused feature.
Lastly, thanks to Pendo's robust analytics, you can compare churn rates across various segments to find out which features are affecting your business goals.
3. In-app support
By adopting a user onboarding software for SaaS, you are essentially providing in-app support and reducing customer care costs.
Pendo's onboarding solution helps you cut down on customer support queries by implementing onboarding checklists, product tours, resources, and tips.
4. Feedback collection
Pendo's feedback collection software helps you quickly collect feature requests within your application.
This feedback helps you make more informed decisions that will affect your SaaS usage, revenue, and customer sentiments.
5. Insights
Pendo provides a robust analytics feature that allows you to track how your app is used across the web and mobile.
You can find out which features are adopted and which ones are ignored. You can also collect all relevant data without tagging required.
Lastly, it allows you to compare user segments to determine usage patterns that correlate with healthy adoption.
Pricing
Unfortunately, Pendo's pricing is not publicly available. You have to ask for a quote to get it.
However, it is important to note that they target enterprise companies and pricing might be on the higher side as compared to other tools in this article.
For smaller and medium-sized companies, the best onboarding software for SaaS is Userpilot. When it comes to user onboarding, NPS Surveys, and user feedback, Userpilot's value for money stands out when compared to Pendo.
Ease of use
Pendo is a comprehensive solution for onboarding needs but it does have its downsides.
It has limited elements – meaning you will always be limited on the kind of product experiences you create for your users.
The visual designer only provides a simple text editor for designing your UI patterns. Furthermore, unless you use CSS, full customization of onboarding elements on Pendo is limited. If you want a fully no-code solution, Pendo does not rank so well here.
Pendo's Product Cloud might be doing a lot more than you need – user onboarding, user feedback, and analytics. This makes it quite confusing to navigate as well.
Lastly, the builder needs you to navigate between their app and builder to get your onboarding experiences built, which can be difficult to work with .
Best onboarding software for SaaS #5 – Walkme
Walkme is another onboarding software for SaaS that largely caters to enterprises and provides both employee and customer onboarding solutions.
Due to its advanced nature, it is not just a walkthrough software but a "digital adoption platform".
We will focus on the customer onboarding software and look at their functionalities below:
Functionality
1. Customer care
Walkme offers a digital adoption platform that brings your support team into one tool. It compartmentalizes support, reducing the time to competency for users and reducing the number of customer support tickets from your users.
2. Customer onboarding
Walkme's onboarding tool helps you to build product onboarding experiences that personalize onboarding, increase retention rates, and push upsells and cross-sells.
The data collected from users helps you eliminate elements of friction from user onboarding flows and increase activation.
Some of the Walkme onboarding features that we like include:
Adding goals in the backed and tracking behavior of a user who begins the onboarding flow and dismisses it before they complete it
Linking "smart walkthroughs" together under the management of a rules engine
Defining multi-step triggers for actions and flows
Presenting your flows to third parties by exporting them as a PDF
A context-detecting algorithm that allows you to offer help beyond the strictly defined triggers and rules you set
The image below shows a user setting rules on Walkme:
3. Customer success
Like all other tools on our list, Walkme is focused on customer success. Whatever it takes, from helping users achieve value to guiding them through feature discovery, Walkme helps you do it.
Pricing
Pricing is tailored to the customer. However, reports have put it between $9,000 to $50,000 per year.
It caters to the enterprise market. For startups and medium-sized SaaS companies, its pricing might be way beyond reach.
Ease of use
The user interface is quite old-fashioned and not very appealing. If you are looking for a modern look, Userpilot is a sleeker option.
In addition, Walkme uses a lot of specialized jargon in the app that might require a lot of getting used to.
The tool has many features and is quite advanced. To fully implement it, you need time to learn how to use it and a certified expert on board. In some cases, a development team is required to fully make use of all its offerings.
Styling also requires a good amount of coding. Your product team therefore cannot take full ownership of product experiences built on Walkme because they are dependent on the engineering team.
Best onboarding software for SaaS #6 – Whatfix
Whatfix is also a "digital adoption platform" whose onboarding functionality is only one of the myriad solutions it offers.
Based on their website, they are more focused on employee onboarding. We discuss the functionalities for user onboarding below:
Functionality
1. User adoption
Whatfix has user adoption software that helps you build walkthroughs and guides to engage users with your new features where they can unlock more value.
2. User onboarding
It helps you engage new users through onboarding to help them activate faster.
You can design product tours, onboarding task lists, and contextual interactive walkthroughs to help new users get proficient with your SaaS faster.
Here is an example of an interactive element built using Whatfix.
Segmentation helps create personalized user onboarding flows to increase new user engagement.
Walkthroughs can be integrated into training programs and deployed using learning management systems.
3. Self-service support
Whatfix helps you provide available help to your customers to reduce customer support costs.
Onboarding and product guidance reduce the instances where customers would ask for help. When they do, guides, tutorials, and resources sourced from across your company are channeled to help users at any time.
In addition to that, the Whatfix user community is quite active and helpful. When users sign up, they get access to libraries of ideas and designs from other users. These help new users get inspiration and direction right off the bat.
Pricing
You have to request a quote to get pricing details. However, it is good to note that Whatfix deals with enterprise-level companies. Therefore, expect enterprise-level pricing.
For startups and medium-sized SaaS companies, this pricing may not be ideal or affordable.
Ease of use
Whatfix is a powerful tool that integrates into wider environments and applications, not just user onboarding.
While that makes it a force to reckon with, it also means it can be quite complex to get started on it. It also might even need hiring an expert to set you up.
The analytics solution is detailed to help you make data-driven solutions.
The styling options for Whatfix are limited. This might require you to engage your coding team for full customization.
Whatfix also lacks A/B testing, and cannot help you experiment with different onboarding flows.
Conclusion
We have seen that all the above tools do more than one thing well. But to get a more conclusive solution for specific needs, here is a summary of the best onboarding software for SaaS measured by particular criteria.
Best software for product adoption
Userpilot
In our analysis above, we saw that Userpilot is very focused on getting product adoption right for its users.
You can create every product experience you can think of with easy styling and without coding: onboarding checklists, fully interactive walkthroughs, subtle hints like native tooltips, slideouts for new feature announcements, etc.
It also has a wide range of UI patterns, which are more diverse than many of the tools mentioned in this list.
Appcues offers the same functionality as Userpilot for product adoption, but at a higher price and with less flexible styling options. This will require you to use CSS selectors and expertise to achieve full customization.
Chameleon has a lot of UI options, an easy-to-use interface but the interactive options for user inputs are limited. This might not allow you to build the best walkthroughs every time.
Pendo, Walkme, and Whatfix are all great products but their focus is not to help you build product walkthroughs. They have much deeper functionality and are focused on building digital adoption platforms.
Due to their focus on enterprise, some of these other tools are very complex and might require more than one person to run, an expert on board to troubleshoot, and use of your engineering team resources to set up well.
Best software for onboarding
Userpilot
Userpilot's narrow and sharp focus on product adoption only makes it ideal for product onboarding. This is because to achieve great product adoption your onboarding has to be really good.
Userpilot has invested a lot of time and resources to ensure its users create the best onboarding experiences. From new user onboarding to secondary, tertiary, and further onboarding experiences, Userpilot has it all.
For new user onboarding, you can create product walkthroughs in no time, and you can also play with more UI patterns and with your style options.
Userpilot's focus on building a no-code solution means your engineering resources are better focused on improving your product. Your product team can also take full ownership of the onboarding process.
Best software for analytics
Pendo
Pendo is the standout onboarding software that has a powerful analytics platform. Its analytics platform comes close to product analytics tools like Amplitude and Heap.
It allows you to track SaaS analytics across the web, mobile, and multi-app.
Pendo's analytics software is part of its Product Cloud. In a way, it is designed as a standalone product. This makes it difficult to use the insights for building the product experiences your SaaS needs.
For companies that might be using Mixpanel, Heap, Amplitude, and other product analytic tools, you may not require another detailed analytics software like Pendo.
However, you will need a tool that gives you actionable data that directly influences and drives the decisions you make in your onboarding flows.
This is where Userpilot is most useful.
Rather than give you too much data that is confusing, Userpilot's focus is on data that you can really put into action when working on your product adoption and onboarding experiences.
It allows you to act on your insights immediately and tracks the usage of features in your tagging. You can instantly see the ROI of your product experiences. It provides you with the data you need to improve feature adoption metrics.
Best software for price and value for money
The amount of money you spend should correlate with the value you get from the best onboarding software for SaaS that you choose.
It is good to note that limitations exist in a majority of the tools we looked at. There are limitations on MAUs, MTUs, features, accessibility to advanced functionalities, etc.
While pricing might look similar or in range, if you go to the little details you will find gaps that make pricing more challenging.
So which tool is the best value for money?
Userpilot
The growth plan starts at $249 per month (paid annually) for up to 2,500 MAUs. The best part about Userpilot's pricing is that it is based on MAUs. You, therefore, have access to all the features you need regardless of what you are paying.
Appcues pricing starts at $249 per month for 2,500 MAUs in the essentials plan. While this might seem like it has similar pricing to Userpilot, Appcues' styling options and the number of experiences you can build are limited in the lower plan. This would force you to upgrade hence spending more.
Chameleon pricing is $349 per month for 2,500 MTUs in the lowest plan. With only one launcher and limited micro surveys, it does not give you the best value for money.
Pendo, Walkme, and Whatfix are focused on enterprise customers. They are the best onboarding software for SaaS applications at the enterprise level. However, they will cost you several thousands of dollars per year.
Due to the complexity of these applications, you might also need a team to run day-to-day operations. In specific use cases, you will also need software experts who generally never come for free.
We hope that you will be able to make an informed choice after reading this guide!
If you are looking for onboarding software for SaaS, feel free to schedule a demo with Userpilot.