Reporting vs Analytics: Main Differences And Why You Need Both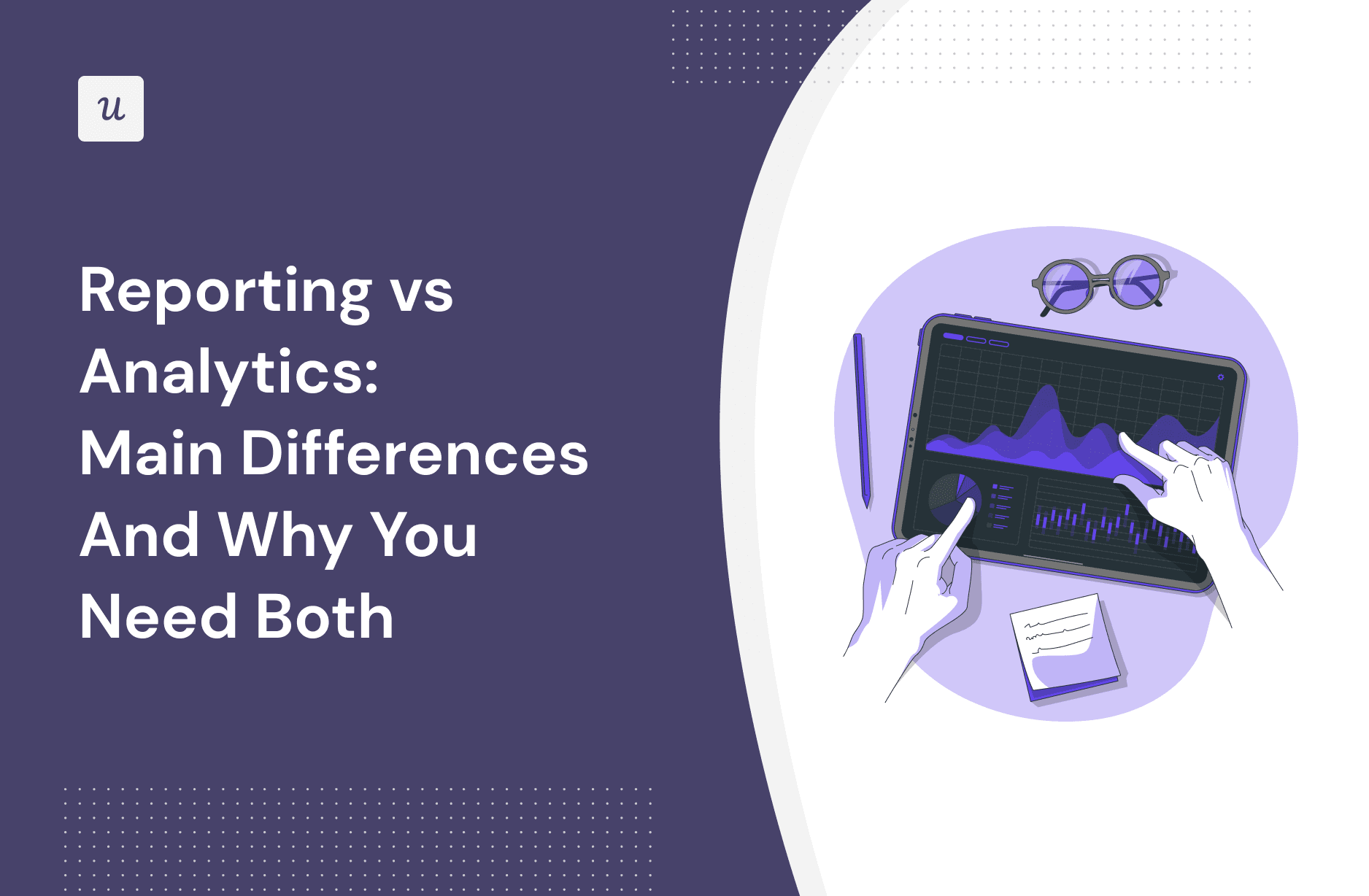 Reporting vs. analytics – which should you choose for your business? Do you need both or just one?
While a growing number of businesses are increasingly adopting reporting and analytics, the difference between both terms can be confusing.
In this article, we will discuss the key differences between reporting and analytics, why you need both, and powerful tools that can serve your analytics and reporting needs.
TL;DR
Data analytics is a broad term that includes everything from collecting and analyzing raw data to finding trends and drawing insights from the information they contain.
Reporting involves collecting and presenting data and organizing it into a structured form to ensure data-driven decision-making.
Whereas the primary purpose of data reporting is to summarize data for stakeholders, analytics involve extracting insights and patterns from the data.
Essentially, reports communicate information, while analytics provide context and insight.
Types of reports include financial reports, marketing reports, sales reports, management reports, operational reports, and product usage reports.
Conversely, the types of analytics include descriptive, diagnostic, predictive, and prescriptive analytics.
You need both reporting and analytics to get a competitive edge, improve operational efficiency, improve your hiring strategy, and make better decisions.
Userpilot lets you track granular product analytics and get a clear picture of your best-performing product features. To learn more about the insights it provides, book a demo today!
What is data analytics?
Data analytics is the analysis of raw data using tools and techniques to identify trends and patterns. It generates meaningful insights that ensure informed decisions in an organization.
The role of a data analyst, therefore, involves the extraction, organization, and transformation of raw data from numbers that are difficult to understand to coherent information that can improve business performance.
What is data reporting?
Data reporting is the process of collecting data from various sources and organizing it into a concise and understandable format.
It involves presenting existing data in a manner that makes it easy to identify trends, patterns, and otherwise hard-to-spot anomalies. These reports can take different forms, from simple graphs and charts to interactive dashboards.
Data reporting vs analytics: Main differences and similarities
Although the terms reporting and analytics are often used interchangeably, they are different. While they both improve the quality and efficiency of business operations, they do so in different ways.
Let us now discuss the key differences and similarities between reporting and analytics.
Reporting and analytics have different purposes
The primary purpose of reporting is to offer insights into specific metrics and track the progress of the main KPIs (key performance indicators) over a defined period.
Reports are important for summarizing data for stakeholders. Ad hoc reports, for instance, can promptly address specific issues and answer questions for quick decision-making.
Analytics, on the other hand, involves taking a deep dive into your data to extract insights and patterns. It aims to answer questions like 'why', 'how', and 'what is likely to happen', by providing a deeper understanding of what makes the cogs turn in your business.
Predictive analytics goes one step further by offering an ideal course of action going forward, helping you make smarter, data-driven business decisions.
Reports and analytics come in different formats
Reporting focuses on presenting data to reveal facts, identify risks, and monitor business operational metrics.
Defining the goal of your report will help you know what type of report you need, whether it will be a market data report, product usage report, financial report, etc.
Data analytics is an umbrella term that also contains reports. A good analytics structure provides an overview of the problem, identifies patterns and trends in the result, and has substantive conclusions.
Analytics reports should be clear and concise and can come in the form of dashboards, ad hoc reports, and documented insights.
Reports are informative while analytics are actionable
The purpose of reporting is to communicate information by presenting facts to stakeholders. A good report should incorporate visual elements like tables, maps, images, graphs, and figures where possible.
Analytics, however, provides context and insight. It is a process that involves aggregating queries from multiple data sources to capture the whole story and take motivated actions for the future.
Both reporting and analytics are meant to provide valuable insights
Reporting and analytics are both integral elements of a strong data strategy. While they may take a different shape and form, they complement each other.
Together, they drive informed business decision-making, optimal operations, and improved efficiency. They provide a comprehensive picture of business operations and are critical for businesses to thrive in a hyper-competitive market.
Types of Reports
The form a report takes often depends on the content of the report, as well as its recipient, size, and organizational needs. Here are the most common types of reports you can create for your business:
Product usage reports: Product usage reports reveal how and when your customers make use of your products. They offer insights that can help you better understand your customers, optimize your marketing campaigns, and make smarter business decisions.
Financial reports: These are reports detailing the organization's financial information for a period. They summarize the most important metrics that impact the financial health of an organization. Examples include income statements, balance sheets, and cash flow statements.
Marketing reports: These reports measure marketing metrics and key performance indicators over a defined period. Examples include marketing campaign reports and social media reports.
Sales reports: A sales report provides a comprehensive overview of sales activities taking place over a specific period. The main focus is on the sales, revenue, and products sold. Examples include weekly sales reports, forecasted sales reports, and conversion reports.
Management reports: A management report is summarized data from various departments in an organization to help managers make informed business decisions. It provides information on the share price, return on investment, and profit and losses over a period.
Operational reports: These reports provide short-term details about the day-to-day activities within a company. They can be hourly, daily, weekly, and monthly.
Types of analytics
Different types of analytics can empower your business to optimize data-driven solutions and enhance its operational capacity. Each type serves its purpose, so you must understand what they can do for your business.
The four main types of analytics include:
Descriptive analytics. Descriptive analytics involves examining historical data to identify patterns. The idea is to understand what has happened and derive insights into trends, patterns, and key metrics.
Diagnostic analytics. When you know what has happened, diagnostic analytics helps you understand why. For instance, if you observe that sales went up by 10%, diagnostic analytics will understand why it happened and what you are getting right.
Predictive analytics. Predictive analytics involves the use of models, algorithms, and statistical techniques to predict future trends. It offers predictive insights that prepare a business better for the future.
Prescriptive analytics. Prescriptive analytics takes data analytics one step further by recommending the best course of action. It generates actionable insights through simulation, predictive modeling, and advanced algorithms.
Why do you need both reporting and analytics?
Every result-oriented organization needs a powerful business intelligence strategy for reporting and analytics to give it a competitive edge over other businesses.
Reporting and analytics hold significant value when it comes to helping businesses make data-driven decisions. Whereas analytics helps you gain insights into your business performance, you'll need reports to showcase relevant insights to stakeholders.
Think of data analysis as an inspection tool. It helps businesses identify areas where processes can be improved. It, thus, provides actionable insights that help businesses to make better decisions and avoid costly mistakes.
On the other hand, reporting analytics is a communication tool. Data reporting is what you use to communicate the insights you've gathered with business stakeholders.
Reporting is, therefore, used to present data and its insights in a manner that powers business decision-making. By presenting analytic findings in a clear and concise manner, it helps teams make strategic decisions.
To put it simply, analytics and reporting work hand-in-hand. Together, both tools help unlock the power of data, helping you to gain a competitive advantage in a tight business environment.
Best reporting and analytics tools for SaaS
Thankfully, several tools exist today to help you easily analyze your business performance and create relevant reports. Let's now consider three of the best reporting and analytics tools for SaaS you can use for your business.
Userpilot – for collecting, analyzing, and acting on data
Userpilot is a code-free growth platform with advanced analytic features that enable businesses to track user data and optimize user experiences. You can examine trend reports, identify your best-performing features, and more.
Its main functionalities include:
Feature tagging: Gain insight into how users are engaging with your product and understand how to improve their experience. Userpilot's click-to-track feature tagger lets you track user interactions and measure feature adoption.
With the Userpilot Starter Plan, you can add up to 15 feature tags, while the Growth or Enterprise plan allows you to create unlimited tags.
Trends and funnels: Userpilot enables you to easily visualize trends in user behavior and their evolving preferences. You can also conduct funnel analysis to see how many users successfully go through your funnels.
Both trend and funnel analysis help you measure and improve the efficiency of your systems. For instance, you can analyze your onboarding or conversion funnels and create detailed trend reports that identify where users drop out.
Path and retention analysis: Analyze your user paths at a glance and track your retention performance. Create detailed retention reports to assess user engagement over a period. With retention reports, you can easily see how many users are active, their level of activity, and more.
Analytics integrations: Userpilot integrates with other best-in-class analytics tools like Amplitude, Mixpanel, Segment, Google, Analytics, Google Tag Manager, and more.
You can analyze data collected with these tools or send data (user flow, NPS survey, or checklist data) from Userpilot. The data you send will be converted to a format that's compatible with the receiving tool.
Databox – for analytic reports
Databox is a cloud-based business analytics platform that gives you a clear perspective of what is going on in your business. It provides data analysts, CEOs, and decision-makers with a single interface to generate reports and view different key performance indicators.
Its main functionalities include:
Dashboard reporting: Databox lets you visualize your goals and current performances so you can identify areas for improvement when it matters most.
Dashboard designer: This feature eliminates the need for data visualization on slides or spreadsheets, as it allows you access to whatever metrics you need. You can visualize KPIs in various ways and build informative dashboards without any coding or design experience.
Custom metric builder: With Databox, you can build metrics that let you pull precise insights from your data.
Automated reporting: Automate your reporting and share regular updates with your team to quickly achieve your goals.
Calculated metrics: Calculate KPIs, conversion rates, and other metrics and combine multiple data sources with Databox.
Google Analytics- for web traffic analytics and reports
Google Analytics is an analytics tool that lets you measure engagement metrics like the number of users and sessions, ratio of new to returning visitors, bounce rate, and exit rate. It is a valuable data source that lets you access data related to your visitors and your website.
Its main functionalities include:
Data collection and management: Google Analytics enables you to collate the most relevant data to reveal how your users behave, which you can easily share with your team.
Data Consolidation: You can get a comprehensive view of your audience and their actions as it extracts and combines data from multiple sources.
Analytics and reporting: You can filter user information to understand which content is performing best and which is seemingly poor.
Activation: With Google Analytics, you can improve your decision-making process as it lets you track engagements, conduct A/B tests, and request notifications when there is a change in traffic.
Conclusion
Clearly, for any growth-oriented business, it isn't a question of reporting vs. analytics – you need both. Reporting and analytics help you to better understand your business, product, or customers, and make better decisions.
Userpilot is an excellent tool for collecting data, analyzing this data, and acting on it in real-time. Book a demo today to learn how Userpilot can help your business make more accurate business decisions.