How to Conduct An Effective Customer Analysis in 8 Steps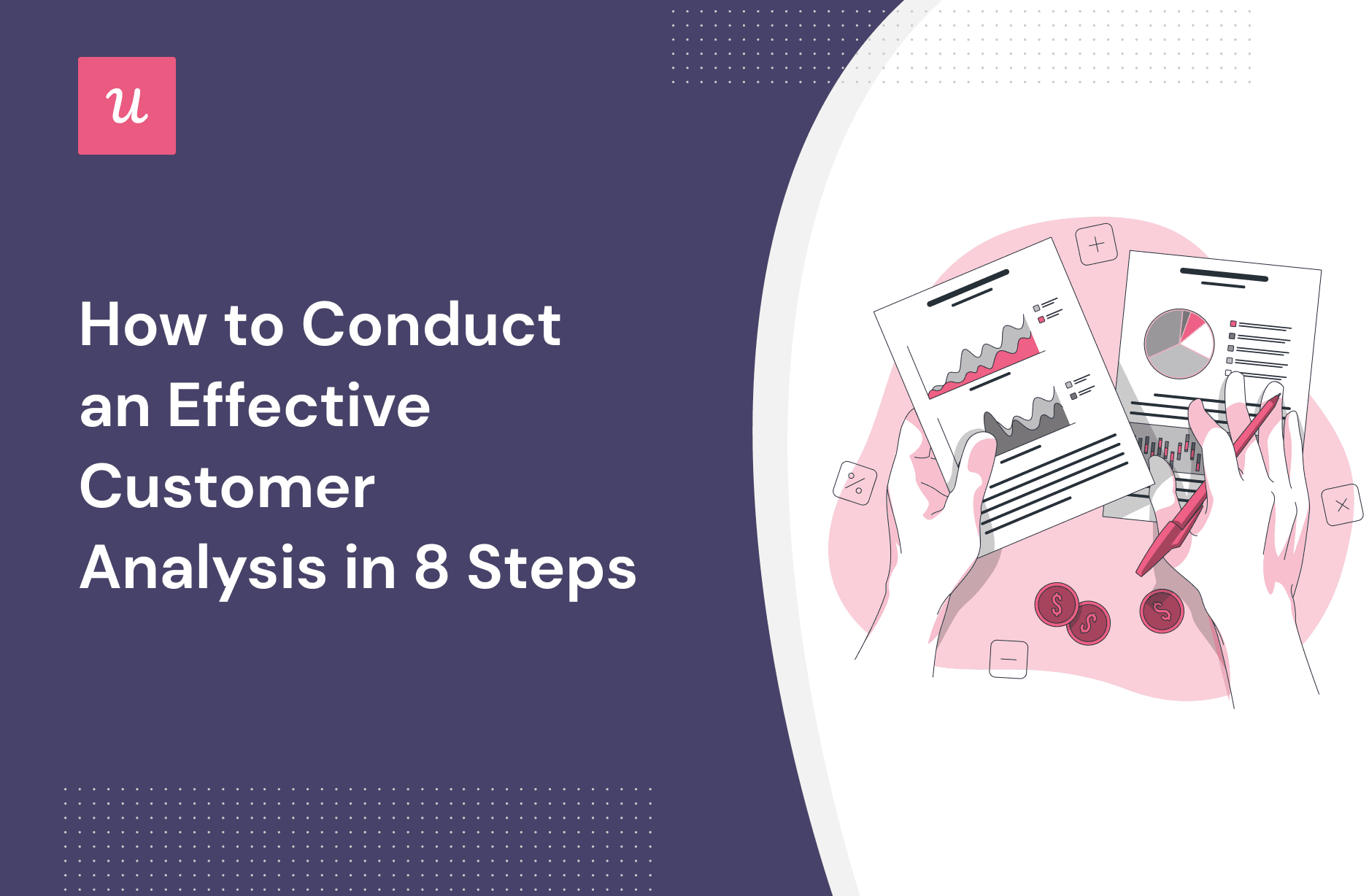 Effective customer analysis is the key to business success.
Understanding customers' unique needs and expectations allow companies to better meet these needs. From marketing campaigns to onboarding programs, catering your product experiences to your customers improves satisfaction and retention rates.
Let's take a closer look at what customer analysis is, its benefits, and how to get started.
TLDR;
Customer analysis is the act of researching and analyzing customers to gather a complete profile of them and their behavior.
Customer analysis is important because it helps you create a personalized marketing strategy, reduces churn and increases retention, helps you make smarter product improvements, and helps you identify your most valuable customers (your target market).
To get started with customer analysis, start by structuring your existing customer base. Organize your customers into customer segments that share common characteristics.
Then, collect direct customer feedback with in-app surveys. You can use CES, CSAT, and NPS surveys across the entire customer journey.
Gather insights about your customers from internal teams. Every department likely has unique insights into customers based on their interactions with them. Share customer insights across departments so you don't miss out on critical information.
Leverage product analytics to do a customer behavior analysis and get a better understanding of how customers interact with your product.
Perform social listening on social media and review sites to see an unfiltered look at what customers are saying about your brand.
After completing your customer analysis, create user personas based on real customer traits. Buyer personas are great to turn to when planning your marketing campaigns or when you want to make product improvements.
Build a customer journey map to make sure you're hitting all the touchpoints and understanding how customers engage with your brand at every moment.
The two top customer analysis tools of our choice are Semrush and Userpilot.
With Userpilot, you can analyze customer behavior, run surveys, and create customer segments. Then you can build in-app product experiences to improve customer loyalty and satisfaction.
With Semrush, you can see what marketing channels your website visitors come from (so you can prioritize the best channels). You can then build segments and create user personas.
What is customer analysis?
Customer analysis is the research you do to understand your target market and your customer base. Analyzing customers helps you build more in-depth and accurate customer profiles so you can meet their needs better.
Why is customer analysis important?
Here are the four main reasons why customer analysis is essential:
Create a personalized marketing strategy
Customer analysis helps you optimize your marketing campaigns.
You can then build a more informed marketing plan that engages customers in their preferred channel, with an impactful message, at the right time.
Reduce churn and increase customer retention
Customers churn because products don't fulfill their expectations.
By understanding their challenges and pain points better, you can tailor your product, training, and experiences to their specific needs and retain them.
Make smarter product improvements
Customer analysis helps you make more informed product decisions. You'll be able to create new features or make product improvements that will give customers the most value.
Take a look at your product analytics to see how current customers are using the product – are they using certain features more or less?
Observing customer behavior will help you determine what features customers find most useful and what areas may need improvement to increase usage.
Identify your most valuable customers
With customer analysis, you can pinpoint exactly who your superstar customers are.
This will help determine which market segments to prioritize and how much effort to put into each one. Look at the type of people who have spent the most or stayed with you the longest – these are the ones with the highest customer lifetime value. Do they represent a certain demographic?
Focus on keeping those customers happy and acquiring more like them. They're an ideal customer and catering to them will lead to faster productivity growth.
How to conduct a customer analysis
Try these nine strategies to conduct a customer analysis:
Structure your existing customer base
You should start the customer analysis process by identifying your potential customers and defining their specific characteristics.
The customer database is a great place for established businesses to begin gathering the above data. Most likely, you already have plenty of data, but you might need to structure it to make sense of it.
To do this, you need to divide your customer database into groups based on similar characteristics. This process of dividing up data is called segmentation.
There are lots of categories you can use to segment customers, including:
Demographic (age, education, gender, etc.)
Geographic location (countries, cities, urban or rural areas)
Behavioral profile (how they interact with your product)
Job role
Company size
Psychographic (their challenges, goals, values, interests, etc.)
By understanding customer preferences through careful segmentation, companies can deliver targeted experiences, increase conversion rates and retain more customers in the long run.
Identify the needs of your customers
Through customer analysis, you can figure out what pain points you're solving. Customers turn to your brand because they have a goal and they see you as the potential solution.
Doing this will help you to better understand how to create a post-purchase experience that promotes loyalty.
Collect direct customer feedback with in-app surveys
In-app surveys are one of the most commonly used and effective methods of collecting quantitative and qualitative data from your customers.
You can use different types of surveys at different touchpoints, such as customer effort score (CES), customer satisfaction (CSAT), and net promoter score (NPS) surveys.
Surveys that use both quantitative and qualitative methods give the most well-rounded insights. For example, you collect quantitative data with an NPS survey that asks customers to score how likely they are to recommend your product to a friend or colleague.
After collecting their response, you can trigger a follow-up open-ended question to get more context around their answer.
Invite your customers to one-on-one interviews
An interview can be a great way to empathize with your users as it provides insight into their values, perceptions, and experiences. In these discussions, you are free to ask specific questions while remaining open to participants' viewpoints.
The advantages of interviews over other methods are they less time than some other user research methods and it's easier to ask follow-up questions for more detail and accuracy.
You can invite your users to an interview using different in-app messages, such as slideouts.
Make sure to practice gratitude and incentivize them with a small reward, like a gift card.
Gather insights about your customers from internal teams
Businesses often have different departments, each with a different perspective on their customers' needs. The insights you can gain about your customers from your internal teams can be extremely beneficial for developing a comprehensive view of them.
While sales teams may have a better understanding of customer needs, marketing teams may understand how customers respond to different content or visual stimuli. Meanwhile, Account Management and Customer Success teams may understand the customer's day-to-day needs even better.
By leveraging all the available insights from across multiple departments, companies can capture a deeper understanding of their target audience and develop better strategies and provide quality experiences that generate growth.
Leverage product analytics
Lean into product usage data to understand customer behavior.
You can get insights into data such as:
What features do customers use the most and the least
Which paths do users take and how they navigate inside your product
What links or call-to-actions users clicked
What in-app messages have they already been exposed to
How do you collect product usage data? One way is to use a product analytics tool to tag your UI patterns to see how customers interact with them.
Perform social listening
Keep an eye on public sources – customers often share their honest opinions about your brand on social media and review sites.
Social media: People tend to post on social media (unfiltered) when they have a strong opinion about something, good or bad. Monitor your tagged and untagged mentions on social media channels like Twitter, Facebook, LinkedIn, and Reddit to keep tabs on what people really think.
Review sites: Keep an eye on software review sites, like G2 and Capterra, to see what customer sentiment is like for your brand. Are the reviews overwhelmingly positive or not? What are common complaints? What do people appreciate the most about your product or service?
Social listening gives you a level of honest feedback that you wouldn't be able to gather otherwise.
Create user and buyer personas
Once you have defined your target audience and identified the types of customers you wish to target, it's time to start thinking about customer personas. Personas are fictionalized representations of your average customers, gathered and analyzed from all available data points.
Personas should contain enough details to represent the demographic you're targeting, such as age, gender, occupation, income, location, and interests. Additionally, consider how your customers usually interact with your company and how they prefer to be contacted – e.g., by email or social media.
It is then possible to conduct more research on each persona – such as finding out what makes them tick, and what content they are most likely to engage with – to provide more innovative campaigns that target each segment directly.
Consider creating more than one buyer persona, as different customers will buy your products for different reasons.
Here's an example of a user persona we created at Userpilot:
Job title:
Company:
B2B SaaS with 11-50 employees
Has found product-market fit
They're looking to automate onboarding
Team collaboration:
Part of UI/UX team
Collaborates with Product Marketing Manager
Collaborates with UI designers and developers
Jobs to be done:
User research to identify the needs of who they are designing for
Prototyping and user testing to improve UX before launching
Continuously iterate on solutions to make the product easy to use
Pains/challenges:
Tapping into feedback collected by other departments, such as Marketing
Identifying friction points in the user journey due to a lack of product analytics insights
Hard to document and analyze qualitative data from surveys
Gains of using a Product Growth Platform:
Build microsurveys to identify users' needs and share the same data with multiple departments, using one platform only
Goal tracking at each stage of the journey to help identify drop-off points in the journey
Tag NPS surveys responses to easily identify patterns of what's blocking the users from achieving their goals
A solid buyer persona profile can help the entire team better connect with customers and build a better product.
Build a customer journey map
Essentially, a journey map shows all the touchpoints and interactions that a customer must go through to reach their goal.
Considering that customers behave differently at each stage of the buyer's journey, a customer journey map can help connect the dots and uncover the factors that determine whether their experience is positive.
Every persona should have its own customer journey map. The map will help you identify how to attract, engage, convert, and upsell specific personas and segments based on their challenges, questions, preferred platforms, and types of content.
Best tools for customer analysis
Here are the top two customer analysis tools to help you easily gather data and act on it:
Userpilot
Userpilot is a product growth platform that helps you improve product engagement and retain more customers.
They have multiple high-value features like event tracking, feature tagging, in-app flow builders, and more. As for customer analysis, with Userpilot you can run in-app surveys, track product behavior, tag UI elements, and create user segments based on customer data.
Then, you can put your insights into action by creating in-app product experiences that help boost your growth metrics.
Create contextual customer experiences using UI patterns, such as modals, tooltips, and banners.
Semrush
Semrush is an all-in-one SEO, content marketing, competitor research, and social media marketing platform.
It's an excellent tool for customer analysis since it shows you what channels your website visitors come from. Semrush is also as a template for categorizing your data to create user personas.
Also, Semrush Brand Monitoring can help you keep track of all mentions of your brand and product or service in real-time.
Conclusion
Customer analysis helps you increase profits, get more for your marketing efforts, and connect with your target customers.
Want to get started with customer analysis? Get a Userpilot Demo and see how you can do customer segmentation analysis and build in-app product experiences, code-free.