The 11 Best SaaS Product Marketing Tools for 2023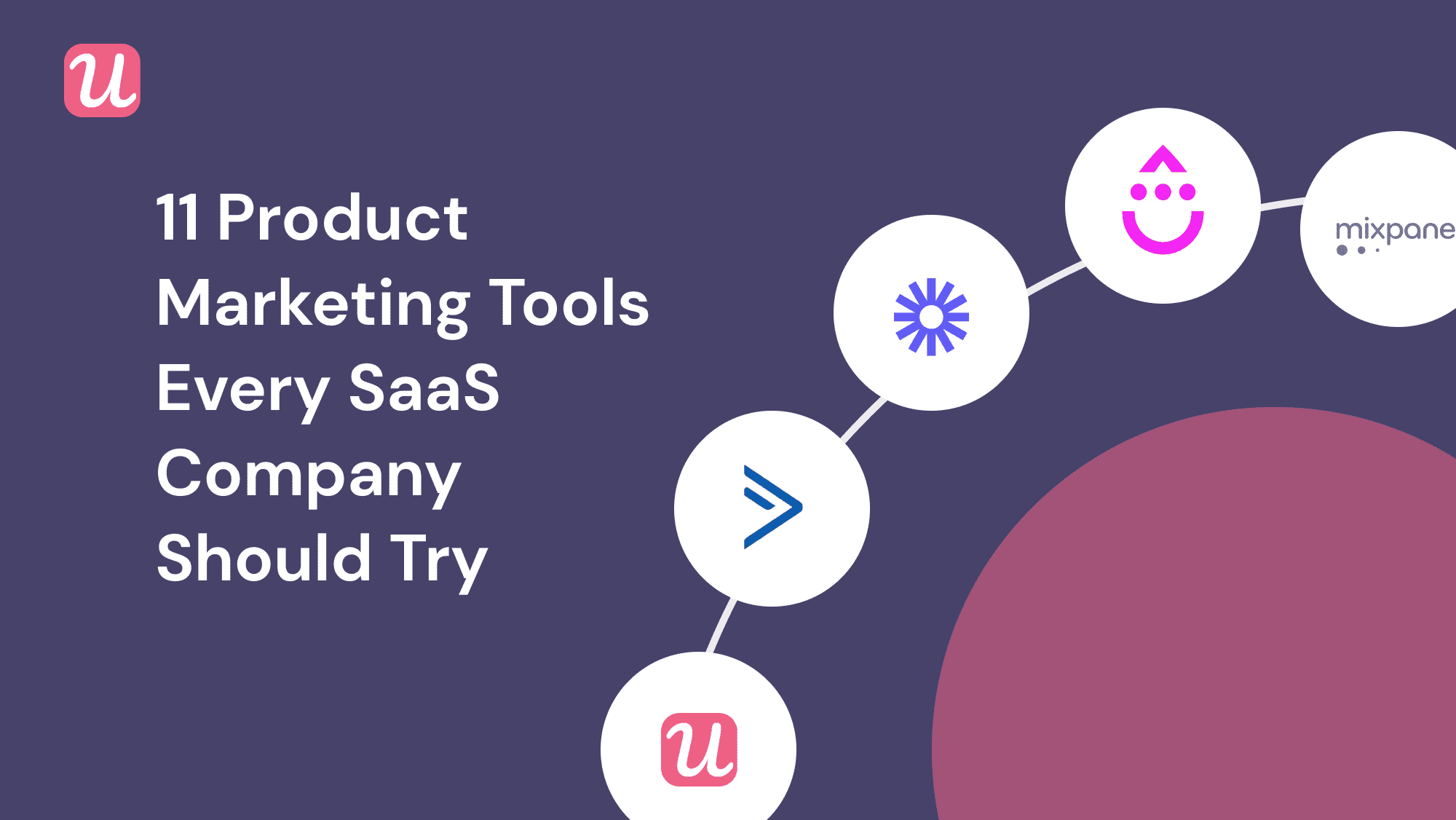 The world of software is crowded with a variety of product marketing tools. But more often than not, so many of these tools end up being more work to set up, maintain or use.
Product Marketing tools that can add real value to your business do exist, but finding the right software in such a noisy environment can be challenging.
So – to give you a quantum of solace – we've curated a list of the 11 best product marketing tools to help achieve your product growth goals!
Ready to dive in?
TL; DR
Product marketing is different compared to general marketing in that product marketing teams know all the technical details of your SaaS product and communicates it through launch, feature announcements, white papers, and other mediums.
Product marketing has several facets: including user analytics, user onboarding, feature adoption, user engagement, user retention, and email marketing. Every one of these aspects can be systemized using a platform like Userpilot.
You should choose comprehensive tools that can help you collect data, analyze user behavior, and identify areas in your product that need improvement.
What Is SaaS Product Marketing?
Product marketing is different compared to general marketing in that product marketing teams would have to know all the technical details of your SaaS product, its competitors and be able to understand and predict industry trends.
A product marketer has many critical functions, including but not limited to:
Determining product's positioning
Taking preparation for the product launch, feature announcements
Conducting market research
Building user personas
Manage your product and sales collateral, white papers
Planning go-to-market (GTM) strategy
Work with the sales team and CS team to gather user feedback
Product marketing doesn't end when the product goes to market. Ensuring that the target market is aware of the product, making sure the users know how to get the best out of the product, and getting feedback from them – these are continual processes to be refined.
Thus, product marketing is integral to the success of any SaaS product. The difficult part is choosing the right tools to help with each stage of the user journey and for your team's needs.
Why Use SaaS Product Marketing Tools?
Just about everything related to product/lifecycle marketing can be automated so product managers can focus on insights and make decisions faster.
It is imperative to reach the right users at the right time and in the right place of the customer journey, and systemizing this process with the right tools can greatly help you with that.
Depending on what your current focus is (getting analytics, improving onboarding, engagement, retention, or email), there's a different tool for you.
SaaS Product Marketing Tools For User Analytics
Analyzing in-app behavior is crucial as it helps you understand how users are utilizing product features.
It allows you to see what your users actually do with your SaaS product and the reasons behind common problems or high churn rates. Using analytics helps you set growth goals and A/B tests for better engagement metrics.
1. Userpilot
If you want to analyze how users engage with your SaaS product, Userpilot is your best bet. Here's why.
Primary Features
Understanding feature usage is especially vital for SaaS businesses. It helps you visualize your users' digital footprint and determine what causes your users to engage with the product, keep coming back, or churn.
Userpilot helps you perceive feature usage of different customer segments at each point in a customer's journey.
You can also set your growth goals. To do this, you can pass custom events or just tag features on your UI – no coding required. After setting growth goals, you can track and assess your progress towards achieving them in terms of individual users as well as on a holistic level.
Userpilot also allows you to observe usage trends across customer segments and track progress across mapped user journeys. All this will help you understand trends over time and hence optimize experiences for higher adoption for different customer segments.
Pricing
Userpilot offers a 14-day free trial. Prices start from $249 per month for up to 2500 MAUs (monthly active users). An enterprise plan for businesses that need priority support is also available for $749 a month.
Ratings
Capterra's rating: 4.7/5
G2's rating: 4.7/5
Ready to get started? Book a free demo today!
2. Amplitude Analytics
Amplitude Analytics is a product analytics platform that helps SaaS businesses derive useful insights about user behavior, enhance product experiences, and improve customer lifetime value and user retention.
Primary Features
Map out the end-to-end customer experience and see what drives them
Create cohorts by grouping users as per their actions within a time period
Segment users using complex or simple formulas
Compare and save user groups
Build user personas based on data for user behavior and outcomes
See detailed breakdowns of new, inactive, current, and resurrected users' interactions, features, and more
Observe how long users engaged in particular interactions for
Learn why a particular metric is changing the way it is based on built-in intelligence and trend analysis
Eliminate points of friction and observe where users typically drop off or convert
Learn the best and most commonly taken paths for user conversion so that you can build on it if necessary
While users appreciate the analytics Amplitude brings them, they have reported certain complications in navigating the product.
Pricing
Contact Amplitude Analytics to get a quote. A free version with limited features is available.
Ratings
G2's ratings: 4.5/5
Capterra's ratings: 4.4/5
SaaS Product Marketing Automation For User Onboarding
User onboarding is a critical process for SaaS businesses where active help is needed for customers to navigate their way around the SaaS product to derive value from it.
An interactive and educational user onboarding experience can reduce customer's time to value (TTV). A shorter TTV means that customers are more likely to stay with your business as they realize how your product holds value for their business.
User onboarding automation helps deliver a personalized experience to customers while reducing TTV. Kontentino, a fast-growing SaaS business, improved their new user activation by 10 percent in only their first month with Userpilot.
1. Userpilot
Userpilot is a SaaS user onboarding tool for providing in-app experiences that help achieve customer success.
Primary Features
The best part about Userpilot's automation tool is that you don't need coding knowledge to use it!
Using a visual editor, you can create experiences in a live app preview. You can also tailor the onboarding experience for your customers based on their user persona.
Moreover, you can customize the color theme for your experiences to suit your brand image.
These experiences will help your customers find their way around your SaaS product.
You'll be able to:
Set and track goals for successful user onboarding experiences
Observe progress towards goals over time and iterate steps to optimize for user activation
Guide new signups about how to proceed with a clear onboarding checklist
Help your new users familiarize themselves with the UI by dropping subtle contextual tips, adding tooltips, modals, and more!
Building tutorials to help your new users navigate your SaaS product is made easy with Userpilot.
Ready to get started? Book a demo today!
2. Loom
Using videos and microvideos is an increasingly important part of the SaaS onboarding strategy. But what should you record your videos with be able to easily use them in your flows?
Primary Features
Loom allows you to:
Onboard new users with personalized welcome videos
Activate new users with video guides through the steps needed to get started with your product
Promote new features with informative videos that showcase new features of your product
Reach out to customers for sourcing testimonials or case study with personalized videos to get more replies.
Pricing
From just $8 per creator per month, Loom is a steal. An enterprise plan is also available.
Ratings
G2's rating: 4.4/5
Capterra's rating: 4.6/5
SaaS Product Marketing Tools For User Engagement
Engaging with users is crucial for any SaaS business to survive, as there is usually no other direct point of contact. Users who engage with your business are more likely to make repeated purchases and recommend your product.
Automating engagement using product marketing tools can help relieve some pressure on your customer support. In fact, GrowthMentor decreased their support tickets by a staggering 83 percent with Userpilot's help!
1. Userpilot
(Yes, at this point, you might think that we are a little biased. But honestly – we built Userpilot with Product Marketers in mind, and as Product Marketers ourselves – we simply want to give you the best.)
Userpilot is the best customer engagement tool you can invest in for your SaaS business, and we are going to show you why.
Primary features
Userpilot allows you to create real-time in-product experiences without having to know how to code. You can design beautiful UI patterns on top of your products to guide your customers and drive real-time customer actions.
Experiences help your users navigate your SaaS product and use the features that they need the most. Hence, building experiences is a great way to drive user engagement.
As mentioned earlier, the experiences are customizable, from the steps to the color theme. Using colors help direct attention to important parts, such as CTAs.
You can also add steps, which are just UI patterns. You can choose from modals, slideouts, tooltips, or driven actions.
Moreover, Userpilot allows you to show relevant in-app experiences to customers based on their user personas or behavior. You can show a particular experience at the time when the customer is most likely to be looking for that.
You can also define goals for your SaaS company and track progress towards the goals you set with Goal Completion Analysis. We have all heard the saying: "A dream without a plan is just a wish." Well, Userpilot helps you plan your goals and properly implement them.
With Userpilot, you can run experiments without having to call a developer for assistance. You can use a/b testing to understand how the experiences that you designed influence the goals you set.
Want to learn more about how it works? Book a chat with us today!
2. Mixpanel
With 9 trillion user actions per year, Mixpanel is an industry favorite.
Primary features
Dive into the depths of analyzing user behavior with Mixpanel's powerful, interactive reports
Categorize users into cohorts as per your preferences
Observe how different cohorts affect user engagement
Use the Modeling Layer to build custom properties and extract more insights from your data
Customer segmentation metrics are not limited to a select few (such as session count, page view, etc.) like they are in many other tools.
Scalability is not an issue due to Mixpanel's having adequate infrastructure for high-volume data.
However, difficulty with navigation and the creation of the most appropriate and accurate report is something users have complained about.
Pricing
Mixpanel has a free plan with access to a very limited number of features. Paid plans start from $25 a month.
Ratings
G2's rating: 4.3/5
Capterra's rating: 4.4/5
3. Heap
A relatively new addition to the industry, Heap is already giving rivals a run for their money since 2013.
Primary features
Quick setup as Heap does not require any IT integrations
Observe how user engagement has changed over time
Comprehensive measures of engagement: active users, frequency of use, repeat usage, spending behavior while using the SaaS product
Coordinate nudges to customers based on their in-app behavior and deliver value
Test the changes in features that users love and keep coming back to
As per Alan D'Souza, the director of Product Analytics, LendingClub, he uses Heap because they wanted to answer questions like 'how many people took x, y, z actions in this order.'. Some people have said, though, that using the software or reading the reports can be more difficult.
Pricing
Heap's paid plans start from $12,000 per year.
Ratings
G2's rating: 4.4/5
Capterra's rating: 4.6/5
SaaS Product Marketing Tools For User Retention
User retention is pivotal for any SaaS business to reduce churn rates.
User retention boosts your company's revenue as it is easier to sell to your existing customers than to acquire new customers. Sadly, not enough companies focus on improving user retention.
Using a product marketing tool can help retain customers by reminding them how your product can help them achieve their goals. Such tools often incorporate behavioral triggers that highlight or suggest the features or products that the customers require at that moment. It can also help you identify what causes churn through analyzing feature adoption patterns and thus help you address any common problems.
1. Userpilot
When it comes to collecting information about customers, analyzing, and then extracting useful insights from it, Userpilot is hands down the best tool out there.
Primary Features
If you have read the previous segments of this article, you already know how Userpilot helps you direct your customer's attention to the features that they will find useful at certain points in their customer journeys.
Since this feature helps customers extract greater value from your SaaS product in a shorter time, it keeps them coming back as they know the potential your product has for growing their business.
Userpilot allows you to provide on-demand assistance to your customers inside your application, making it easy and accessible.
Moreover, you can set up a resource center. Installing such self-service systems can reduce the ticket volume for your support center. Self-service systems mean that your users would not have to wait for someone to assist them. They can find solutions to their issues on their own.
Self-serve onboarding is appropriate for businesses that are ready to scale up. As your business grows, you are going to have an increasing number of signups whom your business staff might not be able to manually assist at all times.
In self-service onboarding, your product does the onboarding for you, thus showing the users around, collecting some preliminary information, giving tips that are contextual and personalized to their specific use case.
With Userpilot, you can also keep users updated about any change to your UI/UX using subtle tooltips and hotspots. This also helps reduce pressure on your customer support as the users do not have to contact them in order to learn about the changes.
We also said that Userpilot is great at collecting information from customers. Here is how.
Userpilot makes conducting Net Promoter Score (NPS) surveys easy.
Microsurveys like these help improve customer retention and reduce churn rates as you get to hear what your customers think of your SaaS product directly. This allows you to gather actionable insights from the feedback and improve your product.
You can even send qualitative surveys after gathering the quantitative answers to gather more detailed feedback.
For advanced users, running product experiments can help you A/B test and validate assumptions while learning more about your customers' preferences.
2. Mixpanel
Mixpanel is a product analytics solution known for its data analytics, which makes it an important tool for SaaS businesses.
Primary features
Interactive reports
Running experiments in a/b testing
Displaying a/b test results within Mixpanel funnel and retention results
In-app survey forms
Creating user cohorts
Mixpanel's reports help you thoroughly analyze user engagement over time and spot trends. You can find out how many users are still active on your SaaS product after a specific amount of time. You can also find answers to other questions, such as how many users use your product at certain hours of the day.
Retention reports also help you find out how your retention has changed over a period of time.
Making cohorts from retention reports helps you inspect what causes specific user behavior. For example, you can make cohorts for users who stayed or for those who left.
Mixpanel is terrific in segmenting customers. Segmentation can help you analyze user engagement and retention by segments and see what factors drive retention.
It is also easy to share data across your SaaS company if you use Mixpanel.
However, their surveys and a/b tests are not as easy to use or intricate as Userpilot's micro surveys and experiences. Mixpanel also officially announced that they discontinued their Messages & Experiments feature in early 2022, which affected their mobile a/b testing feature.
SaaS Product Marketing Tools For Email Automation
You may have heard talk about how email marketing is dead, how social media killed email marketing's hype, and whatnot.
Well, we can assure you that it simply isn't true. Email marketing is still robust and more effective than many other channels.
Neil Patel, a top digital marketer, confirms this.
"Email marketing is still ranked as the most effective marketing channel, beating out social media, SEO, and affiliate marketing." – Neil Patel.
With an increasing number of users each year, email marketing remains a powerful way to reach your customer segments. It helps you build relationships with your customers and leads.
Email marketing is cost-effective, customizable, and comes with no worries about algorithms. You can use email marketing to inform customers about an upcoming product, any offers or discounts, and more.
Automation takes email marketing to the next level. It helps you gain more insights and helps you send the right content to the right customers at the right time.
1. ActiveCampaign
With over 130 thousand small businesses as customers, ActiveCampaign is one of the most trusted tools for email marketing and email automation.
Primary Features
Send broadcast emails to everyone on your list at once
Trigger emails based on certain user behavior such as purchases, site visits, or other types of engagement
Segment contacts however you prefer to ensure that your emails reach the group they are targeted for
Use email autoresponders to send welcome emails or welcome series instantly
Schedule emails for a particular date and time
The visual automation builder allows anyone to create powerful email automation sequences without requiring any prior knowledge
Predictive sending lets you email your customers at the right time by analyzing your contacts' usual open times.
See the recommended and actual send times in reports
Predictive content allows you to send the most relevant content for your customers based on their past click data
Run a/b split tests
Users appreciate the plethora of templates available, as well as the option to design templates themselves. However, some have complained about difficulty navigating all the options, and others have had issues with the support.
Pricing
Prices depend on your number of contacts. For a business with 500 contacts, plans start from $9 per month and go up to $229 a month.
Rating
G2's rating: 4.6/5
Capterra's rating: 4.6/5
2. Drip
Drip is a specialist when it comes to email marketing for SaaS e-commerce businesses like yours.
Primary Features
Revenue dashboards give you insights into revenue and engagement statistics for each email and automation strategy
Visual email builder allows you to design and customize your emails
Personalize your emails by adding products, recommendations, deserted cart items, discounts, and more- all without having to code
Use pre-made email templates or create new ones
HTML email builder gives you more control over the design of your emails
Text email builder lets you create emails that are focused on written text.
A/b testing is available
Automate campaigns based on user behavior
Engage customers across several communication channels
Users have praised Drip's automation capabilities. However, some have complained about bugs and the poor quality of reporting.
Pricing
Again, prices depend on the number of contacts you have on your list. For a SaaS business with 500 contacts, prices start from $19 per month.
Rating
Capterra's rating: 4.4/5
G2's rating: 4.4/5
Choosing The Right SaaS Product Marketing Tool For You
The advantages of automated product marketing are endless. However, different tools have different features and strengths. Before you commit to any product, conduct a trial run and see if the shoe fits.
Userpilot has a 14-day free trial. Learn more about how to improve customer activation, engagement, and retention today.