7 User Onboarding Mistakes and How to Avoid Them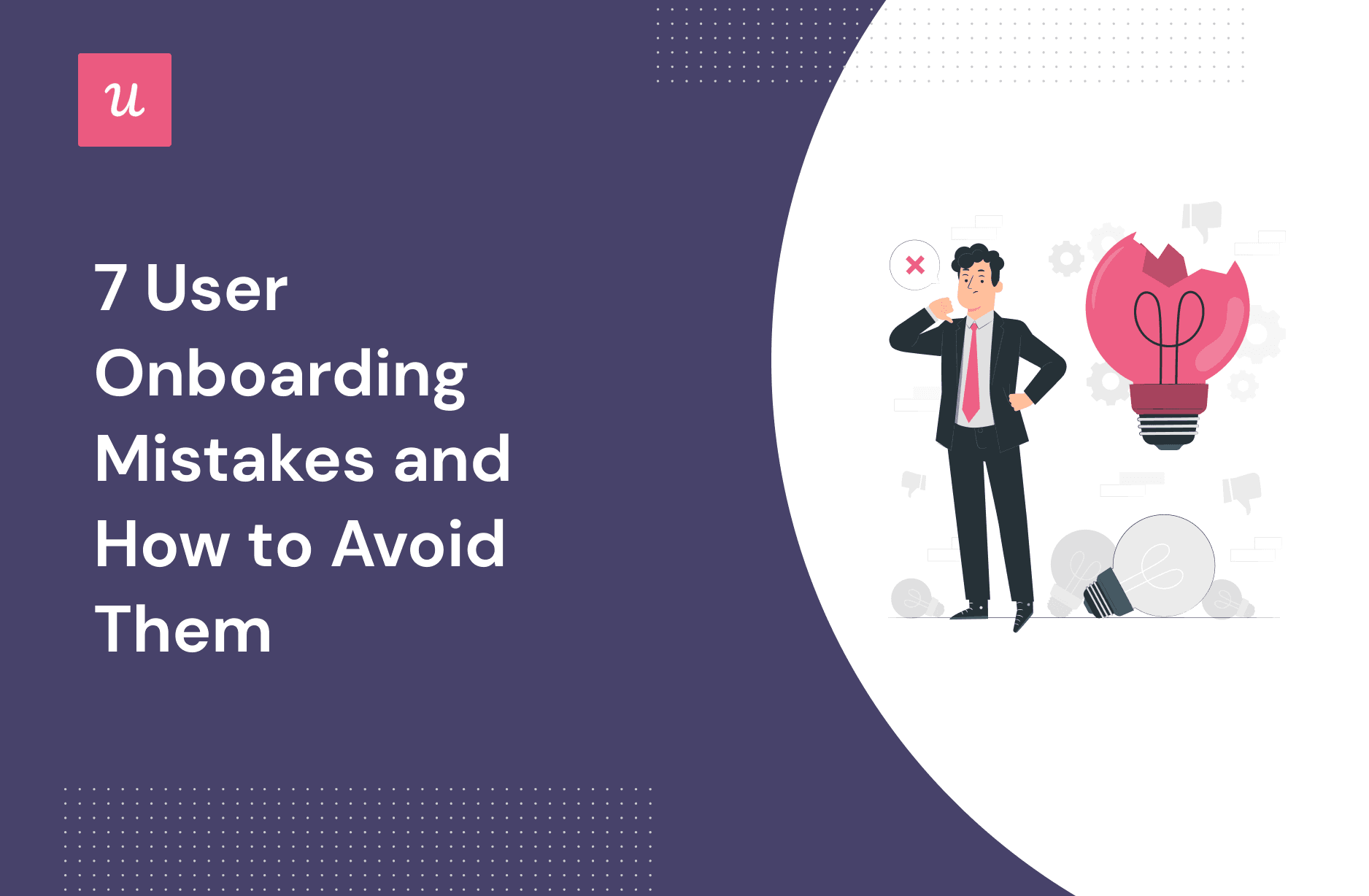 If you want your SaaS to survive (and thrive), it's critically important to avoid pitfalls and major user onboarding mistakes. Get it wrong, and it can severely impact your business.
So in this article, we're going to deep dive into 7 of the most common user onboarding mistakes – and map out tools and tactics to help you avoid them.
Let's dive in!
TL;DR
The user onboarding process is a whole host of activities designed to help your users experience value from your product or service throughout the product lifecycle (i.e. not just new users).
A bad user onboarding experience describes anything that prevents or limits customer success (i.e. making it harder for users to experience value and activate).
Avoiding onboarding mistakes is important because of the impact on activation. Effective onboarding drives activation, and activation is the number one driver for revenue growth.
Here are some of the most common onboarding mistakes in SaaS- and how to tackle them.
#1 – Adding friction to the sign-up process. Reduce friction by using SSO where possible, and introduce progress bars to drive users forward when it's not.
#2 – Boring users with irrelevant product tours. Instead, focus on targeted next steps and highly relevant checklists.
#3 – Adopting a one size fits all approach. Personalize your onboarding with a self-selecting branched approach, and make sure you're collecting feedback so you can test and iterate your flows.
#4 – Not providing contextual help. Build automated flows which launch based on the context, and make sure to carefully choose which UI pattern makes sense depending on the situation (i.e. a modal, tooltip, slideout, or something else).
#5 – Not collecting customer feedback from new users. Many product managers miss out on valuable customer data by only gathering feedback from experienced customers. Make sure to gain insight throughout onboarding.
#6 – Thinking the onboarding experience ends after activation. Help users to adopt new features and continue to derive value from your product.
#7 – Forgetting about in-app help and customer success. Choose the right customer success playbook for the complexity of your product, and offer in-app support options so customers can solve their own problems.
What is user onboarding?
User onboarding describes a whole host of activities designed to help your users experience value from your product or service.
A common misconception is that onboarding is simply about new customers: in fact, it permeates throughout the product lifecycle.
For example, it could be about helping existing customers learn about a new feature or showcasing the value of upgrading to a premium account.
What is a bad user onboarding experience?
A bad user onboarding experience means any practice that prevents users from learning how they can navigate and utilize your product or service to solve their problems effectively.
Why is it important to avoid user onboarding mistakes?
Simply put, onboarding has a direct and tangible impact on activation: the single most important metric when it comes to revenue growth.
If users fail to 'activate' (receive value from your product), they'll simply take their business elsewhere (increasing your churn rate).
You can therefore see why avoiding mistakes is so vital: it directly impacts the lifeblood of most SaaS businesses.
User onboarding mistake 1: Adding too much friction to the sign-up process
Smooth onboarding is all about reducing friction.
Many SaaS companies fail at the first hurdle by forcing users to complete a lengthy signup form filled with irrelevant information. Put yourself in the customer's shoes and try to simplify the registration process.
An overly complex signup flow that puts users off is the number one mistake.
Offer multiple single sign-on (SSO) options
You should have a laser-like focus on getting users into your app as quickly as possible.
In our comprehensive report, State of SaaS Onboarding: 2022, we found that a whopping 66% of companies we studied used SSO (compared to only 24% who went for the simplest possible other option, just asking for name and email).
A handy tip: use SSO in a way that's convenient for your users (e.g. Slack, Google, or Facebook are all options below).
Add progress bars to the sign-up onboarding flow
While SSO makes sense for a lot of products – especially those without a steep learning curve – it is not a catch-all solution. There'll be times when you do need to collect data.
If so, make sure you split questions across multiple screens in your onboarding flow so it's easy to fly through them at pace, and include a progress bar to keep users motivated.
User onboarding mistake 2: Overwhelming users with product tours
A long, boring, irrelevant product tour that explores every nook, cranny, and particular feature is a surefire way to turn users off your product.
Users won't be able to handle the bombardment of information and they'll be frustrated at not being able to control their own progress.
Focus on prompting one action at a time with personalized empty screens
It's much better to focus on one, relevant action at a time. And personalizing an empty screen is the best way to do it.
Prompt the next, most appropriate action – tell them exactly how and where to get started. Each step gets them closer to activation, and ultimately a successful onboarding experience.
Introduce users to core features first using an onboarding checklist
Another fantastic alternative to boring product tours are user onboarding checklists. Use them to quickly introduce users to the core features of your product.
Remember, don't recreate the problems of a product tour: keep it simple, focused, and targeted.
User onboarding mistake 3: Designing a one size fits all user onboarding process
Another of the most common user onboarding mistakes is simply assuming one onboarding experience will work for all your users.
Remember, each user will have their own distinct set of needs and 'jobs to be done' (JTBD).
Your job is to get them there as quickly as possible.
Use a branched user onboarding experience
First, make sure you deeply understand your primary user groups and corresponding personas. To create the best possible onboarding experience, you need to work backward from the job each user is trying to complete.
Then, offer them the chance to tailor their own onboarding experience.
You can do this by letting them self-identify – it's a fantastic option if you've used SSO, and still don't have specific data about your user.
Not to mention you can completely automate this onboarding experience.
Test different onboarding flows to understand what works best for each user type
The key to running a successful SaaS is iteration.
You won't get it right on the first attempt: build on the branched experience above by testing different variations of content, guidance, and structure and choosing the combination that works the most effectively.
Different users will prefer different content types, help, and guidance: some will prefer short videos, others might want an in-app tutorial, and some might just want to speak to a human.
To tackle this, set clear goals and test in-app flows against them to see which brings the best results.
User onboarding mistake 4: Not providing contextual help during the entire onboarding process
We've discussed the pitfalls of product tours.
Checklists are a welcome addition: but again, they don't solve everything.
It's very common to simply trigger whatever onboarding steps you've set out once a user logs in, and after that, they are on their own.
It can mean users feel abandoned. To really facilitate the best possible user onboarding experience, your onboarding process should feel flexible and dynamic.
Use automated onboarding flows
One way to tackle this is to use automation as leverage.
It'll help you and your product to provide contextual help across the entire journey. With advanced segmentation, you'll be able to build user segments and trigger in-app guidance when it counts.
Use multiple onboarding UI patterns
The next step is to combine automation with the right mixture of UI patterns.
Think about the message you're trying to communicate and use that to inform your decision: do you need a huge modal? Or does a small tooltip work?
Think about the best way to offer as much help as possible without disrupting the experience. Here are some examples to consider:
Tooltips can help with targeted explanations and short tips
Hotspots will point users' attention to important UI elements
Modals and slideouts make a big impact: use them for welcome screens and major updates
Banners help you make sure users don't miss important updates with a constant reminder
User onboarding mistake 5: Not collecting customer feedback from new users
Here's another common user onboarding mistake: not proactively looking to gather customer feedback as soon as you can.
Many product managers wait until customers have been onboarded for some time. But your onboarding strategy should be informed by data gathered throughout the customer onboarding lifecycle.
Collect feedback as customers progress through their journey
The key is asking the right questions at the right time. Using different types of surveys at different touchpoints in the journey will help you build that holistic view:
Close the customer feedback loop and improve
Gathering data is all well and good: but it doesn't mean anything if you don't act on what you find out.
Focus on understanding trends in the data to map out what's blocking your users' success, and then figure out ways to remove that friction.
For example, it could be you need to simplify the UI as a long-term solution, but in the short term, you could add end-user training to help ease the learning path.
Ultimately, this is about understanding what makes your existing users happy so you can replicate that success for new customers.
User onboarding mistake 6: Thinking the onboarding experience ends after activation
As we discussed earlier, onboarding is not a 'once and done' thing.
It's an ongoing process: it continues past activation and further into the customer journey. Many product managers fail to understand and plan for this, and therefore risk missing out on a huge opportunity.
Introduce users to secondary features once they are ready
In primary onboarding- also known as minimum viable onboarding, you'll want to show users your core features. What the product is primarily for.
But rather than forcing them to experience your entire product catalog in one go, focus on gradual feature discovery. That means helping users discover and adopt the right features at the right time to experience additional value.
A great way to do that is to use tooltips or hotspots to prompt attention and engagement.
Make sure users adopt new features
Once users have been subtly guided towards new features, you can use interactive walkthroughs to help them understand how to use them properly.
Done right, they are a fantastic way to make sure they not only discover but also adopt and get value from the feature.
User onboarding mistake 7: Forgetting about in-app help and customer success
Your users will always need support.
A common mistake product managers make is front-loading this as part of a post-sales process: demo calls, 1:1s… But once users reach activation, they put less focus on support and customer success.
24/7 support can be hugely expensive, so many SaaS companies simply do without or provide a low-cost option like a chatbot.
But what if a user has a serious or urgent problem? That simply won't cut it. As a result, many users will get stuck, end up being frustrated, and simply won't bother coming back.
Offer self-service customer support
One of the best ways to tackle this is to offer on-demand support in-app: which means your users are empowered to solve their own problems.
That means they'll have quick access to self-help resources like video tutorials and guides – but also access to your support team – all without leaving the app.
Choose the right customer success playbook
The more complex your product, the more help your customer will require help from your customer success team. When building out your customer success playbook, you should carefully consider which type of onboarding your users need:
Tech-touch onboarding process. A fully self-served onboarding process where new customers are able to find everything they need within the product experience. Ideal for products with a fast learning curve.
Medium-touch onboarding process. A mixture of self-service and bespoke support, it's meant for products that are scalable but have a more challenging learning curve.
High-touch onboarding process. A completely personalized onboarding process, this is often appropriate for enterprise products that require custom setups and consulting.
Conclusion
What a whirlwind!
Hopefully, this article clearly out just how many blockers and obstacles can impede your customer's progress – and gives you an indication of the best ways to tackle them.
So what are you waiting for?
If you want to transform your user onboarding process, get a Userpilot Demo and see how activation and revenue boom.