Appcues vs Walkme: Which is Better for Customer Feedback?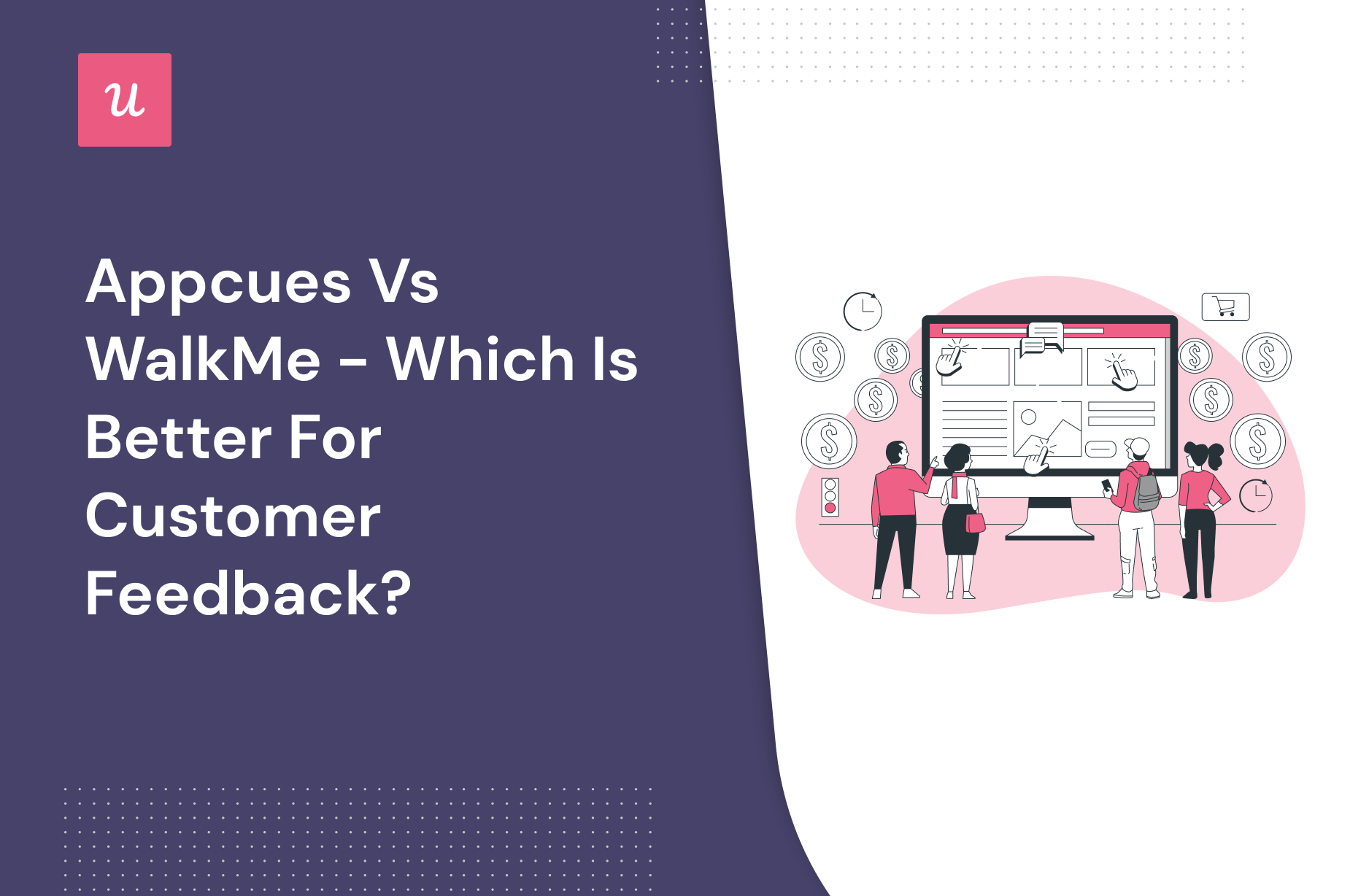 Appcues or Walkme – which is the best tool for customer feedback? And are there any in-app onboarding software alternatives that might fit your needs better?
With so many different customer feedback tools on review sites, it's a bit tricky to really choose one.
You need to consider your priorities and what functionality you'll need from the tool to get the job done. Then there's also the price that needs to match your budget. Right?
In this post, we'll discuss exactly that – what should you expect of the perfect tool for customer feedback, and which one – Appcues of Walke (or maybe something else?) will be the best choice for your company's needs.
TL;DR
Collecting customer feedback is an important task for any product team. It helps you understand your users' needs, and the weaknesses of your product, and collect real-time usage insights to inform future feature and product decisions.
Customer feedback tools are essential for your team to be able to collect user feedback at scale, without being reliant on your engineering and data science team for launching and analyzing surveys.
A good customer feedback tool should have a certain set of features: 1) the ability to create different forms of micro surveys, such as NPS, CSAT, CES, and PMF to collect contextual feedback; 2) the ability to customize the surveys to match your native UI; 3) Ability to segment the user and trigger the surveys by the different segments. 4) Ability to analyze the results – both quantitative and qualitative.
Product adoption tools with in-built survey functionality are common choices for collecting user feedback for SaaS product teams.
Appcues and Walkme are popular product adoption tools commonly chosen also for collecting customer feedback in-app.
Appcues customer feedback functionality offers an easy way to build in-app surveys like the NPS without coding, but there's no way to analyze the feedback – which kind of defies the purpose of using Appcues for this use case. You can't tag your NPS/survey responses in-app and use these tags to segment your audience by them. You cannot analyze the data directly in Appcues – you can only download a CSV report to start analyzing your data. Moreover, Appcues is quite pricey – the Traction plan that allows you to make the most out of customer survey tools starts at $10,500.
Walkme is an enterprise onboarding tool, mostly used for employee onboarding. Unlike Appcues, Walkme offers a quite good customer feedback collection and analysis tool for SaaS – you can create different types of surveys such as NPS, CSAT, and CES  with Walkme, and customize them with different question types such as free text, single selection, multiple selections, rating, etc. Then, you can easily analyze the survey results and data in the "Insights" section.
On the flip side, Walkme is punishingly expensive – with the on-demand-only pricing reportedly starting at $55,000.
What's the best alternative to both the limited Appcues customer feedback and the exorbitantly expensive Walkme tool? Userpilot offers the best of both worlds – easy setup of the in-app customer feedback surveys, full customizability, and in-app analytics options and yet – it's perfectly affordable with plans starting at $249 per month!
Userpilot's new robust surveys offer a range of interactive in-app surveys featuring NPS, CSAT, CES, and PMF. You can fully customize the survey look and feel and set the trigger frequency and specific targeting. Then, you can analyze the scores, tag responses, and use the data to create specific user segments.
Userpilot lets you be in charge of who gets which survey type and when with advanced segmentation capabilities, and of course, you can use the answers to segment your audience.
From Walkme vs Appcues, Userpilot is the best choice for customer surveys.

Looking for the best tool for customer feedback? Search no more!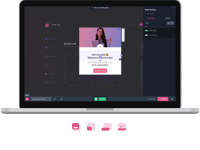 What is customer feedback?
Customer feedback is any information provided by customers about their experience with a product or service. By analyzing customer feedback, you can reveal their level of satisfaction and pinpoint areas for improvement.
Why is customer feedback important?
Customer feedback is important if you want to truly serve your customers and come up with solutions that can solve their pain points.
Here is why customer feedback matters:
Understand whether customers see value in your product and if it meets their needs
Uncover weak spots of your product and bottlenecks that disturb the customer journey
Make your customers voices heard and acknowledge them that they are important to you
Collect real-time insights on the go as you're introducing new features or product updates
Why do you need tools for customer feedback?
Wondering why you even need a customer feedback tool? There are a few good reasons:
Collecting customer feedback regularly should be a habit for any product team. It should be consistent and gained across different stages of the customer journey so you can measure customer experience in different situations. This might be time-consuming but thanks to customer feedback tools, the process can be hassle-free and literally without any coding.
Here's how customer feedback tools help.
Create different forms of micro surveys, such as NPS, CSAT, CES, and PMF to collect contextual feedback.
Customize the surveys so they are aligned with your brand and match the interface of your app.
Segment customers by their feedback so you can create personalized flows for them.
Conduct a user sentiment analysis to understand your customers better.
Now you might ask yourself, how to choose the right customer feedback tool for your SaaS? This is what we will be discussing next.
Must-have features of customer feedback tools
Before deciding which customer feedback tool works best, you should understand what features any solid tool must provide.
Here's what to look for before making a buying decision:
Make sure the tool you choose supports multiple forms of micro surveys. The most important and popular ones for collecting customer feedback include the Net Promoter Score, Customer satisfaction score, Customer effort score, product-market fit survey, etc.
You should also get customization capabilities so that the surveys you create match your interface and don't look odd. Also – watch out for tools that put their branding on the in-app surveys.
Feedback analytics and response monitoring are the next key features if you want to not only collect feedback but also analyze it and understand the intent behind your customers' scores.
Integration with 3rd party survey and analytics tools so you can enrich your surveys to make the most out of the customer feedback.
There you have it. These are the basic features you should be looking for, but the tool you should go with must be dependent on your specific goals. You might need a tool that must cover all of these features but if you don't need complex features, you should be completely ok with a tool with limited functionalities.
Appcues for customer feedback
Appcues is another no-code user onboarding platform that helps non-technical teams track and analyze product usage. You can publish in-app onboarding tours, announcements, and launch surveys.
Unlike Userpilot, the functionality is limited if you are using the basic plans.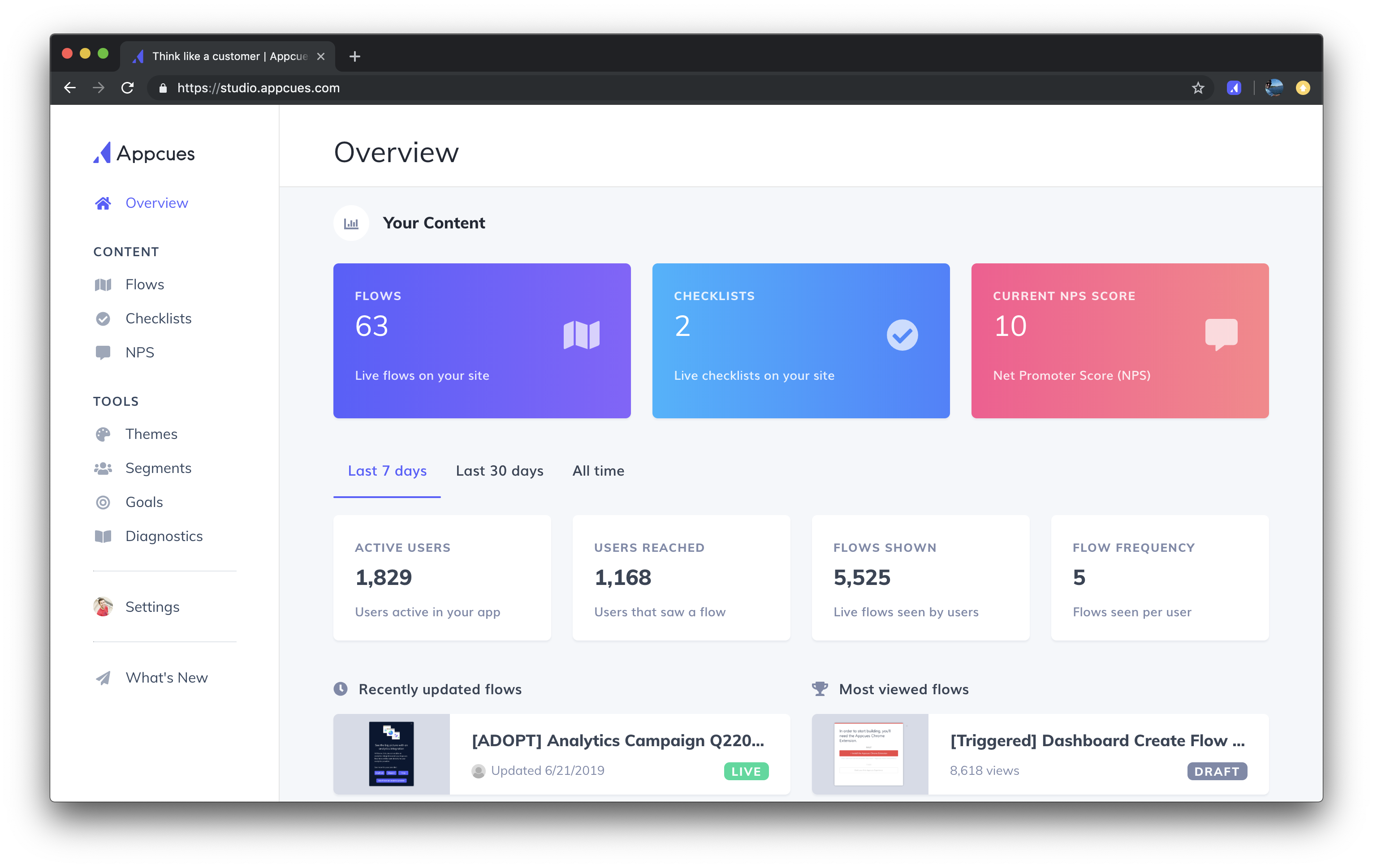 Can you use Appcues to collect user feedback? Of course.
Collecting data is not hard, analyzing and acting on it is where it gets tricky. What's the purpose of having data if you can't act on it?
If you want to track your NPS score over time and collect user feedback with short micro surveys, you can do that with Appcues. But to analyze the feedback data in-depth, you'll have to use other tools.
In a nutshell, Appcues allows you to:
Build and trigger NPS surveys in-app without coding.
Edit the NPS survey questions.
Target the survey at a specific user segment (or choose one of the predefined segments) and adjust the survey display frequency.
Collect user feedback with short surveys built on top of modals: add numerical scale, open-ended questions, or radio button questions.
On the flip side: you can't tag your NPS/survey responses in-app and use these tags to segment your audience by them.
You can't analyze the responses in-app. You can only download a CSV report to start analyzing your data – and we all know how time-consuming that is.
Based on the above, when it comes to user feedback, Appcues is not the ideal tool, as it lacks the ability to segment users based on survey responses.
Pros of Appcues
Should you choose Appcues overall?
Let's look at some key advantages of Appcues:
It makes it easy to build product tours with a user-friendly UI and predefined templates that can save you time.
Can be used on web apps and mobile apps too.
It integrates with most user analytics tools: Heap, Segment, Amplitude, and Mixpanel. This compensates a bit for the lack of in-depth analytics but means you need multiple subscriptions.
You can use predefined flows or build your own using a good range of UI patterns.
Allows basic segmentation and event-based flow triggering.
It's easy to build in-app surveys using modals or the integrated NPS tool.
Cons of Appcues
But as any tool, Appcues is not without its flows – and at this price point, we think you may really want to consider some options that offer the same or more advanced functionality, but at a lower price tag:
Appcues lacks certain transition actions like driven actions, scroll position, or page change, which would make product tours more interactive.
It heavily limits the functionality available in the lowest (Essentials) plan. If you need checklists, more than 10 events, or more than 5 user segments, you'll need to upgrade to the Growth plan (starting at $879/mo payable annually, which means you need to fork out more than $10,500 to start using Appcues for more use cases.
Appcues doesn't have a resource center feature, meaning you can't use it to offer self-service support to your users.
What users say about Appcues
What do Appcues users share about their experience? Overall users feel positive about Appcues.
Here's an example summarizing some key points about its features and the value it offers. You can find more reviews on G2 or Capterra.
The best part of Appcues is the guided tour features which they call flaws. Especially on a team with limited resources, it allows you to improve your activation and engagement overnight by using this feature to guide your users around your product. What I love even more is the design and UX features are modern unlike other tour tools we've researched, and the software is easy-to-use with the need for a developer after the initial installation. – Raeann F.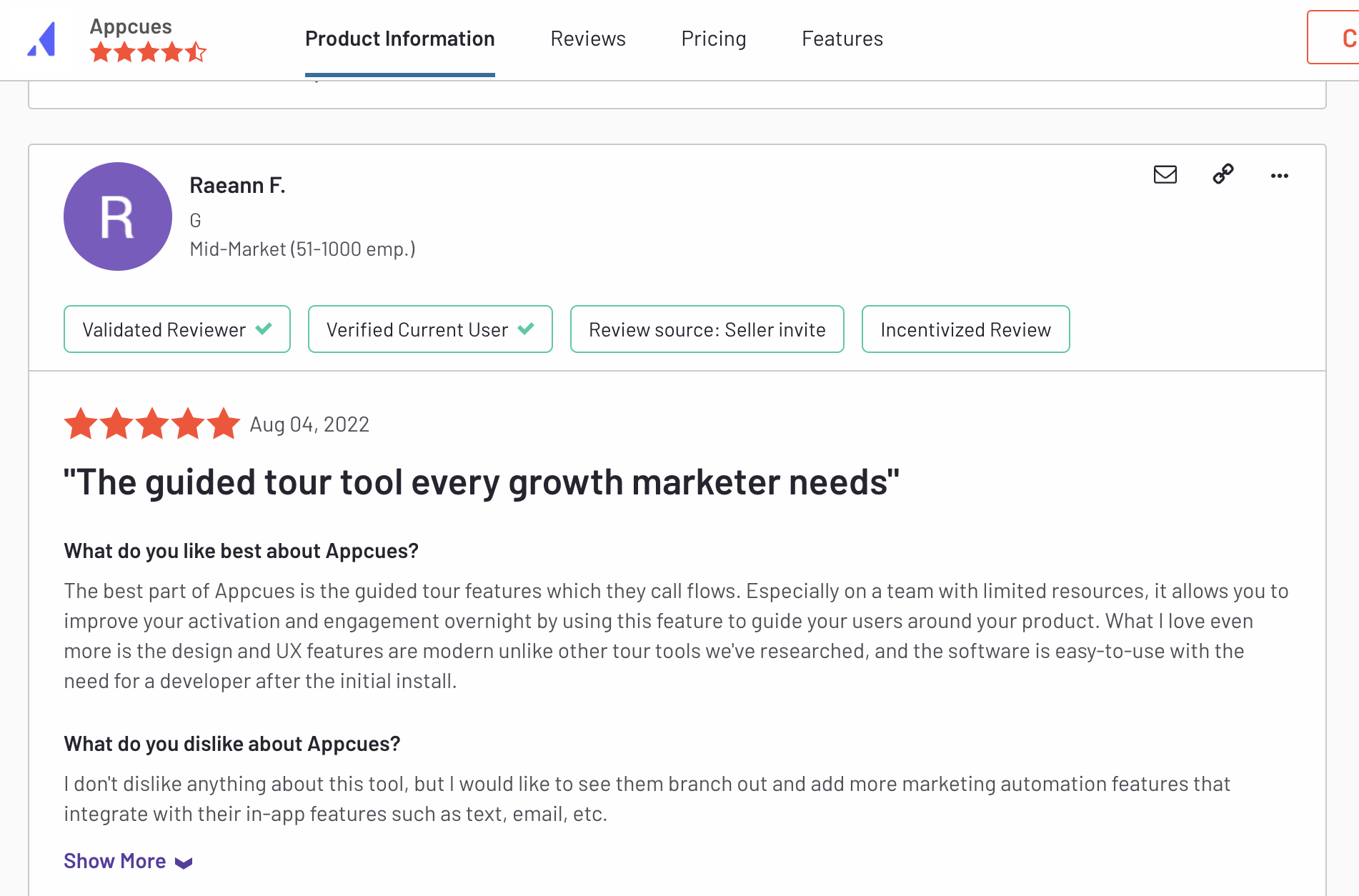 However, there are some points that could be improved:
As with all software, you will run into irritating limitations. Appcues does collect a lot of data that could automatically be turned into user attributes (like the first log-in or visits per month) but they don't do that. Jumping between the build mode and the studio can also become very confusing at times. – Ville T.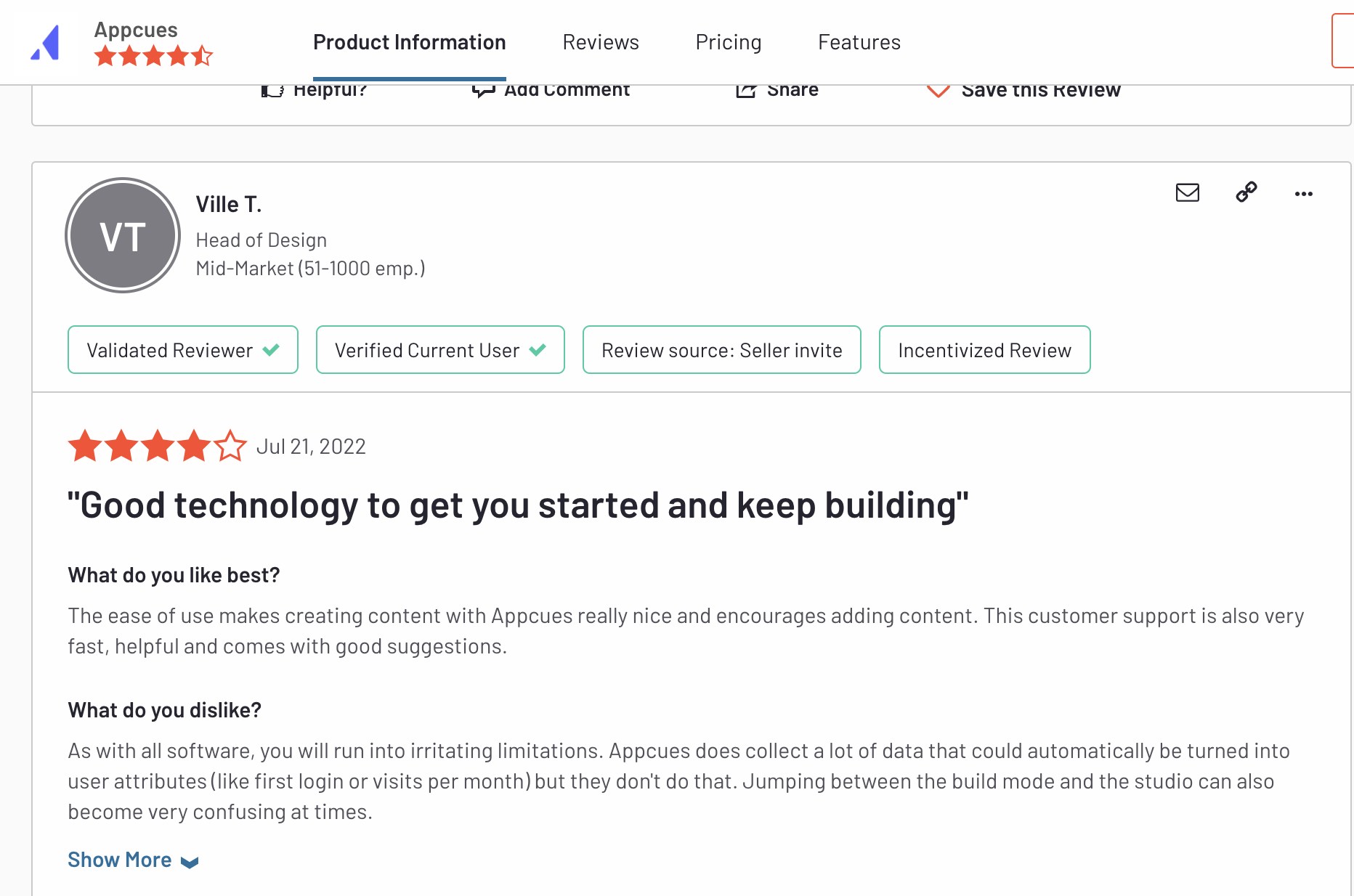 Is Appcues the right fit for your business?
There's good and bad when it comes to using Appcues but to sum it up, here's why you might need an alternative:
You need to build complex user flows and target them to specific user segments. In this case, you will need more than basic segmentation.
You want to track product usage properly and don't want to be limited by Appcues's event explorer.
You want to take full advantage of all onboarding functionalities (like a checklist) without paying a premium crazy price for them.
Appcues pricing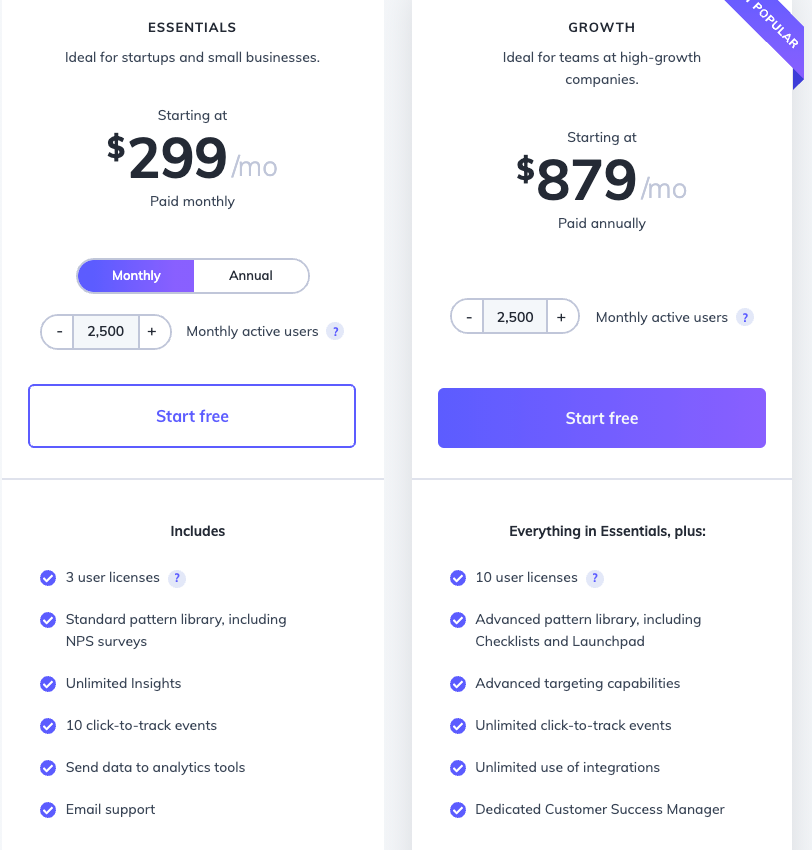 All things considered, Appcues does not offer the best value for money compared to some Appcues alternatives – at $249 per month. If your product has 2,500 active users, the costs for different plans are:
Essentials: $249/month (Up to 3 user licenses)
Growth: $879/month (Up to 10 user licenses)
Enterprise: Custom (Unlimited user licenses)

There is a better tool for your SaaS than Appcues!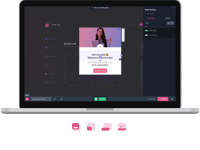 Walkme for customer feedback
WalkMe is one of the pioneers in the market of adoption tools. It is a cloud-based software that allows you to create product tours and in-app experiences to drive adoption faster.
WalkMe is best for enterprise companies as they are focused on employee onboarding rather than user onboarding.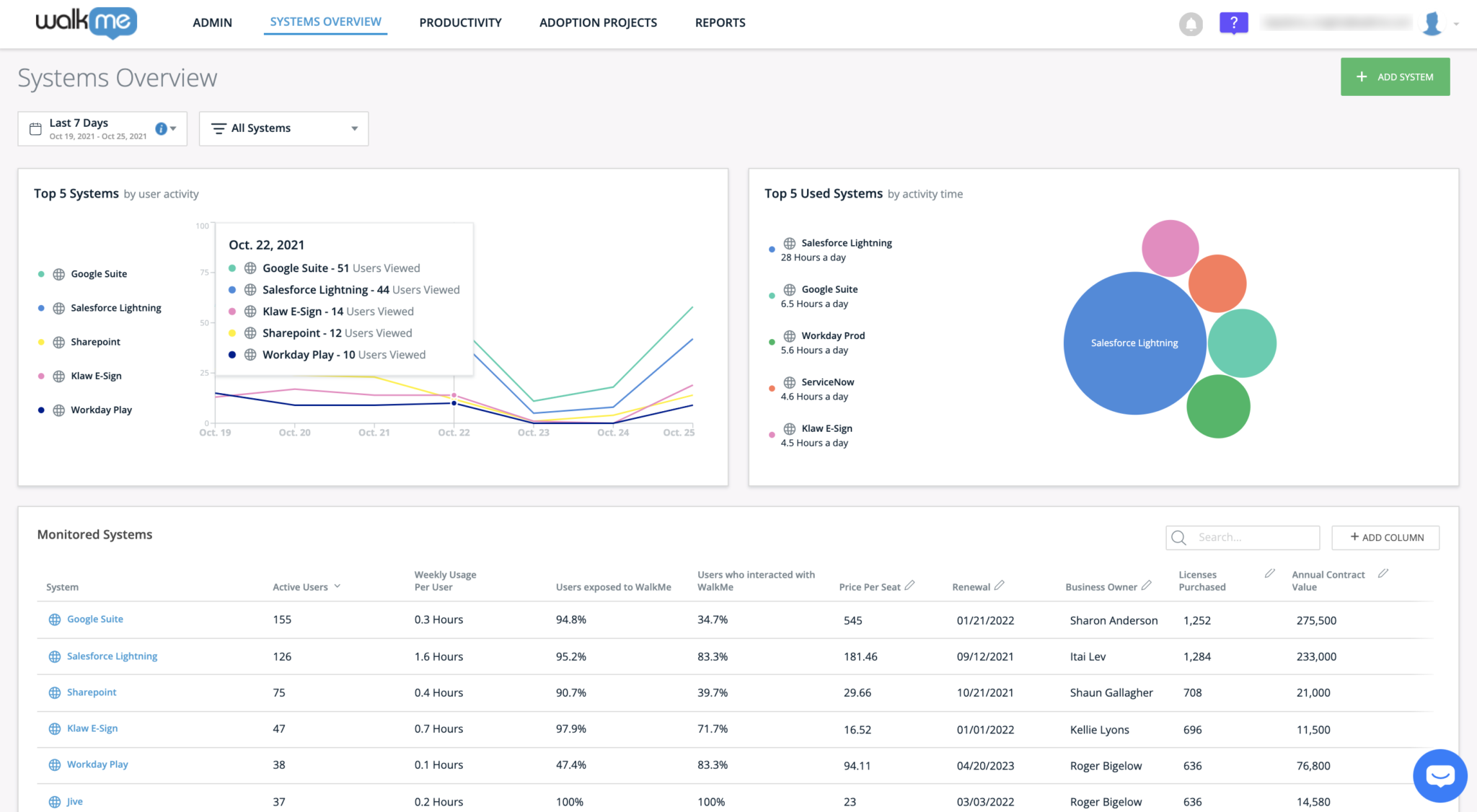 Walkme allows collecting feedback from users so you can make data-driven decisions and improve your product experiences.
Here is what Walkme's user feedback functionality can offer you:
Create different types of surveys such as NPS, CSAT, and CES and customize them with different question types such as free text, single selection, multiple selections, and rating to gather feedback from users.
Implement surveys at any stage of the customer journey to pinpoint areas of improvement and collect ongoing data.
Analyze the survey results and data in the "Insights" section.
Customize the design of the surveys with CSS and make sure they are aligned with your brand colors and style.
Set frequency rates and decide how often and when the surveys should appear to end users.
Pros of Walkme
WalkMe has its fair share of advantages that make it a solid tool. So what are WalkMe's pros?
Here are our top three:
Offers a high level of customization and works on both your own tool and 3rd party tools.
Allows you to create in-app quizzes to test user or employee knowledge after completing a flow.
Get access to a vast list of integrations that simply enhance your data collection or allow you to connect multiple tools in your stack.
Cons of Walkme
WalkMe is an established tool on the market but it does have its own share of cons too.
Here are the main ones you should consider:
There's a steep learning curve and a fair amount of technical knowledge required to create WalkMe user guides and get them implemented the way they're intended.
WalkMe is designed for enterprise organizations, and its pricing reflects that.
You could end up spending anything from $9000 to $50000 a year on WalkMe. That's a lot of money for startups and SMEs.
What users say about Walkme
Users are mostly happy with WalkMe's features: on-screen guidance, interactive walkthroughs, customizable UI patterns, and journey segmentation are highly used and appreciated by customers.
Here are some reviews from real users.
"The most valuable thing WalkMe provides is time. WalkMe provides the user with on-screen guidance to get them to where they need to be without weighing down support teams on training for every function. The automated steps can remove multiple clicks and quickly send the user to what they need to see. The ability to view user activity and search terms allows mapping new build requirements properly."
"WalkMe is very user-friendly and easy to learn! There are so many different features of WalkMe to provide a customizable and creative experience for all of our users. I love creating smart walkthroughs and building flows charts, which is the most fun part of my day-to-day tasks!"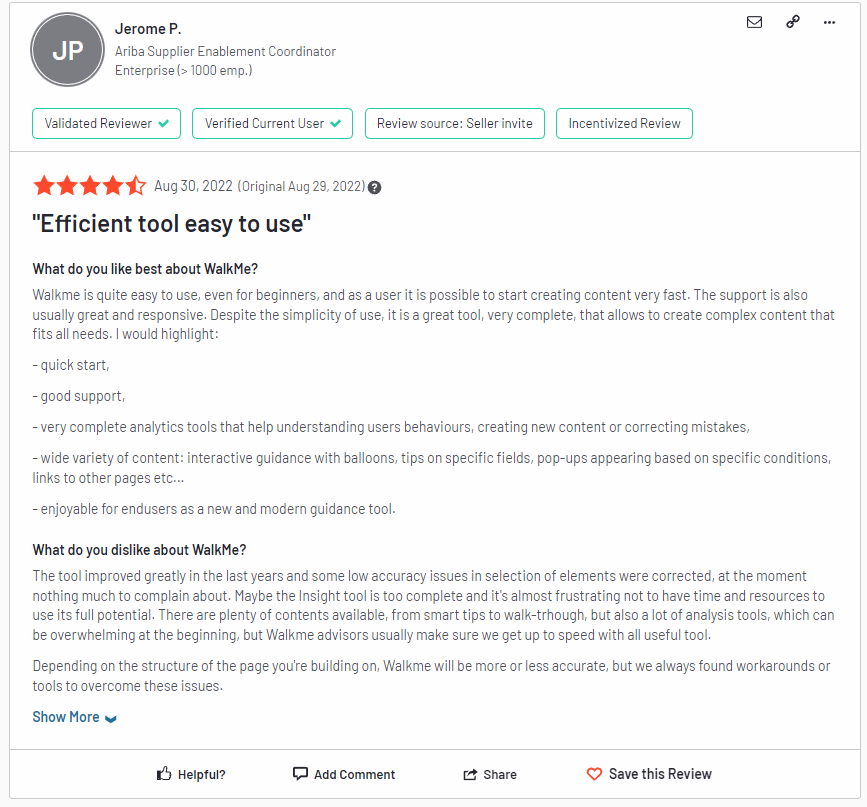 But Walkme is not a perfect solution, most complaints are about hard implementation and annual contract pricing.
Here are some words from real Walkme users:
We never had time to implement the product. It takes a huge time investment and isn't designed for the full documentation. Rather than maintain two sets of documentation, we removed Walkme from our product. This company is as bad as AOL or TimeWarner: they will not let you out of your multi-year contract no matter how unhappy you are with the product.
The tool is not very intuitive and has countless challenges using and technical difficulties.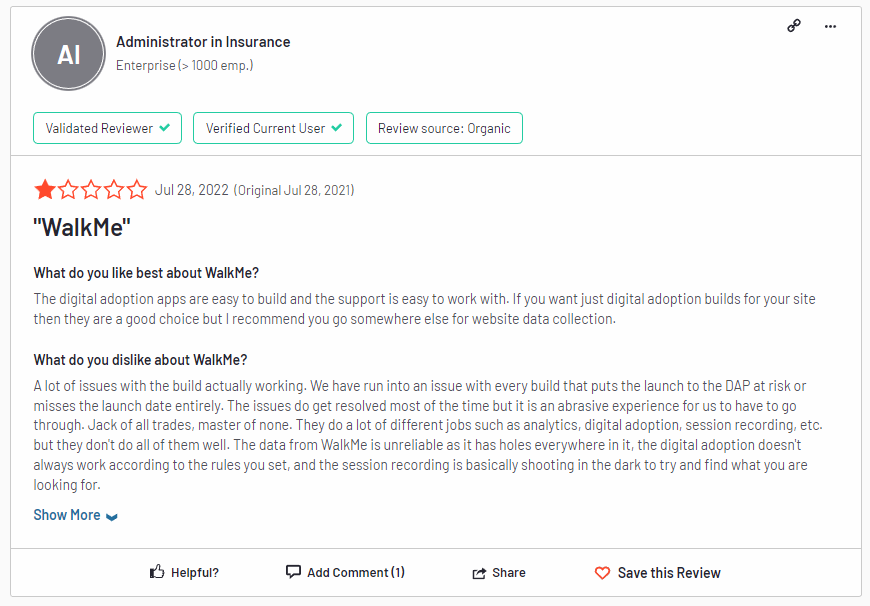 Is Walkme the right fit for your business?
Is WalkMe all you need or are there better alternatives that can provide more value at a much lower price? Here are the main reasons you should look for an alternative:
WalkMe offers only yearly pricing contracts which start at $9000 so if you want to onboard new customers or provide in-app guidance then there are better solutions that won't lock you in.
WalkMe is known for its hard implementation so it's not recommended for non-technical people. Generally, it can take weeks or even months. For better comparison, Userpilot can be set up in just a few minutes as it's completely code-free.
Bad and outdated UX design is another thing that might disappoint you and make you search for alternatives.
Walkme pricing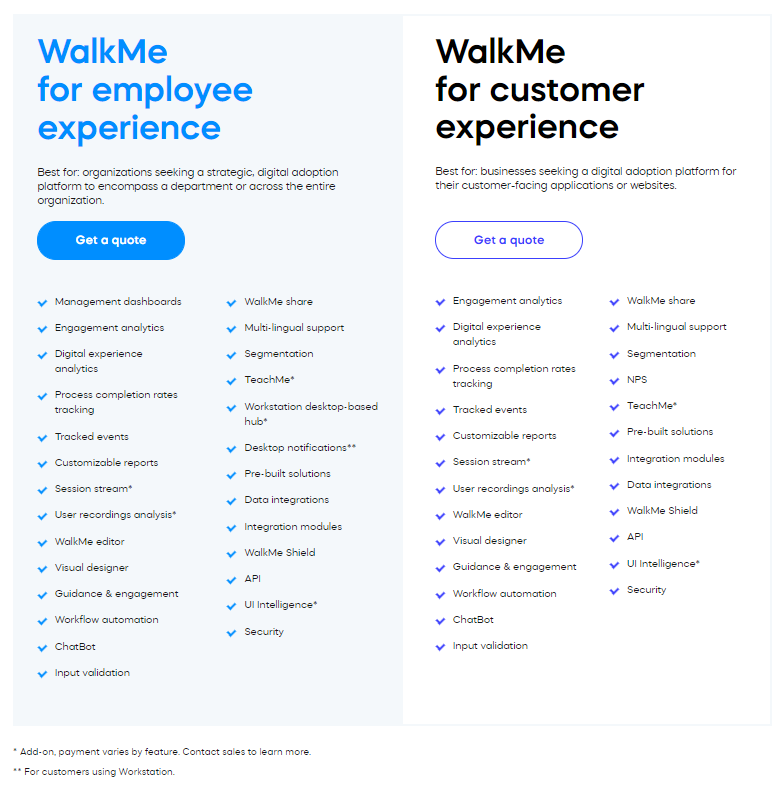 WalkMe works on a custom pricing plan that requires you to request a quote from their sales team (could be spending from $9000 to $50000 a year).
Their main two plans are:
WalkMe for employee onboarding experience: engagement tools and analytics
WalkMe for customer experience: engagement tools and analytics
Add-ons: Session Streams, TeachMe, AI analytics through UI intelligence

There is a better tool for your SaaS than Walkme!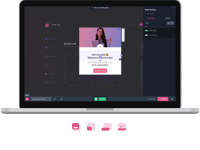 Is there a better alternative for customer feedback?
Appcues and Walkme are good tools for customer feedback. We've seen how they compare to each other and what you can achieve with them. Call us biased, but if you're looking for something better, Userpilot offers more value for your money than these tools.
Userpilot for customer feedback
Userpilot is a powerful product adoption platform that enables you to quickly build sophisticated user surveys in-app, standalone or as part of personalized, flexible, contextually relevant in-app experiences targeted to different user segments – all without writing a line of code.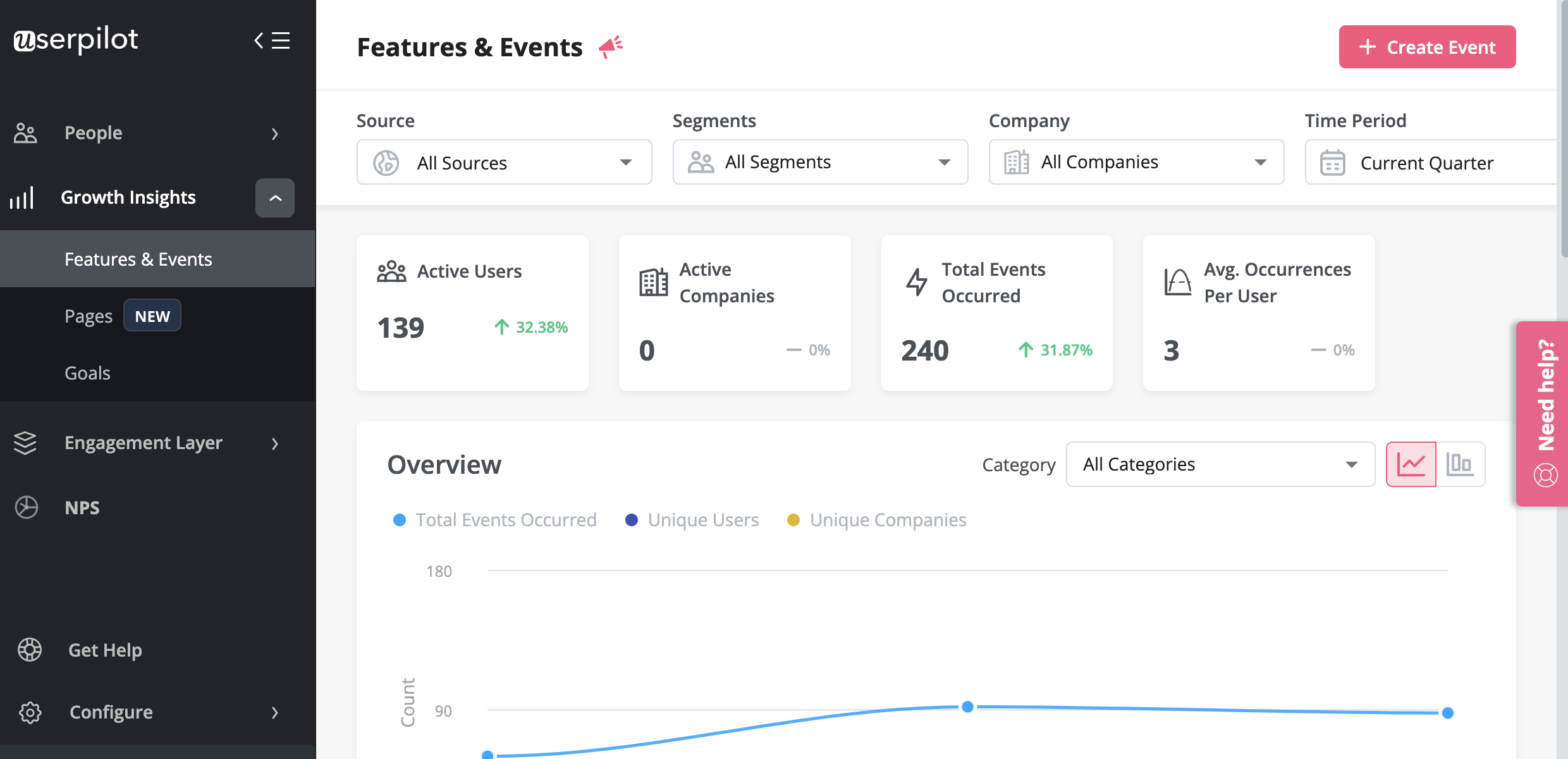 There are two types of feedback you should be focusing on collecting to better understand the health of your product and users.
First, you have user sentiment which looks at user satisfaction and effort scores or loyalty (using NPS surveys). Then you may also want to collect feedback on the functionality of the product or specific features.
You can do all these with Userpilot. In short, you can:
Collect and track (NPS) in-app with a built-in NPS widget that allows you to fully customize the survey look and feel, and set the trigger frequency and specific targeting.
Analyze NPS scores, tag responses, and use the data to create specific user segments.
Build and trigger in-app micro surveys like the classic PMF survey, or similar ones and mix multi-choice and open-ended types of questions to collect specific insights.
Be in charge of who gets which survey type and when with advanced segmentation capabilities, and of course, you can use the answers to segment your audience.
The advantage of using Userpilot for collecting feedback over other survey tools is that you can better control who sees the surveys but also you can instantly use the data collected to segment your user base and trigger the right experience for them.
For instance, if your users give you a low NPS score because they think you're missing a critical feature (that you actually have already), you can push an interactive walkthrough guiding them to find and explore this feature.
Pros of Userpilot
Userpilot has a number of advantages, especially for mid-market SaaS companies looking for a robust but at the same time very easy-to-use, no-code tool for user onboarding, product adoption, and simplified product analytics. Let's have a look at the pros of using Userpilot:
No-code builder – Userpilot comes with an easy-to-use Chrome Extension builder.
Multiple UI patterns – choose from a range of options to build customized flows: modals, slideouts, banners, tooltips, hotspots, and checklists are all at your disposal
UI patterns are not limited by plan – you get access to all of them on every single plan, meaning you get value even with the Traction plan (this is the entry-level one).
Engaging walkthroughs and onboarding flows- build interactive walkthroughs targeted to distinct user segments.
In-app help – build a resource center offering self-service support to your users, customize it with your branding, and select from a range of help options to boost user satisfaction (i.e. videos, in-app flows, chat, and more).
Experimentation – built-in A/B testing for flows lets you explore and quickly iterate based on direct user behavior.
Powerful feedback options- integrated NPS surveys with analytics and response tagging unlock insight into how your users feel.
Advanced analytics and segmentation- analyze product usage and in-app flow engagement and build user segments using the data.
Event tracking and feature tags- tag UI engagement (clicks, form fills, hovers) and group them into one custom event to track what really matters.
More value with integrations- unlock value faster with built-in integrations with popular tools like Segment, Amplitude, Mixpanel, Kissmetrics, Intercom, Heap, and more.
Cons of Userpilot
As with any tool, Userpilot also has some disadvantages though:
Browser/web app only – Userpilot won't run on mobile devices/applications.
Doesn't support employee onboarding- The tool is better suited for customer onboarding than for employee onboarding as you can't build in-app guides on third-party tools.
Missing integrations – doesn't have built-in integrations with some tools, but it has webhooks, and Hubspot and Zapier are coming soon.
Not appropriate for small startups on a shoestring budget (<$100)- Userpilot is a powerful, mid-market to enterprise-level tool. So $249 a month might be too expensive for really small startups.
What users say about Userpilot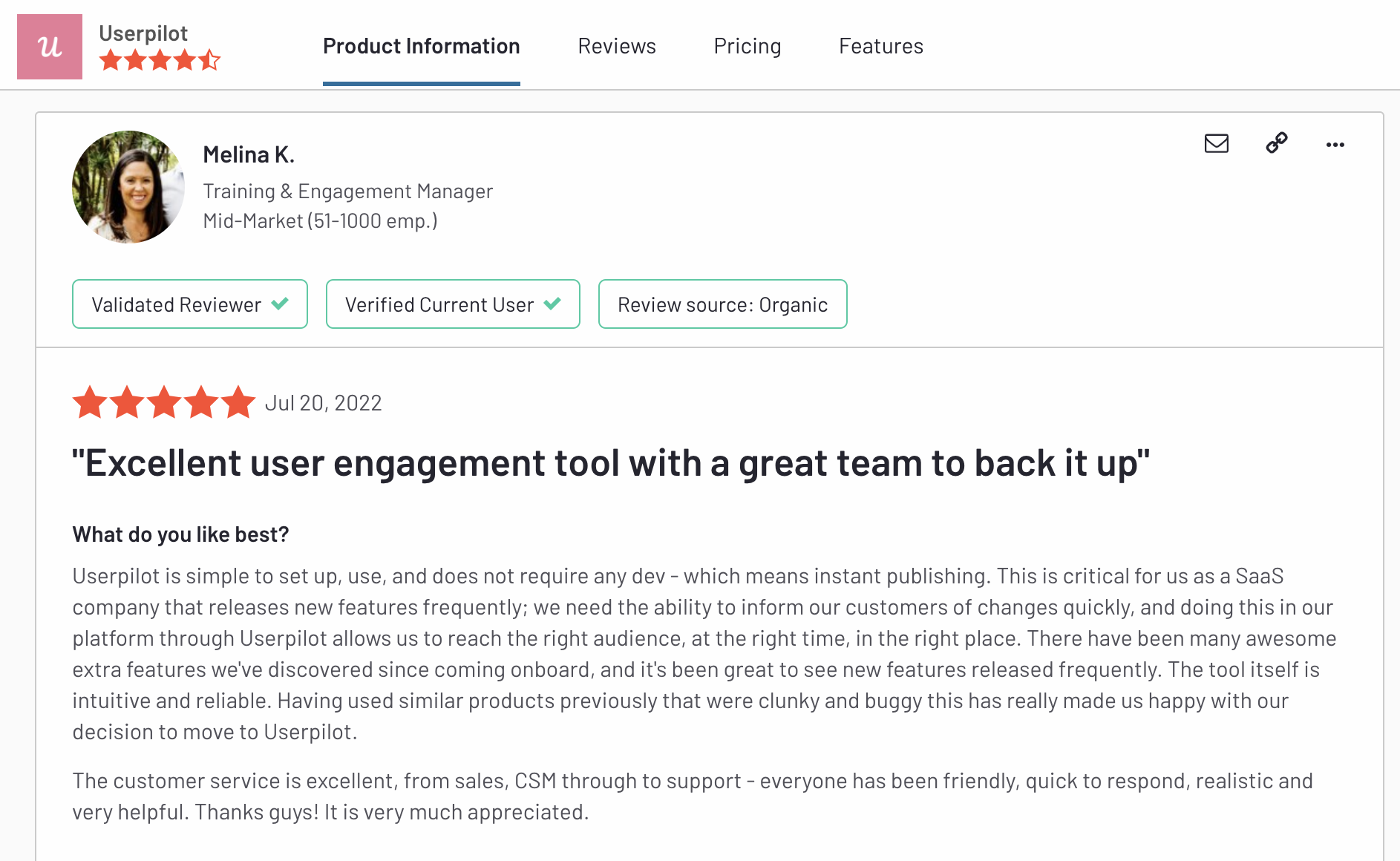 Let's check what real users like about Userpilot.
Userpilot is an incredible, user-friendly software that allows us to create unforgettable experiences for our clients! From basic to complex experiences, we have been able to do them all with ease! I would highly recommend this software to anyone who wants to provide their clients or users with the best product tour experience. The possibilities of what you can create are endless! – Tayla G.
Userpilot is simple to set up, use, and does not require any dev – which means instant publishing. This is critical for us as a SaaS company that releases new features frequently; we need the ability to inform our customers of changes quickly, and doing this in our platform through Userpilot allows us to reach the right audience, at the right time, in the right place. There have been many awesome extra features we've discovered since coming on board, and it's been great to see new features released frequently. The tool itself is intuitive and reliable. Having used similar products previously that were clunky and buggy this has really made us happy with our decision to move to Userpilot. – Melina K.

Get more value for your money with Userpilot!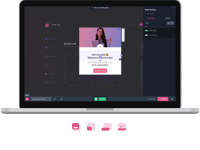 Userpilot pricing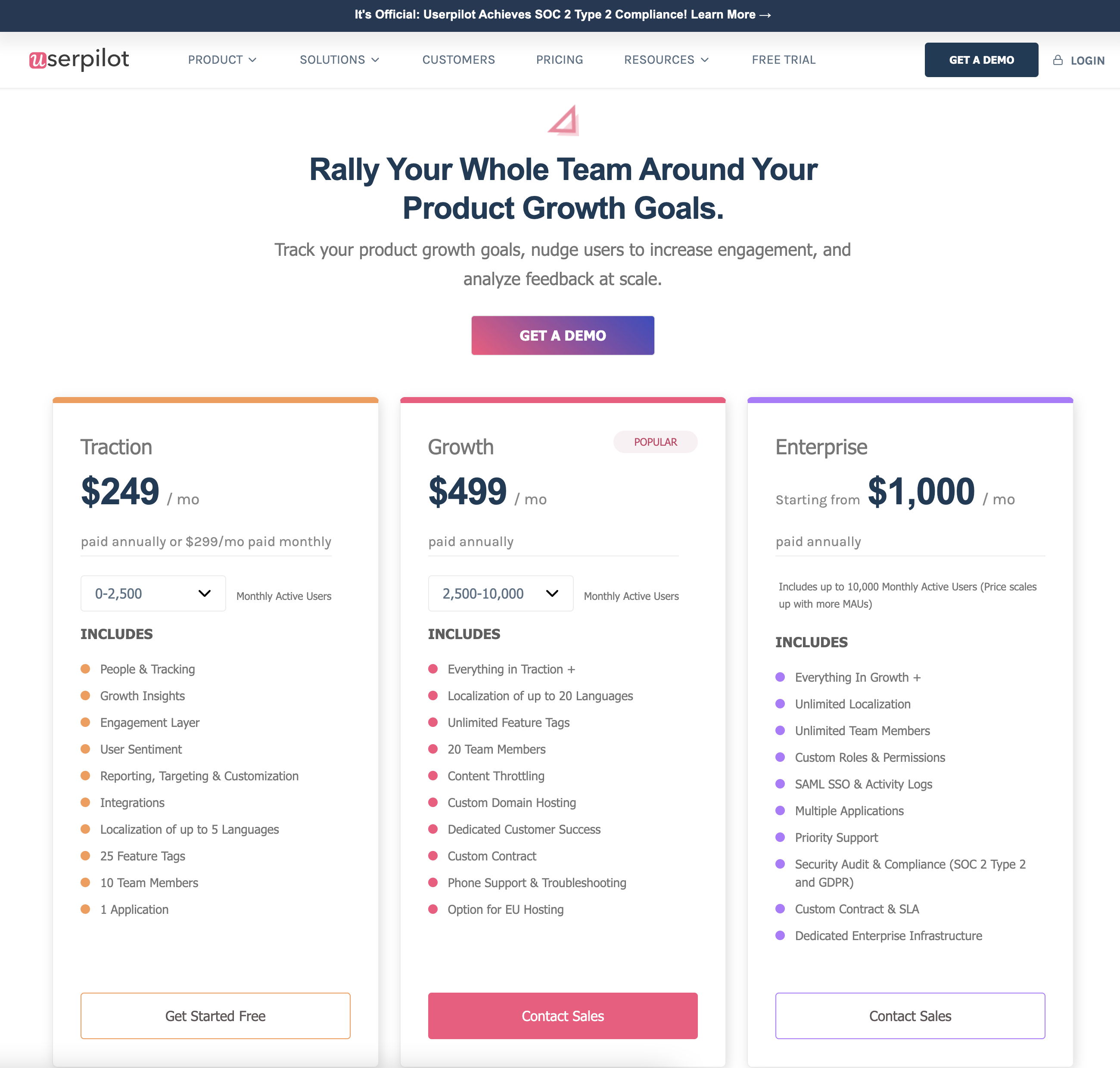 Userpilot offers great value for money compared to other similar tools on the market. Even its entry-level plan (Traction) provides all the necessary features without any usage limit.
The price-to-feature ratio is the best for Userpilot. Other cheaper tools in the market would definitely not fulfill your needs, and others like Pendo would be out of budget. Userpilot sits in that sweet spot. – Saurav S.
The pricing differentiation happens mostly on the service level (e.g. custom domain hosting, dedicated Customer Success Manager, SLA) and is based on the number of Monthly Active Users (MAUs) your company has.
Here's the detailed Userpilot pricing:
Traction: For up to 2500 users, this plan is $249/ mo.
Growth: For up to 10,000 users, this plan is $499/ mo.
Enterprise: For large-scale businesses, these plans begin from $1000/ mo.
Conclusion
There you have it.
It should be easier now to make an informed decision between Appcues and Walkme. Both tools come with advantages and disadvantages so there isn't one that is the best. It will depend on your product and current needs. If you want the best value for money, going with the alternative option would be our recommendation.
Want to see how Userpilot can help with customer feedback? Book a demo below.

Choose the best tool for customer feedback!