Top 10 Instructional Design Software For Creating Customer Training Programs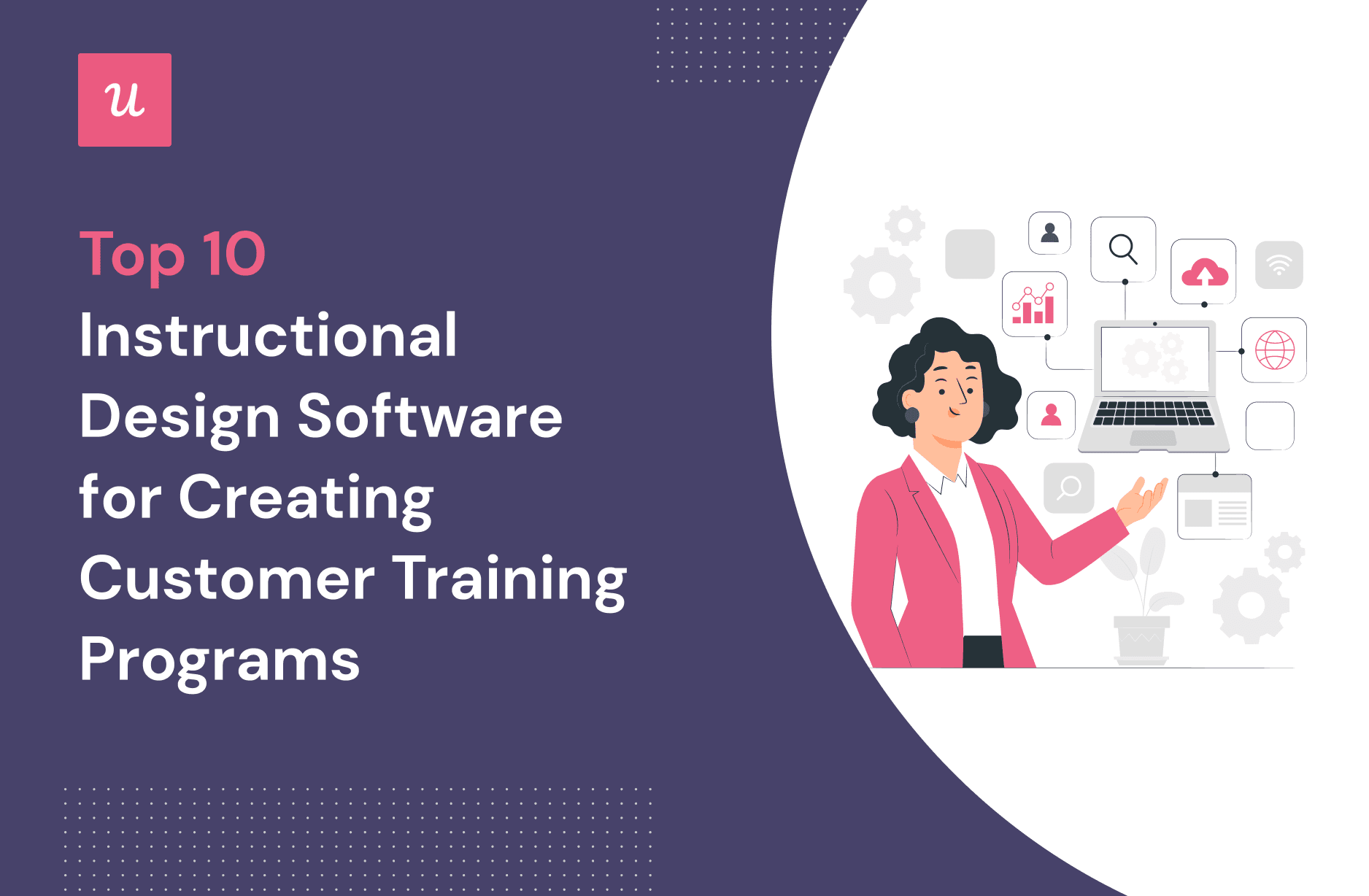 On the hunt for the best instructional design software to create course content and engage learners?
In this article, we cover:
How SaaS companies can use instructional design software to increase product adoption.
What to look for in the right instructional design tool.
The top ten instructional design tools on the market.
Ready? Let's go!
TLDR;
Instructional design software helps you create custom eLearning courses and training material. They usually feature engaging elements like responsive content, interactive surveys, and the option to create quizzes.
There's a difference between an instructional design software tool (or eLearning authoring tools) and digital adoption platforms. Instructional design software should be used to educate people on a general topic – like corporate training, product training, or academics. Digital adoption platforms are specifically meant for user onboarding and customer training – showing new users how to use software applications.
SaaS companies need instructional design software tools because they make it easier and cheaper to create eLearning resources.
Instructional design software should have an intuitive user interface, easy customization, content localization, user segmentation, analytics, feedback collection, and gamification.
Userpilot is instructional design software that specializes in training content for software applications. You can build contextual in-app experiences without needing to code.
Other top instructional design software tools include Articulate Storyline 360, Adobe Captivate, Apty, EdApp, iSpring Suite, TalentLMS, Whatfix, ProProfs LMS, and Brainshark.
What is instructional design software?
Instructional design software is a tool that enables authors of any level to build interactive and compelling eLearning content.
With instructional design software, you can create training courses, tutorials, or any other form of guidance for others in a structured manner.
Instructional design tools vs digital adoption platforms
When should I use an instructional design tool (eLearning authoring package) vs a digital adoption platform?
eLearning authoring tools and digital adoption platforms are used for different purposes.
Digital adoption platforms are intended to help guide users on how to use software – either for the first time or when new features are launched.
Authoring tools are designed to educate people on a general topic with eLearning courses.
For example, if you have a social media platform, you would turn to a digital adoption platform to teach users how to use your platform.
You would use an authoring tool to design a course on social media best practices.
Why do you need instructional design software for your SaaS?
Instructional design software is helpful for SaaS teams since you don't need technical knowledge to build learning material that helps increase product adoption.
SaaS teams can create this content without leaning on advanced designers to help them.
Aside from being easy to use, these tools make the learning process engaging, memorable, interactive, and motivational for the end user. Happy customers = more revenue for you.
Key features and capabilities of a good instructional design software
When you're on the hunt for the right instructional design software, look out for these key features:
Intuitive easy-to-use interface
Customization
Content localization
User segmentation
Dashboards and analytics to track learning and engagement
Feedback collection
10 Best instructional design software tools for SaaS
Here are our top 10 picks for the best instructional design software tools for SaaS.
Userpilot – best instructional design software for creating in-app training programs
Userpilot is instructional design software that allows you to build personalized and contextual in-app experiences for different user segments without having to code.
Pros of Userpilot
Userpilot offers the most robust functionality for user adoption. It's a great option for enterprises since it's SOC 2 Type II certified and offers robust features for enterprise needs.
Here are some of Userpilot's top pros:
Comes with an easy-to-use Chrome Extension builder
Multiple UI patterns for building flows: modals, slide-outs, banners, tooltips, hotspots, checklists
UI patterns are not limited by plan, you get access to all of them on all plans
Supports building branched interactive walkthroughs
Resource center for offering self-service support for your users – you can customize it to match your branding.
Offers different help guide styles (videos, in-app flows triggers, chat, feedback, etc.)
Built-in A/B testing for flows you build
Integrated NPS surveys with analytics and response tagging
Advanced analytics and user segmentation capabilities
Feature tagging for product usage tracking
Cons of Userpilot
Here are some cons to consider with Userpilot:
Non-mobile courses – only web apps
Doesn't work for employee training
Some integrations are still in progress: HubSpot and Zapier coming soon
It's not affordable for really small startups: if $249 per month which might be a small fortune for some companies
What users say about Userpilot
Customers say Userpilot is easy to use with a variety of helpful features and a great customer support experience.
"Userpilot is an incredible, user-friendly software that allows us to create unforgettable experiences for our clients! From basic to complex experiences, we have been able to do them all with ease! I would highly recommend this software to anyone who wants to provide their clients or users with the best product tour experience. The possibilities of what you can create are endless!" – Tayla G.
"We put helpful hotspots here and there on our site around trickier features as well. Support is almost always very quick and helpful – much better than the average SaaS I would say." – Brandon M.
"We like how it is easy to integrate and start creating content to bring an in-app onboarding experience. It helps us solve key expectations like in-app communications of all sorts, and all this without coding. The fact that the design possibilities make it part of our product is great." – Raphael A.
Userpilot pricing
Here are Userpilot's available plans with pricing:
Traction plan – $249/mo
0-2,500 monthly active users
People & Tracking
Growth Insights
Reporting, Targeting & Customization
Localization of up to 5 Languages
and more…
Growth plan – starting from $499/mo
2,500+ monthly active users
Everything in Traction +
Localization of up to 20 languages
Unlimited Feature Tags
Content Throttling
Dedicated Customer Success
and more…
Enterprise plan – starting from $1,000/mo
Everything in Growth +
Unlimited Localization
Security Audit & Compliance
Custom Contract & SLA
Unlimited Team Members
Multiple Applications
and more…
Articulate Storyline 360
Articulate Storyline 360 is an e-learning course authoring tool. It's part of a larger lineup of Articulate 360 products, including Rise 360, Content Library 360, and Review 360.
Let's look at the common pros and cons that Articulate Storyline 360 users complain about:
Pros
Responsive to every mobile device
Lots of templates to choose from
More than 9 million assets to use – characters, videos, icons, and stock photos
Great feedback features to get stakeholder approval
Training videos on their website to help you build courses
Cons
Steep learning curve – harder to use than Rise 360
No self-hosting options – you must already have an LMS
Only compatible with Windows – not Mac OS
Reviews
On the positive side, customers say Articulate 360 is user-friendly and more engaging than creating simple PowerPoint presentations.
However, customers also complain about the high cost, lack of polling features, and limited functionality.
Pricing
Articulate 360 has one subscription plan that covers all of its tools. They have two plan types:
Personal – $1,099 per user annually
Teams – $1,399 per user annually
Adobe Captivate
Adobe Captivate is an HTML-based authoring tool that creates mobile-friendly eLearning courses. It stands out from other authoring tools on the market because of its multimedia functionality, like its ability to add video, VR, and software simulations.
Pros
Multimedia content capabilities – video, VR, software simulations
Converts PowerPoint presentations into mobile-friendly courses
Integrates with LMS systems
Compatible with Mac OS
Cons
Limited animation options
Confusing and bland UI
Can be overly complicated
Reviews
Customers praise its easy-to-use interface for non-technical people, while also having more advanced customization options for programmers.
On the other hand, some users complain about its lack of mobile responsiveness and its outdated UI.
Pricing
Adobe has individual, team, and enterprise licenses available.
For individuals, Adobe Captivate costs $33.99/month.
Apty
Apty is a digital adoption platform that specializes in enterprise software. With Apty, you can create in-app product training sequences that help onboard new users and show them around a product.
Pros
Helpful customer support team
Easy-to-use application
Can set and track goals
Cons
Limited customization
Complex UI
Lacks in-app surveys
Reviews
There aren't too many reviews available for Apty just yet, so there's a limited variety of feedback.
On the positive side, users praise its simple editor and Apty's excellent customer service that goes above and beyond.
On the negative side, they complain about Apty's lack of self-service support content, like help articles.
Pricing
Apty has a free trial that gets you 2-3 flows for up to 45 days. After that, you have to upgrade to a paid plan. Pricing isn't available publicly – you need to request a quote.
EdApp
EdApp is a learning management system (LMS) that specializes in micro-learning content for corporate and retail workplace training. It features an authoring tool, analytics and rewards.
Pros
Excellent customer support team with quick response times
Easy-to-use and beautifully designed UI
Lots of templates are available
Has gamification elements to encourage better learning retention
Cons
The video upload limit is capped at 10 MB
Bill per active user – must commit to a minimum of 20 users for the paid plans
Reviews
Again, EdApp doesn't have too many reviews available yet, so it's hard to know exactly what users love or hate about the tool.
That being said, so far they appreciate the fast customer support response times, the beautiful in-app design, and the variety of templates to choose from.
They complain about the limited video file upload limit and the lack of depth in user analytics.
Pricing
EdApp has three plan types: Free, Growth, and Plus. They come with a 30-day free trial.
Growth plan – $1.95 per active user/month.
Plus plan – $2.95 per active user/month.
iSpring Suite
iSpring Suite is instructional design software that lets you create courses, quizzes, role-play simulations, videos, and e-books in PowerPoint.
Pros
More affordable than many other eLearning content tools
SCORM-compliant
100% compatible with any LMS
User-friendly – no coding needed
Cons
No shared drive and auto-sync
Mac users are limited to the web app builder
Reviews
Customers say it's easy and fast to use, but they complain about its lack of Apple functionality.
Pricing
iSpring Suite has two plan types with volume pricing.
iSpring Suite – $770 per author/year.
iSpring Suite Max – $970 per author/year.
If you're in the academic or non-profit industry, you save $200-300 per author.
TalentLMS
TalentLMS is a cloud-based authoring tool and learning management system that makes it easy to create online training courses – for work training, customers or students.
Pros
Can whitelabel courses
API access
Great collaboration features
Assessment features with quizzes, progress tracking, and certifications
Cons
More expensive than many LMS platforms
The UI looks outdated
Limited templates
Limited analytics
Reviews
Customers praise TalentLMS' affordable price and rich features.
On the bad side, they complain about the buggy, broken, and outdated interface.
Pricing
TalentLMS has many plan types to choose from. They have both standard and active plans. Standard plans start at $69/mo. They limit system usage based on the number of users. Active plans are unlimited and pricing's based on the number of users that log in monthly. Those plans start at $149/mo.
They also have a limited free plan that can be used for up to 5 users and up to 10 courses.
Whatfix
Whatfix is a popular digital adoption platform where you can build interactive walkthroughs for your software. It specializes in both customer and employee training.
Pros
Multi-language options
Tons of training available
User segmentation
Great customer service with fast response times
Frequent feature updates and releases
Easy to use without coding knowledge
Cons
Translation features are difficult to work with
Clunky and outdated dashboard
No survey features
Limited analytics
Prone to bugs
Reviews
Customers love how Whatfix improves their user's experience, while also being easy and fast to use.
Others disagree and say that Whatfix isn't as easy to use and has some complicated features.
At this time, there aren't many reviews for Whatfix so it's hard to tell what the consensus is just yet.
Pricing
Whatfix doesn't make its pricing public. You have to contact their sales team to get a custom price quote.
ProProfs LMS
ProProfs LMS is another web-based learning management system that makes it easy to create online training courses with tests, polls and surveys.
Pros of ProProfs
Custom branding and security options
Compatible with most browsers and devices
User-friendly – no coding knowledge is needed
Excellent support team
Reasonably priced compared to other LMS platforms
Cons of ProProfs
Limited customization
Limited templates
Outdated UI
Limited integrations with other tools
Reviews
Users love how ProProfs does the heavy lifting for their training needs. They feel that it's also secure.
As for the negatives, they say that the virtual classroom can be too basic with limited live streaming options.
Pricing
ProProfs LMS has three plans available. They're all billed by the number of learners you have.
Essentials – $1/learner per month
Premium -$1.50/learner per month
Business – $1.97/learner per month
Brainshark
Brainshark is a sales training and readiness platform that trains client-facing teams on how to perform better.
Pros of Brainshark
Specializes in sales and marketing
Flexible and easy to use after the initial learning curve
Excellent reporting capabilities
Has a built-in LMS
Cons of Brainshark
Complex system that's difficult to navigate at first
Sometimes buggy and glitchy interface
Outdated UI
Reviews
Customer rave about Brainshark's collaboration and analytics features. They say the tool is great for organizational learning and coaching.
On the other hand, the most common complaints are about its sometimes buggy interface and its retro, outdated appearance.
Pricing
Brainshark has two pricing plans: Pro and Premier. They're priced as annual subscriptions and are charged on a per-use basis. You have to contact Sales directly to get a price quote.
Conclusion
There you have it!
We hope you found the right instructional design tool in this article that fits your needs.
Want to get started with creating engaging learning material in multiple formats? Get a Userpilot Demo and see how you can improve product adoption with in-app experiences, code-free.