Intercom NPS: How To Create an NPS Survey With Intercom [+Better Alternatives for SaaS]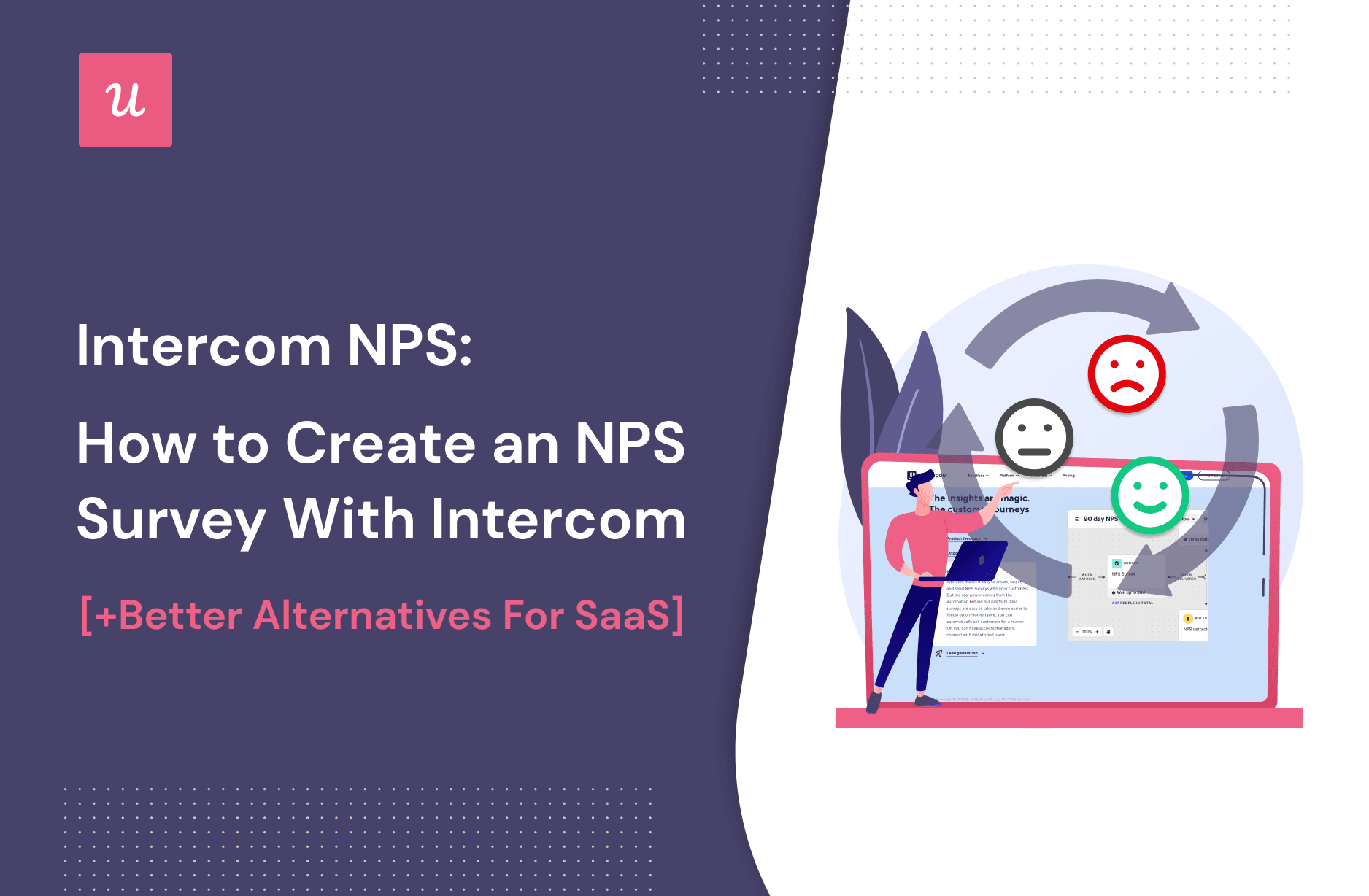 NPS surveys offer one way to calculate your company's NPS score, measure user sentiment, and understand how likely your users are to recommend your product to their friends. A high NPS score means more satisfied customers and low churn rates.
Today we'll be talking about Intercom NPS. We will dig into its features, pricing, the creation process, and better alternatives. But before we begin, let's take a look at what exactly NPS is.
Let's get started!
TL;DR
Net promoter score (NPS) is an important metric that measures customer satisfaction by calculating their likelihood of recommending your product.
You can calculate your net promoter score by subtracting the percentage of detractors from the percentage of promoters.
You can collect NPS data in various ways. One of them is to survey customers. You can use Intercom to create such surveys code free and get NPS feedback from your customers.
When creating a survey, make sure it visually matches the theme of your company. You can customize your surveys to make them more personalized which can result in a higher completion rate.
Your NPS score can be an important indicator of how your users feel about your company. You can take measures to increase promoters by improving customer targeting or improving your product.
What is the Net Promoter Score (NPS)?
Net Promoter Score (NPS) is a standardized metric for measuring customer satisfaction. It measures how likely your users are to recommend your product or service to a friend on a 0-10 scale.
If you want to measure your NPS score, think of the survey in the image below.
Unhappy customers are unlikely to recommend your product or service to others. We call them detractors. These customers are likely to rate you somewhere between 0 to 6.
Those who rate you 7 or 8 are called passives. They are neutrals whom we would not need to calculate NPS scores.
Lastly, satisfied customers who choose 9 or 10 are promoters, and they're the most likely to promote your company to future users.
Your net promoter score essentially refers to the difference between the percentage of promoters and detractors.
For example, you surveyed 100 users on whether they would recommend your product. 40% of them chose between 0 and 6, 30% between 7 and 8, and the remaining 30% between 9 and 10. So, your NPS score is 30% – 40% = -10%.
NPS results can be either positive (more promoters) or negative (more detractors). While the standards for positive scores vary between industries, any negative number indicates trouble.
Having a negative score means your users don't find value in your product. So, either you're targeting the wrong customer segments, or your product needs to be improved.
What is Intercom used for?
Intercom is a Customer Communications Platform that focuses on delivering customer solutions that range from user onboarding (product tours), chatbots for engagement, and customer support.
It shows you who your users and visitors are, making it easy to personalize communication with them through behavior-driven messages, conversational support, and targeted content.
Who needs Intercom?
Intercom is versatile and can be used by various teams of your company. For example:
The sales team can use it to approach passing visitors and convert them to paying customers.
The product team can leverage Intercom by observing how users interact with their product.
The marketing team can use Intercom to send targeted messages to the right audience at the right time based on user behavior.
The support team could really use a smart solution like Intercom to respond to users asking for help quickly and efficiently.
The customer success team can use it to offer faster and better customer support through their CRM platform, offering tickets and live chats to address customer complaints quickly.
Does Intercom have NPS?
With Intercom, you can design NPS surveys, but that's not all. You can design small or large format surveys.
Small surveys allow you to reach broad audiences quickly, while large ones can provide more details and insights. You can include multiple question types such as numeric scales, star ratings, emoji ratings, and text entries in each survey, allowing you to deep dive into user feedback.
Is the Intercom NPS feature free?
Intercom Surveys comes as a $49 per month add-on to their Starter plan, which starts from $75 per month on annual billing.
Intercom functionality overview
Intercom's main features are centered around providing customer support, engaging customers, and converting website visitors. It offers live chat, team inboxes, and ticket systems to manage customer complaints and track any new conversation that takes place. It offers self-serve support in the form of help articles and bots to address customer confusion.
You can send your customers notifications and messages through Intercom messages to activate and re-engage customers. It offers you A/B testing and personalized targeting features. For conversion, it offers chatbots, conversation routing rules, as well as revenue and performance reporting.
How to create an Intercom NPS survey?
The accuracy of your NPS results will depend on how well you've designed the survey. The section below shows how Intercom users can get started with their survey.
Step #1: Click "new survey"
To create a new survey in Intercom, go to Outbound. Next, click on surveys and select "new survey".
Step #2: Start from scratch or choose a template
Next, you can choose to design your survey from scratch or use one of the many available templates. In this illustration, we'll start from scratch.
Step #3: Choose a format
Next, you have to select the format type. You can choose between a small format or a large format. For the NPS survey, we'll select a small format survey. Once selected, click "Save".
Small format surveys are perfect for large audiences, where the nature of the questions is lightweight and non-urgent. They don't disrupt customers from their tasks.
This format works well for NPS, where you want to get a quick pulse on customer sentiment. This is how it looks.
Note: Small format surveys are displayed full-screen on Mobile SDK and will need to be completed or dismissed.
Step #4: Customize the NPS survey
The next is to customize your survey. The goal here is to make your survey visually compelling. A good idea is to add colors to the background and texts that match your company's theme.
You can add a bit more fun to the survey by including emojis, GIFS, and images, or add a more personal touch by including avatars and the company name. You can format your texts to include bold, italics, or links to highlight important texts.
If you've chosen a large format, you can add an intro screen to greet the customer and tell them what the survey is going to be about.
Step #5: Send the NPS survey
The last step involves setting up your survey's frequency and schedule. You'll be able to trigger your survey to send automatically or share it with a link before or after a product is purchased.
Tip: If you want to preview how a survey will look and behave for customers, target yourself as the audience of the survey (by specifying your email address in the targeting rules).
Alternatively, you can trigger the survey from a shareable link and use it to initiate the survey as many times as you wish to.
To send a survey to customers on a set cadence, select "Send based on a fixed schedule if the person matches the rules".
Intercom NPS survey alternatives
If you don't want to use Intercom's NPS survey, you can either create your own custom-coded NPS survey, or you can use a dedicated product adoption tool, such as Userpilot, to build your survey code free.
If you're looking for more options, you can check out our top alternatives for Intercom, which also acts as a guide on how to select the correct alternative for you.
Why is Userpilot NPS better than Intercom NPS?
Userpilot NPS has some added features that the average Intercom customer can miss out on.
For starters, Userpilot allows you to create numerous customer segments that you can target. This allows you to test your campaigns better before deploying them full scale.
You can also link NPS responses and measure the average level of user satisfaction in that particular customer segment.
Userpilot also allows you to tag NPS responses based on certain conditions so that you can filter NPS results and analyze them and address customer issues accordingly.
In-app triggers allow you to set certain user actions inside the app that would prompt an NPS survey to pop up. These triggers could be for users who have just used a new feature or just made a purchase.
Conclusion
To wrap up, the Net Promoter Score is an indicator of customer loyalty and tells you how likely your customers are to become your promoters.
An effective way to get your NPS scores is to collect feedback through in-app surveys.
You can analyze the data from the NPS survey to understand your users better and modify your product, thus boosting your NPS score in the future.
Want to get insights into your NPS score and create NPS surveys code-free? Get a Userpilot Demo and see how you can improve customer loyalty and reduce churn rates.