8 Ways to Use An Onboarding Survey in SaaS That Drive Customer Success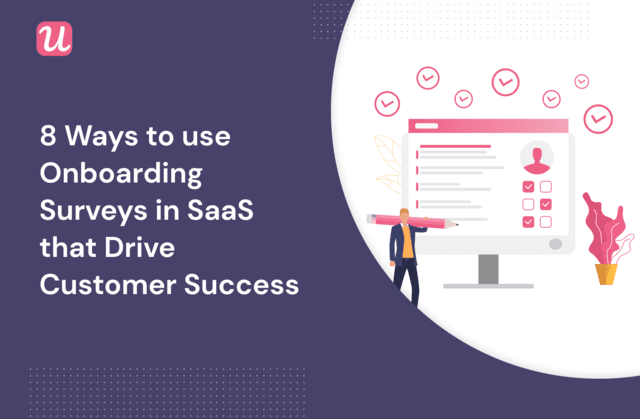 If you get the user onboarding process right, it can be a fantastic opportunity to enhance customer satisfaction – so using an onboarding survey for your SaaS is the way to go.
In this article, we're going to explore 8 ways you can deploy them as part of your onboarding process to drive customer success.
Ready to get started?
Let's dive in!
TL;DR
User onboarding is the process of teaching customers how to use your product.
An onboarding survey is an interactive form designed to gather feedback – they are versatile tools and can be used in many ways.
You can use the answers to survey questions to personalize empty states
Another good tactic is to segment customers using survey questions on your welcome screens.
Be sure to personalize the customer journey depending on the specific use case.
Focus on reducing time to value to create great onboarding experiences.
Boost customer satisfaction by taking swift action in response to survey feedback.
Use micro surveys to tackle customer challenges and grow conversion rates.
Enhance your product and provide a better service by learning from survey data.
Drive word-of-mouth marketing success by using a customer satisfaction survey.
To create an effective survey, you should keep your questions short, to the point, and unbiased. Use open questions to prompt in-depth feedback.
Using a customer feedback tool to create your surveys will help time and allow you to collect, analyze and act on data.
Although Userpilot began its life as an onboarding platform, it now has a range of capabilities enabling you to build customer surveys that help you unlock value for your business. Get a Userpilot demo here!
What is onboarding in SaaS?
In a nutshell, user onboarding in SaaS is the process of teaching users the way your product works at each stage in their journey.
A successful SaaS onboarding process is all about reducing the amount of time it takes for them to get value.
A brief note. In this guide, we're talking about customers of your SaaS, not employees.
What are onboarding surveys in SaaS?
A customer onboarding feedback survey is an interactive form frequently used by SaaS businesses to gather insights from potential customers prior to sign-up.
Such surveys are usually created and completed in-app. They are designed to be filled in after some initial engagement, but before a user has started paying for your product.
Feedback surveys are typically used to:
Collect valuable feedback and gauge customer sentiment
Collate and organize customer information
Improve the onboarding process and customer journey
8 Ways to use onboarding surveys in SaaS
You can never really 'finish' the customer onboarding process – it's evolving, and goes through different stages.
One thing that should be constant though is having clarity about what you're trying to achieve: you should use customer surveys with a clear purpose.
Let's dig into some detailed tactics around getting customer onboarding right.
#1 – Replace empty states with personalized content using a customer onboarding feedback survey
A proven way to build relationships and keep customers engaged is using personalized content – it can make a huge difference to the customer journey.
You can ask onboarding survey questions during signup to gain a better insight into your customers, and use their answers to pre-populate the dashboard the users sees for the first time..
Let's take a look at the onboarding survey below from Asana.
It might look at first like there are too many questions.
But by asking the right questions – keeping them simple and focused – new customers can get through them all in less than a minute, and get instant value (they've already created their first task).
#2 – Segment users with onboarding surveys on welcome screens
As new customers sign up for your app, use a welcome screen and add an onboarding survey to it to start gathering relevant information.
That helps you figure out the combination of onboarding flows that will deliver the best overall experience for each use case.
Below, we can see Postfity asking users to answer what they are trying to achieve.
That enables them to quickly identify which user segment best fits their 'jobs to be done' and personalize the customer journey accordingly.
Over time, you can create customer segments mapped to the options your users choose, and provide a service that boosts customer retention.
#3 – Customize onboarding flows based on the user's use case
Think carefully about which of your product's features will be relevant for different user segments, and customize your flows accordingly. Specificity is a good way to boost customer loyalty.
One effective way of doing that is by using a checklist to drive specific actions – here's one from Postfity.
#4 – Improve user onboarding experience and shorten time-to-value
Building a deep understanding of who your customers are, what they're trying to achieve, and why they're trying to achieve it puts you in the strongest possible position to deliver value quickly -and create the best possible onboarding experience.
By focusing on shortening time-to-value and improving customer health, you're boosting the lifetime value of that user.
One tactic you might want to deploy during the onboarding flow is to highlight a new feature in-app.
Postfity have targeted a slideout message to users with an interest in direct Instagram publishing, demonstrating they have thought carefully about how to target the right message to the right audience (at the right time).
#5 – Improve customer satisfaction based on feedback collected through surveys
Consider using a customer onboarding feedback survey to gather valuable information about customer satisfaction (particularly when the user reaches certain milestones in the journey).
Let's look at how HubSpot do it, at the halfway point of the customer onboarding flow.
Through gathering data with this customer satisfaction survey, they gain an insight into trends in user sentiment – and can take quick, decisive action before users abandon the trial.
#6 – Improve trial to paid conversion rate with onboarding surveys
You also have in-app options to consider.
Microsurveys that launch contextually can be a powerful tool to improve your customer retention rate by automating in-app flows depending on the user response.
Ask users just before the end of their trial about what's stopping them from upgrading their service. That means they're far enough into the trial to have a good sense of your product.
You need to understand their pain points so you can figure out how best to address them – you have a range of options at your disposal.
You could offer:
A discounted rate to users struggling to justify the price
Targeted help and advice (by scheduling a free call with the customer success team)
Extend the trial to users waiting for budget approval
By adopting this approach, you'll convert a greater number of users by demonstrating you've listened to, understood, and tackled their needs directly.
When you gather data with microsurveys in Userpilot, it's simple to trigger in-app flows mapped to specific answers.
You can create a user segment for customers concerned about the price, and target them with a visually appealing modal offering them a bespoke discount for engaging with your survey.
#7 – Improve your product based on onboarding survey feedback
As a product manager, you should be constantly looking for ways to improve the customer journey, enhance the service you provide and boost customer loyalty.
A customer onboarding feedback survey is a useful mechanism for delivering quality insights about your service.
Here's an example of how you might structure a survey of that type.
Make sure to use open questions.
You'll gather the most valuable feedback by seeking to understand  'why' your users feel a given way (a level of depth that you're unlikely to get from asking closed questions).
It's then simple to prioritize important features on your product roadmap, based on the value they deliver and the needs they address.
#8 – Drive word of mouth with customer satisfaction surveys during the onboarding process
A critical mistake to avoid is failing to act on user feedback.
It disappoints and frustrates your customers, making them feel like you don't care about their experience.
So, when you gather insight about your service (for example, by using a customer satisfaction survey), make sure to focus on closing the feedback loop – and let your users know you're listening.
Let's dig into an example.
As a savvy SaaS owner, you might want to collect NPS data to understand who your most loyal customers are.
Once you've identified who they are, you can target customers with a high Net Promoter Score and offer them a special 'thank you' if they're willing to refer your product or leave a detailed review (on a relevant platform like Capterra or G2).
This kind of in-app survey can help drive word of mouth and grow your customer base – meaning your satisfied customers become one of your most effective marketing tools.
Best practices for creating onboarding surveys for SaaS that drive customer success
It's clear SaaS onboarding surveys can be a powerful tool. But what are the key things to include in yours?
Keep your onboarding surveys short
When it comes to feedback surveys, less is more.
Rather than bombarding your customer with a load of irrelevant details (like in the example above), you need to keep your survey focused, short, and to the point.
If you identify a clear use case, it's much easier to create a personalized experience.
Use open-ended questions in your onboarding surveys for more context
Open-ended questions can't be answered with a 'yes' or 'no' – here are some examples:
What more can our team do to ensure this is a smooth, satisfactory process for you?
How might the product/service be enhanced to suit you better?
What could we do to become your favorite company to do business with?
What challenges are we not solving for you that we could be?
You should use them in your surveys to dig into the detail of your customer sentiment, understand the reasoning behind their decisions and build a greater understanding of how they interact with your service.
A word of caution though – because open questions typically take longer to answer, be mindful of your customer's time and only use these sorts of survey questions sparingly.
Avoid biased questions in your onboarding surveys
The value you get from an onboarding survey is directly related to the quality of the questions you ask.
A common mistake when designing ap-. An example might be asking a leading question, like 'How effective were our world-class customer experience team?'
You're more likely to get useful data by keeping questions short, to the point, and removing any attempt to influence the way your customers answer.
Tools for creating and acting on onboarding surveys in SaaS
Building tools to create, collate and analyze data from a customer onboarding feedback survey can be time-consuming and eat up developer time.
That means you can't focus on building new features for your SaaS, and you'll miss out on the flexibility to trigger different types of surveys (e.g. CES, NPS, or CSAT) depending on the context.
It's also trickier to make sense of the data you collect.
An easier route is to use a pre-built tool and embed them in your product. So what tools are available?
Here are some of the most popular:
Userpilot– For creating and acting on onboarding surveys data in-app
Hotjar- For collecting feedback on your website and in-app
Nicereply- For measuring customer support user satisfaction
Typeform-For long for customer feedback collection with embedded surveys
Build onboarding surveys and drive customer success with Userpilot
Userpilot began its life primarily as a user onboarding platform, but over time it's been enhanced with a much wider range of features. It gives you several ways to gather customer feedback, including during the onboarding process.
You can easily launch microsurveys directly within your SaaS, like this example on a product welcome screen.
That makes it simple to launch a range of automated responses depending on the user's answer.
You can pre-build specific flows for distinct user segments, triggering in-app flows designed to tackle each segment's primary need.
Userpilot also offers a dedicated NPS feature, which enables you to monitor NPS responses and segment users based on their answers. More standard customer satisfaction surveys will be available soon- get in touch to know more.
It's a great way to figure out who your most loyal customers are. As we discussed earlier, they can become a fantastic word-of-mouth asset to your marketing department if you ask them to promote your product.
Conclusion
User onboarding surveys are one of the most effective tools for understanding user sentiment, identifying opportunities to improve your product, and boosting adoption, engagement, and retention rates.
But you can't just fire a random feedback survey out and expect to get the insights you need.
Remember these two key principles to drive maximum value:
Ask the right survey questions at the right time
Personalize the user experience
Want to build product experiences code-free? Click the link in the banner below, and book a demo call with our team, and get started!