Value Metrics Guide for SaaS Companies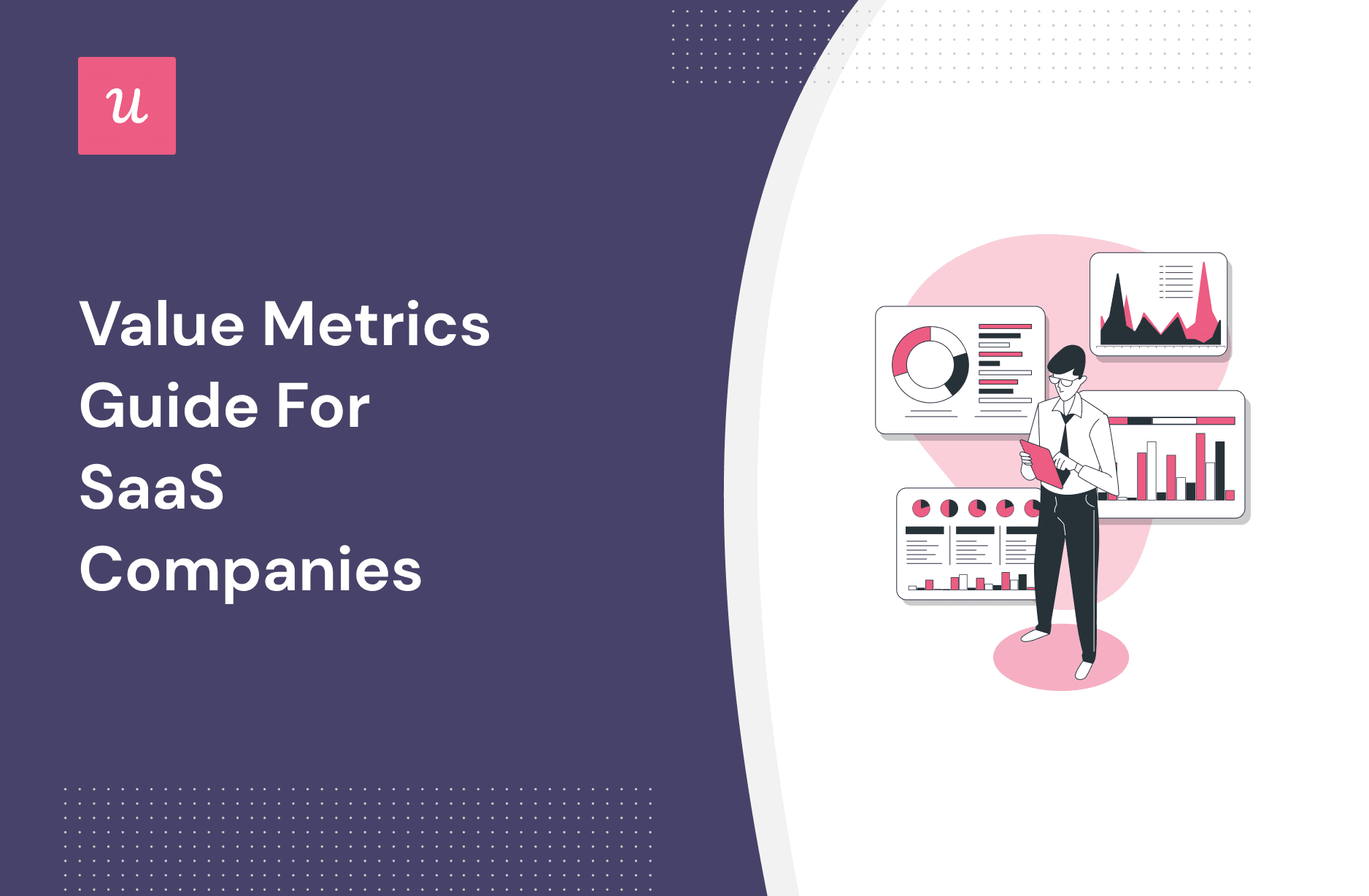 What are value metrics? Why do they matter? And how to find them?
These are the key questions that our guide answers. We also examine a few examples of how companies use value metrics in their pricing strategy.
Let's dive in!
TL;DR
Value metrics are the features of a product that customers associate with its value and are happy to pay for.
Identifying value metrics allows you to acquire new customers, refine your pricing strategy, grow revenue, improve customer satisfaction, and develop products.
Per-user pricing is an example of using functional value metrics while pay-per-click is an example of using outcome-based value metrics.
Good value metrics are easy to understand for users, aligned with product value, and grow with customer usage.
To evaluate your value metrics and how you use them in your pricing plan, you can track metrics like customer churn, user retention, MRR, or customer lifetime value. Tracking them regularly will allow you to iterate on your initial ideas to fine-tune your pricing strategy.
To identify your value metrics look at your product use cases. For example, for a cloud storage platform, this is storage space.
Tracking product usage of your power users, as well as inactive/churned customers, allows you to identify the most valuable features and their usage limits.
User surveys and interviews are the most direct ways of finding out what users value most about the product.
Defining limits for different pricing plans and user segments is essential to drive product growth. If the lower plans are too generous, users won't upgrade.
Userpilot is a product adoption platform that allows you to track product usage, segment your uses and collect feedback in-app.
If you want to see how to use Userpilot to find your value metrics, book the demo!
What is the value metric in a pricing strategy?
Value metrics are the key aspects of a product or service that customers link with its value and are ready to pay for.
In other words, value metrics are the foundation of the pricing strategy. They communicate the value each plan offers and are the reason why customers sign up for the product, upgrade to a premium plan or renew their subscription.
An example of a value metric would be the number of team seats or MAUs.
Why is it important to monitor value metrics?
Tracking and understanding value metrics helps you:
Acquire new customers – you can adjust your marketing and sales messaging to highlight the right product features.
Refine your pricing strategy – you can tweak your pricing tiers and deals to match customers' perceived value.
Grow revenue – you can better identify upsell and cross-sell opportunities for specific user segments.
Drive customer satisfaction and retention – you can adjust your plans to close value gaps.
Develop the product – it gives you a better understanding of what features drive customer value so you can prioritize the right initiatives.
What are the two types of value metrics in the SaaS pricing model?
We distinguish two main kinds of value metrics: functional and outcome-based.
Functional value metrics change the price based on how often customers use the product. For example, you could charge them 'per user' or 'per minute.'
Outcome-based value metrics affect pricing based on how much the user benefits from using the product. They could include 'income generated' or 'clicks achieved.'
What makes a good value metric?
A good value metric needs to tick three boxes. It needs to be
easy to understand,
aligned with product value, and
grow with customer usage.
Easy for customers to understand
When looking at your pricing plans, your customers must know immediately what the price depends on and which plan suits them best.
If they don't understand the value each of the plans offers or how much it's going to cost, they simply won't subscribe.
Aligned with your product value
Alignment with product value is essential.
Start by identifying where customers get value from and then charge them based on that.
For example, if your product is a project management tool, like Asana, you could charge your customer per the number of team seats or active projects, but not by the time they spend inside the product.
However, for an AI meeting assistant software, like Sembly AI, charging per minute makes perfect sense.
Grows with customer usage
If your value metric is aligned with your customer usage, their success will be yours.
How come?
For example, if you charge your customers per user, then your revenue will grow as they acquire new users. Their growth automatically translates into your growth.
Metrics to measure before defining your pricing strategy
Before you start fine-tuning your pricing strategy, set a baseline by measuring a few key metrics.
Metrics that are associated with customer-perceived value include:
Customer churn – high customer churn rate is an indication of low perceived value.
Revenue churn – another way of looking at churn – from the money side.
User retention – opposite to churn; good retention rates mean users are satisfied with your product value.
Monthly Recurring Revenue (MRR) – if your regular revenue drops, your value proposition may be losing its appeal.
Customer Lifetime Value (CLV) – this is determined by retention but also how attractive the higher pricing plans or add-ons are. Upgrades are an indication of high perceived value.
Tracking them will help you assess the impact of the changes you make and ultimately select the perfect value metrics for your company.
How to set the right value metrics for your SaaS business?
Once we've got the figures to benchmark against, let's try to find the value metrics for your company.
Consider your product's use case
Value metrics depend on the product use case.
For example, for a video editing tool, the value metrics could be the length of the videos you can edit, the number of templates, or the quality of the output video. For a cloud storage solution, that could be the storage space available.
Start the quest for your perfect value metrics by listing all the use cases your product has.
Track product usage patterns of different segments
Another way to generate ideas for value metrics is by looking at product usage data. In particular, look at the specific segments: your most and least successful customers.
Focus on
which features they use and which they don't,
usage frequency, time, and intensity – how often they use it and how long for,
and, goals and objectives they achieve and the ones that they don't.
These are the dimensions along which you could plot your product value.
In Userpilot, you can identify your power users based on their survey responses (e.g., NPS score), product usage frequency, or how long they've been your customers. You could use the same criteria to single out the unsuccessful or dissatisfied customers.
Next, you can find out more about their in-app behavior and the features they use from the Features & Events dashboard.
Another way to find the most popular features is through heatmaps. You can filter the results by segments for a granular view. One look at the page is enough to see which features they use the most.
Conduct surveys/interviews to determine where customers perceive value
User interviews and surveys are the most direct way to identify your value metrics. It also allows you to validate the hypotheses that you make based on product usage analytics.
Start with surveys. They allow you to collect lots of customer data at scale by targeting specific user segments. You can deliver them either in-app or via email to target inactive or churned users.
Interviews give you the flexibility to adjust your questions depending on customer responses. However, they are time-consuming to arrange and require a lot of preparation to get the information you need, so use them to follow up on survey results.
Define limits for different segments
Once you identify the key features correlated with your product's core value, you can start designing your pricing plans around them.
Your value metrics will be your main price differentiator. You've got them now.
The main challenge is setting the usage limits.
Basically, you want your users to realize your product value but at the same time, they need an incentive to upgrade. This is particularly important if you're using a freemium model.
For example, Loom has imposed a 5-minute limit on the videos available in the free plan. To record longer videos, users must upgrade.
Apart from limiting usage, you could also differentiate your plans based on additional features. These won't be painkillers but rather vitamins, but will still dramatically enhance user experience.
So for Loom, this is the option to edit out all the fillers from your videos.
To put such differentiation in place, you need to segment your users and enable different features and usage limits for each of them.
Measure and iterate as you grow
It will be incredibly difficult to nail your pricing plans if you're only starting out and have no user data. The odds are that you will need a few iterations to finalize the details.
So, make sure to track the success KPIs you've used to set the baseline. Tweak your plans, for example, by adjusting the usage caps, until you start getting the business results you're after.
Examples of value-based metrics from SaaS companies
Let's check out a few great examples of how SaaS companies use value metrics to structure their pricing strategy.
Userpilot
Userpilot is a digital product adoption platform. It allows product managers, marketers, and customer success managers to collect user feedback, track and analyze product usage and drive product adoption with personalized in-app onboarding experiences.
Userpilot has built its pricing on a number of value metrics:
Monthly Active Users (MAUs): the pricing of the lowest Traction plan depends on the number of users.
Feature Tags: there are 15 included in the Traction plan but there's no such limit in the Growth or Enterprise plan.
Team members: you can add 5 team members in the Traction plan, and 20 in the Growth plan – there's no cap in the Enterprise plan.
Applications: the Traction and Growth plans support 1 app one while the Enterprise plan works for an unlimited number.
Support: in the Traction plan you get email support and live chat, the Growth plan adds Phone support and Dedicated Customer Success Managers, while the Enterprise plan also includes a Technical Implementation Specialist.
On top of these, Userpilot uses features to differentiate its plans.
For example, the Growth plan gives you access to the Resource Center functionality, Content Localization or Webhooks. In the Enterprise plan, you get additional features like SAML SSO and Premium Integrations.
Slack
Slack is an instant messaging platform of choice for many SaaS companies, small and large alike.
The company has 3 main value metrics:
Message history: in the free plan, it's capped at 90 days, while the paid plans give you access to full message history.
Integrations: you get 10 of them in the free plan and unlimited integrations in the paid plans.
Number of participants in audio and video conversations: in the free plans, only 1:1 calls are available and the paid plans allow 50 people to take part.
Just like Userpilot, Slack also adds additional features to the paid plans.
For example, in the Pro plan, you get collaboration with people outside your organization, the Business plan includes advanced identity management, while the Enterprise Grid offers advanced security and compliance features like HIPAA support.
Zoom
Zoom is a video conferencing solution whose popularity skyrocketed during the Covid pandemic.
The Zoom team uses 4 main value metrics:
Meeting duration: capped at 40 minutes in the free plan and 30 hours in all the paid plans.
Attendees: limited to 100 in Basic and Pro plans, 300 in Business and Business Plus, and 1000 in Enterprise.
Whiteboards: 3 included in Basic and Pro plans, and unlimited in the other plans.
Cloud storage: not available in the Basic plan, 5GB in Pro and Business, 10GB in Business Plus, and unlimited in Enterprise.
In addition, the more advanced plans include features that the lower ones don't, like SSO or webinars.
Conclusion
Identifying your value metrics is essential for devising pricing plans that will give users enough value and drive your business goals.
To choose the right metrics, use a combination of techniques, like tracking product usage data or collecting customer feedback.
If you want to see how Userpilot can help you find your value metrics, book the demo!