Feature Request Template: How to Collect User Feedback and Suggestions and Improve Accordingly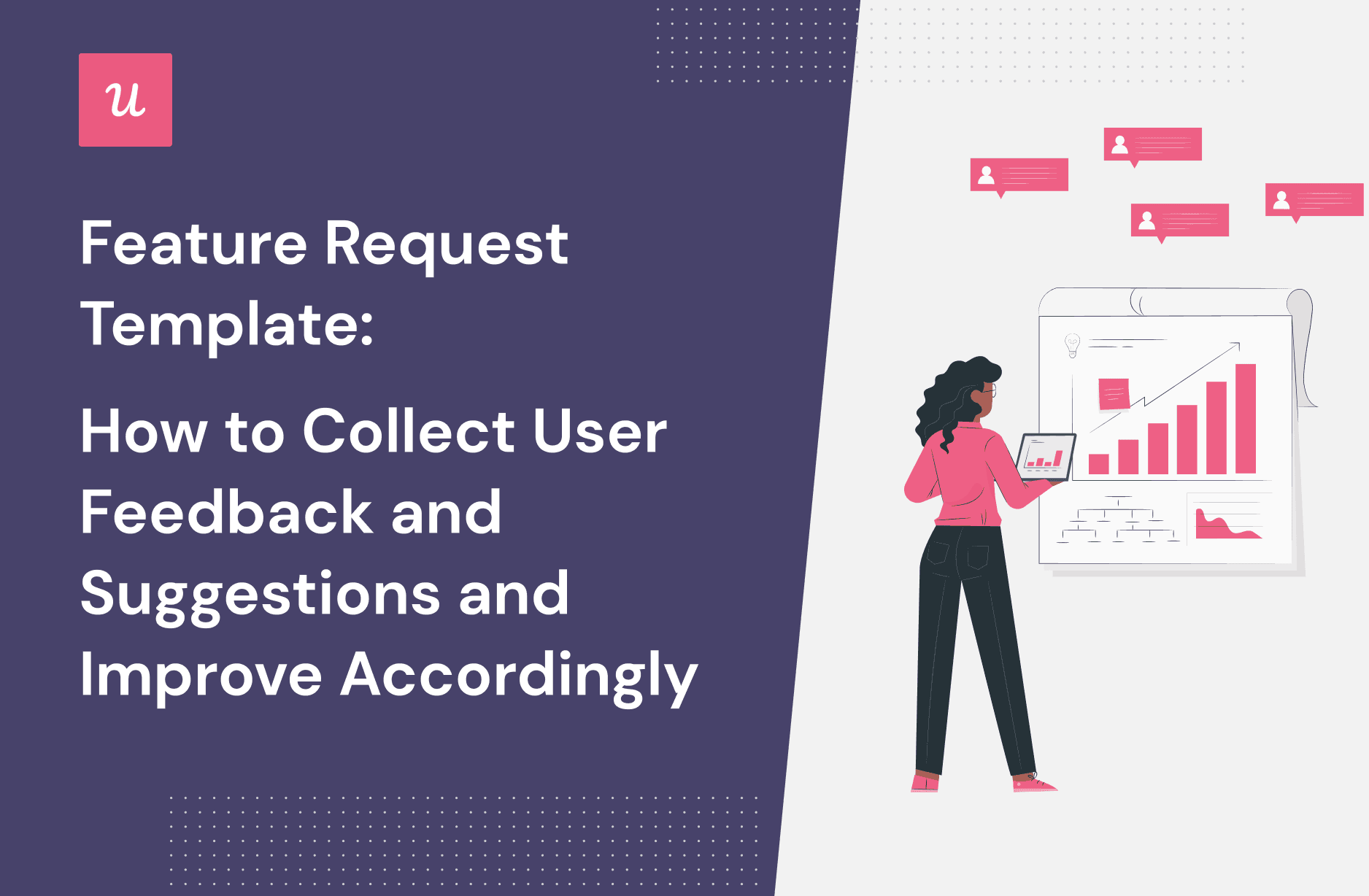 Have you ever wondered what your best customers have to say? What features they'd like you to add next? And how you can collect feedback with a feature request template?
Communication between you and your users plays a critical role in ensuring the success of your product.
A feature request template is something that can help you accomplish this goal by encouraging your customers to provide qualitative feedback regularly.
This article will help you understand the importance of a feature request template and improve your product feedback process with the best practices.
TL;DR
A feature request template helps you collect and organize feature requests from your customers.
Feature request form allows you to listen to your customers and improve your product with their suggestions.
Feature request gathering best practices:
Don't fall prey to the feature fallacy trap—add features that make your product more valuable to users.
Diversify ways where you can collect feature requests from users.
Close the feedback loop by acknowledging your users' feature requests.
The three most common types of feature requests are bug fixes, new feature requests, and updates for current features.
SaaS products feature request templates
Slack uses a survey feedback form asking two questions.
Postify incentivizes customer insights collection to get more feedback.
Prodcamp has a public product roadmap where people can view upcoming features the company will add to the product, and customers can send in their suggestions.
Leadpages shows a churn survey to prevent customers from canceling their accounts.
Dribbble sends customers a user experience survey so it can assess the quality of its user experience.
ClickUp asks users to submit videos or screenshots from its bug report form.
Userpilot shows in-app feature requests while customers are using a product feature.
Usersnap lets customers choose which features they want to be added to the product.
Want to collect user feedback in-app? Get a Userpilot demo and get started.
What is a feature request template?
A feature request template is a standardized form that allows users and customers to submit feature requests for your product. These can be embedded into your product's UI, send via email, or triggered contextually based on in-app engagement.
Who needs a feature request template?
Feature request templates can benefit the following companies and people:
Product teams – refine the product's value proposition and enable them to stick to a focused strategy.
Startups and SaaS companies – validate a new product or solution/feature idea to determine its market feasibility.
Customer success teams – help customers achieve their goals using your product.
Why should you use a feature request form?
A feature request form provides a platform for customers to share their feedback and be heard. Since they've used your product extensively, they are likely to have some feature suggestions that you and your organization wouldn't have considered.
If lots of customers' suggestions match, it's a sign that you should prioritize adding said feature at the top of your list.
Keep in mind though, not every request needs to be implemented. Always aim to understand what the need behind the request is and avoid product bloat by sticking to your vision and values.
Best practices when collecting feature requests
Collecting feature requests for your product should be easy if you know the best practices. Below are some of them:
Avoid the feature fallacy trap
Feature fallacy happens when your product has the same features across all platforms and systems, or as your competitors.
If you try to replicate all features without considering your customers' needs, you will fall into the feature fallacy trap.
One way to avoid feature fallacy is to focus on user feedback data to identify the features to add that are valuable to your users.
Use multiple channels and customer feedback forms
In many companies, interactions with customers are measured using one or two channels, which limits the accuracy and depth of customer insights.
When you are tracking customer feedback across all channels, you can get a more complete picture of the customer experience and make better decisions about how to improve.
Below are forms and channels you can use to show your feature request template to gather product feature suggestions:
Always close the feedback loop
Whenever customers send you feedback, they want to know you have considered their voice and you are working on fixing the issue they might have.
In the case of feature requests, you must recognize their suggestions by replying to them. You don't have to implement their requests immediately—just acknowledging their message can go a long way.
Doing so enables you to close the feedback loop and shows customers that you consider their opinions.
From here, analyze the feedback and see if executing their suggestion would make your product better.
What are the different types of feature requests?
Based on the users' intentions, we can divide feature requests into three categories:
Bug fix requests – Whenever your product stops working properly, users send bug reports that require immediate resolution.
New feature request – Users suggest features you should consider adding to your product to better meet their needs.
Improved functionality – Users make recommendations on how you can improve the product based on their experience using it.
Feature requests form templates for SaaS products
To gather product feature requests correctly, you must take cues from some of the best SaaS companies.
Below are templates of how other brands collect qualitative feedback and why they're good.
Userpilot's feedback form widget for new feature requests
Userpilot has embedded a feedback form in their in-app help widget that customers can easily use to submit their suggestions.
This way users can provide immediate feedback with open-ended responses that will give a better idea of what is bothering them and how it can be improved.
You can also implement this simple yet effective way of proactively collecting feedback by embedding your feedback form in a visible place.
In-app feature surveys in Slack
Slack uses an in-app feature request survey to collect user feedback. To get more data, Slack also implemented one open-ended question to allow users to elaborate on their experience.
The great thing about this product feature request is it allows the company to collect quantitative and qualitative data. Both help in organizing the feedback properly and gaining insights into answers.
User satisfaction surveys – Jira
Jira uses a customer satisfaction survey to understand what users think about their product.
Based on their responses, Jira can determine users' sentiment for a particular feature. They can then reach out to these users to get more insights.
The closed nature of the survey makes completing it much easier for customers. All they need to do is choose an answer that best describes their feelings about the product without having to elaborate on it.
User interviews – Postfity
Postfity takes an interesting route concerning collecting customer feedback.
They ask users to provide ten minutes to answer some questions regarding their product experience.
To encourage its users to participate in interviews, Postify offers a $20 Amazon gift card.
Remember that you are taking valuable time away from customers by asking them to fill out your form or answer your survey. By incentivizing the process just like Postify did, you can get more customer insights and improve customer relationships.
Public product roadmap-Prodcamp
To give its customers an idea of what it has up its sleeves, Prodcamp has a public product roadmap open to everyone.
A product roadmap allows people to submit their suggestions if they don't see a feature they feel the product is sorely missing.
They can also comment on requests they feel strongly about or upvote those they want to be implemented now rather than later.
Churn questionnaire templates – Leadpages
Your customers can downgrade or unsubscribe from their plans if they're unhappy with your product.
But before Leadpages allows them to do that, they ask them to answer a churn survey to gather customer feedback and improve the product.
The survey allows customers to think twice about canceling. Asking for feature requests shows that the company is willing to do what it takes to retain them as subscribers.
They also use this to draw the user's attention toward the fact that the missing feature might actually exist in the product, prompting users to change their minds about canceling.
User experience surveys – Dribbble
If customers leave feedback on Dribbble, the company sends a follow-up question asking them to rate their experience thus far.
The user experience survey lets users rate the quality of their experience and write additional comments about it.
The questionnaire gathers quantitative and qualitative feedback so Dribbble can collect information on how to improve its customer experience.
It also enables the company to identify new features to prioritize integrating into the product.
Bug report template – ClickUp
Customers may encounter bugs with your product. You want to address them immediately to continue providing excellent customer experience to users and prevent them from leaving.
ClickUp does this through its "Report a Bug" feature request template.
Asking for visuals concerning bug reports is crucial. It helps ClickUp identify the problem at hand so the company can address it appropriately.
In-app feature request template – Postfity
Postfity uses an in-app feature request template to give its users an opportunity to tell what they are missing.
Using Userpilot to build these forms you can make sure they appear while customers are using a specific feature in the product.
Making your forms appear contextually shows users that you are invested in their success and reduces churn.
New feature adoption survey – Usersnap
Instead of making customers think of a feature to add to your product, let them choose from features you're planning to add!
This is what Usersnap did with its feature request template. By reaching more users, it shows a list of requested features and asks customers to choose the one that they would like to use.
This is a great way to determine which new features to prioritize in your product roadmap.
Conclusion
Part of providing excellent customer experience to keep customers as subscribers is to collect feature requests they want you to add to your product, and work on them.
To do this, you must collect their feedback, as indicated in the tips and examples above.
Want to get started with your product feature template? Get a Userpilot Demo and see how you can gather all your feature requests with a detailed description of each to provide customers with a product they'll love.