14 Best Growth Marketing Software for SaaS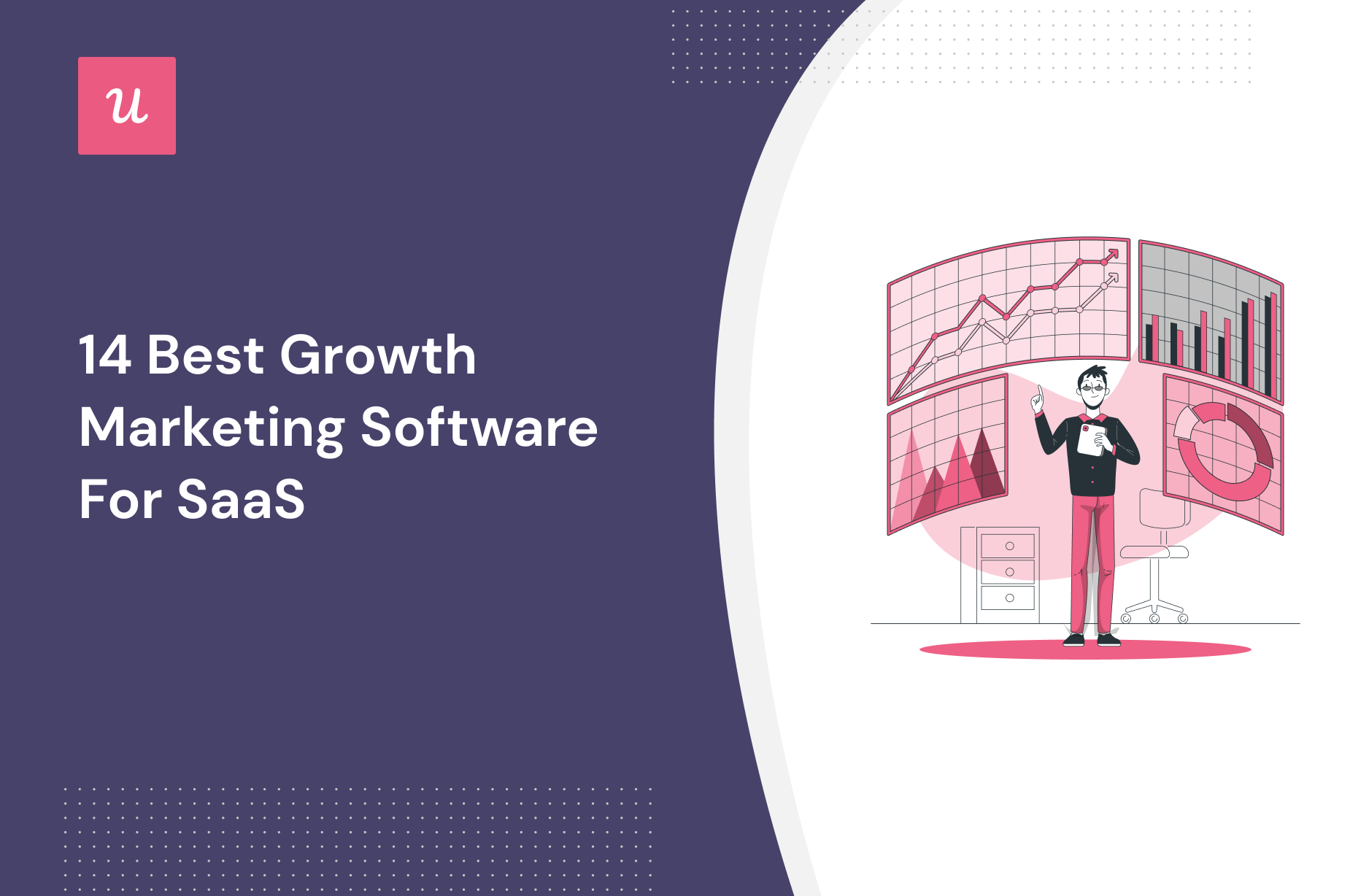 Growth marketing involves experimentation and optimization across the marketing funnels. Marketers today are moving from the traditional "set and forget" approach to a continually evolving growth-focused approach to marketing goals.
According to Ryan Holiday, author of Growth Hacker Marketing, being a growth marketer is about "throwing out the playbook of traditional marketing and replacing it with only what is testable, trackable, and scalable."
But doesn't it come with an increased need for coding or technical knowledge for marketers?
Well, not necessarily. You can find a range of growth marketing software that require little to no coding knowledge and are best suited for SaaS products.
In this post, we'll share the best growth marketing tools for your SaaS business, based on categories such as in-app marketing, email automation, and more.
TL;DR

Try the Best Product Growth Marketing Software Now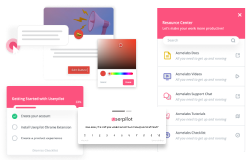 What is growth marketing?
Growth marketing is achieving exponential and sustainable business growth by identifying high-impact tactics across the customer journey. It helps growth marketers make significant business gains by implementing targeted marketing strategies and building customer-centric content.
Why use a growth marketing platform?
Using a growth marketing platform can offer numerous advantages to businesses and marketing teams looking to achieve sustainable growth and improve their marketing efforts, unifying marketing strategies in one place.
Here are several reasons why organizations use growth marketing tools:
Data-Driven Decision Making: Growth marketing platforms provide access to a wealth of data and analytics tools. This enables marketers to make data-driven decisions based on user behavior, performance metrics, and insights. It helps in identifying what works and what doesn't, leading to more effective growth marketing strategies.
Personalization: Personalization is a key aspect of growth marketing. These platforms often include features for segmenting audiences and delivering personalized content or experiences to specific user groups throughout the entire customer journey. Personalization can significantly improve conversion rates and customer engagement.
Automation: Growth marketing platforms often come with automation capabilities. Marketers can automate various aspects of their campaigns and lead generation engine, such as email marketing, social media scheduling, and ad targeting.
A/B Testing and Optimization: A/B testing is essential for refining marketing strategies. Growth marketing platforms typically offer A/B testing features that allow marketers to test different variables on a landing page, in-app, or via email campaigns and determine which performs better.
Multi-Channel Integration: Many growth marketing tools integrate with various marketing channels streamline marketing efforts and provide a holistic view of performance and marketing objectives across channels.
Campaign Tracking and Attribution: Effective tracking and attribution are crucial for understanding the impact of marketing campaigns and growth strategy. Growth marketing tools track campaign performance, measure ROI, and attribute conversions to specific marketing strategies.
Customer Retention: Growth marketing is not just about acquiring new customers; it's also about retaining existing ones. These platforms can help in segmenting and targeting existing customers with relevant content and offers to encourage repeat business.
#1 Userpilot – All-in-one product growth marketing platform
Userpilot is a product growth platform that drives user activation, feature adoption, and expansion revenue. It also helps product teams collect user feedback, streamline onboarding, and gather actionable insights from analytics.
With Userpilot, you'll be able to track both product usage and user behavior to get a holistic view of how customers use your product — which will guide future development, improve the user experience, and inform your growth efforts. It helps you to plan and track marketing in one place.
As a full-suite digital adoption and in-app marketing automation platform, Userpilot has all the features you need to onboard users, track analytics, and employ your growth marketing strategy without writing a single line of code.
Here are a few pros of using Userpilot as your product growth solution:
• No-code builder: Userpilot's Chrome extension is easy to use and lets you build flows, add UI elements, and tag features without writing a single line of code.
• UI patterns: There are plenty of UI patterns to choose from when using Userpilot, such as hotspots, tooltips, banners, slideouts, modals, and more!
• Startup-friendly: Userpilot's entry-level plan gives you access to all available UI patterns so you can hit the ground running.
• Walkthroughs and flows: Build engaging interactive walkthroughs and personalized onboarding flows that target specific segments of your user base.
• Self-service support: Build an in-app resource center to help users solve problems, customize its appearance to align it with your brand, and insert various types of content (videos, flows, or chatbots) to keep your customers satisfied.
• A/B testing: Userpilot's built-in A/B testing capabilities will help you split-test flows, iterate on the best-performing variants, and continually optimize based on user behavior.
• Feedback collection: Userpilot has built-in NPS surveys with its own unified analytics dashboard and response tagging to help you retarget users. There are other survey types to choose from and you can even create your own custom survey.
• Survey templates: There are 14 survey templates to choose from so you can gather feedback on specific features or run customer satisfaction benchmarking surveys like CSAT and CES.
• Advanced analytics: Userpilot lets you analyze product usage data, funnels, trends, and conversion rates, as well as, monitor engagement on all in-app flows, and use the data to create user segments that are based on behaviors instead of demographics.
• Event tracking: Userpilot's no-code event tracking lets you tag UI interactions (hovers, clicks, or form fills) and group them into a custom event that reflects feature usage.
• Third-party integrations: Userpilot has built-in integrations with tools like Amplitude, Mixpanel, Kissmetrics, Segment, Heap, HubSpot, Intercom, Google Analytics, and Google Tag Manager so you can share data between all the solutions in your tech stack.

Try Userpilot and Take Your Growth Marketing to the Next Level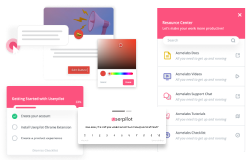 #2 HubSpot Marketing Hub – All-in-one digital marketing solution
HubSpot Marketing Hub is an all-in-one digital marketing solution that includes Customer Relationship Management (CRM), Email Marketing, Campaign Automation, and of course, Marketing Analytics and Dashboard Software.
With Hubspot Marketing Analytics Software, you can track the complete customer lifecycle, create behavioral events to track user actions on your website, and measure the quantity and quality of website traffic on a page-by-page basis.
You can also filter your analytics using specific metrics to track down the sources of key metrics like sessions and conversion rates.
HubSpot offers detailed reports pulling data from multiple sources, including your website, emails, blog posts, social media accounts, and more.
The pricing plans of HubSpot Marketing Hub start from $50 per month for 1,000 marketing contacts. If you need extended functionalities like single sign-on and predictive lead scoring, you can opt for its Professional or Enterprise plan.
#3 Google Analytics – Free analytics tool for growth marketers
Google Analytics is easily one of the most popular analytics tools in the market, and it's free. You can track a range of visitor activity, including how visitors arrive at your site, where they navigate, and the time they spend on each page.
Getting started with Google Analytics is quite simple (even simpler if you already have a G Suite account set up). You can easily add a verification tag to your site's HTML.
Moreover, Google Analytics allows conversion tracking, which helps you track each conversion source once you set up your conversion points.
To make it even better, you can link to Google Search Console to help you analyze search traffic to your website or mobile app.
Top GA features for growth  marketers include:
Customized dashboard, so the data you need most is front and center.
Predictive analytics to see what tomorrow might bring.
Detailed event tracking so you can focus on the metrics that matter to your business.
Easy audience segmentation to deliver hyper-personalized experiences.
The ability to create customized reports.
The newer version of GA4 also provides access to data exportation.
#4 FullStory – Session tracking platform
FullStory is a digital experience analytics and session replay platform that can be valuable for growth marketing professionals and teams.
It offers a range of features and capabilities that can help in understanding user behavior, optimizing user experiences, and driving growth for your digital products or services.
This powerful tool combines session recording and product analytics. It captures page views and clicks that visitors make on your site and has the ability to track and measure "rage clicks".
FullStory comes with AI and machine learning features and lets you calculate and track KPIs, including conversion rates.
You can visualize data using dashboards and integrate with Slack to share user sessions with your team.
#5 Hotjar – growth marketing software for tracking user behavior
Hotjar uses a range of tools to collect user behavior data, including heatmaps and session recordings.
It captures the actions of the users on landing pages and on your website, including mouse movements, clicks, taps, and scrolling across multiple pages on both desktop and mobile apps.
Hotjar also helps you visualize conversion funnels, which allows you to find loopholes easily.
#6 LogRocket – Behavioral analytics tool
LogRocket is primarily a behavioral analytics tool that also collects user activity data using session recordings and heatmaps.
With LogRocket, you can combine the session recordings with network logs, JS errors, and console analysis, making it valuable for bug tracking.
You also get a co-browsing feature that helps you share your screen with the user. This lets you easily guide your users while resolving any issue.
LogRocket also comes with in-depth user behavior analytics that provide valuable insights that can help you make more informed decisions.
Like FullStory and Hotjar, LogRocket also comes with a free plan with limited features.
#7 User.com – Marketing automation platform to deliver targeted messages
User.com is an all-in-one marketing automation platform that comes with brilliant email marketing tools.
User.com offers snippet tags, which you can define to make your message specific to individual users. You can personalize the email by adding the receiver's first name and unique website history.
You also get access to its analytics module that lets you track open rates, click-through rates, and the number of unsubscribed users per single platform.
The best part of User.com is its built-in drag-and-drop editor that helps you create visually appealing emails easily using its layouts, importing your custom layouts as ZIP files, or using the HTML editor.
#8 ActiveCampaign – Growth marketing platform to automate CX
ActiveCampaign is a customer experience automation platform (CXA) that offers pre-built automation combining email marketing, marketing automation, and CRM.
The platform has a built-in drag-and-drop email designer to help you set up attractive email campaigns in no time.
Its segmentation and dynamic content features let you customize your message easily and send targeted emails. You can also personalize your emails based on the existing contact information of the users.
ActiveCampaign also offers reporting features to give you access to analytics that help you understand which emails are performing and which ones aren't. You can also perform split testing to find the best version of your emails and get more opens, clicks, and buys – all in one place.
ActiveCampaign can integrate with popular third-party apps and services like PayPal, Shopify, WooCommerce, Facebook, and more.
#9 GetResponse – email marketing tool
GetResponse is an all-around marketing platform that includes more than 30 tools, including a powerful email automation solution.
Like User.com and ActiveCampaign, GetResponse also boasts an easy-to-use drag-and-drop tool to design emails. You can also choose from its collection of customizable email templates.
You can build custom segments to send targeted emails and use dynamic content for personalizing your emails.
Another brilliant feature is the option to make your emails shoppable by adding products from your GetResponse store or integrating your existing online shop.
GetResponse offers analytics that lets you track opens, bounces, and more. You can also track user behavior and conduct A/B testing. You also have the option to receive automated reports whenever you want.
#10 EZTexting – Growth marketing software for SMS marketing automation
EZTexting is a growth marketing software platform that specializes in SMS marketing automation. It offers a range of tools and features designed to help businesses engage with their audience through text messaging and drive growth through effective SMS marketing campaigns.
The platform offers automation features that enable online businesses to set up and schedule SMS campaigns in advance. Automated messages can be triggered by specific user actions or events, such as abandoned carts or subscription renewals.
EZTexting also allows you to personalize SMS messages with the recipient's name, location, or other relevant information, making messages more engaging and relevant.
#11 MeetAlfred – Growth marketing software to generate leads
Meet Alfred is a growth marketing platform that helps users create and manage automated marketing campaigns, target specific audiences, and track campaign performance.
With its intuitive interface and advanced automation capabilities, it is designed to help businesses optimize their marketing strategies, save time, and generate more leads and conversions.
Here are some of the pros of Meet Alfred:
Efficient lead generation
Personalization
Advanced Targeting
Detailed analytics
#12 Drift – Website chat growth marketing software
Drift is a cloud-based Revenue Acceleration platform that helps businesses automate sales processes by adding live chat functionalities to their websites.
You can create multiple Drift inboxes if you need to manage different types of conversations. Drift also allows sending preset replies for answering common questions.
The tool also offers Conversational Ratings that customers can use to provide feedback.
Your team can use Internal Notes if they need to communicate in the middle of a conversation. These notes are kept hidden from visitors and are only accessible to team members.
Drift also comes with a Conversational Analysis feature to provide you with insights that'll help you find ways of improving future customer interactions.
#13 Segment – Customer data platform
Segment is a customer data platform (CDP) that helps businesses collect, unify, and leverage customer data from various sources to improve their marketing and customer engagement efforts.
It offers a range of features and capabilities that enable organizations to gather valuable insights, create personalized customer experiences, and drive growth.
Segment allows businesses to collect data from a wide range of sources, including websites, mobile apps, third-party tools, and databases. It supports integrations with over 300 popular marketing and analytics tools, making it easy to centralize and unify data.
#14 Zapier – Growth marketing platform for integration automation
Zapier is an online tool that helps you automate tasks between website applications, such as Slack, Mailchimp, and over 1,000 other apps. With Zapier, you can send information from one app to another (Zap) without relying on developers to build integrations.
For example, you can integrate with Hubspot (CRM automation tool), so anytime a new contact gets created, they automatically get added to your Mailchimp (email automation tool) list. Essentially, Zapier saves time on repetitive tasks.
Zapier pros include:
Easy to set up each Zap without technical experience.
Multi-step automation for even complicated workflows.
Robust integration with lots of web apps.
Conclusion
Selecting the right set of growth marketing software and tools will allow you to build an effective omnichannel growth strategy for your SaaS business.
While the list of tools we've compiled for you can be a great starting point, keep in mind that your SaaS business and existing users might have different needs that these tools cannot cover. That's why it's important to stay in the loop and join conversations that are happening around the product!
Want to start your growth marketing journey? Book a demo with Userpilot – an all-in-one platform for product growth marketing.

Take Your Growth Marketing to the Next Level