Marketing Roadmap: The Product Marketing Manager Guide to Success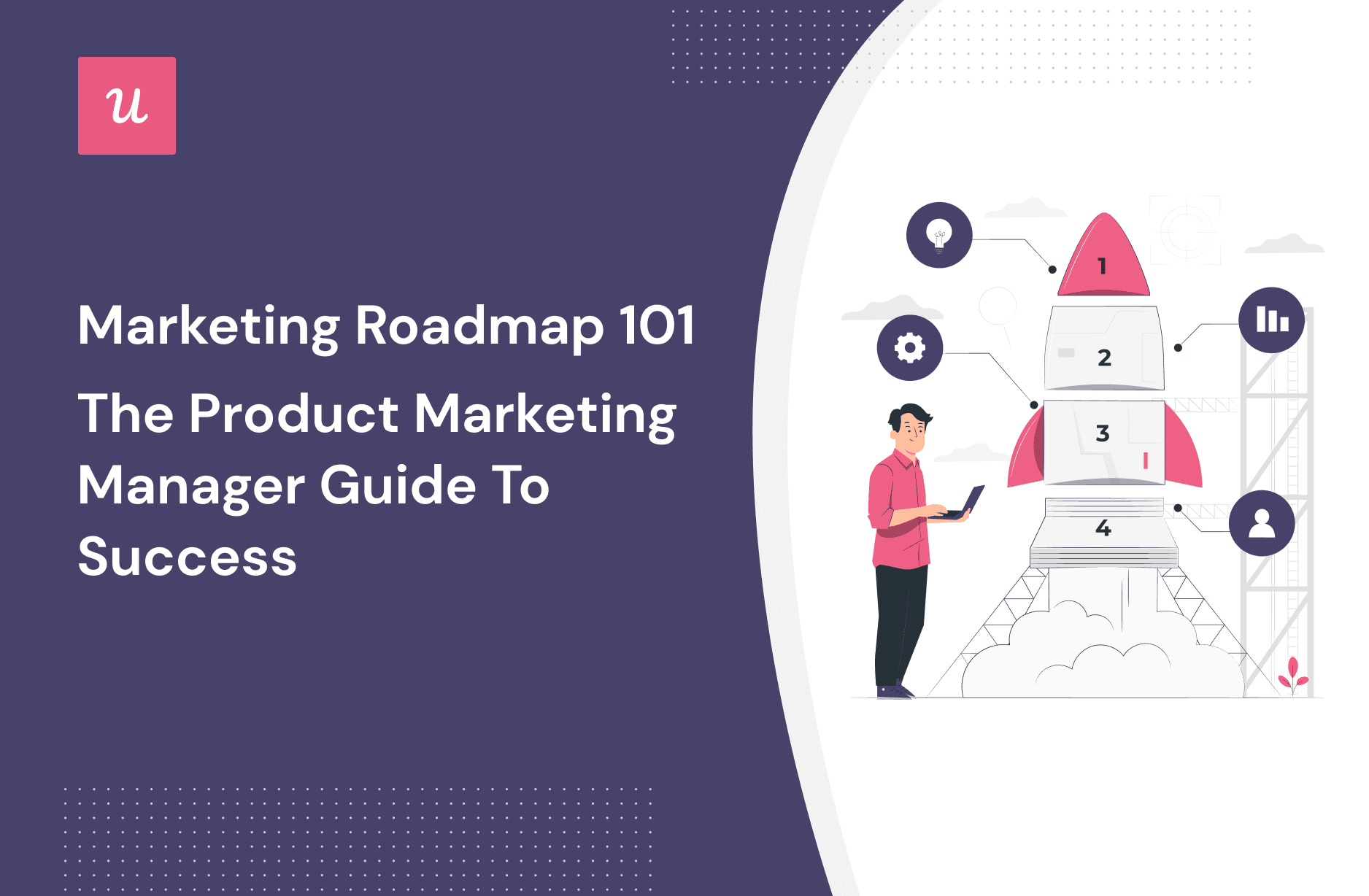 How do you design a marketing roadmap that structures your project and keeps your team organized through the marketing lifecycle?
A high-level strategic plan is the life force of a successful product marketing campaign. It connects business objectives to your marketing efforts and covers every important detail. But where do you begin?
This article dives into what a marketing roadmap is and how you can build yours effectively. It highlights roadmap templates and examples and provides five steps to building your roadmap.
TL;DR
A marketing roadmap is a structured timeline of events that communicates the marketing objectives and action plan.
Unlike a product roadmap, which is focused on features to be released and based on business objectives, a marketing roadmap is based on user needs and focuses on feature/product promotion.
Marketing roadmaps help you coordinate marketing activities between multiple teams and channels, keep everyone informed of their roles and timelines, and track your progress.
There are different marketing roadmap types: the project, campaign, portfolio, strategic, and digital marketing roadmap.
Every roadmap should include clear and measurable goals, marketing initiatives and activities to drive each goal, a timeframe for completing each activity, and a status indicator to track the team's progress.
A marketing roadmap template provides a starting point for your strategy. Some broad templates you may use include the go-to-market strategy, new user onboarding, and in-app campaign roadmap templates.
There are five key steps to follow when creating a marketing roadmap:
First, decide on the purpose of the roadmap and what you hope to achieve with it.
Next, break down that purpose into measurable goals (e.g., increase user activation by 10%).
Then, determine the activities and tasks required to accomplish those goals and set up tracking metrics.
Now, assign roles to team members and set task timelines.
Finally, always analyze, test, and refine your process to match new data and information.
Userpilot helps you set and track different in-app metrics to determine goal success. Book a demo to learn how it can improve your marketing success.
What is a marketing roadmap?
A marketing roadmap is a detailed timeline of what you want to accomplish with your marketing campaigns, the tasks needed for success, and when/how they'll be completed. It is a series of detailed strategic marketing initiatives, each contributing to the overall marketing objective.
Product roadmap vs. marketing roadmap
A product roadmap is based on the business objectives and how the product design helps you achieve those business objectives.
A marketing roadmap, on the other hand, is based on customers' needs, the product features that satisfy those needs, and how to get users to use those features.
A product roadmap focuses on new feature development and release; meanwhile, a marketing roadmap focuses on feature promotion to increase the chances of feature success.
What are the benefits of a marketing roadmap?
Marketing roadmaps are complex documents that capture and visually communicate your marketing plan. Although each roadmap serves a different (specific) purpose, they all produce the same benefits.
Visualize your marketing strategy and keep everyone informed of upcoming marketing campaigns and activities
When's the next marketing campaign? What are your marketing plans? Are there specific marketing campaigns for particular customer segments? What role does each team have to play in the campaign?
Building marketing roadmaps help you visualize your upcoming marketing activities. It also keeps everyone informed of the product launches or marketing activities that are coming up.
Marketing roadmaps alert team members about their functions and ensure each group works in sync to deliver the product marketing goals on schedule. They also help with management and ensure that tasks and resources are effectively managed.
Track the progress of your marketing efforts
A marketing roadmap identifies your goals and the ideal timeline for reaching those goals. It provides you with a measurable path for assessing success.
Strict start and end dates keep everyone on schedule, with the timeline indicating where you are compared to your goals. Essentially, it tells what you've achieved, what you're yet to achieve, and how much time you have left to reach your targets.
Coordinate work between marketing teams
A marketing roadmap creates alignment for your marketing project. A good roadmap unites team members, teams, projects, and campaigns under a single, organized strategy regarding the company's objectives and goals.
Assigning specific marketing activities to individuals/teams ensures every marketing team member knows what they're working on and why. It makes it easy to hold teams and individuals accountable for their successes and failures.
What are the types of marketing roadmaps?
You can create marketing roadmaps for just about any marketing scenario. Consider some situations where a marketing roadmap comes in handy.
Portfolio roadmap
A portfolio roadmap helps you align marketing plans from multiple marketing functions. It is a suite of related roadmaps focused on a single product.
For instance, you might have a team focus on customer acquisition using inbound and outbound projects. Another team may focus on customer activation, another on engagement and retention, and so on, each with its roadmap.
Finally, a portfolio roadmap combines all roadmaps into a single strategic map.
Marketing project roadmap
A marketing project is defined by its goals. For instance, your marketing goal may be to reduce friction points by improving/creating self-service support systems.
A marketing project roadmap consists of all the steps required to achieve this goal. It may include the creation of a resource center and/or the development of product use cases, webinars, blog posts, etc.
Marketing campaign roadmap
Marketing campaign roadmaps in SaaS are generally smaller than project roadmaps. A campaign roadmap consists of bite-sized tasks aimed at a strategic goal.
For instance, you could create a marketing campaign to upsell freemium users and convert them into paying customers.
Tasks involved in this campaign may include creating a modal with a CTA, adding a beacon on the UI with the word "New", and setting up an upgrade page.
The result of your freemium campaign activities may, thus, be as simple as this Asana freemium to premium conversion page below.
Marketing strategic roadmap
A strategic roadmap plans on a higher level than project and campaign roadmaps. Rather than focus on specific tasks or projects, it provides a high-level visualization of the strategic marketing initiatives needed to help the company achieve its long-term goals.
A marketing strategy roadmap is, thus, a general marketing plan for the company. It ties together the marketing campaigns, events, and activities that drive the company's marketing objectives.
Digital marketing roadmap
A digital marketing roadmap is a granular but in-depth plan highlighting how to achieve your marketing goal using digital channels.
For example, you may set a goal to increase product adoption using email marketing. Your email marketing roadmap may then include multiple email campaigns for specific micro goals like the welcome email series, follow-up emails on in-app feedback, and even a "how-to" email series.
Miro is an example of a SaaS business with a clear email marketing strategy. From its product updates to case studies and how-to guides, each email is designed to drive adoption.
Miro also uses automation triggers to determine what content will make an email useful for each user.
What should a roadmap include?
The specific content of a marketing roadmap depends on its purpose. For instance, campaign roadmaps will differ from project roadmaps. But, there are core elements to expect in both.
Timeframes: Each task/activity should have a specified timeframe (start date, end date, and duration) for completion to ensure everything runs on schedule.
Clear goals: Your roadmap should have a clear, specific, and measurable goal it aims to achieve. Goals should also be attached to each campaign or project within the marketing roadmap.
Marketing initiatives: Marketing initiatives serve as fuel for the roadmap. They provide you with focus areas to achieve your goals and measurable milestones throughout the roadmap.
Marketing activities: These are the individual tasks/activities required to accomplish your strategic goals.
Progress tracker: Progress tracking indicates the completion rate of the roadmap. It is informative when deciding whether to speed up or slow down your activities.
Marketing roadmap templates and examples
A marketing roadmap template is a preformatted marketing roadmap document. These pre-made templates provide a structure and starting point to guide your planning process, making the process faster. Some nice and adaptable marketing roadmap templates include:
Go-to-marketing strategy roadmap template
A go-to-market strategy roadmap is a visual representation of what you want to accomplish for your product launch and the schedule of events to get you there.
This marketing roadmap template has several use cases, from new product launches to expansion into new customer segments and emerging markets. It identifies your target audience/market and outlines a marketing and sales strategy to reach them.
The go-to-market strategy roadmap ensures you take the right steps during your product launch at the right time, thereby minimizing your chances of a failed launch.
New user onboarding roadmap template
The new user onboarding roadmap template covers the customer onboarding process and the customer journey. It guides the onboarding process, ensuring it is smooth, tailored, and helpful.
Creating a detailed roadmap helps break down everything that needs to be done for successful onboarding. It also ensures you have a proactive onboarding process, rather than a reactive one.
Marketing in-app campaign roadmap template to drive activation
A marketing in-app campaign roadmap gives you a clear vision of both your primary and secondary onboarding activities, spanning from the welcome screen to product advocacy.
The result of this marketing roadmap template is a user activation playbook that provides strategic direction for product-led growth, using customer analytics and automation to give direction and help you measure success.
Your tasks for this type of marketing roadmap may include: using a welcome screen to find out customers' jobs to be done (JTBD), creating user segments, creating different user journey flows, determining onboarding goals, and tracking their success.
How to create a marketing roadmap: 5 Key steps
All of the background knowledge covered so far has prepared you to create your own marketing roadmap. Now, let's look at 5 key steps to follow when creating yours.
Decide what you are planning
Your first step in creating a marketing roadmap is to decide the type of marketing roadmap you need. Your desired roadmap may be broad like a portfolio or project roadmap, or it may be streamlined like a campaign or content strategy roadmap.
The content of your roadmap will be drawn from your desired purpose. For instance, a new user onboarding roadmap will include a welcome survey, onboarding flow (tooltips, modals), segmentation, feedback collection, and customer analysis.
You can start by creating a high-level marketing roadmap template, before creating smaller roadmaps for the campaigns, channels, and projects involved in the roadmap.
Break it all down into goals
Once you determine your roadmap, it's time to set measurable goals. Depending on the project or campaign, your goal may be to increase activation, conversion, onboarding completion, or customer retention.
How you measure goal success also depends on the goal. For instance, you can track user activation by tracking custom user events that drive activation (like, how users engage with key product features) and how many times the main event occurs.
You can create and track these goals in-app and code-free using Userpilot.
Decide on activities and tasks
Now, it's time to break it all down into manageable tasks: The goal you have identified, its impact, and the tasks and actions required to accomplish that goal.
You may start by creating milestones to guide your marketing roadmap. Then, determine the actions that you must take to reach each milestone. At this stage, you should also have an idea of how much time each task will consume.
Finally, determine the right metrics to track your team's performance with the roadmap and measure goal performance and impact.
Assign roles and make a timeline
Your final task when creating a roadmap is workload management. Which teams and team members are best placed for a task? How much time do they need to complete this task?
Be careful to ensure the workload of everyone is realistic and that time allocation is balanced. Also, ensure that necessary resources are provided for quickly completing tasks.
A roadmap tool like Miro comes in handy in this phase, providing you with templates for organizing and prioritizing your roadmap. You may also use a project management tool like Asana to create a kanban board that makes project tracking easier.
Analyze, test, and iterate
Your roadmap is finally set. But before you sign off completely, go over it again. Are your goals still on point? Are all tasks properly captured to help fulfill your goals? Do you have your tasks scheduled properly?
This is the time for you to analyze and test everything. You may want to use a roadmap simulator to test different approaches before settling on one. And, always adjust your roadmap as you go.
When you find that certain things (goals, tasks, or milestones) are no longer relevant, cut them off and adapt your approach accordingly.
Conclusion
Marketing roadmaps are a great addition to your marketing toolkit. They serve as a guide, gluing together your marketing goals with the tasks and activities required to accomplish them. They also provide you with a way to track your marketing efforts and measure success.
Of course, what actions or goals are required will differ for the different types of marketing roadmaps. Still, Userpilot provides the tools to track your marketing performance and ensure you're reaching your goals. Book a demo today to learn how!