10 Must-Have Code-Free Product Marketing Tools – The Only Tools You'll Really Need As a Product Marketer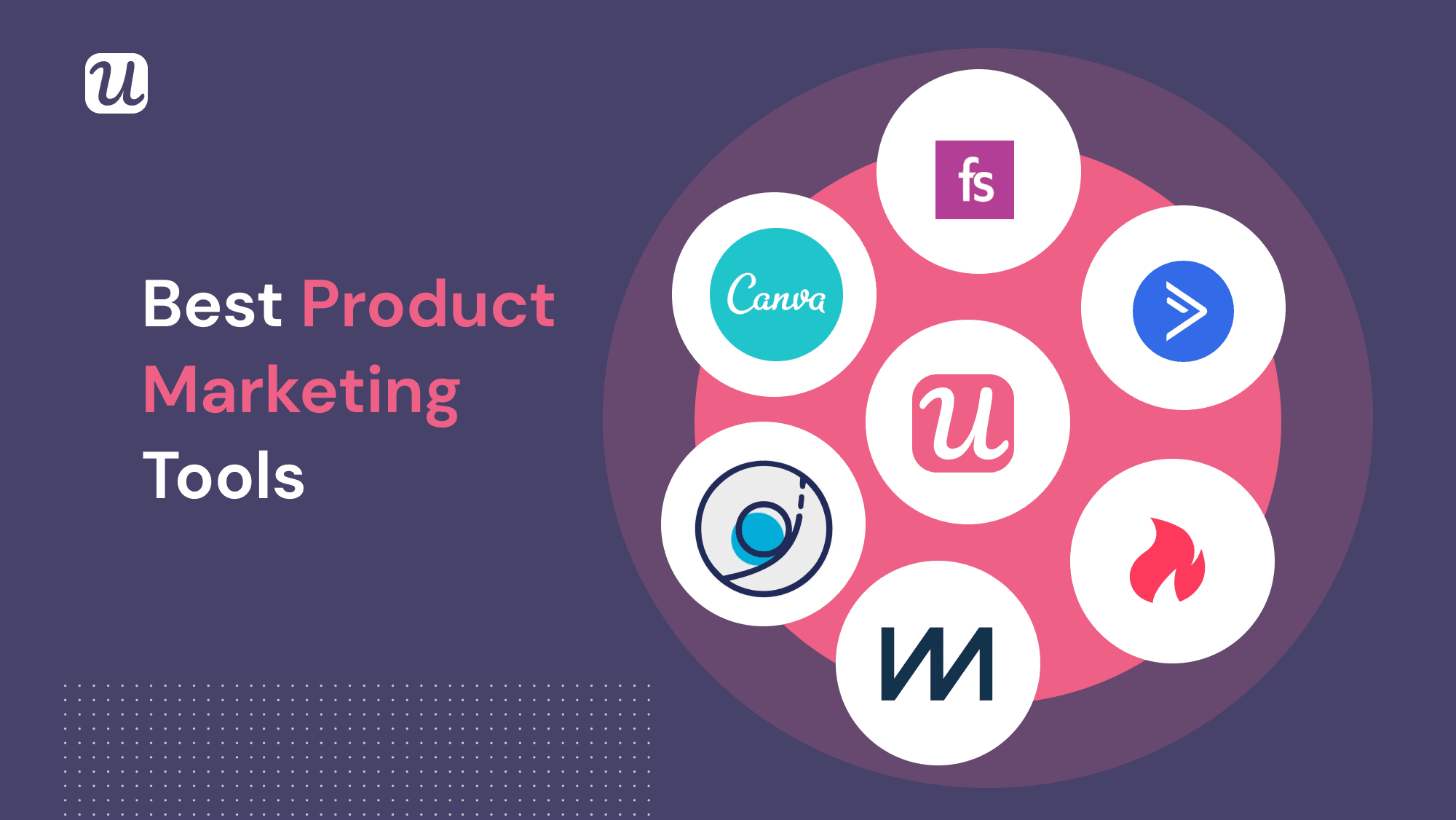 In this post, we're going to provide you with the best Product Marketing tools for each Product Marketing Job-To-Be-Done – which are critical for allowing your product marketers to do their work independently from your dev team or graphic designers!
This is critical since – as we know – your devs don't have time for that anyway and there's nothing more frustrating than dev bottlenecks in a SaaS company: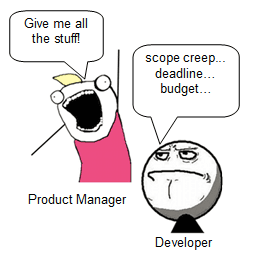 So this list will finally set you/your Product Marketer free from the dev bottlenecks!
Also: it's really curated.
Since we know how precious your time is and that all these '178+ Product Marketing Tools' posts are written for SEO and not for humans (well, they are more overwhelming than useful) – we kept our list short and really to the point. We've selected only the 10 tools, most of which we've actually used, and that the Product Marketers we've interviewed mentioned in our conversations.
First of all – we've divided the tools by the pre-signup and post-signup Jobs-To-Be-Done (check out our earlier post about product marketer's role for more information!):
– pre-signup: creating any of the bottom-of-the-funnel content that will push the considering users to make the decision: FAQs, comparison pages, feature pages etc.
– post-signup: creating any content/experiences that will help your users make most our of your product: from new user onboarding, through feature engagement experiences and announcements…
Jump to the relevant category for the best code-free tools that will empower your Product Marketers to do it all on their own:
Pre-signup:
Post-signup:
Pre-signup Product Marketing Tools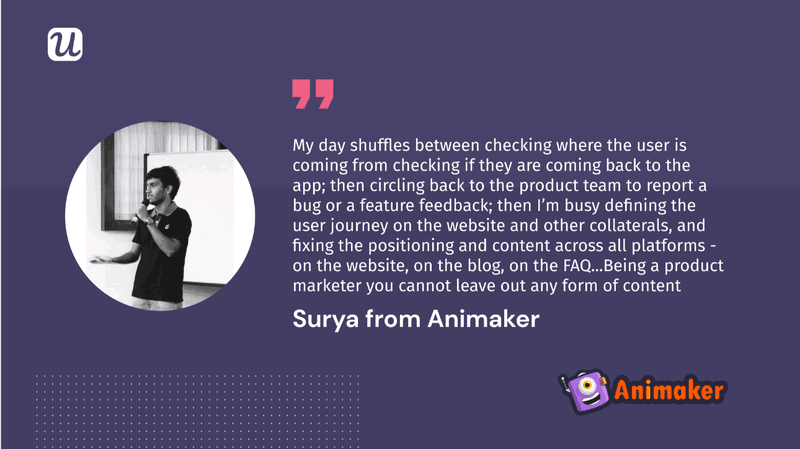 One of Product Marketers' responsibilities is to create compelling educational content for the bottom-of-the-funnel consideration stage. This may include video tutorials (Ahrefs refers to them as 'pre-boarding' – which can also be used post-signup for new user onboarding!), comparison pages, and PDF 'how-to guides' for sales enablement.
Video Tutorials, Video/Photo Editing – Filmora 9, Sendspark, Loom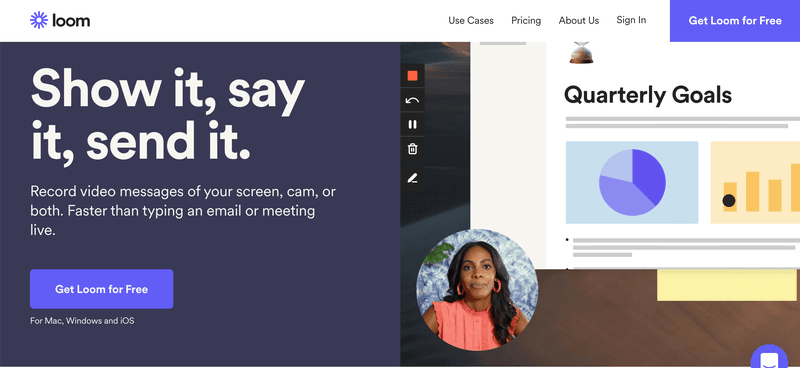 Loom is decidedly my favorite video recording app out there. It's dead easy to use and allows to record the screen and 'talking head' at the same time. All you need is your in-built laptop camera and Loom chrome extension.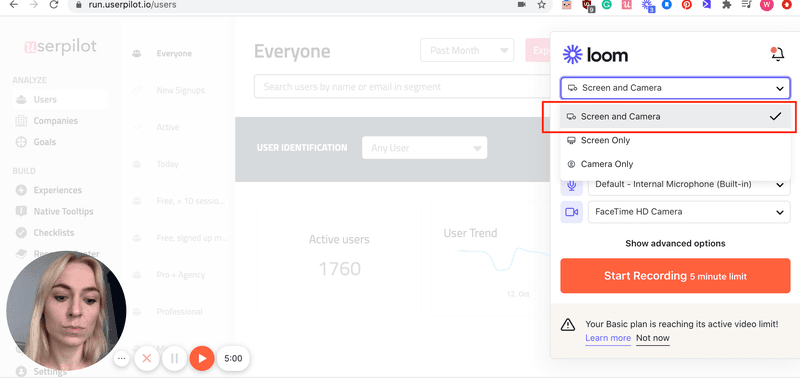 It is perfect for quick video tutorials (in the free plan, you're allowed to record up to 5 minutes and up to 100 videos – but it totally makes sense to upgrade to the higher plan for $10 per month to have unlimited videos and extra features such as CTAs, custom branding, video drawing tools, and engagement insights.)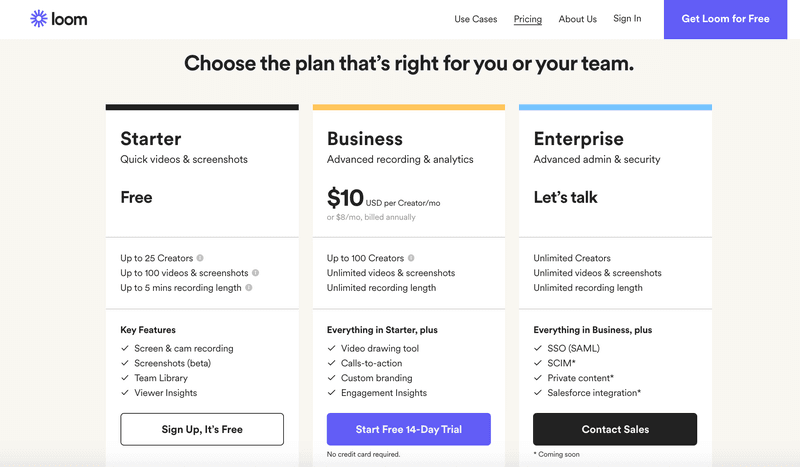 After recording your screen using the chrome plugin, Loom copies the link to the video to your clipboard and opens the ready to view the video on its dashboard in a new window: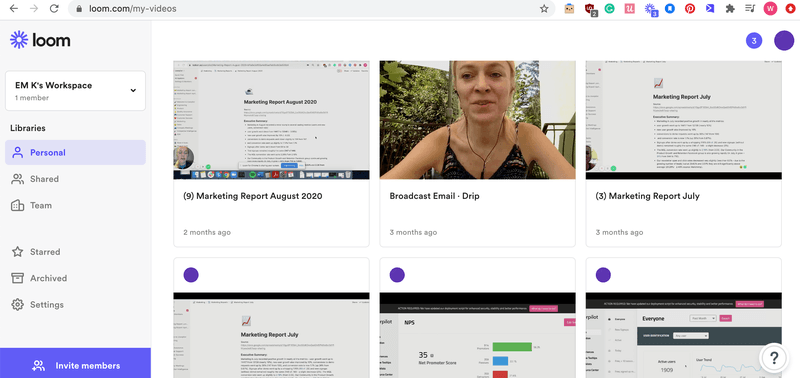 You can easily share the video with others via a link (you can also make the video password-protected for higher security):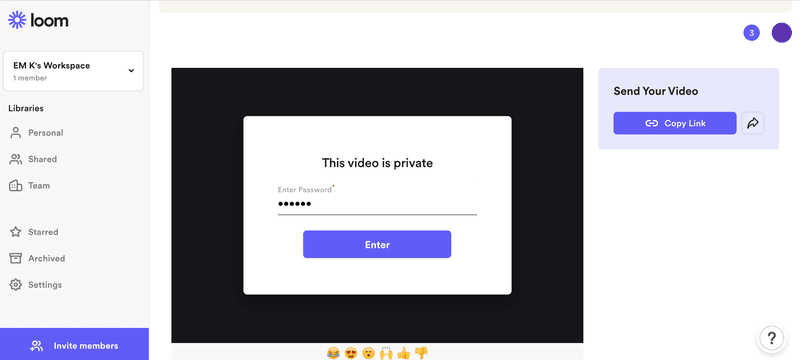 Loom allows you to do basic edits on the videos such as trimming, but let's face it – it's not really a video editing tool. That's why it makes sense to download the videos you make in Loom and use a dedicated video editing tool before uploading them to YouTube or your website (Loom doesn't allow direct embeds, so there are more useful tools you can use if you want to use the video in your newsletter or blog – such as Sendspark – which we'll get to later.)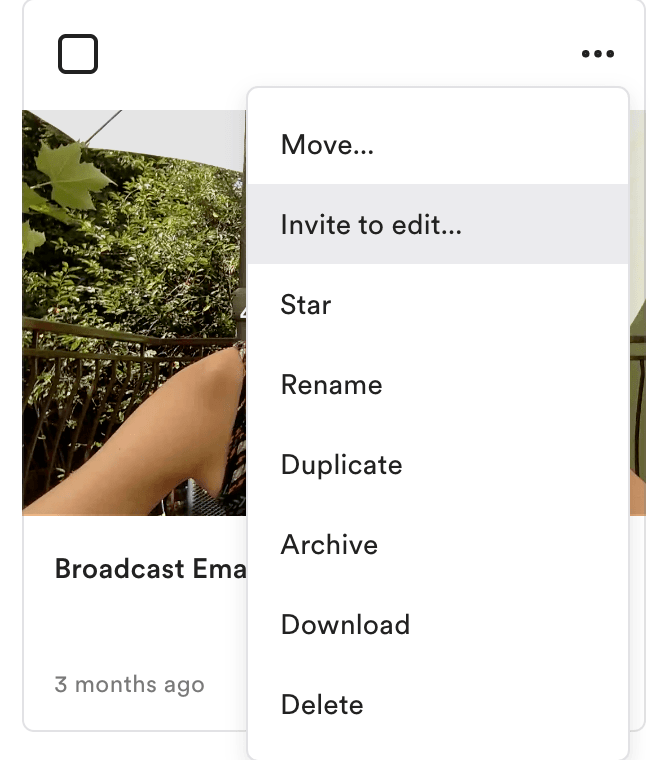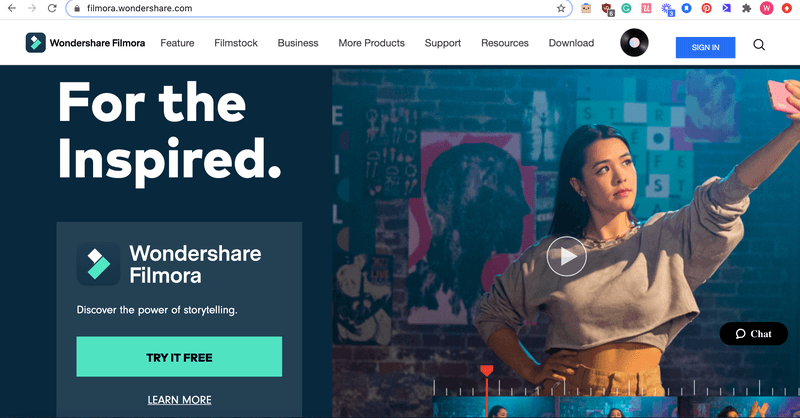 Filmora is Wondershare's flagship video editing software which allows even video editing newbs to create professional-level tutorials.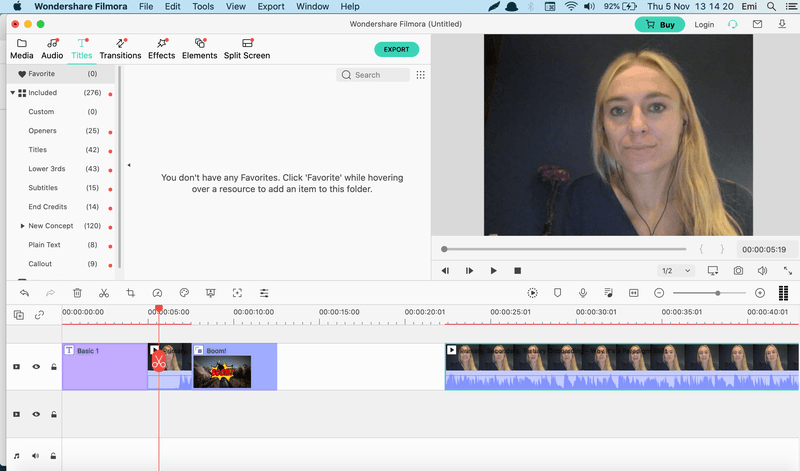 While the interface is easy – you can still create pretty advanced effects in your videos that iMovie won't handle. It also offers a robust library of stock music, transitions, and effect templates: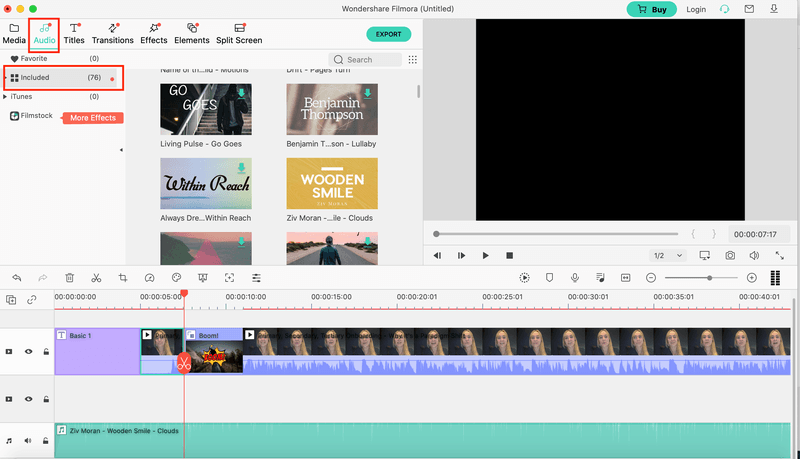 It's also really affordable for the kind of capabilities it offers: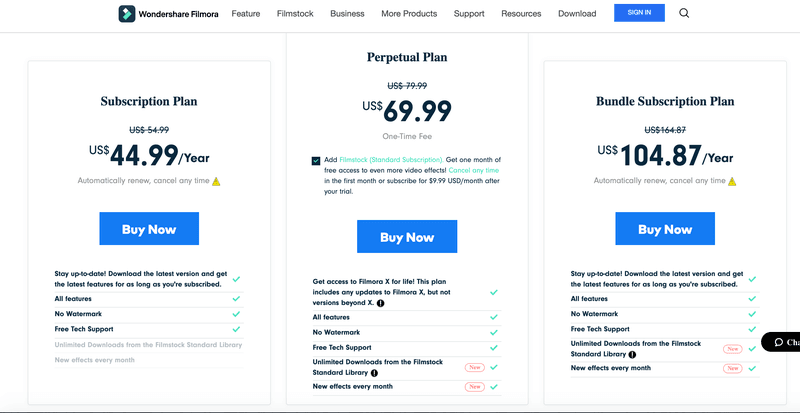 The only downside of Filmora is that it's not a web application – you need to actually download it on your computer to use it.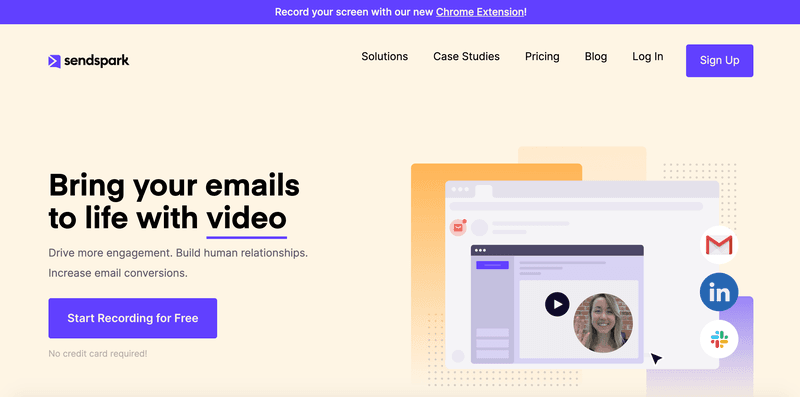 If you're looking for a quick and easy way to record talking head videos or screencast tutorials to embed in your email – Sendspark is your lady.
It seems similar to Loom in its design and the way it works (both have a chrome extension and host the videos themselves, so you can quickly share them via a link), but there are some key differences between them:
Email + Blog Embedding
✅ Sendspark allows embedding the video directly in your email/ newsletter /blog with en embed code
❌ Loom doesn't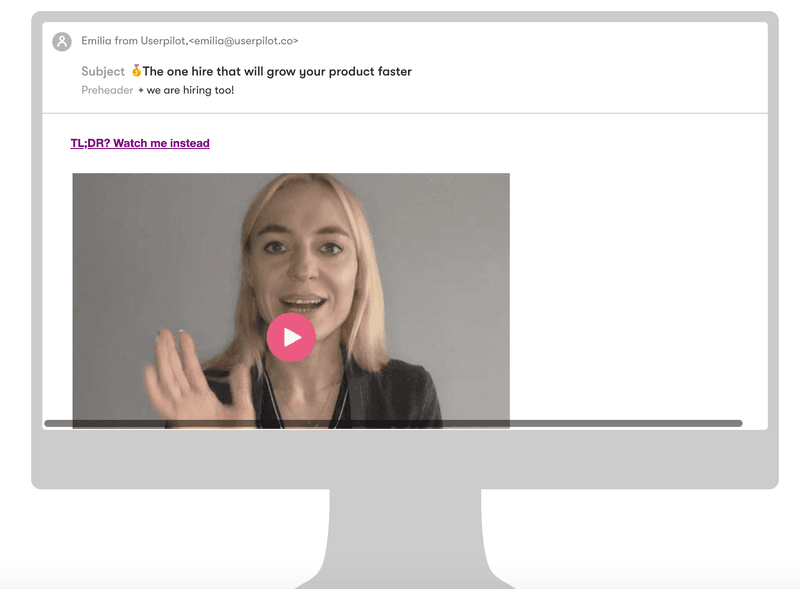 Sharing Landing Page Presentation
✅ Sendspark – beautiful landing page with branding and CTA
❌ Loom – utilitarian landing page without branding or a CTA
When you share the video via link with Sendspark, you get a beautiful, clean landing page with branding and CTA leading to a destination of your choice – e.g. your blog or a relevant resource to read more: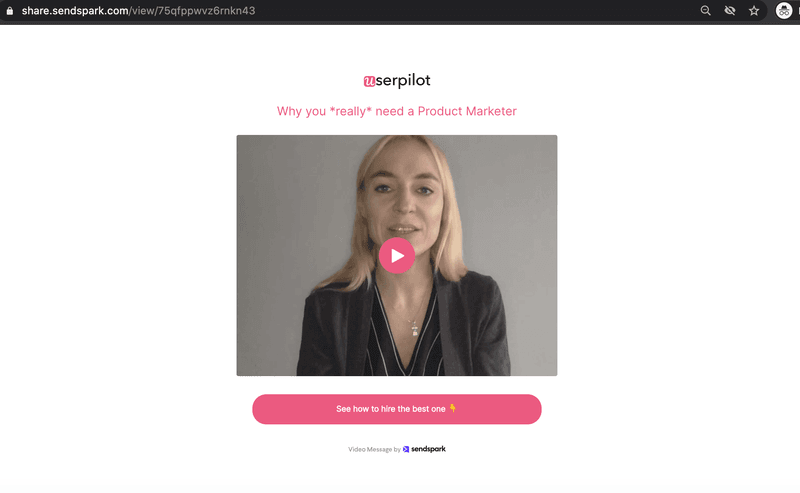 The landing pages generated by Loom look cruder and 'utilitarian' – I use them internally to share e.g. feedback or a marketing report, but not for communication with users/ leads: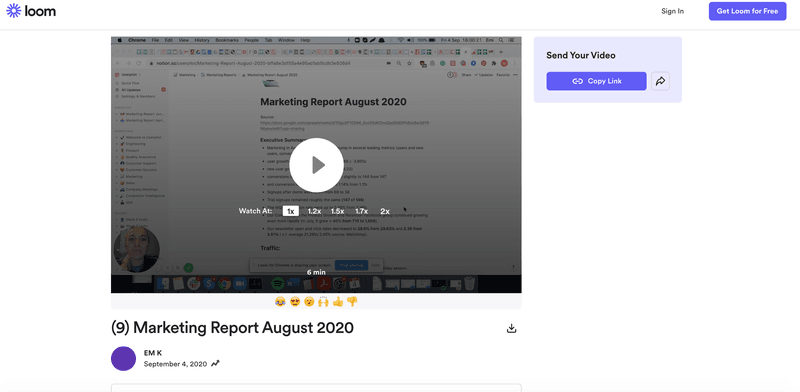 Pricing: Loom is cheaper
Sendspark is becoming more and more popular and I may switch to it eventually, but if you're on a really tight budget:
✅ Loom offers you 100 videos for free, while ❌ Sendspark – only 30.
Nevertheless: Sendspark pricing is also really affordable: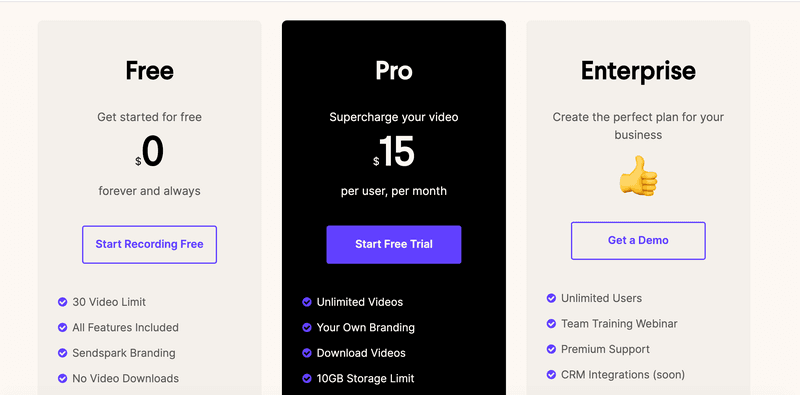 Comparison Pages, Feature Pages
As a product marketer – you will inevitably need to write landing pages for specific solutions of your product, or comparing your product to its competitors. Without coding skills or lots of time to make the landing page look good in Elementor or WP Bakery – I would say using a landing page editor is the best solution for you.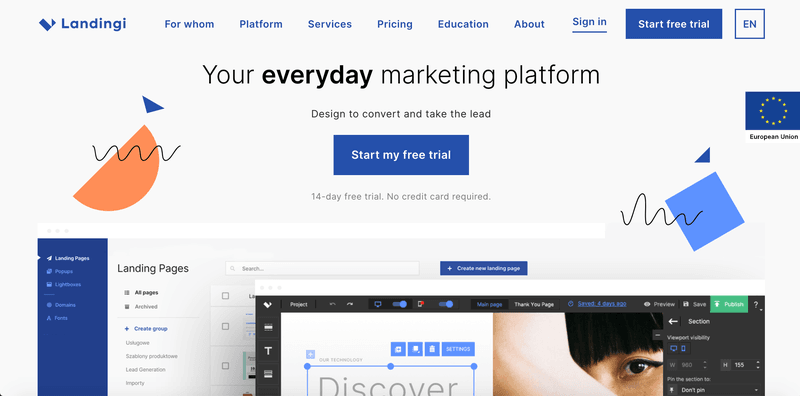 If you need to whip up a quick landing page for a specific purpose: e.g. about a solution or feature of your product, or a comparison pages – e.g. for Google Ads or a landing page with a signup form for an ebook launch or a webinar – Landingi is a godsend.
I have used Landingi to whip up a landing page for our Product Drive ebook launch – and I had very limited time to do that…5 hours, to be specific.
To make life harder: it was the first time ever I was using Landingi.
What do you think happened?
A) A disaster
B) A beautiful and very successful landing page which brought us a 46.5% conversion rate?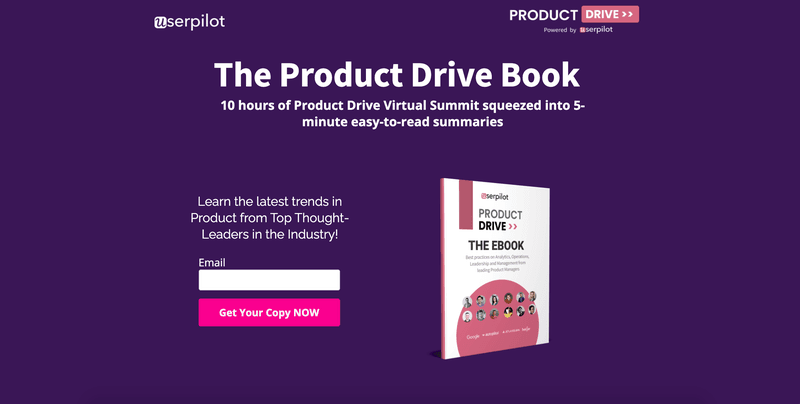 Even though A seems like the more likely option, Landingi was so easy to use and offered design options that were so powerful – that we managed to hit the jackpot even though a) I was using it for the first time, and b) I had very limited time to work with it: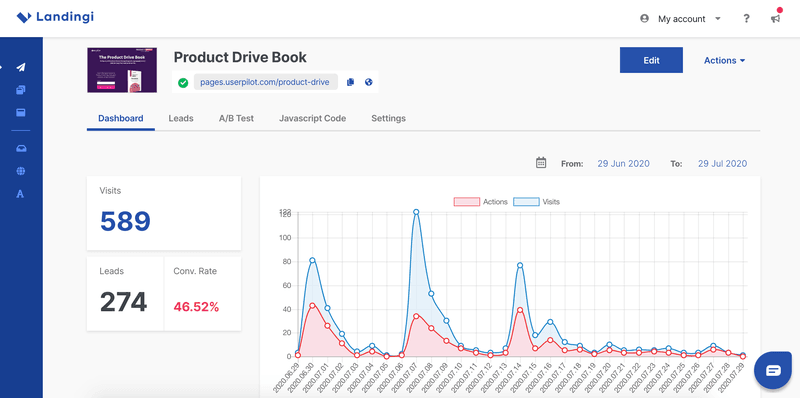 As you can see – Landingi also offers easy to use page analytics. It also has an in-built autoresponder, which means you don't need to faff around plugging your email marketing tool in if you're in a hurry.
And the pricing, again, won't break your budget: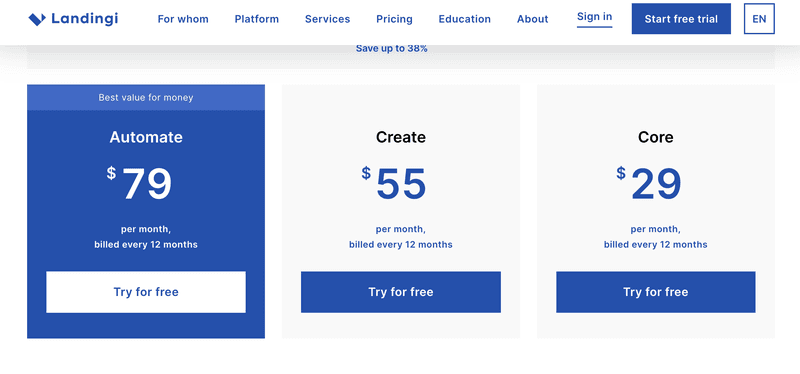 Graphics, Sales Enablement Assets
Canva boasts a rather bold statement 'Design Anything' on its dashboard. But in the case of Canva, it's not an overstatement – there really isn't a format, platform, or a Job-To-Be-Done that Canva doesn't have templates for!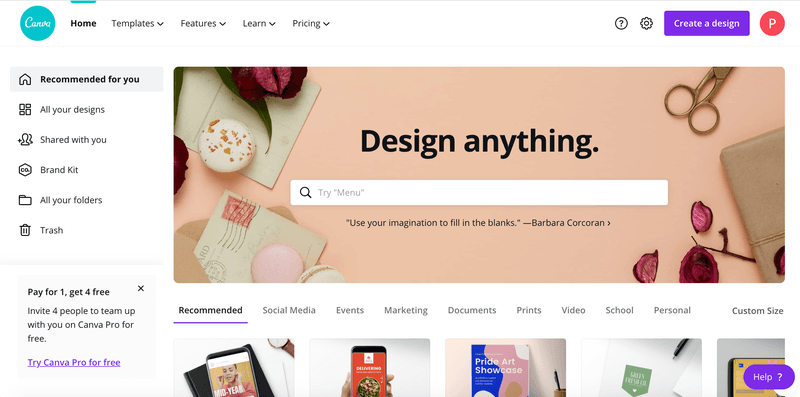 Canva is without doubt one of the best beginner design tools out there – it lets you create beautiful designs based on pre-defined templates in many formats. You can create infographics, graphics for social media, posters, flyers, ebook covers, and a number of other designs.
For a Product Marketer – you may be most interested in brochure templates for sales enablement: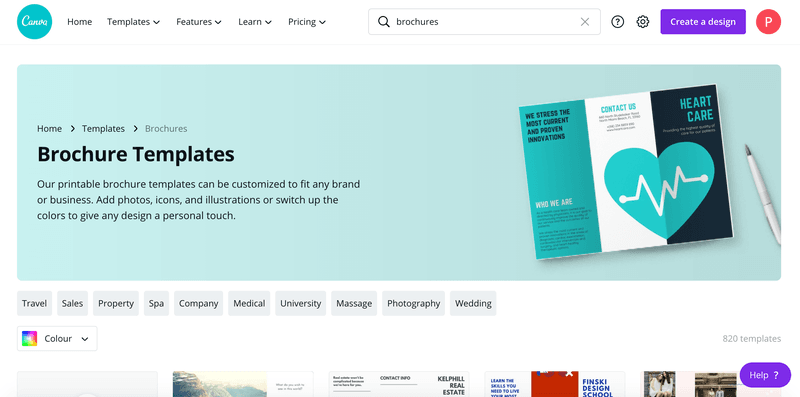 Each template is fully customizable – you can change the text, fonts, background, remove elements or add new.
The free version of Canva is usually enough to meet your Product Marketer's basic design needs – but the cheap Pro plan offers you the 'magic resize tool' – which will let your repurpose the content for many formats and platforms: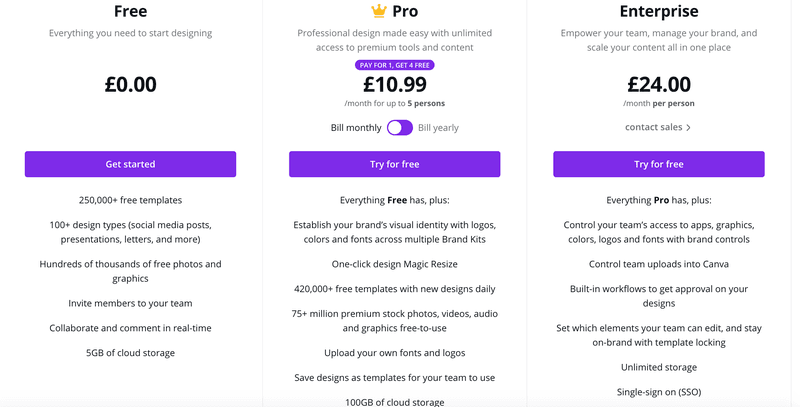 Post-signup Product Marketing Tools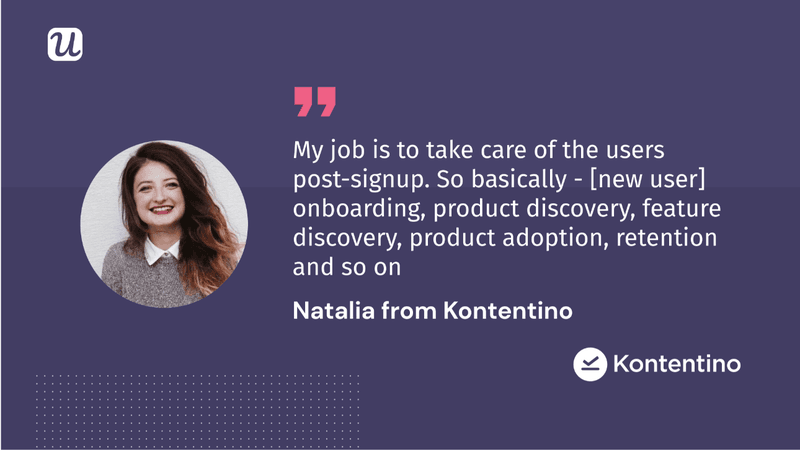 Now that we've covered some of the must-have pre-signup tools for Product Marketers, now it's time to look at our favorite post-signup tools.
As we mentioned before, a Product Marketer in a product-led SaaS company is often responsible for new user activation, feature engagement, adoption, and first-month retention.
Speaking of which:
They will have to look at user behavior analytics – see what the users actually do inside the app, and then come up with the right in-app experiences and emails/chatbot messages to help the users make the most out of your product.
While there is a plethora of both user analytics and product experience workflow tools out there – we've deliberately chosen the ones that are most Product Marketer-friendly, and require very little-to-no dev involvement (apart from installing the javascript code in your app/ on you website).
User Analytics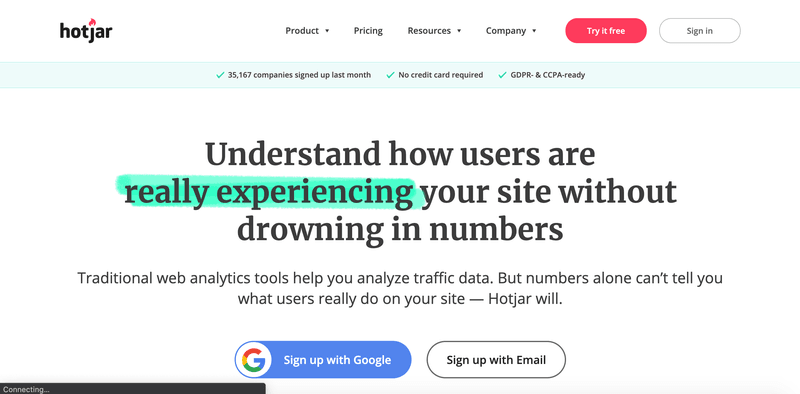 Our fave session recording tool is a must to really see what your users do inside your app. Unlike raw click data – which provides a more quantitative approach, session recordings give you that qualitative insight into how your users are really interacting with your app.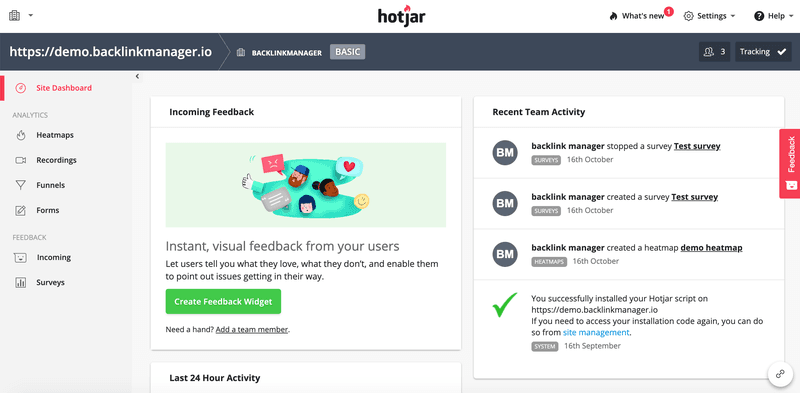 You can see the exact movements of your users in the app: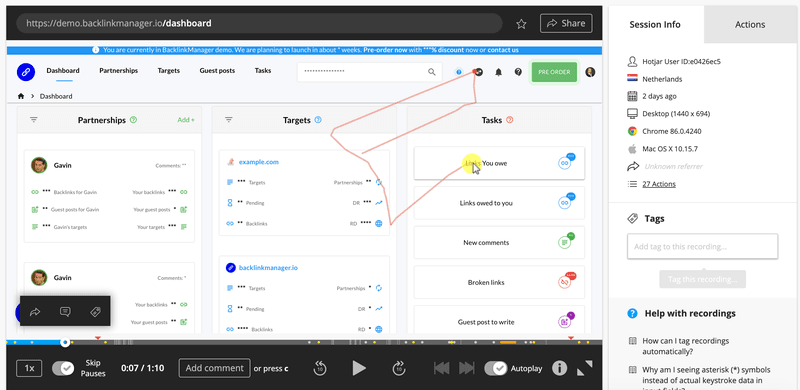 In session recordings – every pause, every dead end, every hesitation matters. Look at enough videos and you'll soon see the patterns – where your users need a bit more hand-holding, what is not clear, and could be explained with a tooltip or a whole experience flow. Seeing that is critical before creating your Product Adoption Strategy.
Hotjar has three different pricing plans for different company sizes, depending on the number of page views you want to take into account for your data recording: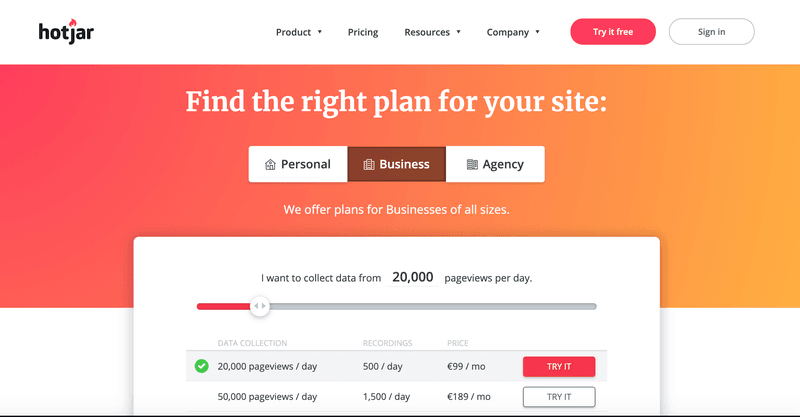 The basic plan still allows a startup to get some insights into their budding audience: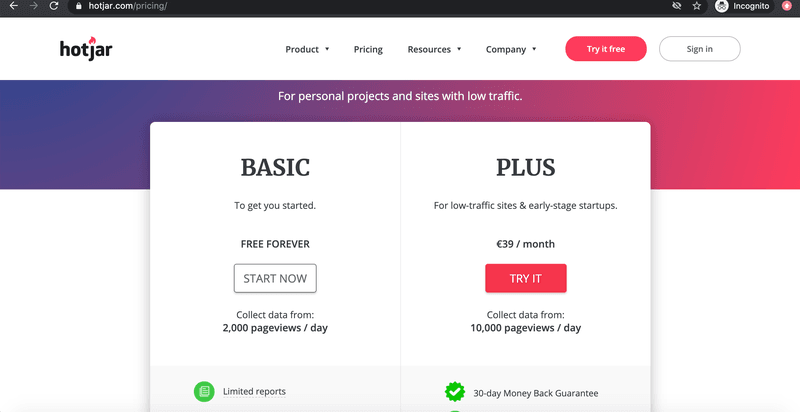 After observing your users inside your product, you will have a good idea of the kind of problems they may be having. Hence – it's now time to do some quantitative analysis – and see what segments of your users are having these problems.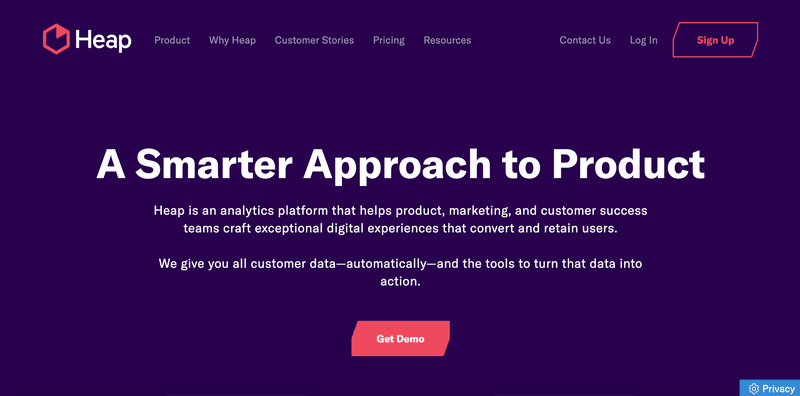 This is where Heap comes in handy. You can set specific conditions you observed in Hotjar and segment your users by them.
Heap allows companies of all sizes to understand how their users engage with their product by aggregating usage data (all clicks and interactions).
It can be set up in minutes and starts capturing all kinds of product data automatically.
You read that right: you don't need developers to send any custom-events to record clicks inside the application. Heap tracks EVERYTHING: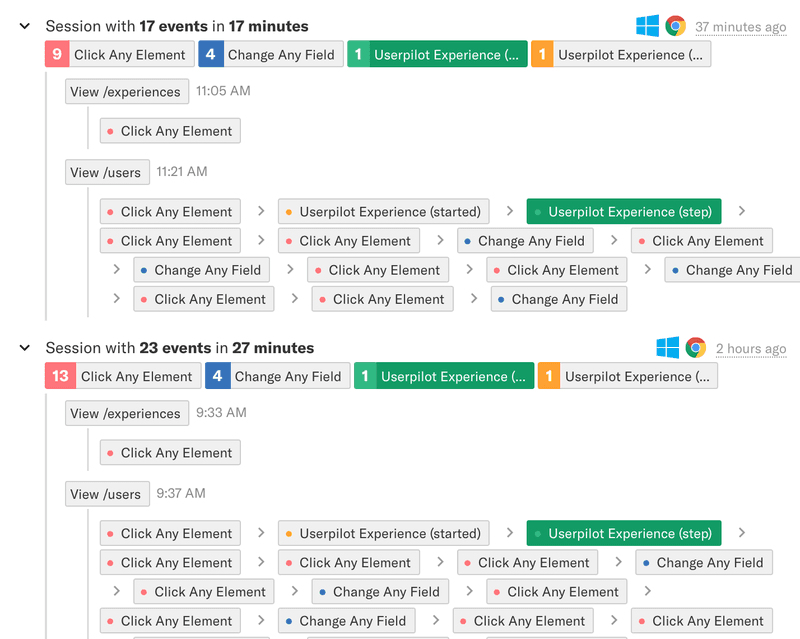 You can create segments based on different personas and see the difference in their behavior patterns. You can also drill down to every user's behavior.
The pricing is on the higher side if you want to capture more data: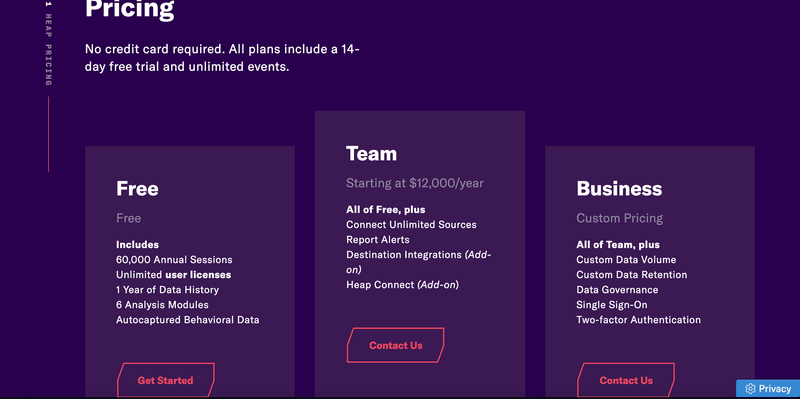 In-App Engagement Layer: User Onboarding, In-app Adoption Workflows, Feature Announcements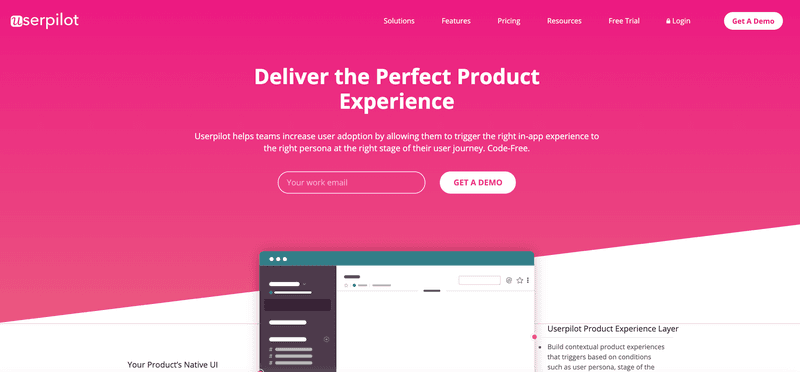 Now, what do you do with the segments you've created in Heap? You need to somehow react to their needs in-app, and correct bad behavior patterns to help them make the most out of your product. This is where Userpilot comes in, with its direct Heap integration.
We have talked extensively about the differences between various user onboarding tools in our earlier blog if you want to compare them – we will limit ourselves to the one that addresses the Product Marketer's Jobs-To-Be-Done in a most efficient way. Also – Userpilot is the only tool that allows you to create fully interactive walkthroughs and experiences for every step of the user journey, set specific goals, and measure the results of the different experiences.
User activation, product, and feature engagement, as well as product adoption and retention – are some of the post-signup KPIs of a Product Manager. Let's look how Userpilot can help you achieve each of them.
New User Onboarding
Userpilot allows you to build fully customizable new user onboarding experiences and measure your progress towards the goals you set for each of them (e.g. your user's performing a certain action or adopting certain features).
You can see the ROI of using these experiments by setting up A/B tests against nothing (showing the experience only to 50% of your new users at random, and then comparing the adoption rates to the ones that didn't see anything) 0r against another variant of the experience:

You can start from the welcome screen with a microsurvey (yes, Userpilot supports those too) to help you segment your new users and understand whom you're talking to: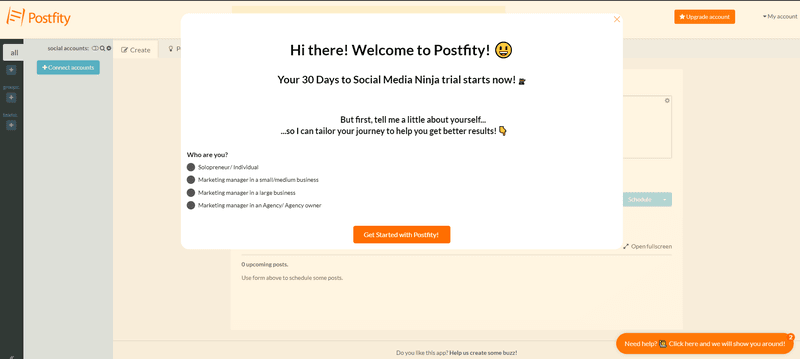 Then, plug different kinds of UI patterns to it to nudge your users towards the key activation points in your app – e.g. adding their social media accounts and publishing their first post – for a social media scheduler.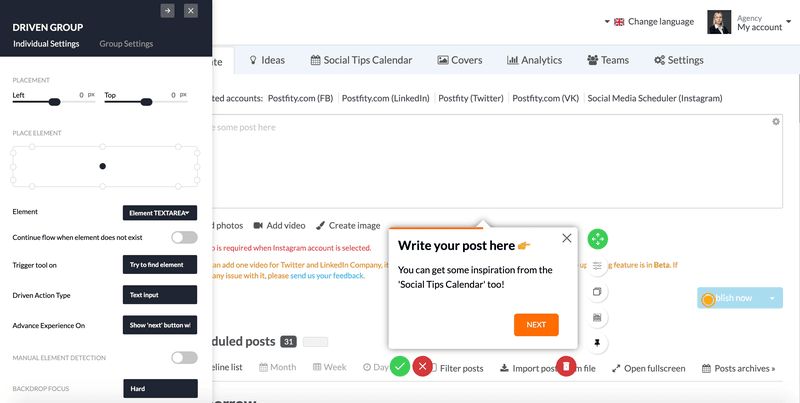 Driven Actions is a feature that is unique for Userpilot: you can literally take your user by the hand, make them click on something on your interface, change the page and point them to the right place in your app. This is the equivalent of personal customer support done in an automated and scalable way!
Unlike some other tools offering product tours – Userpilot doesn't limit your imagination to a pre-defined tour patterns like e.g. Intercom Tours: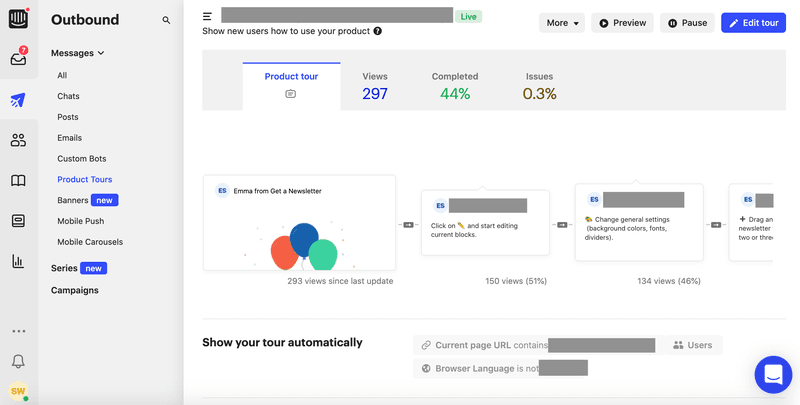 Intercom Tours only allows you to create a simple linear product tour template, which is not interactive or contextual.
User Sentiment
How do you know which segments of your users are happy with your tool and which are not? How do you check what they think of new features?
With Userpilot, you can easily whip up NPS surveys and micro surveys asking both qualitative and quantitative questions.

Then, after collecting data about the satisfaction levels of your users, you can pull them together into one segment e.g. by their NPS score, and look at how these users behave in your app in Heap. This will let you understand the different behavior patterns between the happy and the unhappy users, and allow you to create special corrective experiences for the unhappy ones to foster better in-app behaviors!
Feature Announcements
Userpilot allows you to easily announce new features and product updates in 100% customizable tooltips, modals and slideouts.
It allows you to announce new features in a truly contextual way. Append a hotspot to the place on your UI where the feature has been added, and then trigger a tooltip explaining the new feature: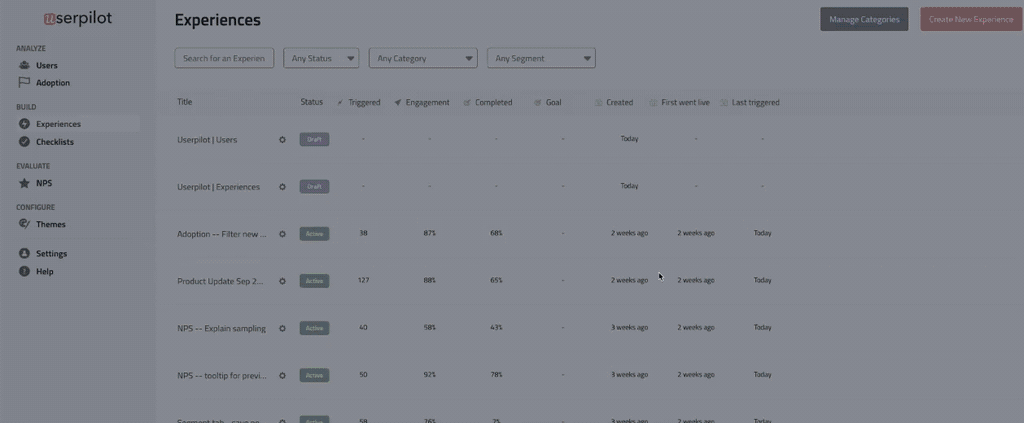 Resource Center
Another cool thing you can do in Userpilot as a Product Marketer is to pull all your onboarding experiences together with your help docs and add them to a self-serve resource center – in minutes: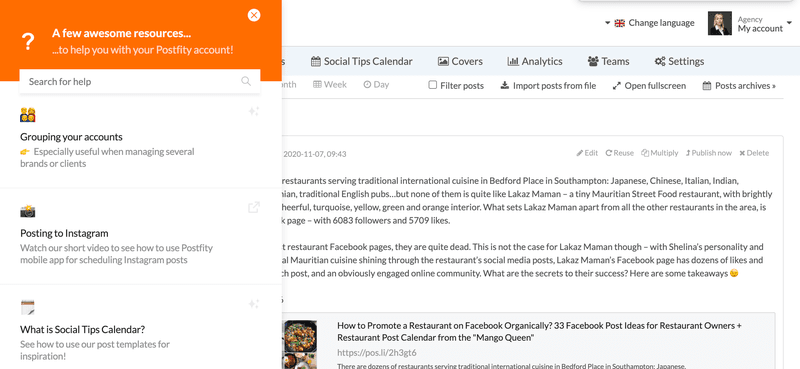 On top of the easy to use user interface, Userpilot is quick and simple to deploy, requiring only a Chrome extension and installing a snippet of javascript. Apart from that you can create all the in-app experiences without code!
Plus, it integrates with Intercom, Amplitude, Heap, Segment etc.
Userpilot has simple pricing in a 'Pay-As-You-Grow' model – all features are available to all users, the price only changes depending on the number of MAU (Monthly Active Users) you have: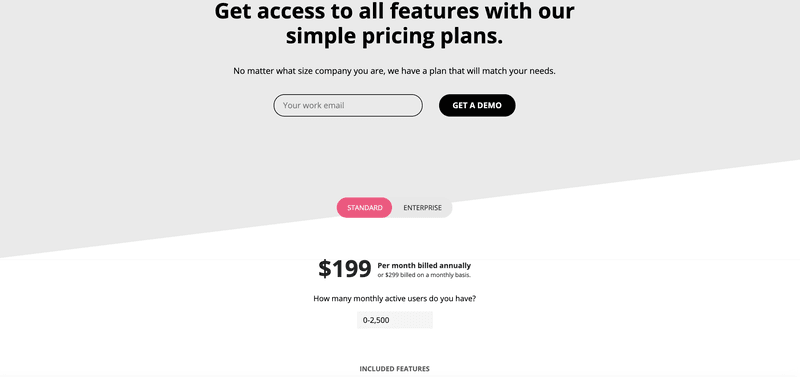 However, Userpilot currently doesn't offer website chat, in-app chat or email automation. That's why you'll need to use some Conversational Marketing tools with chatbots and transactional emails on top of it.
Conversational Marketing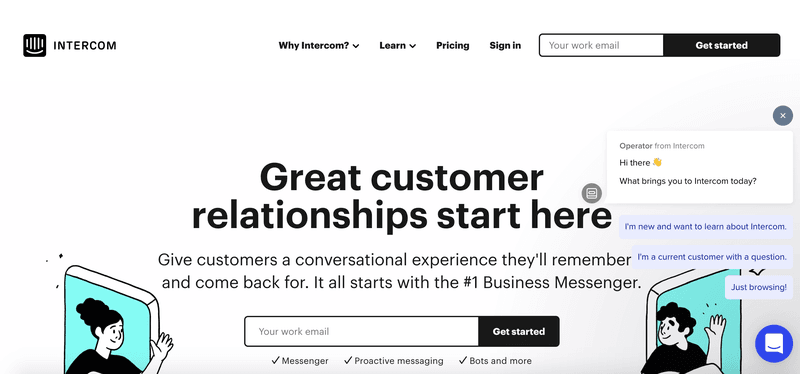 Since Intercom introduced its Product Tours, a lot of people compare it to Userpilot. While the simple plug-and-play linear product tour Intercom offers may be easy to set up, in fact – it has little to do with proper onboarding as it doesn't allow you to really react to what your users are really doing in your product. This is the kind of boring product tour that most of SaaS users hate: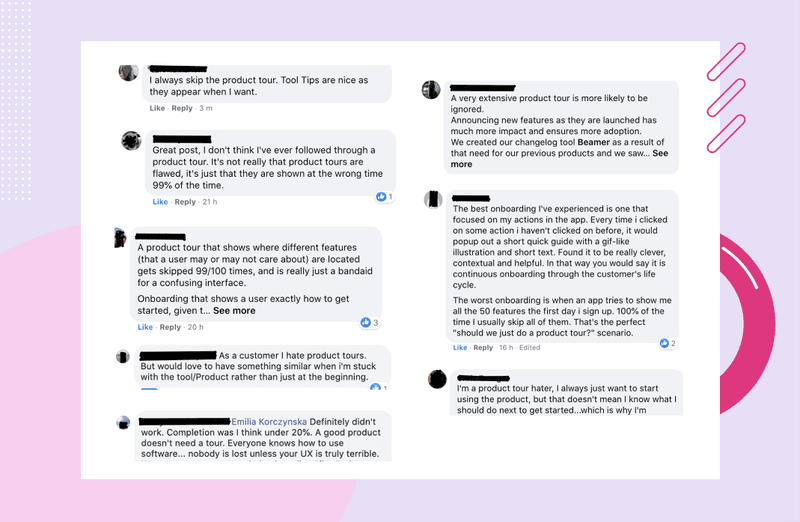 Having said that – Intercom has some really good conversational marketing functionality. You can use it to segment the users and trigger outbound email, push, on in-app messages based on their behavior inside your app: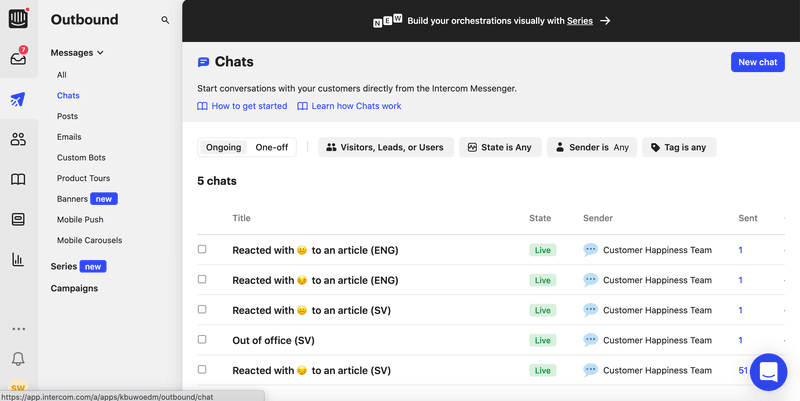 You can chat with your users in-app, on your website, send web-push notifications and emails:
Intercom has notoriously complicated pricing, with lower-priced startup plans that can balloon quickly as your user base grows. Be careful to understand the impact of this before you move your conversation marketing to Intercom – speak to their consultant before signing up.
Behavioral Emails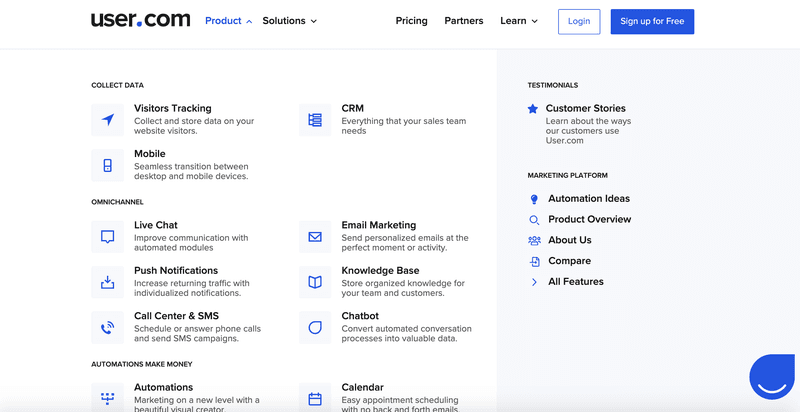 If you want to create more sophisticated email automation sequences, as well as personalized messages for returning website visitors: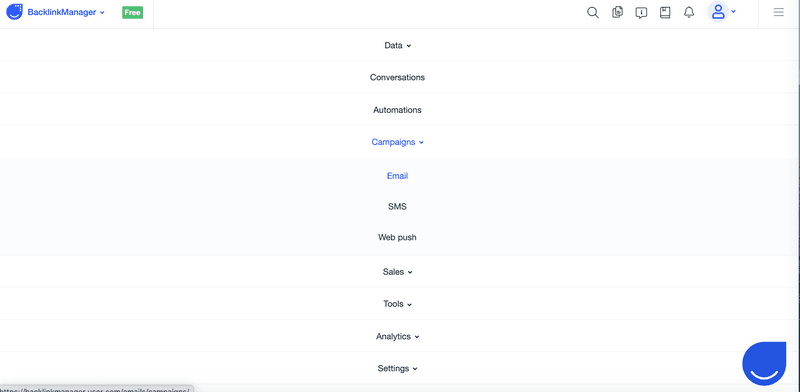 User.com may be a solution for you: it allows you to create complex linear and branched email + chatbot + web push notification automation sequences based on different user segments and behavioral triggers.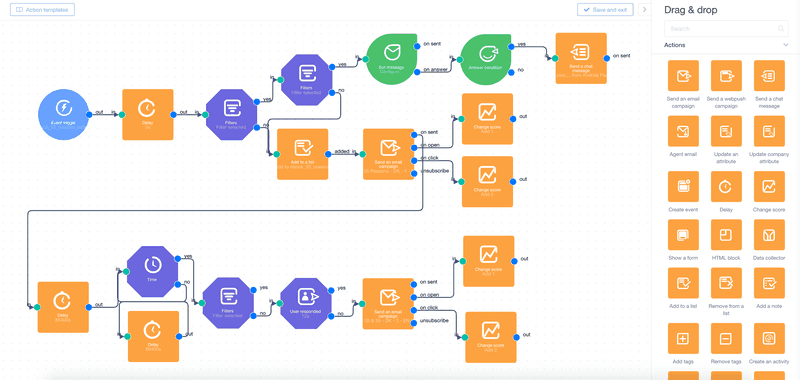 This allows you to target exactly the right person with the right message at the right time – also outside your app.
Conclusion: The Importance of Empowering Your Product Marketers With Code-Free Tools
We've recently discussed the importance of the Product Marketer's role for your company's growth – that they should take care of all of the things that neither your marketing manager nor your product team really has the time for.
Now – how are they supposed to do it without development skills though?
The old way would call for going the development route.
But having your Product Marketer run to the development team each time they need to deploy anything in-app is a sure-fire way to create friction between your marketing, product and development teams. 💔
Let's face it: your development resources are scarce and expensive.
Your Product Team will want your development team to focus on the roadmap. Your QAs will bug them with fixing bug. And your devs just want to…dev.
If your Product Marketers need their help every time they want to tweak the new user onboarding, create an engagement experience or A/B test something – they will most likely have to wait days or weeks for the development team to find the time for that.
So most likely: your Product Marketers will have their hands tied and will be frustrated, things will be moving slow, and your product experience will suffer.
That's why these code-free product marketing tools are really necessary.
We hope we've helped you make up your mind which ones you need!
Stay in the loop with our email course: