Best Spekit Alternatives for SaaS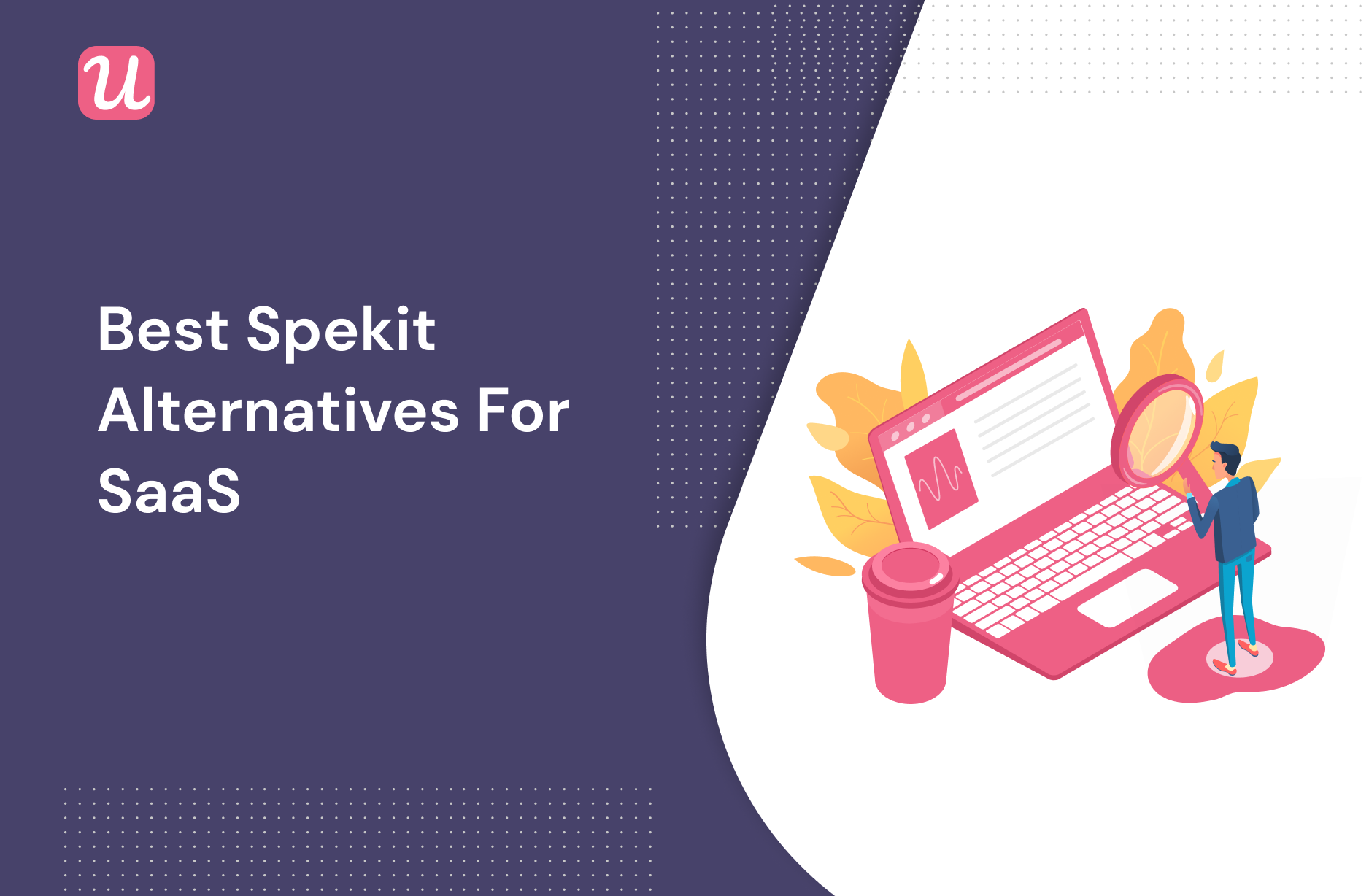 Looking for a good user onboarding tool and wondering if Spekit is the best option for your SaaS company?
There are plenty of Spekit alternatives on review sites, but they don't make the choice any easier.
The crux of the issue is – to make the right choice, you need to account for your priorities: your different jobs to be done, your budget, and the size of the company. But don't worry – we're coming to help!
In this post, we'll discuss exactly that – which Spekit competitor is best depending on the different criteria that different SaaS companies may have.
Let's dive in!
TL;DR
Spekit is a digital adoption platform that's more focused on providing employee onboarding rather than user onboarding.
You can use Spekit to onboard employees with interacted walkthroughs, track their progress, and get invaluable insights from its analytics feature.
As with any software, Spekit is not a perfect solution and has some cons such as limitation of onboarding flows, bugs and performance issues, etc.
These are the top alternatives and competitors you may want to consider:

Userpilot
Apty

If you want to get more value for your money, consider trying Userpilot. Book a demo to see it in action.

There is a better tool for your SaaS than Spekit!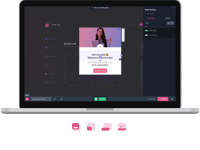 What is Spekit?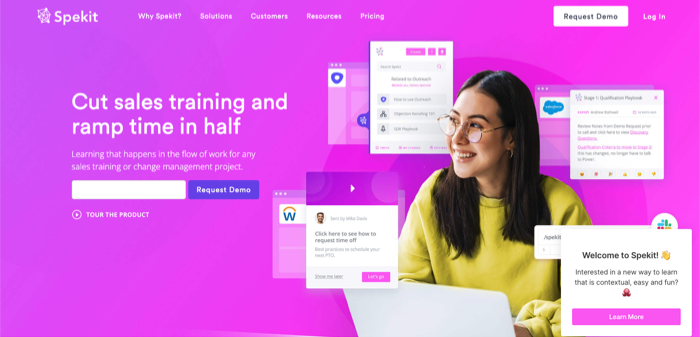 Compared to the other solutions on the market, Spekit is a digital adoption platform that focuses on employee onboarding rather than user onboarding. Their technology is excellent for using targeted feature adoption flows to quickly familiarize new employees with internal capabilities.
Spekit prides itself on the robustness of its internal database system.
Employees and managers can easily add to, update, and search for information, so everyone is aware of internal best practices. This database can also assist new employees to get up to speed quickly, as they can use the database rather than bugging other employees when they have questions.
Spekit for user onboarding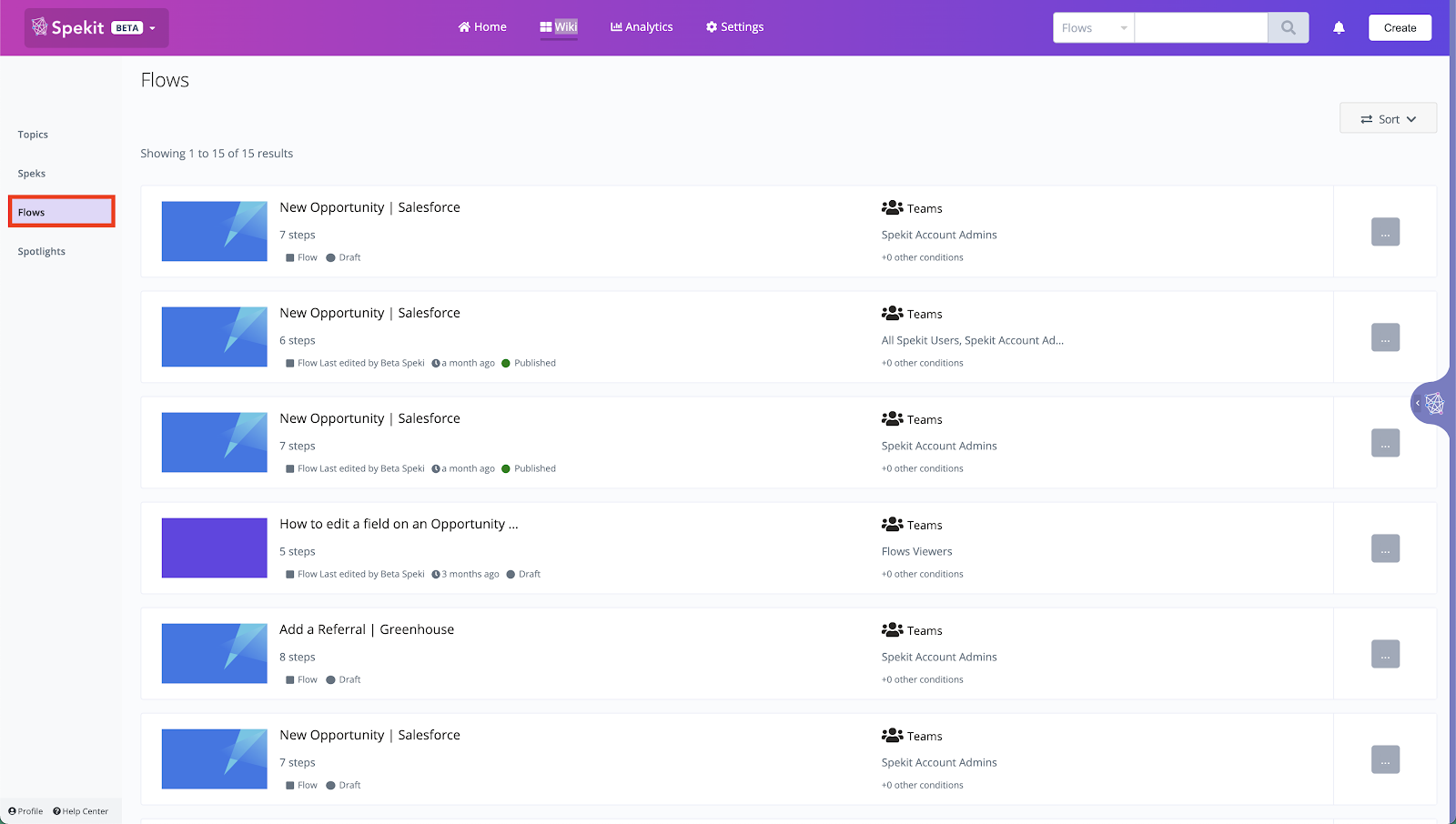 Spekit is not a truly user onboarding tool. It's built to streamline employee onboarding by guiding new employees through 3rd party tools and processes using no-code, step-by-step walkthroughs.
Here's how Spekit helps with employee onboarding:
Spekit's step-by-step walkthroughs help you build flows for guidance. You can create individual onboarding journeys for different teams. However, the variety of UI patterns is limited to tooltips and modals.
Spekit allows you to record your flows and edit them, or save them as a draft. You can confirm the positioning of steps looks good, make necessary edits to the texts, and delete steps that are not necessary.
With spotlights, you can push changes, new resources, or updates to your team the moment they need it – directly within their workflows.
You can use a single flow to guide employees across multiple tools.
All in all, Spekit has good functionality for employee onboarding but is lacking in collecting user sentiment throughout the onboarding process, as it doesn't support surveys.
Spekit for user analytics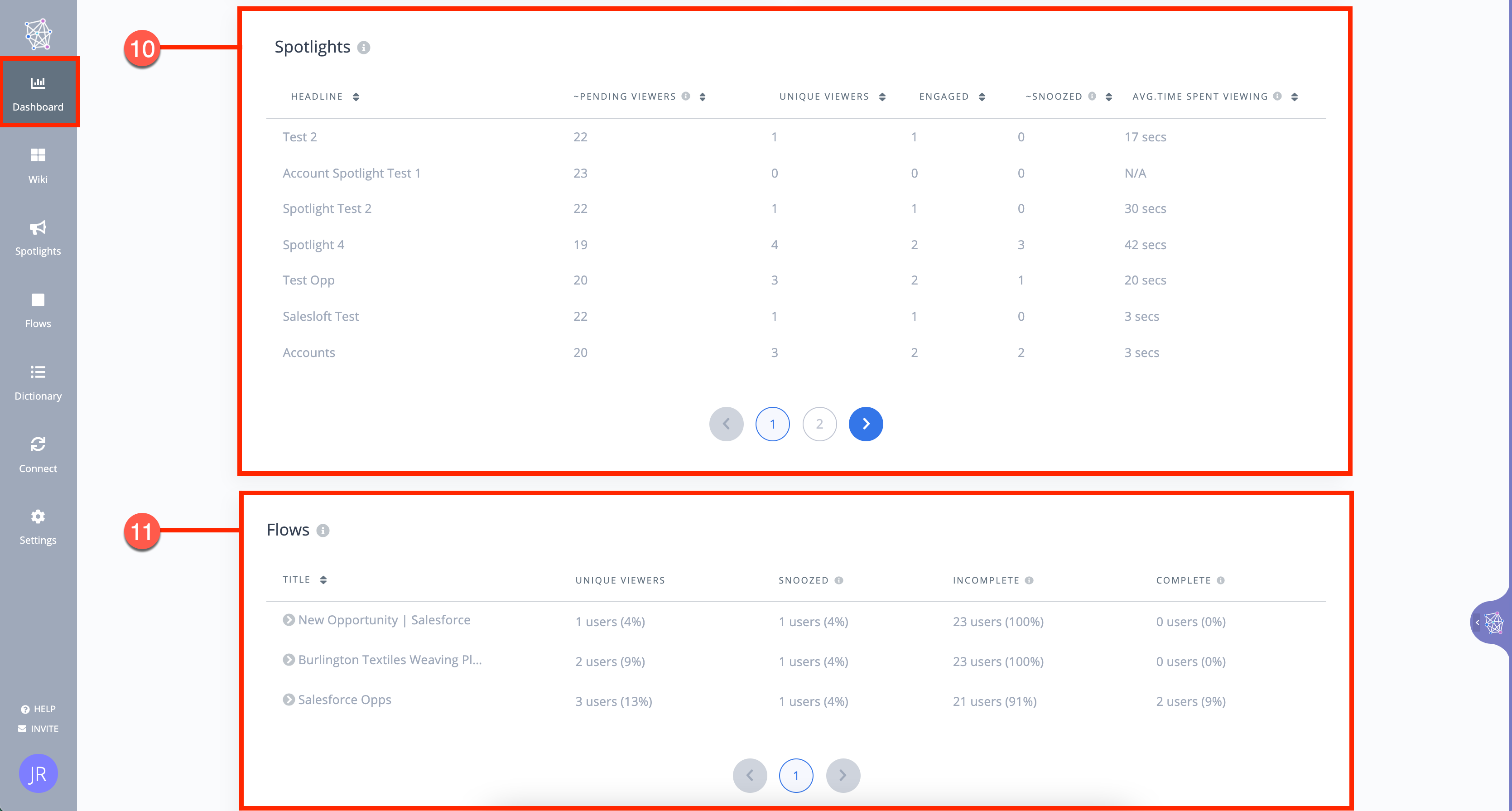 Spekit is a product adoption tool with the main focus on employee onboarding. When it comes to user analytics, it provides limited information regarding users and flows.
For instance, you can see the status of your flows (completed, incomplete, not started) but you can't detect friction points in case of incomplete tasks, therefore you can't improve user experience.
Let's learn what insights Spekit's user analytics provide:
Spekit analytics only record internal user activity. So you won't be able to see how your external users perform in your application.
You can see how much time your users spend on flows and spotlights but that is pretty much it.
You can collect user sentiment with emoji reactions but you won't be able to collect qualitative data.
As you can see, Spekit provides simple analytics. But in order to gain more insights into analytics, you will need to use a separate user analytics tool with it that will track user behavior and provide proper analytics.
Spekit for user feedback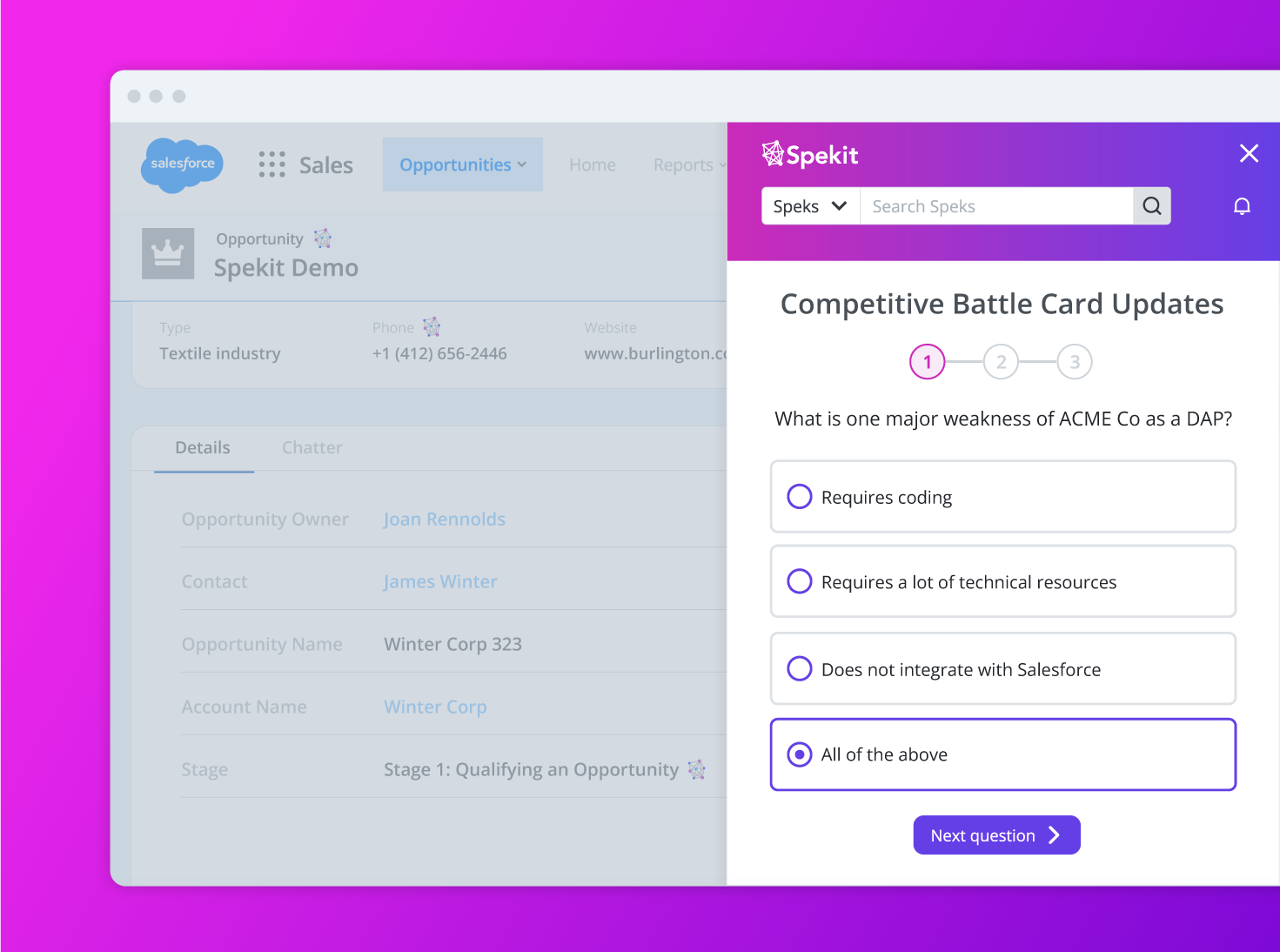 Here's what you can do using Spekit's Knowledge checks:
Build short surveys designed to quiz your employee's knowledge about the platform they are using.
Trigger those surveys in-app to specific user segments.
Determine who passes based on your selected answers and required completion.
Not exactly user feedback, but the surveys you can build with Spekit are interactive and accessible in-app, which increases engagement with them. If you want to collect true user feedback in various stages of the journey you should look at a different tool.
Spekit pricing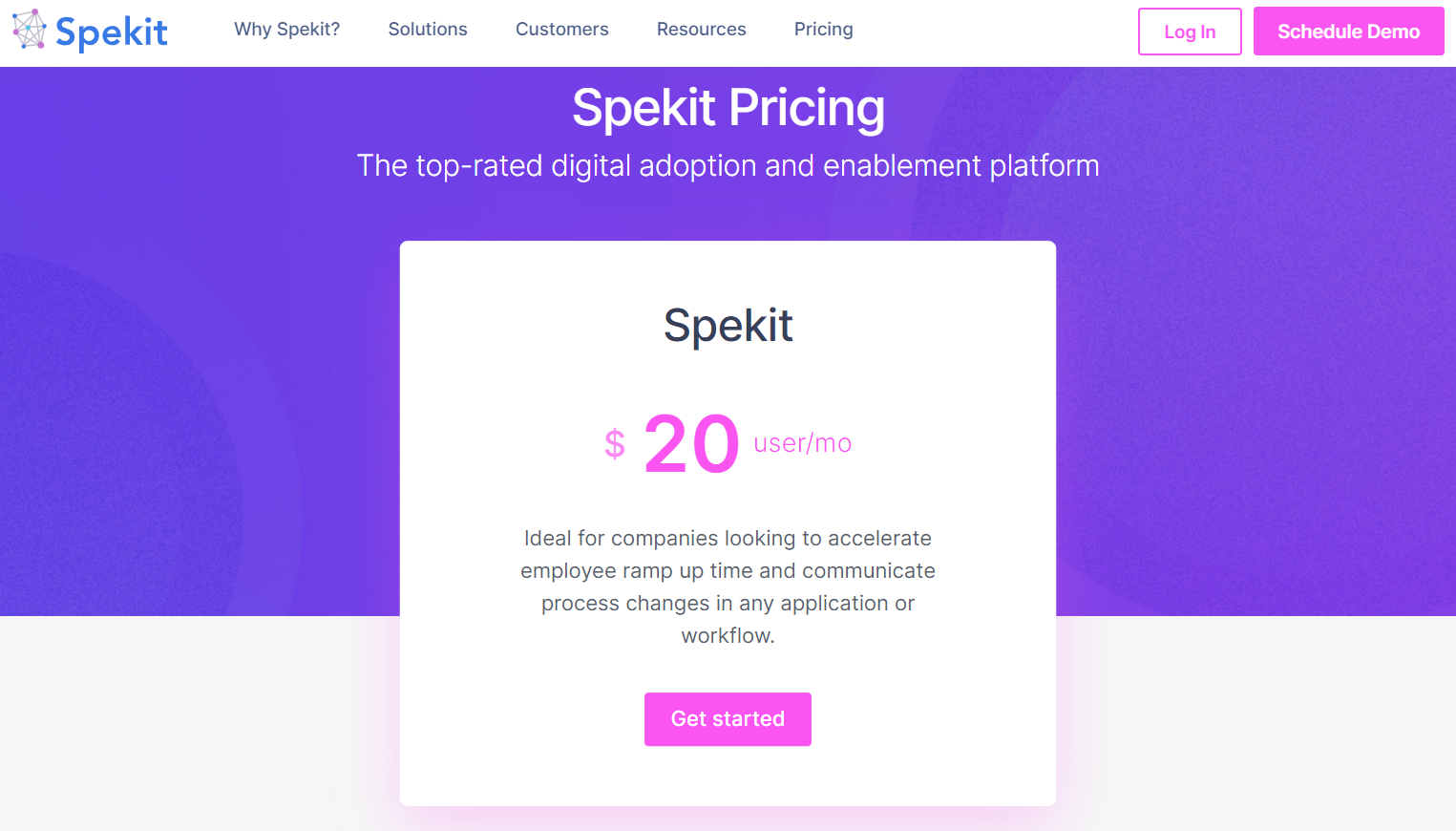 Spekit charges 20 $ per person monthly so it's more suitable for small to midsize businesses. It also doesn't provide a free trial or a freemium version of its features.
Some features such as seismic integration, knowledge checks, and knowledge check analytics are sold as add-ons that come with an extra fee.
Spekit reviews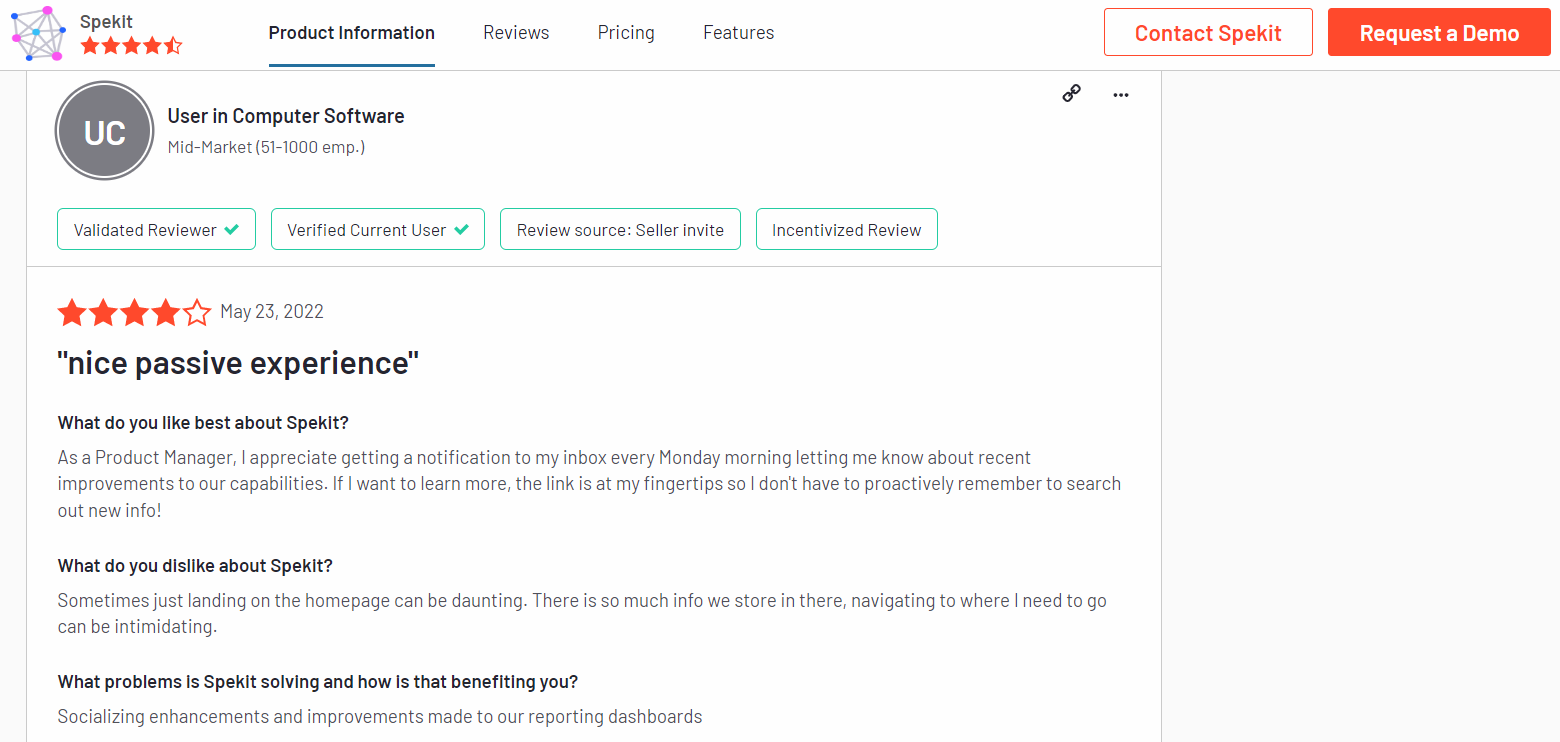 On the whole, users feel positive about Spekit – here are some examples summarizing some key points about its features and the value it offers. You can find more reviews on G2 or Capterra.
The in-app guidance using field speaks and the ability to view step by step instructions side by side using the sidebar dock have been a game changer for our organization!
The only downside I can think of is the use of the extension. I've had to "nag" users over and over again to get them to download it and discover all the magic that comes with it. – Samantha L.
The plug in is intuitive, easy to use and makes finding answers/solutions easy and efficient. For months we had tons of valuable resources and collateral that went untouched because reps didn't know it existed. Now they have it right at their fingertips.
Our only pitfall was the flows piece. We aren't able to leverage as easily as we would like.
-Administrator in Information Technology and Services/mid-market.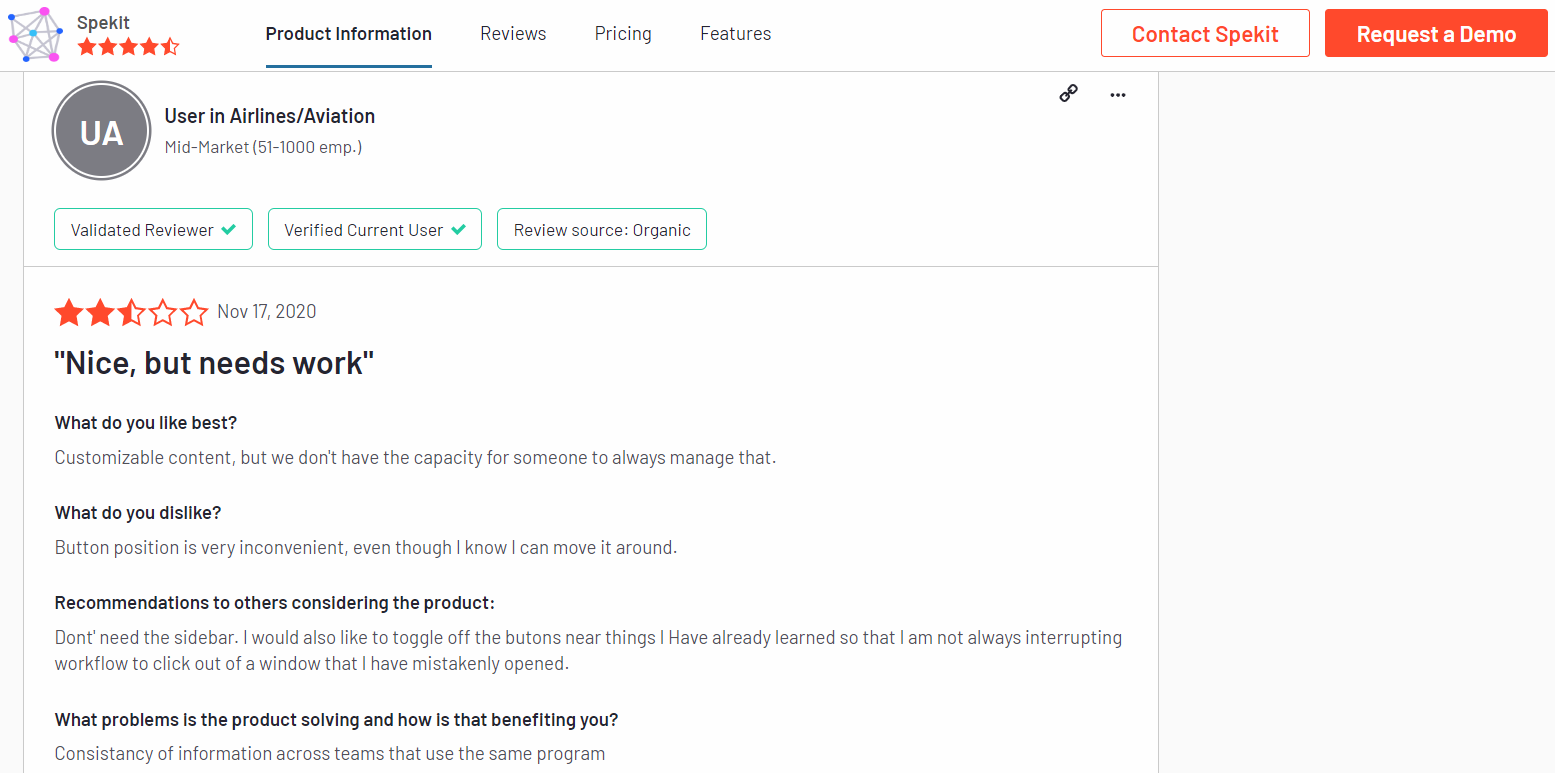 Most complaints about Spekit are about the upside bar positioning and some implementation issues.
" Great Idea! A bit tougher on the implementation side. " I like the idea of this platform. It's essential to train folks where they work. The sales team was very responsive throughout the pre-sales process. Unfortunately, our experience with implementation was nowhere as easy as we thought it would be. The slack integration was inadvertently set up internally before the full implementation. This caused an issue (which is understandable), but it took 4+ weeks for Spekit to determine the root cause. This has still not been addressed, unfortunately. Because of the difficulties with implementation/embedding into our environment, we are focused on one value proposition only: the slack Q&A creation process. We've needed to purchase other software that will better meet our needs. – Executive Sponsor in Information Technology and Services / Enterprise
Some users think it still has room for improvement.
"Nice, but needs work". Customizable content, but we don't have the capacity for someone to always manage that. Button position is very inconvenient, even though I know I can move it around. Don't need the sidebar. I would also like to toggle off the buttons near things I have already learned so that I am not always interrupting work flows to click out of a window that I have mistakenly opened. – User in Airlines/Aviation / Mid-market
While other people think it's overpriced.
"It's cool, but overpriced in my opinion." Extremely flexible. Lets us do things we wouldn't be able to otherwise and is pretty easy to use. It looks a little funny on the screen. Kind of clutters up the screen. It looks a little funny and is too expensive in my opinion. – Administrator in Newspapers
Pros of Spekit
Spekit is a useful tool for your employee onboarding needs. Here are the main advantages to consider if you're still deciding:
It's easy to use and easy to install in any web-based application.
You can create versatile knowledge bases with different formats for different teams.
Your new employees have answers to their questions in one place. So instead of interrupting other employees' work, they can easily find what they are looking for with Spekit.
You can collect a data dictionary that will be available to your users across different apps.
Cons of Spekit
The main downside that comes with Spekit is the absence of feedback collection and more advanced analytics. Here are the main cons of the tool:
There are some limitations to user onboarding flows as Spekit only offers tooltips and modals as part of their flows UI patterns.
There are many bugs and performance issues when using the tool. The UI is also fairly tricky to navigate as the tool is on the right-hand side.
As the tool is missing some advanced analytics, it's hard to find friction points and solve any issues with user experience.
3 reasons why you might need a Spekit alternative
Spekit is a great tool when it comes to employee onboarding but has limited usability. Here are three main reasons why you might consider an alternative.
If you have 1000+ employees, paying 20 $ per user monthly can be a bit costly.
Spekit focuses on employee onboarding but in most cases, you will need another tool that will provide you with in-depth analytics. There are other tools that are truly no-code.
Spekit has a fairly tricky UI to navigate as users have encountered performance issues when using the tool.
If you want to create more contextual onboarding with different segments, you might want to consider an alternative tool.
Spekit alternatives and competitors
These are the top alternatives and competitors you may want to consider:
Userpilot
Pendo
Appcues
Apty
Let's have a look at them in more detail.
Spekit vs Userpilot
Spekit is a great option for many SaaS companies, but in a lot of ways, Userpilot is better than Spekit. Let's explore the features of Userpilot, how it's better than Spekit, and how it may fall short too.
Userpilot for user onboarding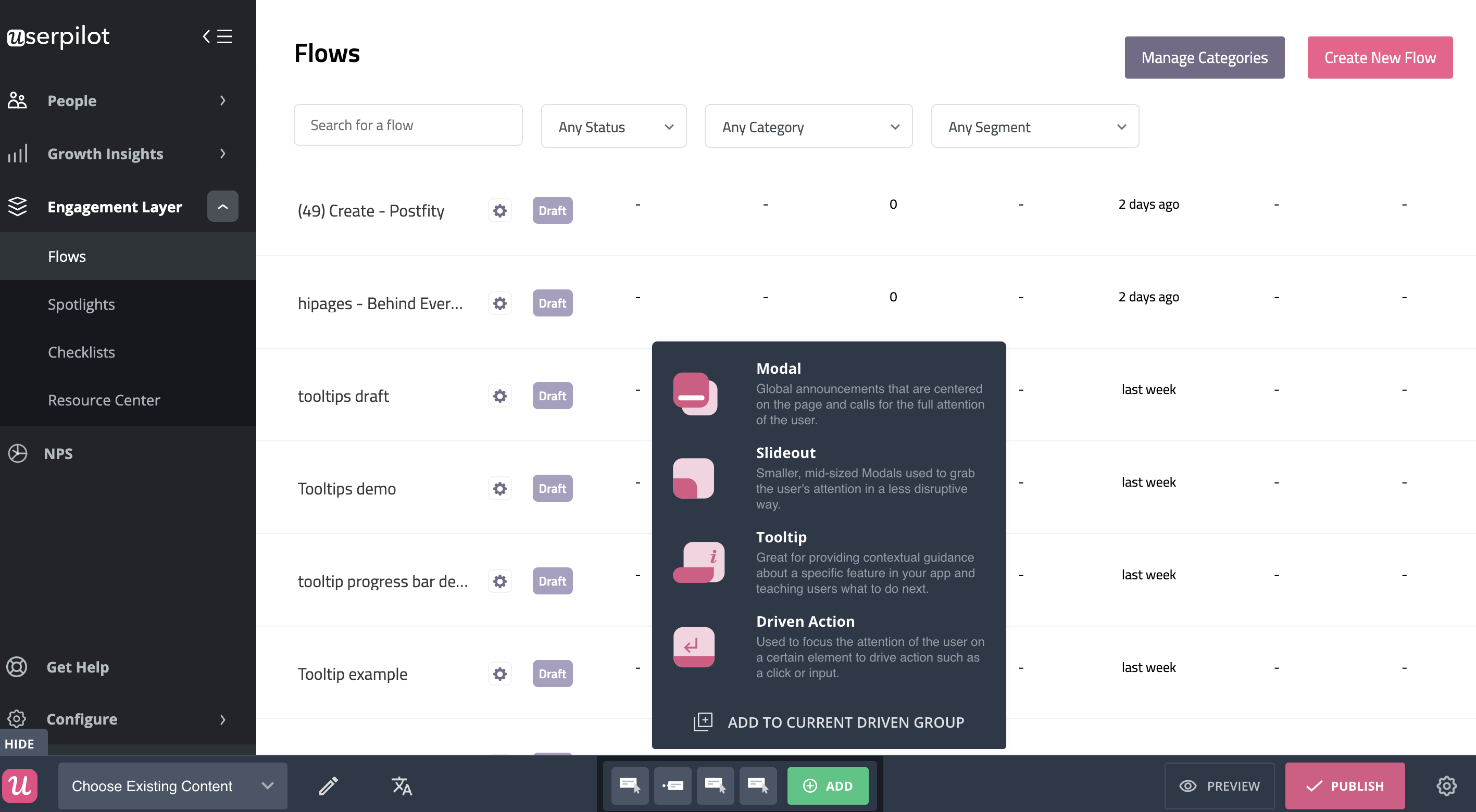 Userpilot was built specifically for SaaS product teams that want to improve their user onboarding experience and boost user activation.
You can build a huge variety of user onboarding experiences and in-app guidance flows without needing to code.
Get the best value for money and drive growth at every stage of the user journey.
Here's what you'll get when you start using Userpilot:
Forget about coding in-app experiences: Userpilot is a no-code solution and only requires your dev to install a line of javascript inside your app and for you to download a chrome extension that opens up the visual builder.
Build in-app flows using the largest range of UI patterns (modals, slideouts, tooltips, hotspots, banners) and in-app onboarding experiences (checklists, microsurveys, NPS surveys, in-app resource center)
Get access to a built-in NPS tool for collecting and analyzing user sentiment so you can improve your onboarding process based on real data.
Create and track combinations of in-app events like clicks, hovers and form fills, and then analyze all these interactions under your own custom events, which can be built without code or API calls.
Use advanced product analytics and in-app flows analytics to identify where users need help and create granular user segments to trigger in-app experiences contextually (segment based on user identification data, in-app engagement, custom events, clicks, hovers, form fills, user feedback responses, NPS scores and more)
Enhance the onboarding experience with in-app help by launching a Resource Center directly inside your app. Add in-app guides, and video tutorials, and give users access to search the knowledge base or reach out to support. Self-service has never been easier.
The best user onboarding is contextual and it happens right where the users need it, inside your app. There isn't a better user onboarding tool out there that offers more value for the money than Userpilot.
Schedule a demo with our team and get ready to build the best onboarding experiences your users have seen.
Userpilot for user analytics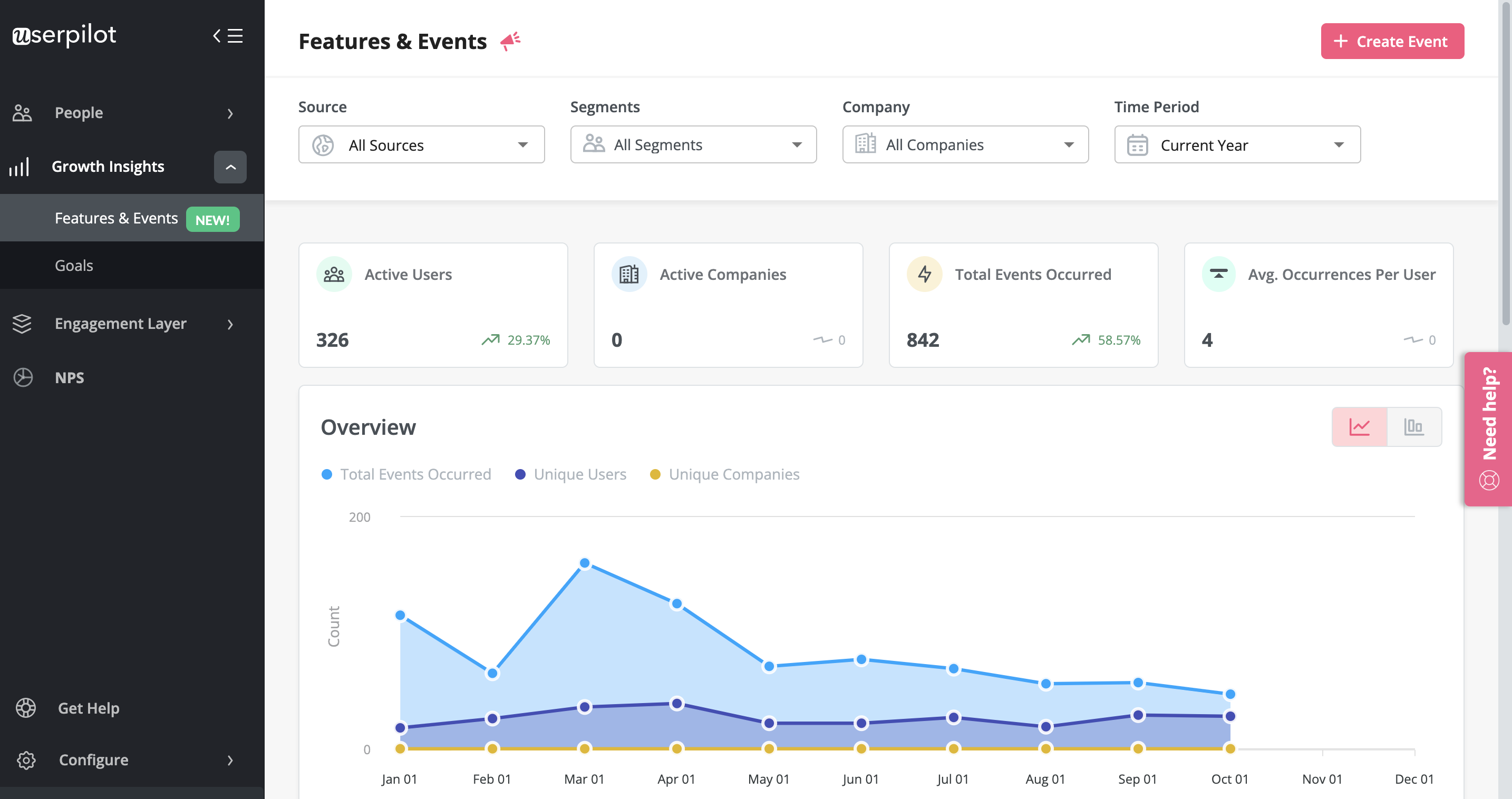 You can't drive success, no matter what your goals are, without proper user analytics.
How would you know what needs to be improved?
When it comes to proper user onboarding that drives long-term product adoption, Userpilot has the right analytics to help you succeed.
Let me explain.
I'm not talking about product usage only. Analytics is about collecting customer feedback, and tracking in-app behavior but also tracking how users engage with your in-app experiences. Right?
You need all of these for a proper picture of how healthy your product is. And then you need to be able to act on those insights.
That's where proper user segmentation capabilities come in. And Userpilot has you covered here.
Userpilot has really improved in terms of its analytics functionality in recent years, and now offers the most robust functionality from all the product adoption platforms (including Pendo, which has always taken prime in user analytics.)
In short, Userpilot analytics allows you to:
Track all of your user interactions with your app – without coding- with the powerful feature tagging functionality, you can simply tag your users' actions (clicks, hovers, form fills) with a no-code, point-and-tag editor on top of your product.
See all your user clicks, activity trends, etc. in an easy-to-use dashboard – Userpilot also allows you to drill down into feature usage, down to the individual user level, as well as company level.
Analyze your user paths from up to 4 pages at a time, at a glance.
Create 'user funnels' made up of feature tags and tracked events, and see where your users are dropping out of the funnel – and act on these drop-off points instantly with in-app experiences.
Track feature usage by user segments with heatmaps, directly on the different pages of your product.
Create and track combinations of in-app events like clicks, hovers and form fills, and then analyze all these interactions under your own custom events, which you can build without code or API calls.
Create custom events that consist of feature tags as well – or combinations of tracked events you've passed through the Userpilot track script with features you have tagged with the Chrome Extension.
The powerful trends overview allows you to filter your events and feature tags' usage by segments, time period, and even company. This allows you to track and analyze event usage trends and even drill down to the individual users (or companies) who engaged with specific custom events and show them the right in-app experience.
Apart from product usage data, Userpilot also has built-in analytics for in-app engagement with in-app flows and experiences.
Analyze how users engage with your checklists or resource center modules, identify trends, and A/B test different approaches to improve engagement.
Last but not least, Userpilot allows you to use all that data to build highly granular user segments and reach users with the right engagement flows at the right time.
You can even create user segments based on survey responses or NPS scores.
Now, with so much power on your hands – what are you going to do with all this data?
Userpilot for user feedback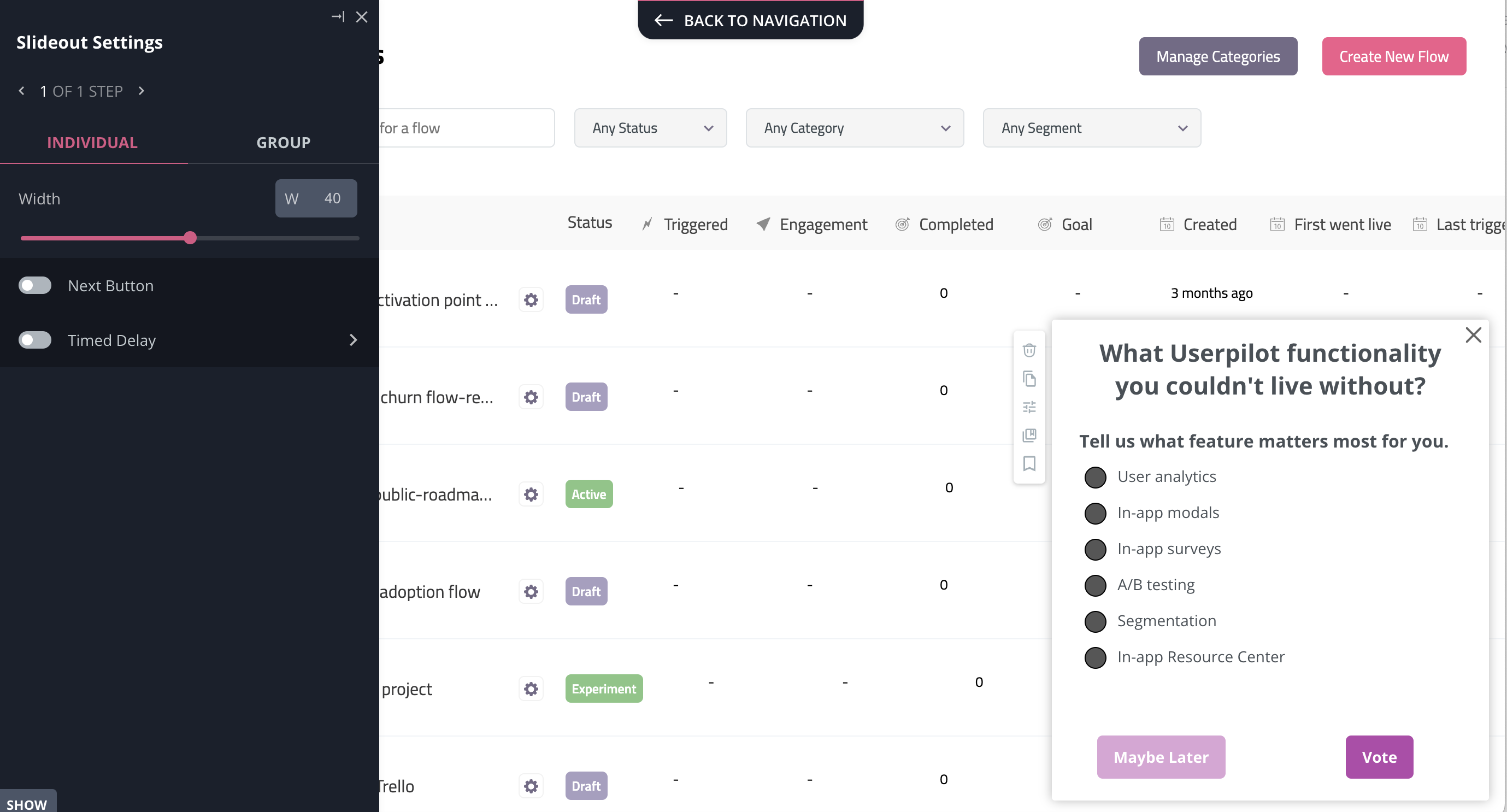 There are two types of feedback you should be focusing on collecting to better understand the health of your product and users.
First, you have user sentiment which looks at user satisfaction and effort scores or loyalty (using NPS surveys). Then you may also want to collect feedback on the functionality of the product or specific features.
You can do all these with Userpilot. In short, you can:
Collect and track (NPS) in-app with a built-in NPS widget that allows you to fully customize the survey look and feel, and set the trigger frequency and specific targeting.
Analyze NPS scores, tag responses, and use the data to create specific user segments.
Build and trigger in-app micro surveys like the classic PMF survey, or similar ones and mix multi-choice and open-ended types of questions to collect specific insights.
Be in charge of who gets which survey type and when with advanced segmentation capabilities, and of course, you can use the answers to segment your audience.
The advantage of using Userpilot for collecting feedback over other survey tools is that you can better control who sees the surveys but also you can instantly use the data collected to segment your user base and trigger the right experience for them.
For instance, if your users give you a low NPS score because they think you're missing a critical feature (that you actually have already), you can push an interactive walkthrough guiding them to find and explore this feature.
Userpilot reviews
Userpilot is clearly not for everyone, but let's check what users like about the tool:
Userpilot is an incredible, user-friendly software that allows us to create unforgettable experiences for our clients! From basic to complex experiences, we have been able to do them all with ease! I would highly recommend this software to anyone who wants to provide their clients or users with the best product tour experience. The possibilities of what you can create are endless! – Tayla G.
Userpilot is simple to set up, use, and does not require any dev – which means instant publishing. This is critical for us as a SaaS company that releases new features frequently; we need the ability to inform our customers of changes quickly, and doing this in our platform through Userpilot allows us to reach the right audience, at the right time, in the right place. There have been many awesome extra features we've discovered since coming on board, and it's been great to see new features released frequently. The tool itself is intuitive and reliable. Having used similar products previously that were clunky and buggy this has really made us happy with our decision to move to Userpilot. – Melina K.
The price-to-feature ratio is the best for Userpilot. Other cheaper tools in the market would definitely not fulfill your needs, and others like Pendo would be out of budget. Userpilot sits in that sweet spot. – Saurav S.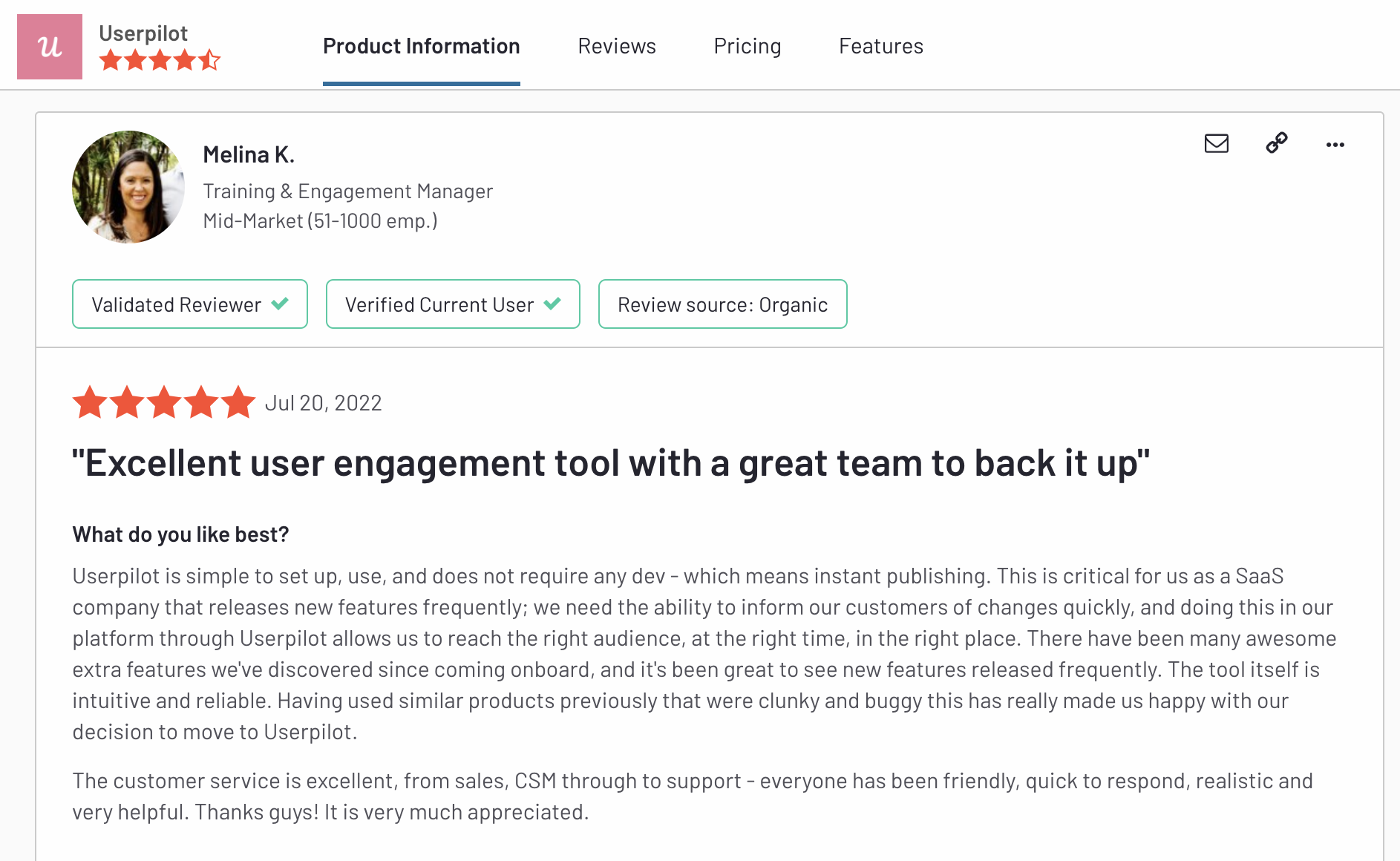 Userpilot pricing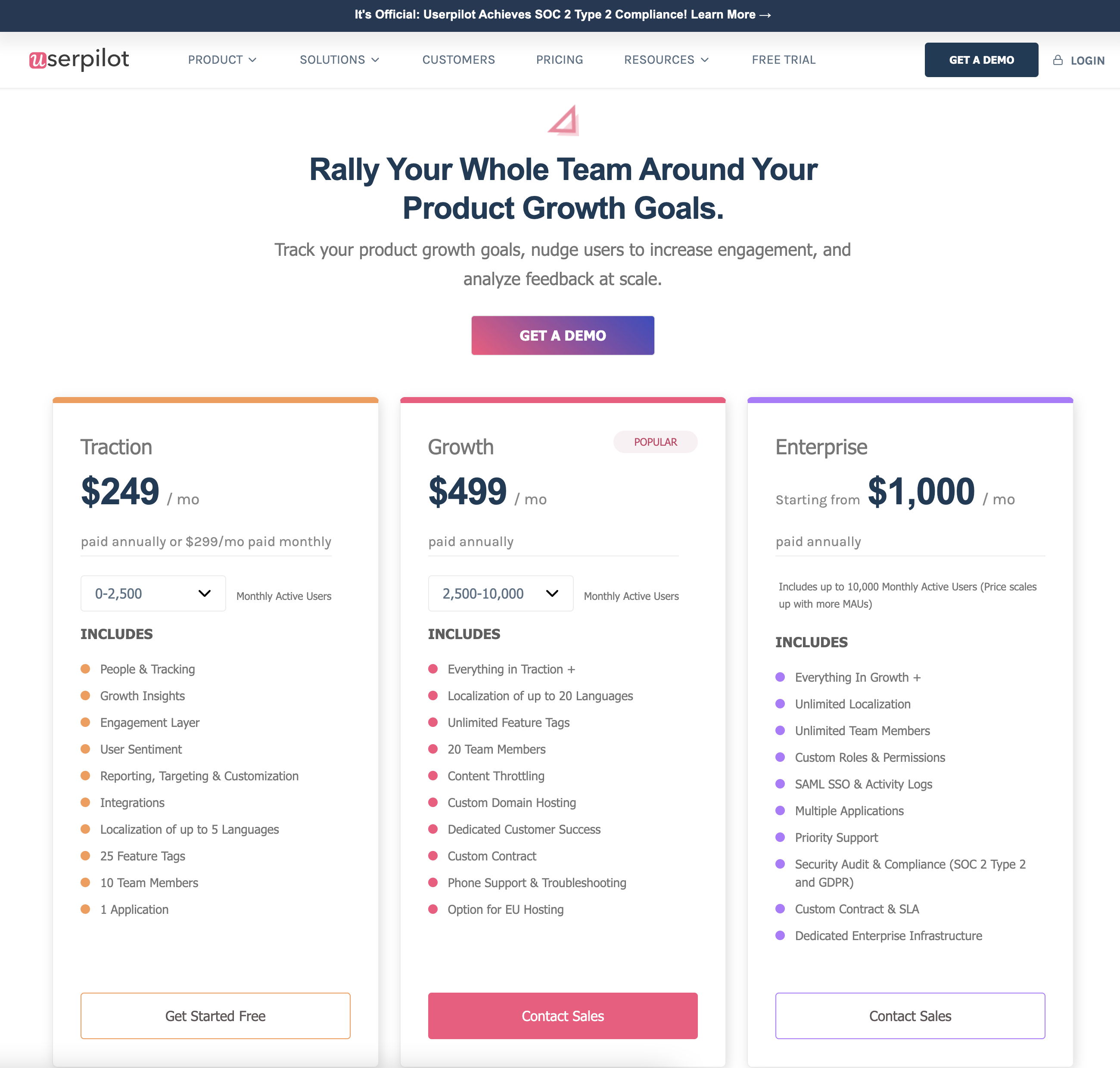 Userpilot offers great value for money compared to other similar tools on the market. Even its entry-level plan (Traction) provides all the necessary features without any usage limit.
The price-to-feature ratio is the best for Userpilot. Other cheaper tools in the market would definitely not fulfill your needs, and others like Pendo would be out of budget. Userpilot sits in that sweet spot. – Saurav S.
The pricing differentiation happens mostly on the service level (e.g. custom domain hosting, dedicated Customer Success Manager, SLA) and is based on the number of Monthly Active Users (MAUs) your company has.
Here's the detailed Userpilot pricing:
Traction: For up to 2500 users, this plan is $249/ mo.
Growth: For up to 10,000 users, this plan is $499/ mo.
Enterprise: For large-scale businesses, these plans begin from $1000/ mo.

There is a better tool for your SaaS than Spekit!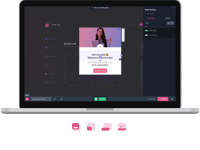 Spekit vs Pendo
There are many ways in which Pendo is different (and in a lot of ways better!) from Spekit. Let's explore the features of, how it's better than Spekit and how it may fall short too.
Pendo for user onboarding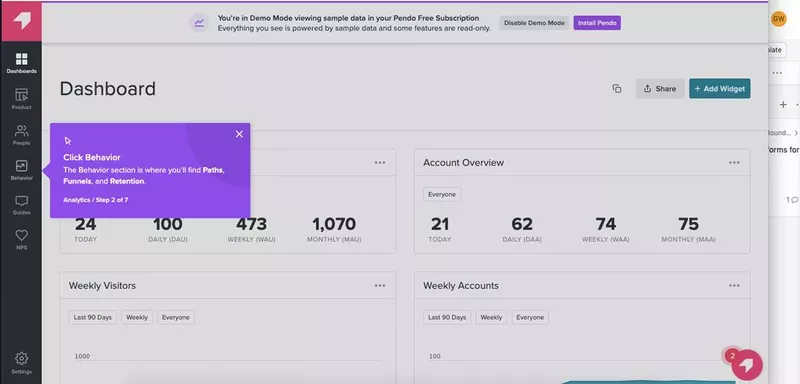 When it comes to user onboarding, Pendo offers guides for building in-app guidance that improves user onboarding across web and mobile apps. But how much do they cost, and are there better alternatives on the market?
Here's what to expect from Pendo guides:
You can build guides using templates, and there's also a WYSIWYG (what-you-see-is-what-you-get) visual design studio editor for creating new designs from scratch.
You can use Pendo's free version to create user onboarding guides, but you'll only get access to limited features and basic analytics.
Types of guides you can create using Pendo include Lightbox, Banner, Tooltips, Polls, and Walkthroughs. The drawback with them is that they are quite basic and don't allow much customization without coding. Even Pendo's own onboarding guide is a series of purple tooltips.
You can also build checklists with Pendo but not as standalone UI elements as users can only access them from the resource center (if they know they exit). This makes it hard and not intuitive for users to access guidance, and overall defeats the purpose of using checklists.
Pendo product guidance for mobile works across Android and iOS mobile apps, so if you're looking to support your mobile customers through their onboarding, Pendo might be for you (be aware that Pendo for mobile guides is not included on the free plan).
Guides or product tours are essential tools for user onboarding, and it will be difficult for new users to find their way around your app without them. The absence of these UX designs will lead to friction, naturally resulting in increased churn.
But do you need Pendo for this?
The answer is you don't have to use Pendo in particular. There are other product adoption tools that give you more value for your money, so it's always good to check the available options before settling for one.
Pendo for user analytics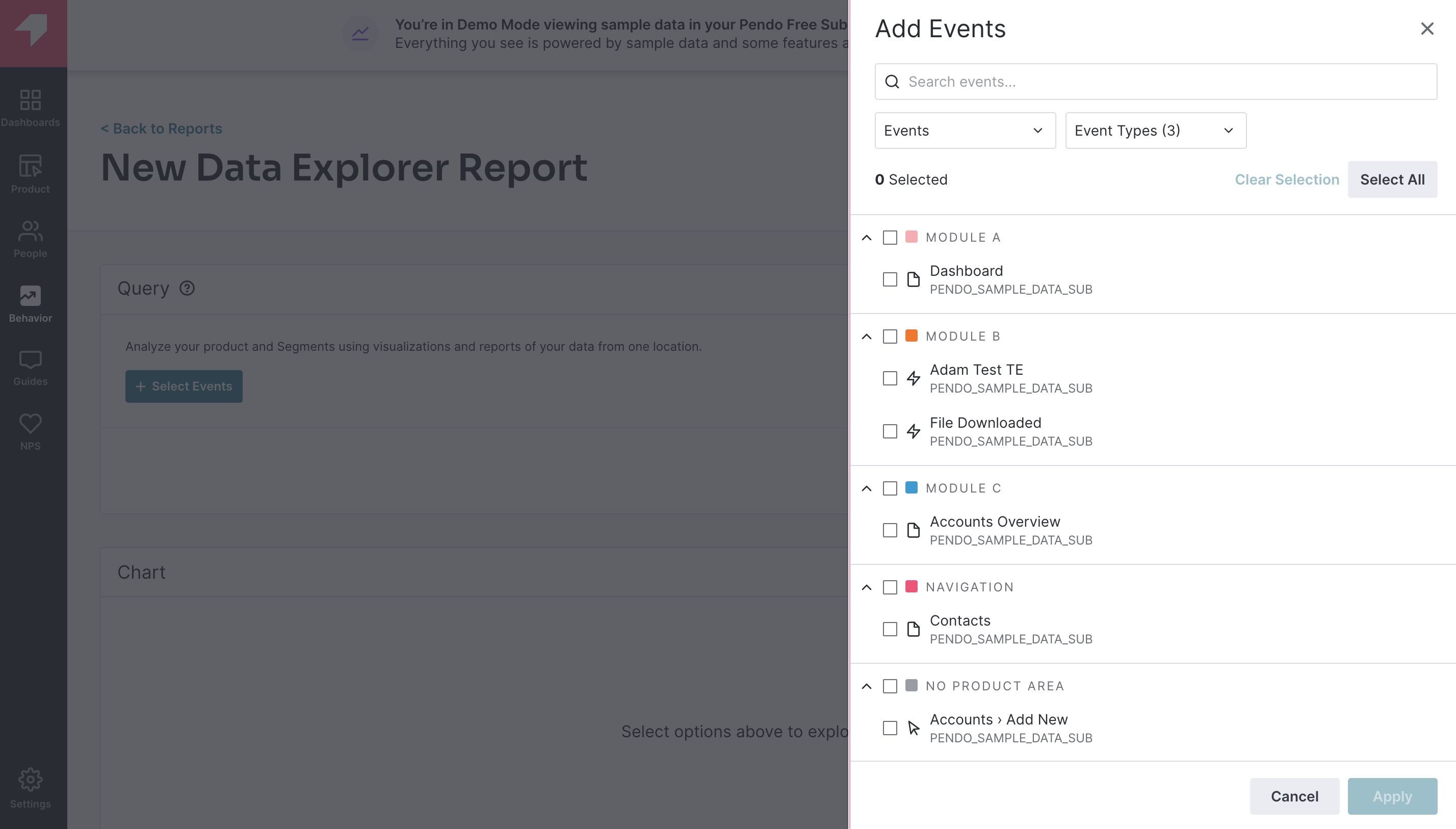 Many SaaS businesses rate Pendo analytics among the best in the industry. There's certainly a lot of buzz about their analytics in the onboarding world at the moment.
Why?
Pendo's analytics are coming "out of the box" – with very little setup required. They are supposed to be easier to set up than proper analytics tools like Mixpanel, Heap, or Amplitude.
The question is: do the analytics features offered by Pendo live up to the hype? And are they really worth the $50,000 price tag most companies will be expected to pay for their yearly Pendo analytics subscription?
Here's what Pendo analytics will get you:
Pendo's analytics center around three main features: Paths, Funnels, and Cohorts.
Paths show you all the actions taken by users before or after a specific event. You can only compare 2 paths at a time in Pendo.
Funnels show you how many users completed each stage of a specific funnel that you predetermined. Userpilot's Goals feature is comparable, but shows a higher number of goals at once and requires fewer clicks to do so.
Reports allow you to track page views, clicks, events, or guide views related to whichever feature you want. Compared to Pendo's other analytics features, this feels like vanity data.
Retention shows you the percentage of customers who stick around relative to the first time they used your product. The graph is visually impressive but lacks a qualitative explanation about why users are retained.
Product engagement score (PES) is a single number calculated by Pendo that uses core events and account data to calculate percentile scores for feature adoption, user stickiness, and user growth and combines them into a single score (of 100). PES score can only be found in Pendo although other product analytics tools offer similar types of engagement data.
The downside? Pendo's analytics are not actionable – the in-app experience builder doesn't allow you to use in-app events as triggers for in-app experiences.
There is also a 1-hour delay in the Pendo user analytics display on their dashboard. This makes Pendo's user analytics feature less actionable than those of tools that offer real-time user analytics (e.g. Userpilot).
Pendo for user feedback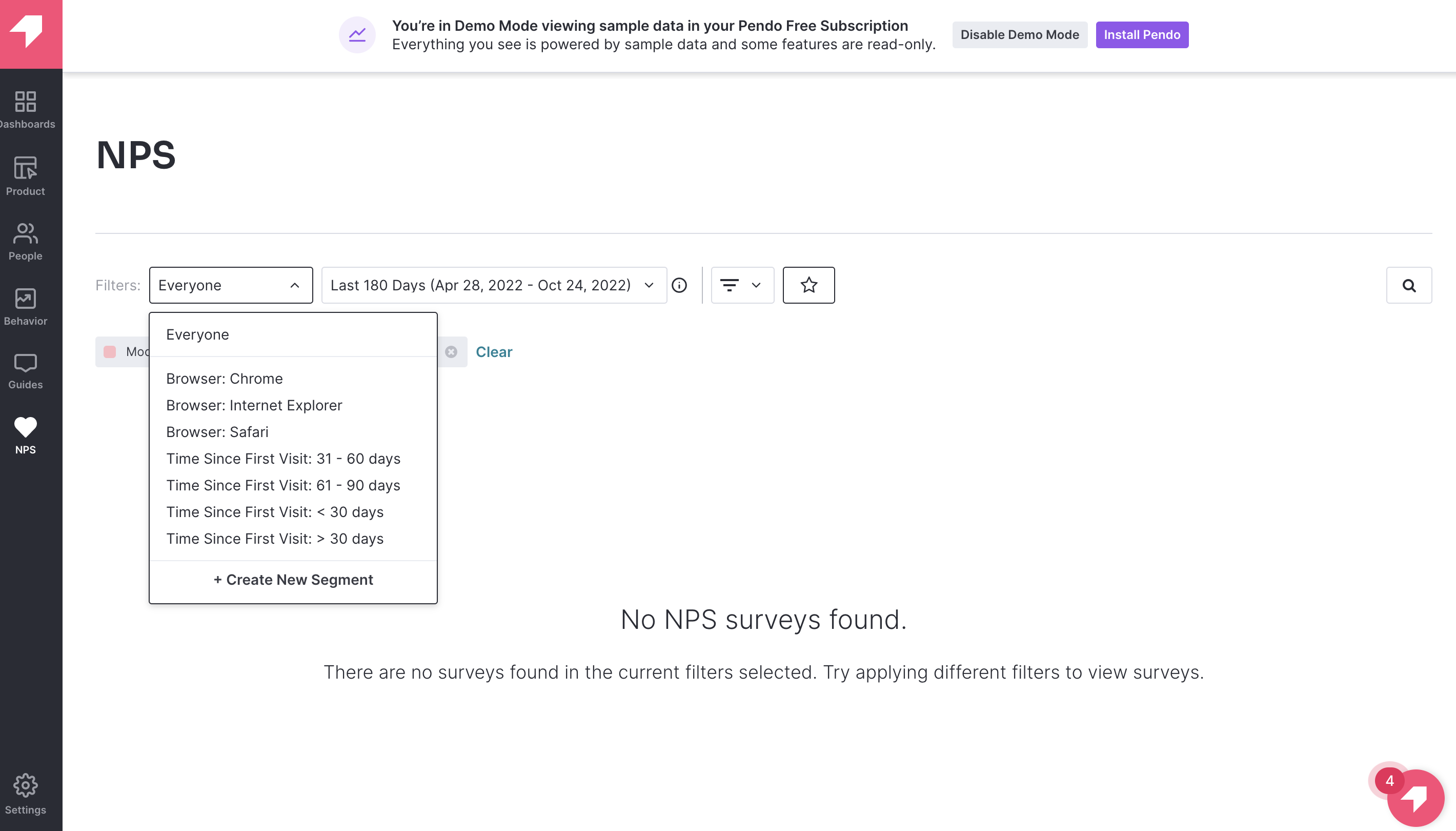 Pendo offers polls (also called micro surveys at Userpilot) through their guides which collect user feedback and gauge sentiment at different points in the user journey.
Polls come with basic functionality and are available on the free plan. However, if you want to collect user sentiment with NPS surveys, you'll need a paid plan that doesn't come cheap at all.
Here's how you can collect user sentiment feedback with Pendo:
Add short polls on your guides and UI patterns built with Pendo.
You can use only text polls, yes/no polls, numbered scales, or multi-choice polls and add them as building blocks when building the guides.
There's not a lot of customization, like themes or emojis available, but it's enough to collect data in-app.
If you are willing to pay for the Growth plan, you get access to Pendo's NPS feature too.
The downside of using Pendo for collecting user feedback is that you can't use the insights to personalize the user experience. For example, you can't create user segments based on NPS scores or specific answers you collect with your polls.
Considering the price you have to pay for Pendo, you'd expect more from it.
If you want to both collect and act on user feedback, you should use a better tool. And, with the risk of sounding biased, Userpilot gives you more value for money here. You can build micro surveys, embed Typeform long surveys, collect and analyze NPS responses, and segment users based on scores and responses so you can trigger more personalized experiences.
Get a Userpilot demo here.
Pendo reviews
Users appreciate Pendo's analytics but find it complex for building in-app guidance using the guides feature.
As soon as it has been integrated, Pendo is easy to use and manage without the need for developers. I also like that usage is captured retrospectively and the dashboard views or ability to segment users/accounts based on different criteria is really powerful. The guides are great and multi-functional making it really simple for Product Managers to help users navigate with walkthroughs, or post announcements or poll users; they allow Product Managers to get creative with how they engage and interact with users directly in the product. – Parita P.
The best feature about Pendo has been the constant collection of User clicks without the need to set up trackers via code. This enables us to tag the usage directly from the tool and start monitoring historic data without having to involve development teams.- Joseph E.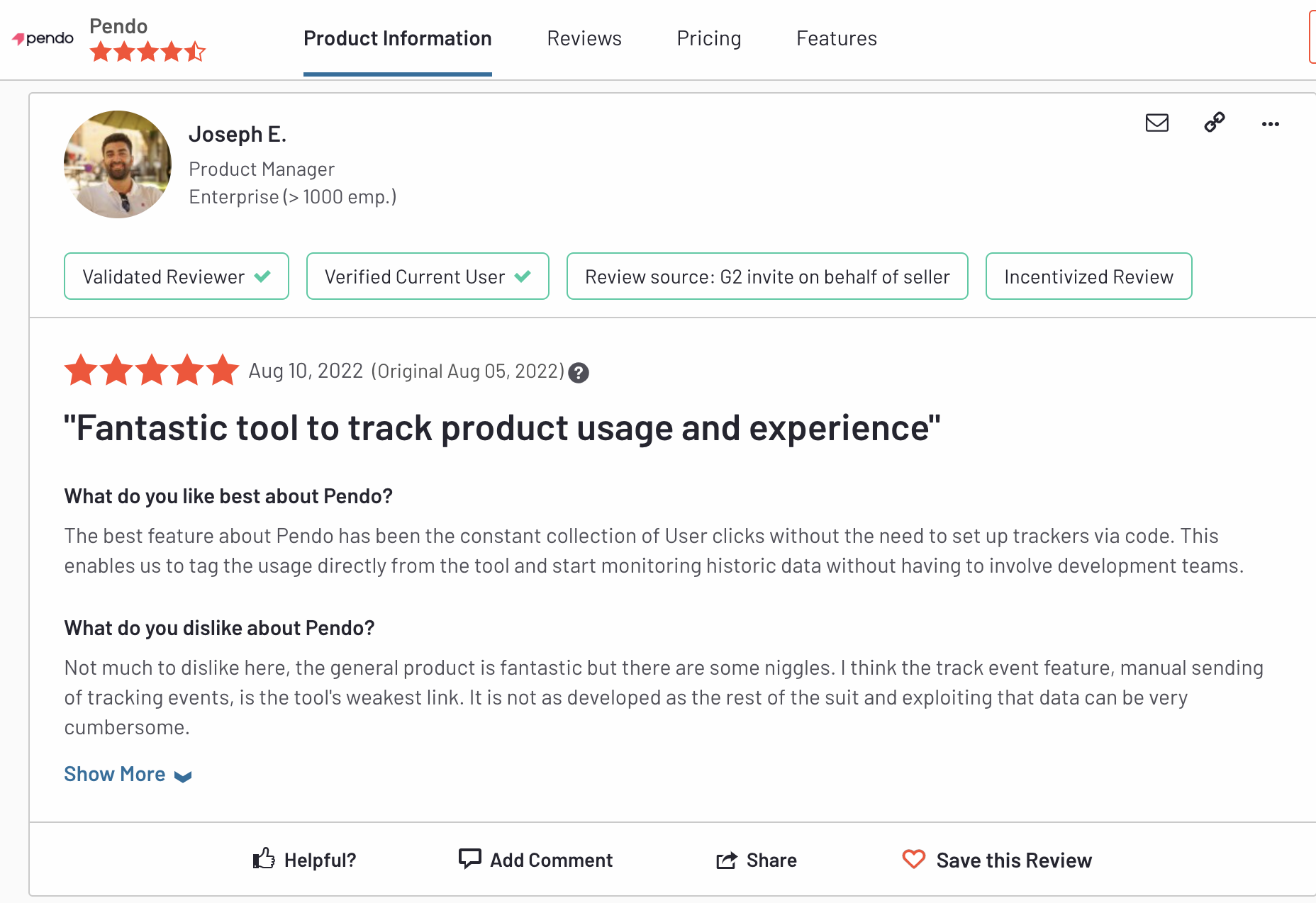 Pendo pricing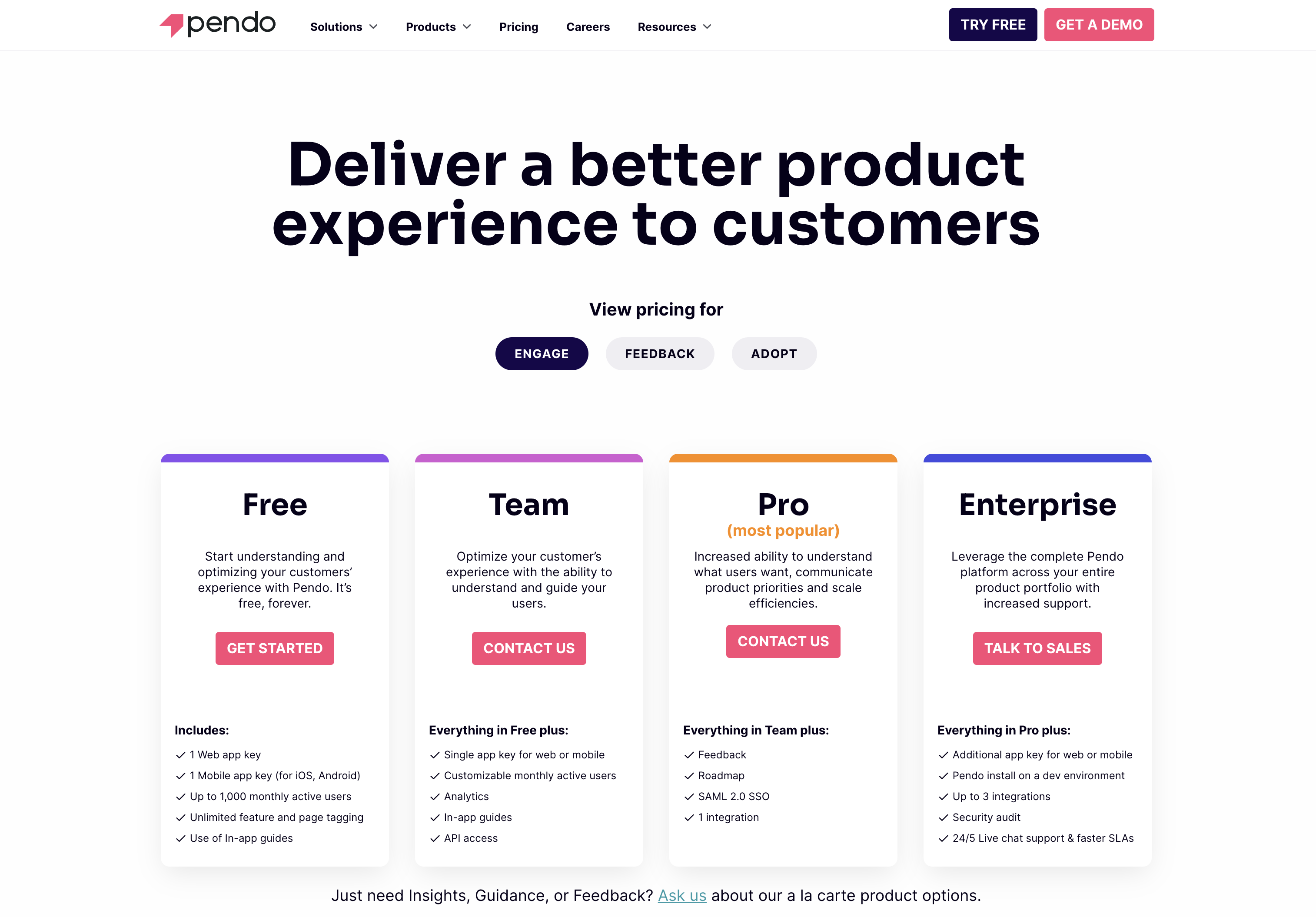 Pendo's pricing is only available to you if you ask for a quote. The company doesn't list pricing on its site for the higher tiers. However, some reviews say they have prices starting at $20,000-$25,000 per year for a single product, and around $50,000 per year for the mid-tier package.
The tricky part when it comes to Pendo's pricing is that you get to pay separately for different modules:
Pendo Free: up to 500 MAU, single-app, and basic functionality and analytics.
Pendo Starter $7000/year: 2,000 MAU limit, multi-app, and access to premium features like NPS but it doesn't include advanced analytics or integrations
Pendo Growth: Custom MAU, single-app, NPS and PES, resource center, and access to support compared to lower plans
Pendo Portfolio: Custom MAU, multi-app, cross-journey reports, experimentation, and 1 free integration included.
Pendo Premium: Custom MAU, multi-app, everything in other plans plus custom roles and permissions and advanced security
Pendo Feedback: collecting feature requests is a separate module with custom pricing.
Pendo Adopt: employee onboarding is a separate module with custom pricing

There is a better tool for your SaaS than Spekit!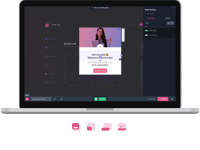 Spekit vs Appcues
There are many ways how Appcues> is different (and in a lot of ways better!) from Spekit. Let's explore the features of Appcues>, how it's better than Spekit and how it may fall short too.
Appcues for user onboarding
Appcues used to provide onboarding templates, which made it easy to use the tool. However, it provided a predefined way of thinking about onboarding all while having a higher price tag than other onboarding software. As of the time of writing (end of 2022), Appcues has removed its onboarding templates – without really replacing them with another solution.
Appcues allows you to design flows that make onboarding processes a breeze. These flows are what you use to create product tours and other in-app communication with users.
Here's what you'll get when you start using Appcues:
Access to an easy-to-use UI that anyone on the team can handle for building in-app flows without coding.
Building a product tour in Appcues is relatively easy. You just need to open their chrome extension on top of your application and start building your in-app experiences with a WYSIWYG editor. You simply select a UI pattern and customize it 'live', or point to the elements you want to e.g. append your tooltips to.
Previously it was even easier – you chose one of its templates, they would basically create the product tour for you, and you just needed to customize each step. This limited the options for customizing but it was useful for beginners. We don't know if Appcues plans to bring their templates back.
You can also create checklists with Appcues (NOT available on the Essentials plan) and prompt users to take action. These are ok but have limited functionality (can't trigger JS functions, or add gamification elements) compared to alternatives, such as Userpilot.
Track UI engagement with Events explorer which allows you to tag elements without coding.
Build custom user segments (up to 5 on the Essentials plan) based on user properties, flows, interactions, or events you set up in the events explorer.
Appcues for user analytics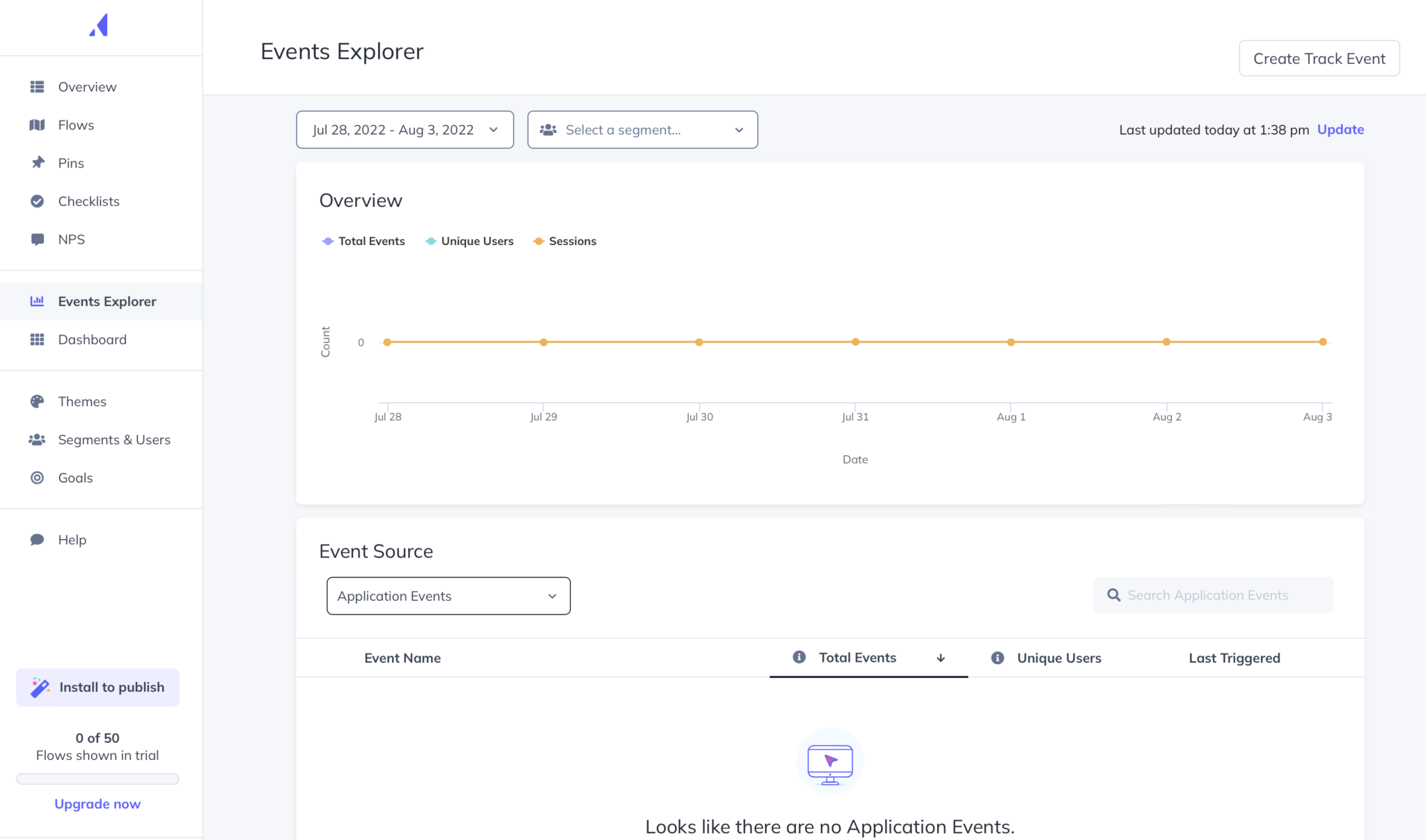 Appcues user analytics is focused on the Event Explorer functionality and user segments that allow you to track user engagement and group users based on their main stage in the user journey.
Let's look at each of these functionalities and how they can help. First, let's explore their Event Explorer:
Events Explorer makes it easy to view, validate, and visualize events in one place.
Appcues defines events as user interaction with your features or flows inside your product's UI and you can set these up with a few clicks.
The Essential plan includes only 10 events. If you need more, you'll have to upgrade to the Growth plan ($879/mo annually).
This can be a little limited when you are trying to analyze product usage.
Now, let's quickly see how Appcues segmentation can help. Appcues only gives you five user segments included in their Essentials plan, which isn't a lot. It won't be long before you need to upgrade the plan for more user segments.
The pre-defined user segments in Appcues (Evaluators, Beginners, Regulars, Champions) are very limiting if you want to access proper user analytics. Even building segments has its own limitations. You can create segments based on:
User properties (when a survey was completed or when they've seen in-app flows)
Flows interaction (has been completed or not?)
Checklists (in progress, skipped, completed, not seen)
Event (based on the ones you set up using event explorer)
One of the predefined segments (Evaluators, Beginners, Regulars, Champions)
Appcues for user feedback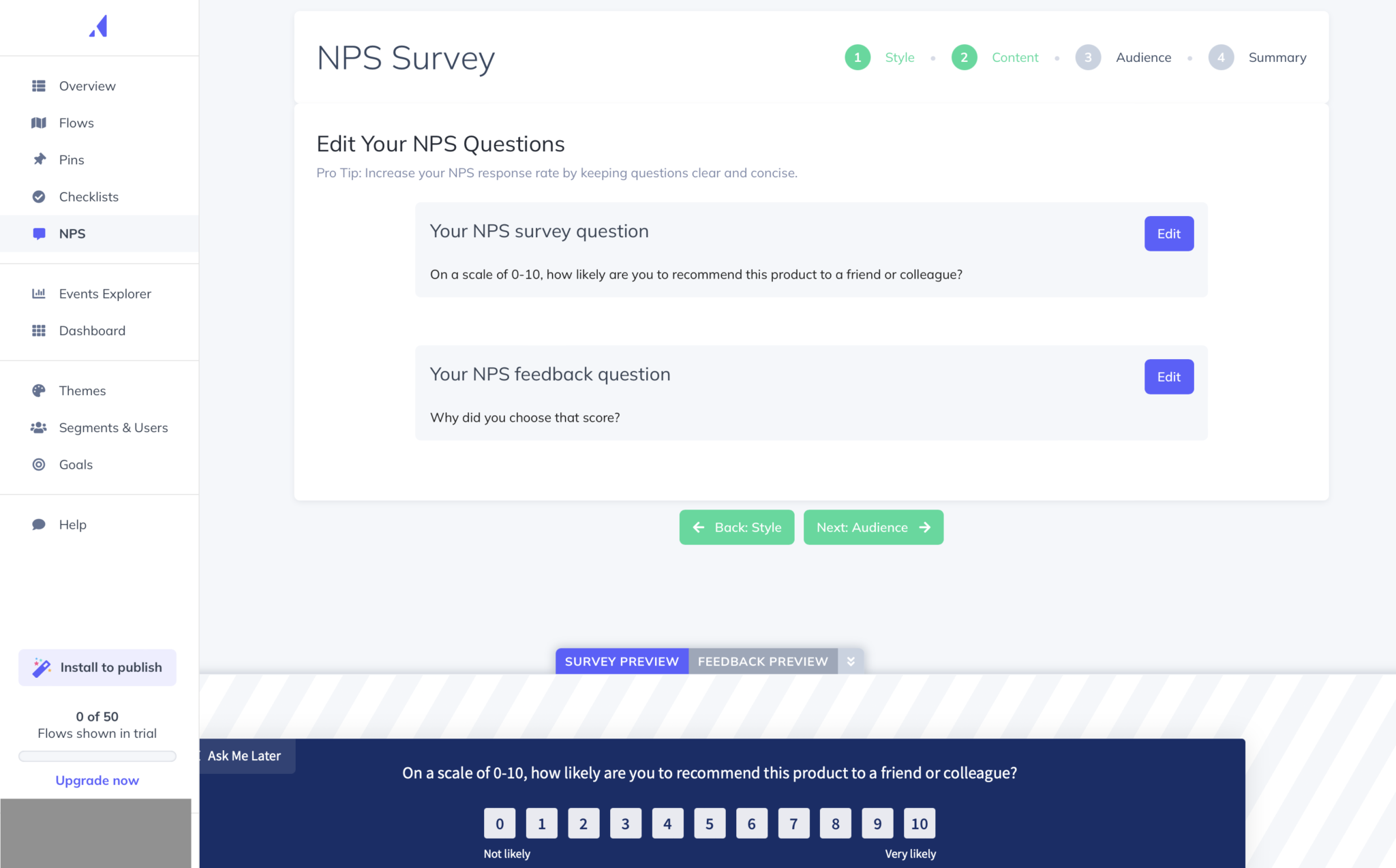 Can you use Appcues to collect user feedback? Of course.
Collecting data is not hard, analyzing and acting on it is where it gets tricky. What's the purpose of having data if you can't act on it?
If you want to track your NPS score over time and collect user feedback with short micro surveys, you can do that with Appcues. But to analyze the feedback data in-depth, you'll have to use other tools.
In a nutshell, Appcues allows you to:
Build and trigger NPS surveys in-app without coding.
Edit the NPS survey questions.
Target the survey at a specific user segment (or choose one of the predefined segments) and adjust the survey display frequency.
Collect user feedback with short surveys built on top of modals: add numerical scale, open-ended questions, or radio button questions.
On the flip side: you can't tag your NPS/survey responses in-app and use these tags to segment your audience by them.
You can't analyze the responses in-app. You can only download a CSV report to start analyzing your data – and we all know how time-consuming that is.
Based on the above, when it comes to user feedback, Appcues is not the ideal tool, as it lacks the ability to segment users based on survey responses.
Appcues reviews
What do Appcues users share about their experience? Overall users feel positive about Appcues.
Here's an example summarizing some key points about its features and the value it offers. You can find more reviews on G2 or Capterra.
The best part of Appcues is the guided tour features which they call flaws. Especially on a team with limited resources, it allows you to improve your activation and engagement overnight by using this feature to guide your users around your product. What I love even more is the design and UX features are modern unlike other tour tools we've researched, and the software is easy-to-use with the need for a developer after the initial installation. – Raeann F.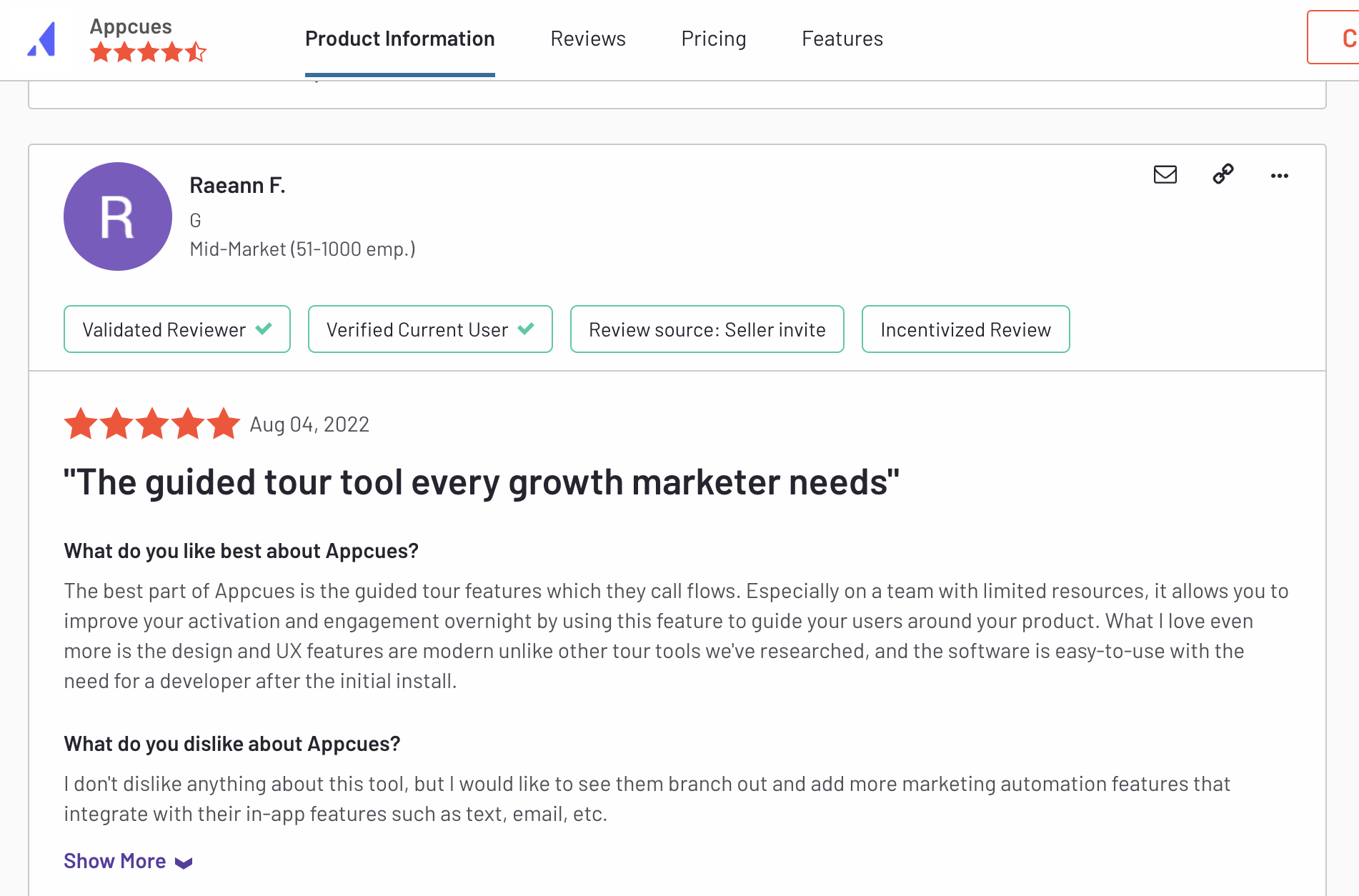 Appcues pricing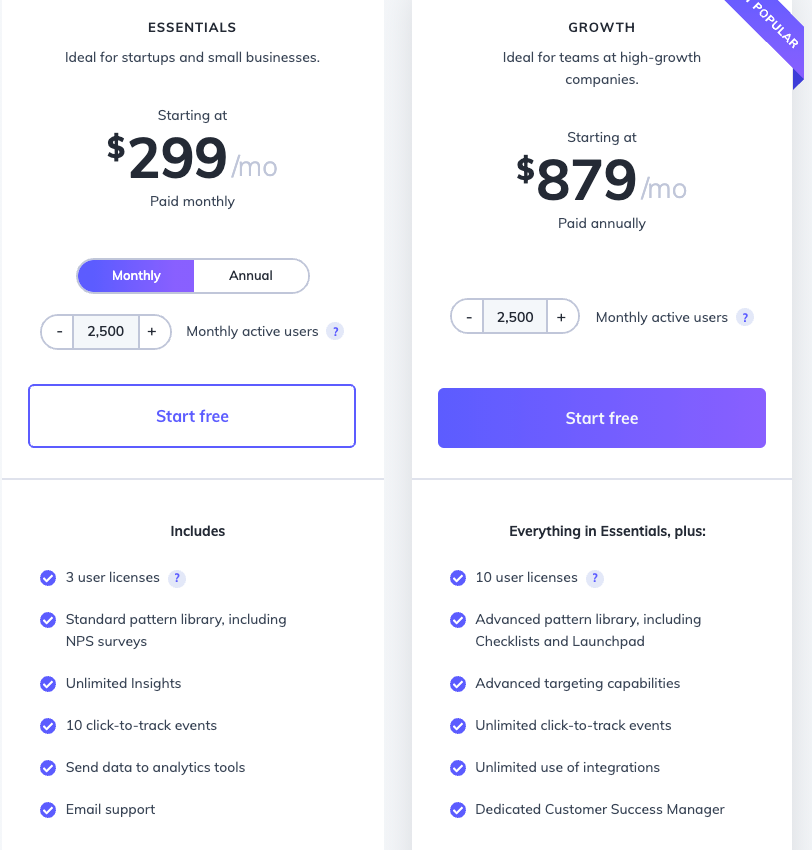 All things considered, Appcues does not offer the best value for money compared to some Appcues alternatives – at $249 per month. If your product has 2,500 active users, the costs for different plans are:
Essentials: $249/month (Up to 3 user licenses)
Growth: $879/month (Up to 10 user licenses)
Enterprise: Custom (Unlimited user licenses)

There is a better tool for your SaaS than Spekit!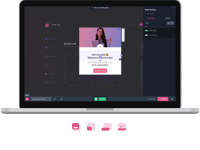 Spekit vs Apty
There are many ways in which Apty is different (and in a lot of ways better!) from Spekit. Let's explore the features of Apty, how it's better than Spekit, and how it may fall short too.
Apty for user onboarding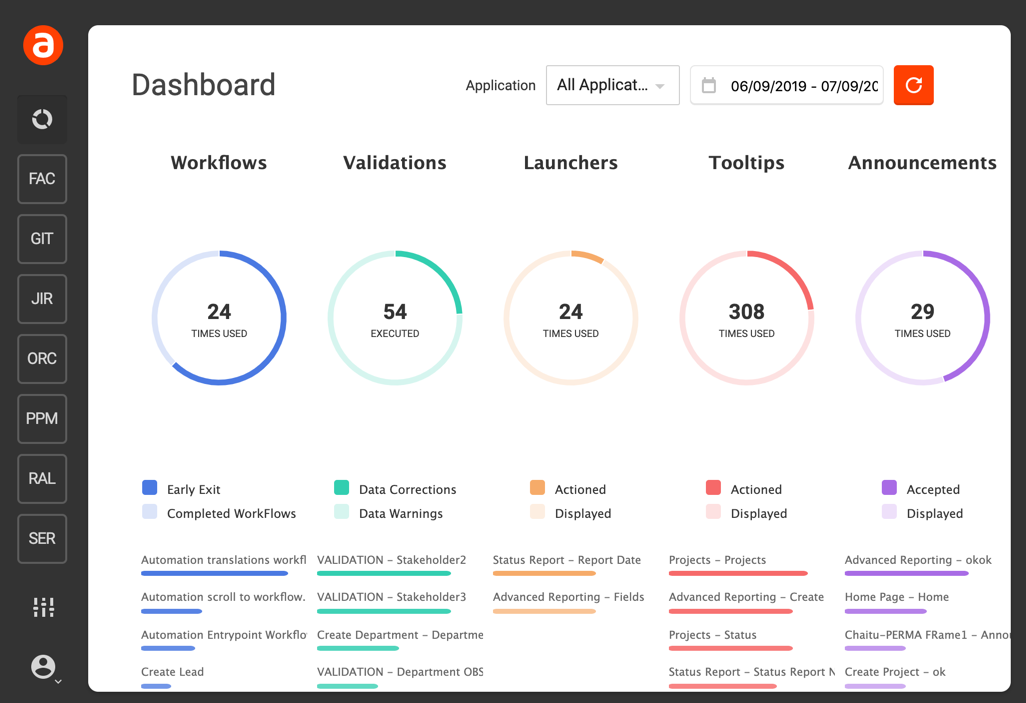 Here's how Apty can help with user onboarding:
Enables you to create checklists to guide users and interactive walkthroughs that simplify the onboarding process.
It also allows you to segment users and design tailored onboarding experiences based on the role, location, and other characteristics to deliver the promised value fast.
The goal-tracking feature allows you to set custom goals and monitor how users navigate through them. For example, you can set user activation and set it as one of your onboarding milestones to analyze progress. Then you can segment users who haven't reached the goal and implement a number of strategies to activate them.
Combine tooltips and create interactive walkthroughs to shorten the learning curve and, subsequently the time to value.
Apty for user analytics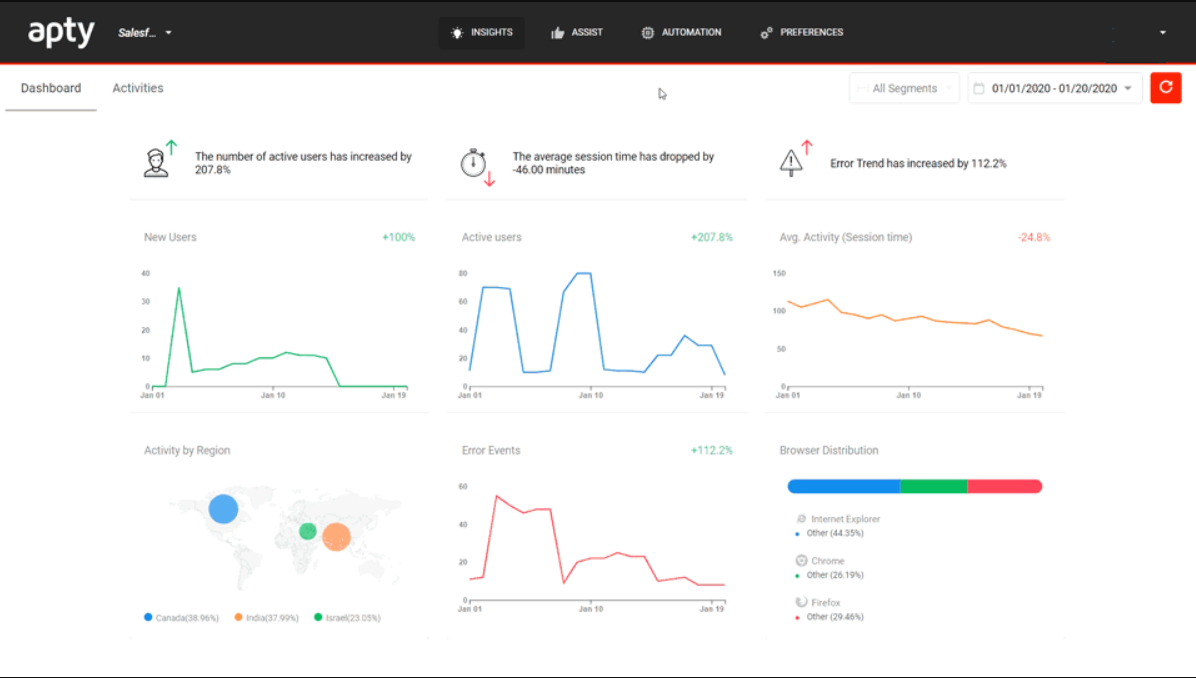 With Apty's powerful user analytics and reporting, you can drive real adoption. It enables you to get actionable insights and provide timely and relevant guidance. Analytics will also help you to understand
user behavior to identify gaps in processes and cater to their needs better.
Here's what you can expect from Apty's user analytics:
You can track how users interact with your product and the flows you have created for them.
Set up custom events and track adoption metrics to provide contextual support when users get stuck.
Create user segments based on different user characteristics, including in-app behavior, pricing plans, and stage in the customer journey.
Apty for user feedback
Apty allows you to enable timely user feedback so you can be contextual, reduce churn and improve the overall customer experience.
Here is what Apty's user feedback feature offers:
Trigger in-app surveys to prompt customers to submit ratings based on their experience.
Embed surveys to in-app announcements to collect feedback from end users.
See the average ratings and the number of users who completed the surveys.
Get detailed feedback analytics inside the Apty Admin Console.
Apty reviews
Overall, users feel positive about Apty– here's an example summarizing some key points about its features and the value it offers:
Our Apty Representative, Joe Fimiani, is one of the main reasons we love working with Apty. Joe works hard to establish a trusting relationship with his customers. Joe goes above and beyond to ensure we are satisfied and happy with our Apty product by doing regular check-ins.One thing that is a little frustrating is getting past the Apty pop-up widgets. Sometimes the pop-up widgets are in the way of tabs that need to be selected. As a result, the tabs are harder to select. However, this may not be an Apty issue, rather a Clarity issue 🙂 –
Desiree G.
Apty is incredibly helpful for new employees to get familiar with processes in our project management software. The work flows and tooltips have been essential for our workforce.The only downside to Apty was the learning curve of first building out the application to work with our project management tool. Apty had a great support system to help through those challenges. – Jennifer T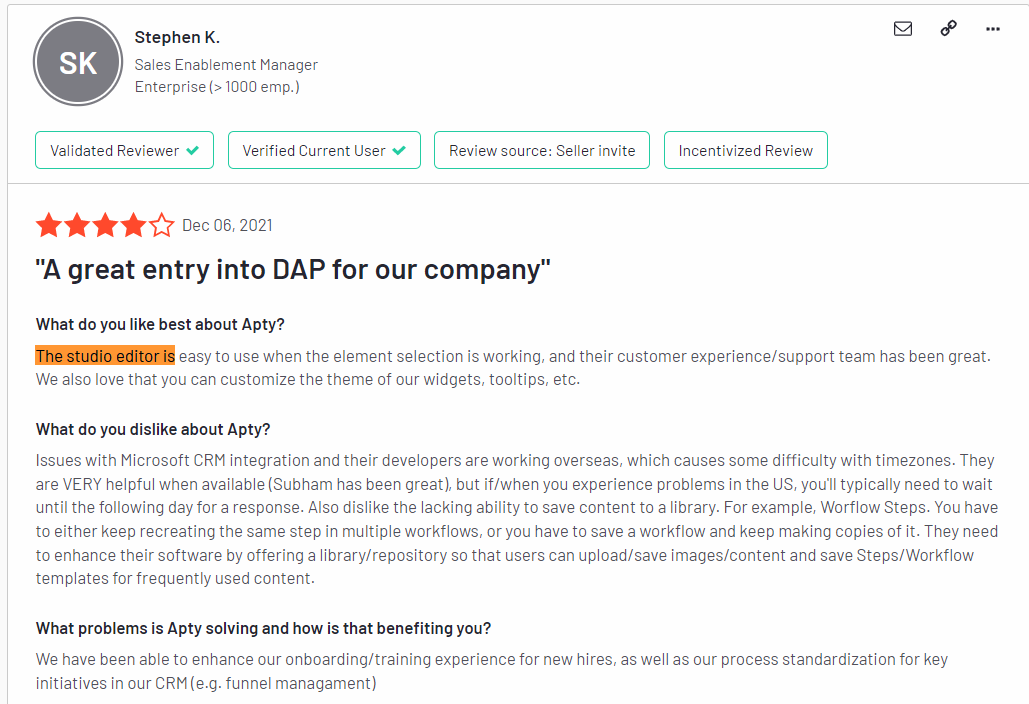 Apty pricing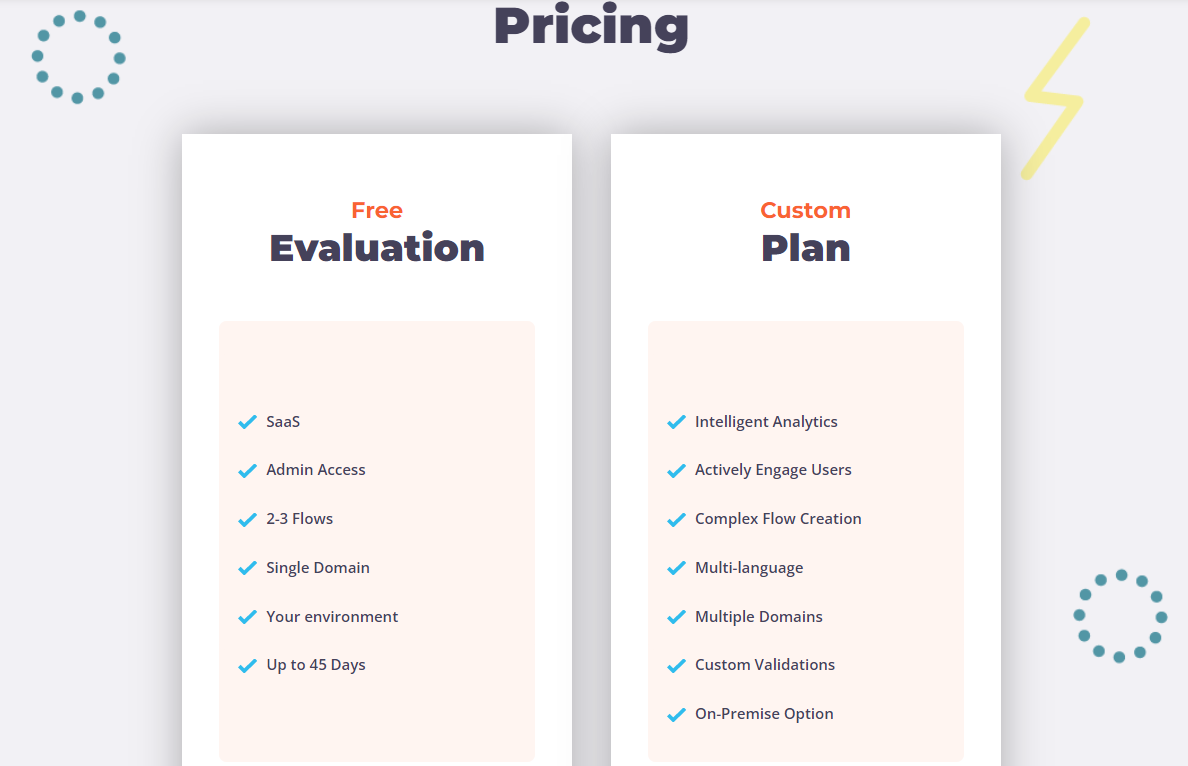 Apty offers a free trial and custom quotes based on business needs.
Free trial: Up to 45 days, includes 2-3 flows, works on a single domain.
Custom pricing: Intelligent analytics, complex flow creation, multilingual support, available on multiple domains.

There is a better tool for your SaaS than Spekit!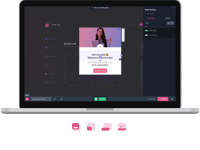 Conclusion – which of the Spekit alternatives is the best?
As you can see, there are many different competitors and alternatives to Spekit. We've discussed a few above – but which one is the best?
The answer is "it depends" – but we strongly believe that if you're a mid-market SaaS company looking for a great user onboarding and product analytics tool, Userpilot is the best option for you. Hopefully, you found this post helpful. Let us know if you know any other good Spekit alternatives – and if you need any help with how Userpilot is different, we are always happy to talk!