Customer Value 101: Definition, Formula, and 10 Strategies To Increase the CV for Your SaaS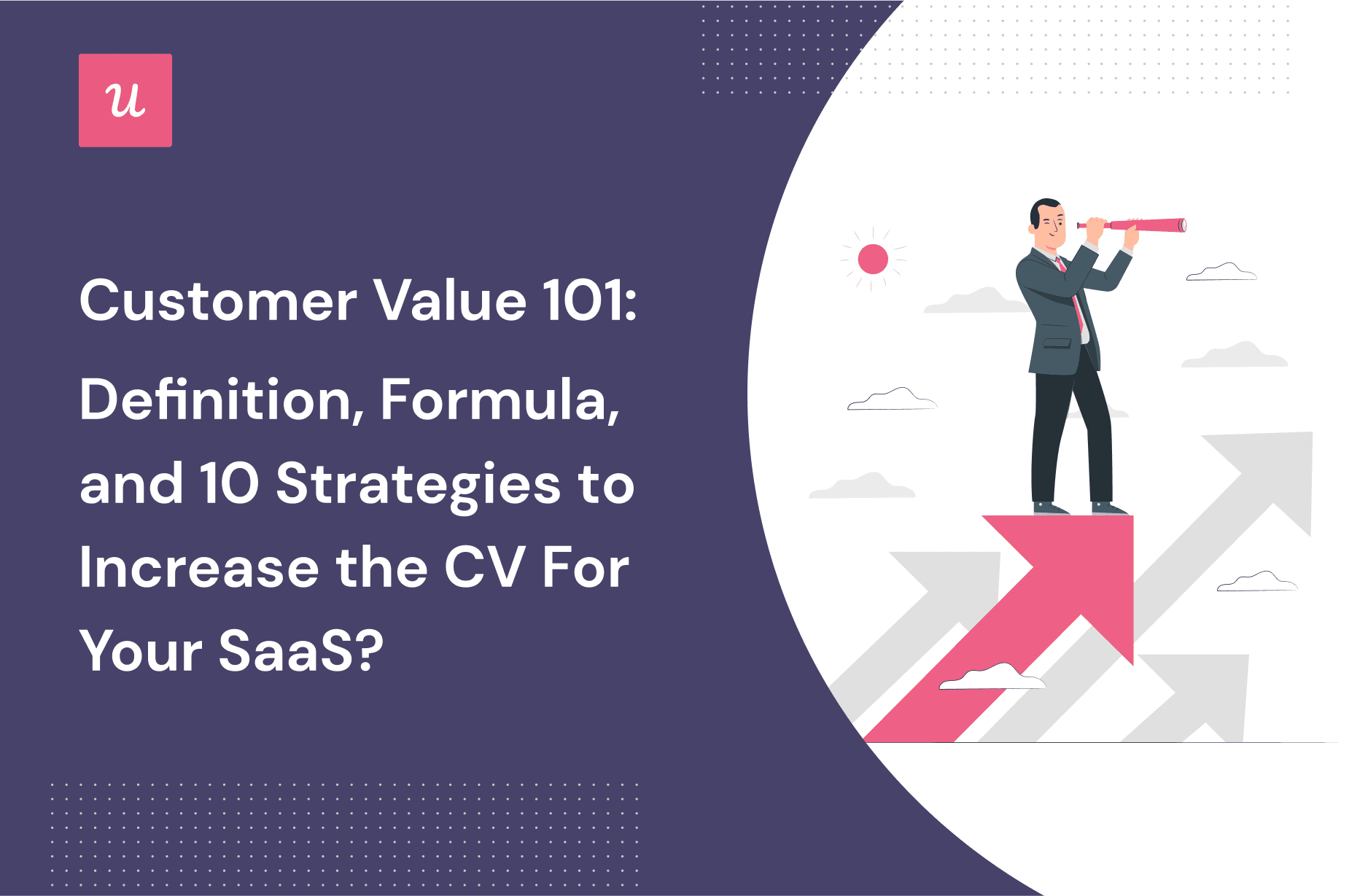 What is customer value and how you can use it to improve the actual value you deliver to your customers and establish brand loyalty?
Buyers are always on the lookout for businesses that offer continuous value, making them preferable to their competitors.
So let's see what you can do to increase your customer value and retain loyal customers.
TL;DR
In SaaS, customer value is a user's perception of what your product or service is worth.
Customer lifetime value is the total worth of a customer's business throughout their relationship with you.
A good understanding of customer value helps you improve customer experiences and is crucial for retaining loyal customers.
To measure customer value, collect feedback from existing customers, track customer satisfaction, and assess whether customer benefits outweigh their costs.
Customer value is the difference between total customer benefits and total customer costs.
Here are some tips to help you increase your customer value.
Segment users in the welcome flow to offer personalized onboarding and run webinars to educate users on new updates or features.
Use interactive walkthroughs and in-app messages to provide continuous value and drive feature adoption and account expansion.
Use secondary onboarding to make feature discovery easier.
Conduct user interviews and act on the insights to make their voice heard.
Provide on-demand self-service support with a resource center.
Use NPS surveys to measure loyalty, proactively reach out to detractors, and launch customer loyalty programs.
Userpilot lets you improve customer value and boost loyalty by offering powerful onboarding tools, self-service support, and the ability to build in-app surveys, all of this code-free.
What is customer value in SaaS?
In SaaS, customer value refers to what your product or service is worth to a user. All the benefits and costs associated with your product or service are measured.
The word 'worth' here can refer to a variety of things, including the value your product or service offers your target market or the benefits it offers.
Customer value vs customer lifetime value
The similarity between these two names may create misunderstandings, but you can't find your customer's lifetime value just by examining your customer's perceptions.
Customer value is a customer's perception of your product's worth. On the other hand, customer lifetime value is the total worth of a customer's business throughout their relationship with you. You can use this metric to predict the future revenue streams you can earn from a user.
Why is customer value important?
Meeting customer expectations and providing value is the key to retaining existing customers in the long run and earning their loyalty. By keeping track of customer value, you can meet users' expectations and needs and find patterns in how these change over time. Moreover, it improves customer experience and boosts loyalty which, in turn, increases your customer's lifetime value.
It's easier to satisfy customers when you know what standard your business is being held to. If you can pinpoint what attracts customers to your brand and makes them stick around, you can better tailor your product to cater to new target audiences.
Furthermore, understanding customer value allows you to proactively shape customer perception while also meeting their current expectations. In other words, you can set higher standards in the industry and thus gain a competitive advantage.
How to measure customer value?
Now that you know why customer value matters, let's see how you can measure it in the first place.
Collect feedback from existing customers
Your existing customers can tell you whether you're living up to their expectations or not. Call users directly or send microsurveys to ask them some questions to gain a better understanding of your product's value to customers.
Track customer satisfaction to get a sense of the perceived value
Use customer satisfaction (CSAT) surveys to understand if your customers are satisfied with your product or learn about any friction points that irritate them.
Along with qualitative questions, you should also quantify the results by asking questions.
Analyze whether the benefits outweigh customer costs
Finally, you should evaluate whether the customer benefits outweigh the customer costs.
There are 2 main kinds of benefits: product or service value and service experience value. Other kinds of customer benefits are psychological value, social value, and personal value.
The customer feedback you collect will help you identify benefits like quality, convenience, brand reputation, and the ability to offer a better product offering than competitors.
Simultaneously, user feedback will also give you insights into the tangible costs such as poor customer experience, the time cost of onboarding, and the time taken to complete a purchase. You can get your tangible costs from operational data, including the financial cost of your product, maintenance costs, and upfront costs.
Customer value formula
To measure customer value, you'll need to subtract total customer costs from total customer benefits.
Customer value = Total customer benefits – Total customer costs
Customer benefits can be divided into two categories: product value and service experience value. Customer benefits can also include social, personal, and psychological benefits.
The different types of benefits (and costs) would need to be mapped to a metric to evaluate whether certain benefits outweigh certain costs. For instance, you may find that customer service is so valuable to your users that its benefit outweighs the price of your product.
10 Strategies to enhance your customer value and increase customer satisfaction
How can you enhance your in-app experiences and boost customer value? Here are 10 strategies you can apply.
Segment customers in the welcome flow to provide personalized interactions
A welcome screen is a powerful onboarding element that allows you to achieve segmentation, experience personalization, and conversion rate optimization.
This is because welcome screens are not only meant to greet new customers but also to collect information on users to identify their jobs to be done.
You can include microsurveys in the welcome screen and use the collected information to segment your audiences and personalize their onboarding flow based on their goals, roles, and use cases. You can even gamify this experience by allowing users to select their 'avatars' (roles) and 'adventures' (use cases).
Personalized interactions will help users reach the activation points faster, which decreases the time to value and boosts your trial-to-paid conversion rates.
Here's how Kontenino uses its welcome screen to customize the onboarding experience.
Use interactive walkthroughs to provide value upfront
To keep users engaged, it's crucial to provide as much value as quickly as possible. For this, you'll need to guide your users toward actions that will show them the value of your product.
An interactive walkthrough is very useful as it offers value upfront and helps users reach the AHA moment and finally experience your product's value.
Users can avail of this step-by-step guide while using the product. This ensures that the walkthroughs appear contextually and provide only the relevant information. Customers won't have to go through a lengthy product tour that dumps a lot of irrelevant information at their feet.
Look at the example below. Rocketbot's interactive walkthrough consists of tooltips that appear contextually and motivate users to take action.
Provide in-app guidance to set new customers up for success
In-app guidance provides support to customers using short messages that boost engagement. These in-app messages are timely and contextual and guide customers through various stages of the user journey.
There are several kinds of in-app messages, including tooltips, modals, banners, checklists, and slideouts. Userpilot enables you to create these UI patterns – code-free!
These messages help shorten the learning curve by showing customers how to make the best use of a product feature whenever they need it.
Moreover, users can also learn about new feature launches and upgrade options. This effectively drives account expansion and feature adoption.
Use secondary onboarding to drive feature discovery
The onboarding process doesn't end with the activation of users. Primary onboarding focuses on driving users to the activation milestones, whereas secondary onboarding ensures that customers discover, engage with, and use the features most relevant to them.
Secondary onboarding improves customer value and can even exceed their expectations by introducing them to secondary features. It gives you more use cases that translate to sticky users. As users experience repeated value, they choose to stay longer with your product and improve retention.
Once again, in-app messaging serves as a powerful means of promoting feature discovery. The information you provide must sell the benefits of the particular feature so that customers are motivated to use it.
Conduct user interviews and make their voices heard
One effective way of increasing customer value is catering to the voice of your customers. This involves collecting customer feedback and understanding user sentiment about their experience with your product.
You should conduct user interviews by approaching users from each user segment. This makes sure the participants are well representative of your total customer pool.
Start a voice of the customer (VoC) program and invite users to a one-on-one meeting to learn about their problems. Once you've gathered the data, analyze them and act on the insights to make the necessary improvements.
This shows users that you care about them and makes them feel heard. This way, the VoC program can inspire loyalty among your customers.
Enable self-service support to provide on-demand customer support
In-app self-service support is key to improving customer value.
Customers feel much less frustrated and much more accomplished when they can quickly solve certain problems on their own. Thus the contextual self-service support comes with resources like in-app guides, links to the knowledge base or documentation articles, quick bug fixes, 1-click get in touch chat launcher, and more.
A resource center eliminates friction points, provides help when customers need it, and shortens the learning curve. This makes it easier for customers to interact with your product, thus improving your customer effort score. There's also less pressure on the support agents, who can now focus on more pressing matters.
Run webinars to educate customers on new features or updates
With in-app messages, you can announce new features and updates right in the app. However, let's understand when it's best to use a webinar instead.
Webinars are great for major UX updates and complex releases. You can use 30 minutes to show users all the details in real-time.
Webinars add a human element by interacting with users directly. This lets you create empathy and build trust, community, authenticity, and transparency. The immediate engagement you get is difficult to replicate with anything else.
Moreover, a webinar provides the opportunity to tell stories about customers who achieved success with the new feature or update, their jobs-to-be-done, and their pain points.
Use NPS surveys to collect feedback and measure customer loyalty
Net Promoter Score (NPS) is a great measure of user sentiment and customer satisfaction.
An NPS survey asks users how likely they are to recommend your product to others. It lets you collect both qualitative and quantitative feedback to understand the reasons behind customer churn and what problems you should address to improve user experiences.
You can use an in-app NPS survey either by custom-coding your product or by using an NPS feedback tool like Userpilot to create it inside your product code-free. The latter will let you monitor the user responses and measure the NPS score automatically.
Identify loyal customers and acknowledge them with small rewards
Recognize your loyal customers by offering them promotions or discounts at the end of a support experience. Or, you can consider launching a loyalty rewards program to show customer appreciation.
Loyalty programs can also involve providing access to premium features, limited deals, and promotions. This is particularly useful in retaining the most active customers.
In addition, you can give customers points for inviting friends and maybe exchange those points for the premium plan.
Proactively reach out to detractors to learn more about their issue
The NPS survey gives you two major customer groups: promoters who score you 9 or 10 and detractors who score you 6 or below.
You can separate the response tag answers into groups. This helps you understand why some users gave low scores and proactively address their issues before they churn.
Here's an email that follows up on a detractor to offer help. Such gestures can encourage users to stick with your product and watch out for improvements.
How can Userpilot help you skyrocket your customer value?
Userpilot is one of the top onboarding platforms out there. You can employ a variety of onboarding UI patterns, create contextual in-app messages, build different types of microsurveys, and even incorporate an in-app resource center to improve your customer value.
Moreover, Userpilot is one of the best NPS sentiment analysis tools. It offers actionable insights that will help you optimize your onboarding flow and gain loyal customers.
Furthermore, Userpilot lets you create all of these and achieve customer success without any coding! You can opt for our free trial option to check the outstanding results for yourself.
Conclusion
As you see, improving customer value as much as possible is the key to your SaaS success.
Even if you invest a great deal in your product, it will all be in vain unless you can meet, and even better, exceed, customer expectations.
Apply the strategies discussed above and increase your customer value.
Want to get started with customer value? Get a Userpilot demo and start seeing the great results.