Automate Customer Feedback: The Benefits, Types, Process [Best Tools Included]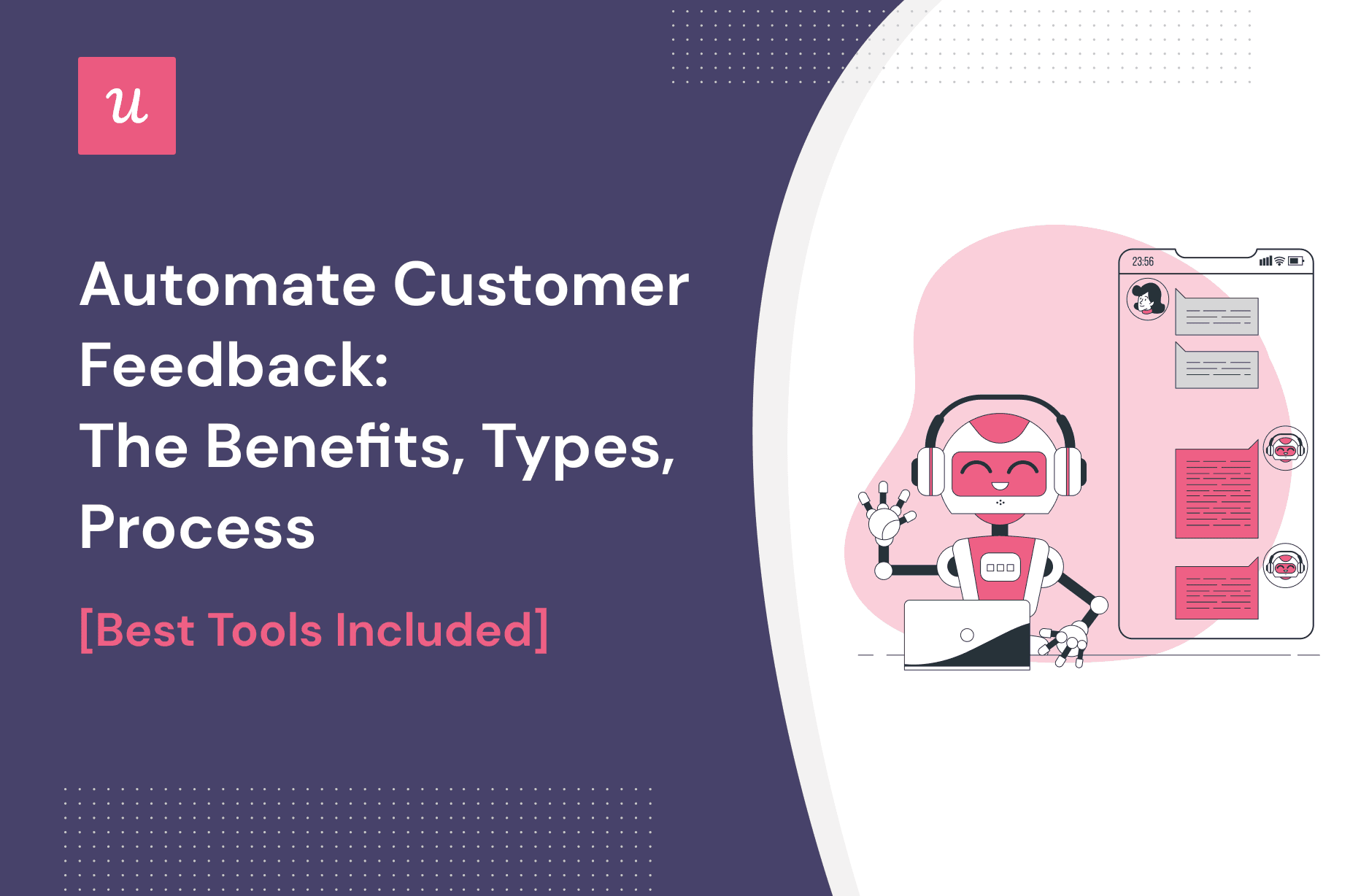 Do you have a process in place to automate customer feedback collection?
If you don't, you should get started right away to collect the maximum amount of user data and minimize the work hours required to set up feedback collection.
Automation is crucial for taking a customer-centric approach to product growth. But how can you leverage automation to gain an in-depth understanding of user sentiment? Let's find out.
TL;DR
What is customer feedback automation?
Customer feedback automation is the process used to automate user feedback collection so you can act on it. It's extremely important to your product team if you want to take a customer-centric approach to improve your product.
Automated feedback collection vs manual feedback
Manual customer feedback collection is expensive and demands too much time and resources. The data accuracy is relatively low. This is because it's human nature for customers to hide their true opinions during direct conversations with the staff. They may exaggerate their positive feelings or tone down the negative ones. Moreover, there's a greater chance of errors while inputting data manually.
On the other hand, automated customer feedback is straightforward to set up. You can gather feedback on an ongoing basis, and customers are more likely to give honest opinions. Contextual surveys are sent to customers at the right time so that the response rates are higher, thus giving you more data to work on.
Why should you automate customer feedback collection?
Now that you know what makes automated feedback collection better than a manual one, let's see why the process is so important for ensuring a successful business.
Listen to your customers at every stage of their journey
With automation, you can send surveys at different stages of the user journey. This lets you collect feedback on every major touchpoint and user interaction. It will also help you identify friction points easily and take action to remove them.
Moreover, automating feedback collection enables customers to see the surveys contextually and answer them at their own convenience.
Dive deep into insights and analyze user feedback
You can automate customer feedback to gain a plethora of actionable insights. Because these insights come from all major touchpoints in the customer journey, you can use them to detect trends.
In addition, you should collect qualitative data and analyze them to understand the reasons behind each customer's response.
Trigger experience flows based on user feedback
As mentioned earlier, automated feedback is essential for improving the customer experience. When you send surveys and users respond, you can set up automated experience flows.
These experience flows can be triggered based on user feedback. Enhancing the user experience will also help increase customer engagement and retention.
Close the feedback loop and boost customer satisfaction in a timely manner
No matter how many insights you get from user feedback, they will not help unless you set up a feedback loop. Once you understand your customer's pain points, decide on the best way to solve their problems and keep them updated regularly.
When customers see that their problems are solved in a short period or get regular updates from you, they understand that your business cares about their problems. This way, the customer feedback loop will help you boost customer satisfaction.
Approach customers before they churn
Another huge role played by customer feedback automation is churn reduction.
Customer feedback analysis helps you identify users who are highly likely to churn. This could be exhibited by responses such as low customer satisfaction scores.
Reach out to these customers with personalized solutions to increase their satisfaction level and encourage them to make repeat purchases with your company.
What can you do with a feedback collection automation tool?
Let's see how you can use a feedback collection automation tool.
Create different types of contextual microsurveys to send them at the right time to the right audience
Any solid feedback automation platform will let you create various kinds of microsurveys for different scenarios. These microsurveys are in bite-size format and can be triggered in-app so that customers can fill them up quickly and easily.
Microsurveys typically focus on a specific use case, such as a particular interaction with the customer support team or user experience with a new feature.
Furthermore, you can show these surveys to particular customer segments, such as inactive or free trial users. It all depends on the data you want to collect. For example, if you want to survey users who haven't activated a primary feature yet, you need to target your new users.
Customer satisfaction score surveys
The customer satisfaction score survey comprises a simple questionnaire that asks users how satisfied they are with their experience with a specific product, feature, or user interaction, such as customer service or tech support.
The survey scale can range from 1-5, 1-10, or any other range you find suitable for the particular user experience. For example, HubSpot used a scale from 1 to 7 in the image shown below. Customer satisfaction score surveys help you find bottlenecks at various touchpoints across the customer lifecycle.
Customer effort score surveys
A customer effort score (CES) survey asks users how much effort they had to put in to make a specific interaction with your business. Such interactions include requesting a feature, solving a problem, or just asking a question to the support team. They let you understand what customers perceive as straightforward or simple.
Tracking the customer effort score allows you to find friction points and remove them wherever possible. Below is an example of a CES survey by Nicereply.
Net Promoter Score surveys
The Net Promoter Score (NPS) survey is a great tool for measuring overall customer loyalty and satisfaction. As in the example given below, an NPS survey asks customers how likely they are to recommend your product to others on a scale from 1 to 10, with 1 being "Not likely" and 10 being "Very likely".
You get three sets of customers: promoters, passives, and detractors. Promoters are your happy customers who rate you 9 or 10, passives are the indifferent ones who choose 7 or 8, and detractors are your disengaged users who rate you 6 or below. You should proactively reach out to detractors with solutions to satisfy them and prevent churn.
Product-market fit surveys
A product-market fit (PMF) survey is used to measure the extent to which your product fulfills the target market demand. The survey prioritizes your customers and asks how they would feel if they couldn't use your product anymore. Below is an example of Userpilot's PMF survey.
Any effort to scale the business will be in vain without proving product-market fit. Ensuring product-market fit shows that the product is the best solution for your target customers. It also means that the market can generate continuous demand to make your business sustainable.
Feature request surveys
Should you launch a new feature without taking your existing customers' opinions into account? No, right? This is where feature request surveys come in. Like the one used by Usersnap, a feature request survey lets customers choose which feature they would like to use and state their reasons as well.
You don't have to execute feature requests to close the feedback loop. Whether you use their suggestion or not, reply to your customers by acknowledging their message and showing that you will consider their opinion. Then analyze the feedback and check if any feature is worth investing in.
Usability testing surveys
Automate customer feedback from usability testing surveys during the product development stage. Usability testing involves a set of participants who are assigned specific tasks and complete them under supervision. This serves to measure the product's efficiency and the ease with which customers can use a solution with a group of representative users.
Usability tests are usually carried out from early product development to its final launch. Using results from the usability testing survey, developers and designers can discover and address problems prior to launching your product. It not only prioritizes your target market's voice but also gets the issue fixed while it's still less expensive.
Churn surveys
When customers decide to leave, your last resort is the churn survey. A churn survey wants to know why a particular user decided to downgrade or cancel their subscription plan. It's how you show customers that you are willing to take care of their issues, and their business is valuable to you.
By understanding why customers churn, you can make improvements to prevent existing customers from leaving your product. Churn surveys also allow you to add an alternative option to leaving, such as downgrading to lower-priced plans or pausing the user account temporarily while you work on the issues.
Customize the survey forms and adjust the look so it's aligned with your brand style
You can make the microsurveys a part of your brand by customizing their design. Adjust the colors, logo, images, fonts, etc., to match your brand's style. This is important because user feedback collection is a point of interaction, and these interactions should resonate with your branding.
Here's an example of how Userpilot enables you to customize microsurveys to align them with your brand's style. You should do these with all surveys to maintain a consistent brand image in your customers' minds.
Set up frequency intervals and behavior triggers
How often is too often? You can understand that by setting up behavior triggers. They reveal when customers should participate in a survey after what they have recently experienced or done.
Setting up behavioral triggers makes the surveys contextual since they appear to the right customers at the same time. The frequency intervals also ensure that you don't overwhelm customers with a huge pile of requests.
Add follow-up questions to collect qualitative feedback
To make your data more insightful, add qualitative follow-up questions at the end of each survey. This lets you understand why a customer gave you a particular score.
For instance, if a promoter gives you a rating of 9, they can let you know what aspects of your business they like. You can then capitalize on those strengths and improve the experience for other segments.
Enable response tagging to detect feedback trends
Response tagging lets you know which parts of your product got low scores or high scores. You can tag responses and put them inside 'buckets' as shown below, such as 'missing features', 'easy UI', and 'reliability'.
Look at the correlation between the scores and follow-up responses to get more in-depth insights into customer satisfaction. Response tagging reveals trends and flaws in your product or customer service so that you can make adjustments accordingly.
Best tools in the market to help you automate customer feedback collection
Here are the top 3 tools you can use to automate customer feedback.
Userpilot
Userpilot is a product growth platform. Its main product offerings involve growth insights, increased engagement through higher value generation, and user feedback insights.
Userpilot enables you to create a wide range of microsurveys. You can customize the surveys to reflect your brand's style and remove the watermark.
Moreover, you can use frequency intervals and set up behavior triggers to make surveys appear contextually across multiple touchpoints in the user journey. Plus, the response tagging feature helps you identify trends and patterns from scores.
Userpilot's smarter segmentation capability will let you segment customers based on their feedback and personalize their experience.
Userpilot is a code-free solution. It offers a 14-day free trial, and the pricing starts at $249/month, billed annually.
Survicate
Survicate is an all-in-one customer feedback automation platform. It lets you create CES, NPS, CSAT, and 12 other kinds of microsurveys. You can customize these surveys without any coding.
You can send surveys via a link, email, chat, or in-product and even integrate with a variety of tools like analytics, customer support, and CRM.
Survicate offers a completely free plan with unlimited survey responses. The starter plan starts at $80/month.
Qualaroo
Qualaroo is a user feedback tool. Its best feature includes creating NPS surveys, reports and analytics, professional and customizable templates, and email notifications.
With Qualaroo, you can perform sentiment analysis and use its word cloud feature to get important ideas from free-form responses.
Qualaroo offers a 15-day free trial, with its basic plan starting from $80/month, billed annually.
Wrapping it up
Collecting customer feedback is easy and quick when it's automated. You get to use in-depth insights on customers, close the feedback loop, and trigger personalized experience flows based on user feedback.
Want to automate customer feedback without any hassle? Get a Userpilot demo and how can you do it code-free.