All You Need to Know About Customer Success OKRs [+ Examples]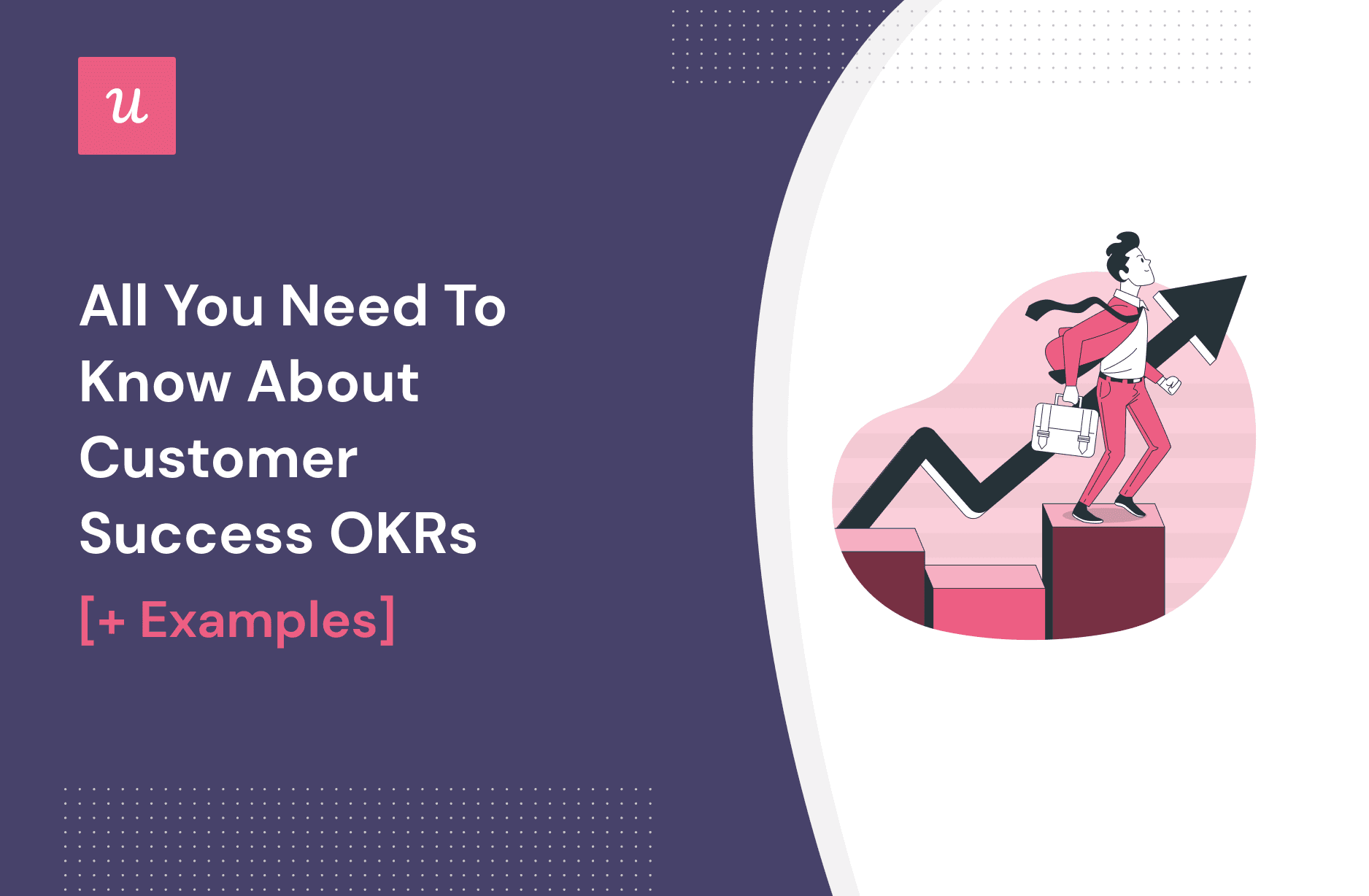 Wondering what customer success OKRs are and how they can help your customer success team flourish? With OKRs, you can develop clear strategies to promote product growth and effectively communicate them to your customer success teams. This way, everyone is working towards the same goals and can track progress towards achieving them.
In this article, we'll discuss everything you need to know about customer success OKRs, including 20+ examples of how they can be used effectively.
TL;DR
What are customer success OKRs?
Customer Success OKRs (Objectives & Key Results) are a goal-setting and progress-tracking framework used by customer success teams. This system helps CS teams define and track their goals, measure team performance against set objectives, and achieve desired customer outcomes such as improved customer engagement or better customer retention rates.
Why should you implement customer success team OKRs?
Here are some of the key reasons why customer success teams should vote for OKRs:
Align the customer success team with customer success managers by setting customer-focused objectives and measurable success metrics.
Focus customer success team efforts on customer-facing strategies that will lead to improved CS conversions and increased active customers among existing ones.
Gain customer insights to develop customer-centric strategies.
Encourage accountability within the team by setting measurable targets.
Customer success OKRs vs. KPIs
People usually confuse OKRs with KPIs, so let's quickly figure out the difference and learn from examples.
OKRs are the targets you set and strive to achieve in a certain period of time. They provide customer success teams with an overall focus and direction regarding customer success strategies. E.g., improve a customer retention rate of 10% by the end of Q3 or launch customer engagement initiatives by the end of Q2.
KPIs, meanwhile, are single metrics used to measure progress against customer success OKRs.
The main difference is that customer success OKRs set the direction for CS strategies, while CS KPIs measure progress against customer success OKRs. Thus, an OKR could be "launch customer engagement initiatives," and the relevant KPI could be "10%+ growth of engaged customer views per month."
Customer success OKR examples – user activation stage
The user activation stage is the process of converting a new user into an active and engaged user of a product. This stage typically involves onboarding new users, providing them with the necessary information and resources to understand and use the product, and encouraging them to take certain actions to become fully engaged (i.e., reach the activation point).
Priorities for CS teams during this stage include providing quick and accurate responses to user questions and concerns and addressing any issues that may arise during the onboarding process.
Let's consider some examples.
Objective – Improve the onboarding experience for new customers
The onboarding stage is critical for new users as it sets the foundation for their entire experience with a product or service. A seamless and intuitive onboarding process can make a difference between users becoming fully engaged with the product or leaving.
To achieve this objective, a customer success leader turns to specific initiatives and OKRs.
Key results
Here is what your desired outcomes might look like:
Initiatives
So what tactics can help CS teams to reach those goals? Here are some best practices for SaaS.
1) To avoid new user confusion, educate from the start. Replace the empty state of the welcome page with educational content. See how Loom does it.
2) Use interactive walkthroughs to guide new sign-ups and show them around with a set of contextual tooltips tailored to their persona.
3) Implement minimum viable onboarding, which is focused and personalized based on the needs of user segments to help them experience value as quickly as possible through checklists, onboarding product tours, tooltips, etc.
Customer success OKR examples – product adoption
The product adoption stage is the journey of users getting comfortable with your product and putting it to use. This stage is about helping your users become proficient in the features and capabilities of the product.
A positive adoption experience is vital for user engagement and retention, which is one of the top priorities of CS teams. Here are some objectives and initiatives that perfect the product adoption stage.
Objective – Improve the depth of product adoption
The depth of adoption measures how often customers are using the features and what % of all features.
Key results
Improve feature discovery 3x.
Increase secondary feature adoption by 13%.
Increase feature usage per account by 7%.
Initiatives
1) Use tooltips to drive feature discovery. Tooltips are an enormously useful customer onboarding tactic that can help users contextually discover and use features. They provide a visual prompt in the form of a small pop-up message with hints and tips on how to get the most out of the product.
2) Use modals to invite users to retention webinars. The goal is to help train users about your product and discuss different feature use cases.
3) Implement an onboarding checklist. Drive users to use the necessary features for their JTBDs and ensure a seamless user experience.
Objective – increase new feature adoption for advanced users
Your SaaS is growing and should continue having new features. With that, you should implement secondary onboarding flows and explain newly launched features to advanced users.
Here are some OKRs for customer success teams.
Key results
For power users, your CS team's effort will be revolving around introducing new features and ensuring their adoption:
Improve new feature discovery 3x.
Increase new feature adoption by 20 %.
Increase new feature usage per account by 35 %.
Initiatives
1) Announce new features with in-app messaging and tailor it to specific user segments — to those who interact with the module frequently.
2) Create effective step-by-step guides for your knowledge base and describe all the nooks and crannies of using newly launched features. Record a short demo of the tool, describe use cases, and give tips and hints.
Customer success OKR examples – customer retention stage
The customer retention stage typically involves maintaining a positive relationship with customers by providing ongoing support and resources to help them continue to derive benefits from our product.
You should work with paid and free user segments to retain high-value customers and improve the trial-to-paid conversion rate. Let's focus on OKRs that guarantee paid customers.
Objective – Increase retention with users to prompt paid upgrades
Relationship-focused client management ensures upgrades of freemium users to paying customers thanks to a gentle nudge.
Key Result
Increase trial to paid or freemium to paid conversion rate by 45 %.
Increase Expansion MRR rate by 20 % for freemium accounts.
Initiatives
1) Contextually offer trials for premium features. Asana's strategy is to trigger a pop-up when users navigate to a paid feature and display a use case.
2) Prompt upgrades when users are trying to engage with particular features.
Improve retention of users on the Growth plan
Imagine you did a feature audit and found out that most of your churn comes from accounts on the Growth plan. So logically, you would set an objective to improve the retention of users on the Growth plan.
In cases like that, a key result can take different forms.
Key Results
Reduce the number of churned customers from the growth plan by 30%.
Reduce the number of inactive users in the growth plan by 50%.
Improve customer health score of growth plan users by 10%.
Initiatives
1) Use different types of in-app surveys to collect customer feedback on specific features and customer inquiries. Discover your customer pain points and address them properly.
2) Implement passive feedback widgets as we do at Userpilot. You can add this widget to your resource center.
3) Track product usage patterns and analyze customer data to prompt engagement with in-app flows proactively.
Customer success OKR examples – customer loyalty stage
At this step of the customer journey, customers succeed with your product. They became long-term, loyal users and are ready to advocate for it.
Objective – Increase customer satisfaction to drive more referrals and word of mouth
A high-performance team will implement a proactive strategy to drive positive feedback and ensure word of mouth.
Key results
Boost user satisfaction rate by 20 %.
Increase the number of new users from referrals 4x.
Increase the number of promoters by 3x.
Initiatives
1) Reach out to promoters by targeting in-app engagement messages to your loyal customers and ask for a review.
2) Implement a loyalty program for your power users. Your customers are more likely to become loyal if they feel that their efforts are appreciated.
3) Implement the Voice of the Customer (VoC) program. Collecting and analyzing VoC data help your Customer Success team improve the user onboarding process
4) Keep track of a service quality rating with NPS surveys.
Customer success OKR examples – account expansion
The customer is already familiar with your product and has seen its value. The team's priorities during this stage include identifying growth opportunities and providing personalized recommendations and solutions.
Objective – Improve expansion revenue through upsells
Help your customers discover additional paid features relevant to their JTBDs and drive upsells or cross-sells to existing customers.
Key results
Initiatives
1) Use contextual prompts with modals personalized for each user segment.
2) Tell users what they're missing out on when downgrading.
Reduce churn caused by a missing feature
If people keep leaving before they grow, you must understand churn's leading indicators and implement proactive strategies to prevent it.
Key results
Decrease the churn rate due to missing a feature.
Reduce the number of detractors by 20 %.
Initiatives
1) Use churn surveys to unveil the reasons behind it.
2) Implement self-service customer support with use cases and tutorials for a seamless customer experience.
3) Proactively engage users who need a particular feature but are not using it. Reach out to them and showcase the feature with in-app modals or customer calls.
How Userpilot can help customer success teams meet their OKRs
To manage initiatives for hitting customer success OKRs, you need specific product growth platforms like Userpilot. Here's what you will get.
Data and analytics to act on
Use customer data analytics to identify customer needs and understand customer behavior. Run experiments to quickly A/B test and pinpoint successful initiatives.
With Userpilot, you can track customer interactions with your UI, analyze the most/least used features, and see how users navigate your product with feature heatmaps.
This means you can see almost everything your users do with your product.
The second powerful feature is Custom Events tracking, which allows you to put together different in-app actions and track them as one. You can use this report to understand the product adoption rate.
What's more, you can set goals corresponding to your OKRs and track them in-app. This way, you examine how customer segments engage with your feature and adopt the product at different customer journey stages.
Segmentation to track different user segments and assess an average health score based on engagement and activity
With Userpilot, you can sort users by:
Their NPS score (net promoter score)
Completed events and goals
Content engagement
Company data and user data
User feedback
Feature usage, and more.
Communication and education in-app
Userpilot is an insanely powerful tool for contextual in-app communication. It allows you to create in-app surveys and build tooltips, modals, slideouts, etc.
You can also design different educational resources and add them to your resource center.
Basically, you can execute any initiative in this article to get customers fully onboarded and drive business growth.
Conclusion
Reaching your business goals is only possible when your customers are happy. Formulate your own customer success OKRs and work towards exceptional customer experience.
Collect product analytics data and build amazing in-app communication code-free with Userpilot. Book a demo call with our team to see the tool in action!