Customer Focus Examples and Ways to Improve Your Company's Customer Focus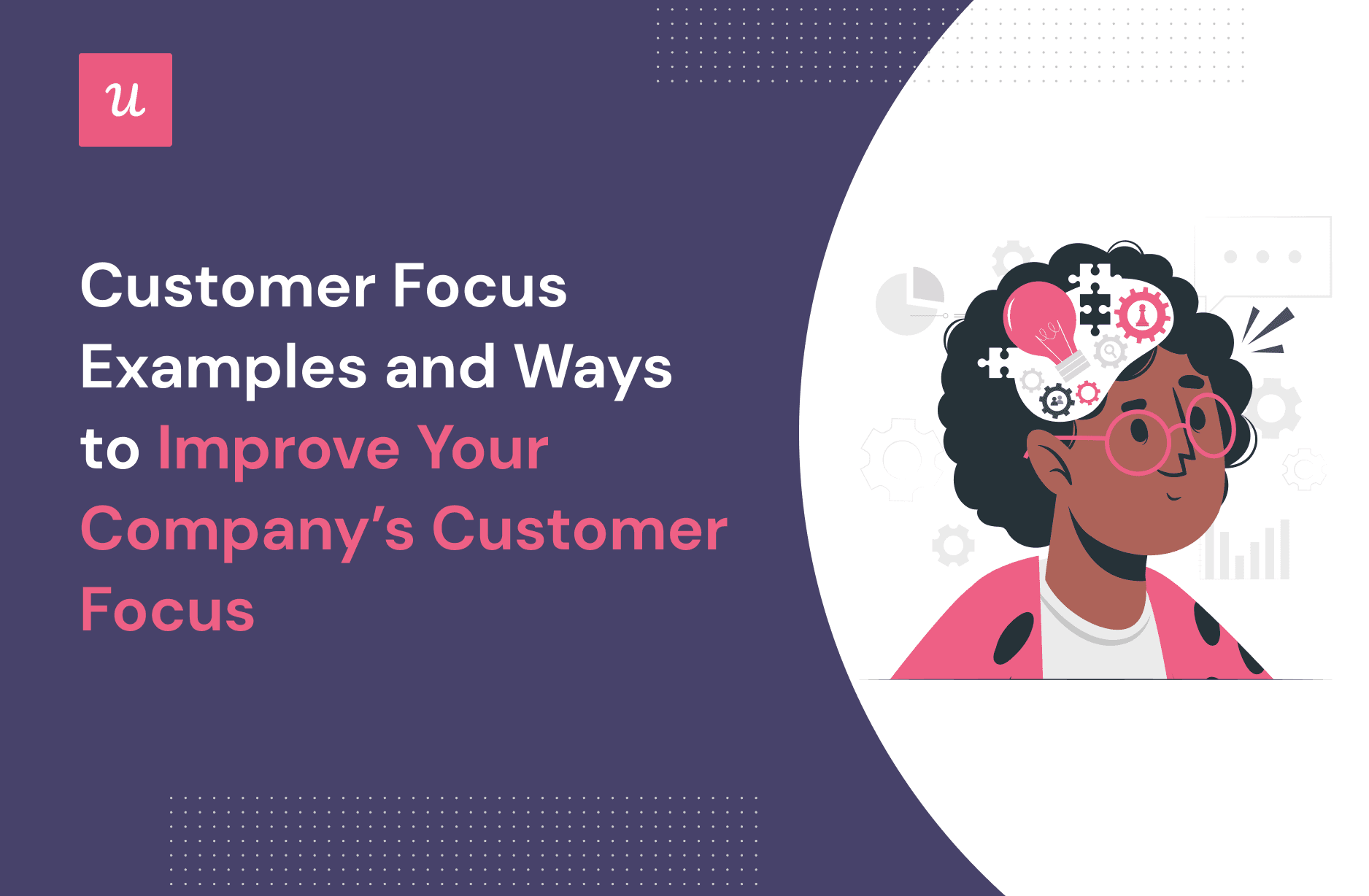 Looking for customer focus examples to inspire your company toward being customer-centric?
This article will not only show you examples but also reveal strategies for being fully customer oriented.
The benefits of a customer-focused company are enormous: higher retention rates, increased word of mouth, more customer loyalty, etc.
Read on to learn more.
TL;DR
A customer-focused culture prioritizes customers over products.
Product-focused companies want to create the best products and become leaders in their market. Customer-focused businesses do that as well, but their motivation is the customer's needs, while product-focused companies are just after the bottom line.
A customer-focused approach gives you a competitive advantage over other companies. Other benefits are increased retention, loyalty, and revenue.
The entire company should be involved when making the decision to become customer oriented. It's not just the job of the success or support team.
How to be a customer-focused company:
Create user personas and empathy maps to understand your customers better.
Segment users and provide hyper-personalized product experiences.
Use in-app guidance like checklists, tooltips, product tours, etc., to remove friction.
Deliver great customer service with an on-demand resource center.
Be proactive with communicating changes.
Celebrate customer success with gamification.
Collect continuous customer feedback with multiple types of surveys.
Be active on social media to connect with customers and join conversations about your brand.
Have a public roadmap that welcomes user inputs and makes users feel involved.
Track metrics like CSAT, CLV, CRR, NPS, and churn rate to understand how well your strategies are working.
Use UX analytics to identify friction points and enhance customer experience.
What is customer focus?
Customer focus is a company culture that prioritizes customers over products. Everything a customer-focused company does revolve around understanding customers better and going out of its way to provide the best user experience possible.
Such companies are big on studying their customers, collecting and acting on feedback, and ensuring every interaction with the brand leaves customers happy.
Customer-focused company vs. product-focused company
Product-focused companies are obsessed with being the best in the market.
They create top-of-the-line features to stand out and are also focused more on the bottom line than their customers.
There's nothing wrong with building stellar products.
Customer-focused companies do that as well, but their motivation is to serve customer needs. They don't mind if this means changing their business strategy or bringing something entirely new and revolutionary to the market.
Their goal is simple: know customers inside out and create satisfactory experiences.
These are some differences in bullet points:
What are the benefits of customer focus?
Being customer focused will make you see improvement areas that may otherwise have eluded you.
This will enable you to serve customers better, which opens up a wealth of benefits:
Customer focus gives you a competitive advantage
It's becoming increasingly difficult to compete on price or functionality. Most companies in your niche already have that.
But a satisfactory customer experience isn't something that can easily be replicated. Your customer focus strategies will be unique to you, and that will give you an edge in the market. This can be a true product differentiator.
Customer focus drives retention and loyalty
The primary objective of being customer focused is to drive customer satisfaction.
When this is a success, customers will stick more with you because they don't have any reason to switch. Your retention rates will increase.
If you keep the momentum and many of your customers will become loyal brand advocates.
Customer focus results in an increased revenue
Loyal and retained customers make more purchases, which drives your revenue.
But that's not all. Retaining a good chunk of your customers translates to spending less on customer acquisition and a high ROI for every penny spent.
Examples of customer-focused strategies for your SaaS
You're convinced that a customer-centric approach is key to driving growth and revenue. But how do you start or improve customer focus?
To answer that, we've outlined some best practices you can start implementing right away:
Create user personas and empathy maps to understand your customers better
User personas are semi-fictional representations of your ideal customers. They help you picture and understand customers so you can serve them better.
On the other hand, an empathy map shows you the customer's feelings, attitudes, and desires.
Empathy maps are typically created as a quadrant with the customer in the middle. The four quadrants include what the customer thinks, feels, does, and says.
Use personas and empathy maps to gain a deeper understanding of your customers, their motivations, pain points, etc., and decide how best to address them.
Hyper-personalize product experiences based on needs
Customer focus is all about putting customers' needs first, but different customers have different needs.
The best way to solve this problem is by segmenting users based on their needs and delivering tailored experiences to each segment.
Common examples of personalization in SaaS:
Users who just registered haven't yet reached the activation stage. They need checklists, tooltips, and other interactive experiences to engage and experience value.
Customers that have reached activation. Expose them to secondary features to drive further engagement.
Follow up with customers to see if their problems have been solved and if they have other concerns.
Localization: This means adapting your product to a customer's language and culture.
Remove friction with in-app guidance
Leaving customers to figure out your product on their own may cause friction. And the worst part is most customers won't let you know they're having difficulty with the app.
Prevent this by using contextual in-app guidance to show users around. This can be in the form of tooltips, interactive walkthroughs, micro videos, etc.
Deliver exceptional customer service with an on-demand resource center
Part of being customer focused is providing outstanding customer service.
Your support team can't handle this alone, and nobody likes to stay on the phone line for hours to get issues resolved.
An on-demand resource center is a perfect solution.
Include rich resources that answer frequently asked questions so customers can have something to always run to. Also, mix up different content formats to keep the resource center engaging.
Be proactive when communicating company changes
Embrace a culture of not catching customers off-guard. Whether it's communicating company changes, industry updates, or new improvements – always notify customers upfront to give them time to prepare.
The best channels to communicate with customers are social media and in-app notifications/banners. Example:
Celebrate customer success with gamification
Celebrating important customer milestones makes them feel you're a part of their journey. It'll build strong emotional bonds that can turn everyday customers into raving fans.
You can celebrate milestones using gamification elements as in the Calendly example below:
Collect continuous customer feedback with multiple types of surveys
Asking customers what they think and then analyzing and acting on that insight is key to staying focused on the customer.
Collect feedback at multiple touchpoints, and be open to both positive and negative feedback.
Some important touchpoints for gathering feedback:
Find out what customers think of your customer service so you know what needs to improve. An easy way to do this is by sending customer satisfaction (CSAT) surveys after customers interact with the support team.
Use in-app surveys to gather feedback on new features.
Trigger exit surveys to uncover the reason(s) for churn. The customer might be lost, but the insight will help you prevent churn in the future.
Don't just collect feedback.
Always respond and let customers know their opinions are important. Also, try to fix the problems your customers are complaining about to close the feedback loop. Sometimes, this might mean escalating the issue and collaborating with multiple departments within your company.
Understand customer attitudes through social listening
Social media is a big part of our lives and it's not going away anytime soon.
Be active on social media and engage in social listening. This will give you an opportunity to show your brand's personality, even when your audience wasn't specifically asking for help or expecting a direct response.
Also, be quick to reply with empathy when customers complain or ask questions. And of course, celebrate your customers there, too!
Have a public roadmap that welcomes user inputs and makes users feel involved
A public roadmap is one of the best avenues to make customers feel like a part of your future. Imagine how excited a customer will be knowing you took their feature recommendation seriously.
They may even refer friends because of that!
Your roadmap should allow users to add their ideas for new features, vote for suggested ideas, or just share their thoughts on your plans.
Track the right metrics to measure the success of your customer-focus strategy
Knowing the right metrics to track is important.
Imagine one of your best metrics is the new customer sign-up rate and you don't think much about retention.
You'll reward marketing and sales teams for bringing new users, which is good. But what happens if those customers don't stay for long?
You'd have wasted money and valuable time.
The cycle will keep repeating until you change your approach. Customer-centric companies have a habit of thinking long-term; they don't just go for quick wins.
Key metrics they track:
Customer satisfaction score (CSAT): Used to determine how happy customers are after key interactions like chatting with the support team.
Customer lifetime value (CLV): The total worth of a customer during their time with you.
Net promoter score (NPS): Used to measure customer sentiment and loyalty.
Customer retention rate (CRR): The percentage of existing customers retained over a specific period.
Customer churn rate: The percentage of customers lost over a specific period.
Use UX analytics to identify friction points and enhance customer experience
UX analytics gathers customer behavior insights and uses that data to design the most frictionless experience possible.
How to use: set in-app goals to determine where users drop off and optimize the customer experience in that stage.
Real-life customer focus examples
Even with the right strategy, it takes time to become completely customer focused. You'll make mistakes and learn along the way.
Here are three examples to keep you inspired as you make the switch:
Customer focus example 1: Hubspot
Hubspot trains all its employees to be customer-centric. Nobody can escape it; it's in the company culture and a vital part of their hiring and recruitment process.
The company also has a public 10-point "customer code" they use to keep themselves accountable. That's in addition to delivering a robust onboarding experience and self-serve resources for customers. Some Hubspot users are also assigned a dedicated account manager.
Customer focus example 2: Slack
Ever wondered how Slack grew so quickly?
No doubt, there were so many moving parts to it. But one of the things they did right was the decision to provide excellent customer service.
Slack's employees specialize in certain aspects of the product rather than learning everything. They grow their knowledge about those areas and become experts. That way, it's easy to refer customers to specialists when technical issues arise.
Slack is also known for regularly collecting and acting on feedback.
Customer focus example 3: Zappos
Zappos is an online retail company with a reputation for exceeding customer expectations. If you're active on Twitter, you've probably seen a social media post praising the company for good customer service.
Part of its customer orientation strategies involves having a dedicated research team that spends time studying customers.
They conduct in-depth interviews, feedback surveys, and usability tests to uncover customer data for decision-making.
Conclusion
Knowing your customers is just one aspect of being customer oriented. Your employees should also be trained and empowered to satisfy customer needs.
We're happy to be a part of your journey if the customer-focused examples and strategies outlined so far have inspired you to start or upgrade your customer experience.
Book a demo now to see how Userpilot can help with customer segmentation, in-app communication, feedback surveys, etc.