High Touch vs Low Touch Engagement Models For Customer Success Managers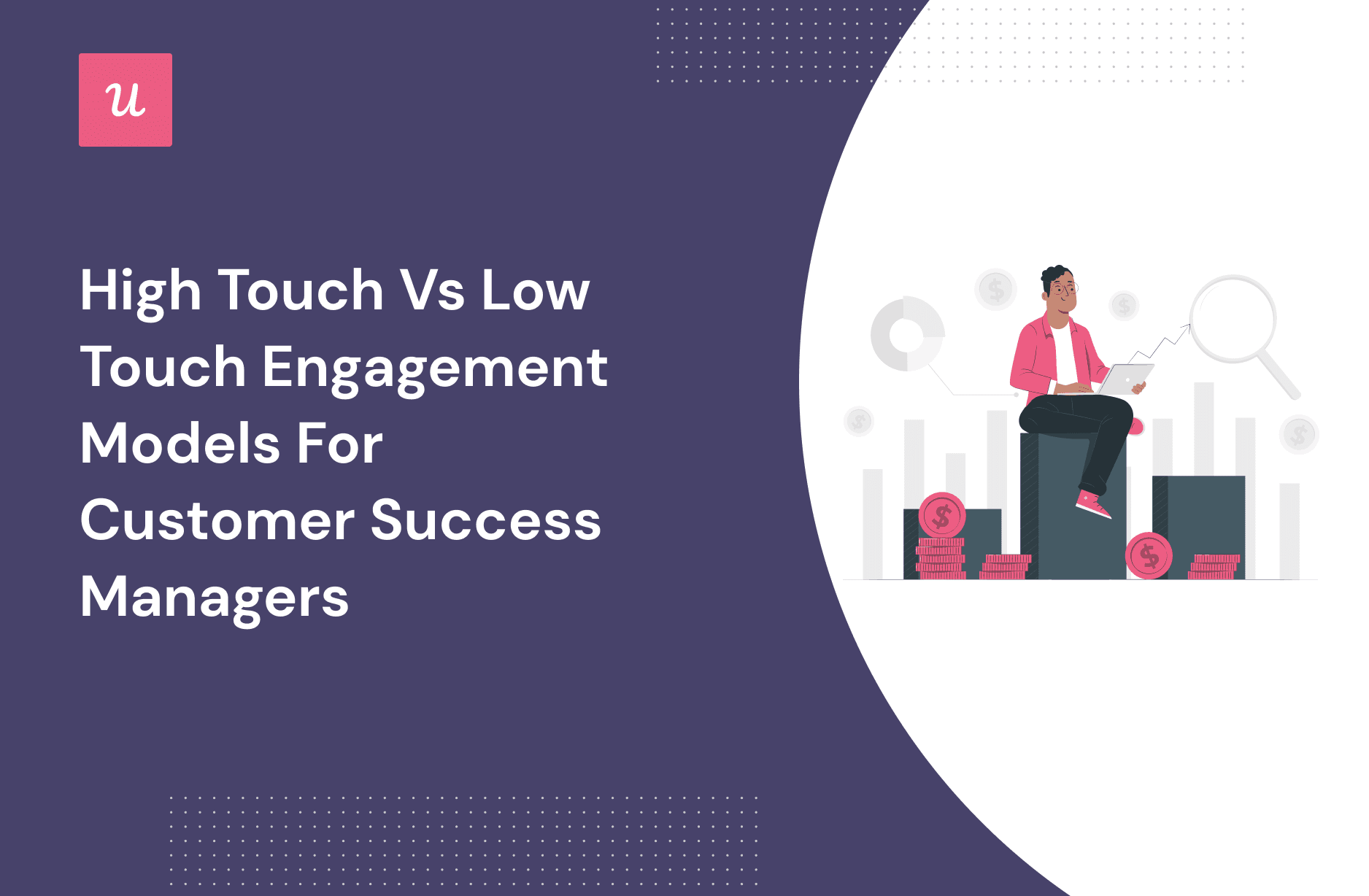 The differences between a high-touch vs low-touch user engagement model may not seem that important but finding the right approach can actually make your customer success managers a lot more effective.
In this guide, we'll go over :
the pros and cons between a low-touch and high-touch model
whether or not a high-touch model is really one of the best customer success models out there
show you some examples of a high-touch customer experience in action
TL;DR
High-touch engagement models can lead to higher satisfaction and retention rates while low-touch approaches can be scaled more cost-effectively.
High-touch models are best for high-paying customers such as enterprise clients while tech-touch onboarding can be used for trial users or customer segments that make up a small portion of your MRR.
User segmentation can help you identify high-touch and low-touch potential customers.
Self-service content should be easily accessible through in-app resource centers and multimedia experiences in both models (e.g. micro-videos).
You can apply both engagement models without writing a single line of code thanks to no-code solutions like Userpilot.
What is a high-touch engagement model?
High-touch customer success models take a hands-on approach to engage prospective customers and guiding them on the path toward value realization with your product. This 1-on-1 assistance with actual humans can drastically reduce the time to value.
What is a low-touch engagement model?
Low-touch onboarding (also known as tech-touch) relies heavily on self-service content and knowledge base resources to guide users through their customer journey.
This approach favors automated flows over personalized support from human agents.
High-touch vs low-touch pros and cons for customer success team
Both high-touch and low-touch engagement models have their respective merits. That said, you need to be aware of the specific pros and cons that each approach carries so you can identify the right path forward for your SaaS company.
High-touch engagement model pros
While a high-touch customer success strategy takes more effort and team members to execute, it does have quite a few benefits over the automated communication approach you'd find with low-touch models.
✅ The personalized customer experience throughout the user journey will lead to more satisfied customers and higher customer retention rates as a result.
✅ 1-on-1 guidance from a customer success manager can boost product adoption and feature adoption rates throughout your entire customer base.
✅ Having customized support makes it easier to keep track of customer expectations and gather feedback from the users that your agents speak to.
High-touch engagement model cons
Assigning a dedicated account manager to every trial user may increase retention but such engagement models simply aren't sustainable — especially if you intend to scale your company moving forward.
❌ High-touch engagement models are harder to scale as you'll need to continuously hire new members for your ever-growing CS team.
❌ High-touch customer service and a high-touch customer success team could create a sales-led strategy within your business which may conflict with product-led growth strategies.
❌ Relying on the human touch instead of the tech touch can make it difficult to cover different time zones and schedules to ensure that users always have access to dedicated support agents.
Low-touch engagement model pros
✅ Self-service resources help customers onboard themselves and solve their own issues without having to rely on the availability of support agents.
✅ It's easier (and cheaper) to scale customer education content and customized onboarding material versus human-touch support capacity.
✅ Low-touch models can be supported by no-code, in-app experiences to improve the experience for customers.
Low-touch engagement model cons
❌ It takes a lot of startup time to create the self-service content that customers require to solve their own problems.
❌ High-touch customers may find a low-touch strategy impersonal and robotic if they're unable to talk to your CS team when they want to.
❌ Improper execution can lead to higher churn rates (even with low-touch customers) so proper setup is crucial.
Is the high-touch or low-touch customer success model best for your business goals?
Having an in-depth understanding of high-touch and low-touch models will help you determine which approach makes sense for your own business goals.
You also need to consider how complex your product is and who it's targeted towards.
High-touch digital engagements work best for SaaS companies that need to tailor their software to the specific needs of their users. Being able to get feedback from customers in real time will speed up the deployment process and ensure that customers feel happy with the final result.
As such, a high-touch strategy is an important factor when offering bespoke solutions to high-ticket clients.
These high-touch models often include a dedicated manager to guide customers through the setup process, train the team on how to use the software, and introduce key features that will help them get value out of the product.
On the other hand, simpler products with low recurring revenue may be better served by the automated communication channels of a more affordable low-touch approach. In-person meetings and dedicated managers could be overkill if your product only has a few features.
Furthermore, low-touch customer service will be more cost-effective in the long run as it becomes rather cheap to keep your customer education content up to date once you're done building out the initial knowledge.
Why not both?
Many SaaS teams actually utilize both high-touch and low-touch strategic methods throughout the onboarding process.
Which model they use depends on who they're dealing with.
If the customer success manager is dealing with high-value new customers or at-risk customers then investing in a high-touch onboarding experience could definitely pay off in the long run.
On the other hand, free trial signups that are yet to turn into paying customers could likely get by with automated emails and onboarding flows for the time being rather than take up CS resources with a high-touch onboarding experience.
This is a good reminder that customer segmentation is key when offering both models.
Best examples of low-touch and high-touch engagement in SaaS
There are many examples of using low-touch vs high-touch strategies to engage your SaaS users.
Let's take a look at a few of them to give you a better idea of how to target these efforts toward various customer personas and ensure that all customers get the support they need!
Low-touch onboarding process using segmentation
If you want to effectively deploy a low-touch (also called tech-touch) digital engagement model then you need to be on point with your customer segmentation.
You can do this by collecting data on a user's job-to-be-done (JTBD) with a welcome screen at the start of their journey.
A welcome screen asking users what they want to achieve with your product will help you tailor the onboarding path to their specific use case and thus help them get value a lot sooner.
To make the screen feel personalized, be sure to call users by their names and include a GIF:
Alternatively, you can give new customers the opportunity to choose their own onboarding path based on their goals.
ConvertKit has two different branches in their onboarding flow to account for both total newbies and experienced users who are switching from a competitor:
Low-touch customer service automation using a resource center
In-app resource centers reduce the inherent friction of self-service support models.
Instead of having to navigate to an external knowledge base whenever they run into an issue, users will be able to readily access helpful resources they need whenever they need them.
Whether it's tutorial micro-videos, product tours, or AI-powered chatbots you can include all your self-service resources within the product itself to make the self-service experience more accessible for your users.
Here's a look at how Userpilot makes its in-app resource center available to users:
Low-touch digital engagement with personalized in-app guidance
Interactive walkthroughs can help users learn about the product in a self-paced, step-by-step manner. This makes adopting features for the first time a lot easier and reduces the friction associated with more linear onboarding tours.
Tech touch customer satisfaction data collection
Automating feedback collection by having surveys at strategic points in the customer success journey can help you capture granular satisfaction data points at the ideal moments — maximizing the accuracy and actionability of the insights you gather.
Based on the satisfaction scores that your users respond with, you can set up different automated responses.
This can make the low-touch communication model feel more adaptive despite the lack of actual humans on the other end of the interaction.
Tech touch offboarding to reduce churn
A tech-touch model can actually help you reduce churn through smart offboarding flows.
Using churn or exit surveys can help you identify the main reasons behind subscription cancellations.
This makes it possible to learn from your mistakes, improve the product, and offer alternatives that might stop users from canceling their subscriptions at the last second. You can even provide a different alternative based on the answer(s) that the user leaves on the exit survey.
In general, subscription discounts and paused billing tend to be the most effective.
High-touch dedicated customer success manager email for high-value customers
Since a high-touch model relies on providing a personalized experience to get a worthwhile ROI, it's essential that you offer a point of contact (i.e. account manager) to high-value customers.
When you're dealing with a high customer lifetime value, having a trusted advisor walking the customer through the product and learning more about their priorities will make it possible to retain these enterprise contracts long-term.
How Userpilot can help you implement a low-touch customer success model
Just because low-touch engagement models rely on CS software and custom automation, that doesn't mean you need coding knowledge to implement the strategy.
Let's take a quick look at how Userpilot can help you implement your no-code low-touch customer success model:
Collect product usage data and build highly advanced segmentation
First and foremost, Userpilot helps you learn more about your users. You'll be able to view and analyze behavior patterns and then build advanced segments to personalize the onboarding process based on those data points.
All user surveys you create will also tie into your segmentation data and product goals to ensure that you're able to view every insight on a single platform with Userpilot.
Last but not least, product usage data also helps you decide where to allocate your human resources like CS managers and support agents.
Trigger in-app messages based on event occurrence
To make the in-app experience feel more alive and reactive, you can trigger contextual in-app messages in real-time based on user segments or specific events/actions occurring.
For instance, you could display a micro-video or modal when users first discover a core feature.
Offer self-service resources in-app
Since self-service resources need to be visible, accessible, and easy to navigate it makes a lot of sense to embed your knowledge base resources inside the app itself.
With Userpilot, it's even possible to customize which resources are displayed based on the user's segment:
Conclusion
As you can see, it's possible to drive digital engagement with both high-touch and low-touch approaches.
It just comes down to knowing who your customers are and properly executing whichever engagement model you end up choosing.
If you're ready to start offering personalized, no-code onboarding flows for your customers then it's time to get your free Userpilot demo today!