11 Types of Product Managers for SaaS Companies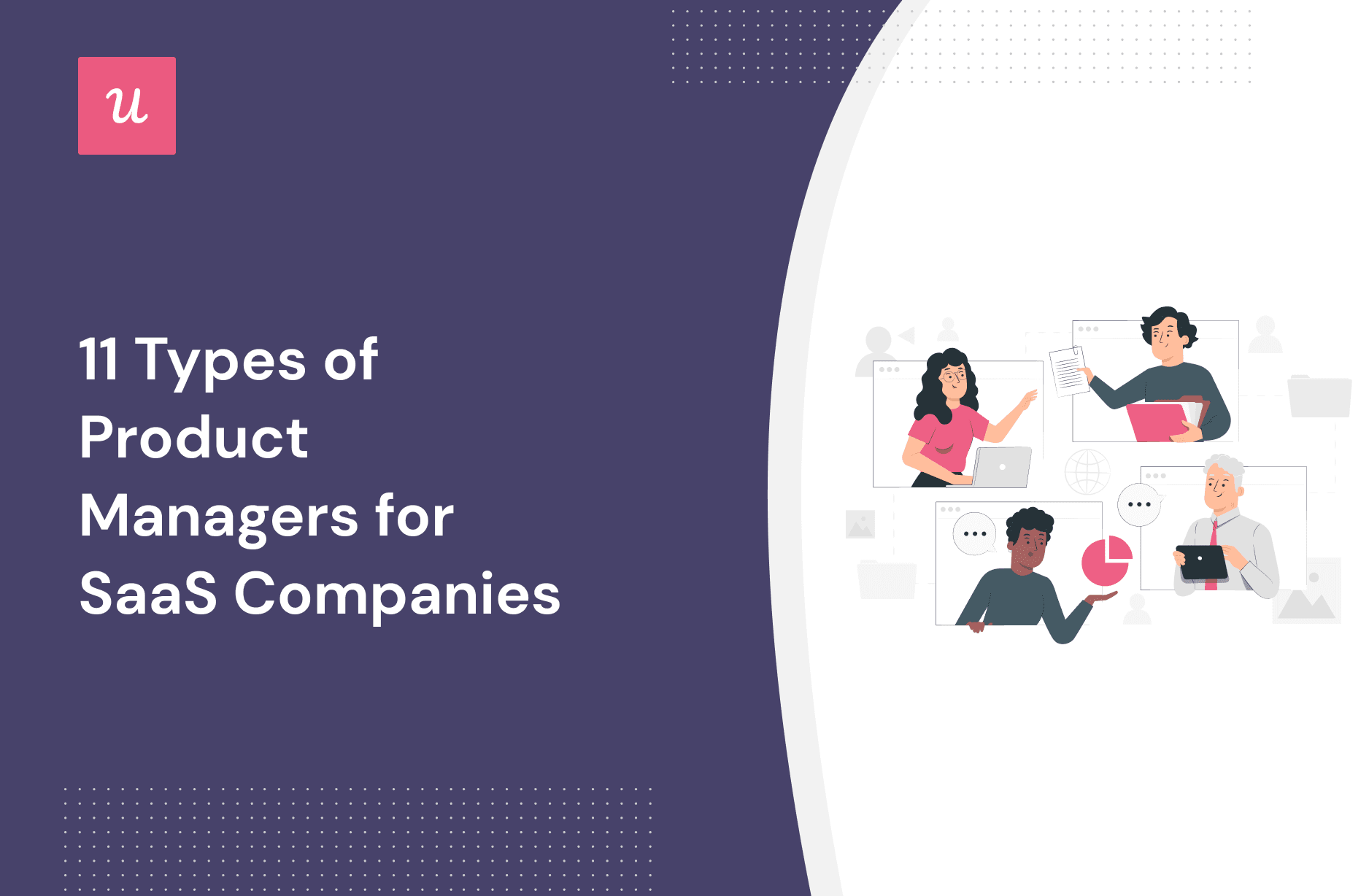 What are the different types of product managers?
This is the key question this article discusses, so if you're after the answer, you're in the right place!
We also look at the levels of seniority among product managers as well as the skills they need to lead successful teams and build products that delight customers.
Let's get right to it.
TL;DR
A product manager oversees the entire software product development cycle, from discovery to launch and beyond.
The types of product managers differ in focus and required skills.
Data product managers focus on leveraging data for product development.
Technical product managers build products with strong technical or engineering elements.
A strategic product manager is responsible for developing long-term product vision and strategy.
The role of the growth product manager focuses on identifying and maximizing product growth opportunities.
The product launch manager collaborates with the marketing team to develop launch plans and oversees their implementation.
Product marketing managers develop product positioning, messaging, and differentiation strategies.
Hardware product managers are responsible for building and launching physical products.
AI product managers manage the implementation of AI technologies into software products.
The UX product manager's role is to develop intuitive, user-centered product experiences.
Startup product managers are responsible for all aspects of the product development cycle in early-stage companies.
An enterprise product manager is normally responsible for delivering a specific aspect of a complex enterprise-level product.
Irrespective of the type, all product managers must have some common key skills, like strategic thinking, leadership, and customer empathy.
There are different seniority levels of product managers, spanning from entry-level positions to executive ones.
Book the demo to see how Userpilot helps different types of product managers build better product experiences.
Who is a product manager?
A product manager is a role that oversees all stages of the software product development cycle, starting from initial product and customer discovery to ideation, development, launch, and beyond.
Product manager responsibilities include:
11 different types of product managers you should know
The responsibilities of the different types of product managers overlap to a great extent. However, as the company grows, the roles tend to get more specialized and focus on different aspects of the product lifecycle.
1. Data product manager
Data product managers are experts at leveraging data to inform product development.
They often work closely with business analysts and data scientists and are responsible for collecting, organizing, and analyzing data to enable data-driven decision-making.
This is particularly important when it comes to data products, that is those that require advanced analytics and complex data management systems, like streaming services.
Their responsibilities also include defining companies' data governance policies, developing data tracking plans, and selecting suitable product analytics tools. They also play an important role in data democratization.
2. Technical product manager
Technical product manager (TPM) is a product management role that focuses on overseeing the development and management of products with a strong technical or engineering component.
TPMs normally have a strong technical background which enables them to work effectively with developers and engineers.
Even if they're not directly involved in the development process, their technical expertise enables them to communicate and empathize with the technical and engineering teams, and clearly explain difficult concepts to non-technical stakeholders.
They also understand technical constraints better, which is valuable when it comes to validating the feasibility of product ideas and developing realistic release timelines.
3. Strategic product manager
The strategic product manager is primarily responsible for developing a long-term product vision and strategy and aligning the roadmap to realize them.
Their work involves conducting market and customer research to gain a better understanding of the competitive landscape and customer needs, expectations, and preferences.
Strategic product managers not only set product goals but also track performance. They're involved in continuous product discovery to keep a pulse on the shifts in customer needs.
4. Growth product manager
Growth product managers have one key objective: maximize growth opportunities.
What does it involve?
Their tasks involve market and customer research, tracking user behavior, and collecting customer feedback. For example, they could be running in-app surveys to better understand customer pain points.
A growth product manager also works on increasing customer lifetime value by driving account expansion through upsells and cross-sells.
5. Product launch manager
Product launch managers are really valuable for organizations with extensive product lines and frequent releases.
In short, their job is to support the product manager by developing product launch plans and overseeing their implementation.
This means working closely with the product marketing team on the go-to-market strategy and identifying the best ways to promote the product in the lead-up to the launch as well as afterward.
They're also involved in developing onboarding experiences to drive product adoption.
Once the product is released, they track its performance by collecting user feedback and tracking product usage.
6. Product marketing manager
Product marketing managers may also be responsible for product launches. However, their responsibilities are much wider.
One of their main jobs is product positioning and differentiation from existing products.
To do so, they carry out market and customer research to identify unsatisfied user needs and evaluate competitors' offerings. This is necessary to develop product messaging that will appeal to target customers.
In addition, they work on marketing campaigns, oversee their implementation, and track performance. They also play a role in developing onboarding experiences to drive account expansion.
7. Hardware product manager
Hardware product managers are responsible for developing physical products and bringing them to the market.
The role differs from that of software product managers in that the development cycle of hardware products tends to be longer. This is partly because it's more difficult to change physical products once they've been designed. This makes iterative testing and development more challenging and expensive.
That's why hardware product managers need to validate product discovery results and translate them into clear product specifications before the work on the product starts.
As hardware normally needs software to support it, hardware PMs work closely with software product managers.
8. AI product manager
The AI product manager is a relative newcomer in the product management world. Their job is to manage AI product motions and incorporate AI-powered technologies into software products to improve customer experience.
They also promote AI tools within the organization and educate their cross-functional colleagues on how to leverage the opportunities that AI offers.
Finally, they are responsible for dealing with the ethical considerations and concerns around using AI technologies.
9. UX product manager
A UX (user experience) product manager is a role at the intersection of design, technology, and business, focusing on developing intuitive and customer-centered experiences.
UX PMs carry out experiments and user testing to identify customer pain points, needs and wants. They use the insights to develop user personas and design solutions that would allow them to achieve their objectives as quickly and easily as possible.
As a part of the process, they develop user journey maps, build prototypes, and carry out usability testing. Their role requires close collaboration with designers and customer success teams.
10. Startup product manager
A startup product manager often has to wear more hats than other types of product managers. That's because early-stage companies have limited resources and they can't afford to hire dedicated PMs for different aspects of the product management process.
In other words, the startup product manager does it all. Product vision and strategy? Tick. Market validation? Tick. Experimentation? Tick. MVP launch? Tick. Data and feedback analysis? Tick. The list goes on!
And all of that at a rapid pace in the bid to enter the market as quickly as possible before potential competitors.
11. Enterprise product manager
The enterprise product manager is in a way the opposite of the startup PM.
How so?
For starters, enterprise PMs are likely to work hand-in-hand with other PMs responsible for the same product. Consequently, they may have a more narrow specialization and work on a specific feature. They might also have a smaller impact on the key product decisions.
To be able to achieve their goals in a complex enterprise environment, product managers need excellent communication skills to ensure smooth cooperation with other PMs and stakeholders.
Also, good persuasion and influencing skills are essential in the role to pitch ideas and secure the buy-in of key decision-makers.
Essential skills product managers should have
The product manager role requires a diverse skillset. Some of the key skills include:
Strategic thinking – to envision the big picture and align product goals with business strategies
Roadmapping – to set the direction for the team and the stakeholders
Prioritization – to decide which features or updates should be tackled first based on the overall strategy and customer needs
Data analysis – to extract actionable insights from customer data, market trends, and business metrics
Technical expertise – understand the technical constraints as well as opportunities that technology offers
Business acumen – to understand the market and identify new opportunities
Leadership – to inspire and guide cross-functional teams toward a common goal
Communication and empathy – to ensure a shared understanding of product vision across the organization
Seniority levels in product management
Product managers hold different job titles. These are often related to their level of seniority.
Some common roles include:
Associate/Junior Product Manager – an entry-level role focused on assisting with product development, gathering insights, and learning the basics of the trade.
Mid-Level Product Manager – a seasoned role with experience in driving product strategy, collaborating with cross-functional teams, and taking ownership of feature development.
Senior Product Manager – experienced role responsible for leading product vision, strategy, and execution, often overseeing multiple products.
Product Lead – a senior role that combines leadership and product expertise, guiding teams to align product development with business objectives.
Group Product Manager – a leadership role overseeing a group of product managers, fostering collaboration, and ensuring product alignment within a specific portfolio.
Director of Product Management – an executive role that involves managing a team of product managers, setting department goals, and aligning product efforts with organizational strategies.
VP of Product Management – a high-level executive role responsible for shaping the overall product vision, strategy, and direction across the organization.
Chief Product Officer – executive role at the top level, overseeing all aspects of product development, strategy, and management, and often having a significant influence on the company's overall direction.
Conclusion
Different types of product managers may have a similar set of core responsibilities, but their roles have a different focus. For example, they may be responsible for different product features or different stages of the product lifecycle. Depending on that, they also often require specialized skills, like data management or AI.
If you want to see how Userpilot helps product managers make informed decisions and drive user engagement in-app, book the demo!