What Does a Product Marketing Manager Do? 8 Key Responsibilities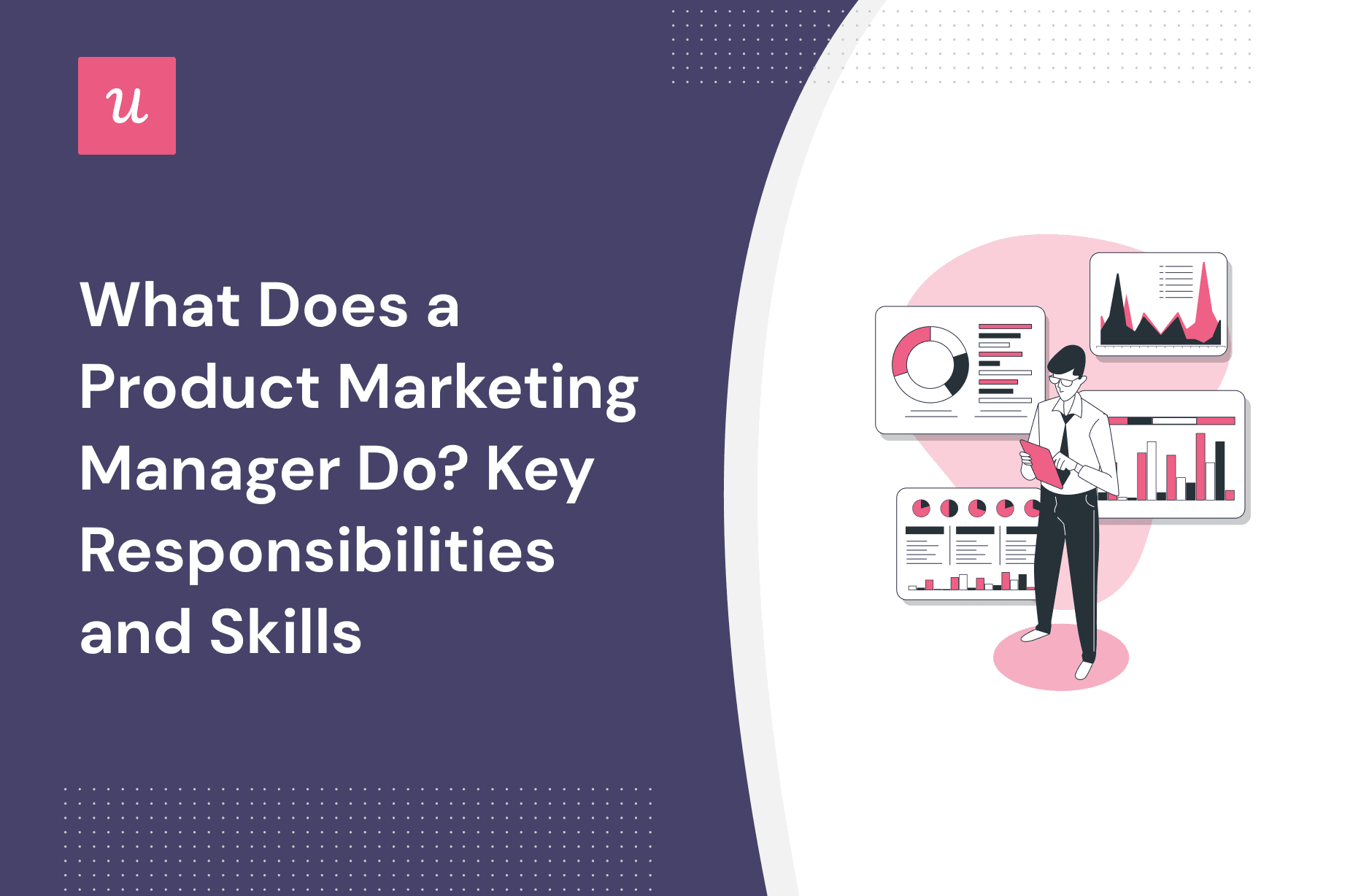 What does a product marketing manager (PMM) do?
This is the question on the lips of many marketing professionals browsing through opportunities at tech companies.
Chances are you already know their broad responsibility is to develop and implement a marketing strategy roadmap for a specific product. But what exactly does this entail?
In this article, we will cover the key responsibilities of PMMs, as well as discuss the skills needed to succeed in this role. We will also point our readers toward some amazing resources for development.
TL;DR
The product marketing manager role (PMM) is primarily responsible for a product's positioning, messaging, and branding.
Product managers should primarily be focused on the product itself – the roadmap, vision, and execution – while product marketing managers' main area of focus should be on product positioning and the go-to-market strategy.
Day-to-day tasks include conducting market research, defining buyer personas, creating a clear value proposition, collaborating with the product team on big launches, gathering feedback, and focusing on account expansion & customer success.
Product marketing management requires many skills: to be proficient at research, highly organized, empathetic (able to put themselves in their user's shoes), storytelling and communication, and a foundation of product management.
A PMM needs to be aware of several key metrics and KPIs, including acquisition cost, activation, conversion, NPS, adoption, and customer lifetime value.
PMMs need the right tools to help them do their job: project management, team collaboration, customer feedback, analytics, and digital marketing.
Glassdoor sets out that the average salary for a product marketing manager is just over $127k.
There are many helpful resources out there to help product marketing managers grow and develop: webinars (like these on-demand webinars from Userpilot), books, conferences, joining communities, or certified training from the Product Marketing Alliance.
Who is a product marketing manager?
A product marketing manager (PMM) is responsible for a product's positioning, messaging, and branding.
They work at the intersection of development, marketing, and sales. Ultimately, a product marketing manager's main objective is to create and execute a marketing strategy that will boost demand and adoption for the product.
Product marketing manager vs product manager
You might think a product marketing manager and a product manager have very similar jobs, but there are some differences.
Product managers are responsible for the overall vision and strategic oversight of a product. They work with stakeholders to define features, build a product roadmap, and collaborate with the team.
Product marketing managers are responsible for the product's positioning, messaging, and branding. They work with product managers to understand the key value proposition and target market, then devise marketing campaigns that will drive demand.
In cross-functional teams, it's pivotal that the PM and product marketing manager work closely together.
What does a product marketing manager do?
Product marketing managers have a varied job description and the role might look very different from one company to the next.
However, most PMMs will:
Conduct market research: Build an understanding of the market, analyze competitors and potential customers, and identify trends in the market.
Create and map buyer personas: Define personas capturing different types of target customers (including their pain points, challenges, and jobs to be done).
Define the value proposition and positioning of the product: What is your 'unfair advantage' compared to your competitors in the eyes of your target audience?
Develop and execute a go-to-market strategy: Execution is important: this is about defining a clear plan to get a new product out in front of potential buyers and drive sales.
Create a practical marketing strategy and run different marketing campaigns: Define communication channels and approach (i.e. SEO versus paid ads versus other sorts of lead generation), considering different pricing strategies.
Collaborate with product management on product launches: As well as pushing code live, ensuring it lands smoothly with users is just as important.
Gather and process customer feedback: Whether it's through focus groups, internal teams, or analytics, PMMs are well-equipped to gather feedback from target customers after a product launch.
Drive account expansion through upsells and cross-sells: Good PMMs work with the product manager and sales team to optimize customers' lifetime value and boost sales.
Product marketing manager skills and qualifications
Not all PMMs need a bachelor's degree in marketing, but every product marketing manager needs a set of key product marketing skills:
Research and analysis: A deep understanding of paying customers is fundamental to getting comms right. That means being adept at market analysis and competitor analysis.
Digital marketing: They'll be able to devise effective marketing strategies in a digital landscape.
Organization: Good PMMs need to be able to translate strategic thinking into reality. Organizing and coordinating other teams gives the product launch a greater chance of success.
Empathy: Remember "you are not your user". Good PMMs are able to help their teams navigate the outside world and take a proactive approach to resolving problems.
Communication skills: One of the specific responsibilities of a PMM is to facilitate effective communication, whether that's with the dev team, sales teams, or key stakeholders.
Product management: Many PMMs have a background as a product manager and should still be able to demonstrate key skills (i.e. defining product features, setting product strategy).
Key KPIs you should track as a product marketing manager
Key metrics a product marketing manager should be aware of include:
What tools do product marketing managers work with?
There are many existing products and sales tools that help PMMs with their day-to-day tasks. Here are the main categories of tools and examples of software from each:
Project management tools: Trello, Asana, ClickUp, Jira, and ProdPad to rack tasks and improve team productivity.
Customer feedback tools: Userpilot, Typeform, and Usersnap to collect, manage, and analyze feedback from their users.
Digital marketing tools: HubSpot, Semrush, ConverKit, and BuzzSumo to launch and measure marketing campaigns – integrate with email marketing, SEO, and marketing automation tools.
Product analytics tools: Userpilot, Amplitude, Heap, Fullstory, Mixpanel. Use these to get objective insights into user behavior and product usage.
Team collaboration tools: Miro, Zoom, Slack, ProductBoard. Different companies use different tools, but they're all important to facilitate effective communication and collaboration within product teams.
What's the average salary of product marketing managers?
Just as roles and responsibilities shift, there's a wide salary range. Glassdoor sets out that the average salary for a product marketing manager job is just over $127k.
Product marketing manager resources
Here are some of the best resources a savvy product marketing manager might use.
Userpilot's on-demand webinars for product marketers
Webinars are some of the past ways to get up-to-the-minute information on trends like product-led growth, build specific domain knowledge, and learn from experts on a range of topics.
You can either join a live webinar or watch the recording later – the important thing is to apply what you've learned.
Best books for product marketing managers
Despite the growth of short-form content, books are still a valuable source of information. Here is a compilation of books we personally like:
Product Rantz by Emilia Korczynska. A light-hearted read from the Head of Marketing at Userpilot, covering the best and worst product practices.
Product-led Onboarding by Ramli John. This book sets out a different way of thinking about the onboarding process: driving engagement from the product itself.
Continuous Discovery Habits by Teresa Torres. Sets out a sustainable approach to learning more about your users and building the features that work for them.
"Hooked" by Nir Eyal. Sets out how to build addictive products that'll suck users in and capture attention.
"Contagious" by Jonah Berger. A punchy and focused book on building word-of-mouth virality.
"The 1-Page Marketing Plan" by Allan Dib. Simplifying the complex world of marketing plans.
The Effortless Experience by Matthew Dixon, Nick Toman, and Rick Delisi. Focusing on developing customer loyalty as the best form of marketing and retention.
Best conferences for learning product marketing
There's been a resurgence in conferences as a way of building community and learning product marketing. Examples include:
Product Drive. Userpilot's fast-growing, dynamic conference brings the best in class to the stage for a huge range of engaging talks.
Grow London. An in-person and online event organized by HubSpot. Past speakers include Eileen Burbidge (Passion Capital), Will Wallace (Google) and Steve Bartlett (Social Chain, Diary of a CEO).
Turing Fest. Brings the best minds in global tech to Edinburgh, to share what they've learned building and scaling incredible products and businesses
Product Led Growth community
The power of community shouldn't be taken for granted – consider this from marketing legend Seth Godin:
"The web can do amazing things but it can't provide leadership. That has to come from individuals with passion."
Engage with an online community of like-minded people, like ProductLed: you can discuss ideas in Slack, browse their website, zip through the blog, and access specialist books.
Product Marketing Alliance courses and learning resources
There's less focus than ever on formal or traditional education.
The Product Marketing Alliance is a global organization dedicated to product marketing as a discipline. There are articles, an engaged online community, a podcast, courses, and even a job board for those job hunting.
Conclusion
That wraps up our spin through the world of product marketing managers.
Hopefully, you better understand the important role a product marketer plays in any multi-disciplinary team!
If you want to build product experiences code-free, book a demo call with our team and get started! Check out the banner below for more information.