Pendo vs. Walkme – The Ultimate Comparison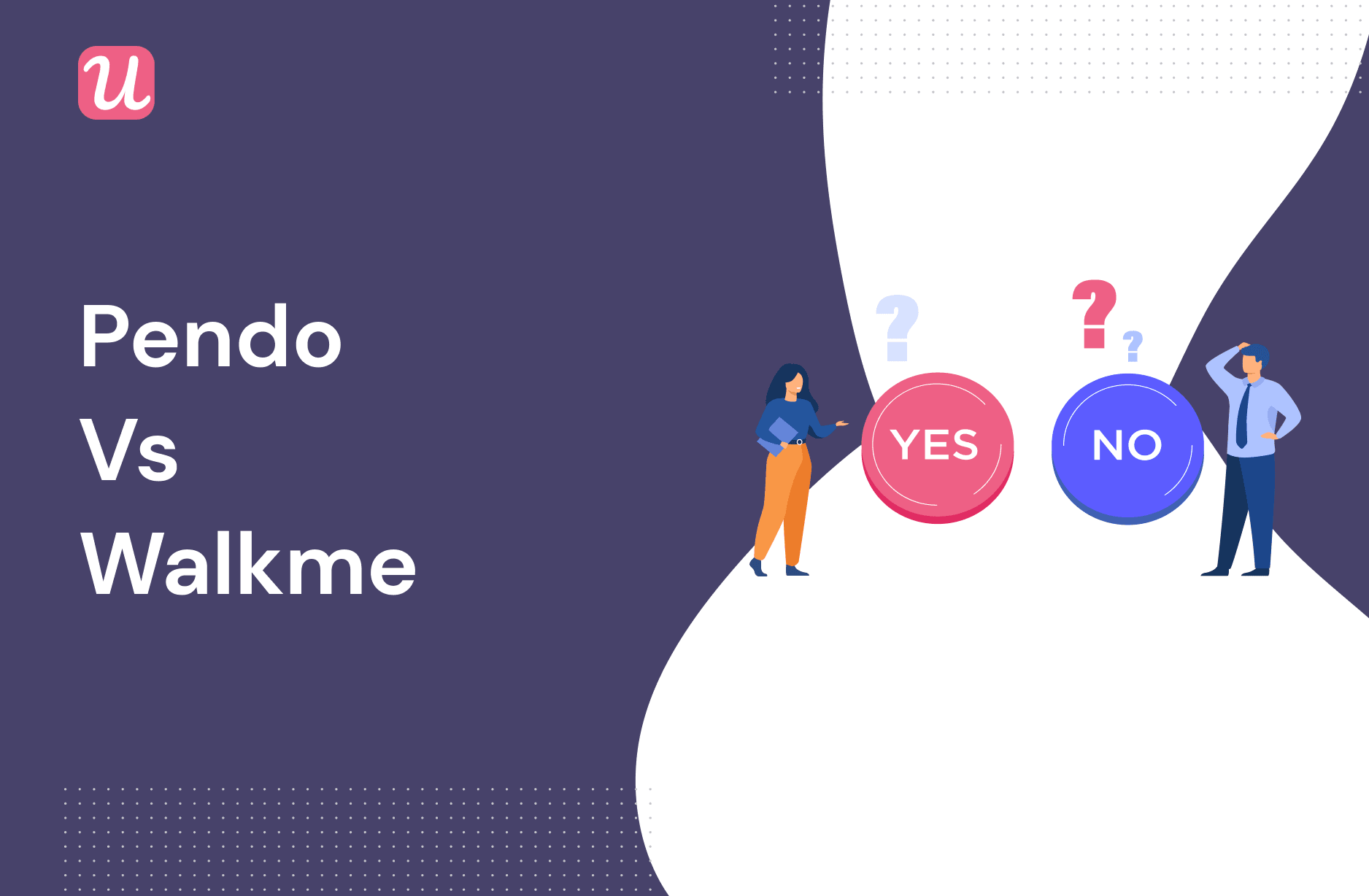 If you're looking at using Pendo or Walkme to create product tours and walkthroughs to enhance your user onboarding flow and track user activation, this post is a must. Which tool is better for the different jobs-to-be-done? Which is better value for money? Or maybe there are other ones you still need to consider?
Two of the big hitters out there are Pendo and Walkme. Today we're going to put them head-to-head to see which comes out as the strongest digital adoption platform.
Why are we doing this? Well, effective user onboarding can make a world of difference for improving your user activation and product adoption rates.
But the opposite is also true. Poor onboarding may actually drive users away from activation and adoption. And a good onboarding flow not only needs to be built – it also needs to be optimized with product usage analytics.
In a nutshell, great product walkthroughs lead to better user onboarding, which leads to better user activation and product adoption.
So let's dig in and see which product is best suited to your onboarding needs!
TL;DR
Pendo and WalkMe are both digital adoption platforms that help you create user guides for onboarding.
While their features for in-app guides and user analytics are similar in many ways, WalkMe focuses on employee onboarding for enterprise-level businesses, while Pendo helps create walkthroughs for customer onboarding as well.
Pendo comes out stronger than WalkMe for developing SaaS onboarding experiences and product analytics. 
Pendo analytics consist of paths, funnels, and user cohorts.
The biggest problem with Pendo, apart from ease of use, is segmentation. You cannot trigger product guides to user segments grouped by custom events, nor trigger in-app experiences based on custom events (e.g. button click, form fill etc.)
WalkMe is quite expensive, starting at around $9,000 per year. Pendo doesn't publish its pricing information, but it reportedly costs between $12,000 and $55,000 per year.
Neither Pendo nor WalkMe are particularly easy to use, but Pendo generally requires less coding and technical background.
If you're looking for Pendo and WalkMe competitors, Userpilot is a strong, affordable solution that combines code-free ease of use with customizable onboarding flows and in-depth analytics.
Pendo vs WalkMe: Features Overview
Pendo and WalkMe do some similar things, but they are definitely not equivalent. Let's take a look at some of their key features to see what each offers.
Pendo key features
Pendo specializes most in terms of user segmentation and analytics during onboarding, though it certainly has powerful tools for creating the onboarding flow itself.
With Pendo, you'll get:
Tools and features geared primarily to customer onboarding
Product tours and walkthroughs
In-depth user behavior analytics (although they don't update in real time – there's an 1 hour lag in data dashboards!)
Customer segmentation tools
Customer feedback insights and in-app messages
WalkMe key features
WalkMe was one of the first on the scene for digital adoption platforms. It has many of the same features as Pendo, but while it does offer tools for customer-facing experiences, its larger focus is on employee onboarding.
WalkMe offers:
Tools and features geared largely to employee onboarding
Product tours and walkthroughs
User behavior analytics
Strong scalability for large enterprises
Pendo vs WalkMe: User Onboarding
Both Pendo and WalkMe have a strong presence when it comes to user onboarding. There's also a good bit of overlap in terms of their core features.
To start with, both will let you create effective user onboarding experiences that guide users toward activation. Both tools have been in the game for quite some time and know what they're doing.
However, the different use case of each tool means there are key differences in the features they offer.
User segmentation
One of the biggest differences hinges on user segmentation, and this is critical for SaaS businesses.
Pendo, for example, offers easy-to-use tools for segmenting your users and creating tailored onboarding experiences for each segment. This way customers with different use cases or jobs-to-be-done can be shown guides relevant to their needs. However, Pendo does not allow you to target customer segments grouped by custom events (essentially the actions they performed in-app!). It doesn't allow you to trigger guides on events (e.g. button click).
WalkMe's personalization and segmentation features are limited compared with Pendo's. Since they've shifted to employee onboarding, WalkMe's need for user segmentation just isn't as great.
UI elements
Pendo gives you some basic UI elements like checklists to support your product tours. However, more advanced elements require an upgrade and often some CSS coding.
WalkMe's UI is quite customizable – it's just not easy to do. Customizing and stylizing your onboarding flow requires significant coding and technical knowledge, and more likely than not you'll have to enlist the help of a certified WalkMe expert.
The verdict
Pendo is the hands-down winner if you've got a SaaS business and want to onboard customers.
While technically WalkMe lets you make a more sophisticated, customizable onboarding experience, the amount of effort involved offsets the benefit.
Plus, the inability to segment users diminishes the potential effectiveness of the user onboarding experience, and just as importantly (as we'll see next), limits your ability to collect useful analytic data.
Alternative onboarding for SaaS businesses
What if you're a SaaS business that wants quality customer onboarding and a highly customizable user experience?
Well check out some of the onboarding features that Userpilot offers and how it stacks up against Pendo and WalkMe:
+ Userpilot lets you create branched, fully interactive walkthroughs. Its user segmentation tools make it easy to tailor user experiences to jobs-to-be-done and customer use cases.
+ Additional features like onboarding checklists, microsurveys, and NPS surveys make it simple to refine user segmentation and adjust both primary and secondary onboarding flows based on user feedback.
+ Userpilot offers real-time user analytics.
+ Userpilot allows you to trigger guides to user segments grouped custom events, or respond to an in-app event that the user has performed with an in-app experience in real time.
– Userpilot doesn't currently offer enterprise-level integrations with solutions like Hubspot (coming soon – November 2021) or Salesforce (not on the roadmap as of now). If you're looking for a large-scale, enterprise-level onboarding tool, Pendo or WalkMe might be a better option.
– Userpilot is also designed to work with your product, but not third-party apps. This makes it great for SaaS user onboarding, but not so much for employee onboarding. It also doesn't work on native iOS/Android apps.
Pendo vs WalkMe: Product Usage Analytics
Product usage analytics are important because they allow your product managers to determine whether your onboarding flow is achieving the desired results, and if not, how to improve it.
Both Pendo and WalkMe give you access to product usage and onboarding analytics, but not to quite the same extent.
As we mentioned earlier, Pendo provides easy-to-use segmentation tools with the capacity to tailor onboarding experiences according to each segment. This also means that you can access and compare usage analytics between segments, generating stronger insights as to how your onboarding process may (or may not) be supporting greater activation and product adoption.
Pendo lets you view analytics on data like user clicks and time on guide. Plus, it offers path, funnel, and customer retention reports that show patterns in user behavior and how these patterns may link to retention or churn.
While WalkMe's product usage analytics dashboard also gives you a powerful, in-depth look at how users interact with the onboarding flow, the lack of strong segmentation tools severely limits its usefulness for SaaS.
Customers with different use cases who experience the same onboarding flow are likely to experience different levels of value from it. In a context where all the users are employees with similar use cases, this isn't a problem.
However, if you have a SaaS business with customers who have varying use cases and personas, then lumping all those product usage analytics together is going to obscure where your onboarding is working or causing friction.
The verdict
Once again, for SaaS businesses, Pendo is the clear winner. User segmentation is just such an important tool, both for delivering better onboarding experiences and getting insights from usage analytics.
The tables could be somewhat turned, however, if you're a large enterprise and don't really care about segmenting users. But even that would just make it a tie since you wouldn't lose anything by going with Pendo.
An alternate tool for user analytics
Let's take another look at your options outside of Pendo and WalkMe.
Userpilot knows how important user segmentation and analytics are to making your SaaS product adoption strategy work. As a result, it provides a powerful user analytics dashboard and segmentation tools to help you get data that drives results.
Some of the benefits of going with Userpilot are that you can:
+ Build unlimited customer segments based on user persona data, survey responses, and in-app behavior, among many more possibilities.
+ Delve into product usage analytics based on these segments, as well as track feature engagement, progress toward onboarding goals, and user feedback.
Pendo vs WalkMe: Pricing
Comparing prices between Pendo and WalkMe is tricky since Pendo doesn't make its pricing information publicly available.
What we can say, though, is that neither option is cheap. Especially not for startups and SMEs.
WalkMe's pricing varies depending on customer needs, but generally ranges from $9,000 to $50,000 per year. This doesn't include the cost of a certified WalkMe expert, which you'll probably need to get more sophisticated custom elements working.
Again, WalkMe is aimed at large enterprises, and their pricing reflects this.
As for Pendo, we can assume that since they don't publish their pricing information, it's probably not cheap. They do, however, offer a free version for up to 1,000 users.
The problem is that going with the free version of Pendo would reverse some of the previous verdicts. WalkMe is already more customizable than Pendo in terms of features and UI elements (even though implementation can be challenging), and limiting yourself to the free version of Pendo only makes it weaker in this area.
The verdict
It's a tie. While free is certainly preferable to $9,000, a free product that can't do what you need it to do isn't worth much.
Without knowing more about Pendo's pricing, it's impossible to say which offers the better value.
A better deal for user onboarding?
Do you really have to spend close to $10K per year for a quality user onboarding platform? No way!
While Userpilot can't replace WalkMe for employee onboarding and use with 3rd party apps, it's more than got you covered for customer onboarding. Now, we don't know exactly what Pendo's costs, but we're confident that Userpilot is competitive. Check it out:
+ Userpilot offers unlimited feature use, unlimited segments, and up to 2,500 monthly active users (MAUs) for $249 per month. The price only increases when your MAUs rise above this level.
For a small- or medium-sized SaaS business, it's hard to argue with Userpilot's value for money when compared with the other tools in its class.
Pendo vs WalkMe: Ease of Use
Now, before diving into this section it's worthwhile to point out that the question we'll answer isn't really "Which is easier to use?"
Rather, it's more like, "Which is less difficult?"
We've already touched on this a bit, so let's start with setup.
Setup and implementation
WalkMe is on-premise software, meaning you'll need to install it locally. This is not as easy as double-clicking an executable file, and actually takes quite a bit of time, work, and technical knowledge.
WalkMe's certified technicians can help you with this, but don't imagine that you'll sign up for WalkMe and start building custom product walkthroughs all at once.
Pendo is simpler and faster to set up than WalkMe, but still requires some relatively advanced technical ability.
Using the product
WalkMe offers highly customizable and sophisticated product walkthroughs – that is, provided you have the coding and technical skills necessary to get them working.
You can also pay for a certified expert to help with the technical aspects, but this just makes an already pricey product even more expensive.
Pendo, on the other hand, offers its Visual Design Studio as a way to reduce the need for coding. Unfortunately, this comes with two major downsides.
First, using the studio limits your ability to customize walkthroughs and UI elements. To do that, you'll need to be able to write some CSS.
Second, the Visual Design Studio can be a bit clunky to use. You can preview your walkthroughs in the studio dashboard, but that's separate from the web app where you actually create them.
This means that you have to constantly switch between applications just to get a sense of how your edits are taking effect. Further, you can't test your walkthrough until the code has already been installed via API.
The verdict
Ultimately Pendo suffers more from annoyances in use than significant barriers to accessibility. This gives it an edge over WalkMe, which has definite technical barriers to use.
In other words, if you're ready to start creating product walkthroughs ASAP and don't have a lot of technical savvy at your disposal, Pendo is the better choice.
An easier way to start onboarding
If all this talk of on-premise implementation and CSS coding is starting to sound like a nightmare to you, you're not alone. That's why Userpilot strives to make getting set up and running as quick and painless as possible.
Take a look at some of the ease-of-use advantages Userpilot offers:
+ You can get Userpilot set up and running in minutes with its Chrome extension and a copy/paste of one line of JavaScript code into your app.
+ Beyond the single line at installation, there is no coding necessary to access, implement, or test all the tools, features, and resources Userpilot offers.
Pendo vs WalkMe: The final verdict
If you've been keeping score, it's pretty clear by now that Pendo has won against WalkMe in most categories.
To summarize, Pendo comes out ahead because it:
Provides more control over user segmentation and user analytics.
Is simpler to implement and use.
Supports customer-facing onboarding in startups and SMEs – not just large enterprises doing employee onboarding.
Is probably cheaper. However, this is unclear without getting a quote from the company.
If this has helped you make a decision between WalkMe and Pendo, that's great! But if at this point you're thinking these products seem useful but don't quite meet the needs of your SaaS business or customer success goals, then why not consider a third option?
Pendo vs WalkMe: better alternatives
If you're a mid-market SaaS company with a product team, Userpilot might be just the product growth platform you need. Again, Userpilot isn't your best bet for employee onboarding, but for reaching SaaS customer retention and product adoption goals, it's hard to beat.
Let's review some of the key points that make Userpilot a good alternative to Pendo and WalkMe:
Create customizable product tours and walkthroughs to enhance new user and secondary onboarding.
Segment customers to create user experiences tailored to persona or use case.
Access in-depth product usage analytics and user feedback.
Implement and start using the platform in minutes without having to write any code.
Get unlimited features and user segments, as well as up to 2,500 MAUs for just $249 per month.
Which Onboarding Tool Should You Choose?
Unfortunately, it's not possible to give a definitive recommendation for which tool is "best" overall. Pendo tends to beat WalkMe for most SaaS use cases, and Userpilot is a fantastic, affordable option for SaaS startups and SMEs.
To help with your decision, here's a brief rundown of each product's suitability:
WalkMe is suitable for enterprise-level businesses looking to do employee onboarding and with vast amounts of money and technical resources.
Pendo offers somewhat better accessibility and customer-facing SaaS onboarding solutions, but at an unknown price tag.
Userpilot is perfect for SaaS startups and SMEs looking for affordable, top-quality, easy-to-use onboarding tools.
Does flexible, code-free onboarding software sound like a good fit for your company? If so, check out a Userpilot demo and get started today!