Best Product Management Podcast Dedicated to Product Managers [Curated List]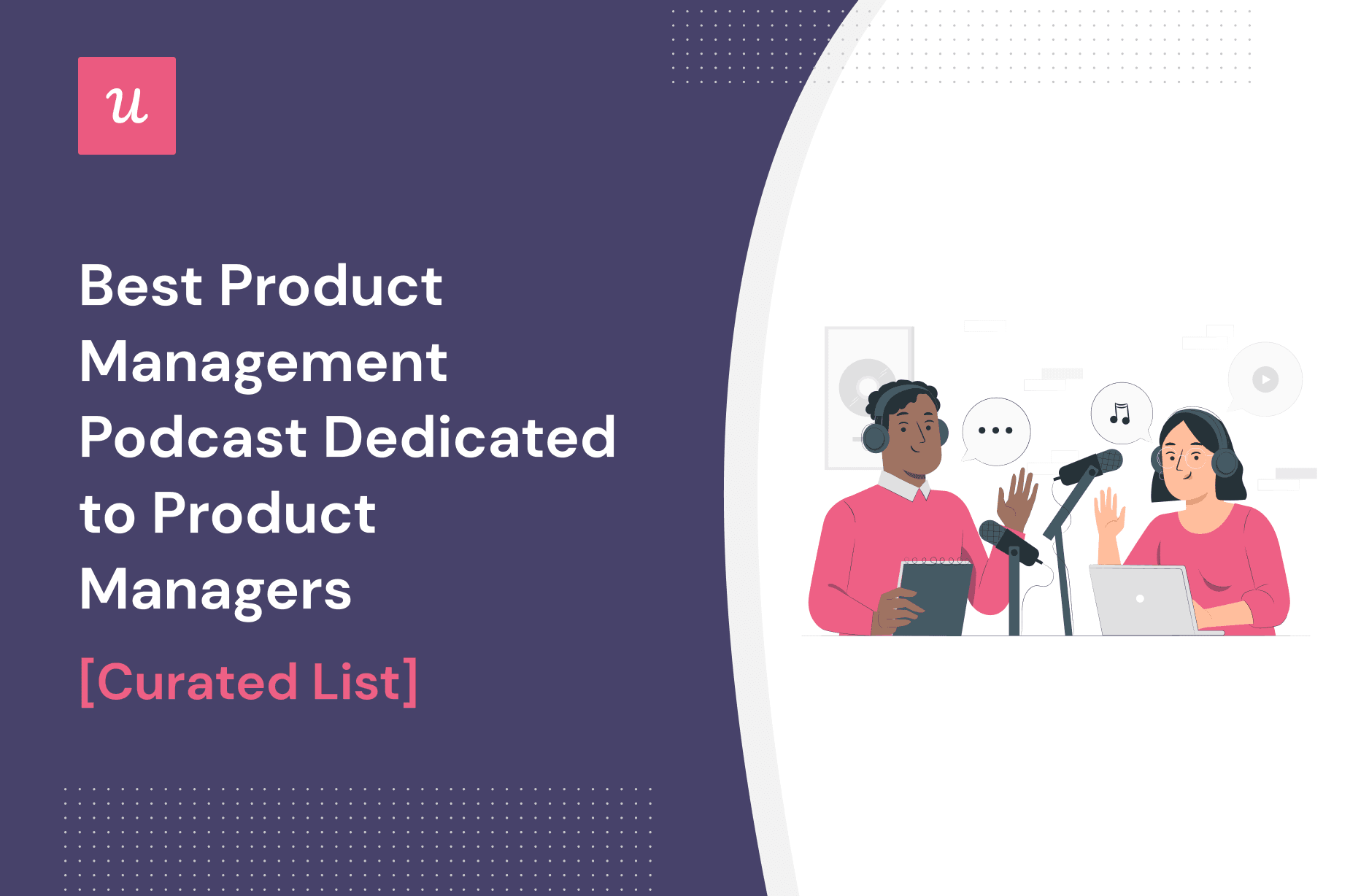 A good product management podcast is a great way to explore the world of product management, whether you already are a successful product manager looking to improve your skills or only aspiring to join the profession.
You can use podcasts to stay up to date with the latest product management and industry trends without having to allocate specific time for learning, which is a great advantage given how busy product managers are.
All that considered, how about we check out a few of our favorite product management podcasts?
TL;DR
Product management podcasts are a good way to grow your industry knowledge. That's because they are up-to-date and easy to access while on the go.
Because there are so many podcasts out there, it's often difficult to choose quality ones. That's why we've created our curated podcast list.
Product Heroes from Userpilot is a product management videocast that features interviews with product and thought leaders. It focuses on product-led growth.
Matt Green and Moshe Mihanovsky explore product management tools in their Product for Product podcast.
The Product Podcast from Product School promotes professional growth for product managers. The latest season focuses on women in tech.
Masters of Scale is a podcast that aspires to help product managers grow their products and organizations.
100 Product Managers is a series of… 61 interviews with product leaders from market leaders like Squarespace.
Scrum Master Toolbox can help product managers better understand Agile principles and techniques so that they can take full advantage of Scrum and other frameworks.
Product Hunt Radio explores the future of tech and introduces the latest products and developments.
The biggest strength of Product Thinking is the experience of its host, Melissa Perri, and her renowned guests. Together, they investigate 'everything product'.
The Product Experience is a podcast from Mind the Product and it features some of the best speakers and experts who take part in their meet-ups and conferences.
Roddy Knowles, the host of This is Product Management, interviews his guests on pretty much every imaginable aspect of product management and leadership.
Are all product management podcasts the same?
Where can you find decent podcasts?
Spotify, Google, Amazon, and Apple all offer podcasts in their content repositories, and their search engines are easy to use. There are also dedicated podcast services like Listen Notes.
The catch is that it's difficult to find quality content in the vast selection available. Podcasts may be easy to consume, but you still can't listen to everything with 'product' in the title. Many of them may simply not be relevant to you.
That's one of the reasons we've come up with our curated list of the best product management podcasts.
Product Heros – Userpilot
Product Heroes is powered by the product adoption platform, Userpilot. While technically not a podcast as it's video-based, you can still listen to it like any other podcast. And it's really worth listening to!
The series consists of interviews with product managers and product leaders from well-known tech companies. The guests share with their audience inspirational anecdotes and practical advice based on real-life experiences.
Product Heroes has a B2B angle and focuses on growth and product-led growth.
Recommended episode
In the episode, product veteran Kelly Yanke Deltener shares her advice on how to send your company's growth rate through the roof. As a CPO of CoSchedule, work management software for marketing teams, she managed to achieve a mindblowing growth of 500% three years in a row.
Product For Product – Matt Green and Moshe Mikanovsky
The hosts of Product for Product, Matt Green and Moshe Mihanovsky are both experienced product management leaders.
In their podcast, they deal mostly with tools that benefit product leaders at every stage of the product development process.
If want to learn about the latest analytics, road mapping or productivity tools, you can catch the podcast on most of the major platforms like Apple or Google Podcasts.
Recommended episode
The episode is a part of the UX/UI and wireframing series. Matt and Mosh interview Rob Hall, the Director of Product at OxBlue, about the advantages of using Miro not only as a whiteboard collaboration tool but also for wireframing.
The Product Podcast – Product School
The Product Podcast is produced by Product School, which specializes in product management training courses. They also organize the ProductCon conferences.
The podcast, hosted by the Product School co-founder, Carlos Gonzalez de Villaumbrosia, is now in its 10th season and this time around it features accomplished female product leaders in tech.
The focus of the podcast is on professional development. The guests share lots of valuable advice and experiences that will help you grow as a product manager.
Does this sound like your cup of tea? If so, why don't you head to Apple and Google podcasts and catch an episode or two? Or hit the link below to check out one of our favorite ones!
Recommended episode
In the episode, Michelle Parson, the Chief Product Officer at Hinge, discusses the importance of mentoring for professional growth. While Michelle focuses on the product industry, her advice also applies to other sectors.
Masters of Scale – Reid Hoffman and Bob Safian
Masters of Scale hosted by Reid Hoffman and Bob Safian are podcasts whose mission is to "democratize entrepreneurship" and its main focus is on innovation at scale.
Apart from general topics, the podcast features episodes in Risk and Rapid response categories. It consists of interviews with product leaders exploring various aspects of leadership and entrepreneurship.
Where can you find the episodes of the podcast? Head to its website.
Recommended episode
In the episode, Priya Parker, the author of the best-selling The Art of Gathering, shares best practices for organizing and managing hybrid and remote work.
100 Product Managers – Suzanne Abate
In her 100PM podcast, Suzanne Abate interviews industry leaders who share their insights and practical advice on a range of product management topics.
There are 61 episodes available, so not quite the 100 Suzanne was originally planning to record. They only appear occasionally these days and the last one is from April 2021. However, they still make worthwhile listening.
If you'd like to listen to the podcast, just head to 100PM website and browse through the episodes.
Recommended episode
The episode features Natalie Gibralter, the VP of Product at Squarespace. She talks about her spectacular career and building product teams at scale.
She also shares her views on the importance of prioritizing and staying focused on the most relevant tasks. According to Natalie, this is the key to building successful products.
Scrum Master Toolbox – Vasco Duarte
Scrum Master Toolbox is a podcast that focuses on Scrum, probably the most popular Agile framework.
In the daily episodes, scrum masters and agile coaches from all over the world share their best tricks, techniques, and practices to help scrum teams reach their goals. The podcast is hosted by Vasco Duarte, who is an accomplished scrum master and agile consultant himself.
While some of the episodes could be too technical for product managers, the podcast can improve your understanding of scrum and agile. As a result, you should be able to better incorporate agile teams into organizational structures.
Recommended episode
While the episode is aimed at Product Owners, product managers very often play that role on the scrum team so they're sure to learn a thing or two from it. Specifically, it deals with the importance of sprint reviews and the role of the product owner as the voice of the customer.
Product Hunt Radio Podcast – Ryan Hoover and Abadesi Osunsade
Product Hunt is a platform where start-ups can easily launch their new products. As a result, it's no surprise that the Product Hunt Radio podcast focuses on the latest products and trends and the future of tech.
The hosts of the weekly podcast, Ryan Hoover and Abadesi Osunsade, organize it around interviews with start-up founders, investors, developers, and tech journalists.
The range of topics and the various perspectives, make the podcast attractive not only to product managers but also to marketers and entrepreneurs.
You can catch the latest episodes of the Product Hunt Radio on most of the key platforms, like Apple and Google Podcasts, or Spotify.
Recommended episode
The episode hosts Slack's VP of Design, Ethan Eismann, who shares his advice and tips on how to build great products that delight users.
Product Thinking with Melissa Perri
Melissa Perri is among the most successful product management experts and coaches. She's also a captivating speaker and the author of Escaping the Build Trap.
In the book, Perri shares her experiences from helping product teams escape the build trap. In practice, this means building products that satisfy relevant user needs instead of releasing features for their own sake.
The podcast is in a way an extension and continuation of the mission.
The Product Thinking podcast features interviews with some of the most recognized members of the product management community. Together, they explore various aspects of the product management profession.
On top of that, every other episode, called Dear Melissa, has the form of a Q&A session, where Perri uses her vast experience to help listeners tackle the everyday challenges they face in their product roles.
Product Thinking is probably one of the most if not the most popular product management podcast out there. This could be attributed to the incredible experience of both the host and the guests.
If you would like to give it a go, and we think you should, you can find it on all the major platforms like Apple, Google, or Spotify.
Recommended episode
In this Dear Melissa episode, Perri helps her listeners with issues such as how to sunset products and communicate unpopular decisions to the development team. She also explores the minefield of company politics in which product managers are often blamed for things they have no control over.
The Product Experience – mind the PRODUCT
Mind the Product is a community devoted to creating development opportunities for product professionals. They organize meet-ups and conferences, offer training courses, and publish a popular blog. And of course, they produce a product management podcast.
The Product Experience is run by Lily Smith and Randy Silver. The guests they interview include the best speakers and guests from the Mind the Product events.
It's a great podcast for both junior and senior product managers who are interested in advancing their careers.
Like most of the podcasts we discuss here, the Product Experience podcast is available on Google, Apple, and all the other key platforms.
Recommended episode
In this episode of the Product Experience podcast, Lily and Randy interview product coach Noa Ganot about adopting the product-led growth mindset. They look into all the factors that organizations need to consider to pull off the transition successfully.
This is Product Management – Roddy Knowles
We're finishing our product management podcast round-up with This is Product Management. Don't be fooled by the fact that it comes last on our list as this podcast hosted by Roddy Knowles is the real deal.
Roddy's guests include thought leaders, founders, and managers, many of whom hold senior and executive roles in companies like Strava or Blinkist.
The topics that they cover include both very technical areas like analytics or UX design and more general ones like leadership or product strategy.
If you'd like to listen to this excellent product management podcast, head over to its website.
Recommended episode
This episode of This Is Product Management delves into the best practices for collecting, organizing, and analyzing user feedback.
Conclusion
Product management podcasts are a pretty valuable asset in your professional growth toolset. Our curated lists should help you choose some of the best podcasts out there.
If you'd like to know how Userpilot helps product managers grow products that delight users, book the demo!