5 Actionable Product Adoption Tactics You Should Try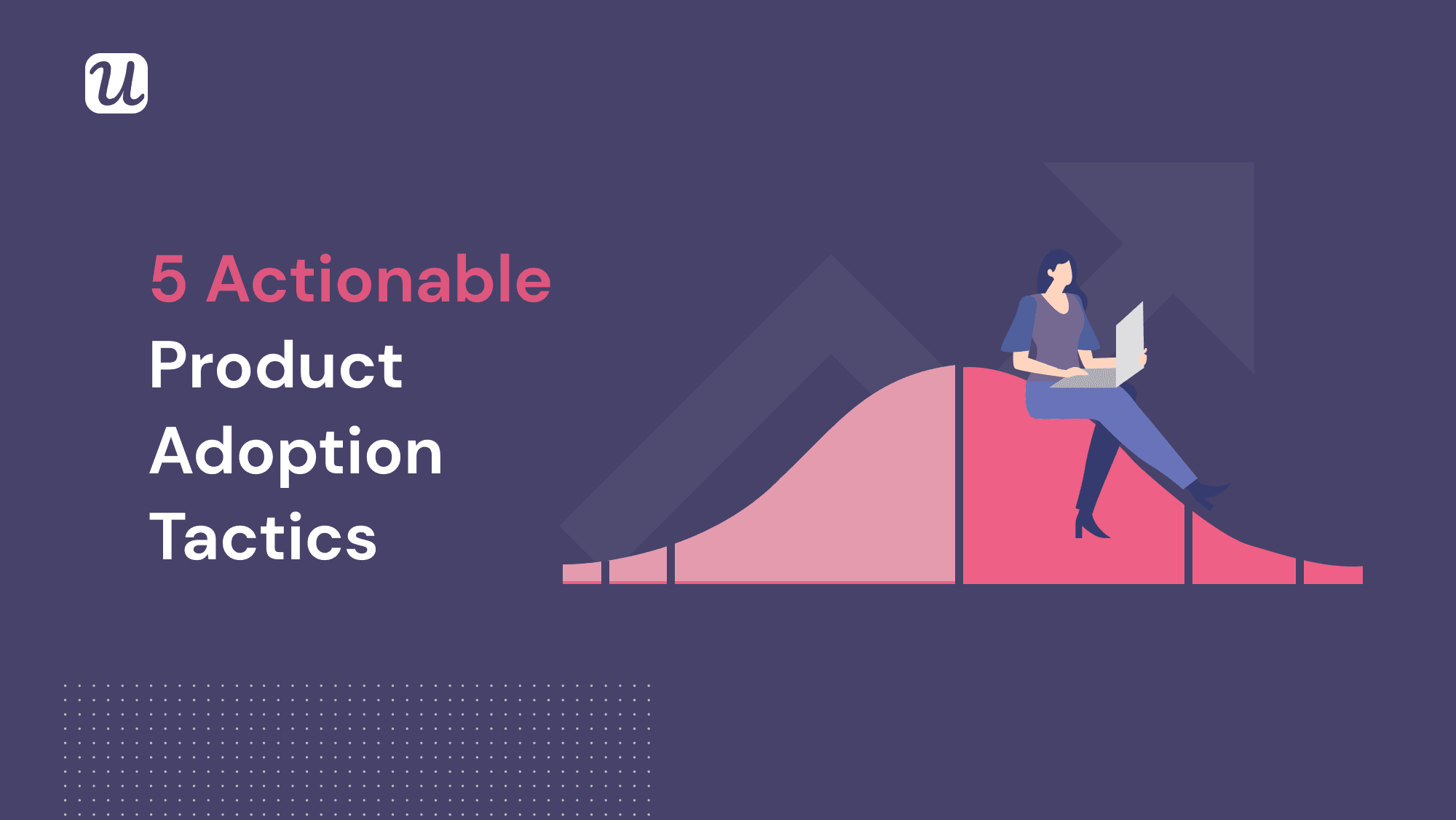 This is the second part of our 'How to Create Your First Product Adoption Strategy' guide. In the first part, we discussed why having a Product Adoption Strategy is so important, and how to go about creating one.
We also discussed the first 3 goals of a Product Adoption Strategy, namely:
1. Increasing New User Activation
2. Increasing Secondary Feature Engagement & Adoption
3. Increasing new feature adoption over time
…and how to achieve them, using an OKR framework with specific UI patterns and examples.
In this post, we are going to tackle the remaining 5 goals with actionable adoption tactics that you should try:
4. Pushing more users down their user journey
5. Boosting Product Stickiness
8. Achieving expansion revenue with upgrades
Let's dive right in!
4. Pushing more users down their user journey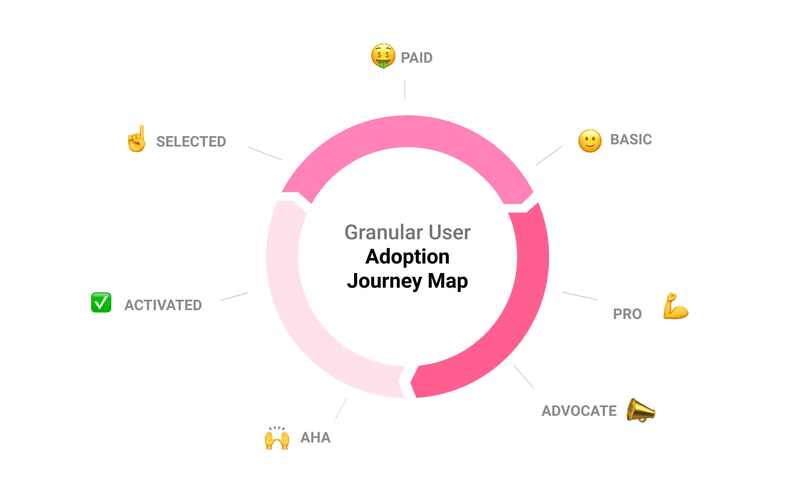 Objective: gamifying and incentivizing the tertiary onboarding experience to help your users adopt the more advanced features of your complex products. Developing good use patterns and correcting bad ones.
UI Pattern: reactive in-app experience flows (tooltips + driven actions), slideouts, success messages in modals and emails.
Key result: Higher adoption of your product, users are more likely to make most of it and move down the user journey.
Now, your users got to the AHA! moment and adopted the few core features of your product that are absolutely necessary to get them. You may have even shown them some secondary features. They've become activated users.
But you don't want them to languish there.
Your "weak" users are most likely to churn. We've learnt the hard way.
You want your users to become power users, experience more value, spread news about how great your product is through Word of Mouth, and upgrade to the next plan.
The problem is: especially with complex products, the majority of people don't leverage the full potential of your app.
We've learnt that the hard way.
This is what we see in Userpilot all the time.
People come to Userpilot, build a few new user onboarding experiences (e.g. a checklist, an interactive walkthrough to show their new users around…), and…that's it.
They often don't come back to Userpilot again for weeks and months! 😱
No wonder such 'weak' users often start to think if the tool is worth their money. They may try to build their own onboarding tour, and are more likely to churn…
While in fact, this is less than 5% of what you can do in Userpilot:
You can set up Product Adoption experiences for every stage of the user journey.
You can segment your users both by identifiers such as their plan, signup date, answers to your Welcome Screen survey, etc. as well as their behavior (number and frequency of web sessions, engagement with different features as well as the experiences you've built in-app, etc.)
You can set adoption goals for each experience and measure them over time, and for different segments.
You can experiment and A/B test the effectiveness of the different experiences, both against nothing and each other, without engaging your developers.
You can optimize the hell out of all your experiences to max out adoption and feature engagement.
You can run an NPS survey and cross-reference your scores with the users' behavioral data to see the correlations between what your users do in your app, and how satisfied they are with the experience
You can create micro surveys to collect feedback on new features, feature requests, etc.
You can announce webinars, special promos, and promote upsells
You can create a Resource Center with all your help docs, instructional videos as well as in-app walkthroughs for different features.
You can run New-Feature Announcements
That's a lot.
In fact, you could make using Userpilot someone's full-time job (and you probably should – because if you had a full-time Product Marketer doing just that, you'd surely have rockstar product adoption rates 😎)
On the other hand: we found that the only people who churn are those that end up doing…nothing after Userpilot. We've had only one case in our history of a customer moving to another tool.
Conclusion: people churn because of poor product adoption.
Some companies with small product teams don't have the resources to use Userpilot to the fullest of course, but others – it's just a matter of education.

And how do we make them know? 🤔
through our educational content on the blog, a.k.a. preboarding
through user webinars and live demos
through in-app experiences
Now, the lower your ARPU (Average Revenue Per User) and the more product-led (as opposed to sales-led) your product is: the higher proportion of in-app experiences you should have in your Product Adoption Mix.

Spectrum of Onbording, by Deepak Singh
Then there's the next level of difficulty:
Let's face it:
Your users don't read. 😱
You can write the most amazing content, but nobody wants to read a wall of text inside a modal – especially when they can't dismiss it: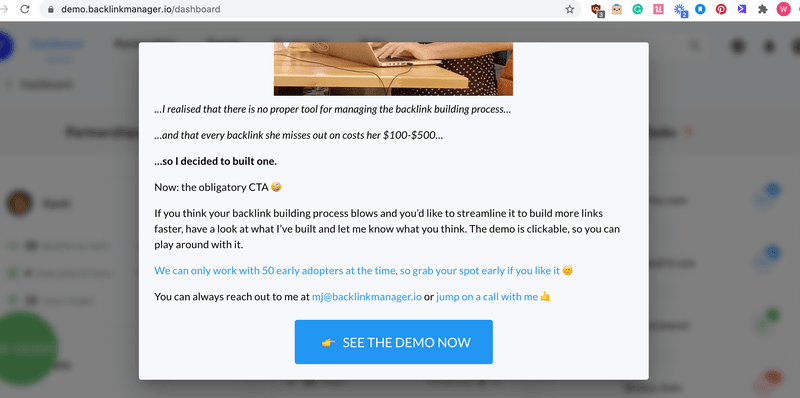 "Blah blah blah [CLOSE]" Source: BacklinkManager
All your users what to do is to start using your app immediately and solve the problems they want to solve with it ASAP.
So what's a poor Product Manager/Marketer with a fairly complex product and low ARPU (e.g. as is the case with email marketing, or social media marketing tools) to do?
👉 Gamify your product adoption experience
👉 Use incentives and celebrate your users' success
👉 Use video
👉 Keep it relevant and contextual
Gamifying your product adoption experience
With complex products, you can dramatically improve feature adoption by making it fun + adding some extra incentives to it. You need to be clear about your why (your goals) and your users' goals though.
Let's take our own example again.
Userpilot wants you to experience higher feature adoption rates so you continue seeing the value in our product and continue using it, right?
So: we want you to build an experience and set a goal for it so you can measure your results in terms of adoption:
E.g. Below, a social media scheduler Postfity is helping people link their accounts to their app, and tracking how many people completed this task: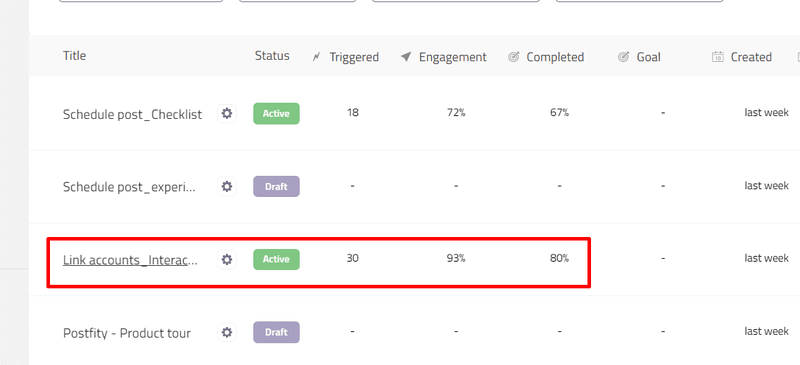 Source: Postfity
But then, if they haven't really optimized that experience or A/B tested it, there's still some room for improvement…
So next time they log into their Userpilot account, we could show them a tooltip encouraging them to A/B test the experience:

To make sure they see the opportunity, we could first set up a tooltip + driven action for them on the main dashboard: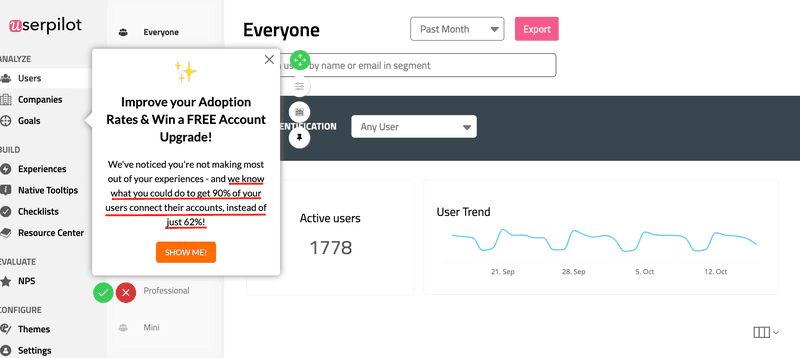 So when they click 'show me' – it takes them to the less popular 'goals' page.
Let's dissect this message:
"We've noticed you're not making most out of your experiences" – we are appealing to FOMO here – we want the user to feel that they are not getting the full value for their money!
"and we know what you could do to get 90% of your users connect their accounts, instead of just 62%!" – we're promising them a much better result here! We know this is one of their key features, so bumping up the adoption rate by nearly 30% would be a really big thing for them.
Then, it's 'rinse & repeat' for our other secondary features that would push that user down the user journey and show them how they can get more value out of our product:
e.g. NPS – 'Are your users happy with your tool?'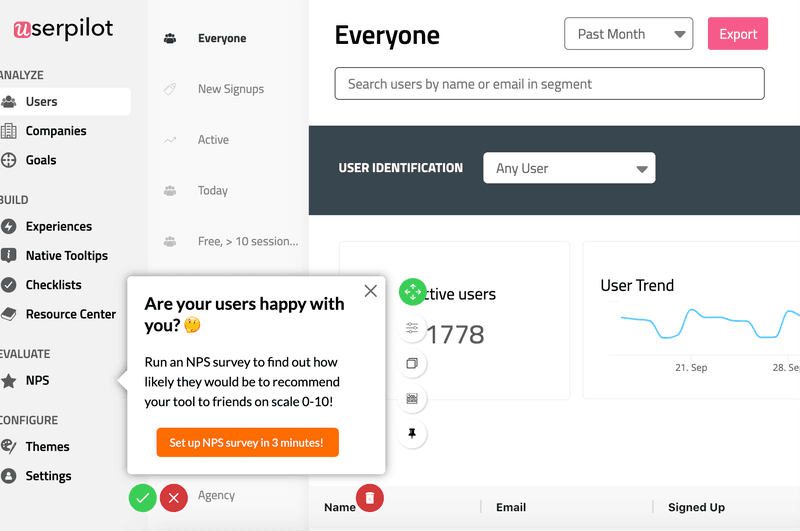 And if the user has already built several experiences, it's time to show them another of our particularly 'sticky' features – the resource center: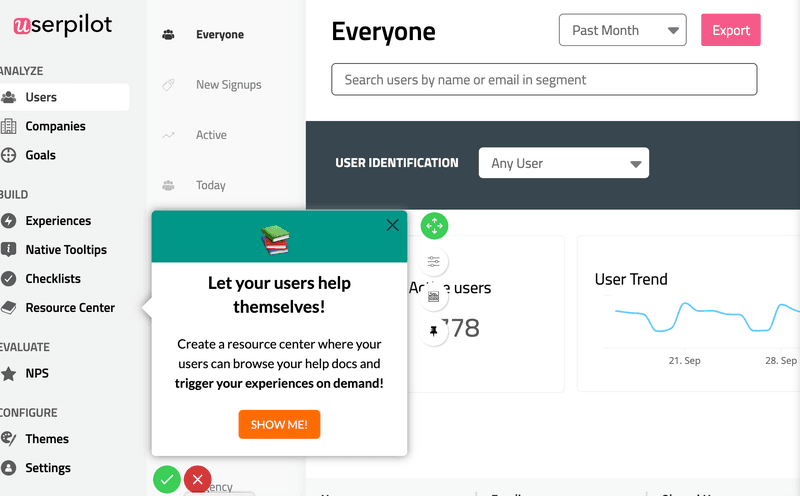 A resource center helps the users group all their experiences, help docs, videos etc. in one place – so the users can search them and trigger specific parts of the walkthroughs on demand.
Smart, huh?
That not only reduces your Customer Success ticket volume but also improves the users' success and satisfaction rates.
Etc. etc.
Of course, the time and order in which we'd show these tooltips would depend on our User Journey Map – something we already tackled in PART I of this guide.
Which is another way to say '👉 Keep it relevant and contextual'
But now, let's focus on another aspect of gamification that could massively help with pushing your users down the user journey:
👉 Use incentives and celebrate your users' success
What's the best way to get people to engage with your experience? Give them an offer they cannot decline: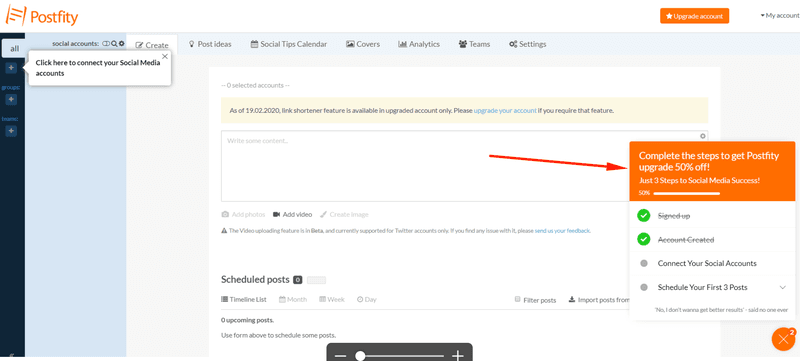 Discount, upgrade, swag or some kind of a freebie – A/B test what motivates your users most.
One important way how you can push the users down the user journey is by celebrating their success before asking them to perform the next step.
Here's how Postfity does it: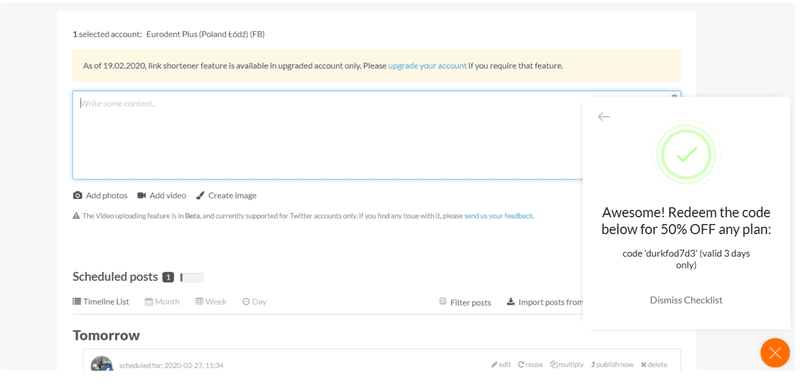 And Sendgrid: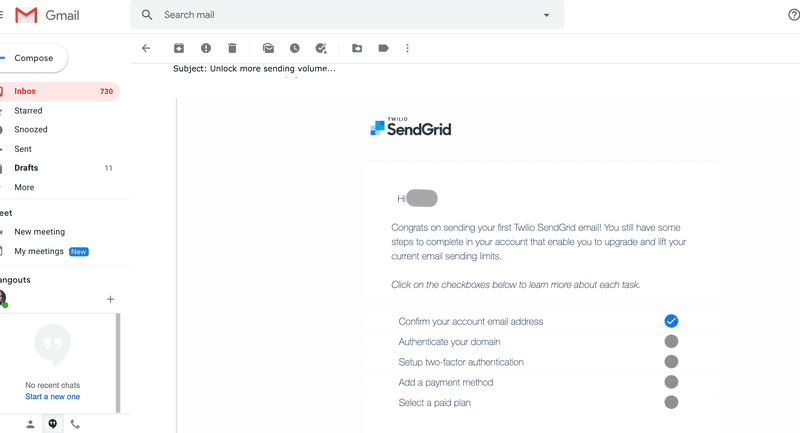 And Kontentino: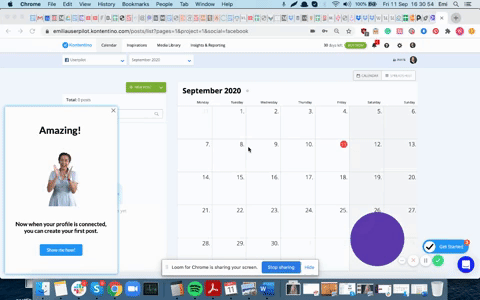 As you can see, Kontentino made their message come more alive with an animated GIF showing one of their team members!
Which brings me to the next point…
👉 Use video

Ahref's onboarding video
To make your product adoption flow more engaging, video can be a great way to help your users become more and more proficient in using your tool.
What's more: while some tools are using video for new user onboarding, I haven't seen many SaaS companies use it for their more advanced users.
Ahrefs is the exception:
If you go to Site Explorer, and then – the 'Content Gap' – you will see a native tooltip with a 'how to use' CTA. Upon clicking the native tooltip, you see a long modal with pretty much a blog post and video embedded in it.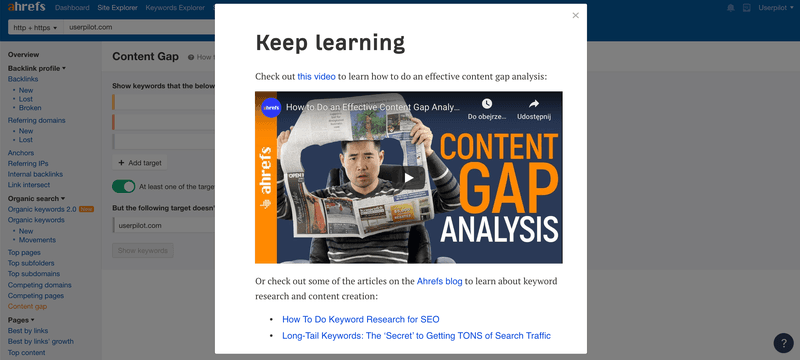 While I'm not sure how such a long modal works for Ahrefs, I'm definitely for including video explainers in your in-app experiences at later stages of the user journey.
5. Boosting Product Stickiness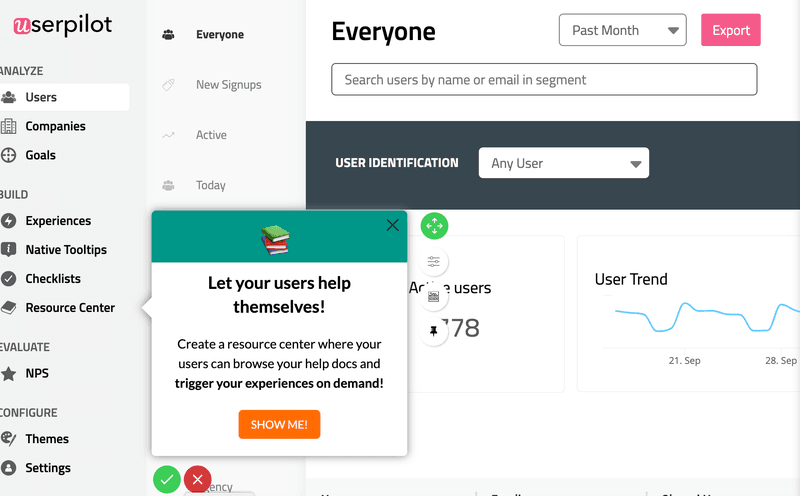 Objectives: Increase adoption of the product's sticky features
UI Pattern: Tootltips, Native Tooltips, Hotspots, Driven Actions.
Key Results: Higher retention as the product gets used more often and is difficult to leave, so the users 'stick' to it.
While the 'stickiness' of your product lies in the product features themselves, you can greatly increase how often your users come to your product by helping them adopt the most sticky features.
E.g. If someone builds a lot of complex, interactive onboarding flows in Userpilot – the chance they will want to leave is close to zero. Why? It takes a lot of hours to build a good flow, and most other onboarding tools are not compatible with interactive walkthroughs – it's not like you can even recreate this kind of of a product tour that gets people to actually adopt the features and learn by doing in cheaper alternatives. Also – showing our users the goal adoption rates gives them a clear ROI and makes them stay for longer. Just as the ability to A/B test, and improve the adoption rates even further.
Another example: if someone moves all of their self-serve help materials to Userpilot's Resource Center, they will be less likely to leave (because it would be a lot of work to move the help center to another tool…). That's why we should also pay attention to getting people to adopt this feature.
6. Increasing User Retention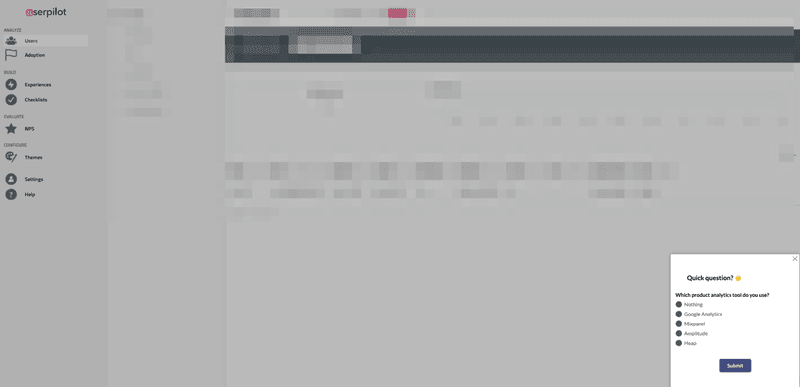 Objectives: Increase user retention
UI Pattern: Microsurveys, NPS, Tootltips, Native Tooltips, Hotspots, Driven Actions.
Key Results: Higher user satisfaction, retention and engagement
User retention is a vast topic and one could subsume so many things under it that it's hard to squeeze them all into one short paragraph – in fact, all of the experiences described above, aiming at increasing product adoption and helping your users derive more value from the product – result in higher retention over time.
But in this section, I wanted to show you ways how you can gauge your users' sentiment with Userpilot, or downright as them what they think – to act on their pain points before they become disgruntled and decide to leave.
By analyzing your users' responses you can understand better what they are struggling with and react to it by creating the right in-app experiences (or simplifying certain workflows).
1. Microsurveys
Microsurveys allow you to ask your users both quantitative and qualitative questions, that will help you understand what your users are struggling with.
2. Cross-referencing NPS scores with Behavioral Data

NPS, or Net Promoter Score, is a way of measuring how satisfied your users are with your product with one simple question.
Yes, NPS alone is a vanity metric. It's not actionable. But it's not about the score, it's about what you do with it.
For example: Christian Sculthorp of Agency Analytics managed to cut churn by 30% in his company when he started acting upon their NPS survey data.
The problem a lot of companies have is that they don't act upon their NPS scores, because they don't know how to.
First of all, there are two things you need to do to ensure your NPS gives you more than just bragging rights:
1) Collect your NPS inside your app for granular and contextual data & follow-up immediately
To get results easily, you should conduct your NPS survey inside your app. I know some folks are hardcore email fans but…hear me out.
Inside your product, you can be absolutely precise about when a user is presented with a survey. This enables your NPS tools to collect information that is infinitely more contextual than is possible with other channels.
This can give you an insight into how users feel about e.g. a specific (new) feature of your product, right after they have used it. Not 3 or 30 days later. Can you even remember what you ate 3 days ago? 🥗
This will not only help you collect more accurate feedback, but also follow up with the right in-app actions immediately.
If a user is unhappy with a feature and gives you more qualitative responses in a follow-up microsurvey (e.g. 'it was too difficult to use') – you can automatically trigger an experience that will help them wrap their head around the feature, or give them an opportunity to contact your customer success team straight away.
This is something one of our clients – the social media scheduling service Postfity we mentioned earlier – did:
They noticed a group of users giving low NPS ratings
Then they spotted that these ratings correlated with the follow up answer that suggested those users were too busy to come up with content ideas
Using Userpilot, they created a tooltip triggered by low-scoring users to highlight their Social Tips Calendar of content inspiration
Also – Postfity is also targeting users who have not discovered this feature and are not using the tool to post regularly – to make sure the Postfity team can 'catch them before they fall' – and become the detractors.
So, as you can see – with the right tools – you can use your NPS data to improve user experience.
Such an approach will help you reduce the frustration and increase value from your secondary/new features straight away.
2) Cross-Reference Your NPS Score with Behavioural Analytics & Respond Accordingly
That means cross-referencing the NPS scores with what users do and don't do inside your product – and looking for certain patterns.
Is there something that most of the promoters do, that the detractors don't do? Are the detractors and promoters use your core/secondary/tertiary features in the same ways? Are there any differences in their use cases?
Once you have the data, you can recognize the behavior patterns that will lead to low NPS over time – and respond with the right experiences (proactive onboarding) before the user becomes frustrated.
This, of course, will lead to having fewer detractors and more promoters over time – which again, will lead to higher retention.
3) Choose the right NPS tools
As you now probably realize, the best NPS tool that will allow you to actually act upon your survey will have the following features:
– opportunity to serve the survey in-app, and to serve it only to a specific segment of users (E.g. those that interacted with a specific page or feature):
– option to follow-up on the NPS scores with a microsurvey:
– option to cross-reference the NPS scores with other behavioral analytics (or at least to integrate with your user analytics tool):
– opportunity to create in-app experiences that would both respond to your users NPS score (reactive experiences) and to behaviour patterns that correlate with low/ high NPS scores (reactive experiences):
Needless to say – Userpilot has all of the functionalities above. You can try it yourself for free here or book a call with one of our specialists so you can see how you could build these experiences in your app.
For more on User Retention, see our in-depth posts on that topic:
7. Preventing Churn
Again – just as in the case of retention, preventing churn happens whenever you help your user derive more value from your product – from the moment your user signs up.
There's no one-size-fits-all tactic to slash churn – but there's one that will help you come up with your own strategy.
It's called reverse-engineering.
Basically – to know how to fix your churn problem, you need to know why it happens.
And what's a better way than looking at the reasons why people actually churn, and then cross-referencing it with their in-app behaviour?
Again, you can understand why people churn by running an exit micro survey + follow-up questions: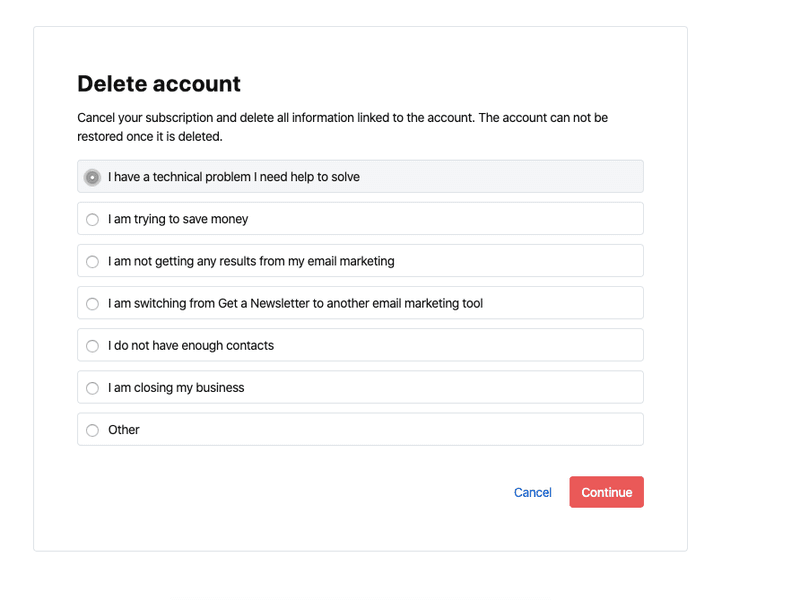 Source: Get a Newsletter
8. Achieving expansion revenue with upgrades
Last but not least – you should devote some time to planning how your Product Adoption Strategy will lead to expansion revenue – aka how will you use in-app experiences and when to persuade people to upgrade their accounts to a higher plan.
Again, this needs to be contextual and relevant: especially in sensitive matters such as money, you don't want to sound like you're being pushy or desperate.
Hence: think of the points in your users' adoption journey when natural opportunities for presenting higher-plan features arise naturally.
This is what Hubspot does when you keep copying and pasting emails: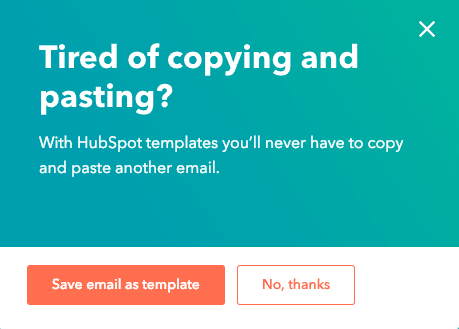 They ask you (contextually, at the right time) to start using templates.
Oh, it's a premium feature, by the way.
This is how Hubspot pushes their users for an upsell – by contextually showing the user a solution to their pain, right after the pain has occurred. This obviously increases the chance of upgrade compared to showing the message at a different time.
Can you define similar touchpoints in your user journey?
And that's pretty much it!
I know the last two posts packed a puch. I know there's a lot to take on board. But remember the words of Joan Magretta, author of 'Understanding Michael Porter: The Essential Guide to Competition and Strategy':
Strategy is like Golf. It has a huge learning curve, and it seems like a lot of work when you get started. So most people give up early before the point where they get any returns from it.
Which may explain why most people suck at golf.
It's your choice whether your business will suck at Product Adoption. Now you know it doesn't have to 😉
If you'd like to learn more about it – enroll in our FREE online course:
About the author: Emilia Korczynska is a growth enthusiast & marketing manager @Userpilot with 5+ years of experience in startups and content marketing.