Customer Onboarding Cost in SaaS: Build vs Buy Approach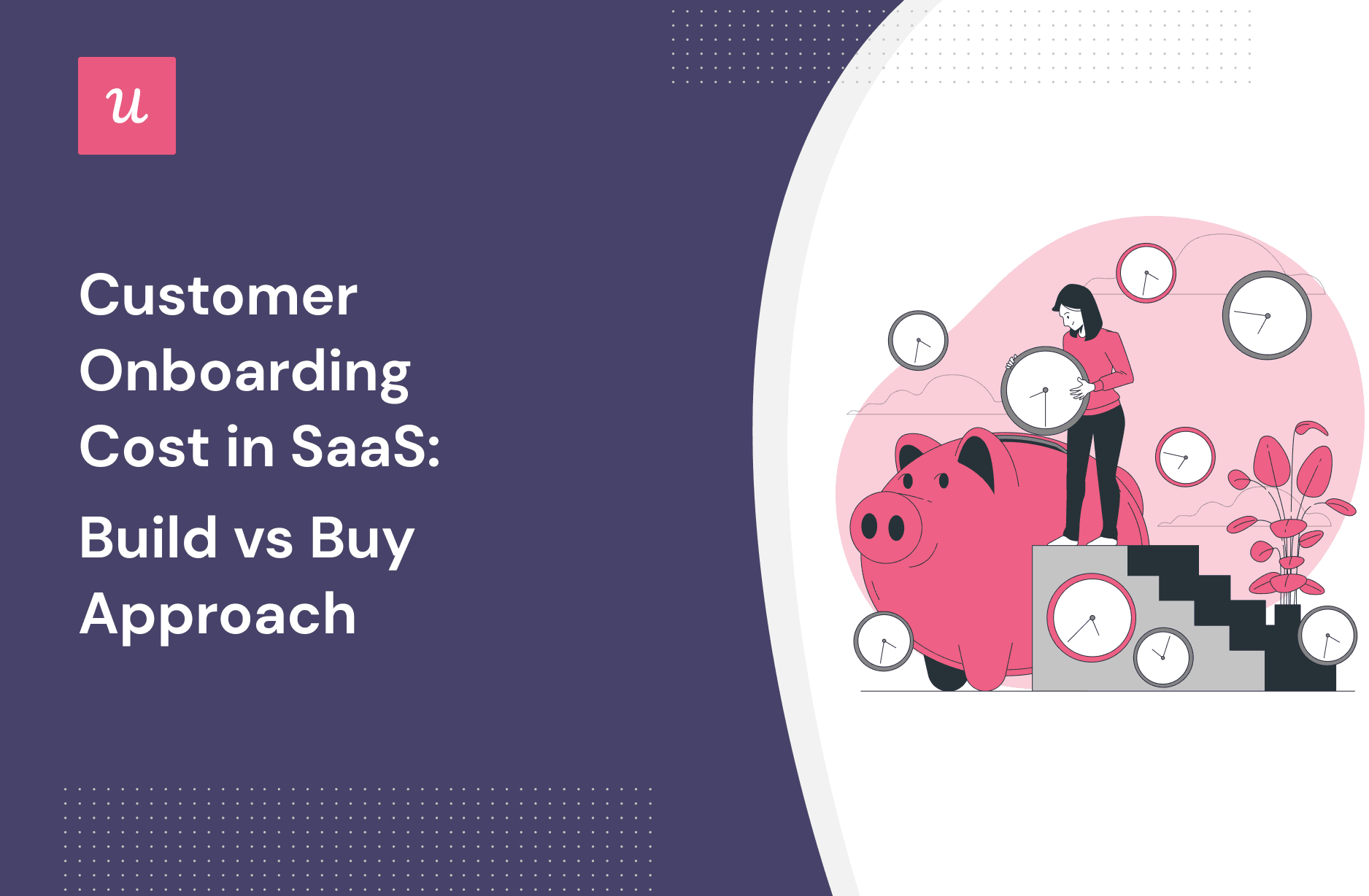 If you're a product manager who doesn't have a firm grasp over your customer onboarding cost, stop right there – you're putting your business in danger.
User onboarding is one of the most pivotal elements of your business process – it's all about helping both existing and new customers get value from your product fast.
In this article, we're going to explore the 'build vs buy' argument, and break down what that means for creating a powerful onboarding experience.
Let's get into it!
TL;DR
Customer onboarding describes the process of showing your users how to get value from your product or service. A key factor to consider is your customer onboarding costs, and that begs the question: should you build or buy?
Nailing your onboarding process matters. The better your user onboarding, the shorter the time to value.
Customer onboarding is not a simple process, and it covers a whole sequence of activities. From the initial sign-up to interactive walkthroughs to onboarding surveys, there are many elements to consider.
The cost of building an onboarding program can vary. It can range anywhere from $3,000 to $100,000 plus.
If you decide to build an onboarding experience from scratch, it goes without saying you need to think about hiring the right team and you would need to bear their employment costs.
There are positives to consider, of course: customization, improving flexibility, and reducing dependencies. On the flip side, it'll take a long time and cost a significant amount of money. There's also the ongoing maintenance to think about.
If you want to create an onboarding experience optimized for speed, you might consider using no-code user onboarding tools. The pros are primarily the rapid turnaround, the low cost, and the time and effort saved in maintenance. One downside is the risk of choosing the wrong tool.
To decide which is the best option for you, ask yourself a range of questions: Is onboarding a priority? Do you have engineering capacity? What are your security considerations? What's your appetite for cost? Answer those, and you'll figure out whether it's better to build or buy.
There are a number of tools on the market. Choosing the right solution is very important for you and your business.
Appcues is a no-code user onboarding platform that will help you build experiences that drive product engagement.
Userpilot is a powerful yet cost-effective adoption platform that enables product managers to build comprehensive user onboarding experiences easily.
Userpilot enables you to create multiple no-code onboarding UX patterns, segment users, and track product and behavior analytics.
Interested in what Userpilot has to offer? Book a demo now.
What is customer onboarding?
Customer onboarding describes the process of educating your users on how to get value from your product, which ultimately means they're achieving their product goals.
There are three main stages of user onboarding: primary, secondary, and tertiary, each focused on users at different levels of product maturity.
Why is a good customer onboarding process important?
User onboarding is crucial for you and your team to nail. Any time spent improving the onboarding experience is worth the investment. But why?
Put simply, the better your user onboarding, the shorter the time to value.
Nail your user onboarding, and you'll boost activation. In turn, that would cause product adoption to skyrocket. There's then a virtuous cycle: the more your users use and get value from your features, the better your customer retention and the lower your customer churn.
The stats back this up: 86% of customers say they will remain loyal if onboarding and continuous education are provided.
What does customer onboarding include?
Customer onboarding is not a simple process as it covers a whole sequence of activities. Everything from initial sign-up to product activation to first use to adoption and beyond.
Throughout these stages, you need to remember the primary aim of onboarding is to deliver value to your customers as early as possible. Onboarding includes:
Sign-up form: A simple form designed to gather details about your users during sign-up.
Onboarding welcome email: Follow up on your in-app onboarding process with a message directly to your customers' inboxes.
Welcome screen: A screen designed to welcome users to your app.
Onboarding checklist: Help drive your users toward the next viable step in the process with an interactive to-do list.
Interactive walkthroughs: Designed to actively demonstrate to your customers how your product's key features work.
Tooltips: Provide contextual help without cluttering the UI.
Banners: An element of the UI that is designed as a constant reminder of an important message.
Feedback surveys: Gather valuable insight from your customers to understand more about their experience.
Celebration modals: Give your users a pat on the back for completing important stages of the onboarding flow.
Self-service automated help: Help your customers solve their own problems without putting pressure on your support team – creating a self-service support offering is well worth the time spent.
The better you understand the complexities of the onboarding process (and what it involves), the more effectively you can control customer onboarding costs.
How much does SaaS customer onboarding cost?
The cost of building an onboarding program can vary massively.
The customer onboarding cost can range anywhere from $3,000 to well over $100,000. Ultimately, it all depends on whether you build a user onboarding process from scratch (and are happy with the time spent and extra costs that it brings), or buy one out of the box.
Building customer onboarding experiences from scratch
First, let's take a dive into what it takes to create an onboarding experience – including everything from modals, tooltips, interactive guides, and more – from scratch.
It goes without saying you need to think about hiring the right team for the job. Of course, there are costs associated with that, and you need to bear those in mind.
Product manager: A product manager will help you craft experiences that attract new customers, work on improving the onboarding experience, and prioritize the time spent amongst members of your team. The average salary in the US is $102,233 a year (via Glassdoor).
UX designer: Designers bring a product experience to life with prototypes, high-spec designs, and flows that'll delight your users. The average salary via Glassdoor is $95,568 a year (US).
Software developer: Developers are responsible for creating the actual onboarding experience. According to Glassdoor, you can expect to pay them a salary of $88,294 per year (US).
Pros of building custom-coded onboarding experiences
There are several positive aspects to consider:
Customization: You can build bespoke elements that work specifically with the needs of your organization. That level of flexibility is a huge asset.
Context-specific: Nobody has better knowledge of your business than you. You can build an experience leveraging your expertise.
Ownership: No dependencies (and potential costs) on external companies.
Cons of building custom-coded onboarding experiences
There are some drawbacks involved in building your onboarding experience from scratch:
Development time: Custom building requires a lot of time spent: from design to development, and to extensive testing – it isn't a fast or simple process.
Opportunity cost: Think about what else your engineering team could be spending their time on aside from building onboarding for new customers – you need to think carefully before you divert their time.
Maintenance: Building an onboarding experience for your customers isn't once-and-done. Once you've incurred the costs of the initial build, you need to maintain it (i.e., fixing bugs and responding to requests).
Building onboarding experiences using no-code software
If you want to provide an onboarding experience as soon as possible but lack the necessary time and money to build from scratch, you might want to use a no-code onboarding tool.
What makes this approach so attractive is that these onboarding tools offer scalable plans, so you can choose one that works for your business needs.
Pros of buying user onboarding tools
Here are a few reasons why you should consider a pre-built tool:
Speed: You can quickly create and optimize an onboarding experience, make changes, and deliver value at an enormous pace.
Costs: You'll face significantly lower upfront costs.
Maintenance: Think about how much time you'll need to spend maintaining your service if you build it yourself. With pre-built tools, you don't need to worry about maintenance as that will be covered by them.
Improvements: Onboarding tools are constantly being improved and new features are being added. This will enable you to consistently offer a better onboarding experience.
Cons of buying user onboarding tools
There's one drawback to consider when selecting an onboarding tool. It's not an easy decision: if you pick a tool that doesn't meet your needs, you could be locked into an expensive plan that doesn't help you meet your goals.
Build vs Buy: Which is right for your customer onboarding needs?
So, how do you navigate your way through this challenge? In this section of the article, we'll explore the principles that'll help you decide whether you should build or buy.
Can customer onboarding wait?
Most companies need an onboarding process. If you're experiencing low activation and high churn, that need rapidly becomes more and more pressing.
At this stage, you need to quickly create some kind of onboarding flow or risk increased churn, financial loss, and more. Buying an onboarding tool here would be a wise choice.
However, if onboarding is not a pressing need for your business currently, you can consider building it yourself.
Do you have enough engineering time to spare?
Your time and effort are limited: you need to figure out whether your engineering team is better off putting time, energy, and attention into improving the product itself (i.e., new features, and product updates) or building onboarding flows.
Is security a concern?
Security is important – but for some organizations, more than others. If your SaaS deals with sensitive data in particular, you'll want to ensure any integration has the requisite transparency, performance, and stability.
Some tools (Userpilot is a great example) offer SOC2 certification for peace of mind. When you build in-house, you have to figure out how to handle that on your own.
Are you looking to save or spend?
Ultimately, if you have the cash to burn, you might want to build your own onboarding experience. If you are more inclined to save a solid chunk of money and become truly product-led, a tool is likely the better option.
Userpilot has a product-led savings webinar that talks about how to minimize spending to maximize growth for product-led companies. In a nutshell, you can save time and money by automating onboarding. It'll help you focus on making more with less.
You can watch the webinar below:
The best customer onboarding tools for creating positive customer experiences
So, you've decided to go for a no-code tool… There are several on the market to consider, and it's imperative you make the right choice. Let's explore!
Userpilot – recommended for web applications
Userpilot is a product adoption platform that enables product managers to design comprehensive user onboarding experiences for every stage of the user journey.
Userpilot's key features include:
Segmentation: Use a range of criteria like demographics, user behavior, or survey results to segment your users and personalize their onboarding.
Analytics: Track product usage, in-app behavior, and engagement to analyze how users progress toward activation.
Userpilot pricing
Userpilot's plans are based on Monthly Active Users (MAUs). You can choose between traction, growth, and enterprise plans.
The traction plan starts at $249 per month for up to 2,500 MAUs, the growth plan is priced at $499 per month for 2,500-10,000 MAUs, while the enterprise plan starts at $1,000 per month for up to 10,000 MAUs.
Appcues – recommended for mobile applications
Appcues is a no-code user onboarding tool that allows product managers to drive product engagement.
The key features include:
UX patterns. Create modals, slideouts, tooltips, and hotspots with their code-free editor.
Tours and checklists. With Appcues flows, you can easily build linear tours that take users through different aspects of the product step-by-step. Additionally, checklists help guide users toward activation.
Segmentation. Group users based on their demographics as well as flows, events, and interactions.
Appcues pricing
Appcues has 3 plans including essentials, growth, and enterprise. The lowest plan, essentials, starts from $249 per month for 2,500 MAUs.
Conclusion
Hopefully, you now have a solid understanding that'll help you make an important decision: whether you should build or buy your onboarding flow.
If you want to try out a no-code tool and inform your decision-making, get a Userpilot Demo and see how you can build engaging, effective, and speedy onboarding experiences today.